10 Reasons To Upgrade To Shopify Plus
Contributor

UPDATED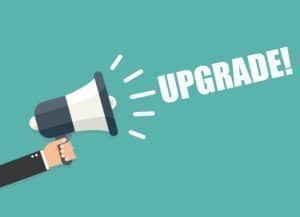 All growth comes with growing pains; the growth of an online store is no exception.
As your online business grows, you may find yourself being stretched in new ways. You now know more geeky-internet stuff than you ever wanted to know, and you can speak a new language: basic HTML. In fact, you're starting to feel less like a business person and more like the tech-folk that you're always trying so hard to reach.
Perhaps your platform is being stretched as well, and, to be honest, it isn't doing so well.
Either way, when the growing pains become too much, it's time to consider a switch.
If you've read any of my comparison articles, you'll know that Shopify Plus (see our review) is one of my favorite enterprise level eCommerce solutions. Shopify Plus takes a no-hassle approach to online enterprise commerce. They believe that you should be running your business, not trying to fix glitches. Here are the top reasons why you should consider Shopify Plus.
1.Unlimited Bandwidth, Products, and Sales

The sky's the limit.
With Shopify Plus, you can list as many products as you want, without the fear of overloading your platform. Unlimited bandwidth lets you handle large, sudden influxes in traffic (up to 500,000 hits per minute!). You also have loads of storage available: 200TB and over 7000 cpu cores, to be exact.
Sell all you can; your site won't crash because of it.
2. Scalability with SaaS Technology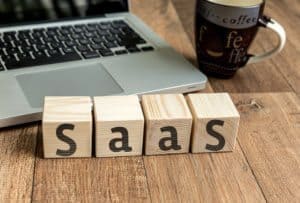 Shopify Plus uses SaaS (Software as a System) technology. Everything is web-based and fully hosted by Shopify. That means that you don't own a physical copy of the software. Instead, you access your platform in the same way that you log-in to your email address. SaaS also means that there are no hardware or software requirements to run Shopify Plus; just maintain and up-to-date web browser and a strong internet connection.
There are a few benefits of SaaS technology: You don't have to worry about maintaining the software (that's up to Shopify), and it's easy to access your admin from various devices. Perhaps the best aspect of SaaS technology is the ability to scale. As your business grows, you can add on new integrations and applications which keep your platform performing the way you need it to.
Bye-bye, growing pains.
3. Priority Customer Support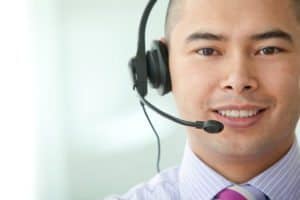 All Shopify customers receive 24/7 phone and email support, but Shopify Plus customers get "white-glove" service. We're talking first-class, VIP customer support. As a Shopify Plus client, you can reach customer support via a priority phone number and email address, so your concerns will be addressed sooner.
You'll also be provided with a Merchant Success Manager, who is your business's personal support representative. They'll advocate on your behalf for new features and integrations.
All of this comes on top of Shopify's usual customer support offerings, which include eCommerce Forums, a Help Center, and live chat.
4. Easy-to-Use Dashboard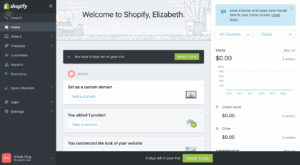 Shopify Plus clients use the same dashboard as any other Shopify plan, and that's great. The dashboard is simple and intuitive. I was able to figure out everyday operations without needing the help of a tutorial or documentation. Adding product images and attributes is easy, and creating discounts is simple.
You should note, however, that part of this simplicity stems from Shopify's bare-bones structure. Shopify comes with everything you need to get started as an online store, but if you've already grown to an enterprise-level business, you may find Shopify's dashboard somewhat limited. That can be changed with the addition of a few apps, but many of those apps cost a pretty penny. For example, CartHook, an app that provides one page checkout capabilities (among other checkout features), costs $300/month.
Before you buy, I recommend trying our Shopify's dashboard for yourself. Shopify offers a Free 14 Day Trial, no credit card necessary.
5. Elegant Themes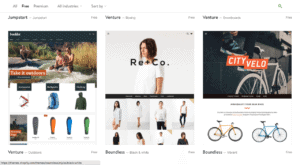 Shopify's themes are some of the best-looking out there. Shopify's Theme Store holds over 100 fully responsive themes. 26 of them are free, and the rest are priced between $140–$180. As a reported 30% of online sales are made via mobile devices, it's critical that your store looks good across all sorts of screens. Shopify's got you covered.
There are a few ways to edit these themes. Your web developers can use Shopify's coding language, Liquid, or make changes in the HTML and CSS. There's also a WYSIWYG (what you see is what you get) editor for updating content. And, the theme editor in Shopify's admin allows you to change colors, fonts, and other elements without any HTML/CSS knowledge.
6. Customizability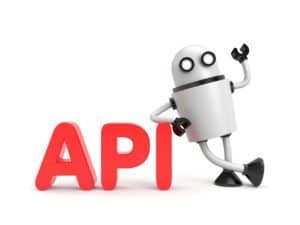 Shopify Plus comes with a REST API, which allows your developers to create applications for your store and build connections to various other software. For example, developers can use the API to integrate the CRM, ERP, and accounting software that you already use.
The good news is that you probably won't have to build that many connections. Just take a look at Shopify's extensive App Store. With over 1000 add-ons already integrated, the connections you need have probably already been built. As an added bonus, Shopify Plus clients receive price cuts on select applications.
Either way, with a REST API and a huge selection of apps available, you can customize your store so it includes every tool and feature you need.
7. Multi-Channel Selling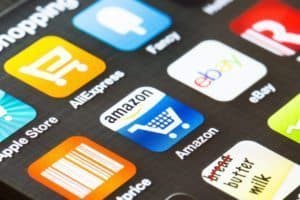 Shopify Plus includes multi-channel selling capabilities. That means that you can sell your products across multiple marketplaces and social media sites, and you can manage all those orders from your Shopify admin.
Shopify Plus currently markets its multi-channel sales integrations with Ebay, Amazon, Facebook, and Pinterest (Buy Buttons, anyone?), but you are not limited to those four options. You can choose to sell across other channels that are already integrated (view the full list), and you can ask your developers to build a connection to a new option. If you don't have a team of web developers at your disposal, there are Shopify experts ready to help.
Shopify also provides its own POS service for selling in-person. Check out our review of Shopify's POS here.
8. Shopify Payments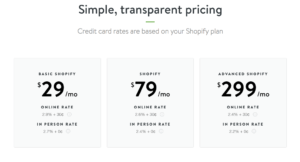 Shopify Plus connects with over 70 payment gateways, including Authorize.net, Amazon Payments, Dwolla, CyberSource, and Sage Payment Solutions. With so many options already integrated, chances are good that you won't have to switch payment solutions to use Shopify Plus.
Shopify also provides its own payment gateway, Shopify Payments. If you choose to use Shopify Payments, you can benefit from reduced credit card rates. In the image above, you can see that higher-level plans are charged lower fees. While Shopify Plus is not listed on this graphic, I assume that rates with Shopify Payments would be as good, if not better.
9. Security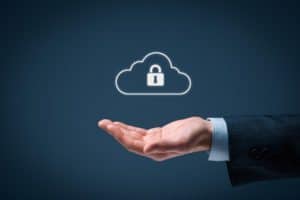 Merchants on all Shopify Plans benefit from Shopify's Level 1 PCI DSS (Payment Card Industry Data Security Standard) compliance. Shopify also conducts annual on-site security assessments.
Additionally, all Shopify stores come with free SSL certificates on every page of your site, not just checkout. Encyption isn't just good for security reasons; it can also benefit SEO. Read more on Shopify's push to secure every page of every store here.
10. Smooth Transition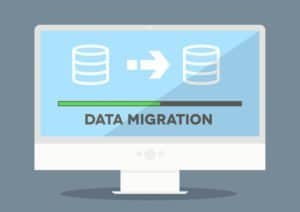 Shopify Plus advertises a quick transition from your previous shopping cart, claiming that your store can launch in weeks instead of months.
Customer testimonials further emphasize the smooth transition. A representative of Blackmilk Clothing writes, "When we switched, it was like, 'Hallelujah.' Our first release just ran totally smoothly. The website didn't even blink. Our customers checked out smoothly and calmly and it was happy days."
What's more, Shopify's Traffic Control App allows you to transfer traffic to your new site without a drop in SEO.
Read more about the transition to Shopify Plus in their client testimonials.
Getting Started with Shopify Plus
Clearly, Shopify Plus has a lot to offer.
But before you take the plunge, there's one thing I should point out again. By specializing in ease-of-use, Shopify Plus often excludes certain features that you may want for your business. Of course, all of these features can be added on with an application, but if you want a platform that does everything out-of-the-box, Shopify Plus may not be your first choice. For more feature-rich options, take a look at our Top 3 Alternatives to Shopify Plus.
However, if Shopify Plus sounds like the enterprise shopping cart for you, you can contact the company here. They'll get back to you to discuss price-points as well as the specific features that your company needs. In the meantime, I recommend taking a more in-depth look at Shopify Plus; read our full review for the nitty-gritty details.