10 Reasons To Use Smartsheet
Contributor

UPDATED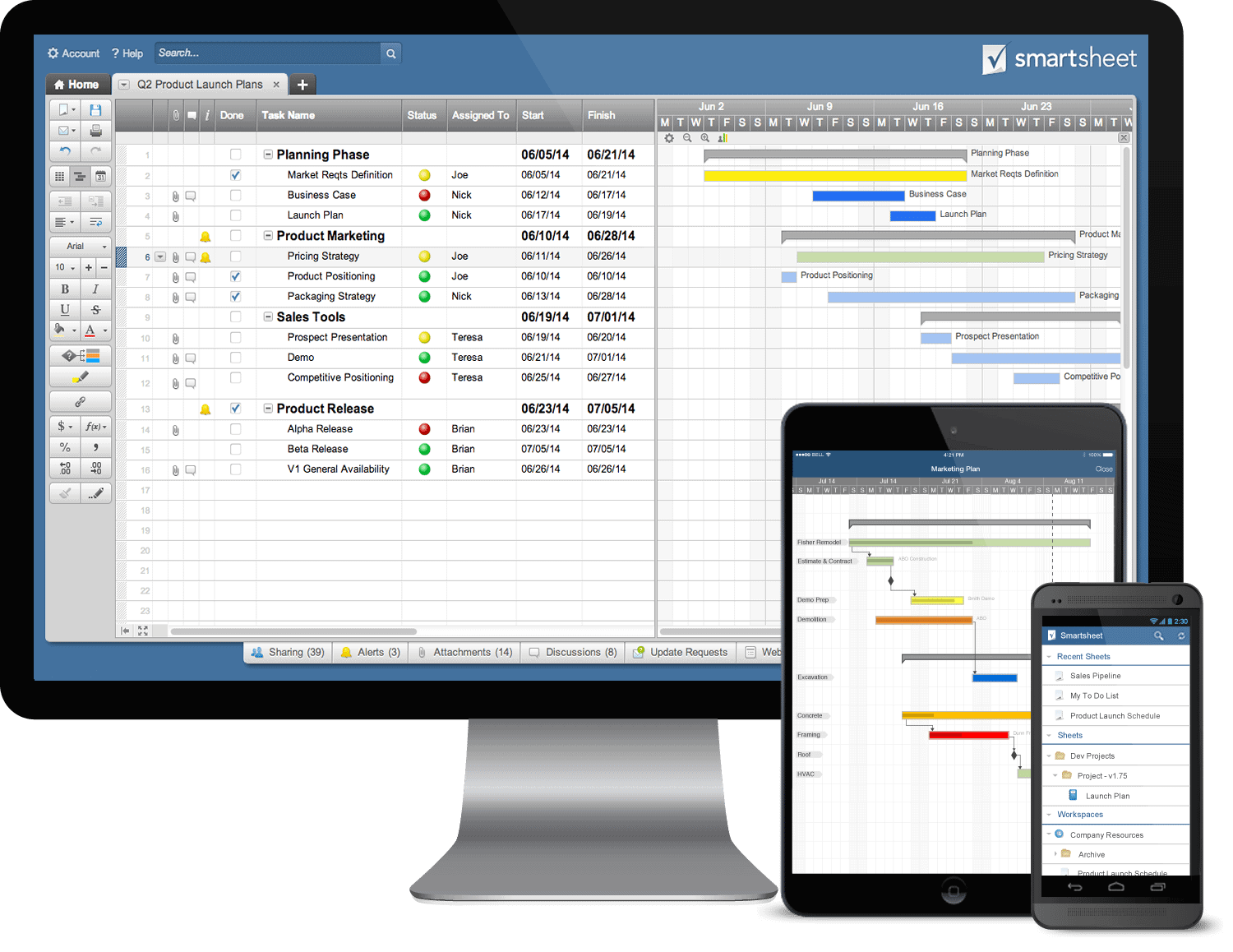 Smartsheet, a perennial project management choice, turned 10 this year. This program is one of our favorites here at Merchant Maverick and there are all kinds of reasons to want to use this spreadsheet-based software. In honor of the company's anniversary, though, I am going to highlight the top 10 reasons you should be using Smartsheet. Check out our full Smartsheet review for more on pricing, features, and customer reviews.
1. Focus on Collaboration
Smartsheet makes it easy to share what you're working on (from entire sheets to individual lines) with your team members, supervisors, or even clients. Personally, I think that project management solutions which encourage collaboration are the most successful, and Smartsheet excels here in a way that is pretty unique in the project management field. Many of their competitors allow for sharing of entire projects, but not all have the ability to share individual puzzle pieces. Smartsheet encourages transparency with coworkers and clients by allowing you to share information with infinite "collaborators," even if they don't have a Smartsheet account.
2. Familiarity
Smartsheet is a glorified spreadsheet. While this has an arguably unfortunate impact on its graphic design, it does mean that just about anyone can look at it and feel as though they have used something similar before. (After all, most everyone has at least opened a spreadsheet before, whether with Microsoft Excel or Google Sheets.) Like we say in our review, we couldn't exactly call Smartsheet easy to use, since it is pretty comprehensive in terms of features and complexity. But it is approachable. And that is an extremely valuable asset when onboarding new software.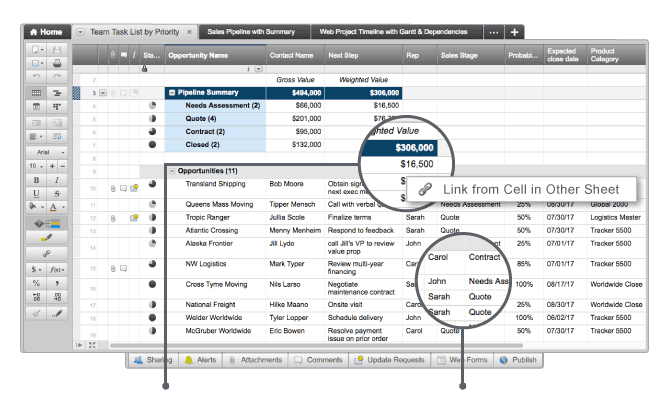 3. Affordable
You can create a "Team" subscription with Smartsheet for $15/user/month. This gets you a generous supply of sheets (50 per user), email and phone support, and just about every other feature Smartsheet offers, including the infinite collaborators I mentioned above. In terms of value for money, it doesn't get much better than this. For more information on Smartsheet's prices, go here.
4. Customer Service
Smartsheet definitely knows how to care for customers. When you are learning how to use this software, there are a bevy of options available to you, from written articles, to tutorial videos, to live webinars. There are even tips that appear within the app itself, pointing out useful features to you as you become more familiar with the software. Smartsheet also provides email support to all customers and phone support to those on the Team or higher subscription plan. Considering there are plenty of project management firms that have no phone option available whatsoever, this kind of service is definitely admirable.
5. Integrations
Smartsheet boasts an integrations list that is almost peerless amongst its competitors. In a previous article, I explained how drastically integrations and add-ons can affect the way you use software. That article was about Basecamp, but some of the same integrations I explained there are available for Smartsheet as well (like EasyInsight or the ever-popular Zapier). Smartsheet also integrates with the likes of Slack and Trello, bringing some of the ease-of-use from those programs into the more opaque Smartsheet. The availability of so many add-ons should be reassuring; it means you can customize your Smartsheet experience to meet the needs of your own individual company.
6. Diverse Clients
Smartsheet is used around the world in all kinds of industries. From Loyola University to Behr Paint to Magnolia Bakery, there really is no industry "type" associated with Smartsheet users. This is encouraging to me because it means anyone can learn to use this software. Some of Smartsheet's competitors in the project management software field have chosen to market to specific niches (marketing teams, IT teams, project managers, etc.). Smartsheet, though, makes no such distinctions. All are welcome here, and all can be expected to have success.
7. It is Not Just a Spreadsheet
Now stay with me on this one. I know that reason number two on this very list basically claims that you will learn to use Smartsheet quickly because it is basically a spreadsheet. The thing is, it is so much more. Yes, it does bear a passing resemblance to Microsoft Excel or Google Sheets, but Smartsheet is purpose-built for project management. That means you get pre-configurable cells that deal with specific factors, like budget, hours spent, and more. Not only that, but users can comment on individual cells, or even attach files to cells. Which leads us to our next point…
8. File Storage
Smartsheet allows you to attach files directly to individual cells. If your clients still work with older programs like Microsoft Word or Powerpoint, you can easily upload files to your Smartsheet account. If, on the other hand, you want to use Dropbox, Box, or Google Drive, you're free to do so. Once you have uploaded your file, you can use the excellent collaboration tools (explained above) to share those documents with whoever needs them.
9. Mobile Apps
Smartsheet's mobile apps work brilliantly well. If you are the kind of person who needs to work on the go, you will not be disappointed by this extremely user-friendly mobile app. Some mobile apps for project management programs offer only limited features; that's not the case here. Smartsheet's mobile app is well optimized for your Android or iOS device and allows you full access to your sheets.
10. Reporting
Reporting is one of the key features of any project management service. Smartsheet's reports are extremely flexible and can focus on overdue tasks, tasks per team member, and more. Once you have created one of these reports, you can send it to anyone you need via Smartsheet's collaboration features. You can also set your reports to recur, so a new one is generated each week. Best of all, these reports can apply to multiple sheets at once (something Smartsheet is keen to point out since it is not possible in more conventional spreadsheet programs).