10 Weebly Alternatives
Expert Analyst & Reviewer

UPDATED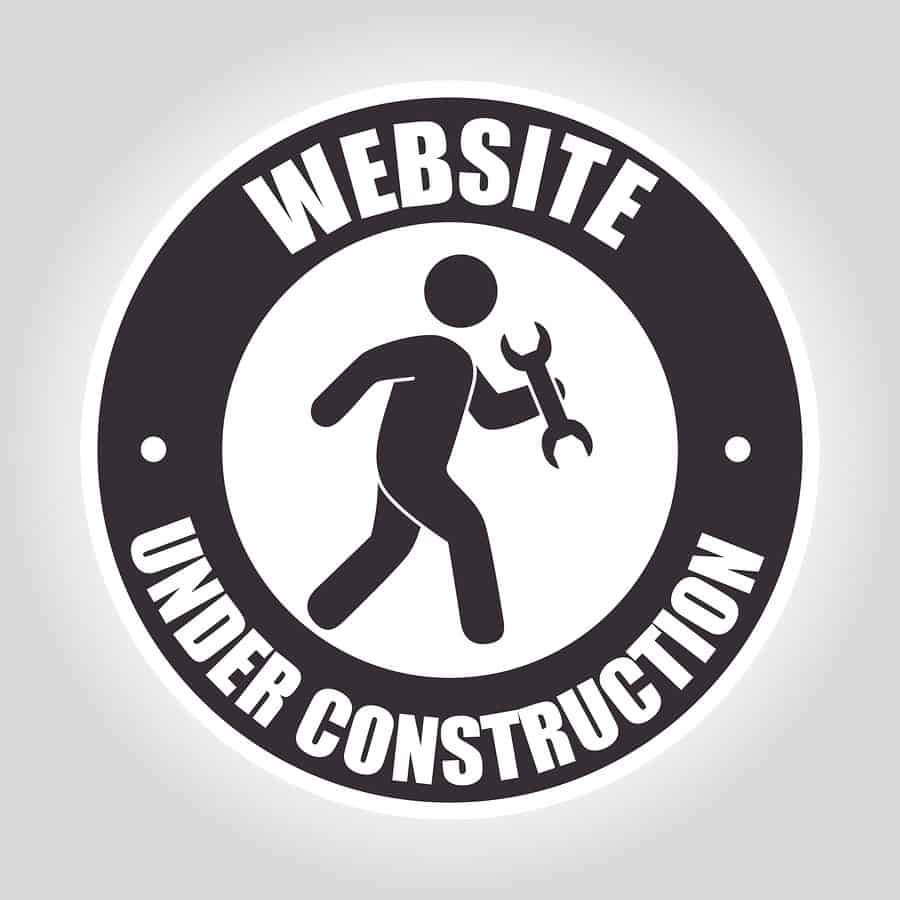 I like Weebly (see our review).
There, I said it.
Weebly isn't the most exciting or buzz-worthy website builder around, and it is generally not the choice of web designers who design high-end websites for their clientele. However, Weebly occupies a special place — in my heart, at least — for its supreme familiarity and ease-of-use. There isn't a service out there that makes the website building process easier. Throw in the 300+ feature add-ons available through the Weebly App Center and you've got yourself quite a handsome little package.
However, there are plenty of reasons you might want to go with a different website builder. Maybe Weebly's just too basic for you. Maybe its templates just don't do it for you. Regardless of the reason, there are plenty of alternatives to Weebly out there just begging for your attention and money. Let's explore 10 of them!
Wix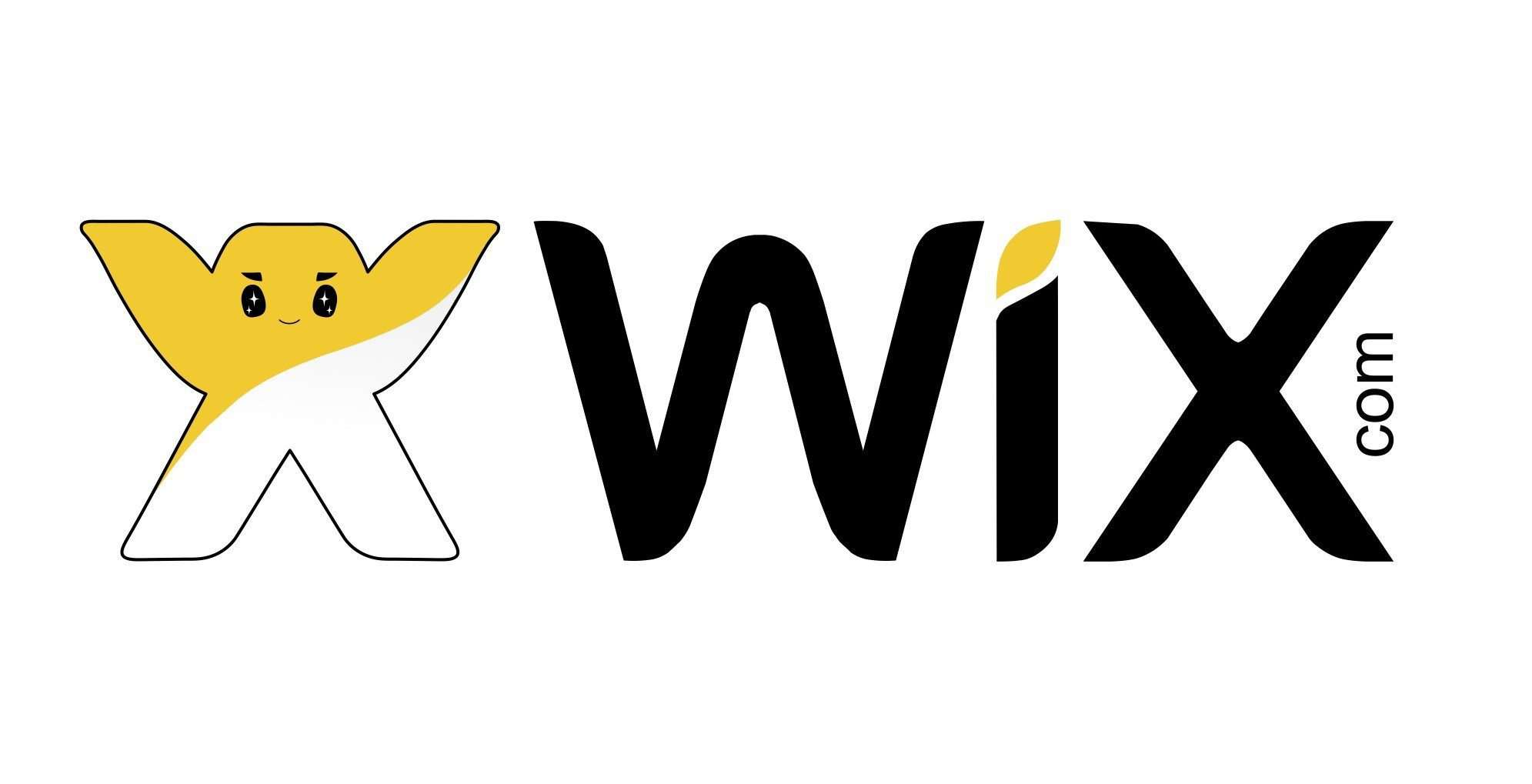 Wix (see our review) is undeniably the colossus of the website builder industry. A publicly-traded company with 110 million users in 190 countries, Wix is one of the few website builders with the resources to be able to advertise on the radio, on the sides of buses, and at the Super Bowl.
Like Weebly, Wix offers a limited free plan — one that, of course, requires users to use Wix advertising and a Wix-branded URL — while paid plans run from $5 to $25 per month.
Wix's website editor is more advanced than that of Weebly, allowing for greater precision in designing your pages. However, if you want an editor that guides you along and holds your hand the way Weebly's does, just use Wix ADI (Artificial Design Intelligence) — Wix will take your content and color/font choices and create a website for you, which you can then edit using a simplified Weebly-like editor. Essentially, Wix is two website builders in one.
Wix's App Market is an expansive repository of in-house and third-party add-ons that rivals that of Weebly, and its eCommerce system — more advanced than Wix's — doesn't take a platform transaction fee from your sales.
There's a reason why Wix is the world's most popular website builder, and it's not just marketing!
Squarespace
Squarespace (see our review) is the fancypants of the website builder industry, technically-speaking. Their templates are widely regarded as being the class of the field. It can't compete with Wix or Weebly in terms of sheer number of users, but that's due to the fact that Squarespace has no free plan (though you can try it for free for 14 days). Squarespace's subscription plans are a bit more expensive than those of most of the competition, with plans ranging from $12 to $40/month.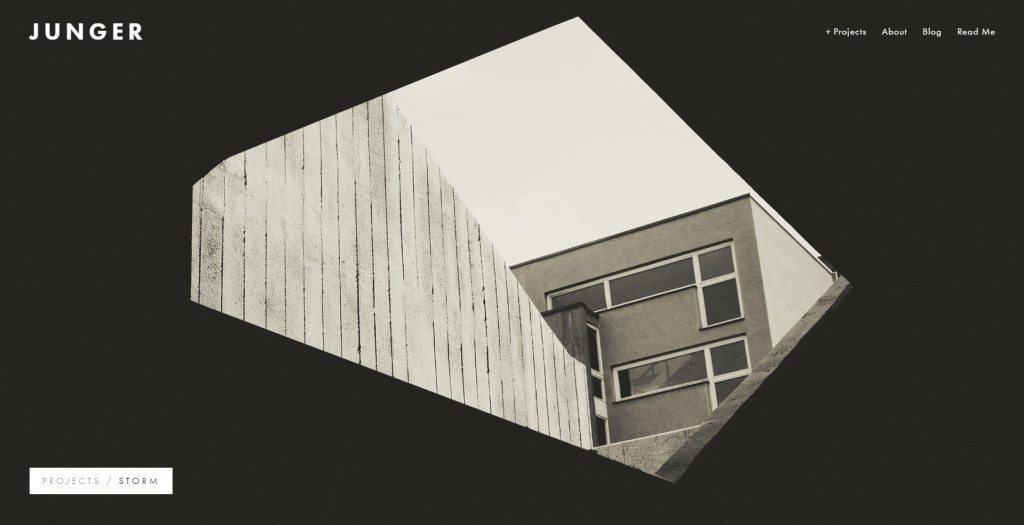 Squarespace's emphasis on style means that people might assume your DIY site is the work of a professional web designer. And with Squarespace's excellent eCommerce and blogging capabilities, you get a lot for your money. You'll have to spring for one of the two pricier plans if you want eCommerce without a 3% Squarespace transaction fee, though.
Duda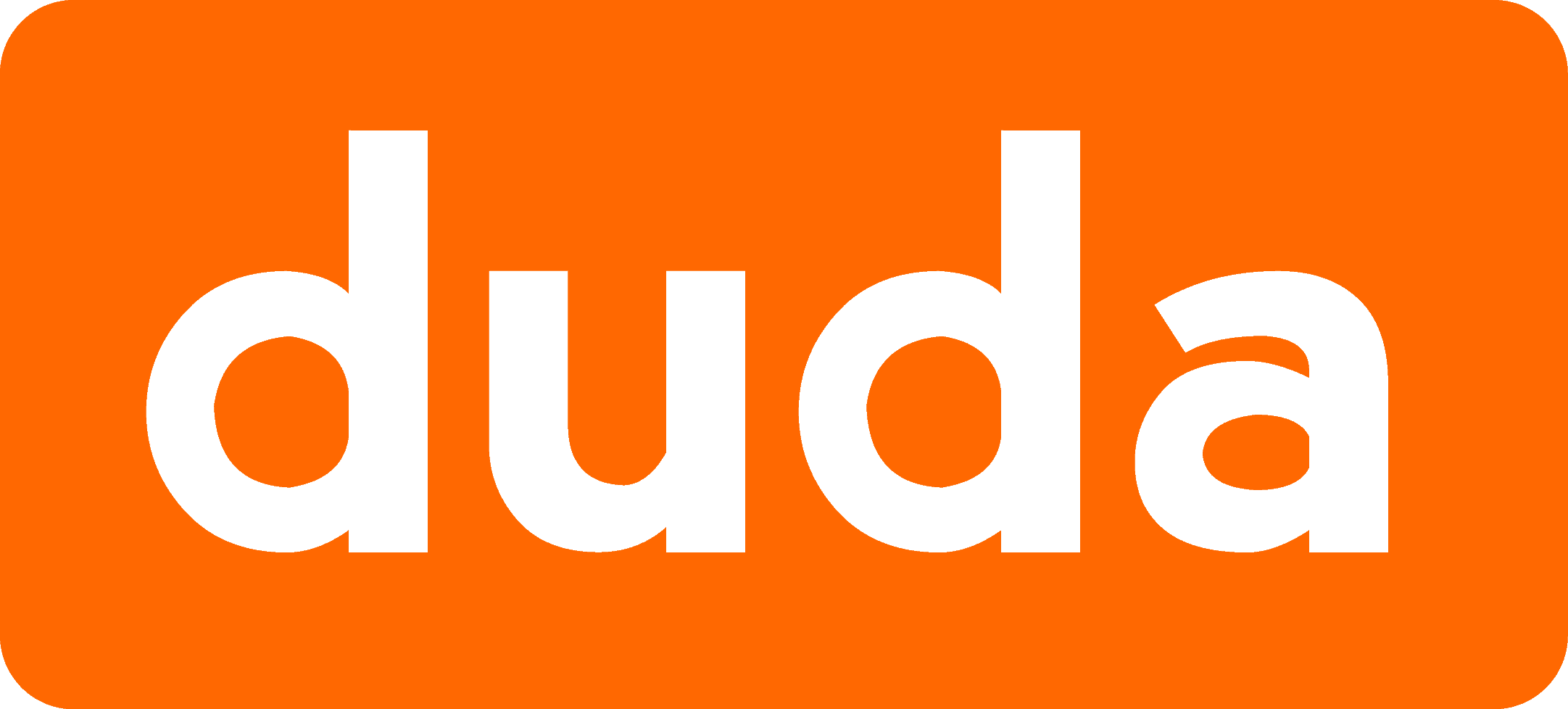 I enjoy Duda (see our review), and not just because Duda's creators named their company after The Dude from The Big Lebowski (true story).
Duda's free subscription plan includes a 10-item online store, and I'm always partial to website builders that offer some degree of eCommerce for free. Their two paid plans go for $14.25 and $22.50 per month, respectively.
Duda's photography templates are particularly appealing and make Duda a great choice if you're looking to set up a photography portfolio or blog. But what really sets Duda apart is their use of what they call "personalization rules." These rules allow you to create elements which appear only when certain conditions are met. You could create a message that displays only to repeat visitors to your site. You could set up a contact page that displays different contact info depending on the time of day — a "click-to-call" button could appear during business hours while a contact form displays during non-business hours. It's a versatile and innovative feature — one that makes Duda worth looking into for any small business.
uKit

From the Russian & Ukranian makers of the old-school code-based website builder uCoz, uKit (see our review) is a website builder that really punches above its weight in terms of quality vs. the amount of attention it gets.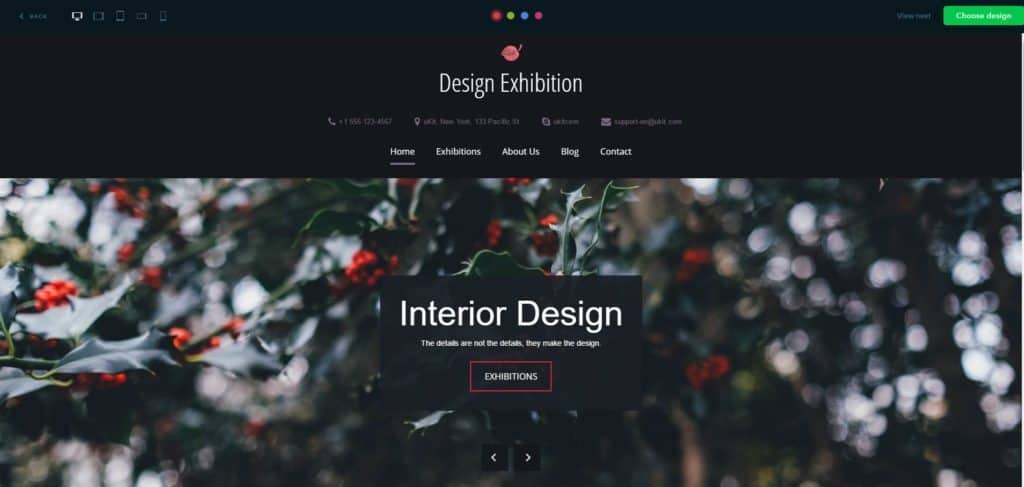 Sadly, uKit doesn't offer a free plan. Their four subscription plans start at $4/month and go to $12/month.
uKit's editor is fantastic, combining depth with supreme ease-of-use. You can build your website piece-by-piece, or you can stack and re-arrange preformatted content blocks. Their template selection is both vast (over 250 at last count) and high-quality. Their blogging tool is top-notch, and they are fully integrated with Ecwid's online store. All in all, uKit might be the most underrated website builder out there.
Webflow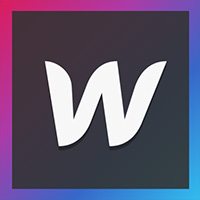 Webflow (see our review) is a unique website builder. While Weebly and Wix focus on making website building as accessible as possible, Webflow is a precision web design tool geared towards professional web designers who build websites for their clients. The platform certainly isn't restricted to web designers, though — just don't expect a simplified experience!
Remarkably for such a sophisticated site builder, Webflow has a free subscription plan. Their paid plans are categorized into "hosting" plans and "designer" plans, with "team" plans available for teams of designers working on projects together.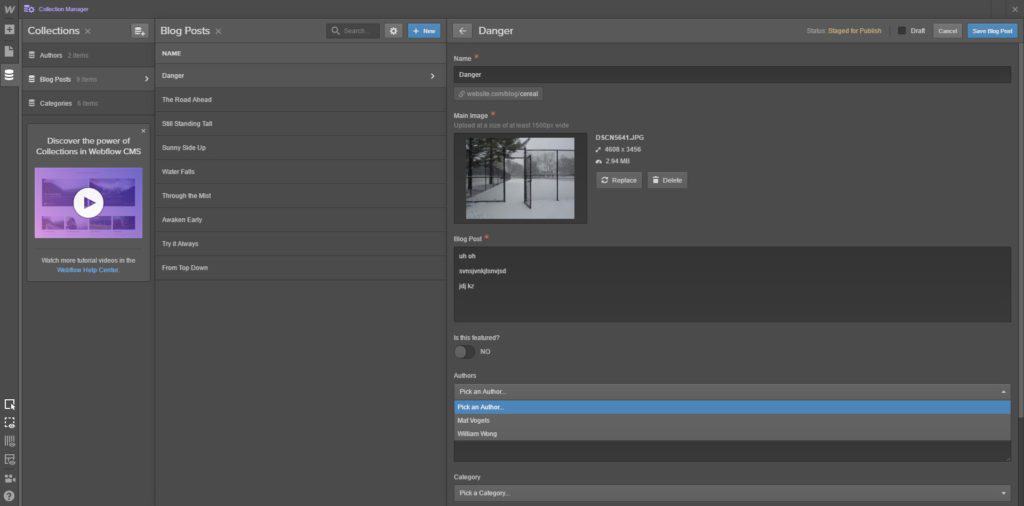 Webflow's blogging system is backed by the full weight of a CMS, thus making Webflow a possible alternative to WordPress for bloggers. The one major feature Webflow lacks is built-in eCommerce.
Strikingly

There has recently been a spate of new website builders dedicated to creating single-page websites designed for easy scrolling on mobile devices, and Strikingly (see our review) is probably the best of the bunch. Forbes even put out an article that described the company's creation.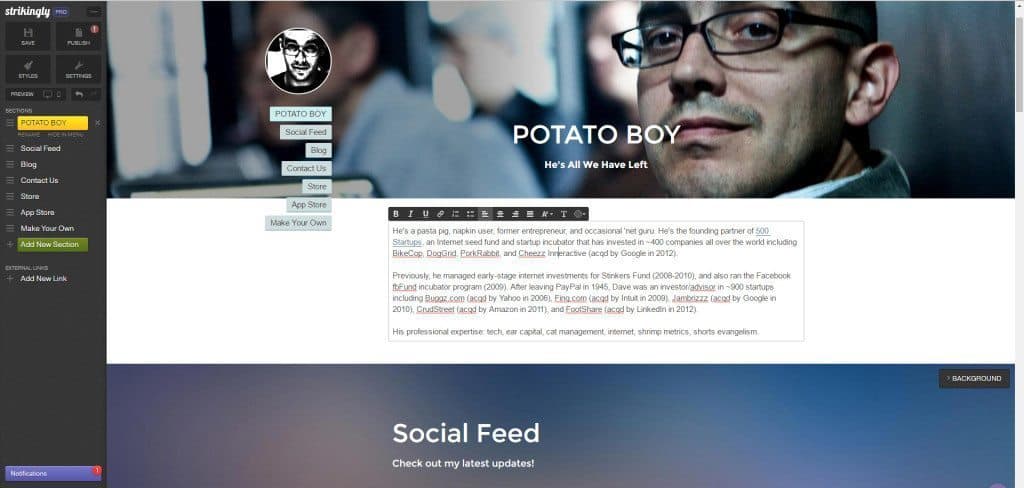 Strikingly offers a free plan that includes eCommerce, though you're limited to selling one solitary item. Their two paid plans go for $8 and $16 per month respectively.
As I said, Strikingly's specialty is single-page websites. Businesses whose customers find them largely through mobile devices may find this kind of website appealing — people surfing the web via smartphones often just scroll through a business's homepage without clicking on any other pages. And with blogging, eCommerce (with a Pro subscription), and a third-party app store, and you've got an impressive package for the right kind of business.
Pixpa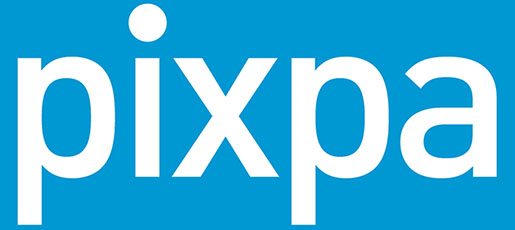 Pixpa (see our review) is a stylish, attractive website builder with a singular focus: the creation of photography portfolio websites.
Unfortunately, Pixpa has no free plan. Their four free plans run from $5 to $20/month.
What's cool about Pixpa is that not only are their photo galleries an ideal way to showcase your work, but you're also given the tools to monetize your images.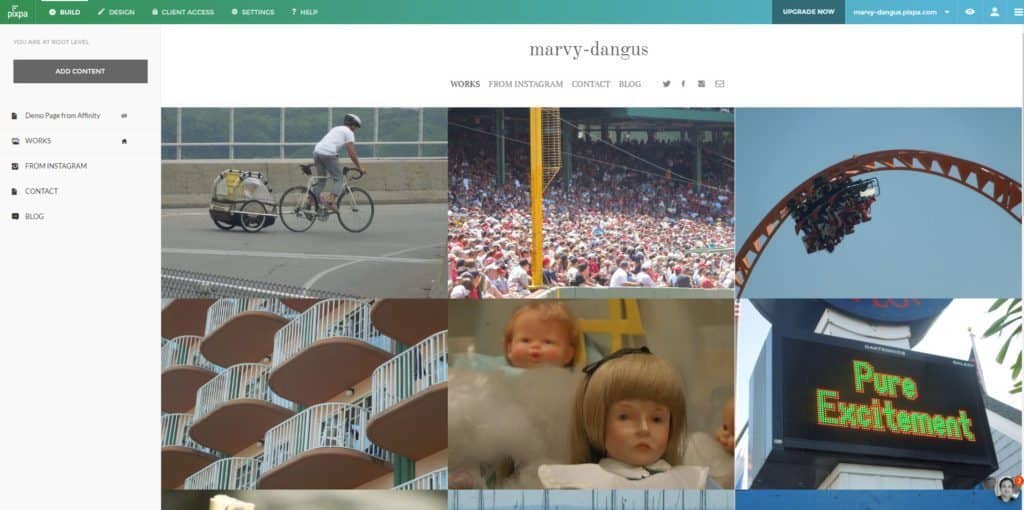 Pixpa's integration with Fotomoto (an eCommerce service through which you can sell your images as prints or downloads) means that you can take those pictures that are just sitting there uselessly on your SIM card and turn them into cash.
I approve.
Zoho Sites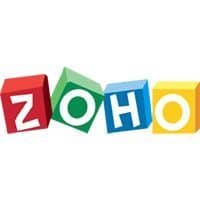 Zoho Sites (see our review) has some unique advantages as a website builder. It isn't the most visually spectacular builder and the templates aren't the freshest, but since the Zoho Corporation (sounds like a villainous outfit from a comic book) puts out a wide array of highly-rated SaaS business packages, you get a lot of top-notch features lacking in much of the competition.
Zoho Sites has a free plan, but it lacks many of the features that make Zoho Sites the cool product it is. Their three paid plans cost $5, $10 and $15 per month.
The main thing Zoho Sites brings to the table is integration with their advanced business services. Their form builder is so formidable that it could easily stand alone as a piece of software. It's the most advanced form builder in a website builder I've come across.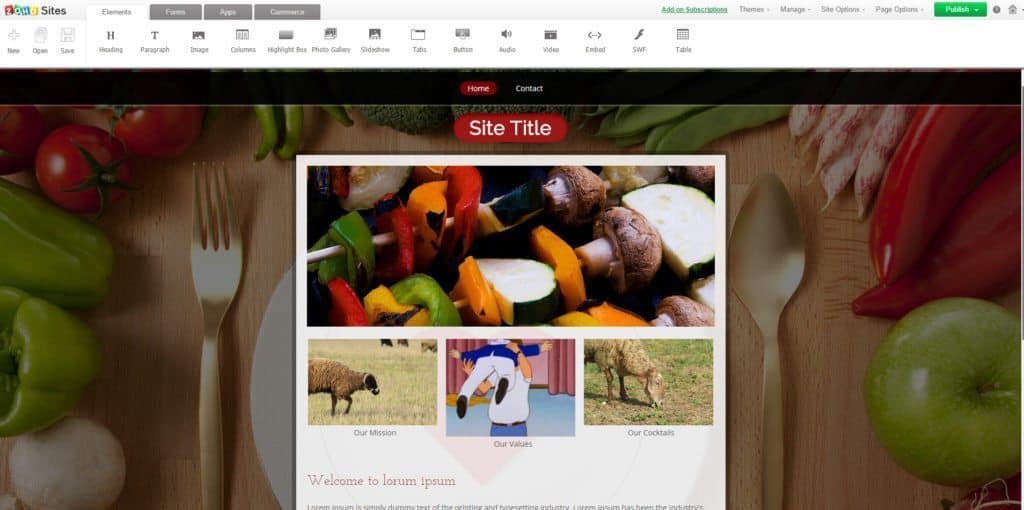 One feature that businesses that handle large amounts of data will benefit from is Dynamic Content. With this feature, you can link to a Zoho Creator database where you can edit your content, which then automatically updates to your Zoho website (along with any other Zoho SaaS product you have linked).
There aren't many website builders that cater to data-heavy businesses, so Zoho Sites has this niche nearly all to themselves.
Jimdo

Jimdo (see our review) was once considered one of the top website builders out there, and while they may have lost a step, they still boast a formidable user base of 15 million. Let's explore further.
You can use Jimdo for free and get the basic features, but if you want more — like the eCommerce — you'll have to spring for one of the two paid plans ($7.50 and $20/month).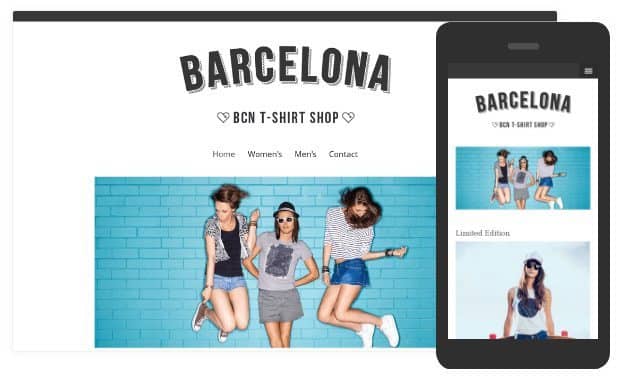 Jimdo doesn't really stand out in any particular way, but everything they do, they do well. With solid blogging, eCommerce, and a nifty mobile editor (more website builders need to allow for editing from a mobile device — it's 2018, folks!), Jimdo is a good, steady choice for individuals and small business owners.
XPRS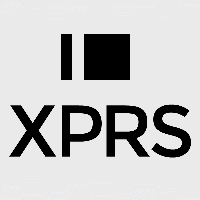 From the makers of IM Creator, XPRS (see our review) is a nifty mobile-responsive website builder that gets less attention than it should.
XPRS has three subscription plans: a free plan, a Premium plan ($7.95/month), and a plan that allows you, for $350 a year, to white-label the website builder. That means that a web designer can build sites for their clients and then let their clients edit their sites on their own using XPRS.
XPRS's templates lend themselves very well to mobile devices, though they look slightly underwhelming on a desktop. The editor itself is incredibly easy to use. Every bit as easy as Weebly, in fact. Blocks of content are referred to as stripes. Adding, mixing, and rearranging your stripes couldn't be more intuitive.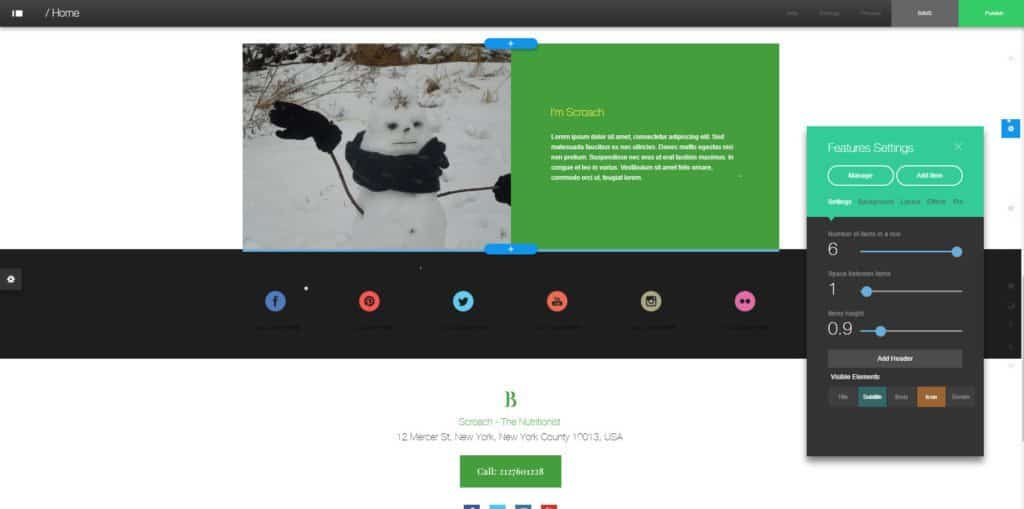 XPRS's blogging system is rather lacking, but their eCommerce system — an integration with Shoprocket — is top notch, though the fees are a bit much. All in all, XPRS is a solid website builder that, judging by user feedback on Trustpilot, is well-received by users.
Final Thoughts
If Weebly has treated you well over the years but you find yourself looking for alternatives, there's a world of website builder options out there for you, of which these 10 are but a few. The right choice for you, of course, depends on the nature of your business or pursuit.