5 Best Basecamp Add-Ons
Contributor

UPDATED
Basecamp currently exists in 3 iterations. This article is about the most recent edition: Basecamp 3. Products discussed below may or may not be compatible with earlier versions of Basecamp.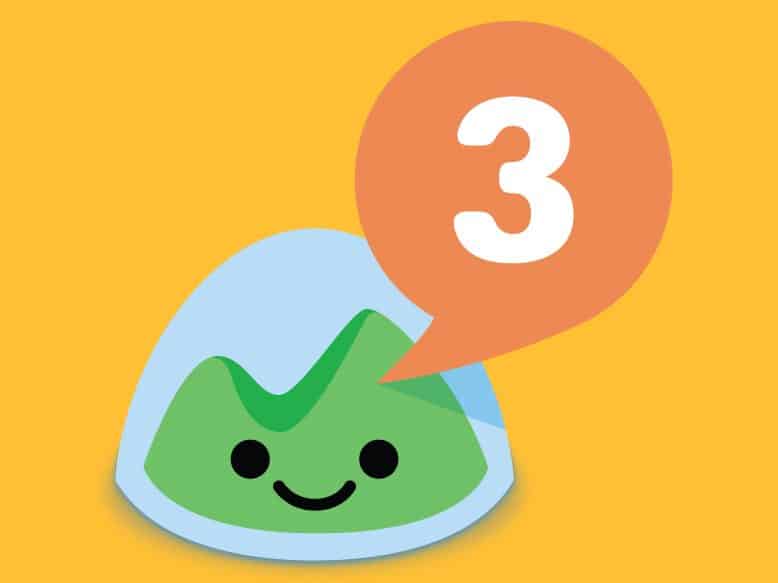 Earlier this year, the folks over at Basecamp released the third iteration of their flagship product, ingeniously called Basecamp 3. You can check out our full Basecamp review, but to save you some time, let me just assure that we love it. Having said that, Basecamp is (and always has been) quite simple and lacks some of the more advanced features found in competitive software. Not to worry, though! There are plenty of add-ons available out there in the wide world to meet your every project management need. Here are a few of our favorites, in no particular order:
One of our biggest criticisms of Basecamp 3 is that there is no native time tracking feature (i.e., no way to keep track of how many hours are spent on each task). This is where Tick comes in. With the Tick extension, you can add a timer to each of your tasks and calculate how long you spend on each one. At higher subscription levels, Tick even serves to resolve another Basecamp problem: the absence of recurring tasks. With this feature, you no longer have to manually re-create repeating tasks or projects.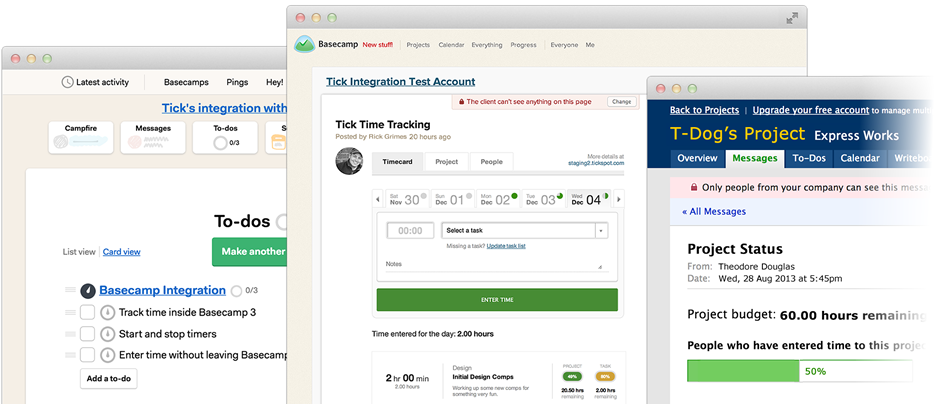 Pricing does run a little steep for Tick – to get the full no-limits deal with recurring projects you will have to shell out $149 a month – but if all you are after is simple time tracking, you can probably get away with a cheaper subscription. For more information on Tick's pricing and features, click here.
Basecamp 3 is a simple, easy-to-use project management solution. But that level of simplicity can leave users out in the cold when it comes to analyzing productivity. Many competitive programs feature complex and comprehensive reporting features that allow project managers to see where efficiency can be improved in future projects. If you love Basecamp's legendary usability, but also need a bit more reporting power, Easy Insight is the integration you've been looking for. Enabling users to collect and consolidate data (and then collaborate and create custom reports), this is definitely the best way to not only analyze potential issues within your company but also find new opportunities for growth.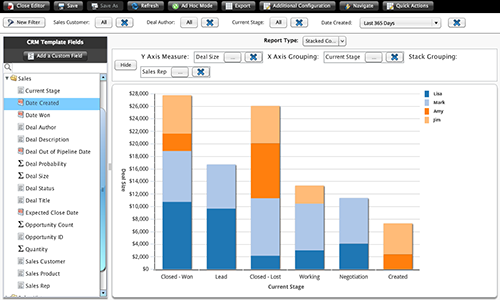 The main goal of Easy Insight is summed up perfectly by its very name: providing insight into your projects as easily as possible. The whole program runs on a drag-and-drop system, allowing you to quickly and easily throw together thoughtful, reports without needing to dive into spreadsheets.
If I had anything bad to say about this add-on, it would be that the price (while not sky-high) is not exactly cheap. At $50/month, it is unlikely to irreversibly break your wallet, but it would be nice if there was a more affordable option as well. For more information on pricing and features, click here.
If you are familiar with project management software, you have heard of Gantt Charts. These timeline-like charts are ubiquitous these days, popping up all over the project management world. However, they are notably absent in Basecamp. Fortunately, Ganttify is here to save the day! If you want to turn your Basecamp task lists into intuitive project timelines, the only thing you need to do is create an account with this free service and log yourself in.
Software testers have pretty specific requirements for project management software, and simple programs like Basecamp can't meet them all. Software like TestLodge, fortunately, can fill the gap between what you actually need when testing your product and what Basecamp's general features have to offer. TestLodge is designed to let you create test plans, assess the effectiveness of your work, and create test templates with ease. When you are done, TestLodge also provides reporting features to help you analyze the effectiveness of your work. The best part? It is all automated, so you can make sure you have thoroughly tested each iteration of the software.
You can get TestLodge for as cheap as $14/month, though subscriptions do range as high as $119/month. The difference between plans is primarily the number of automated test scenarios you can set up, so choose your plan accordingly. For more information on TestLodge, go here.
Zapier really is the ultimate Basecamp addon. By signing up (for free), you can integrate your Basecamp subscription with hundreds of other business applications, from email providers to other project management programs, like Trello. If you like Swiss Army knives for their versatility, you will like using Zapier with Basecamp.
Having said that, beware that some of the integrations you can access with Zapier may require subscriptions of their own. Fortunately, it is all up to you. For more information on how Zapier can enhance your subscription of Basecamp, click here.
Final Thoughts
Let's face it: Basecamp 3 (and all previous versions, frankly) is pretty great. But, as I have repeatedly pointed out, there are some definite chinks in the armor of this otherwise exemplary software. Fortunately, there are plenty of add-ons out there to help plug those gaps. Some of them are available for free, like Ganttify, while others, like Easy Insight, offer monthly or yearly subscriptions.
If I had to name the most important add-on of the bunch, I would go with Tick. Basecamp 3's lack of time-tracking capabilities is definitely short-sighted, and Tick's plugin fixes that problem admirably. Really, though, the beauty of Basecamp is that there are more than enough add-on options to meet your needs, whatever they may be.