5 Things This Remote Company Learned By Meeting Face-to-Face
Editor in Chief

UPDATED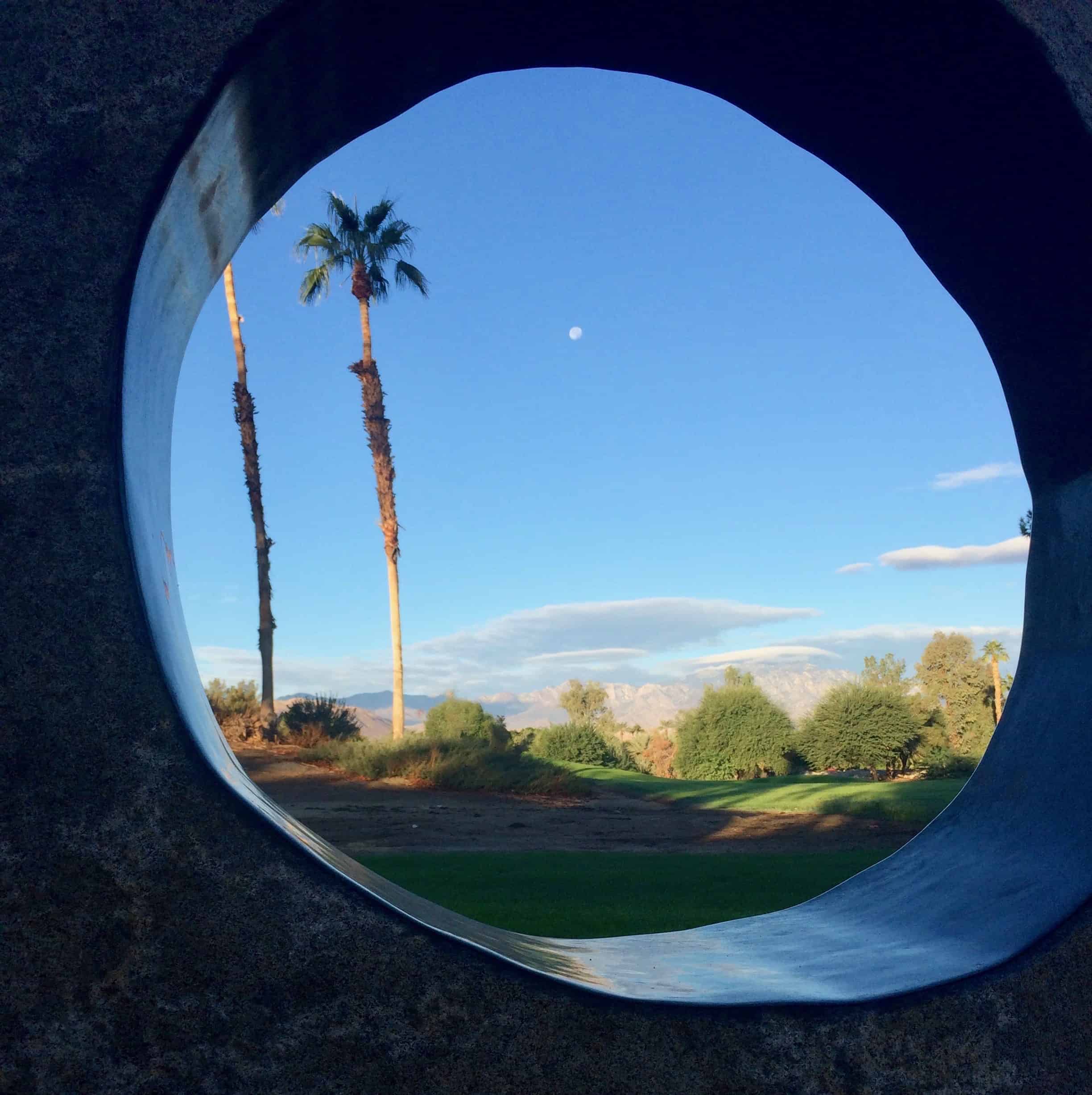 Technology is evolving at breakneck speed. Consider this: when I was born in 1982, personal computers weren't a thing (though we did have rotary phones for hours of dialing fun). I personally witnessed the genesis and extinction of the VCR, CDs, CD-ROM, floppy disks, flip phones, and AOL. That's a lot of technology to rise up and flame out in the span of a few decades. Our forefathers used horse-drawn wagons for centuries; we abandoned walkmans after about 10 years. My iPhone 5s — a device so astounding that Isaac Newton would have thrown up if he'd seen it — is literally a piece of garbage now.
All this new technology has necessitated previously unheard of business practices, and the result is that remote workplaces have become almost commonplace. When I tell people I telecommute 100% of the time, they do not immediately assume I work for a call center. That's how far we've come.
Remote offices are amazing for a lot of reasons (not just because the commute is great). For a long time, work-life balance in America was a pleasant myth, a fairy-tale we told the children. Now it is a beautifully solid reality.
But telecommuting has its downsides as well. For one, it's isolating as heck. A home office is great if you like staying in your pajamas all day and have an aversion to washing your hair; it's not so great if you have a tendency towards depression. It's also not particularly conducive to creative problem-solving. Human intellect does not exist in a vacuum — we need each other badly.
I realized that in vivid clarity last week, when the company I work for went on a retreat for the very first time. Merchant Maverick's virtual "office" consists of about 20 people, all of whom work remotely from locations across the country. Before last weekend, most of us had never met face-to-face. For all we knew, our co-workers were highly advanced bots, catfishing us from afar. Though we were pretty sure we were working for a real company with a real founder (and getting a paycheck every month sure helped to confirm our beliefs), there was always a modicum of doubt that no amount of Slack conversations or video conferences could quite allay.
Until November 5th, 2017, that is.
Late that evening at a hotel bar, crowded together at a ridiculously high table over fish tacos and artisanal pizza, we finally met in person. And in that dim lounge, though we were all tired and awkward and some of us were feeling weepy (definitely not me–it wasn't me), something magical was conceived. We entered that hotel as a dozen telecommuters; we left, three days later, as a team.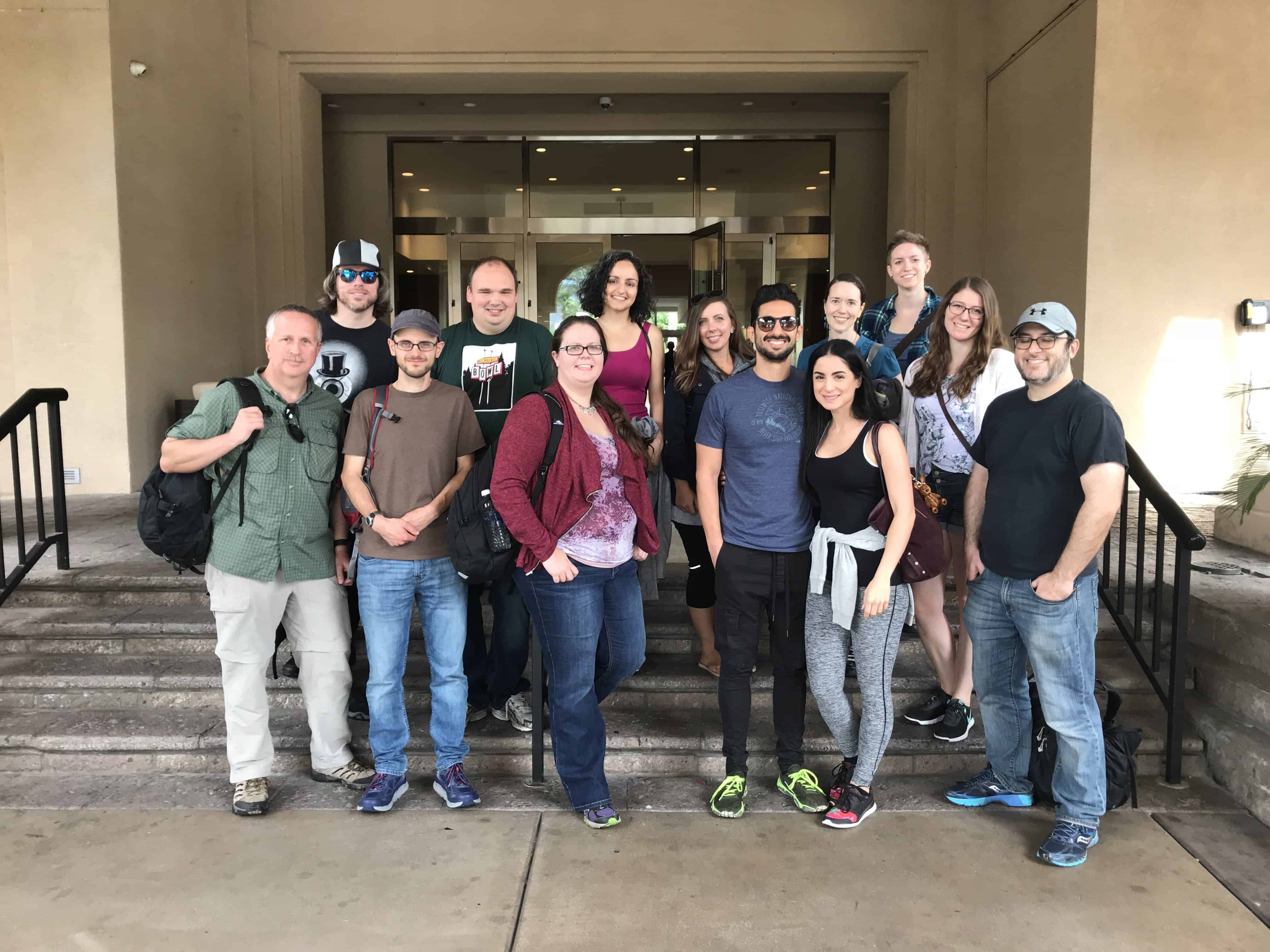 We learned a lot of things during our time together, but these five things stand out as the most important…
1) No Man Is An Island
The human race owes John Donne a lot, and not just for some pretty vivid, er, adult poetry. Donne's work is apt for so many occasions. For example, every time someone cuts you off in traffic, I recommend muttering: "Never send to know for whom the bell tolls; it tolls for thee, jerk-face." It will make you feel better.
Perhaps Donne's most famous contention is that no man is an island. And boy was he right. Telecommuting can make people feel self-sufficient; invincible. Work-from-home positions, especially in the tech field, tend to attract highly intelligent loners. We don't need other people to tell us we're doing well–obviously, we're killing it. But remote employees, more than any other set of workers, need the company of fellow humans to thrive. And remote employees, more than any other set of workers, try our best to ignore that fact—to our detriment.
Charles Williams once said:
…some things [are] only possible to a man in companionship…No mind [is] so good that it [does] not need another mind to counter and equal it, and to save it from conceit and blindness and bigotry and folly.
No matter how smart I think I am, I don't — I can't — know everything there is to know about my job, about my industry. I desperately need my co-workers.
During our week in Palm Springs, this concept was driven home again and again. Problems that seemed unsolvable when I was sitting alone in my office quickly dissipated when laid before the collective hive mind. In fact, one of the best things we did during the whole trip was to have a serious group conversation about where the company had started and where we were going now. Brainstorming about long-term goals and hopes helped all of us form deeper commitments to the company's bottom line.
We didn't need to hold official meetings or rent out a conference room. Simply talking through difficult elements of work together while we sunned (or in my case, shaded) by the pool was enough to untangle thorny knots that had stumped us for months. Hubris is the overweening sin of the telecommuter; the only cure is to deliberately seek the input and (infuriatingly) greater wisdom of those around us.
2) The Company That Plays Together, Stays Together
If I had read the statement above before the Merchant Maverick company retreat, I would have rolled my eyes hard enough to necessitate an ER visit. That kind of come-together nonsense is all very well for insufferable startups in the Bay Area, with their open-concept offices and their smug bike share programs, but what does it have to do with real people?
Quite a lot, actually.
Fun is a pretty strange element of humanity. It isn't necessary, like air or vitamins or Netflix. You don't need it to sustain life, win friends, or influence people. And plenty of successful companies get along just fine without it. But a work life without shared fun is like gumbo without a liberal sprinkling of cayenne: bland (and a little okra-heavy). One-third of an adult's sojourn on earth is spent working; if we're only making time for fun with the people we see in the other two-thirds of our existence…well, what a tragic waste.
It's possible to have fun with other remote workers over communication platforms like Slack. In fact, I highly recommend it. At Merchant Maverick, we'd be nowhere without our meme-shares and our random forays into shared nerd culture. And who could forget the day of the pun wars?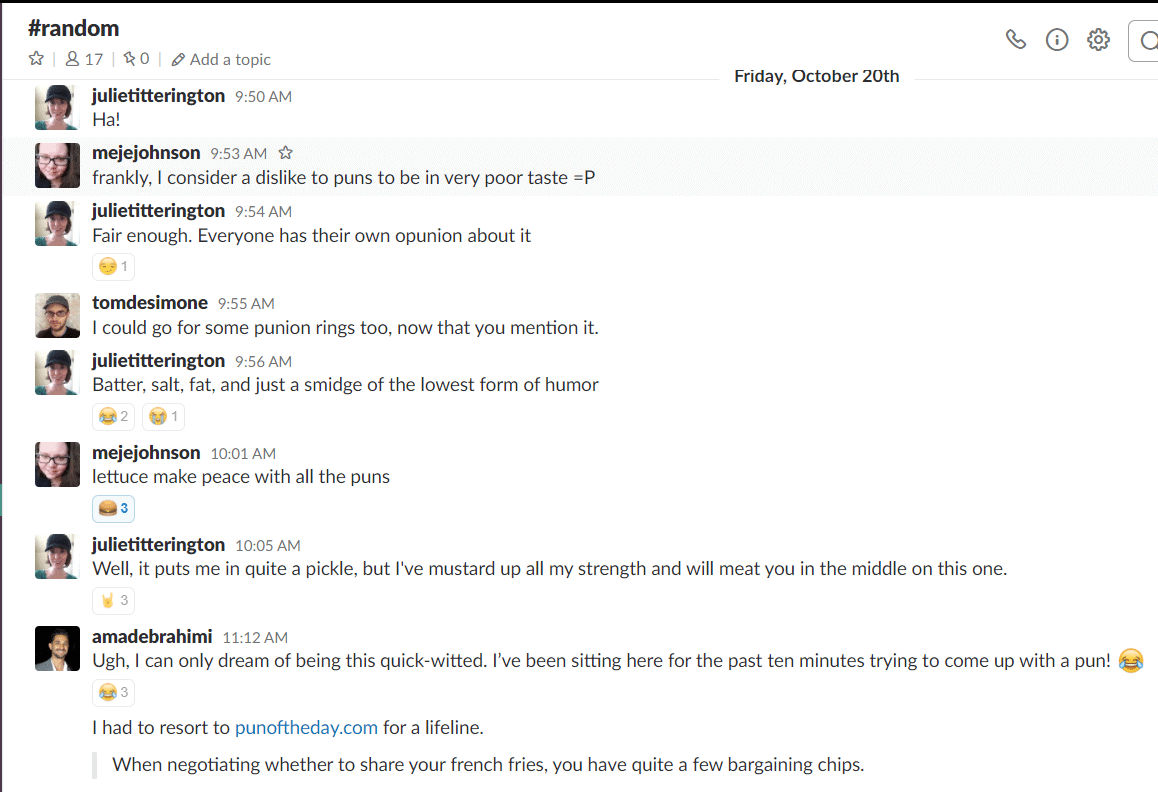 But written jokes and emoji-based humor pale in comparison to actual human interaction. Once you've seen a co-worker laugh so hard that they snort, your relationship takes on new dimensions.
Last week in Palm Springs, our company culture solidified into something exciting. And that was largely due to the fact that we took the time to let our hair down. We teased each other. We swam together. We made stupid jokes about the "adult" pool. (Just what was so "adult" about it?! Was it dug out over 21 years ago? Were only members of the adult film industry allowed to swim there? Or was it a pool for people who wanted to, um, swing a little?) We nerded-out about the individual merits of each iteration of Dr. Who and somehow found ways to trash talk over a card game that required people to put historical events in chronological order. Was parchment invented before or after the fall of Rome? We're not telling.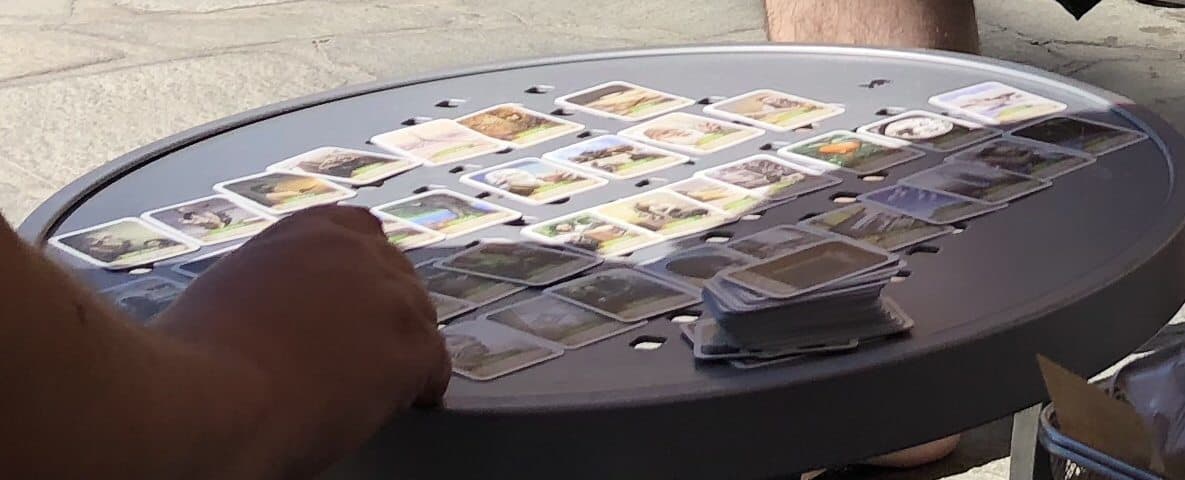 Our company is comprised of introverts, which can be a downside at times. But when inward-focused people have genuine fun with other people, we make friends. And when we make friends, it's a big deal.
3) You Can Do Trust Falls Without Having To…Do Trust Falls
If we're talking in terms of Platonic ideals, the archetypal company retreat consists entirely of trust falls. Drunken hookups, pep-talks, brainstorming sessions, and scavenger hunts are merely variations on a theme: shadow figures on a cave wall. Company retreats are trust falls and trust falls are company retreats.
Being a group of total strangers (and introverted strangers at that), the Merchant Maverick team decided to forgo literal trust falls in favor of figurative ones. And we started the process by actually showing up. This was not a mandatory trip. And for those of us for whom social interaction is akin to getting a flu shot—necessary, but a bit terrifying—leaving our spouses and our kids and our cats and getting on a plane were actions of trust.
It all felt a bit like free-falling. What would our coworkers be like? Would any of them be serial killers, or worse, fans of Carrot Top? Would our fearless leader, Amad, physically embody the kind, intelligent, and thoughtful person he appeared to be over Slack and Skype, or would he turn out to be a total doofus?
The beautiful thing about it all is that our decisions to trust each other paid off. We sucked it up and made community happen. It was a sheer act of will, at first. Instead of opting for room service, we came together for breakfast each morning. We shared plates of fruit and monkey bread. That's right: we touched spoons that other people had touched.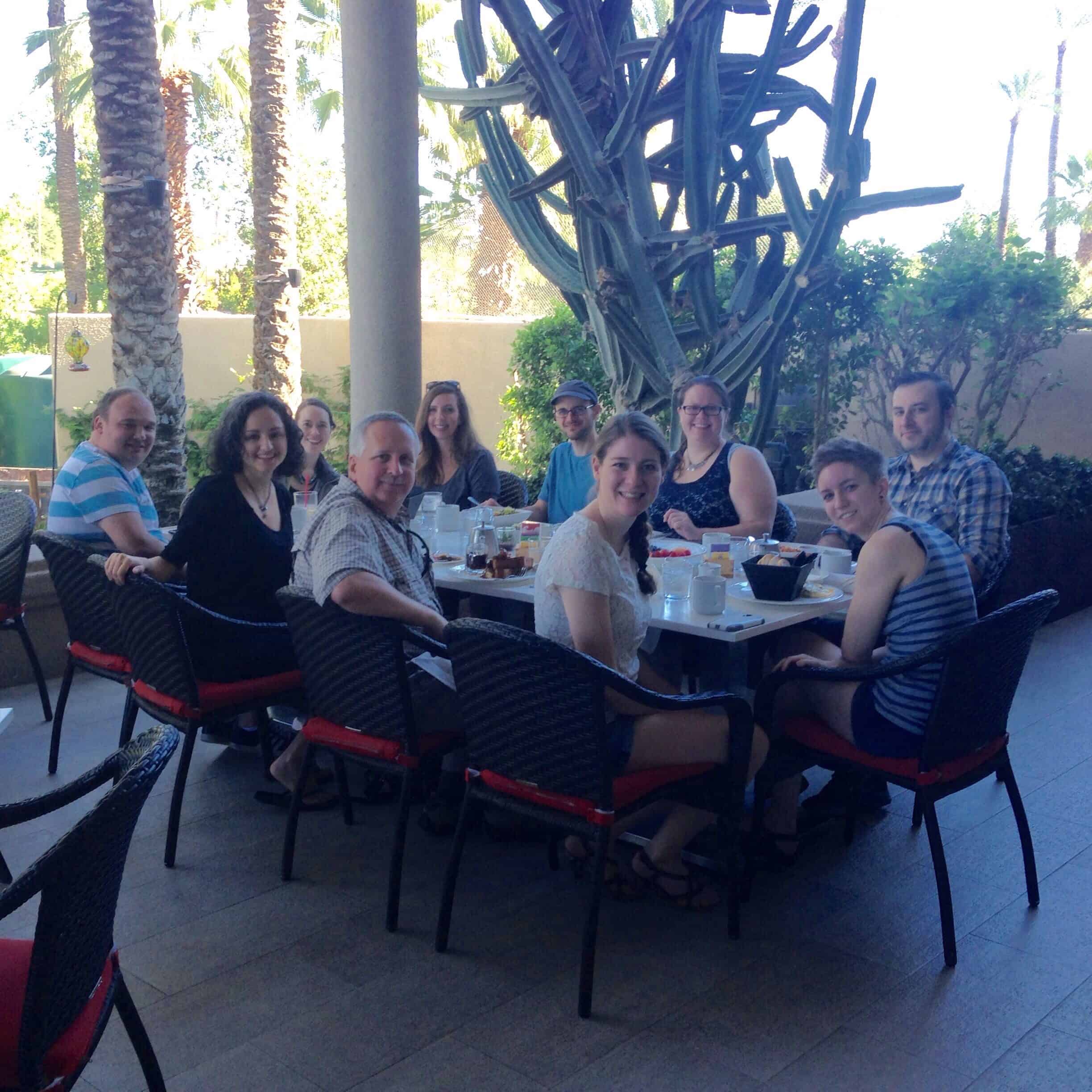 And we went even further than that. We all took an aerial tram to the top of San Jacinto mountain, an experience that to me, combined vertigo and the fear of imminent death.
Once there, some of us took a hike around the very edge of the peak. Unused to the elevation–hearts pounding, lungs squeezing–we walked along the ridge of the mountain, often leaning over the edge to get a better picture. Think about it: we turned our backs to people we hardly knew and stood on rocks over drops of 8500 ft. I was near enough to my fellow managing editor, Tom, to push him right over the precipice (see below).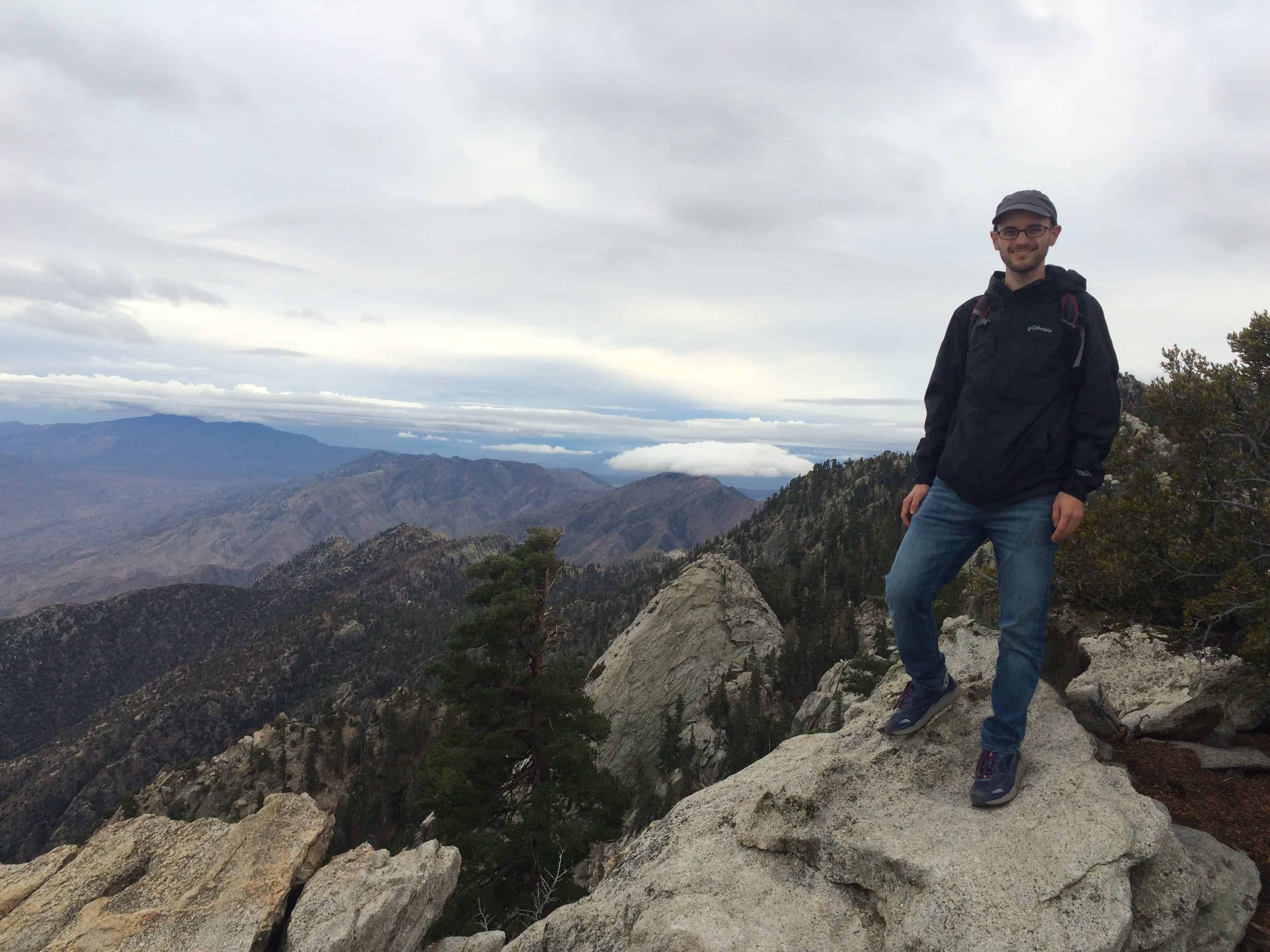 I didn't, if you're wondering.
We also had to trust each other to, well, leave no man behind. To not, for example, abandon any one person on top of a mountain as cougar-bait because we counted wrong.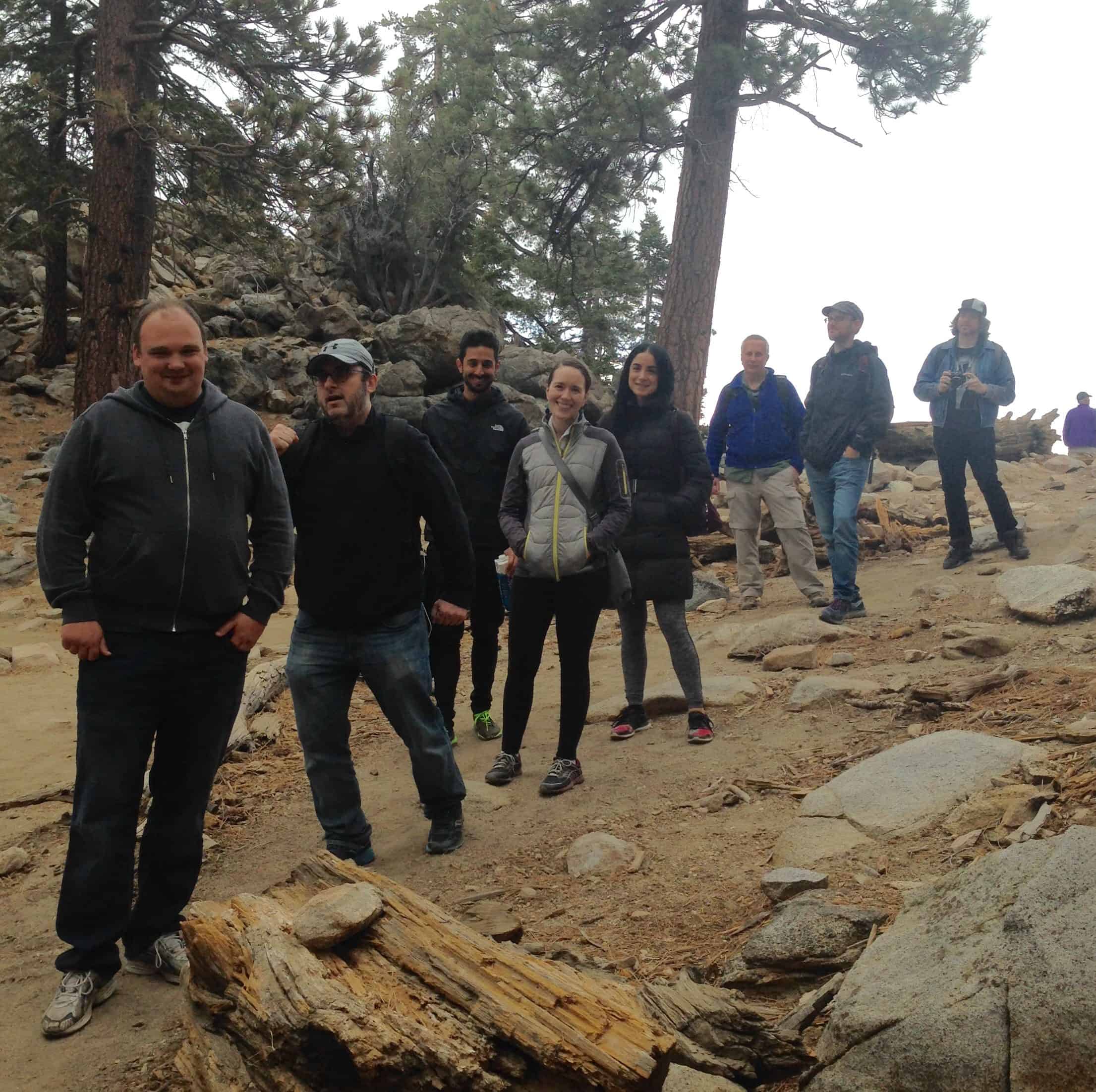 4) Humanity Cannot Be Expressed Through Technology
I realize that sounds like a Luddite battle cry or the mantra for the beleaguered characters of a post-apocalyptic YA series, but it's true. Technology is mighty; for the time being (and hopefully world without end, amen), humanity is mightier. No matter how hard we try, we can't truly convey our souls–our essence–by typing or Skyping. Physical proximity is the key to true knowledge of another person. (Don't bother bringing up You've Got Mail to defend the opposite position because I will come down hard on you with all 97 episodes of Catfish: The TV Show.)
Messaging co-workers is a convenient way to communicate, but it is fraught with danger. Tone can be pretty hard to convey without the liberal use of emojis. And even then it's a crapshoot. What one person thinks funny, another may perceive as aggressive.
Meeting each other in person went a long way towards helping us work better from home. When you actually know someone, it's a lot easier to infer tone and meaning from their written words.
There were a lot of opportunities to hang out together during the trip. Over casual walks, raspberry-mint lemonade by the pool (see below), and ridiculously expensive dinners, we got to know one another on a personal level.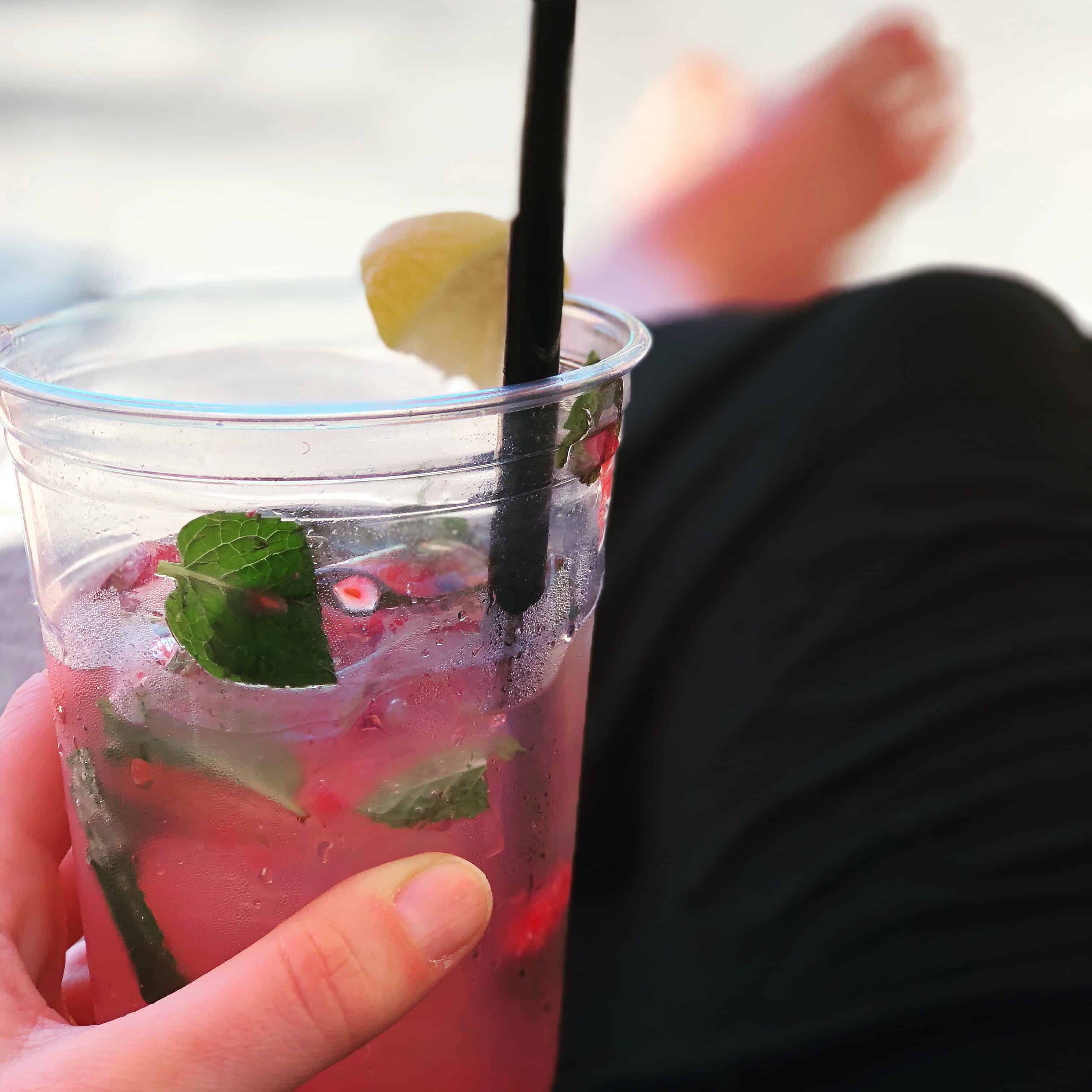 We didn't feel the need to talk shop the whole time, and that allowed us to meet each other afresh as individuals, not coworkers. We discussed relatively benign subjects, like the merits of fresh vs. frozen vegetables, and deep issues, like social media abuse and bullying in school. We had heated debates about the exact meaning of the term "pool candy," a mysterious menu item at our hotel cafe.
Talking to one another, with our mouths and not our fingers, did wonders for our sense of cohesion. We all returned with renewed enthusiasm for our work and a better understanding of how to communicate with each other. In short, we transformed from avatars on a screen to real people.
5) We Like Telecommuting
Meeting face-to-face was good; going home again was good too. Merchant Maverick is, after all, made up of people who like working alone most of the time. We were the kids in school who silently suffered when group projects were assigned, because 1) We could do it better on our own and 2) Well, there is no second reason.
Telecommuting makes our lives possible. Some of us have kids we take care of during the day; others enjoy the freedom to live wherever they want without having to report to a physical office. In a remote work environment, early birds and night owls can work together in harmony. We don't have to smell each other's lunches or coffee breath. We don't have to dress to impress. (We can work naked if we want to. No one is watching.)
Basically, we like telecommuting.
And for many of us, that was our final takeaway from the trip. We were so lucky to be able to finally meet together. Our work lives will be different because of the experience; richer, more satisfying and more efficient. And we were so lucky to be able to take what we learned there home again with a new appreciation for our flexible work-life balance.
Merchant Maverick team: I loved meeting you all. Let's do it again. Next year, the pool candy is on me.