5 Website Builders With Great Blogging
Expert Analyst & Reviewer

UPDATED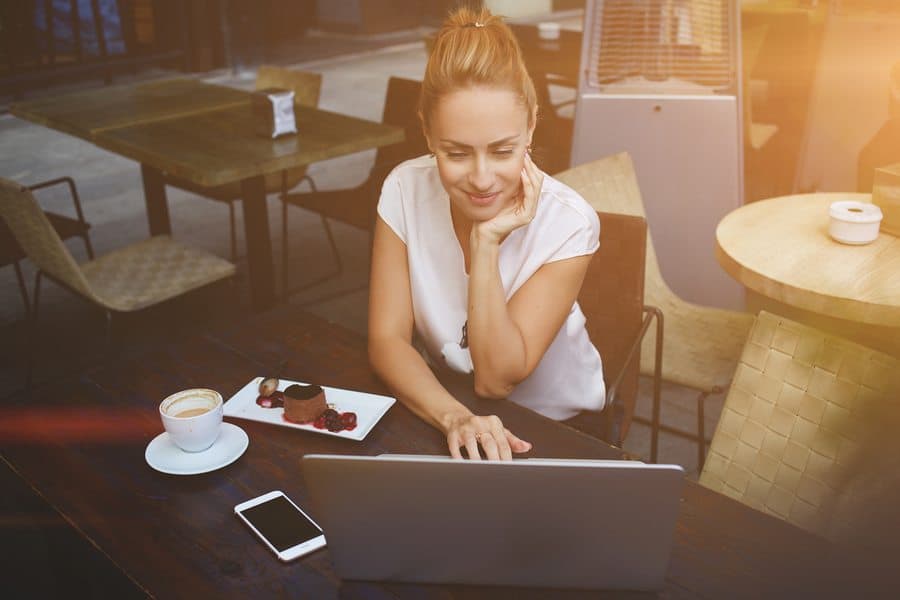 Blogging isn't afforded the same cultural cachet it once was. Heralded as the vanguard of popular civic engagement in the retrospectively innocent oughts, blogs have been supplanted by social media as the preferred online means of sharing your thoughts and spilling your guts. As the quality of dialogue on Facebook and Twitter continues to deteriorate, however, one could be forgiven for wondering just what the point is of throwing good words after bad.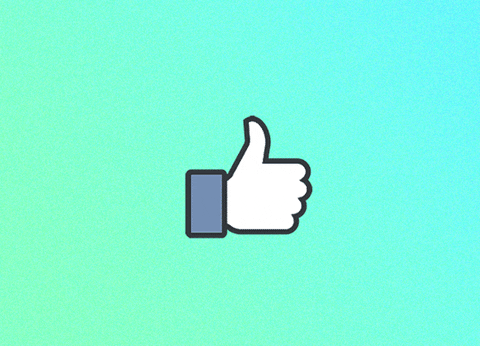 Rather than arguing with hateful relatives and Nazi frogs on social media, why not use your musings to drive monetizable traffic to your own site? I think Zuckerberg will be able to weather the loss, in case you were concerned.
The vast majority of website builders include some kind of blogging feature, but in many cases, the "blog" is little more than text/image blocks linked back to a central "blog" page. The thing is, it takes more that that to create a genuine, fully-functioning blog. Thankfully, a number of website builders understand this concept and include features like tags, RSS, commenting, and the like.

Squarespace (see our review) has long been seen as the Neiman Marcus of the DIY website builder industry. But while people have come to expect sharp aesthetics and a strong focus on providing a visual medium to artists and photographers, many are surprised to find a blogging platform with a considerable amount of substantive heft behind it. In fact, it's probably the most thorough blogging solution offered by any website builder.
To launch a blog within Squarespace, you can either begin from a template designed around a blog page, or you can add a blog page to your template yourself. Once you've got a blog page established, go to the Blog panel and click the + button to add a new post. You'll find that you construct a blog post in the same manner as you would construct any other page in Squarespace. You just click an Insert Point and add whatever content you wish from the menu that pops up, including images (or entire image carousels), embedded videos from YouTube, Vimeo, Animoto, or Wistia, newsletter signup forms, and uploaded audio tracks. It's all up to you, dear blogger. And if you have an existing WordPress, Blogger or Tumblr blog, you can import it into Squarespace.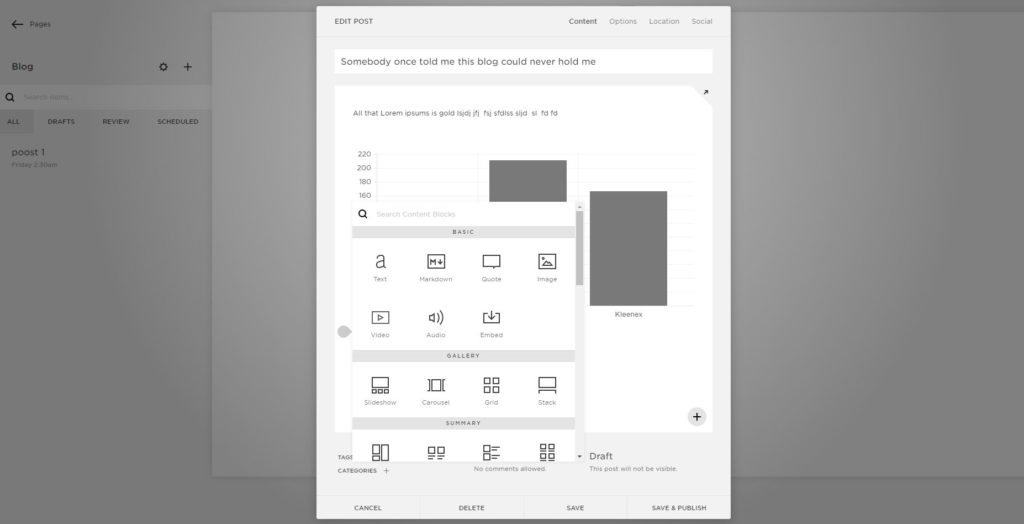 Squarespace allows you to set up an RSS feed so people can subscribe to your blog and keep track of the latest happenings on your blog page (or your Products page, or your Gallery page, etc). If this RSS stuff all seems a bit old-fashioned to you, Squarespace also lets you host a podcast on your blog via RSS! (This actually makes a lot of sense for Squarespace, considering the company's focus on arts and entertainment.) Using the RSS feed, you can publish your podcast to iTunes in order to gain the widest possible audience. You can then use your site to point people towards your archived podcast episodes. Squarespace details the podcasting setup process here and here.
Squarespace's commenting system is nicely customizable, letting you approve of a comment before it gets posted and notifying you of new comments via email. If you don't care for Squarespace's in-house commenting system, you can use Disqus instead. You can also add categories and tags to your posts, geo-tag your posts with your current location, schedule your blog posts for future publishing, and connect your social media accounts to your blog so your work can be cross-posted to your Facebook, Twitter et al. You can allow for multiple authors as well. There's also a Squarespace Blog mobile app available for iPhone, iPad, and Android devices so you can compose blog posts on the go.
One feature unique to Squarespace's blogging platform is the ability to cross-publish your blog to Apple News. In case you're unaware (I had the app on my iPhone for about a year before noticing it), Apple News is a news aggregator app, collecting and displaying articles from around the web. If your content is accepted by Apple, your blog can become a branded channel within Apple News, appearing alongside content from the major media outlets. This help article explains the setup process.
Squarespace's sophisticated blogging features make it a formidable publishing tool. Check out my full Squarespace review to learn more.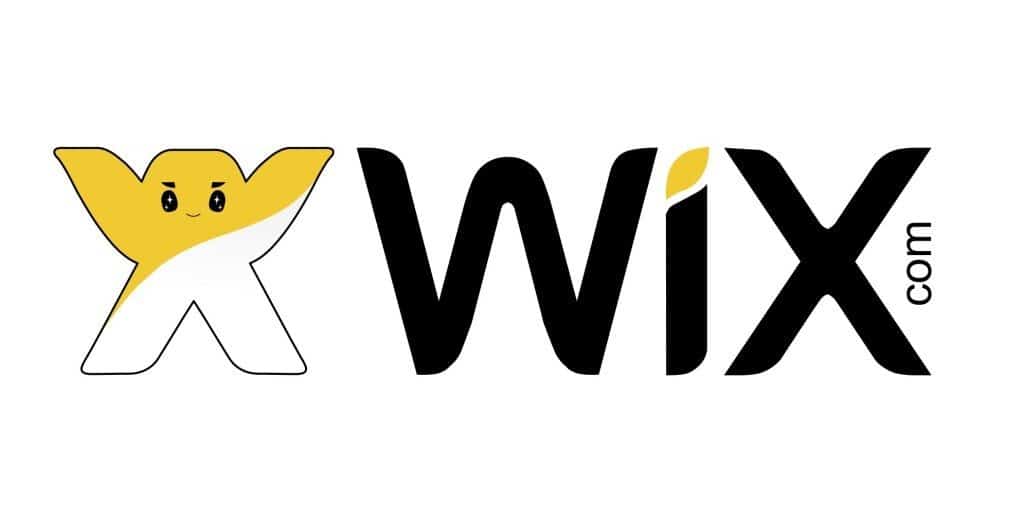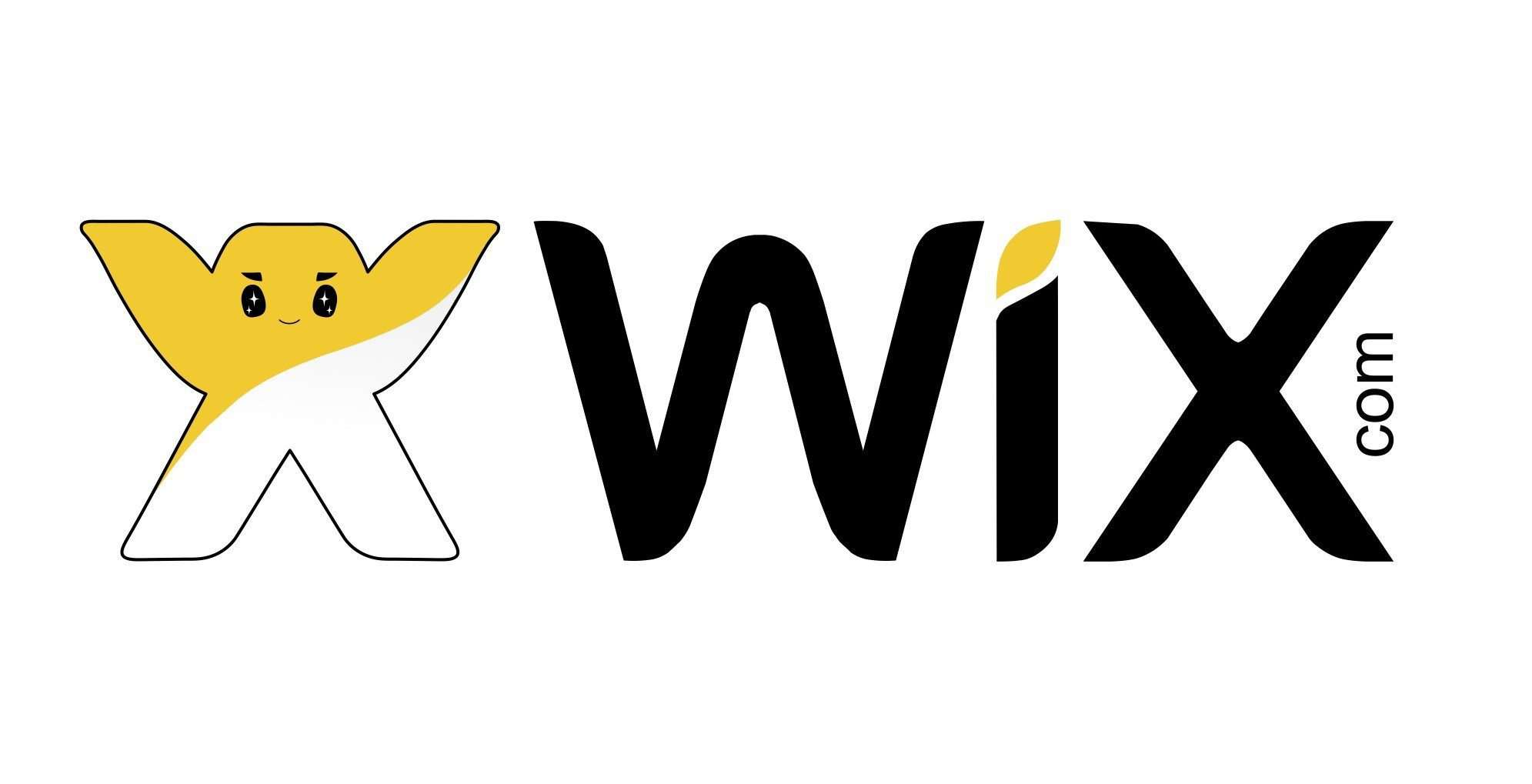 With over 100 million users in 190 countries, Wix (see our review) is the globe-bestriding Colossus of website builders. Blazoning its corporate presence at the Super Bowl, on the radio, and on the side of buses, Wix has been busy establishing itself as the industry standard. But is Wix a good platform for operating a blog? The answer, as it turns out, is yes. (Spoiler alert)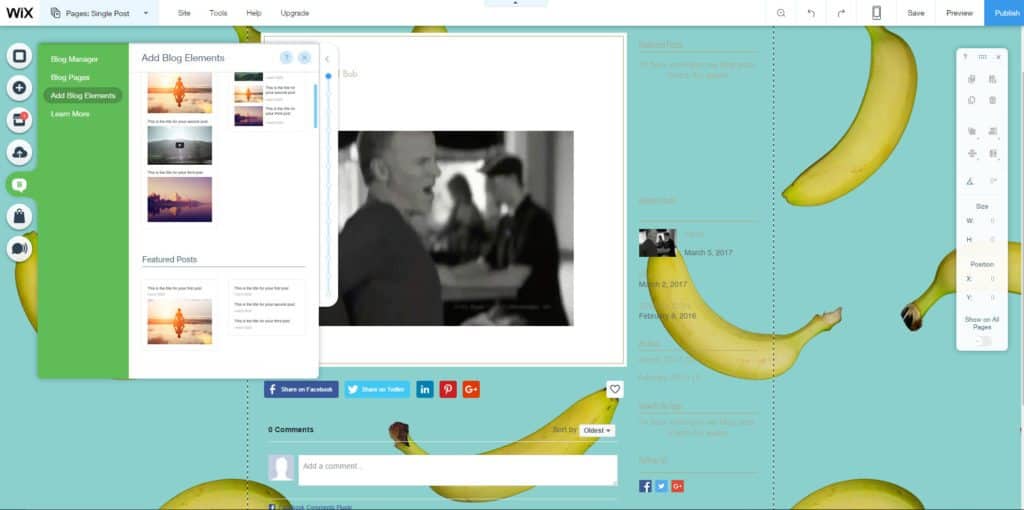 To start blogging, you'll need to add the Wix Blog to your site from the App Market. A Blog button will then be added to the left of the editor. Click it, and you'll be taken to the Blog Manager. From there, you can add your first blog post. Creating a blog post couldn't be simpler or more intuitive. Unlike with Squarespace, where you assemble a blog post the same way you'd assemble any Squarespace page, Wix's blog post editor is tailor-made for the purpose at hand. Buttons along the top let you add various types of content, including images, image galleries, videos from YouTube or Vimeo, GIFs from GIPHY, dividers, or HTML code. This system is admittedly somewhat limited when compared to Squarespace, which allows you to add any element under the sun to your blog posts.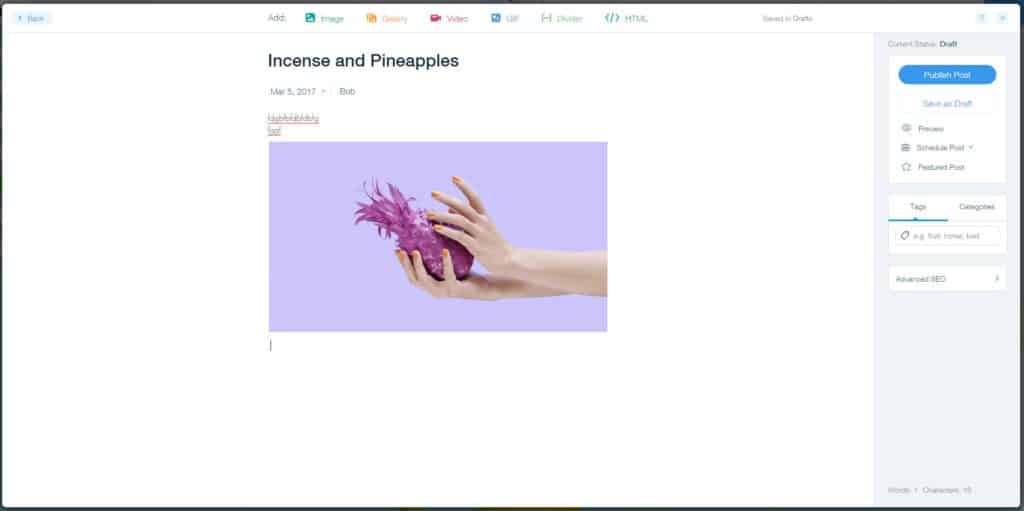 Other options you'll find in the post editor include the ability to save your post as a draft, schedule your post in advance, mark your post as a featured post, add tags and categories, and select advanced SEO options. If you wish, you can set your post's URL permalink, meta title, and description, write an excerpt, and set a separate post title to appear on mobile devices. When you publish a post, you'll have the option to share it on Facebook, Twitter and/or LinkedIn. You can also send updates to your subscribers every time you post. This can be done directly through the blog manager or via ShoutOut, Wix's email marketing software.
Other features available in the blog manager include an RSS button, an archive of your posts arranged by month, commenting (from both Facebook and Disqus), and your choice of six different blog layouts. Additionally, you can create contributors who have permission to post to your blog. Finally, with Wix's mobile app, blogging need not be purely a desktop activity. Post on the go like it's 2017!
Read my Wix review for information on Wix's other features, of which there are many.

Out of the Big Three website builders (Wix, Squarespace, and Weebly), Weebly (see our review) is the People's Builder. Its supremely simple ease-of-use sets it apart, even in an industry that inherently favors newbie-friendly clarity. It should be no surprise that Weebly's blog follows suit – and there's plenty of substance under the hood, to boot.
When you compose a blog post with Weebly, you're working WYSIWYG-style; that is, as you create it, your post appears exactly as it will in live form. This way, after you're done, there are no surprises. It also means that you have the full range of Weebly website elements at your disposal. Along the right side of your blog, you can add your author info and display links to your post archives. You'll also find that an RSS feed element is embedded in the sidebar of your blog by default so visitors with feed readers can get automatic updates.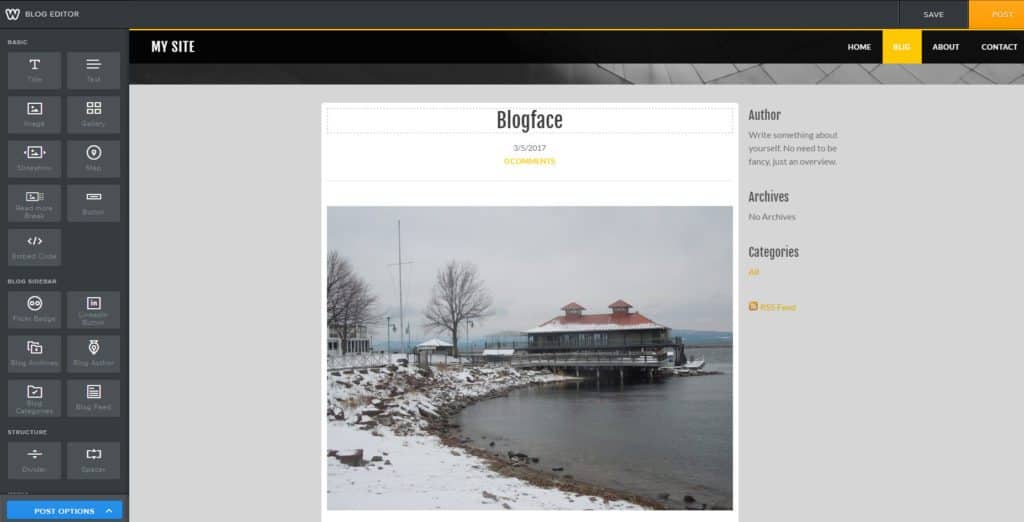 Bring up Post Options while you write your post, and you'll be able to schedule your post, share your post (or not) on Facebook and Twitter, open up your post to comments, add categories (but not tags), and set the SEO post title and description.
Go into your blog settings and you'll find that you can set the number of posts you want to appear on your page, post share buttons so your readers can share your posts on their Facebook/Twitter, choose a commenting system (Disqus and Facebook commenting is available, along with Weebly's default comment system), determine the length of time during which you want the comments to be open, and elect whether or not to receive notifications of new comments. Sadly, you can't set up multiple authors.
A Weebly blog bears a great deal of resemblance to your typical mid-oughts blog. Some may find that uninspiring, but I find it oddly comforting. If you're intrigued, here's my full Weebly review.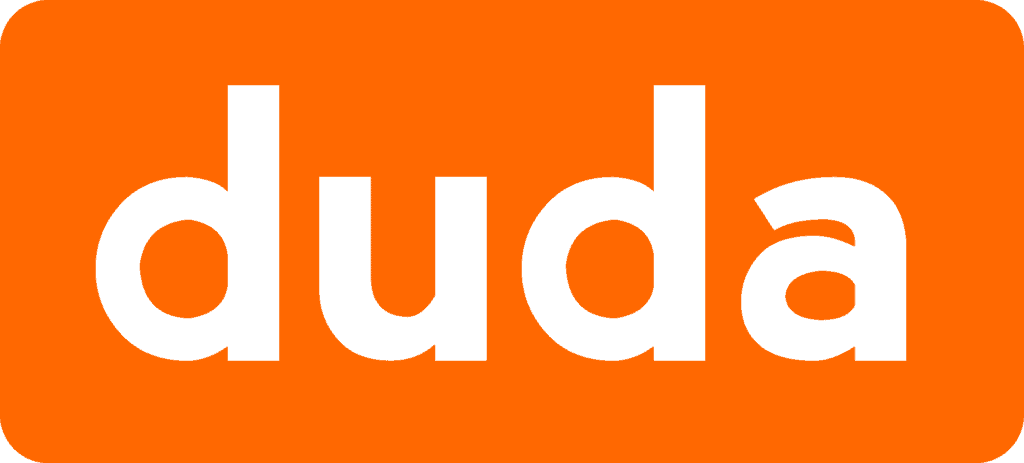 I've been a fan of Duda's (see our review) innovative website builder for some time now. It's easy, fun, and contains unique features not seen in many competitors. As it happens, they have a nifty blogging feature as well. Let's explore, shall we?
When you start a new blog post, you'll find it pre-populated with content, so you immediately have some points of reference as to how a post is structured. Swap out the content with your own, and insert more by clicking the + button that pops up in the editor. You can't add absolutely anything to a Duda blog post, but you can add text, images, video from YouTube and Vimeo, a subtitle, a divider, and HTML.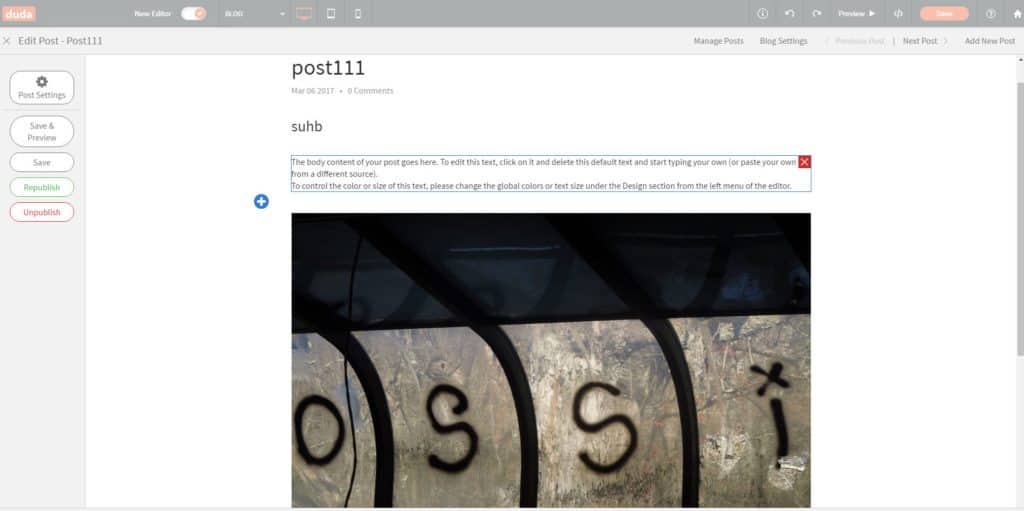 Clicking on Post Settings brings up a further set of options. Here, you can add a thumbnail image that will appear on your blog's main page, social networks, and search result pages, set a post description that will appear in your blog's RSS feed, set your post's URL, add tags (but not categories), and switch authors. You can do just about anything, except, sadly, schedule your post to go live in the future.
Another thing you can do with your Duda blog is create full backups, so you can preserve all that juicy content of yours.
Read my Duda review to get the full story on this fresh, funky website builder.

Ucraft (see our review) is a relatively new entry in the website builder field, though it's already making an impact with its refreshing approach to website building. One of Ucraft's better features is its blogging. Time to take a look.
Ucraft refers to its blog as its "Articles" app, but don't worry – it's a blog. The interface isn't as intuitive as the likes of Wix and Weebly, so expect to spend a little time learning the ropes. Once you crack the code, you'll find a robust blogging system that includes the good stuff: categories, tags, post scheduling, multiple authors, SEO settings for individual posts, and Disqus comments.
You'll also get the option of including social sharing buttons (Facebook, Twitter, Google+, LinkedIn, and Pinterest) at the bottom of your posts so your readers can do some evangelizing for you.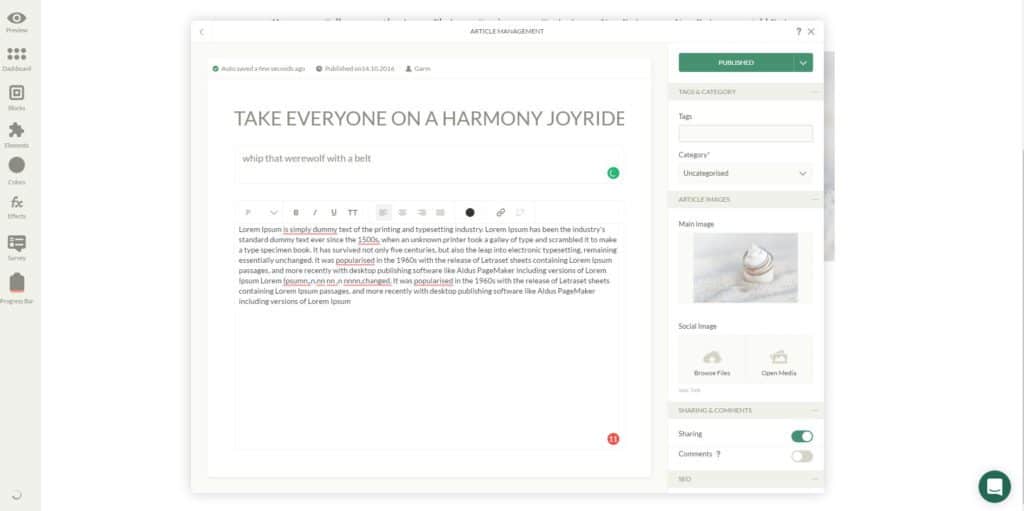 Unfortunately, aside from text, you can only add one image to your individual posts, and nothing else – no videos, contact forms, etc. Ucraft's blogging system is nice if you're not planning to do anything too wild with it.
Check out my Ucraft review to learn more.
In Summary
Punk's not dead, and neither is blogging! With these blogging solutions, not only can you share your thoughts on your own terms (and not those of exploitative billionaires), but you'll be driving traffic to your website and boosting its SEO.
Quit enabling the cynical horsemen of the social apocalypse to seize ownership of your own words – for your benefit, not theirs! Bloggers of the world, unite! You have nothing to lose but your trolls!