The Ultimate Guide To Choosing Between Trello VS Asana
Asana is more expensive, but it provides features that Trello can't match, while Trello is cheaper, and its design has a certain aesthetic appeal.
Expert Analyst & Reviewer

UPDATED
Project management software is designed to make your job easier, allowing you to assign tasks, communicate with your team, and keep your projects on track. Unfortunately, finding the right project management software for your business isn't quite so easy. With so many options on the market, it can be difficult to find the best fit without wasting time and money.
If you're looking for simple, easy-to-use project management software, Asana and Trello should be at the top of your list. Asana and Trello both have a lot to offer for businesses that want software that functions more like a "task manager" as opposed to overcomplicated project management solutions.
Both Asana and Trello offer free, no-obligation subscription options, and both are lauded for their simple features and user-friendly interfaces. However, Asana and Trello are not alike in every respect, and the ways they differ will impact how you choose the right software for your business. The good news is that we've done all the research for you, so all you have to do is keep reading to see how Trello vs. Asana stack up in terms of price, customer support, and overall design.
The Key Differences Between Trello & Asana
In an Asana vs. Trello comparison, they turn out to have a lot of similarities. However, there are a few distinct differences between the two that can help you choose the task manager that's better suited for your business. Some of these key differences include:
Customer Support: Both task managers offer several support options, including extensive knowledgebases, community forums, contact forms, and email support. However, Asana has a slight edge because of its video demos, step-by-step guides, and free courses through Asana Academy.
Free Plan Limitations: Asana and Trello each have a free pricing plan. Asana's free plan includes unlimited tasks, projects, messages, and file storage but limits the number of users to 15. While Trello's free plan includes multiple users, unlimited cards, and unlimited storage, a recent change now limits users of the free plan to just 10 boards per Workspace. This has been a pretty big complaint among users, who lost boards and data due to the change and must upgrade to a paid plan to access unlimited boards.
Pricing: If you opt for a paid plan, Trello has slightly less expensive options. Trello's most expensive option is $12.50/month per user, while Asana's plans run $30+/month per user. However, price should never be the only deciding factor, so make sure you delve into the features and usability of each software to determine the best option for your business.
Organization Methods: Asana and Trello are task managers designed to help you collaborate with your team and keep projects and tasks organized and on track. But the methods that these programs use for project management and organization differ significantly. Asana relies on color-coding, templates, calendars, and lists for managing your tasks and projects. Trello takes a more visual approach with its Kanban-style organization.
Reporting: Asana includes some basic reporting features. You can view how many teams, tasks, and projects are active on the software, and you can track your team's engagement with the software. Unfortunately, Trello does not have built-in reporting.
Trello VS Asana Comparison: Which Is Better?
Trello and Asana are leading choices in task management software. Both are competitively priced, easy to use, and can make assigning tasks and tracking your project timelines easier than ever. However, a few distinct differences in pricing, feature sets, and organizational methods can help you choose the project management solution that works for your business.
Trello offers all the basic features of task management software. You can use Trello's Kanban board-style software to create projects and rearrange tasks in an order that makes sense to you. Trello lets you communicate with your team by commenting on tasks. You can also use Trello's "Power-Ups" to add features, such as a calendar view or Gantt charts. Like Asana, Trello does not offer advanced features, such as tracking time or risk assessment. Trello also does not have any built-in reporting tools.
Pros
Easy to use
Numerous integrations
Visually appealing
Cons
Limitations on the free plan
No advanced features
No reporting
Asana offers all the basic features you would expect from task management software. You can create teams and projects and assign tasks to users within your organization. Asana lets you view your tasks as a checklist, like a Kanban board, on a calendar, or in a timeline. Asana also offers basic reporting.
Pros
Easy to use
Numerous integrations
Free plan available
Cons
No advanced features
Limited reporting
Choose Trello If…
You prefer Kanban boards for organization
Your business needs a budget-friendly task manager
You want an aesthetically pleasing way to organize projects and tasks
Choose Asana If…
You need task management software with basic reporting
You want more flexibility and customization options for managing tasks and projects
You want a free task manager with no limitations on the number of projects and tasks
Trello VS Asana: In-Depth Comparison
Still on the fence about which option is right for your business? Let's take a closer look at Asana and Trello to help you find your ideal solution.
Pricing
| Trello | Asana |
| --- | --- |
| Free: $0/month | Basic: $0/month |
| Standard: $6/month per user | Premium: $13.49/month per user |
| Premium: $12.50/month per user | Business: $30.49/month per user |
| Enterprise: Starts at $7.38/month per user | Enterprise: Custom pricing |
Trello has three main pricing plans that range from $0/month to $12.50/month per user when purchased on a month-to-month basis. Discounts are available if you purchase a year upfront. For larger businesses that want additional features and customizable user permissions, Trello has an enterprise plan. Pricing is based on your organization's number of uses and ranges from $7.38-$17.50/month per user. Trello offers discounts for nonprofits as well as educators.
Asana has three main pricing plans as well. These range from $0/month to $30.49/month per user when you pay monthly. Discounts are available if you pay for a year upfront. Businesses that need additional security, features, and support can contact Asana directly for an Enterprise quote. A discounted rate is available for nonprofit organizations.
Features
| Feature | Asana | Trello |
| --- | --- | --- |
| Gantt Charts | ✔ | Power-Up |
| Kanban Boards | ✔ | ✔ |
| Time Tracking | X | Power-Up |
| Forms | ✔ | X |
| Progress Tracker | ✔ | X |
| Calendar | ✔ | Power-Up |
| Reports | ✔ | X |
| Messaging | ✔ | ✔ |
| Team Management | ✔ | X |
Gantt Charts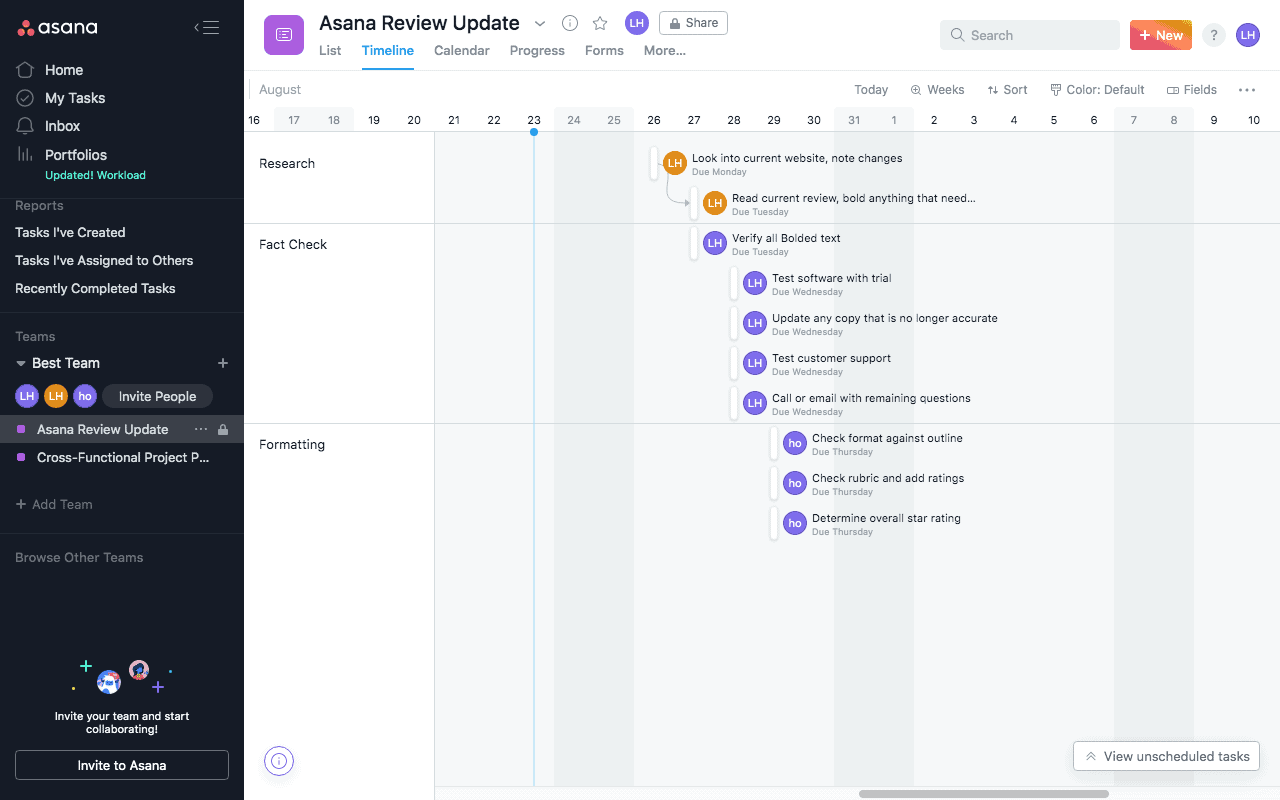 If you prefer to use Gantt charts, Asana offers this feature through its "timeline view." Trello does not have a built-in Gantt Chart feature, although several Power-Ups (integrations) add this functionality.
Kanban Boards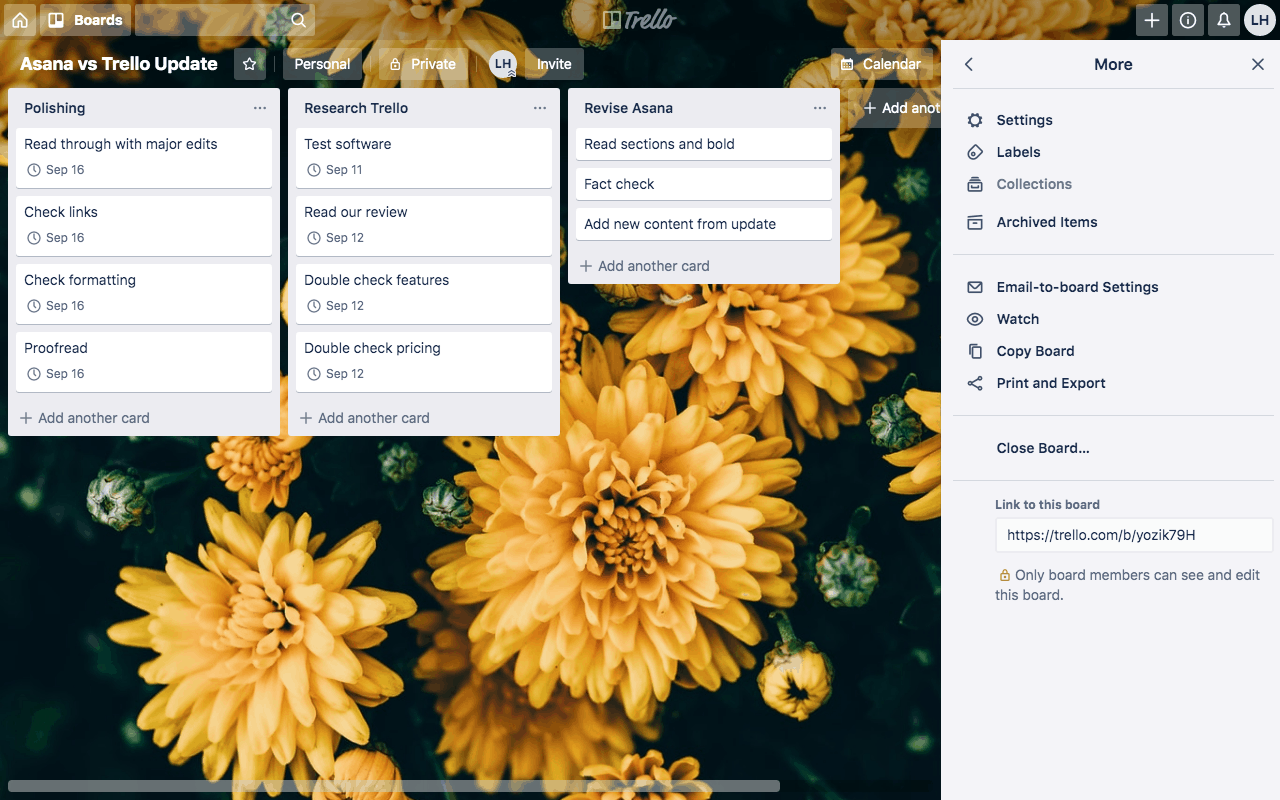 If you'd rather manage your projects and tasks with a Kanban-style board, Asana has a "board view" that allows you to do this. When it comes to boards, this is where Trello really shines, allowing users to create beautiful boards to keep projects on track easily.
Time Tracking
Both Asana and Trello are task managers and not full-blown project management software, so some features (such as time-tracking and budgeting) aren't built-in. However, you can add time tracking to Trello with one of its Power-Ups.
Forms
Asana Forms is a neat feature that lets users create forms to communicate with team members and submit requests. A similar feature is not available on Trello.
Progress Tracker
Asana has a progress tracker that gives you an overview of each task status. A similar feature is not available on Trello.
Calendar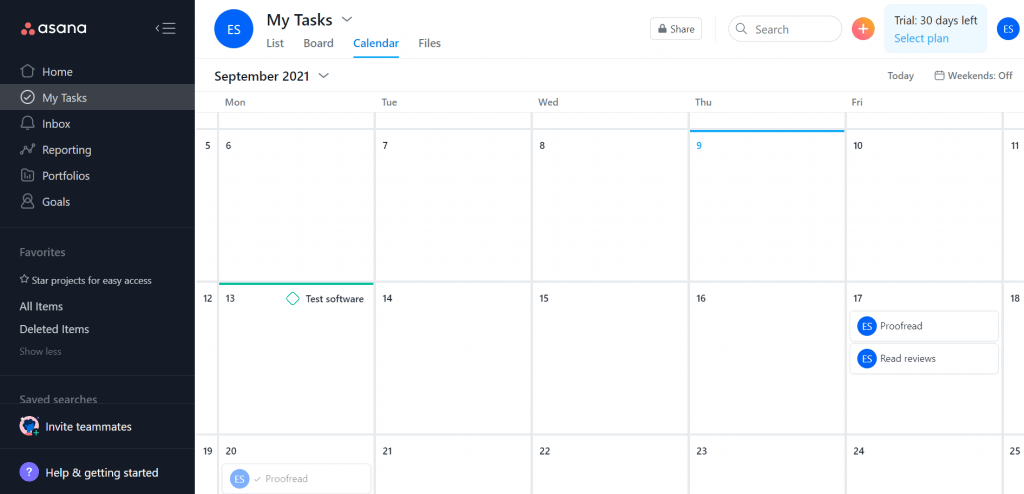 Asana has a color-coded calendar view which makes for easy scheduling. Trello has a calendar Power-Up that can be used to view, drag, and drop cards within a calendar.
Reports
Because Trello and Asana are task managers as opposed to regular project management software, some features are lacking, including reports. You won't find extensive reporting with either option. However, Asana allows you to run and view basic reports, including the number of tasks and projects that you have and your team's engagement.
Messaging
Asana has a "conversation" section for each project that lets you collaborate and communicate with your team. This section is similar to a forum, allowing you to post different topics to which team members can respond. With Trello, you can communicate with your team by leaving comments on task cards.
Team Management
With Asana, you can create different teams, making it easier to assign tasks and set user permissions.
Mobile Apps
Trello has apps for Android (varies by device) and iOS (13.0+). Trello's apps on both platforms are highly praised for their functionality. However, there are a few drawbacks noted by some users, including a lack of task dependencies, a few bugs, and no widgets.
Asana has apps for Android (7.1+) and iOS (13.0+) devices. These apps have received numerous praise from users for offering the same features and functionality as the cloud-based software. However, there are a handful of complaints surrounding the lack of push notifications for tasks that are due, a few glitches and errors when creating subtasks, and no dark mode option.
Ease Of Use
Asana is easy to use, even if you have no prior experience using task management software. Asana separates accounts into organizations, teams, and projects. Within projects, users can create, schedule, and assign tasks. The tasks are available in a list view, a timeline view, or a calendar view. You can easily simplify task creation using pre-made and custom templates as well as color-coding features.
Trello is also streamlined and easy to use, but it is much more visually oriented than Asana. Trello projects are like bulletin boards with virtual cards pinned on them, each representing a different task. Clicking on each task opens up a pop-up box, which Trello calls the "card back." You can enter more specific details about each task on the card back, including due dates, checklists, comments, attachments, tags, and assignees. Trello also allows you to customize the platform according to your preference. You can drag-and-drop tasks and lists, and you can even change the background to a different color or image.
Customer Service
While Trello has several support options, one thing that is noticeably lacking is phone support. The best way to get in touch with Trello for support is through email or by submitting a support ticket on its website. Fortunately, there are a few other ways to find the answers you're looking for. An extensive knowledgebase, an active community forum with insights from Trello customers and employees, on-demand webinars, and an up-to-date company blog are among the support resources available to help you get the most out of your software.
Asana is very similar in that it also doesn't offer phone support. To get in touch, you'll need to send an email or submit the contact form from the company website. Live chat is available, but this option is reserved for sales and won't offer any help if you need assistance with using the software. You can find answers elsewhere, though, as Asana offers numerous support outlets, including a knowledgebase, written guides, video guides and demos, and free online video courses. Companies with 40 seats or more may be eligible to receive additional support, including a free onboarding session and a dedicated customer success manager.
Customer Reviews & Complaints
Trello has tens of thousands of reviews that are overall very positive. Trello has received a rating of 4.4/5 on G2 and an 8.5/10 on TrustRadius. Some of the positive aspects of Trello cited by users include an intuitive UI, beautiful visuals, customization options, easy setup, and flexibility. Some of the things that users say could use work include occasional navigational difficulties, a lack of integrations with data platforms, and improvements to notification and reminders.
Asana has thousands of positive customer reviews across the web, boasting a 4.3/5 ranking on G2 and an 8.4/10 rating on TrustRadius. Users most like the intuitive UI, time management tools, integrations, prebuilt templates, and its solid set of project management features. There are few complaints about this software, but some users want to see the addition of guest accounts, more tools to simplify onboarding, and improved customization options.
Integrations
Trello has nearly 200 integrations. Trello has robust options for add-ons, browser extensions, and other integrations across categories, such as reporting, time tracking, team collaboration tools, and more. Some of the most popular Trello integrations include Slack, Gmail, Dropbox, Outlook, Salesforce, and Jira.
Asana also has nearly 200 integrations. These integrations cover a wide range of categories, including communication, productivity, reporting, finance, human resources, and more. Top integrations include Microsoft Teams, Adobe Creative Cloud, Microsoft Office 365, Slack, Google Drive, Vimeo, and Canva.
Is Trello Or Asana Better? The Bottom Line
As we've seen, these competing task management tools are equally matched in many ways. They are on par in terms of ease of use, and they also balance one another out when it comes to pricing and features. Asana is a bit more expensive, but it provides features that Trello can't match. On the other hand, Trello is slightly cheaper, and its design has a certain aesthetic appeal.
Your choice between these two solutions depends on your business's priorities and preferences. Trello is for businesses that want a simple task management solution that follows the Kanban system. Asana, on the other hand, is for users looking for more functionality and control over how they view their tasks than Trello provides. Fortunately, each of these options provides an excellent, functional, and user-friendly task management system. It would be hard to go wrong with either of them.
Still not sure which software to choose? We also recommend signing up for free trials (or free plans) of each software as you decide. Getting hands-on experience with each one can quickly make it clear whether or not that software will work for you!
If neither option is a good match, check out our project management software reviews for more robust software options, such as Redbooth, Basecamp, and Zoho Projects.
Trello VS Asana FAQs