Basecamp VS Smartsheet
Editor in Chief

UPDATED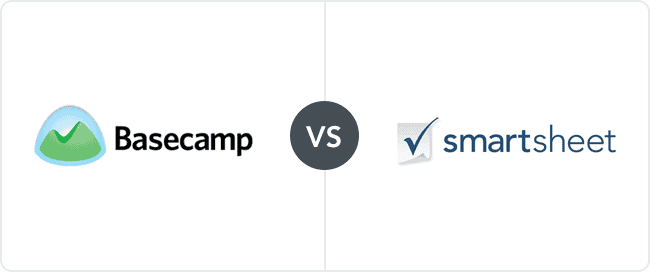 When people think of project management tools, Basecamp is often the first name that comes to mind. This simple task management software is one of the oldest and most popular programs of its kind. With over a decade of success and more than 9,000,000 current users, it's not hard to understand why Basecamp is held up as the gold standard for project management. For a complete look at this software, check out our full Basecamp review.
This software was created in 2003 by Jason Fried, Carlos Segura, and Ernest Kim of 37Signals, a web design consulting firm. Originally, Basecamp served as a temporary solution to the company's own project management needs. According to Fried, "As we started getting busier we needed a better way to manage our client projects. We looked around at what was on the market, tried out a few options, and felt dissatisfied with what we saw." The three men soon began design on an innovative new project management tool. It worked so well for 37Signals that they decided to release Basecamp to the general public in 2004. It didn't take long before the software began to bring in more profits than the original business; 37Signals soon switched gears and decided to focus exclusively on developing and marketing Basecamp.
Basecamp is as basic as it gets, but it is popular for a reason. This simple task manager is remarkably intuitive and functions like a dream. It also comes with an impressive number of 3rd party integrations. Not everyone wants a simple, user-friendly tool, though. Many businesses need a project management system with a bit more meat on its bones. Basecamp may be a paragon of accessibility, but for complex features and higher functionality you need something like Smartsheet.
Smartsheet is a unique project management software based on a spreadsheet model. It is, for lack of a better term, Excel on steroids. As project management software goes, Smartsheet is out-of-the-box. A veritable Swiss army knife of functionality, Smartsheet combines interactive spreadsheets with basic project management functions, web forms and templates, and ingenious crowdsourcing capabilities. As a full-package project management solution, this software requires a bit more knowledge and training to use than Basecamp. Currently, Smartsheet is the software of choice for millions of users worldwide. Because it comes with a wide range of features and has an unusual focus on spreadsheets, it has acquired a diverse customer base, from educational facilities and non-profits to Fortune 500 corporations.
Basecamp and Smartsheet are both good at task management, and both help to streamline inter-office communication. The similarities seem to end there, though. Where Basecamp is simple and clean, Smartsheet is complex. Basecamp is accessible and easy to learn, while Smartsheet requires intelligence, training, and a certain amount of analytical ability. For a full look at features, pricing, and ratings, check out our full Smartsheet review.
Web-Hosted or Licensed:
Both Basecamp and Smartsheet are entirely web-based.
Hardware and Software Requirements:
Because they are based in the cloud, Basecamp and Smartsheet require users to have access to the internet and an up-to-date web browser.
Pricing:
Winner: Smartsheet

Basecamp and Smartsheet provide very different services, so it's not shocking that their pricing systems are so distinct. Basecamp is focused on simplicity, and as such, has a simple pricing structure. Plans start at $20/month (for 10 projects and 3GB storage) and go all the way up to $150/month (for unlimited projects and 100 GB storage), though teachers can get Basecamp accounts for free. There are no per/user fees; all plans come with unlimited users and unlimited access to the Basecamp support team. Additional storage can be purchased at any time. Basecamp offers a generous two-month trial to those who wish to test the software before buying. This trial is absolutely free and does not require you to input credit card information. There is little risk involved in subscribing as there are no long term contracts and you can cancel at any time with no penalties.
In contrast, Smartsheet's pricing plans are structured around the number of 'creators' on each account; creators are admin-level users who can control the interface, generate new spreadsheets, etc. The Basic Plan is cheapest, at $14/month for one creator. The Team Plan costs $39/month and is designed for use by a minimum of three creators. Enterprise Plans are priced on a case-to-case basis, depending on the number of creators and the level of customization. All plans come with unlimited collaborators, account users who can interact with spreadsheets but do not have the power to create new ones. Non-profits, schools, and government agencies can receive preferred rates by subscribing to annual plans ($139/year for the Basic Plan and $399/year for the Team Plan). Actually, any business or individual can qualify for a 17% discount off regular plan prices by signing up for an annual subscription. Plans may be upgraded or downgraded at any point in time, even if you've committed to an annual subscription. Like Basecamp, Smartsheet offers a free trial of the software and does not require you to input credit card information.
To me, the clear winner here is Smartsheet. Both companies offer comparable plans, but with Smartsheet you get more features for your money.
Ease of Use:
Winner: Basecamp

Basecamp trades on the fact that it is easy to use, accessible, and intuitive. It is project management software at its purest: simple task tracking features bolstered up by email integration and file sharing. Basecamp is designed to reduce effort and take the hassle out of everyday chores, but it is not just the design that makes this software so user-friendly. There are a million little extra touches that promote efficiency, like autosaving (always a life saver for the absent minded employee), customizable notifications, and the ability to drag-and-drop tasks and files. Additionally, Basecamp has taken the time to create dedicated mobile apps for both iOS and Android devices that allow you to function even when out of the office.
No one would hold up Smartsheet as a shining example of user-friendliness, though it has many convenient features. To be fair, Smartsheet has never claimed to be a rudimentary task management program. It is a complex project management solution with a steep learning curve, a powerful tool that will help you focus less of your energy on computer busywork. Smartsheet may lack Basecamp's intuitive design, but it does offer great mobile apps for iOS and Android, drag-and-drop functionality, effortless file attachment, and automated notifications, plus a clever autofill function that searches for patterns within sheets. Every time you insert a new row and add data, Smartsheet references formulas in the surrounding rows and automatically fills in new information, even applying special formatting if necessary. As you can imagine, this feature is a time saver and one less thing you have to think about.
At the end of the day, though, no matter how many convenient features Smartsheet comes up with, it will never be able to compete with Basecamp in terms of user-friendliness. Making work easier is Basecamp's whole raison d'être. It wins the ease of use category, no contest.
Product Features:
Winner: Smartsheet

Basecamp has a limited number of features, though all of them are well-designed and practical. When setting up a new account, you start by sorting members into groups (by department, location, etc.) and assigning them permissions. Then you can start to create projects and fill them with tasks or lists of tasks. It's possible to create new templates from existent projects/tasks or directly copy and paste tasks to a new project. One of Basecamp's best features is the ability to use collaborative text documents, which are basically virtual legal pads on which coworkers can share ideas, sketch out rough project outlines, etc. Users also have access to personal and project-based calendars.
Like I mentioned above, Smartsheet is a sort of glorified Excel. It's a spreadsheet program that has climbed above its station in life and risen to new heights. Smartsheet is most well-known for offering dozens of pre-made templates and web forms that work for everything from marketing to event planning to budgeting. In general, projects and tasks are managed via spreadsheets, which are fully customizable. You can create new cells or rows, add personalized formulas and conditional formatting, attach files, and even link several cells together, a process which allows you to roll up information from several sheets. Smartsheet offers fairly thorough reporting features and permits you to generate custom workload views (each sheet can also be seen as a calendar or a Gantt chart). It also has robust resource management tools that help you to track the workload of each employee.
As its name would suggest, Smartsheet is just that – smart. You have to be reasonably intelligent to set up and use Smartsheet, but the effort is well worthwhile. It is so customizable and can do so much in terms of reporting and resource management that it blows Basecamp's features out of the water.
Integrations and Add-Ons:
Winner: Tie

Both Basecamp and Smartsheet have invested in a large number of integrations. Basecamp offers dozens of add-ons, apps, and integrations, including (but by no means limited to):
Tick
Paymo
Harvest
Chrometa
Centreli
Hojoki
Zapier
Project Viewer
BusyFlow
Backdrop
BugHerd
Bidsketch
SupportBee
88 Miles
Paydirt
Freckle
LessAccounting

Time Doctor
Workstack
BigBoard
DashStack
easyBI
In addition, developers who wish to design their own 3rd party integrations can use Basecamp's API. Click here for more information.

Smartsheet also comes with many integrations, including:
Google (Google Apps, Google Drive, Google Chrome, etc.)
Box
Salesforce
DocuSign
Evernote
Harvest
Mailchimp
Marketo
AppsGuru
Jira
Zapier
123ContactForm
Centrify
ClicData
Bitium
Klipfolio
Easy Insight
Okta
OneLogin
Meldium
PingOne
Tools4Ever
Tableau
There are others as well and more being added all the time, so for a complete list, click here. Smartsheet also offers an open API so that users can design their own integrations.
Customer Service and Technical Support:
Winner: Tie

Basecamp and Smartsheet offer comparable levels of customer support. Basecamp gives technical support to all subscribers via a support request form, and also provides a number of self-help tools like an FAQ, instructional articles, databases, cheatsheets, video tutorials, and a blog. Basecamp is an American-based company, so all of the training material and articles are written in clear English. The video tutorials are short and sweet – 2 to 10 minutes long on average – and help with everything from setting up your account and creating projects to using 3rd-party integrations. Basecamp also has a great social media presence; its Twitter feed is monitored closely during business hours, and service reps are quick to answer questions and reply to tweets.
Smartsheet provides a variety of customer support options as well, including email support, live webinars, video tutorials, in-app tips, and instructional articles. Subscribers to the Enterprise plan also receive dedicated technical account managers. Like Basecamp, Smartsheet is American-based and has well-written, easy to understand help articles. The video tutorials can also be helpful, but be aware that they are fairly dry. Smartsheet offers a Facebook page for quick access to press releases, blog articles, and software updates, and some people even use this page to ask simple questions and/or check on the status of bugs or temporary software issues. Smartsheet's Twitter feed has a similar focus, though it is more heavily concentrated on providing status updates.
Negative Reviews and Complaints:
Winner: Basecamp

Nobody's perfect. Even when you're dealing with well-designed, high-level software, there are going to be bugs and complaints. Most people's biggest problem with Basecamp, other than its frankly abysmal website, is its inherent simplicity. When it all boils down, Basecamp is task management software, and it can't do much else. There are no reporting features and no practical way to analyze your project data. Basecamp also doesn't allow for resource management or issue tracking. You can get around these flaws by using one of the many accounting/reporting/marketing integrations that Basecamp offers or designing a custom integration, but that takes time, effort, and money. For many businesses, especially large ones, Basecamp just isn't a viable option.
In many ways, Smartsheet actually has the opposite problem. For some users it is almost too complex. Smartsheet comes with a lot of great features and has enormous potential for analyzing data and tracking information, but to release this potential you have to be pretty savvy. Basecamp is within the reach of anyone – as long as you know how to turn on a computer and manipulate a mouse, you shouldn't have any difficulty. But Smartsheet requires critical thinking and a keen understanding of spreadsheet formulas, at least in the beginning stages of setting up an account. Smartsheet also falls short when it comes to inter-office communication. Each sheet tends to be a world unto itself. User activity is tracked sheet by sheet but there is no real place for managers to see a comprehensive, up-to-date activity stream. This makes it all too difficult for the right hand to see what the left hand is up to, so to speak.
Positive Reviews and Testimonials:
Winner: Basecamp

Basecamp is one of those programs that people love, whether they use it or not. In the project management world, it is the equivalent of the prettiest girl on the block; everyone likes it, everyone knows its name. Users rave about Basecamp's speed, its simple, intuitive interface, and the number of available integrations. It has built its reputation over the last decade on a solid product and great customer care. As a result, it is the go-to task management software for small to medium sized businesses worldwide.
Smartsheet, on the other hand, is one of those love-it-or-hate-it programs. Those who swear by it far outnumber the unimpressed, but even so Smartsheet doesn't receive the kind of adulation that Basecamp enjoys. It's just a little too complicated to have universal appeal. That said, there is a lot to love about Smartsheet. Like Basecamp, Smartsheet can be integrated with a large variety of 3rd-party apps and integrations. Many people are also thrilled with the iOS mobile app, which functions like a dream, smoothly and efficiently. Smartsheet is versatile and speaks to many needs within a company, so it has won praise from diverse industries.
Final Verdict:
Winner: Smartsheet

It is difficult to choose an overall winner, primarily because Basecamp and Smartsheet are so dissimilar. Sure, they're both reasonably priced project management systems with good customer care, but when it comes down to actual features things get a little tricky. After all, Basecamp and Smartsheet were created for very different target markets. It may be possible to compare apples and oranges, but what's the point?
If forced to make a definitive statement about the two, I would have to hail Smartsheet as the conquering hero. Basecamp is established, well-designed software, but Smartsheet just offers more in almost every way. To be clear, I'm not saying that it is the superior choice in every situation. For some businesses, using a system like Smartsheet would just be overkill. Basecamp is obviously easier to use (and easier to get your employees to use), requires little to no training, and will help you manage the heck out of any simple task you throw its way. It's an excellent choice for small businesses with limited project management needs. But if you want to be able to manage resources, analyze data, export reports, and customize your task management tool, you need Smartsheet. Basecamp simply isn't going to cut it.