Best Restaurant Website Builders
Expert Analyst & Reviewer

UPDATED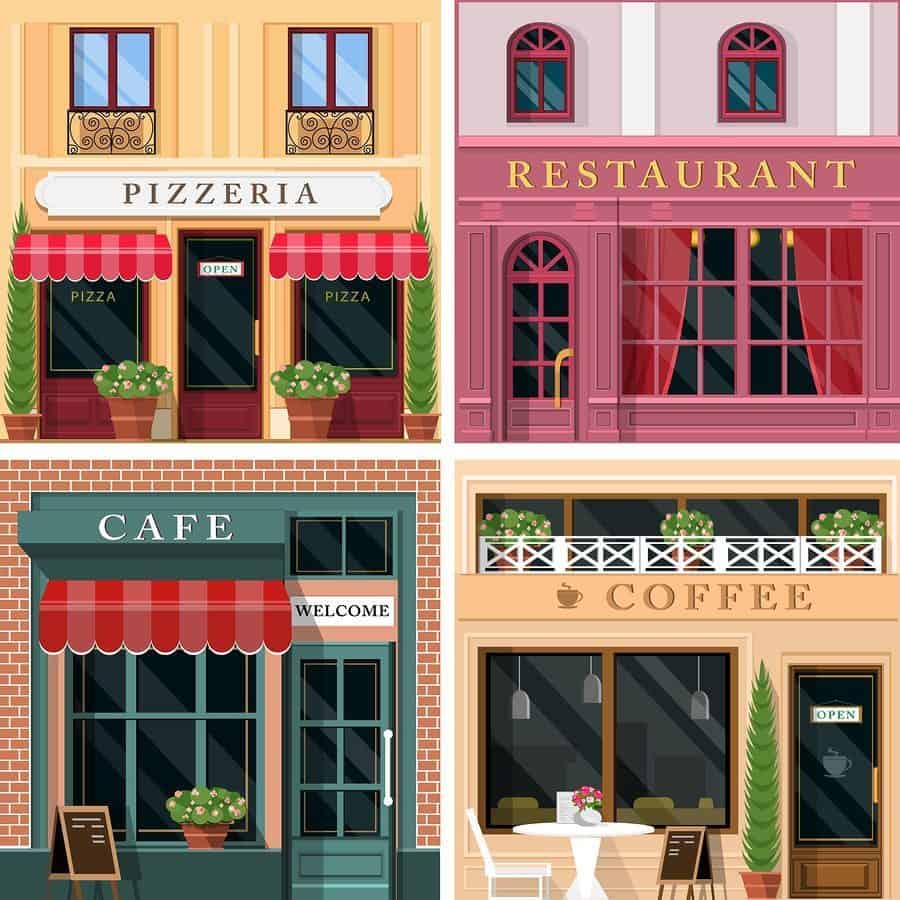 If you've decided to open a restaurant of your very own, you've probably got about a hundred things to consider that are more pressing than the look of your website. You have to hire people, decide on a menu, choose an aesthetic direction, and so on. Regarding that last point: for your decor, I really think ferns will be coming back into fashion. You heard it here first. People love the 80s. So, consider putting ferns everywhere.
After you've decided on the proper placement of your ferns and chosen a watering strategy, you might want to devote some energy to your website. In this atomized epoch, a website is an absolute must if you want your restaurant to attract attention and gain a foothold. Particularly, you need a mobile responsive website. Responsive sites display legibly when viewed on smartphones, and if you want to generate positive buzz, you'll need to get the attention of millennials and those suspected of being millennials.
You need to appeal to people driving around the city, looking for a bite to eat in the area, checking Yelp and Google Maps to see what's nearby. Most of these people aren't using their home computer to look you up. A restaurant with a site that isn't mobile-responsive and which doesn't have a legible menu available for perusal is essentially telling its potential clientele it doesn't care about attracting their business. I've been on the consumer end of this scenario, and it's endlessly frustrating to find restaurants online only to discover cluttered, useless websites with hard-to-access (or non-existent) menus. Of all the issues a restaurant can have, this one is rather inexplicable, as it can be cheaply and easily remedied.
It also helps if your chosen website builder has features such as a menu widget and is integrated with some kind of reservation-keeping app. Alternately, you could hire a professional web designer to create such features from scratch, but I'm working on the assumption that you don't have piles of money to burn.
Let's take a look at some website builders that will give your restaurant a fighting chance.
One of the leaders of the industry, Squarespace (see our review) is an excellent website builder for emerging eateries.
Here are the details of Squarespace's subscription plans:
Personal
$12/month (billed annually)
$16/month (if paid month to month)
3% Transaction Fee
20 Pages/Galleries/Blogs
Up to 2 Contributors
Fully Integrated eCommerce
Sell Unlimited Products
Accept Donations
Powerful Website Metrics
Business
$18/month (billed annually)
$26/month (if paid month to month)
All of the Above PLUS:
2% Transaction Fee
Unlimited Pages/Galleries/Blogs
Unlimited Contributors
Professional Email from Google
$100 Google Adwords Credit
Keep in mind that you can try Squarespace for free (no credit card required) for 14 days.
It's no accident that Squarespace is one of the leading website builders out there. Its mobile-responsive templates are widely regarded as being the class of the industry, and its features – blogging, eCommerce, image handling, etc. – are top notch. But we're interested in Squarespace's restaurant-specific features here.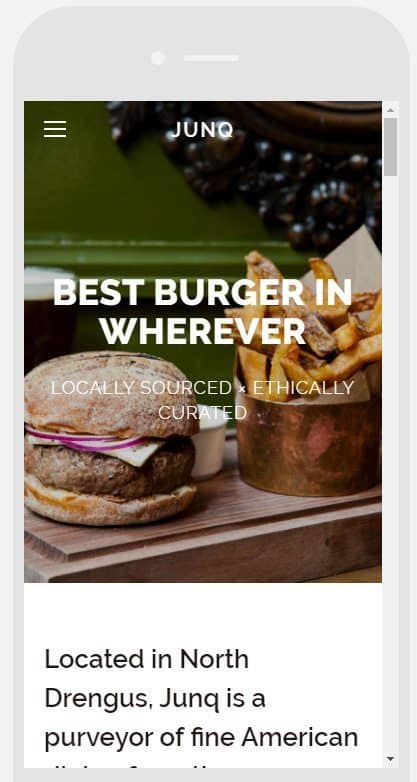 Creating a site for your restaurant with Squarespace couldn't be easier. In fact, during the setup process, you can have Squarespace set up a basic restaurant template for you, complete with a menu and an OpenTable integration (which I'll get to), which you can then customize to your liking. The menu widget is easily tweaked and will allow your site browsers to see what you've got to offer. You'd be amazed at how many restaurants don't have a readily available menu like this! (Actually, if you ever eat out, you probably wouldn't be amazed)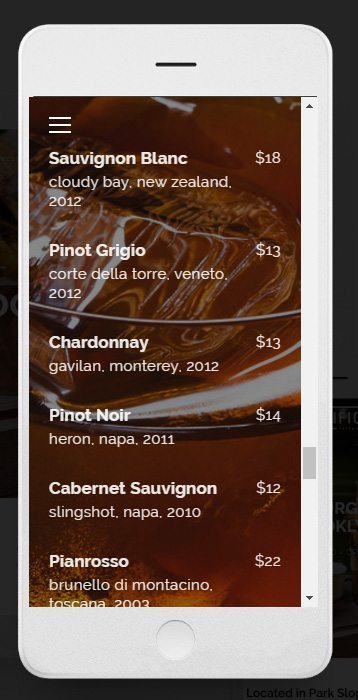 Along with the menu creator, Squarespace is also integrated with OpenTable, a service that allows customers to book a table at your restaurant online. OpenTable is far from free, so it may be out of the price range of the bare-bones upstart, but for the sort of restaurants that foresee reservations being necessary, it's a great tool.
Squarespace has the three elements necessary to be a great website builder for restaurants: mobile-responsiveness, a menu widget and reservation capabilities. On top of that, it's elegant and classy all the way. You can read my full Squarespace review here.
Let's explore a few other website builders that will make your restaurateur life easier.

I'm a fan of DudaOne (see our review) for a number of reasons, not the least of which is the fact that the creators named their company Duda after The Dude from The Big Lebowski. Beyond that, it's a fresh, fun, responsive website builder with some features that would be especially helpful for a restaurant.
DudaOne's subscription plans are thus:
Free
Natively Responsive Website
Unlimited Access to inSite
Limited Analytics and Tracking
Web Hosting on Amazon Cloud
Community Support
Branded Duda Domain
Duda Ads
10 Product Store
PayPal, Stripe & Global Gateway Payment Providers
Two Product Categories
Order and Customer Management Tools
Business +
$7.12/month (annual plan)
$19.00/month (monthly plan)
All of the Above PLUS:
Full Analytics and Tracking
Email Support
Custom Domain (no branding)
No Ads
Site Backup
Chrome Push Notification
Developer Mode
Multi-Language Website
Business + eCommerce
$11.25/month for 100 Product Store (annual plan)
$29.99/month for 100 Product Store (monthly plan)
$18.37/month for 2500 Product Store (annual plan)
$46.00/month for 2500 Product Store (monthly plan)
All of the Above PLUS:
30+ Payment Providers
Unlimited Product Categories
Product Reviews Integrated with Facebook
DudaOne includes a menu building widget that will let you easily create a menu with a look that fits your exact specifications. Like all DudaOne features, it's intuitive and adaptable.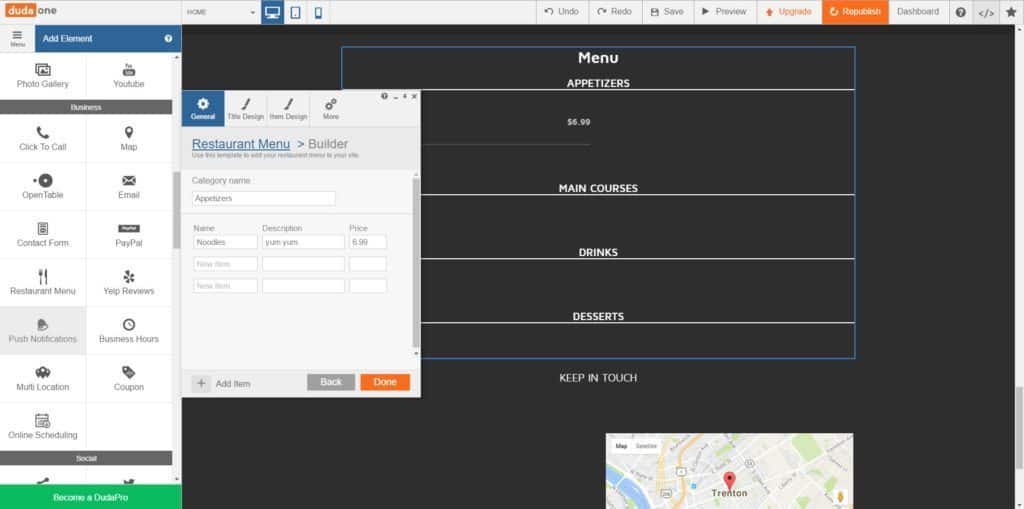 Like Squarespace, DudaOne is integrated with OpenTable, so if you have an OpenTable account, your customers can make reservations right from their smartphones.
DudaOne has other features you'll appreciate, such as a Click-to-Call button and a feature that displays Yelp reviews (this feature may not appeal to you if your Yelp reviews suck). But what really sets DudaOne apart from the crowd is inSite, a tool that will display certain things to your site visitors depending on whether specified conditions are met. For a restaurant, this feature has great utility. You could use inSite to display a Click-to-Call button during business hours and a contact form at all other times. You could make a special breakfast menu pop up during breakfast hours and not during hours when you don't serve breakfast (although why wouldn't you serve breakfast all day, you monster?). You could make a special message pop up on Saturday reading "Closed for Shabbos".
The possibilities are endless, as the feller says.
Read my full DudaOne review here if you think your restaurant might be well-served by these features.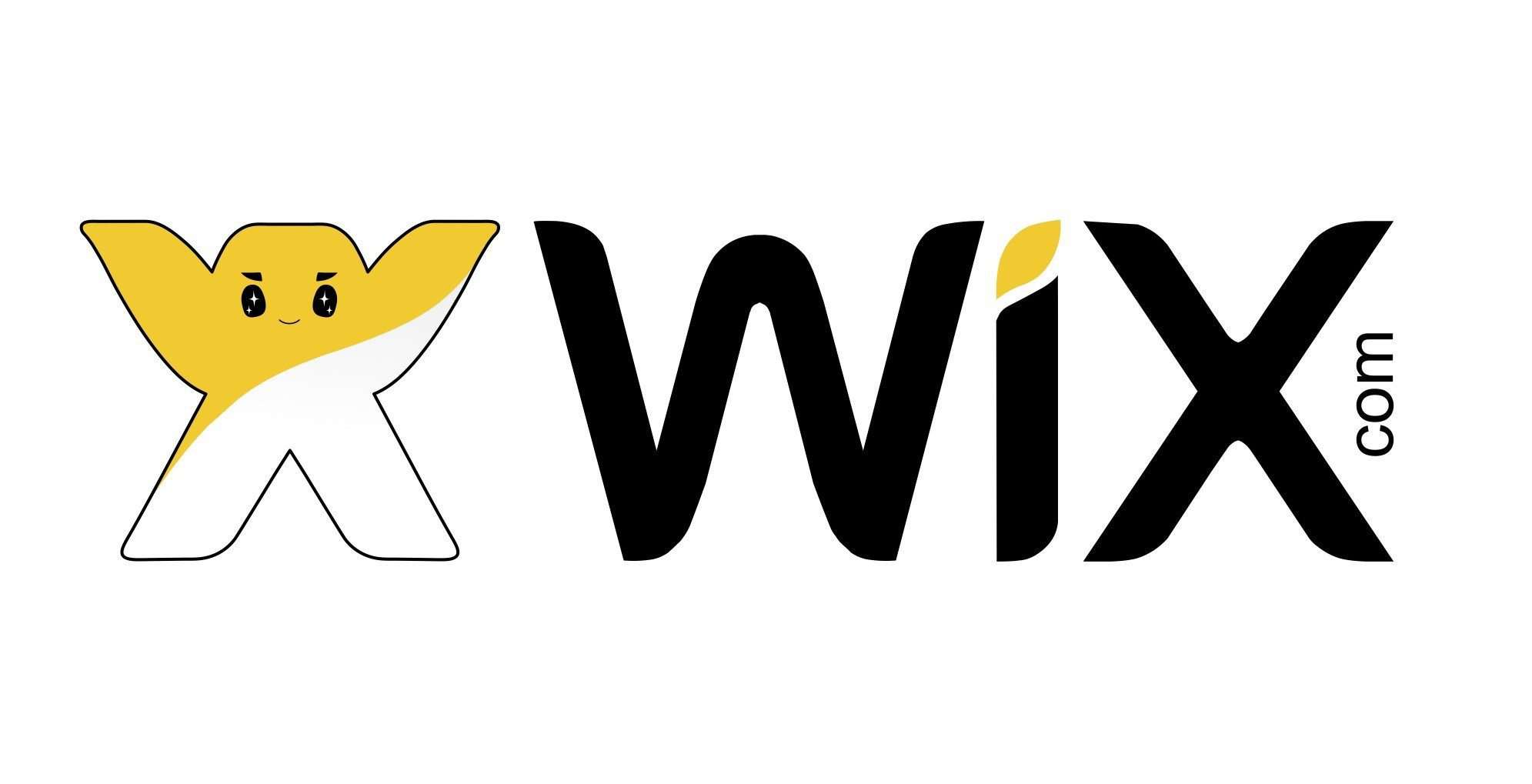 You've probably heard of Wix (see our review), given that their ads have been popping up everywhere. Sign up with them, and you'll see why they're at the top of the website builder mountain: Great templates, a deep editor, and the largest selection of third-party apps known to man.
Here are the details of Wix's subscription plans:
Free
Full Usage of Wix's Design and Editing Platform
500 MB Storage
1 GB Bandwidth
Free Hosting
Free Wix Domain
Wix Brand Ads
Connect Domain Plan
$4.08/month (annual plan)
$6.90/month (monthly plan)
500 MB Storage
1 GB Bandwidth
Custom Your Domain (instead of "wixusername.wix.com/sitename")
Free Hosting
Google Analytics
Premium Support
Combo Plan
$9.75/month (annual plan)
$13.90/month (monthly plan)
All of the Above PLUS:
Free Domain for One Year
3 GB Storage
2 GB Bandwidth
Customized Favicon
Removes Wix Ads
No Mobile Ads
Unlimited Plan
$12.92/month (annual plan)
$15.95/month (monthly plan)
All of the Above PLUS:
10 GB Storage
Unlimited Bandwidth
Site Booster App (annual plan only)
Form Builder App (annual plan only)
$125 Local Listings Voucher (annual plan only)
$100 Bing Ads Voucher (annual plan only)
$75 Google AdWords Voucher (annual plan only)
eCommerce Plan
$16.58/month (annual plan)
$19.90/month (monthly plan)
All of the Above PLUS:
20 GB Storage
10 GB Bandwidth
Online Store
VIP Plan

$24.92/month (annual plan)
$29.90/month (monthly plan)
All of the Above PLUS:
20 GB Storage
Unlimited Bandwidth
Exclusive VIP Support Line – Priority Callback
Instant Response
Professional Site Review
Wix even has a page dedicated to showing off its restaurant-friendly features, along with a video. If you're a restaurateur, Wix wants your business.
In addition to attractive menus, Wix gives you third-party integration with reservation-booking apps, like OpenTable, Guestful, and others. But perhaps Wix's most prominent appeal to the restaurant owner is a feature that allows your patrons to place orders (pickup or delivery) directly from your website, from whatever device they happen to be using. Wix does not take a commission from orders placed. If you're building an eatery that emphasizes takeout, Wix is a compelling website builder indeed.
Read my full Wix review if you're interested.
Conclusion
Life is hard in these cutthroat times. Most new businesses don't last. You're aware of this, I'm sure. And if you're launching a restaurant, you're dealing with myriad challenges the likes of which I can only begin to imagine. However, there's no reason why the creation of your website has to be one of those challenges. Modern website builders don't require technical expertise on the part of the creator. Squarespace, DudaOne and Wix are all easily used by the layman and laywoman, and each provide you with a number of helpful restaurant-specific tools that will keep your customers informed and well-fed.
Just remember to spray your ferns. They like that.