The 7 Best Video Conferencing Services For Small Businesses
Expert Analyst & Reviewer

UPDATED
Advertiser Disclosure: Our unbiased reviews and content are supported in part by
affiliate partnerships
, and we adhere to strict
guidelines
to preserve editorial integrity.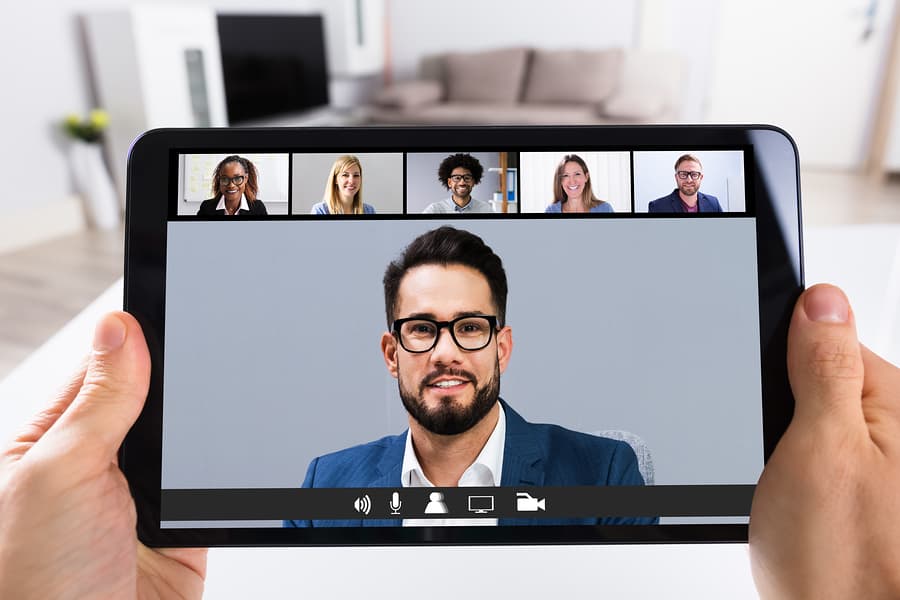 Are you searching for the perfect video chat/video conferencing solution for your small business? Well, you're in luck because there are plenty of options to choose from, including several free ones. We're writing this article right now because a lot of small businesses are moving online, and many of you are looking for video conferencing for your remote team. In this article, I'll go over some of your best options for online video conferences as well as what to look for in a web conferencing service and some best practices for using video conferencing at your company — including how to avoid video call faux pas (we want you to go viral for how amazingly awesome your business is, not for butt-dialing your upper management team while you yell at your kids to stop using the coffee filters as TP).
Read on to learn about the top video conferencing apps for small businesses and how best to use them to optimize your company's communications and encourage team-building while physically separated (without embarrassing yourself in the process).
Learn More About Our Top Picks
Company
Summary
Next StepsSummary
Best all-around

Best all-around

Best for small companies and businesses that use Microsoft products

Best for small companies and businesses that use Microsoft products

Best for large companies and businesses that need advanced features

Best for large companies and businesses that need advanced features

Best for small teams that already use Slack for written communication

Best for small teams that already use Slack for written communication

Best for larger organizations that use Microsoft Office

Best for larger organizations that use Microsoft Office

Show More Options
Best for small businesses that use Google products

Best for small businesses that use Google products

Best for businesses that want video conference transcripts

Best for businesses that want video conference transcripts

Show Fewer Options
Read more below to learn why we chose these options.
Best Video Conferencing For Small Businesses
Finding the best video conferencing for small businesses requires you to do a little bit of research to find the best programs. Video calling apps for businesses allow you to host virtual meetings with team members, and there are choices to fit every budget. Whether you want to start a mobile video conference on the go, schedule a weekly company call, or host a business webinar, you can find a business video conferencing app that will meet your needs.
As follows are the top-rated options for video conferencing services for small businesses:
Zoom
Skype
GoToMeeting
Slack
Microsoft Teams
Google Meet (aka Google Hangouts)
UberConference
Let's go over each of these options in detail and find out why they are the best.
1. Zoom
Zoom


---
Best all-around
Pricing
The free plan includes a 40-minute limit on group meetings of up to 100 participants (or unlimited one-on-one calls)
$14.99/month for small teams (no time-limit on meetings for up to 100)
Zoom is a popular video conferencing service for small businesses. In a nutshell, Zoom is among the most user-friendly and reliable video calling services out there. It's easy to use, has high-quality audio and video, and features a generous free plan. Zoom's gallery view allows you to see up to 49 of your colleagues at the same time, and screen-sharing features make it easy to share your work. Some other cool features include a "green screen" to change up your background, so the other people at your company don't see how you really live, and a feature that allows the host to see when participants navigate from the call window.
Zoom has apps for Android, iOS, Linux, Windows, and macOS, and can also be used within your web browser. You do not have to have a Zoom account to join in on a Zoom meeting as long as you have an invite. To help address some well-publicized security vulnerabilities, Zoom now requires passwords by default for most Zoom meetings, though hosts can turn that feature off if they wish.
Pros
Free plan sufficient for many small businesses
Usable on any device, with or without a Zoom account
High-quality audio and video
Grid layout shows all attendees at the same time
Cons
Meeting time limit on the free plan
May not be ideal for sharing highly-sensitive information
2. Skype
Skype


---
Best for small companies and businesses that use Microsoft products
Pricing
Microsoft-owned Skype is another popular and easy-to-use video conferencing solution for both individuals and small businesses. Skype is ideal for very small businesses — Skype recommends it for businesses that have 20 or fewer employees. Skype is free unless you want to want to use Skype as a VoIP service to make calls to landlines and mobile phones, for which you can buy paid credits.
Like Zoom, Skype can be used within a browser or through the dedicated app (for iOS, macOS, Android, Windows, or Linux). Up to 50 people can join a single Skype call, which is supplemented by strong chat features. Being a Microsoft product, Skype is compatible with Microsoft Office products, and you can use group screen sharing to present PowerPoint presentations, for example. Skype also now has a Zoom-like feature that lets you host a conference that even non-Skype users can easily join in a web browser or by using the app without setting up a Skype/Microsoft account.
Perhaps one of the only potentially negative things about Skype is that it's a Microsoft product, so if you're not a fan of Microsoft, it may not be the best choice for your business.
Note that there used to be a paid "Skype for Business" service with more business-centric features; this service is now Microsoft Teams.
Pros
Free service
Usable on any device
Integrates with other Microsoft products
Non-Skype users can join conference calls
Cons
A 50-person limit for meetings
Login tied to Microsoft account
3. GotoMeeting
GoToMeeting


---
Best for large companies and businesses that need advanced features
Pricing
Starts at $12/month (billed annually)
If you need more professional business features than you can get with a free program such as Zoom or Skype, you might want to check out GoToMeeting, an easy-to-use business video conferencing service that starts at $12/month for up to 150 participants ($14/month billed monthly). GoToMeeting lets you host meetings online via a web browser or dedicated iOS or Android app. Though there's no free plan (there is a free trial), you get professional features, such as a dial-in conference line and the ability to start meetings using Siri voice commands, in addition to the standard features, such as HD video, screen sharing, messaging, and custom meeting room links.
At the $16/month level, you can host up to 250 participants and use even more features, such as unlimited cloud recording and transcription, meeting co-organizers, and drawing tools that let you mark up the meeting screen.
The company also offers webinar features via GoToWebinar for an added monthly fee: $20/month for "GoToWebinar Lite."
Pros
Made specifically for businesses
Advanced features
Participants can join via phone
Free 14-day trial
Cons
No free plan
Advanced features, such as call recording and webinars, cost extra
4. Slack
Slack


---
Best for small teams that already use Slack for written communication
Pricing
Starts at $6.67/user/month (billed annually)
Slack is a highly-rated team management app that helps businesses manage multiple aspects of communication. Slack is mostly used for remote project management and often touted as an alternative to work email. Additionally, Slack has a video conferencing feature, though it can only host 15 users at a time. But if you have a small company that uses Slack, its video chatting feature is probably the ideal way to do group meetings. Slack's video chat feature is fairly basic but does include such features as screen sharing and the ability to draw and add annotations on the screen. Slack has apps for iOS and Android.
Slack has several different pricing plans, including a limited free plan that allows 1:1 video calling. For group video conferencing features, you'll need the $6.67/user/month "Standard" plan level ($8/user/month billed monthly), or you can upgrade to the $12.50/user/month plan if you need more features — though that plan does not have any additional video conferencing features.
If you use Slack but need video conferencing support for more than 15 users, Slack integrates with other video conferencing services, which let you start video conferences from directly within a Slack Channel. These integrations include GoToMeeting, Zoom, Skype, Google Hangouts, and Microsoft Teams.
Pros
Comes with the entire Slack communication platform
Calls can launch from any conversation in Slack
Doesn't require sending invites or meeting IDs
Integrates with other video conferencing tools
Cons
Only supports 15 users at a time
The free plan only includes 1:1 video chatting
5. Microsoft Teams
Microsoft


---
Best for larger organizations that use Microsoft Office
Pricing
Starts at $5/user/month (billed annually)
Microsoft Teams allows you to host both online meetings for small teams and web conferences with up to 10,000 participants. In addition to video chatting, Microsoft Teams members can share files, participate in a group chat, and invite people outside of the organization to participate. The main draw of Teams is that it fully integrates with other Microsoft software, and, in fact, comes bundled with other Microsoft Office products (web versions of Outlook, Word, Excel, and PowerPoint) when you purchase it.
Businesses can download a free version of Microsoft Teams, which includes 1:1 video calls with screen sharing, background blur, guest access, and collaboration on Office documents. If you opt for one of the paid versions, which start at $5/month/user for the "Office 365 Business Essentials Plan," you'll be able to host online and video conferencing meetings for up to 250 people, online events for up to 10,000 people, and also receive Office 365 access for each paid user. You'll additionally gain access to other advanced features, such as meeting recording, OneDrive cloud storage, and usage reporting for Office 365 within your organization. Teams also has apps for iOS and Android.
Teams is the next step up from Skype, which is suitable for a more basic Microsoft Office-based business. If you're considering using Skype or Microsoft Teams, I would definitely take a closer look at the two products to compare their feature sets.
Pros
Compatible with Microsoft products
Paid plans come bundled with Microsoft Office
Video calls for up to 250 people
Online event/webinar features
Cons
Only makes sense for businesses that rely heavily on Microsoft Office products
6. Google Meet
Google


---
Best for small businesses that use Google products
Pricing
Formerly known as Google Hangouts, Google Meet is a Google-based video conferencing service for businesses. Google Meet has apps for iOS and Android and integrates with the G Suite business ecosystem, which includes Gmail, Google Docs, Google Sheets, Google Calendar, etc. The same way Teams is best for Microsoft-based businesses, Google Meet is ideal for Google-based businesses.
The Basic G Suite account is $6/user/month and comes with Google business applications, such as Google business email, Google Calendar, Google Docs, Google Sheets, Google Drive, and other Google apps for collaborative work. All G Suite customers can use advanced Meet video conference features, such as larger meetings, live streaming, and recording, through Sep 30, 2020.
With Google Meet, businesses can host meetings from anywhere with up to 250 participants or live stream to up to 100,000 people. Participants can join meetings directly from a Google Calendar event or email invite and dial in to join the meeting from their phone. You can also record meetings and save them in Google Drive. Like the other apps on this list, Google Meet has dedicated iOS and Android mobile apps.
If your business uses company Gmail accounts, works within shared Google Docs, or has a shared Google Drive, Google Meet is likely your most convenient choice for web conferencing.
Pros
Comes bundled with other G Suite applications
A dial-in phone number for all meetings
Automatically integrates with Gmail and Google Calendar
Promotional pricing through September 30, 2020
Cons
No free plan
Gallery view only shows 16 participants
7. UberConference
UberConference


---
Best for businesses that want video conference transcripts
Pricing
Free plan for up to 10 participants and 45 minutes (50 participants during COVID-19 crisis)
$15/month plan for up to 100 participants and five hours
You're undoubtedly familiar with Uber's transportation and food delivery apps, but you may not know about the tech giant's video conferencing app, UberConference. This app has a very pleasant and intuitive UI and some pretty advanced features for an affordable price tag.
UberConference's free plan normally includes unlimited conferences (up to 10 users, 45 minutes in length) with screen sharing and call recording. However, due to COVID-19, the company announced it now has a longer call duration and up to 50 participants (I couldn't find the exact length of the call duration, though). The $15/month "Business" plan can host 100 participants with a five-hour meeting time limit and includes a custom call-in-number, and the ability to upload custom hold music while people wait for your conference to start.
Most impressive is probably the app's voice transcription features, available with paid plans, which automatically transcribe voice-to-text. At the end of every meeting, you'll automatically receive a transcript with meeting highlights and action items. The app will also automatically call participants when it's time for the meeting to start.
You can use UberConference via your browser with an optional Chrome extension or by using the iPhone or Android app. UberConference integrates with Salesforce, G Suite, Office 365, Slack, and Hipchat.
Pros
The free plan allows up to 50 participants (during COVID crisis)
Free call recording
Call transcription features
Affordable even for large teams
Cons
No international access on the free plan
Get Started With UberConference
Other Video Conferencing Options
Here are a few more video conferencing options that small businesses might consider:
Jitsi Meet: Free, open-source Zoom alternative; best for developers
Zoho Meeting: Browser-based video meetings and webinars; best for users of other Zoho products (Zoho Projects, Zoho Books, Zoho Inventory, etc.)
FaceTime: Free iOS-based video chatting for up to 32 participants; best for casual businesses where everyone has an iPhone
join.me: Simple business video conferencing and webinars with permanent video meeting room URL and one-click screen sharing; best for personalized meeting rooms
Cisco Webex Meetings: Webex-based Zoom alternative with a generous free plan; best for businesses with Webex-enabled conference rooms
Must-Have Features For Video Conferencing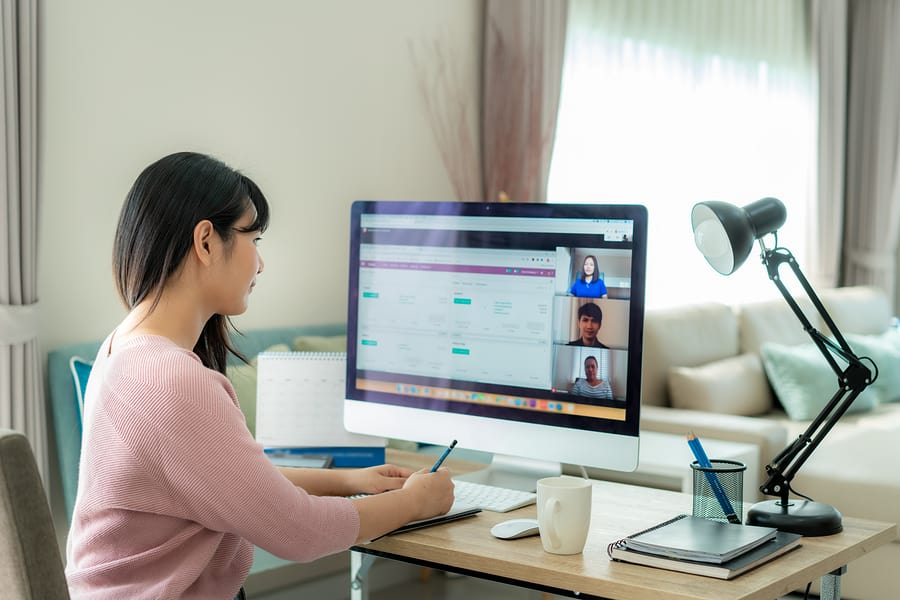 As follows are some must-have features for business video conferencing. You may want additional features on top of these, but the following features will be essential for most businesses.
Screen Sharing
The ability of video conference hosts and participants to share their screens is key for any collaborative business that works online. Whether you're working in PowerPoint, Google Docs, or another application, it's often important for participants to not just hear and discuss but also to visualize the topic of discussion, whether through images, bullet points, or a demonstration of a particular application.
Depending on your needs, in addition to screen sharing, you may also want to let hosts and/or participants "draw" on the screen and also share your cursor movements.
Gallery View
In small and medium-sized groups, it's ideal to be able to see everyone's screen at once. Usually, this is an option you can toggle on or off. This way, everyone feels equally included, and you get a better sense of who all is present. Zoom made this feature famous, but increasingly, other video conferencing platforms have it as well.
Software Compatibility
It's important that your video conferencing software is fully compatible with the other software your business uses. For example, Microsoft Teams probably isn't the best choice for businesses that work exclusively with Google Docs. However, if there's a web conferencing program that's outside of your primary software ecosystem that you want to use for its feature set, it may have a software integration that lets you use those programs together. For example, UberConference integrates with G Suite and Slack. Just make sure your software is compatible before purchasing, especially if you're making an annual commitment.
Call Recording
Recording your calls — and letting participants know the call is being recorded — helps keep meetings on task and provides a reference point if you want to go back and listen to what was discussed. It can also be important for compliance reasons. Usually, video conferencing programs will allot you a certain amount of online storage for recorded calls. Some but not all video conferencing services include call recording as a free feature.
You might also want to take call recording to the next level and choose a program that automatically transcribes your conferences.
Dial-In Option
It's helpful to give everyone the option to dial from their phone to participate in just the audio portion of a video call. This can be useful for large web conferences and webinars. Usually, this is a paid feature.
A dial-in option is useful to reduce bandwidth on a call and also to give people the opportunity to join a meeting if they are driving or if they can't immediately access the video calling platform on their device.
Strong Mobile Apps
Virtually every web-based video conferencing service has mobile app versions of its software for iPhone and Android users. The mobile apps are usually a pared-down version of the software suite accessible on your web browser or downloaded software. When evaluating a service, make sure you know what features are available on the mobile version compared to the full version and if any key features are missing or difficult to use on the mobile app.
Non-Users Can Join
Many video chatting services include a link that allows anyone to join a call, even if they don't have a login for that particular app or don't have the app installed. This feature makes it possible to reach everyone on your team, even if they're not at home or on their usual work device. It also makes it easier to reach clients and people outside your organization who aren't using the same platform as you.
Really, any feature that makes a call quick and effortless to join will make the video calling experience smoother and encourage participation.
Security Features
Hosts should be able to lock a room, control who enters, and password-protect a room if desired. As far as encryption, most video conferencing apps encrypt the videos, but not all are end-to-end encrypted. For example, FaceTime calls are end-to-end encrypted, but Skype calls are not. The level of encryption you need will likely depend in part on what kind of information you're sharing on video calls.
Video Conferencing Best Practices
Found a video conferencing app you like? Great! But make sure you follow these best practices when getting started with video conferencing. You'll thank me later!
Wear Wireless Earbuds
A wearable headset helps you focus on the call and minimize any external distractions while also making your audio sound crystal-clear. Of course, you don't need a bulky traditional headset. You can wear unobtrusive Bluetooth earbuds, such as AirPods, which serve the same purpose as a headset without being visually distracting to everyone else. (You also don't want a pesky headphone cord because we all know how annoying those sound when they are rustled around.)
Practice Good Muting Etiquette
There are a few different aspects of muting etiquette when video conferencing. One is muting yourself when you're not speaking on any call with more than three people. Hosts can also do such things as mute everyone or even mute select people. The ability to mute the entire group is important during webinar-style presentations or large meetings where the odds are good that someone forgot to mute themselves. (Just listen in on your kid's class Zoom call to see their teacher make liberal use of that mute button.) Before you make your first group call, make sure you understand your software's muting functions and how to use them.
Have Good Lighting
This one may sound obvious, but we've all been on calls or webcasts where someone appears to be in a dungeon of some sort. Ideally, you want to be well-lit, but not overly so that it's distracting, and not backlit (i.e., don't sit in front of the window). Test out your device's camera before the call, so you can check out how you will appear to everyone.
Choose An Appropriate Background
Again, don't sit in front of a window. But that doesn't mean you can't have a nice backdrop. If there's a bookshelf or a blank wall you can use as your background, that would be nice, but realistically, most of our houses don't have a lot of unused space right now, what with the kids running wild and the cleaning lady out indefinitely (if she ever existed). Fortunately, most video conferencing software has a feature that will either blur your background or let you choose from a visually pleasing digital backdrop.
Don't Multitask
Though it can be difficult to resist the urge sometimes, it's rude to check your email or search the web during a conference call, unless those tasks are directly related to the call. Keep in mind that some business calling apps have a feature that lets the host detect when someone navigates away from the call screen. And even if you're the boss, well, you still want to set a good example and make the most of your call by giving it your full attention.
Encourage Equal Participation
Especially in a large call, some quieter team members can get a little lost in the shuffle. Some people may be hesitant to speak up, and others may want to talk but don't get a chance to speak if others dominate the conversation. Unless the call is more of a one-way presentation, a good host will encourage participation from everyone, perhaps by asking for feedback from each person or by (politely) cutting off people who have been talking a lot. It can be a fine line between encouraging participation and putting shy people on the spot, but over time, you'll get the hang of it.
The Best Video Conferencing Service Depends On Your Business Needs
There's no one-size-fits-all video conferencing service. From reading this article, you've probably gathered that, while the feature sets vary to some degree, a major determinant in which video conferencing app your business should use is which software ecosystem you already work with — whether that's Google, Apple, Microsoft, Zoho, Slack, or something else. Of course, there is always some overlap between software systems, and most video conferencing apps offer both iOS and Android compatibility. Third-party integrations can also extend a program's compatibility to the other business apps you use.
Fortunately, most or all video conferencing apps have a free trial or a free plan that you can try out before you make any financial commitment. For some businesses, it might even make sense to use multiple video conferencing apps for different purposes, and the wealth of inexpensive and free video conferencing services make this possible without you having to take on any additional financial hardship during these challenging times.
Have any questions or comments about any of the web conferencing software discussed in this post? Feel free to sound off in the comments!
In Summary: Best Video Conferencing For Small Businesses