Best Website Builders For Mobile Sites
Expert Analyst & Reviewer

UPDATED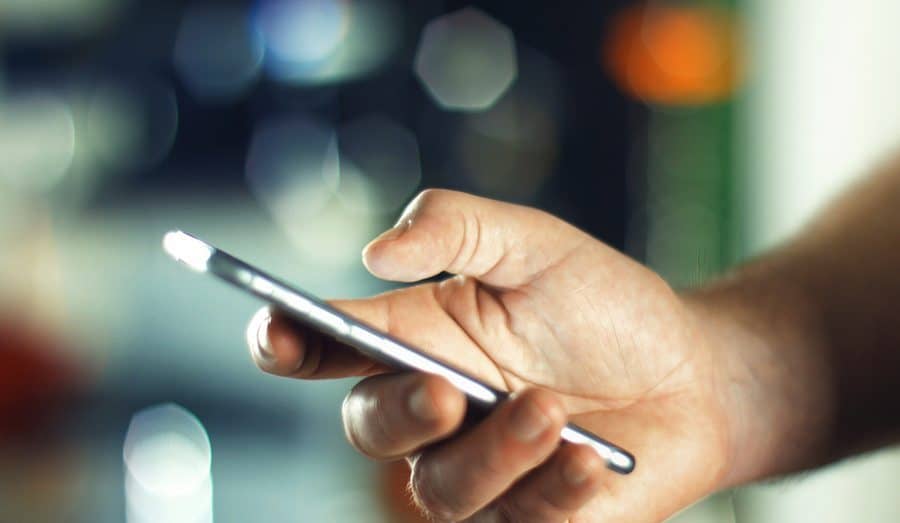 So you like to think of your website as quite the masterpiece. Designed with pitch-perfect aesthetics and seamless functionality for your customers, your website (and, by extension, you) stands as a shining testament to what can be accomplished in the digital age with grit and a touch of know-how. Your site infuses the browsers and the hearts of grateful cyberspace adventurers with a sense of appreciation and awe. Folks hither and thither gather reverently 'round the family desktop for the chance to bask in the reflected glory of your singular creation, immaculately conceived on the zephyr wings of capitalist angels.
However, let's say that your heart-breakingly stunning website doesn't display or work well on mobile devices. That might not be an issue if your website was created in the service of selling ceramic animal-themed home decor to the Internet Explorer demographic. However, let's say you're trying to get a restaurant up and running. Your website should accommodate the needs of busy people on the go looking for a place to eat, and that beautiful website of yours will do nothing but frustrate the young couple driving around the city looking for some Pad Thai.
Mobile traffic increases its share of total internet traffic with every passing day. Emphasizing the mobile experience is just smart business. Thankfully, website builders are increasingly recognizing this reality, and mobile responsive design is becoming de rigeur for new website builders looking to make an impact. Some even give you the ability to edit your website with a mobile editing app from your smartphone or tablet.
Let's take a closer look at the website builders designed from the ground up to give you the nicest mobile sites.
Weebly (see our review) is a fine choice for mobile responsive website building. With over 30 million users worldwide, not only is it one of the most popular website builders period, it's also entirely mobile responsive. You even get a mobile editing app (available for free from mobile App stores) – something lacking in most of Weebly's competitors.
Here's a quick rundown of Weebly's subscription plans:
Free
Drag-and-Drop Builder
Free Weebly Hosting ([yoursite].weebly.com)
Unlimited Pages
500 MB Storage
Chat & Email Support
Starter
$8/month
All of the Above PLUS:
Custom Domain – 1 Year Free
$100 Google Ad Credit
Unlimited Storage
Connect Your Existing Domain
No Weebly Branding
Expanded Traffic Stats
Customizable Footer
eCommerce – Up To 10 Products
3% Weebly Transaction Fee
Integrated Shopping Cart (checkout.weebly.com)
Pro
$12/month
All of the Above PLUS:
Phone Support
HD Video & Audio Players
Site Search
Password-Protected Sites
Membership – Up To 100 Members
eCommerce – Up To 25 Products
Business
$25/month
All of the Above PLUS:
Unlimited Members
Unlimited Products
No Weebly Transaction Fee
Integrated Shopping Cart On Your Domain
Advanced eCommerce Features
Refunds are given for up to 30 days after purchase.
Weebly gives you 23 simple but responsive templates, which are geared towards the following industries:
Restaurants
Journalism/Blogging
Design
Fashion
Music
Travel/Tourism
Non-Profit
While 23 templates doesn't sound like a lot compared with the competition, Weebly's templates give you spaces where you can insert a number of different layouts. These layouts are essentially templates within templates, and allow you to easily customize your site within minutes.
Weebly's site editor is incredibly intuitive. Everything you can add to your site is laid out along the left of the screen and is added to your site via drag-and-drop. You can change templates entirely, and your existing content will carry over to the new one. With hardly any learning curve, you'll be creating websites in no time, and they'll always look great on mobile devices, thanks to Weebly's mobile-responsiveness. Here's some screenshots of Weebly sites taken in mobile preview mode.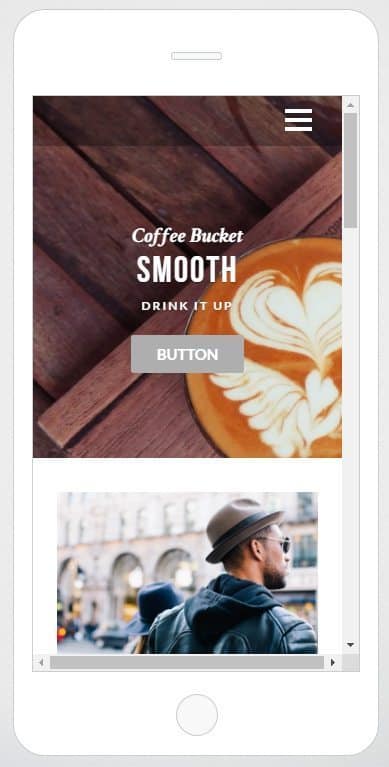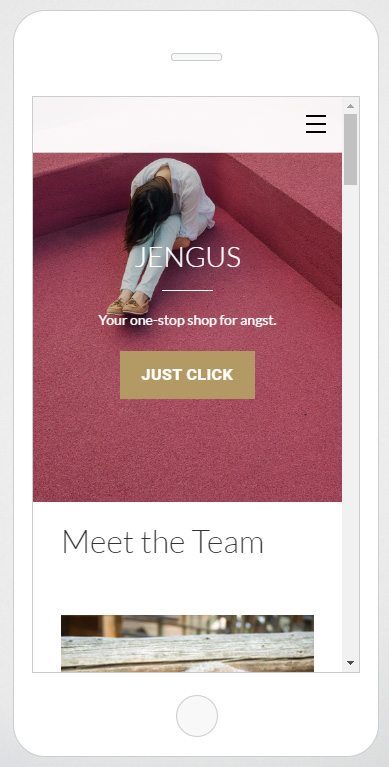 Don't forget: you can edit your Weebly sites from your smartphone with the free Weebly mobile editing app.
Weebly has quite a few nice features that are easily added to your site. You'll get a blogging tool, eCommerce, social media integration, a contact form, image galleries with both free and paid images, and more. Should you want something more than what Weebly provides directly, you can choose from between 131 third-party apps in the Weebly App Center to add to your site.
Weebly's customer support is considered to be among the best in the industry. Live chat is available for near-instant support, as is phone support, as well as a knowledge base.
If you're looking for a tool for creating attractive, functional, responsive mobile websites, quickly and easily and without breaking the bank, Weebly is an excellent option. Blogging, eCommerce, an app for mobile editing – it's all here.
Read my Weebly review to learn more!
Duda (see our review) is a fun upstart website builder that places mobile responsiveness at the heart of their efforts. Founded in 2010 by Big Lebowski fans Itai Sadan and Amir Glatt – they named their company as an homage to The Dude – Duda now hosts over five million websites. It's not the biggest name in the industry, but if you're looking to create websites that will shine on mobile devices, Duda is a great choice. You even get eCommerce at the free subscription level!
Here are the details of the subscription plans Duda offers:
Free
Natively Responsive Website
Unlimited Access to inSite
Limited Analytics and Tracking
Web Hosting on Amazon Cloud
Community Support
Duda Domain ([yoursite].dudaone.com)
Duda Ads
10 Product Store
PayPal, Stripe & Global Gateway Payment Providers
Two Product Categories
Order & Customer Management Tools
Business +
$14.25/month (annual plan)
$19/month (month-to-month)
All of the Above PLUS:
Full Analytics and Tracking
Email Support
Custom Domain
No Duda Ads
Site Backup
Chrome Push Notification
Developer Mode (HTML/CSS editing)
Multi-Language Website
Business + eCommerce (100 Product Store)
$22.50/month (annual plan)
$29/month (month-to-month)
Business + eCommerce (4000 Product Store)
$36.75/month (annual plan)
$46/month (month-to-month)
Both eCommerce plans feature:
30+ Payment Providers
Unlimited Product Categories
Product Reviews Integrated with Facebook
Duda's collection of 70 templates has something for just about any emerging business, though they are particularly well-suited to the restaurant industry. All Duda templates are mobile responsive, and will give your business mobile authenticity with the young whippersnappers of today. Here's a few examples: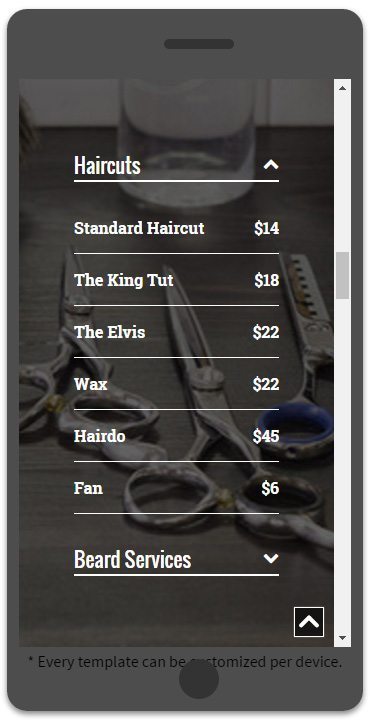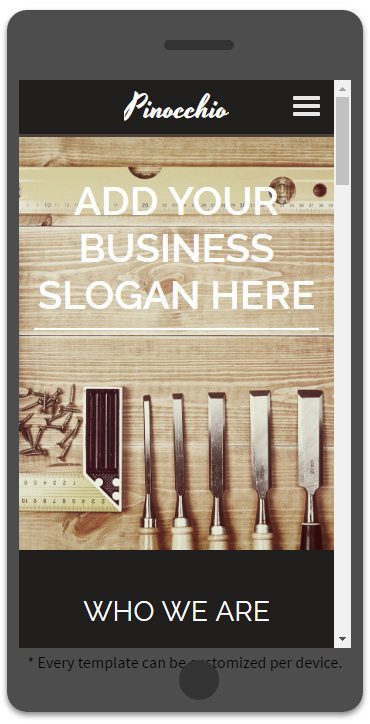 Sadly, unlike Weebly, Duda doesn't have a mobile app for website editing. I wouldn't be surprised to see one in the future, however.
Duda gives you all the features you expect of a well-featured website builder – eCommerce, blogging, a highly customizable contact form, an image editor – as well as some features you wouldn't expect. In keeping with Duda's restaurant-friendliness, there's a dining reservations app called OpenTable and a menu creator. The feature that impressed me the most, and which I was amazed to see offered to even free subscribers, was inSite – a tool developed by Duda that lets you create elements that appear only under certain specified conditions. You could set a video to play exclusively for first-time visitors to your site, or build a contact page that displays different contact info depending on the time of day (you could add a click-to-call button that displays during business hours, and a contact form that displays at any other time). The possibilities are endless, and it's exactly the sort of feature that will make your mobile site not just a pretty brochure, but a functional, intelligent website that gives your busy on-the-go target audience the information they need about your services. It's cool and innovative, and I like it.
For customer support, Duda provides a very extensive knowledge base, and, for paying customers, direct email support (an email ticket submission form is provided for free users). Unfortunately, they don't provide live chat or phone support.
Duda is a fresh and functional tool for creating responsive websites that are ideally suited for the smartphones of your potential customers. With features like inSite, it feels well-positioned to take on the future. Read my Duda review to get the full story.
Squarespace (see our review) is a company that requires little introduction. Likely the most critically-acclaimed website builder currently in existence, Squarespace's one-million-plus paying customers include the likes of Lyft and V Magazine. It's a sophisticated product and will probably take you a bit longer to master than the other website builders on my list, but it's an excellent choice if you're looking to create an elegant, functional responsive website that will endear you to your smartphone-wielding customers. They even provide a set of mobile apps for managing, viewing and editing your site's content from a mobile device.
Squarespace doesn't have a free subscription – you'll need to pay to take advantage of the considerable amount they have to offer, though you can try it for free for 14 days without having to give them your credit card. Pricing and feature details are thus:
Personal
$12/month (annual plan)
$16/month (month-to-month)
Mobile-Optimized Website
20 Pages, Galleries and Blogs
Unlimited Bandwidth and Storage
Up to 2 Contributors
Powerful Website Metrics
Custom Domain, Free for One Year
24/7 Customer Support
Fully Integrated eCommerce
Sell Unlimited Products and Accept Donations
3% Sales Transaction Fee
Business
$18/month (annual plan)
$26/month (month-to-month)
All of the Above PLUS:
Unlimited Pages and Contributors
2% Sales Transaction Fee
Professional Email from Google
$100 Google AdWords Credit
Squarespace's 41 mobile responsive templates are the class of the industry. You won't find better templates anywhere. Photographers, musicians and restaurateurs are especially well catered to. Being mobile responsive, these templates will display outstandingly on mobile devices. Here's some screenshots to show you what I mean. Still images don't do them justice, though, as they scroll and respond beautifully as well.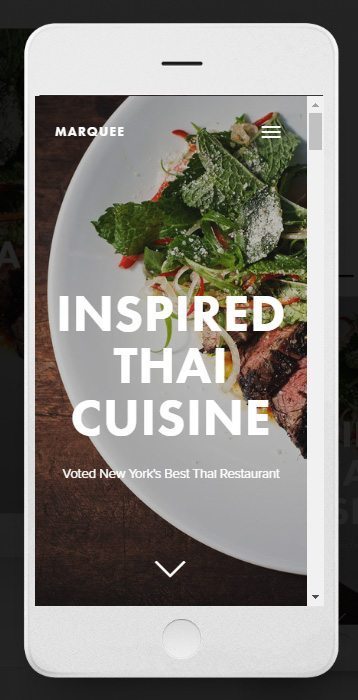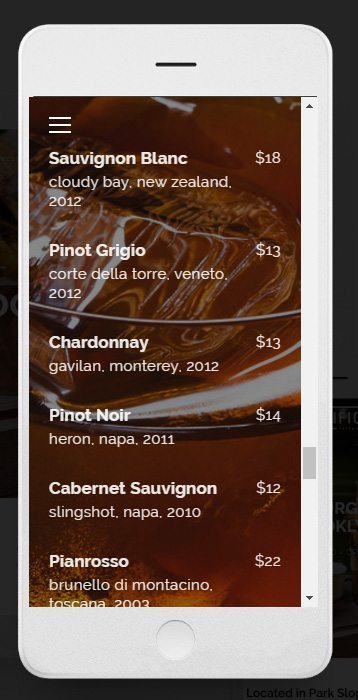 Squarespace doesn't have anything equivalent to Weebly's App Center for third-party add-ons. You probably won't be missing it. Squarespace takes care of just about everything in-house. From their eCommerce to their blogging tool to their SEO management to the commenting system, every feature is seriously thorough. Throw in DropBox integration, social media functionality, custom CSS injection, password protection, video galleries, sophisticated user data collection, etc, and there's very little that could possibly be done with a website builder that Squarespace can't do. And as a mobile-friendly eCommerce solution, it's an outstanding value for the money.
Squarespace's customer service is comprised of 24/7 email support, a knowledge base, community forums and live chat, which is available weekdays, 3am to 8pm EST.
Get the skinny on Squarespace in my Squarespace review.
We now go from the popular to the obscure. You may not have heard of Impress.ly (see our review), as they've only officially been around since December 2015. It's a product of the collaborative efforts of AppMachine, a Netherlands-based tech developer, and the Endurance International Group. The involvement of EIG was enough to give me pause, as they've been associated with some shady services in the past, but Impress.ly, thus far, looks legit. Though it's a newly-emerging website builder, and, as such, is not yet fully featured (the eCommerce was just recently added), it "impressed" me enough (see what I did there) with its mobile potential that I felt it warranted a spot on my list. I'm inclined to sprinkle a bit of attention onto promising prospects – you never know who might blossom into the next Squarespace.
Impress.ly was designed from the ground up to be a tool for creating mobile websites that respond and behave like native mobile apps. In fact, in its finished state, Impress.ly will let you package and sell your website in the app stores as a native app. And with responsive design, your sites will look nice on computers and tablets as well. What's more, Impress.ly provides a mobile app that allows you to edit your Impress.ly site on the go. If anything, it's even easier to use than their desktop editor.
Impress.ly is free to play around with – you won't have to pay until you want to publish your site, after which you'll need to subscribe to one of Impress.ly's two subscription packages:
Starter
$9/month
HTML5
Smartphone, Tablet, Desktop
Custom Domain, Free for One Year
Basic Analytics
Minimal Branding
Social feeds + Basic Info
Business
$14/month
All of the Above PLUS:
eCommerce
Reservations
Music
Blog
Worldwide CDN Optimized
Creating a site with Impress.ly isn't like creating a site with your typical website builder. At the start of the process, Impress.ly will ask you if you have a Facebook Business page or an existing website. If you do, Impress.ly will pull your existing content and automatically create ten different mobile websites for you. Select whichever design you like best, and that will be the basis for the rest of your work. If you don't have an existing site, Impress.ly will create ten sites for you based on the theme colors and fonts you tell it to start with. These ten prefab sites can be considered the equivalent of templates. There's no simpler or quicker way to get a spiffy mobile website online. Take a look at what can be created in less than a minute: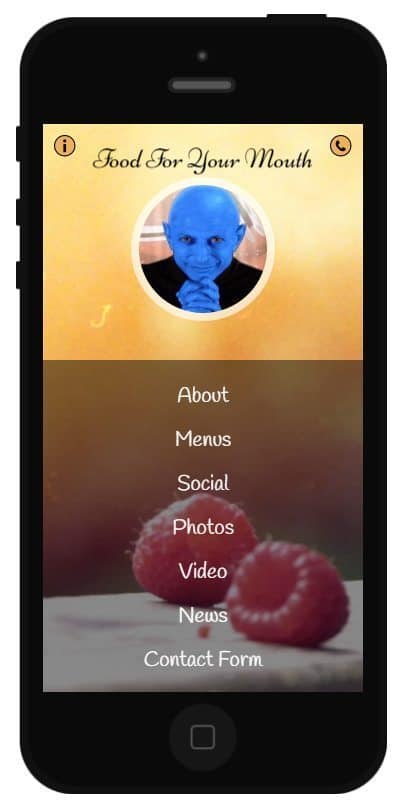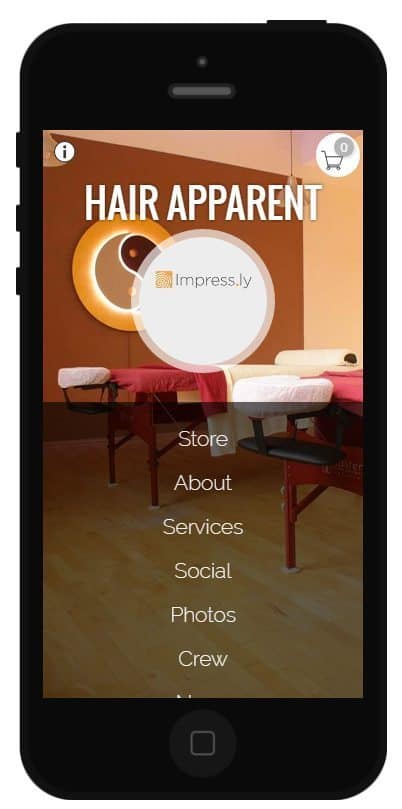 Your Impress.ly site won't just look nice – it will behave like a mobile app, giving your clients/customers/etc the sort of mobile experience they've come to expect in recent years.
It's not (yet) in the same class as Squarespace or Weebly in terms of advanced features, but nonetheless, Impress.ly does provide the basics. Their newly-released eCommerce tool is strong, as is their blogging tool, their restaurant menus, and their reservation tool. Some features, like their contact form, are admittedly a bit basic.
Impress.ly's customer support comes in the form of a knowledge base, an email address for reporting bugs, and a phone number for live support – a support line that is evidently shared with other services. When I called, the guy on the other end initially thought I was a Weebly customer!
Though still a work in progress, I feel that Impress.ly's refreshing approach to mobile site building positions them well for the future. Check out my full Impress.ly review here.
Conclusion
Mobile-responsiveness has gone from being a nice feature to have in a website builder to being a necessity. This is particularly true if you're running a business that depends on the attention and money (what little of it they have) of millennials for its relevance. In a smartphone-ruled world where remorseless change is the only constant, you need to meet people where they are. And where are they? They're staring down at their smartphones, wherever they are. You can shake your righteous fist and lament the debased state of modernity, or you can deal with the world as it actually exists and use a website builder that caters to the mobile experience. Weebly, Duda, Squarespace and Impress.ly do just that.