Best Website Builders For Photography Websites
Expert Analyst & Reviewer

UPDATED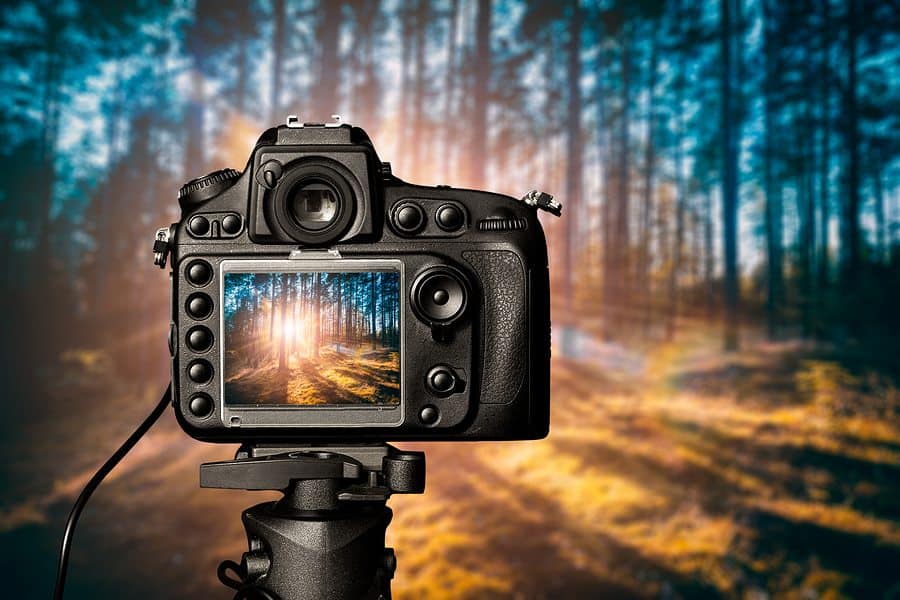 Strange as it may sound, there was a time when a photographer's one and only way to compile a collection of their work was through the use of a binder. Nowadays, with the advent of easy DIY website builders, it's never been easier to put together a digital portfolio of your photos for all to see. However, it's not enough to just throw all your images up onto a web page and call it a photography website. You're going to want photo gallery widgets that display your images as handsomely as possible. You'll need enough storage space to handle a large number of high-resolution images. You're also likely to want the same simple and intuitive website building experience that all website builder users are looking for.
Let's take a look at the website builders that give photographers the tools they need to create an attractive and functional online photography portfolio.
Wix
Wix (see our review), the most popular of the Big Three website builders (Wix, Squarespace, and Weebly), is also the most versatile and adaptable to just about any purpose under the sun. With over 100 million sites created by users in over 180 countries, Wix's appeal is nearly universal. However, this doesn't mean that they don't have photography-specific features.
I'll summarize Wix's subscription plans for you:
Free Plan
Free Wix-branded Domain/Hosting
Wix Ads
500 MB Storage
1 GB Bandwidth
Connect Domain
$5/month
All of the Above PLUS:
Connect Your Domain
Combo
$10/month
All of the Above PLUS:
2 GB Bandwidth
3 GB Storage
No Ads
Free Domain for 1 Year
Unlimited
$14/month
All of the Above PLUS:
Unlimited Bandwidth
10 GB Storage
$300 Ad Vouchers
Site Booster & Form Builder Apps
eCommerce
$17/month
All of the Above PLUS:
20 GB Bandwidth
20 GB Storage
Online Store
VIP
$25/month
All of the Above PLUS:
Unlimited Bandwidth
VIP Support
Wix offers a bevy of site templates for photography — 36 of them — and most of them are quite fetching.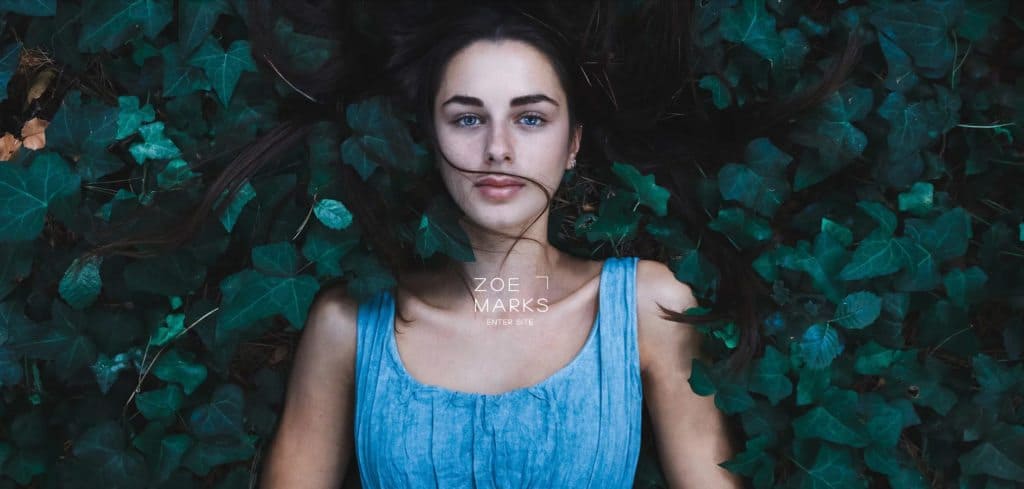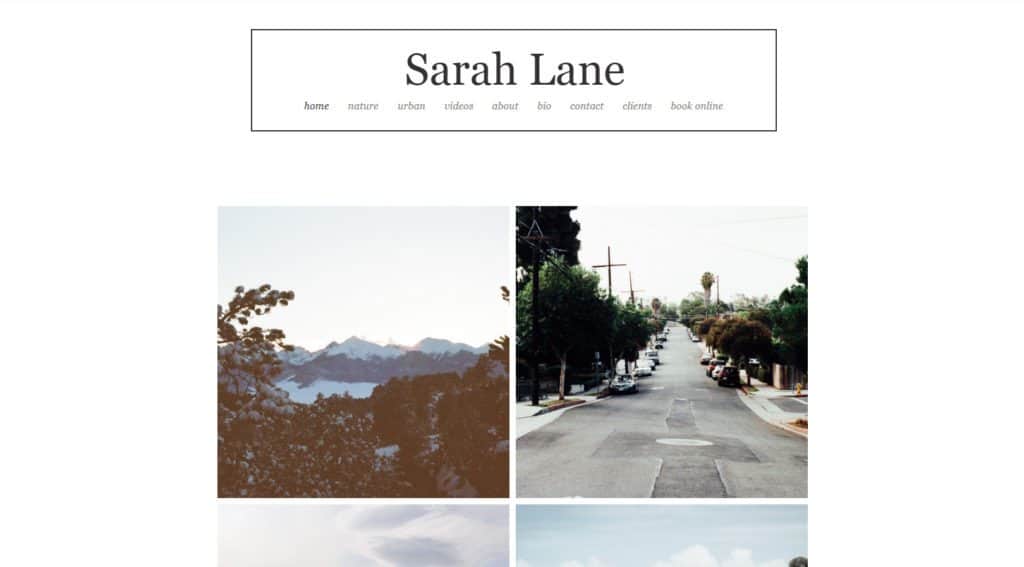 Wix does a great job of displaying images. Everything appears crisp and clear. What's more, they have a number of features particularly suited to photographers. Wix details those features here, and they include:
40+ photo gallery layouts — Display your images however you want
Lots of storage space — Good for storing high-resolution images
Wix Blogging App — Keep an online photo diary
Images & video backgrounds — Have your site background showcase your work
SEO tools — Get your photography found on search engines
Page protection — Set up private photo galleries that only members can view
Wix Bookings — Let customers set up appointments with you online
ShoutOut email marketing — Market your work efficiently and attractively
When looking for a website builder, Wix is about as solid of a choice as you can find. Read my full review of Wix if you're interested.
Pixpa
Pixpa (see our review) isn't your typical website builder. Pixpa is one of the few website builders out there that markets itself explicitly as a portfolio website builder/eCommerce tool for photographers. Founded in New Delhi in 2013 by Gurpreet Singh, Pixpa is still a small fish in the sea of the website builder industry, but their particular focus and unique approach make them an excellent choice of services if you're a photographer (or if you're an artist or designer, for that matter).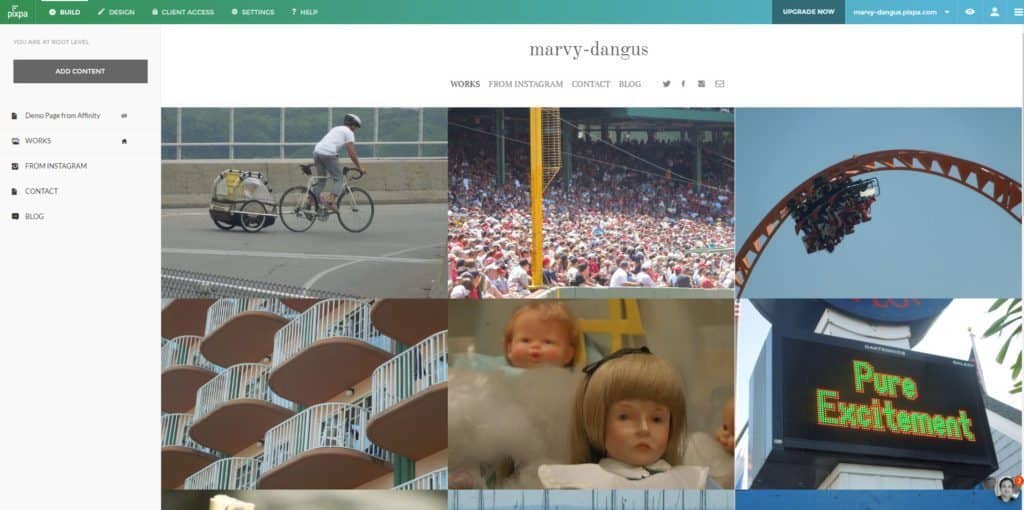 You can use Pixpa freely for 15 days, but you'll need to pony up for a subscription if you want to continue with them. Here's Pixpa's full subscription/pricing offering:
Lite
$6/month
200 images/videos
10 galleries
10 pages/blogs
Unlimited blog posts
Integrated Google Maps, Youtube, Vimeo and many more apps
Fully integrated eCommerce
Commission-free sales
Sell 5 products
Digital products
Manage shipping rates & taxes
Starter
$9/month
All of the Above PLUS:
Unlimited images/videos
Sell 15 products
Private or public collections
Client access area
Password collection
Activity data
Digital downloads
1GB Cloud Storage
Pro
$16/month
All of the Above PLUS:
Sell 50 products
Discount coupons
Inventory management
Take back-orders
10GB Cloud Storage
Plus
$24/month
Sell 500 products
Abandoned cart recovery
Unlimited galleries, pages & blogs
25GB Cloud Storage
All plans include:
Connect custom domain
eCommerce with Fotomoto
Google Analytics
Integrated blogging
Connect with social networks
Unlimited bandwidth
Full access to all themes
Search engine friendly
24 X 7 support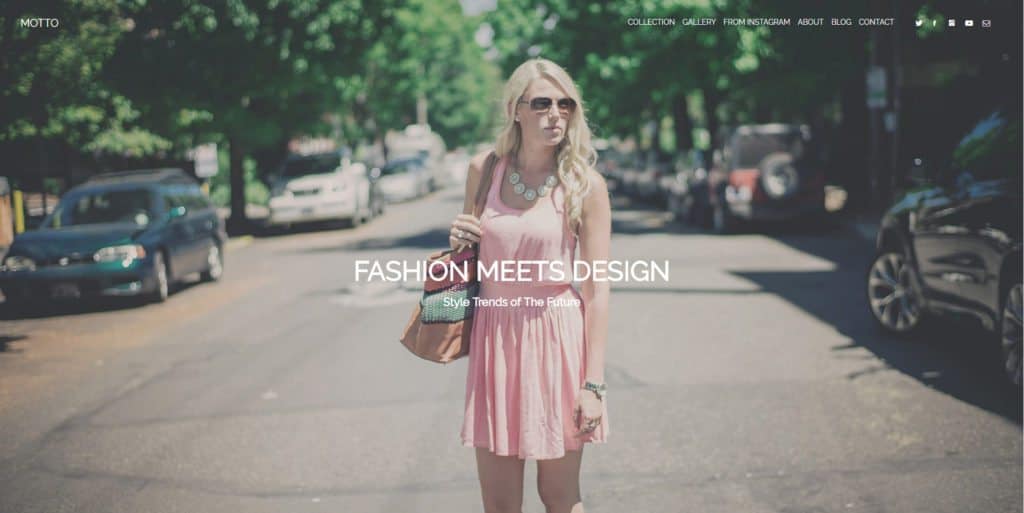 What separates Pixpa from the pack is their integration with Fotomoto that gives you an eCommerce package specifically tailored to professional photographers. Set up a Fotomoto account and you'll be able to sell your images either as prints or downloads. Connecting Fotomoto to your Pixpa website isn't automatic, however, and will take some doing. Luckily, Pixpa lays out exactly how to do that here.
The Fotomoto widget is totally customizable, so you can adjust it to match your site's look and feel. You can sell digital photos to your customers as well as physical prints — sized anywhere from 4″x6″ to 40″x240″.
Pixpa also provides a blogging tool that does a great job of showcasing your images. You can use three different layouts, each of which is designed to handsomely highlight your photos. If you're a photographer, a designer, or you just want to showcase the pictures you take while you're out and about, Pixpa is definitely worth your consideration as a website builder. Check out my Pixpa review to learn more.
Squarespace
Squarespace (see our review) is that company that plays the same ads with John Malkovich over and over when you're watching videos online (or at least it does when your job involves spending time on website building sites). However, Squarespace is more than that — for those looking for top-notch aesthetics in a website builder, Squarespace is the pride of the website building industry. Their vivid, crisp templates make them an ideal choice for photographers and artists of all stripes.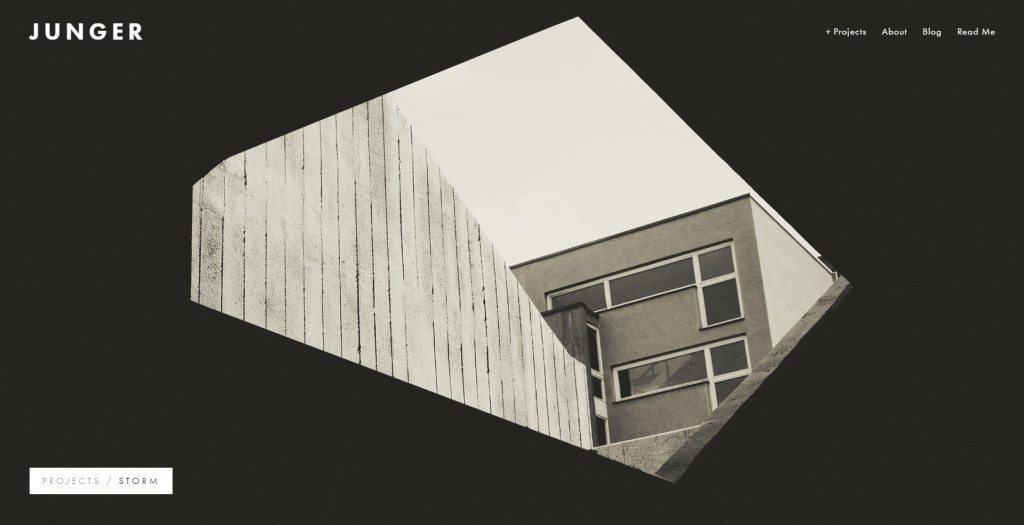 Like Pixpa, Squarespace lets you sample their product freely for a few weeks before making you decide on a subscription plan. These subscriptions are as follows:
Personal
$12/month
3% Transaction Fee
20 Pages/Galleries/Blogs
Up to 2 Contributors
Unlimited Bandwidth & Storage
Fully Integrated eCommerce
Sell Unlimited Products
Accept Donations
Powerful Website Analytics
Free Custom Domain for One Year (with annual purchase)
Business
$18/month
All of the Above PLUS:
2% Transaction Fee
Unlimited Pages/Galleries/Blogs
Unlimited Contributors
Professional Email from Google
Online Store – Basic
$26/month
All of the Above PLUS:
No Transaction Fees
24/7 Support
Powerful Commerce Metrics
Inventory, Orders, Tax, Discounts
Label Printing via Shipstation
Integrated Accounting via Xero
Online Store – Advanced
$40/month
All of the Above PLUS:
Abandoned Cart Autorecovery
Real Time Carrier Shipping
Checkout on Your Domain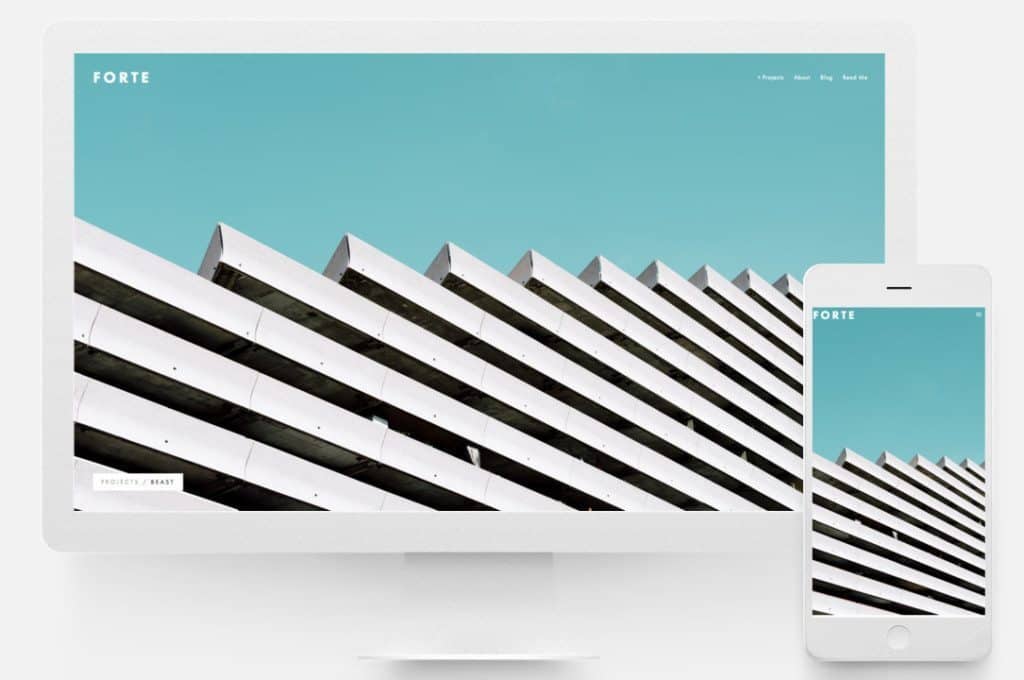 Squarespace's best-in-the-industry templates hold a lot of value for those looking to show off their portfolio as attractively as possible. Within these templates, you'll have ample opportunity to put your best foot forward. Squarespace gives you a number of ways to showcase your work. You can put your images and videos into full-screen slideshows. You can set your photos to open in a lightbox. Set your own focal point. Connect your photo blog to an Instagram or a Tumblr feed. There's quite a bit you can do to put your photos out there in an appealing way. Squarespace details its photography-friendly aspects here.
Another bonus for photogs is the Squarespace Portfolio app for iPhones and iPads. It's free, and it allows you to take your portfolio with you and show it off without needing an internet connection.
As it happens, I wrote a review of Squarespace. Check it out if you're so inclined.
Weebly
There's just something friendly and familiar about Weebly (see our review). It's the comfort food of website builders. It might not be the flashiest or most innovative website builder out there, but you won't find an easier way to put a professional-looking photo portfolio online. Founded in San Francisco in 2007 boasting 40 million websites worldwide, Weebly's an old pro in the industry, and they won't make you look silly. Let's see what subscription plans they offer, starting with their free plan (yes, Virginia, there's a free plan!):
Free Plan
Display Weebly Ads
Free Hosting – Weebly.com Subdomain
500MB Storage Limit
Chat and Email Support
Community Forum
Starter
$8/month
All of the above PLUS:
Personal Domain – FREE for the first year
Unlimited Storage
Connect Your Domain
Advanced Site Stats
No Ads
Up to 10 Products in Online Store
3% Transaction Fee
Integrated Shopping Cart – Links to "checkout.weebly.com"
Pro
$12/month
All of the above PLUS:
Phone Support
HD Video & Audio
Video Backgrounds
Password Protection
Site Search
Site Membership – Up to 100 Members
Up to 25 Products in Online Store
Business
$25/month
All of the above PLUS:
Unlimited Site Membership
Member Registration
Unlimited Products in Online Store
0% Transaction Fee
Checkout on Your Domain
Digital Goods
Inventory Management
Shipping & Tax Calculator
Performance
$38/month
All of the Above PLUS:
Real Time Shipping Rates
Abandoned Cart Emails
Gift Cards
5 Email Campaigns per Month to 500 Contacts per Email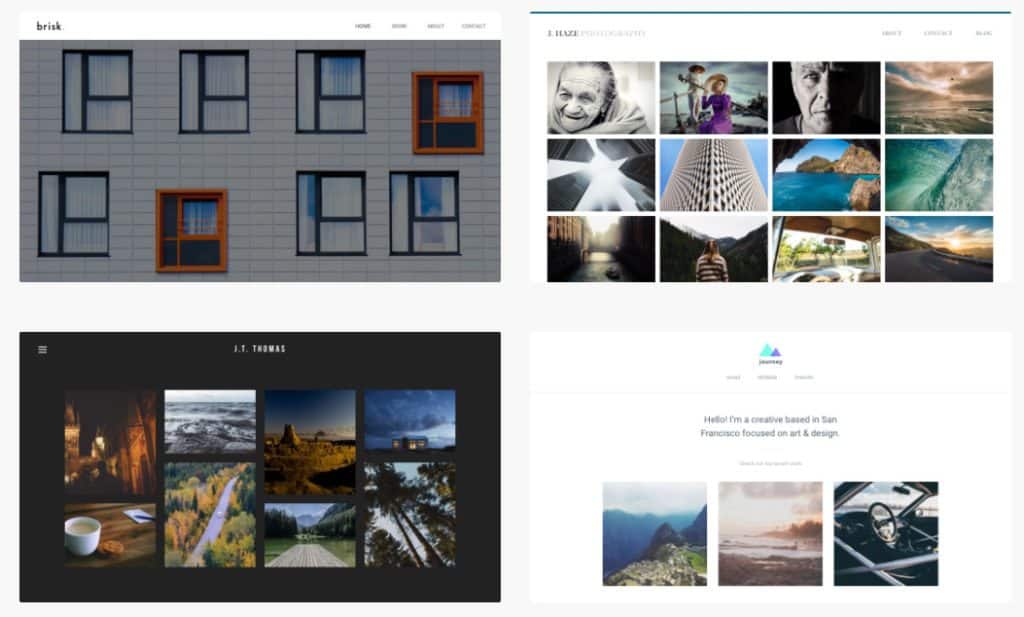 Weebly keeps their own list of features appealing to the photographer in all of us. They've got several templates meant to showcase your portfolio. They've got photo eCommerce so you can sell both physical prints and digital downloads of your images. They've got integrated marketing tools and easy social sharing to get your work as much exposure as possible. Perhaps most enticingly, they have a full mobile editing app. Unlike the aforementioned website builders, Weebly lets you edit your entire site on the go from your iOS or Android device. Upload your pictures and videos to your galleries right from your phone. Make use of some of the photography-related apps in the Weebly App Center.
Note that with a paid subscription, Weebly gives you unlimited storage to play with. Very important for photobloggers.
Here's my full Weebly review. You know what to do.
To Summarize
If you're a photographer — professional or amateur — and you're not putting your work online, you're forsaking the potential benefits to your exposure and your wallet (should you choose to monetize your work). Take advantage of the relatively inexpensive website building tools out there that do much of the heavy lifting for you, and you'll have an online photography portfolio you'll be proud to show off to your clients and friends alike.
Go forth and release your art into the world, my shutterbugs. We're in dire need of it.