Bigcommerce Enterprise VS Mozu
Contributor

UPDATED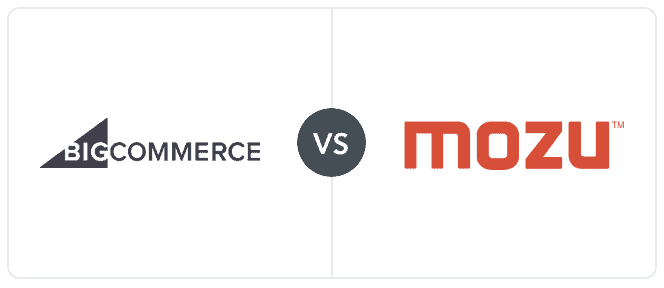 So, you're thinking about upgrading your platform.
You've stretched your old software to its limits, and now it's time to put the poor thing to rest. You're looking for something newer, bigger, faster, better. And, like the smart business person you are, you've decided to do your research before jumping headlong into a new commitment. That's great! You've come to the right place.
First off, congratulations! Your business is growing, and that's quite an achievement. We'd love to help you grow along with it, but in order to do that we need to get you started with the right platform.
As you likely know, BigCommerce and Volusion are two of the biggest players in eCommerce. Their SaaS platforms provide business owners with the tools the need to develop online stores. But, if you're dealing in over $500K a year, these basic platforms may not be enough.
Both BigCommerce and Volusion have rolled out enterprise solutions to meet the needs of midmarket to enterprise level businesses. BigCommerce Enterprise (BC Enterprise) (see our review) and Mozu (Volusion's contribution to the enterprise scene) offer the key features that a large online store needs to run smoothly: reliable uptime, comprehensive customer service, and scalability.
While BC Enterprise and Mozu are solid, four star solutions, they each take a different approach to eCommerce platforms. BC Enterprise specializes in usability while Mozu focuses more on customizability. So, though both are good options, you may find that one platform fits your current business model better than the other.
We're going to be taking a look at the specific differences between the features and web design of these two enterprise carts in a minute, but first, here's a little background information about each company.
BC Enterprise was launched March of 2015, and has since earned a reputation as a viable enterprise solution. Toyota, Gibson, and Payless Shoesource all use BC Enterprise. This cart is all about conversion, and offers a wide variety of tools to motivate your browsers to buy.
Mozu has been around since September of 2013. Current clients include Bluefly, Jelly Belly, and Sigma. Where BC Enterprise markets usability, Mozu offers customizability. With Mozu, your site will look and function exactly how you want it to.
Stick around to see what BC Enterprise and Mozu can do for your business.
Web-Hosted or Licensed:
BC Enterprise and Mozu are both SaaS (Software as a Service) systems. They are fully-hosted and web-based.
Hardware and Software Requirements:
BC Enterprise and Mozu require the same tools you use to check your email: a computer, internet access, and a current web-browser.
Pricing:
As is the case in every enterprise solution, pricing is negotiated between the merchant and the service provider. There isn't very much specific information about what sort of price range you might expect, though online comments suggest that pricing for BC Enterprise begins around $900-$1500 a month.
I suggest contacting a representative from both companies. They can estimate a price range for you based upon your sales volume, annual revenue, etc. Just click the links below to fill out a form, and they'll get back to you.
Contact BigCommerce Enterprise
Ease of Use:
Winner: BC Enterprise
BigCommerce is well-known already for its simplicity and ease of use. Lucky for us, BC Enterprise uses the very same dashboard that BigCommerce clients love. If you already use a BigCommerce platform, you won't have to re-learn anything. If you're new to BigCommerce, the transition should be pretty smooth anyway.
Just look at BigCommerce's dashboard. It's clean and well organized (don't you wish you could say the same about everything in life?).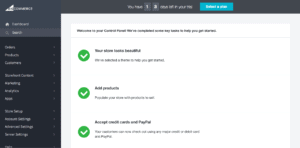 You can find everything you need in the sidebar to the left.
Editing themes is easy with a WYSIWYG (what you see is what you get) content editor and a new Stencil theme editor. The only downside: in order to use the Stencil theme editor, you have to "opt-in" to the Stencil themes, which makes it impossible for you to use the previous themes. Think before you click.
Here's what that Stencil theme editor looks like.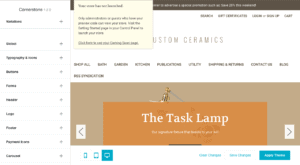 Larger changes require adjustments in the source code (HTML/CSS), but for the most part, you can get around just fine using the admin.
Unfortunately, I am not as familiar with Mozu's backend. The demo that I requested from the company, sadly, never arrived. All I've got to go on is this video.
But, I'll do my best.
Mozu is divided in two: the admin and the DEV center. The admin is for your use and the DEV center for your developers' use. And you're going to need developers.
With BC Enterprise it's possible (though not ideal) to do most things without the help of a developer, but with Mozu a developer is absolutely necessary.
Mozu comes with exactly one theme upon which your developers build your site. Without them, you'll be swimming in a sea of HTML and CSS, lost and hopelessly confused.
Fortunately, the admin seems to be much easier to use. From the admin, you can set discounts, add products (up to 20 million), and use widgets to change content on your website.
I suggest you try out each product. BigCommerce offers a 15 Day Free Trial, and you can request a demo from Mozu (hopefully, they actually get back to you with one).
Features:
Winner: Tie
BC Enterprise and Mozu both offer the basics of an enterprise solution: 99.9% uptime, unlimited bandwidth, scalability, and faceted (filtered) search.
Most of their offerings are comparable. However, there are a few features one cart includes that the other doesn't, and vice versa.
With their abandoned cart feature, BC Enterprise is all about conversion. Whenever customers leave your site without purchasing the items in their basket, BC Enterprise sends them an email to remind them about the forsaken items (and, hopefully, inspire a purchase). BC Enterprise also has a blog integration feature, which allows you to attract customers with entertaining and relevant content. Additionally, this cart comes with Shipper HQ built-in and social media integration.
Mozu, on the other hand, does not have a blog feature or an abandoned cart feature. Instead, Mozu boasts speed; Mozu's pages load faster than those of most platforms. Also, with Mozu, developers are able to make updates relatively quickly. Customer segmentation allows you to analyze the tendencies of your customers and create personalized promotions accordingly.
I'm going to declare a tie here, though I do recommend you review each shopping cart's full features list before making any decisions. (Click here for a run-down of BC Enterprise's features and here to view Mozu's features.)
Web Design:
Winner: BC Enterprise
BC Enterprise's goal is to make web design easy. They have a host of themes available, including 39 fully mobile responsive options. While this number is a little low compared to, say the 100+ themes offered by Shopify, 39 options are enough to get you started. After all, you only really need one.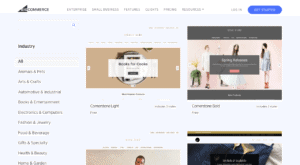 As always, if you're looking for a unique look, you're going to have to hire a web designer to create a custom site for you.
The great thing about BC Enterprise's design is that you don't need a designer. Using the new Stencil theme editor, it's easier to make basic adjustments to your site, including adjustments to text and banner colors. With a WYSIWYG editor (what you see is what you get), you can update content without contacting IT.
Mozu, on the other hand, does not offer any pre-made themes. Mozu comes with a blank theme (fully mobile responsive) that your developers can use to build your site via Mozu's Hypr theming engine, which is designed to simplify the development process. Also, Mozu is open source, and your developers can code in their preferred language.
So, basically, Mozu is not as DIY as BC Enterprise. You have to build your theme from the ground up and because Mozu does not have a WYSIWYG editor, it is more difficult for an administrator to make updates to content.
Mozu's web design is not "worse" than BC Enterprise's. It's just not as easy to use.
Integrations and Add-Ons:
Winner: Tie
BC Enterprise has plenty of ready-made (prefab) integrations for your site: 265 at last count. BC Enterprise is not open source, but does use a REST API, which makes it easy to integrate any service that isn't already available. And, with BC Enterprise, there's no limit to API calls, so your developers won't have any trouble syncing or integrating multiple apps.
Mozu offers a variety of prefab integrations in the Mozu Marketplace: 85 of them to be exact. Mozu also uses a REST API and is open source. Building additional connections should be relatively easy.
Payment Processing:
Winner: BC Enterprise
BC Enterprise already integrates with 38 payment gateways, including a few of the most popular: Stripe, PayPal, and Square.
Furthermore, BC Enterprise has an agreement with PayPal (Powered by Braintree) that might save you some change. If you use PayPal as your payment gateway, you'll benefit from reduced credit card transaction fees. Take a look at this graphic.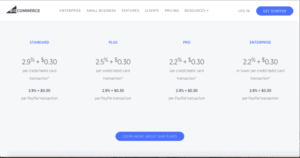 Mozu only integrates with 10 payment gateways right out of the box. Since there are so few, I'll list them here.
It's true that with Mozu's API and open source documentation, adding another payment gateway shouldn't be too difficult. However, forming that integration still takes some work. For that reason and because of the potential savings with PayPal, I'm giving the win to BC Enterprise.
Customer Service and Technical Support:
Winner: Mozu
BC Enterprise provides all the basic avenues for customer support. There's 24/7 Live Chat and a Community Board where you can get quick answers to common questions. There are also Guides (documentation) and the BigCommerce University, which is full of information to get you started. With BC Enterprise, you are ensured priority routed support, which means that your calls and concerns will be answered faster. Phone calls are taken from Monday-Friday 8:00-6:00 CST.
For an extra fee, you can also have access to a Strategic Account Manager, who helps you get the most out of your BC Enterprise platform.
Mozu comes with similar support. The DEV center provides the documentation that developers need, and the Help Center features FAQs and an option to submit a support ticket. Phone support is available 24/7/365.
Each Mozu merchant is set up with an Account Manager.
I consider account managers to be one of the key benefits of an enterprise service. Because Mozu arranges an account manager for every merchant without any extra expense, Mozu takes this category.
Negative Reviews and Complaints:
Winner: Tie
When it comes to enterprise solutions, customer reviews tend to be pretty difficult to find. However, reviews that discuss their founding companies are listed in every corner of the web.
Both BigCommerce and Volusion have recently committed some pretty serious offenses in my book.
Big Commerce's Recent Pricing Change: In April 2016, BigCommerce made some changes to the way pricing is structured for their plans. Clients were rearranged in pricing brackets according to sales volume. A sales representative told me that the change was made to prevent large companies from using BigCommerce's lower plans. And, I'll admit, the pricing change makes loads of sense for BigCommerce. It also makes sense that BigCommerce clients are raving mad. Clients report pricing increases of up to 800%. They also say that BigCommerce gave them little notice (two months or so) before the pricing adjustments went into effect.
Other complaints are directed at BigCommerce's customer service in general (dropped calls, unanswered support tickets) and a lack of tech support for changes in HTML and CSS.
Volusion's Recent Database Failure: On Memorial Day 2016, several Volusion sites experienced three hours of downtime, resulting in many, many lost sales. In general, Volusion has a pretty good uptime track record. It's unfortunate that their 0.1% downtime occurred on such an important day for sales. Since then, Volusion has issued an apology explaining the downtime and measures they have taken to prevent it from happening again. You can find that apology here.
Volusion customers also complain about frustrating interactions with customer service as well as tricky cancellation fees (you have to remember to cancel all of your third-party services).
With big mistakes like these, it's really difficult to declare a winner.
Positive Reviews and Testimonials:
Winner: Tie
Customer reviews on enterprise solutions are few and far between. The positive reviews I found came from the testimonials listed on BC Enterprise and Mozu's websites.
BC Enterprise advertises its conversion-optimizing features for a reason: they work. Testimonials boast improved conversion rates of 12%-203%. BC Enterprise clients love the mobile responsive themes as well as the platform's consistent uptime.
Mozu's clients also appreciate the mobile responsive design. They love Mozu's customer segmentation feature which allows them to market differently to different customers. Clients talk about Mozu's fast-loading pages, which reduce bounce rate (the amount of visitors who leave your site before the page finishes loading).
Positive reviews are positive reviews. I cannot decide which are better (especially without independent customer feedback). It's a tie.
Final Verdict:
Winner: BC Enterprise
BC Enterprise wins by a slight margin. Though it took two more categories than Mozu, it did so only barely. Really, the two platforms offer such different (though important) functions, that it's not entirely fair to call one better than the other.
If you're still unsure which platform is best for you, you might try our full reviews of both products. (Click here for our review of BigCommerce Enterprise and here for our Mozu review.) Or, if you want to consider a few of the other enterprise solutions on the market, read our introduction to the four most popular platforms out, including my favorites, Shopify Plus and Magento Enterprise Cloud Edition.
But if you're ready to contact one of these companies, then by all means, go for it!
Get Started With BigCommerce Enterprise