The 7 Best Communication Apps For Businesses & Why You Need Them
Expert Analyst & Reviewer

UPDATED
Advertiser Disclosure: Our unbiased reviews and content are supported in part by
affiliate partnerships
, and we adhere to strict
guidelines
to preserve editorial integrity.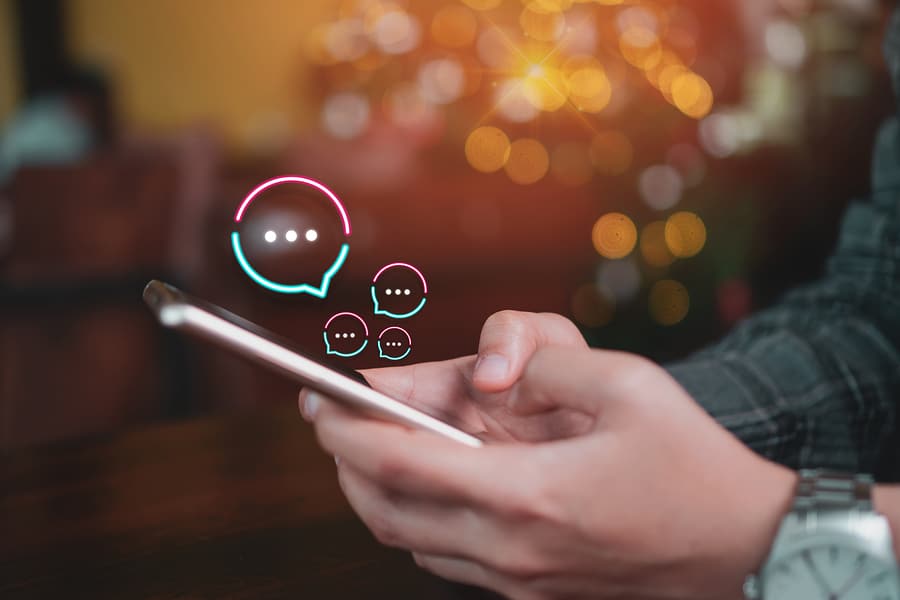 The business world had been seeing a long-term shift towards working from home. This trend has been greatly accelerated by the devastating COVID-19 pandemic. Accordingly, business communication apps have never been in higher demand. But as businesses rush to ensure that their employees can effectively communicate online, it's important to understand the differences between the various communication apps competing for your business.
Regardless of the length of the current pandemic, the need for effective internal communication is here to stay, so a good communication app is a wise (and relatively inexpensive) investment in the future.
Learn More About Our Top Picks
Company
Summary
Next StepsSummary
Best for the widest possible variety of businesses and organizations

Best for the widest possible variety of businesses and organizations

Best for businesses seeking relaxed, low-pressure team communication

Best for businesses seeking relaxed, low-pressure team communication

Best for companies that rely on Office 365 apps for productivity.

Best for companies that rely on Office 365 apps for productivity.

Best for companies that conduct business using G Suite apps

Best for companies that conduct business using G Suite apps

Best for facilitating communication across multiple teams

Best for facilitating communication across multiple teams

Show More Options
Best for businesses whose employees need to keep multiple conversations going at once

Best for businesses whose employees need to keep multiple conversations going at once

Best for companies looking for maximum flexibility in setting up chat spaces

Best for companies looking for maximum flexibility in setting up chat spaces

Show Fewer Options
Read more below to learn why we chose these options.
The Importance Of Good Business Communication
Internal communication among businesses has been shifting online ever since the use of email became commonplace in the 1990s. However, email isn't the pinnacle of convenience. Communication is separated into different email threads with no ability to organize conversation by topic or do a company-wide search for publicly-posted information. What worked in the 90s just doesn't provide any competitive advantage anymore.
Enter the world of business communication apps.
The Benefits Of Business Communication Apps
There's a reason why companies are adopting communication apps en masse these days. Actually, there are several reasons. Let's go through them!
Save Time & Money: Communication apps eliminate the need to get everyone together in one physical location for a meeting. They'll also save you money on telephone bills. The time and money you save will be better spent on growing your business.
Improve Team Cohesion: With modern business communication apps, it's easy to ensure that nobody is left out of the loop.
Maintain Good Organization: Many business communication apps let you do such things as pin important messages to public channels and create to-do lists that keep track of group progress towards specified tasks.
Security: Using a modern business communication app isn't like using AIM back in the day. These apps — the good ones, anyway — include data protection features that help ensure that your precious company information is protected.
The Best Communication Apps For Businesses
Modern business communication apps are much more than just messaging programs. We've put together a list of the apps that help your team communicate securely, get work done, and build a sense of community. Communication apps are the future — don't let your business be left behind.
1. Slack
Slack


---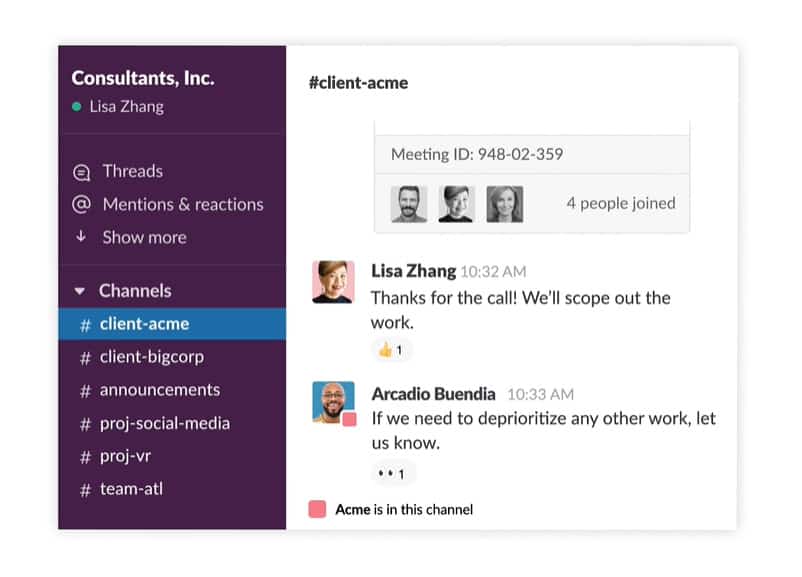 Best for the widest possible variety of businesses and organizations.
At this point, it's likely that you've heard of Slack. Launched back in 2013, Slack has become synonymous with team communication apps. With Slack, you use channels to group topics of discussion. Creating custom channels is a breeze, as is sending private messages to your coworkers and creating private channels for select groups of employees.
Every file and message posted to a public channel or sent to you privately is searchable, giving you the means to find what you're looking for amidst the glut of communication you would otherwise have to pore over. Another cool feature is the fact that you can react to a post or message with an emoji of your choosing — a quick way to acknowledge a message with something more customized than a "like" button. GIFs are easily accessible as well, making Slack a fun way to conduct business.
You can use the automated Slackbot tool to set regular reminders for any purpose you wish. And through an integration with Zapier, you can connect Slack with over 2,000 apps to boost productivity. Security-wise, Slack encrypts your messages both in transit and when they are "at rest", though Slack does not offer full end-to-end encryption. Overall, Slack merits its place at the top of the communication app pyramid, though it isn't without its flaws.
Pros
Very easy to use
Very customizable
GIFs and reaction emojis provide a sense of fun
Countless integrations available through Zapier
Cons
More expensive than other communication apps
Audio/video call quality needs work
Encryption is not end-to-end
Pricing
Small teams can use a limited version of Slack for free, but companies that need more features, such as full access to your entire message history and 24/7 support, will need a paid subscription.
Three tiers of paid subscriptions are offered: a Standard subscription for $6.67/user/month, a Plus subscription for $12.50/user/month, and an Enterprise Grid subscription (pricing must be negotiated) for the largest businesses and organizations.
2. Twist
Doist


---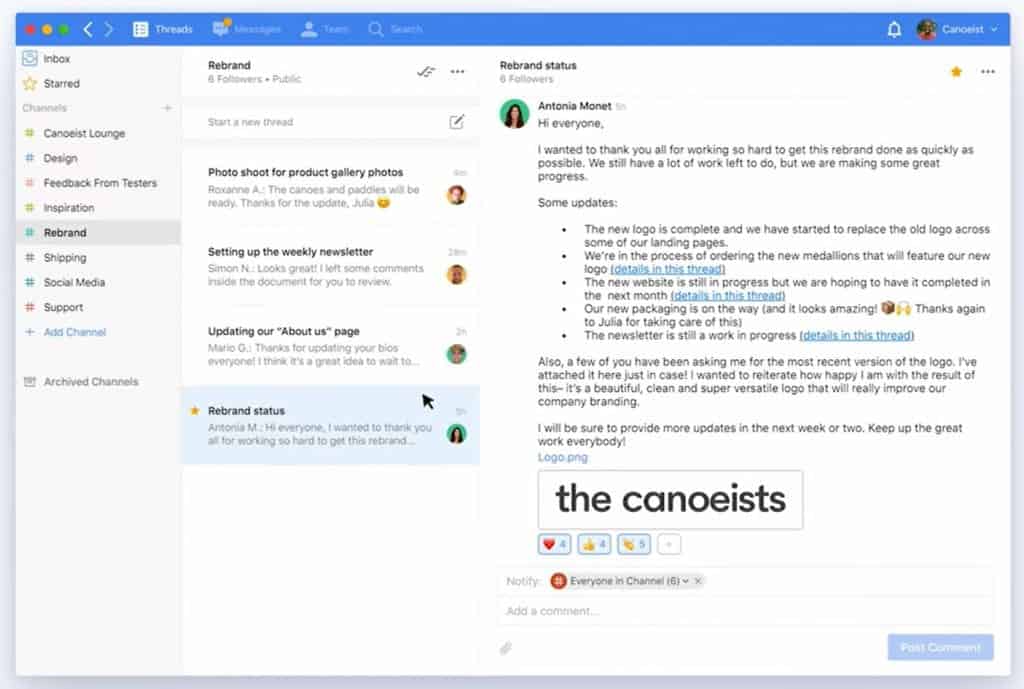 Best for businesses seeking relaxed, low-pressure team communication.
Twist is a communication app that bills itself as a more relaxed, less stress-inducing version of Slack. Twist's pitch is this: While Slack buries your teams in endless group chats — which serves to bury information — Twist offers slower-paced threaded conversations that flow more naturally, allow for more contemplation in responding, and maintain their structure and organization. In the words of the company, "Twist is asynchronous by default, so your team can finally prioritize focused, productive work without fear of missing something important (. . .) 71% of teams report more calm collaboration since they switched to Twist."
Every aspect of Twist is structured to fulfill this laid-back conception of team communication. The app gives you easy control over your notifications to make it simple for you to catch up or disconnect at will. Online/offline indicators are absent, relieving your team members of the pressure to appear "online" during working hours. Easily communicate with freelancers, contractors, and other third parties by inviting them as guests to individual channels.
Twist doesn't offer audio or video calls, which means that you'll need to integrate with another app for teleconferencing. Twist offers integrations for this function (and others), though as a whole, Twist offers fewer integrations than does Slack.
Pros
Low-pressure team communication
Deep, detailed notification customization
Competitive pricing
Cons
No built-in audio/video call feature
Limited integrations
Pricing
The free version of Twist comes with the kind of limitations you'd expect: one month of message history, up to 5 integrations, and 5 GB of file storage. The paid version of Twist, available for $5 per user per month, removes all limits on your message history, integrations, file storage, and guests. Priority support is also available to paying subscribers.
3. Microsoft Teams
Microsoft


---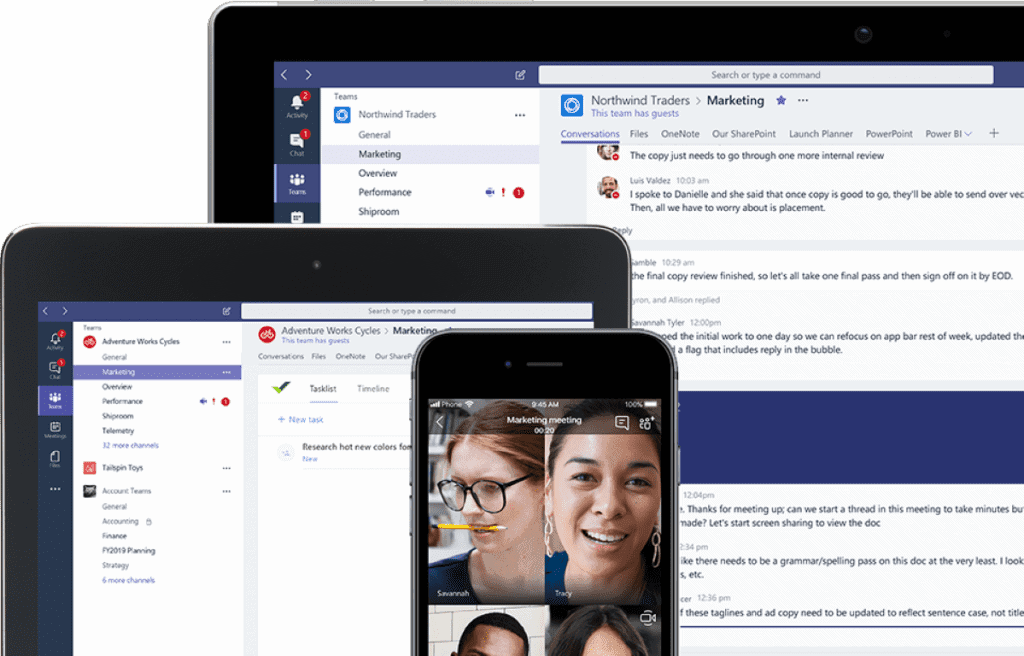 Best for companies that rely on Office 365 apps for productivity.
In 2016, Microsoft had set out to purchase Slack, but ended up developing its own team communication app instead. The result is Microsoft Teams, a communication app whose best feature is its close integration with Microsoft Office 365.
Microsoft Teams is all business. Channels are organized by team, and each team member is able to join every channel associated with the team. Unlike Slack, though, conversations don't take place in the channels, but in the tabs — the next level of organization down from the channels.
Along with group messaging, Microsoft Teams offers audio-only and video calls. You can call someone individually and leave a voicemail message if they don't answer. Group teleconferences can be joined by anyone within the team with a click of a button — a video camera icon appears next to any conversation in which the participants are chatting via video, and clicking the icon lets you join. It's that easy.
Microsoft Teams connects with over 2,000 apps through its integration with Zapier, though its close integration with other Microsoft apps in the Office 365 suite is Teams' best feature. Microsoft apps can be put into your workspace as a new tab, with your team getting full access to the work in question within the tab.
Pros
Easy integration with other Microsoft Office 365 apps
Many other integration options
Solid video conferencing options
Cons
Not ideal for businesses that don't already use Office 365 apps
Conversations can be a bit too compartmentalized for some businesses
Pricing
Microsoft Teams is available with an Office 365 (which will be renamed Microsoft 365 as of 4/21/2020) Business Essentials subscription for $5 per user per month. Currently, if you sign up for an annual commitment, you get six months of Microsoft Teams for free.
Microsoft Teams is also available with a Business Premium subscription or an E3 (enterprise) subscription for $12.50/user/month and $20/user/month respectively. The version of Teams you'll get is the same, but the overall software packages are more well-featured as you climb the tier ladder.
4. Google Chat
Google


---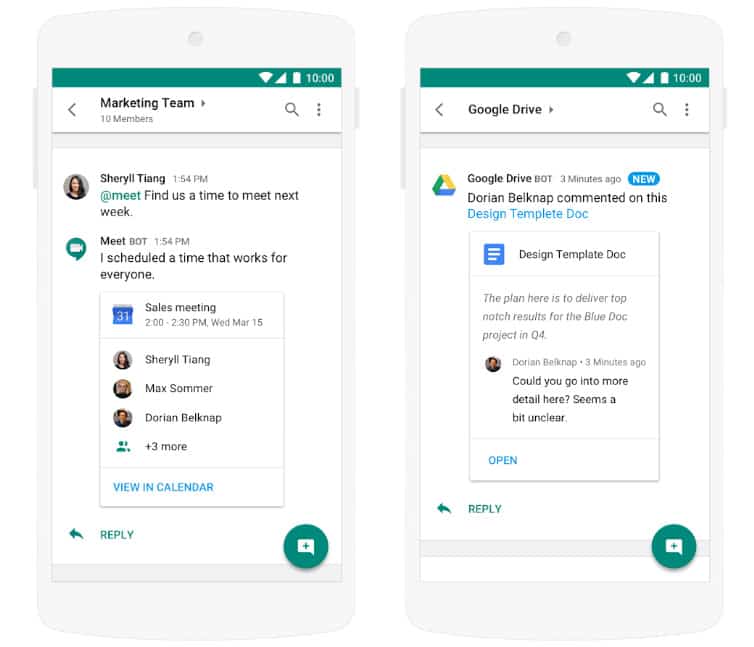 Best for companies that conduct business using G Suite apps.
The product formerly known as Google Hangouts Chat has just been rebranded as Google Chat. It's an integral part of Google's G Suite line of productivity apps, so if you use G Suite, you may already be familiar with the new Google Chat. If you already use G Suite for company email, your employees already have access to Chat.
Google Chat differs from such apps as Slack in that the channels you create for chatting with team members are private by default. On the whole, it's a more button-down messaging app than the competition and feels a bit lacking in personality. However, the app's tight integration with the other apps in Google's G Suite means that it's easy to share your Google documents — your files will have their permissions changed to include everyone in the room automatically. So while Google Chat isn't the most exciting messaging app, it's a great way to easily disseminate company documents, assuming your business uses G Suite.
Pros
Close integration with other G Suite apps
Well-organized chat rooms
Comes with G Suite
Cons
No free option
Limited integrations
Pricing
Google Chat is not offered on a standalone basis. To access Google Chat, you need a G Suite subscription. G Suite is offered at three subscription tiers, each with an escalating level of features and storage. A Basic subscription costs $6 per user per month and comes with 30 GB of cloud storage, while a Business subscription ($12/user/month) offers unlimited cloud storage (or 1TB per user if fewer than 5 users). Google also offers an Enterprise package that gives you enterprise features (naturally) for $25/user/month.
5. Chatwork
Chatwork


---

Best for facilitating communication across multiple teams.
Chatwork is a team communication app for businesses, much like the other apps featured here. Group chat rooms are easily created for your team or project, direct chats are simple to initiate, video conferencing is included within the app, and file sharing is a breeze. However, task management is where Chatwork really shines.
Chatwork keeps all your public and private group chats listed together on your left sidebar, letting you easily switch between teams and conversations. Chatwork can also put together a to-do list for you with tasks pulled from each team conversation you're in, ensuring that you can follow the conversations most relevant to you.
Chatwork offers a high level of security, using military-grade SSL 256-bit encryption to encrypt your files and SSL/TLS-encrypted conversations so your communications will be secure in transit. You'll also have access to a host of integrations through Zapier.
Pros
Great for communicating across multiple teams
Strong security
Integrates with Zapier apps
Cons
Customer support is limited
Payment is only accepted through PayPal
Pricing
Like many of the communication apps featured here, Chatwork offers a limited free version. Storage is limited, as is the number of group chats you can participate in (14). To get more, Chatwork offers two paid subscription tiers. The first — Personal — is available for $4/user/month and is intended for freelancers and other individual workers while the Business plan — available for $5/user/month with an annual subscription and $6/user/month with a month-to-month subscription — is intended for organizations.
Sadly, even with a paid subscription, you'll be limited to 10 GB of storage per user, and all payments must be made through PayPal.
6. Zoho Cliq
Zoho Cliq


---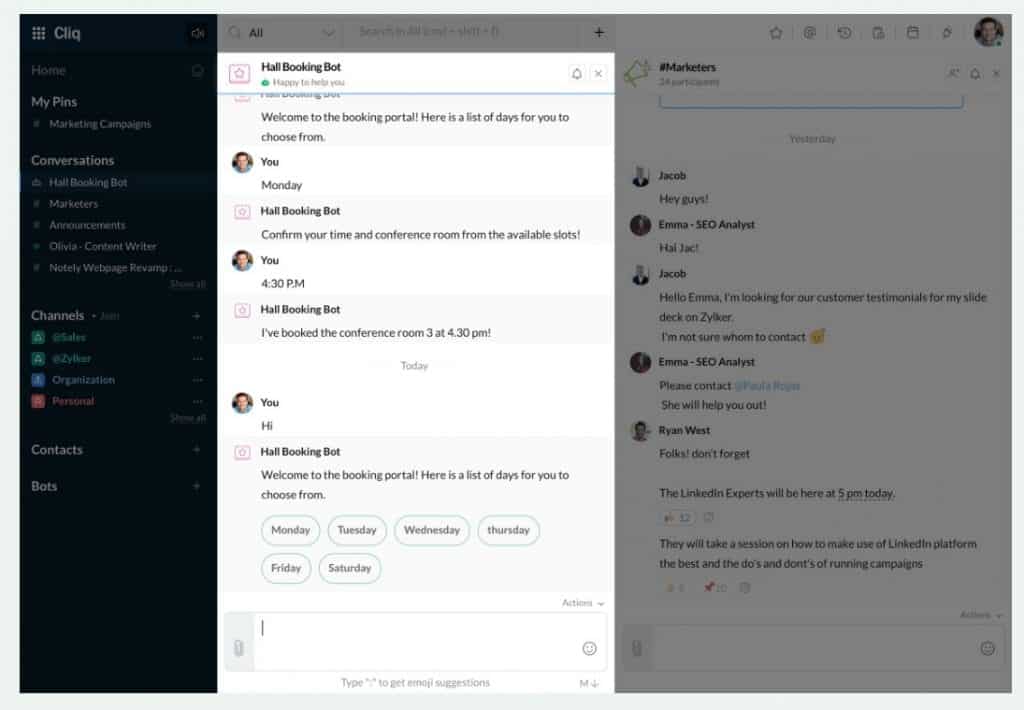 Best for businesses whose employees need to keep multiple conversations going at once.
Zoho Cliq is a business communication app for those whose work requires them to keep up with multiple ongoing conversations at once. It's definitely not for more laid-back workplaces (like Twist is).
With Zoho Cliq, you can have multiple group chat and private message windows open simultaneously for when you need to keep multiple conversations going at once. For intense, busy workplaces, this feature will come in handy. Zoho Cliq also integrates with Zoho's other business software programs — programs we've long been fans of here at Merchant Maverick.
Zoho Cliq also features comprehensive security, video conferencing, and the ability to export your Slack data into Cliq should you want to make the switch.
Pros
Have multiple conversations open at once
Very competitive pricing
Can easily export your Slack data to Zoho Cliq
Cons
Can't join multiple team accounts
Few options for Do Not Disturb mode
Pricing
Zoho Cliq's pricing structure is quite generous, particularly for businesses with a large number of employees. Zoho Cliq offers a free subscription with limits on searchable messages, storage space, and the number of participants allowed per channel. The paid plan eliminates all those limits and adds more features (like custom email), but the remarkable thing about the paid plan is that you get a better per-user-per-month rate the more employees you have.
With 10 or fewer users, your cost will be $2.70/user/month, but this price goes all the way down to $0.90/user/month if you have more than 500 users. Zoho Cliq's pricing page lets you choose how many users you'll need accounts for and then shows you your rate based on your choice.
7. Flock
Flock


---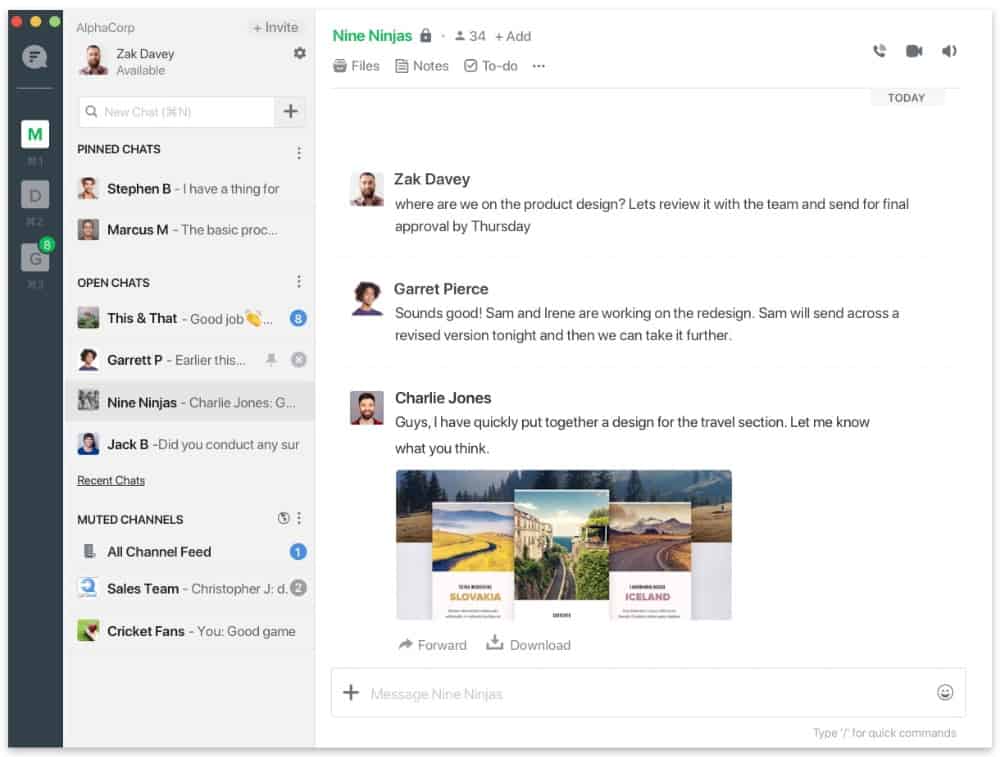 Best for companies looking for maximum flexibility in setting up chat spaces.
Flock's team messaging app is all about flexibility and customization. Flock has a comparison page dedicated to listing all the advantages their app has over Slack, including the ability to change channels from private to public and vice versa, the ability to disallow leaving a channel, the ability to order contacts by relevance, and much more.
Flock offers cheaper pricing than Slack while also facilitating data transfer between Slack and Flock should you decide to make the switch. Integration-wise, Flock sports such popular integrations as Google Drive and MailChimp along with Zapier and all the third-party add-ons that come with Zapier integration.
Pros
Competitive pricing
Very easy to learn
Great enterprise-ready features
Cons
Fewer integrations than Slack
Flock is less refined than some other messaging apps
Pricing
Flock offers a free subscription with limited searchable messages, channels, and storage. Flock's two paid plans go for $4.50/user/month and $8/user/month respectively with annual pricing ($6/user/month and $10/user/month when billed monthly). You'll get higher priority public support, multiple team admins, group video calls, and more.
Looking For Something Else?
Not every communication app we researched is suitable for business. Here's some information about a service we looked into that didn't make the cut.
ChatHub
Chathub is an app that has received some attention as of late for its video chat service. ChatHub allows you to connect with strangers online via video. As we find ourselves isolated due to the COVID-19 pandemic, video chat apps like this help us achieve some measure of variety with our social lives. However, the app has no group conversation channels nor any way to transmit files, and as such, it is not suitable as a business communication tool.
Choosing The Right Communication App For Your Business
We hope that you now have some context to be able to choose the team communication app that best fits your business. While the best-known of the above apps is clearly Slack, Slack isn't for everyone — and there are cheaper options out there.
If your team has experience with any of the above communication apps, please leave us a comment and tell us all about it — what you like, what you don't like, how it could be improved, etc. We love to hear from our readers!
Looking for additional software to keep your team connected? Check out the following resources!
In Summary: The Best Communication Apps For Businesses