Chase VS Wells Fargo Business Banking
In the battle between Chase versus Wells Fargo Business Banking, which competitor comes out on top? While each has its benefits and deficits, keep on reading to find out which is the best fit for your business.
Expert Analyst & Reviewer

UPDATED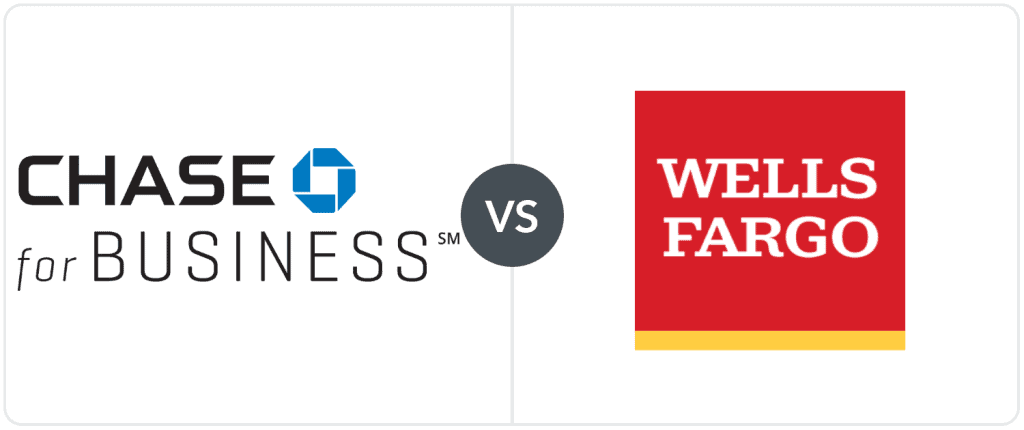 Chase
Wells Fargo
Ideal For

Fast access to cash
Nationwide reach
High-APY CDs

Nationwide branches
Strong mobile app
Low balance requirements

Pricing
$15/month
$10-$75/month
Accounting Integrations
Custom; costs $9.95/month
QuickBooks Online
Standout Features

Fast access to cash
Nationwide reach
High-APY CDs

Low balance requirements
Nationwide access
Access to credit

What's Missing

No high-yield savings
Limits on free transactions
High fees for cash deposits

Limited cash deposits allowed
Low APY
Chase and Wells Fargo both offer business banking services aimed at small businesses. In a head-to-head Chase vs. Wells Fargo matchup, which comes out on top? We'll look at fees, branch accessibility, account options, and more to help you decide if Wells Fargo business banking is the best choice or if you'd be better off choosing Chase business banking.
Chase VS Wells Fargo: Business Banking Comparison
Wells Fargo business banking provides financial services similar to those offered by Chase. Both offer FDIC-insured checking and savings accounts and physical locations for in-person transactions. Only Chase offers fast access to cash from sales and integrations with whatever small business accounting software you use, however. On the other hand, Wells Fargo comes with the lowest monthly fees. If your interest is piqued, it's time to take a closer look at these two business banks.
Benefits Of Chase
Pros
Up to $500 welcome bonus
Monthly fees can be waived
Nationwide branch access
Built-in merchant services
Same-day access to funds from sales
Cons
Limited in-person transactions
High fees for excess cash deposits
No high APY options
If you're looking for easy access to a physical bank, you can't do better than Chase and its presence in 48 US states. A Chase Business Complete Checking account includes FDIC-insured checking as well as access to savings accounts, CDs, debit and credit cards, and merchant services. And those merchant services, known as QuickAccept, allow users to access funds from sales almost immediately, with same-day deposits.
At the moment, Chase is offering up to $500 as a welcome bonus to new customers who meet certain conditions. This offer is subject to change; see the Chase website for details.
Benefits Of Wells Fargo
Pros
Low opening balance
Cash deposits allowed
Easy to waive fees
Different types of checking accounts available
Merchant services
Cons
Limited free transactions
Low APY
Fees for cash deposits
Wells Fargo business banking is a complete solution for small businesses, including easy-to-find physical locations nationwide, FDIC-insured checking and savings options, a strong mobile app, merchant services, and access to credit.
What's lacking? If you're looking for a high rate of return on your savings, you won't find it with Wells Fargo. Although you can take advantage of Wells Fargo savings options, they come with APYs below the national average.
What's The Difference Between Wells Fargo & Chase Business Banking?
When it comes to business banking, Chase vs. Wells Fargo is a close comparison. Wells Fargo and Chase business banking both offer the small business basics you'll need your bank to deliver. You will find some differences, however, and these could help you pick one over the other. Let's take a look at these similarities, first. Our Chase vs. Wells Fargo business banking comparison shows that both banks offer these services:
Business checking accounts
Business savings accounts
Cash deposits (with limits; fees may apply)
Debit cards
Bill pay
FDIC insurance
Online banking
ATM network
Credit cards
Certificates of deposit
Loans
Lines of credit
Equipment financing
Merchant services
SBA loans
Telephone support
Wells Fargo Also Includes …
Different checking accounts aimed a different-sized businesses
Physical locations nationwide
Online applications
Chase Also Includes …
Cash bonus for new accounts
Limit on free transactions
No minimum opening deposits
Same-day payouts from in-house merchant services sales processing
Personal finance management software integrations ($9.95/month)
Chase VS Wells Fargo: Business Banking At A Glance
Chase
Wells Fargo
ATM Network
Transfers

Mobile deposit
ACH
Wire transfer
Zelle

Mobile deposit
ACH
Wire transfer
Zelle

Savings
Low APY on savings
Low APY
Cash Deposits
Free up to $20,000/month
Free up to $5K-$20K/month or $0.003 per $1
Mobile App
Android & iOS
Android & iOS
Bill Pay
Fee-free via app
Fee-free online
Access To Credit

Loans
Lines of credit
Credit card

Loans
Lines of credit
Credit cards

Merchant Services
In-house via QuickAccept
In-house
Although our Chase vs. Wells Fargo business banking comparison shows more similarities than differences, there are a few important differences to highlight. Fast access to cash could be an important difference, one that favors Chase. Wells Fargo and Chase both offer users merchant services to let them process credit and debit card payments from customers. But only Chase offers users near-instant access to cash from sales made using its QuickAccept system. Payments processed, approved, and completed by 5 PM Pacific Time Sunday-Friday are eligible; payments outside those parameters are usually available the next day. There are no extra fees associated with using QuickAccept.
Both banks accept cash deposits, although they have different limits and fees attached to excess transactions. Wells Fargo business banking customers can deposit cash in amounts ranging from $5,000–$20,000 per month, depending on what type of checking account you choose, with a fee above the cap of $0.003 per $1. With Chase, you're allowed to deposit up to $20,000 per month with no fees. Chase does not disclose its excess transaction fee but says "standard" fees will apply to additional cash deposits.
Other Chase Products & Services
Chase offers business credit cards that include some on our list of the best business credit cards. These cards offer choices of rewards and perks, including cash back and generous welcome offers for new customers. Chase also offers business loans, including specialized loans for equipment purchases.
Chase business banking includes merchant services, which are highly rated, and a digital payment app, Chase Pay, that includes a digital wallet and online payment options.
Other Wells Fargo Products & Services
Wells Fargo business loan options include financing specifically for equipment purchases. You can also access a range of business credit cards, with a range of qualification standards, rewards, and interest rates. That includes a secured card for businesses with poor or little credit history.
Wells Fargo also operates its own in-house merchant services account.
User Reviews, Complaints, & Criticisms
Neither Chase nor Wells Fargo is accredited with the Better Business Bureau, although both banks have a BBB profile. Chase has a B- rating with the BBB and a composite rating of 1.1/5 stars based on 448 user reviews. Wells Fargo currently has an F rating with the BBB and a 1.07/5 star rating, based on 556 customer reviews. While we take these ratings seriously, we think it's fair to note that very few of the complaints listed on either bank's BBB profile relate specifically to business banking services and many are very narrow and related to users' specific situations.
Consumer Affairs shows more favorable ratings for both banks, although again the comments and complaints are not specific to business banking services. Consumer Affairs shows a 3/5 star rating for Chase, based on 780 reviews, and 3.2/5 stars for Wells Fargo, based on 735 reviews. While it's certainly worth perusing the reviews on Consumer Affairs and the BBB, keep in mind that these banks are both more than 100 years old, both offer a range of services including loans and credit cards, and each offers consumer protections such as FDIC insurance and industry-standard security.
Wells Fargo Complaints & Common Problems
Wells Fargo banking customers raise some common complaints. We noticed the following potential patterns in what Wells Fargo users had to say:
High fees
Unsatisfactory customer service
Insufficient response to fraudulent transactions
Changing credit limits
Holds on deposits
Chase Complaints & Common Problems
We found some patterns in complaints from Chase users, too, including these:
Poor customer service
Unsatisfactory response to fraudulent transactions
Delays in making funds available
Difficulty with international transactions
Is It Better To Bank With Chase Or Wells Fargo?
In our Chase vs. Wells Fargo business banking, can we declare a clear winner? Although no knockout blows have been landed, you may have learned enough to decide that one or the other is right for you. Here are our suggestions:
Choose Wells Fargo Business Banking If …
You have some cash transactions but process most payments via credit or debit or ACH.
You want low minimum balance requirements.
Your business uses QuickBooks Online and you'd like to link your accounts.
You want easy access to physical branches, even if you don't mind doing some or all of your business banking online.
Choose Chase Business Banking If …
You want same-day access to funds from the sales you process.
You want a custom connection between your bank and your accounting software, and you don't mind paying $9.95/month for it.
You would like to waive monthly banking fees without high balance requirements.
You need to make some cash deposits, up to $20K/month, without fees
Chase & Wells Fargo Competitors
Of course, we know that each small business, including yours, is different and has a different focus and different needs. So, if you're not seeing what you hoped to see in this Chase vs. Wells Fargo business banking comparison, don't worry. We've still got you covered!
Check out our complete selection of in-depth business bank account reviews if you feel like doing your own research. Or, if you'd like to look at what we consider the best of the best, start with our list of the best business bank accounts. If you've got a bit of cash to stash and want to make sure you're money's working as hard as you do, be sure to consider our list of the top high-yield business savings accounts, too.
No matter which bank you choose for your business, make sure you're prepared to open your account without delays. Visit our post with tips on what documents are needed to open a business bank account, and you'll be well prepared!
How To Choose A Business Bank For Your Small Business
When you're picking a business bank for your small business, don't rush it. Take your time and do your research, so you choose a bank that can be a partner that helps you grow and prosper. On the other hand, the more you learn, the harder it can be to decide. If you're suffering from decision paralysis, you may need some help choosing the best business bank for your small business.
We've got you covered.
Tips On Picking A Business Bank
While it's true that every small business has its own needs, most will have some things in common too. Use this list of factors to help you in your search for your business banking partner:
Available Services: Some things are non-negotiable, like checking and online bill pay. Others may be optional, or simply not important to you, especially if using them means you'll pay higher fees. Do you need access to credit, merchant services, and eCommerce integrations? If you do, make sure you're looking only at banks that can meet your needs.
Responsiveness: It's really hard to sift through online reviews for business banks. Visit a website like the Better Business Bureau, for example, and you'll see a lot of complaints that could turn you off the idea of doing business with a bank. But if you scroll through the complaints, you'll probably notice, as we do, that they're not all relevant. That's why we recommend taking a bank on a test run. If there are physical branches near you, visit them. If not, use the chat, email, or phone options online. How easy is it to find the answers you need? If you find it hard now, think about how you'll feel when you run into a problem, like a missing debit card or a payment that goes astray. Choose a responsive bank that makes you feel good about giving them your business.
Cost Of Doing Business: It's definitely possible to find a no-fee bank that can save you money each month. But avoiding a relatively small monthly fee should not be the main driver of your search for a business banking partner. The cost of doing business with a so-called zero-fee bank may be higher costs in other areas of your banking business, such as ATM fees, minimum balance requirements, fees for teller interactions or cash deposits, and so on. Avoiding a $10 or $20 monthly fee may not be a smart financial decision in the end, especially if it steers you toward a bank that won't be easy to work with or that won't meet your needs as your business grows.
Room For Growth: When you're just starting out, you may not feel like you really need a business bank account. (Spoiler alert: You do — and here's why you need a business bank account.) As your business grows, your need for banking support will grow too. So look beyond the basics, such as checking, savings, and ATM access. Look for a bank that will support your business in the future. That could mean loans, lines of credit, or credit cards. It could also mean merchant services. Envision your business future and choose a bank that will still be a good partner for you.
Access The Way You Like It: Not all banks are created equal: Some offer in-person access to tellers and loan officers, while others ask you to perform all banking functions online only. How do you feel about that? If you have a preference, make sure to choose a bank that can meet you where your needs are. If you're comfortable working entirely online, you may be able to find a great bank that's online-only, instead of a bank with physical branches. How about customer service? If you're a do-it-yourselfer, you may not be too concerned, but if you're the type that wants personal help, you should look for banks with telephone service instead of email only, for example.
As you can see, there are lots of factors that go into making one bank a better choice for you than another. We present a few more considerations in our guide to opening a business bank account. After all, you have an almost overwhelming number of choices when it comes to picking a good business bank account for your small business. Understanding the differences between banks is a good way to start narrowing those choices.
FAQs: Chase VS Wells Fargo Business Banking
Wells Fargo VS Chase Business Banking: Which Is Better
Chase vs. Wells Fargo is another competition between two worthy rivals. Wells Fargo business banking may be the right choice for you, or you may decide that Chase business banking offers more of what you need. We hope this comparison has helped you understand these two options a little more and, hopefully, has shown you which choice is right for your small business.