How To Sell On Amazon FBA & What You Need To Know For Success
Expert Analyst & Reviewer

UPDATED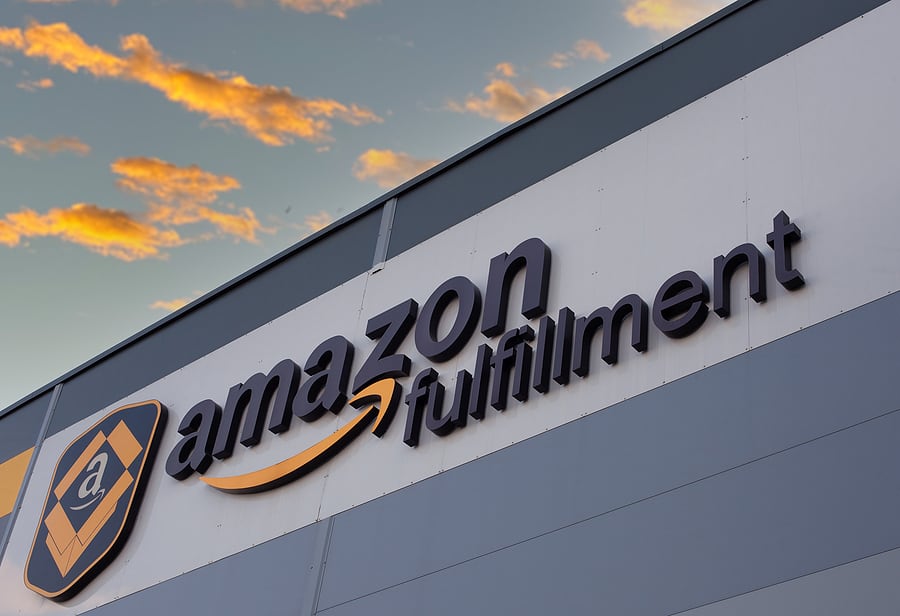 Amazon is the world's largest retailer, accounting for roughly 36% of all online purchases in the US. One secret to that success may be that Amazon's business model includes partnerships with vendors of all sizes, allowing even small online vendors to benefit from Amazon's enormous reach.
Are you considering joining Amazon as a vendor and tapping into its vast audience? You may be already selling successfully on your own website and looking for ways to expand your sales reach, or maybe you're already selling on Amazon and looking for an easier way to fill customer orders. Either way, you've probably heard of Fulfillment By Amazon, more commonly known as FBA. Joining FBA as a vendor could be an easy way for your business to expand its reach and add a multi-channel sales strategy to your mix.
Is FBA the shipping solution that's right for your company? Is it worth the additional costs? Keep reading for a complete discussion of FBA, including how it works, who it benefits, and the pros and cons of the service.
What Is Amazon FBA?
Amazon FBA is a fulfillment network that connects sellers and customers. Vendors store their products in Amazon warehouses and, when Amazon customers place orders, Amazon staff do the work of getting the product to the customer. As long as the seller keeps the warehouse stocked, the system works smoothly for all.
Pros
Effortless fulfillment
Access to Amazon customer base
Greater chance of exposure on Amazon
Eligibility for free Prime two-day shipping
Seller offloads customer service and returns
Cons
Fees can decrease sellers' profits
Stock tied up in warehouse
Not cost-effective for large or heavy items
No direct contact with customers or branding opportunities
How Does Amazon FBA Work?
Amazon fulfillment sounds pretty simple. Sellers ship their products to an Amazon warehouse and when customers place an order for one of those products, Amazon workers pull it off the shelf, package it up, and ship it out. The seller never communicates directly with the customer — even if a shipping problem develops or the customer needs to return the order.
That sounds pretty good, right? And it can be. Of course, there's a little more to it. Let's take a look. There are three different players involved in every Amazon FBA transaction.
The Seller's Role In An Amazon FBA Transaction
You've got the goods, and though you won't be the one delivering them to the end-user (the customer), as the seller you still have a big role to play:
Sign Up To Be An Amazon Seller: To get the Amazon fulfillment ball rolling, the first thing you need to do is become an Amazon seller. Have patience through the application process. You'll need to enter some detailed information about your business, then wait at least a week for a verification postcard to arrive in your physical mailbox.
Check Your Products: Amazon lists more than 353 million products, counting those sold by Amazon partners. With that massive number, you might think anything goes. But you'd be wrong. Amazon maintains a list of commonsense restrictions, such as a ban on prescription drugs, as well as category-based rules and requirements. For example, you can sell dietary supplements, but your products must be in approved packaging and display codes placed there by the manufacturer. Some products can be sold on Amazon but require preapproval. Spend some time investigating where your products fall in Amazon's regulations.
Add Barcodes: Unless your product list is already huge, when you sell directly to your customers, whether that's in person or through an online store, you might not think much about barcodes and SKUs. All that will change when you use Amazon fulfillment. FBA uses barcodes to track inventory, so each item you send to an Amazon FBA warehouse will need its own unique barcode. If you use a shopping cart platform for your online store, check to see if you have a built-in tool or if you can add an app to help you generate barcodes. You can use a tool within Amazon's Seller Central to print labels, too. If you're not able to do it yourself, you can have Amazon print and apply barcodes for you, for an additional fee.
Ensure Adequate Stock: Amazon has 147 million US members in its Prime program. Are you ready for that kind of audience to see your products? You don't want to ramp up production so far that you end up using all your cash reserves and sitting on too much product, but you'll need to have enough on hand to fill orders as they come in. Running out definitely will damage your standing with Amazon. You can find some helpful videos online to help you determine your stock levels.
Ship To The Warehouse: Once you've decided how much to send to the nearest Amazon warehouse, your next step is to actually send it. But you can't just put your products in boxes, stack them on a truck, and drive them over. Be sure to follow the instructions you'll see in your Seller Central about how to package your products. You'll use Amazon's Seller Central to manage the process, including choosing your shipping service and ship date.
Link Your Sales Channels: Amazon's Multi-Channel Fulfillment (MCF) can take care of orders for any of your sales channels, at the same delivery speed as FBA delivers. You can create MCF orders through API integrations with some common third-party eCommerce providers, such as Shopify and WooCommerce, or link your own website. In exchange for handing off fulfillment duties, you will incur fees for each order.
Monitor Sales: FBA sellers have access to Amazon's inventory management system. Use it to balance your inventory levels, forecast sales, restock, and more.
Amazon FBA's Responsibilities
Amazon operates 175 fulfillment centers worldwide, with more than 150 million square feet of space. The warehouses range in size from 600,000 to 1 million square feet each. Wondering how your products fit in that enormous big FBA picture, and what happens to them when they're there? Here are the details you can leave to Amazon when you sign up for FBA:
Storing Your Products: Forget about arranging for warehouse space — or piling boxes in your spare room and hallways. You can have your product shipped directly from the manufacturer to one of Amazon's warehouses.
Pick-and-Pull: When your customers order a product, Amazon fulfillment takes over from there, pulling your merchandise off its shelf in the Amazon warehouse, putting it in a package or box, and sending it out the door to your customer's doorstep.
Shipping: One of the biggest reasons to consider using Amazon fulfillment? It gives you access to free one- and two-day shipping to Prime members, and you'll be able to display Amazon's Prime badge on eligible products. That bumps up your odds of winning the featured offer spot on Amazon.
Returns: No one wants to think about them, but returns happen! No matter how great your products are, some customers will send them back. The good news is, when you use Amazon fulfillment, you don't need to worry about returns. Just like you leave the shipping to Amazon FBA, you can count on them to process your returns.
Customer Service: This is one element of working with Amazon FBA that can be both good and bad. First, the good: Amazon's customer service is generally acknowledged to be outstanding, and as an Amazon FBA seller you get to have that working for you. Any problems that arise in the sales process will be taken care of by Amazon. That means you won't get any angry phone calls or endless questions about delivery and sizes or color choices. Now for the not-so-good side: When you use Amazon FBA, you give up the personal connection to your customers. You won't be hearing from them, you won't have the opportunity to wow them, and you won't be able to slip marketing materials into each shipment or suggest add-on purchases during a phone call. Of course, that means you'll be free from customer service duties and you'll have a load of newly free time that you can use pursuing new products and partnerships, tinkering with your business plan, focusing on business basics, or simply taking some well-earned time away.
Buyers' Experience With Amazon Fulfillment
While you and Fulfillment By Amazon are busy behind the scenes, your customers won't notice the difference. If you're using an Amazon integration with your shopping cart platform, they can order as normal. If you're directing them to Amazon to make their purchase, or if they're finding you on their own there, they'll receive a standard shopping experience and receive your merchandise quickly.
The only difference, from their point of view, is that they won't have any contact with you, the supplier of the goods they purchase. They'll likely hold you to blame for any problems that develop with the order or shipment, but you won't have the chance to interact with them and make it right. Fortunately, Amazon's customer service generally does a good job.
Amazon FBA Fees To Consider
If you're wondering how to make money on Amazon, FBA can be a good part of your strategy. For the reasons outlined above, FBA can help you make more sales, particularly by increasing your visibility to Prime shoppers. However, fulfillment is a service, and like any other service, it comes at a cost. Amazon fulfillment includes many kinds of fees.
Note that many of these fees include a range, and your fees will vary depending on your product size and weight. In general, smaller and lighter products cost less, so keep that in mind when you're thinking about what kinds of products you might sell via Amazon FBA. Here's a look at the most common Amazon FBA fees.
Amazon Seller Account: You'll need to join the Amazon community as a vendor before you can start using FBA. Most vendors using Amazon FBA will opt for the Professional plan; it costs $39.99/month, with additional sellers applicable. There's also an individual plan that doesn't have a fixed monthly cost and instead charges you $0.99 for every item sold. The individual plan is best suited for sellers moving fewer than 40 products per month. Most small-volume sellers will do better handling fulfillment duties on their own.
Inventory Storage Fees: All items stored in Amazon warehouses incur fees, based on your average daily volume of inventory, measured in cubic feet and billed monthly. Every item is assigned to a product size tier, ranging from Small standard size (12 ounces in weight and 15″ by 0.75″ maximum) all the way up to Special oversize (more than 150 pounds and more than 108″ at its longest side). Amazon's documentation says that a mobile device case is usually considered Small standard size, and a T-shirt is considered Large standard size. Prices vary by tier and may change with notice.
Referral Fees: Amazon charges a "referral fee" on every item you sell. Their referral fees, or transaction fees, vary by product category and include the item price, shipping, gift wrap, and other charges. The majority of categories include a 15% fee, although some, like personal computers, are a bit lower and others, like major appliances and jewelry, use a sliding scale based on price.
Fulfillment Fees: Amazon FBA charges a per-unit fee for fulfilling Amazon orders. The fee depends on the item's category, size, and weight. Categories include apparel and dangerous goods, with most other items falling into the catch-all category Most Products. A small standard package with a shipping weight of 6 ounces or less incurs a $2.70 fulfillment fee. A small standard item weighing 12 to 16 ounces incurs a fulfillment fee of $3.32. A product on the high end of the size and/or weight scale costs more. For example, a Large standard package weighing more than 3 pounds but less than 20 pounds will cost $5.68 + $0.30/lb. over the first three pounds. Oversize products have their own tier. You can find tools for estimating fees on Amazon's Seller Central
Long-Term Storage: Amazon prioritizes fast sales on popular products. To that end, items held in a fulfillment center for longer than 365 days will be charged a monthly long-term storage fee on top of the monthly inventory storage fee of $6.90 per cubic foot or $0.15 per unit, whichever is greater. Long-term storage or optional programs like advertising or premium services are available.
How To Sell On Amazon FBA
Once you've decided to use Amazon FBA, getting started is fairly easy. Amazon created a downloadable PDF that provides detailed instructions. Here's a quick overview of the main steps:
1. Set Up Your Amazon Seller Account
Once you've decided that FBA is the right approach, you'll need to create an Amazon professional seller account before you can start listing your products on Amazon. That requires filling out an online application that includes detailed information about your products and your business. You can expect the approval process to take at least a week or more.
It's important to know that Amazon sets very strict rules for what you can and can't do as a seller. Be sure you stay on the right side of Amazon rules, or your account could be suspended.
2. Create Product Listings
Adding your products is relatively simple, especially if you're already using a shopping cart like Shopify that lets you easily link to Amazon. Once you add your products to the Amazon category, or if you're already an Amazon seller, specify FBA inventory as your fulfillment option. You can designate all your products for FBA, adding items one at a time or in bulk, or you can select one or more items to list under FBA.
3. Pack Up Your Products
Just as with everything else, Amazon has specific requirements for the way you pack and ship your inventory to its warehouses. If you want to save time and make it easy on yourself, you can hire FBA Prep Service for a per-item cost. If you do it yourself, start by setting the FBA quantity in your Seller Central account. Check Amazon's documentation for complete prep instructions for different product categories. Requirements may include poly bagging, bubble wrap, overboxing, hanger removal, or taping. Within each requirement, you'll find detailed conditions that must be met. For example, products that require bubble wrap must be able to pass a three-foot drop test without breaking.
The products you send to Amazon fulfillment must be labeled, too, using an existing UPC barcodes, EAN barcode, or special Amazon barcodes. You can use FBA Label Service to have Amazon apply barcodes for you, with — you guessed it — an additional per-item fee of $0.30. Just be sure to select the option you want under "Who Labels" in your seller account.
Items that are not packaged according to Amazon guidelines may be subject to additional fees once they are received at the warehouse.
4. Ship Them Out
Amazon FBA recommends creating a shipping plan with these elements: the items you want to send, the quantity for each, the shipping method and carrier details, and how you want to prepare and label your inventory. Your efforts start at Seller Central, where you'll go to the Manage Inventory tab and select the products to ship. From the Action on selected dropdown menu, choose Send/replenish inventory to create a new shipping plan or add to an existing plan.
From there, Amazon will guide you through the step involved with confirming your ship-from location. Then it will confirm the packing type of the products you're shipping, set the quantity of products for shipment, and prepare the shipment to go out.
That may sound like an awful lot of work. But don't worry. It gets much easier from there. Amazon FBA will take care of the rest of the details of processing orders for your products, packing them up, and shipping them out as customers place orders on Amazon.com.
How To Compete With Other Amazon Sellers
Amazon FBA can take the work out of order fulfillment. But it can't help you actually get those orders. You're going to have to earn them the old-fashioned way, by working for them! Here are some tips you can use to get started:
Optimize Your Listings: With so many sellers competing for Amazon customers' attention, how can you make your products stand out in the crowded marketplace? Amazon's algorithm is different from Google's algorithm, so you may need to upgrade your product listings to make sure you're using the right keywords. That means paying attention to your listing titles, subtitles, descriptions, Q&A, and images. If you're not sure where to start, take a look at some of your competitors' listings or at the top sellers when you search for products like yours. Find out what others are using, then slowly experiment to try and improve your results from there.
Make Your Products Look Good: Speaking of images, how are yours? If you're already selling on Amazon, you know about the technical requirements for images as well as Amazon's image regulations and restrictions. If you're just jumping onto the marketplace, you may find your product images need an upgrade. And any Amazon seller who's been experiencing a sales slump should take a look at product images to see if an upgrade is a good idea. Unless you have professional photography equipment and access to a studio, consider hiring a professional to help you out.
Link Your Channels: If you're expecting customers to find your products on Amazon, you may be disappointed. Sure, you can do your best to hone your SEO game and hope for the best. But you'd better also do your part to drive customers to Amazon to buy your products. Start with your own online store. Does it have a prebuilt integration with Amazon? If you're selling on a site built with Shopify, BigCommerce, Shift4Shop (formerly 3dcart), Magento, Prestashop, and more, you will find it relatively easy to link to Amazon.
Advertise: First, a bit of good news. When you use FBA you've already made it more likely that your products will appear in Prime-filtered searches. So spending money to advertise may not be necessary right off the bat. If you do want to explore paid advertising, look into Amazon PPC (Pay-Per-Click) program to increase your visibility on Amazon's search results page.
Get Social: If you're unwilling to spend more money on paid advertising at the moment, you'll have to find ways to spread the word that won't cost anything. One free strategy is activating your existing social networks and mailing lists. Create posts and send emails that direct viewers to your products on Amazon. You can also encourage people who have bought from your recently to leave reviews of your products on Amazon. Be sure to respond to the messages as they come in. That two-pronged message strategy will improve your ratings on the site.
Stand Out: Writing for BigCommerce, Dicey Goblin board game founder Peter Attia says his biggest trick for grabbing sales on Amazon is to tack on an extra item with each listing. For a game company, that can mean an extra dice bag or expansion set. Choose something with a low cost, and you essentially create a listing that grabs shoppers' attention.
Alternatives to Amazon FBA To Consider
Moving to Amazon FBA can be a smart decision for the right kind of seller — but it's not a good choice for everyone. If you're on the fence about using Amazon fulfillment, or if you have decided against it, you have other options to explore:
Amazon FBA: FAQs
Final Thoughts About Selling On Amazon FBA
Amazon FBA can be good for merchants. FBA handles all aspects of shipping, giving merchants time to further their businesses. FBA also provides third-party sellers with the same climate-controlled warehouses and speedy shipping Amazon uses for its own products, and merchants benefit from Amazon's returns policy and excellent customer service. Happy customers make prosperous merchants.
In my opinion, FBA is a must-have service for products listed on Amazon. Being able to guarantee fast, free shipping is key to conversion on Amazon. Using Amazon's warehouses for your Amazon sales makes a lot of sense. If the cost of selling on Amazon is holding you back, you might be able to use some smart funding strategies to help you get started.
For those sellers who are considering FBA as a shipping service for their own online store, it's a solid option as well. However, multi-channel sellers don't benefit quite as significantly as Amazon sellers. Before you decide on FBA, you might take a look at other fulfillment providers, like Shipwire and Fulfillrite, to compare pricing and shipping volume.
Regardless, I haven't seen any reviews that say FBA is a bad choice. Most merchants find success with the service, reporting increased sales, especially for those products that are listed on Amazon.
FBA could be your chance to break free from the cardboard and packing peanuts. If FBA sounds right for your business, click the link below to get started. Stop packing, and start selling.