How To Safely Reopen Your Brick-and-Mortar Business As Pandemic Measures Are Lifted
Expert Analyst & Reviewer

UPDATED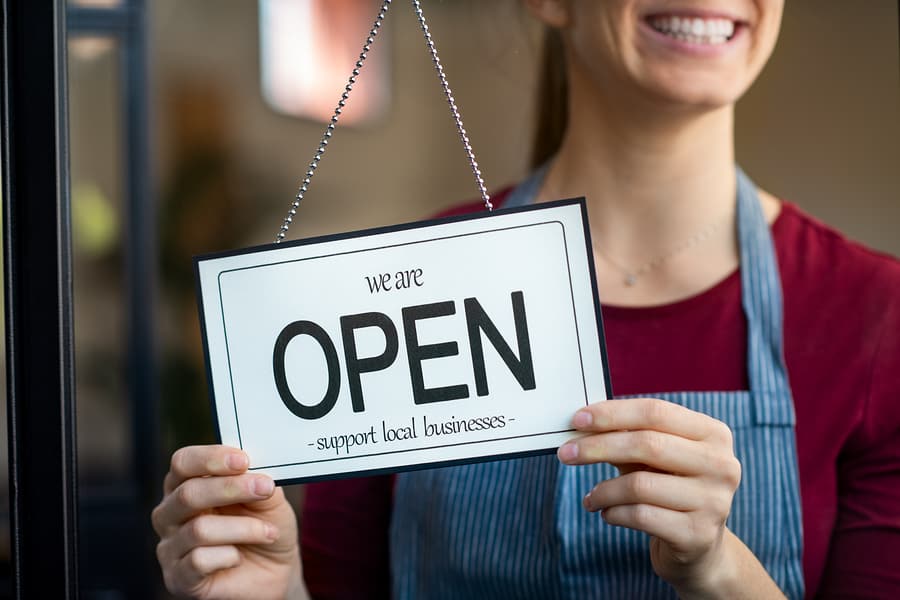 The COVID-19 pandemic we've all been dealing with has had a devastating effect on both public health and the global economy. As our institutions struggle to flatten the curve and contain the economic fallout, the lack of a coherent message from the authorities regarding when and how brick-and-mortar businesses can safely reopen has added to the stress and uncertainty felt by those whose livelihood depends on such businesses.
While we're all dealing with a huge amount of uncertainty right now regarding when the public health outlook will start to brighten, there are some basic principles you can adhere to in order to keep your employees and customers safe when the time comes to reopen your business.
Start Planning Now
Governmental guidance as to when non-essential businesses may reopen varies from state to state and from locality to locality. In Georgia, the governor has already allowed businesses such as gyms, restaurants, and theaters to reopen — albeit against the warnings of public health officials who warn that such measures may accelerate the spread of the virus.
Other states are taking a different approach. In Pennsylvania, the state government has implemented a red-yellow-green system for reopening areas of the state — localities will move from "red" (the highest level of restrictions) to "yellow" and finally to "green" based on what regional public health indicators suggest is safe.
Likewise, the hard-hit state of New York has published a reopening guide for businesses that contains specific guidelines for individual industries and which establishes criteria by which the various regions of the state will be assessed to determine whether reopening can begin.
A state-by-state rundown of stay-at-home orders and reopening forecasts is available online. However, regardless of the directives coming from various state officials, the federal government's criteria for when states should begin easing restrictions call for:
A decline in new COVID-19 cases for 14 straight days
A decline in reports of symptoms that might represent undiagnosed COVID-19 over that same period
Hospitals should have the capacity to handle new cases without operating in crisis mode and have a "robust testing program" for health care workers.
Thus far, no state has met these guidelines. If your state has announced a general reopening without meeting these guidelines, you may want to think carefully before reopening.
Regardless, the time will come when you can reopen your business in some capacity. When considering how to do this, it's helpful to look at the examples set by essential businesses that have remained open. For instance, many grocery chains have implemented capacity limits based in part on the square footage of the store. Likewise, in areas where restaurants are set to be allowed to reopen soon, capacity limits will come into play, along with restrictions such as a mandatory 6-foot distance between diners and restrictions on the use of reusable menus.
It may not be business as you're used to doing it, but it's going to be our reality for the foreseeable future. Now, let's discuss how you can protect the health of your employees when you reopen your brick-and-mortar business.
Protecting Your Employees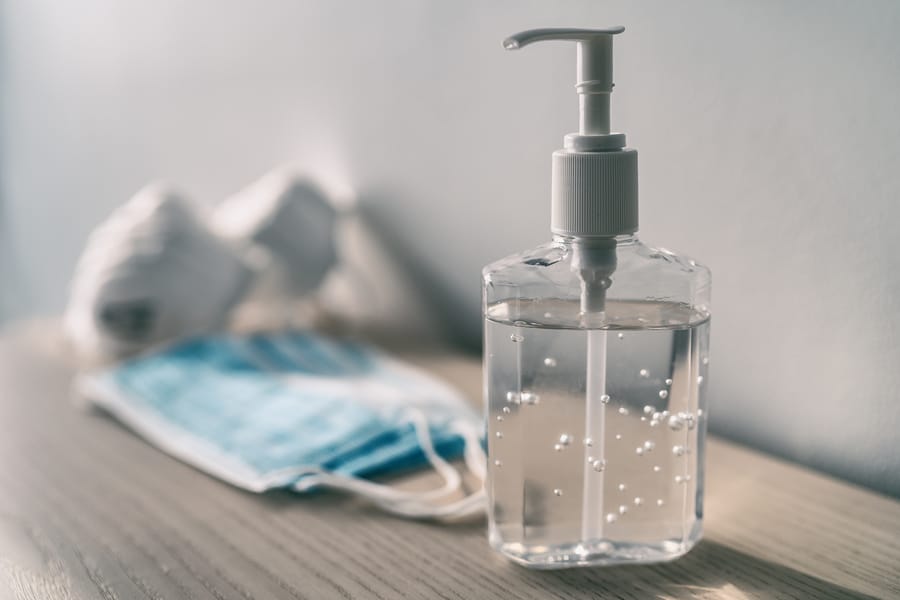 Whenever you're able to reopen your business, protecting your employees will be your foremost responsibility. Let's discuss how you can achieve this.
What Are Wellness Checks And How To Implement?
In an effort to protect the health of workers, some localities have mandated screening procedures — often referred to as wellness checks — for employees of businesses that have been allowed to remain open. Such checks may include:
Checking for such symptoms as a cough, shortness of breath, a sore throat, diarrhea, or a fever (touchless thermometers are recommended to check for fevers)
Asking employees if they've had close contact with someone diagnosed with COVID-19 in the last 14 days
Asking employees if they've traveled (internationally or domestically)
The CDC has posted a guide to keeping your employees safe and reducing the spread of COVID-19 in your workplace, including information on how to screen your employees for COVID-19.
Cautions
If you're going to implement a system of temperature checks for your employees, you'll have to comply with health care privacy laws — therefore, you'll need to ensure the privacy of your employees' health data. One way to do this is to establish the use of instant-read thermometers that are shown to the employee after a temperature check but whose data is not recorded by the company. Additionally, to ensure proper procedures are followed, try to contract with health care professionals to conduct the temperature screening rather than training existing employees to do the screening.
Is PPE For My Employees Necessary?
On the subject of providing PPE for your employees, the CDC says the following:
CDC recommends wearing cloth face coverings in public settings where other social distancing measures are difficult to maintain, especially in areas of significant community transmission. Cloth face coverings may prevent people who don't know they have the virus from transmitting it to others. These face coverings are not surgical masks or respirators and are not appropriate substitutes for them in workplaces where masks or respirators are recommended or required.

Employees should continue to follow their routine policies and procedures for PPE (if any) that they would ordinarily use for their job tasks. When cleaning and disinfecting, employees should always wear gloves and gowns appropriate for the chemicals being used. Additional personal protective equipment (PPE) may be needed based on setting and product.

CDC does not recommend the use of PPE in workplaces where it is not routinely recommended. Facilities can use the hierarchy of controls, such as administrative, and engineering controls – these strategies are even more effective at preventing exposures than wearing PPE.
Of course, each particular type of business may have to make its own adjustments to allow for greater safety, which can lead to problems relating to the availability of safety supplies. A recent news story featured the owner of a barbershop in Georgia who reported being unable to open back up due in part to being unable to find the supplies she needed to safely reopen. We expect similar situations to unfold across the country as stay-at-home orders are lifted but safety supplies remain hard to come by.
Unfortunately, like so many questions we face in this new era, there are no easy answers.
Cautions
If you're going to establish a mask policy for your employees — which your state may require you to do — you'll need to maintain a sufficient supply for your workers and implement a way to ensure that the masks are clean. Employees will also need to be trained regarding how to wear a mask properly. Without such policies, employees will be left in the dark as to how to protect themselves.
How Can I Ensure Social Distancing Policies Are Followed?
By now, we're all familiar with the principle that we must stay at least six feet apart from each other to help maintain safety. When ensuring that employees adhere to this policy, you'll have to take into consideration more than just your employees' immediate working environments (i.e. the office). Even after you make sure employees can work at least six feet apart from one another, you'll have to establish distancing policies for the use of break rooms, bathrooms, and other shared spaces in the workplace. You may even need to set up a system of one-way traffic in the hallways and corridors of your building. Wherever workers face the possibility of encountering each other, you need to ensure that it's possible to follow social distancing rules.
How Often Do I Need To Clean?
Surfaces and equipment that come into contact with employees and/or customers will need to be cleaned on a regular basis. There are no specific guidelines regarding exactly how often this must occur, but the following is what the CDC recommends:
Current evidence, though still preliminary, suggests that SARS-CoV-2, the virus that causes COVID-19, may remain viable for hours to days on surfaces made from a variety of materials. It may be possible that a person can get COVID-19 by touching a surface or object that has the virus on it and then touching their own mouth, nose, or possibly their eyes, but this is not thought to be the main way the virus spreads.

If the machinery or equipment in question are not accessible to employees or have not been in contact with someone infected with COVID-19, they will not present an exposure hazard.

If machinery or equipment are thought to be contaminated and can be cleaned, follow the CDC cleaning and disinfection recommendations. First clean dirty surfaces with soap and water. Second, disinfect surfaces using products that meet EPA's criteria for use against SARS-Cov-2external iconexternal icon and are appropriate for the surface.

If machinery or equipment are thought to be contaminated and cannot be cleaned, they can be isolated. Isolate papers or any soft (porous) surfaces for a minimum of 24 hours before handling. After 24 hours, remove soft materials from the area and clean the hard (non-porous) surfaces per the cleaning and disinfection recommendations. Isolate hard (non-porous) surfaces that cannot be cleaned and disinfected for a minimum of 7 days before handling.
One step you can take to improve safety is to adjust your hours and your employees' schedules to allow for the extra time you'll need to spend on cleaning and sanitizing the surfaces that your employees and customers come into contact with.
What If An Employee Won't Return To Work?
Even if you take all the required steps to protect your workforce, you may still have employees who don't feel safe enough to come back to work. An employee may have an underlying health condition or be living in a small dwelling with vulnerable people and may have a reasonable fear of taking on the risk of coming in.
In such cases, you'll have to plan for how to run your business with less than a full staff, and you'll need to think about how to address the legitimate health concerns of employees who are reluctant to return to the workplace.
Protecting Your Customers
Upon reopening, you'll be responsible for the health of your customers as well as that of your employees. Here are some tips for keeping your customers as safe as possible when the time comes to reopen.
Implementing Occupancy Limits
When you're legally able to open for business, you may need to abide by occupancy limits set by your state or locality. For example, in North Carolina, occupancy inside supermarkets and retail stores is currently limited to 20% of the fire capacity of the store.
Obviously, occupancy limits aren't ideal and will cut into your profits. No business owner wants to turn away willing customers! Unfortunately, during a public health emergency, we all have to make painful adjustments.
How To Encourage Social Distancing Inside Your Store
We've published a detailed article about how to implement social distancing in your customer-facing business. I highly recommend reading it before you reopen your business if you're looking for guidance on implementing social distancing.
Again, look to the examples of businesses that have been permitted to remain open, such as supermarkets. Supermarkets have implemented such measures as keeping foot traffic flowing in one particular direction and placing tape on the floor in the check-out lane to ensure that customers stay 6 feet away from each other (of course, this requires supermarkets to put up signage directing customers to do these things). Now, depending on the size and nature of your establishment, you may not need to do everything that's being done at grocery stores, but since you'll need to maintain the principles of social distancing, you'll likely need to implement similar measures.
Further Precautions
Additionally, you'll want to put up signage outside your entrance asking visitors not to enter if they have experienced any COVID-19 symptoms recently or have come into contact with anyone who has. And if your business office is accepting visitors, it's advisable that you have visitors call your receptionist first before entering.
Keep Open Lines Of Communication
Considering the fact that your customers haven't been able to come around in a while, you don't want them to forget about you entirely. That's why you need to keep communicating with them. If your business hasn't been talking to your customers via social media and/or through email marketing, you should start doing so right away. If you have important information regarding your future reopening (or any policy changes or product availability updates) to convey, you should obviously do that, but even if you don't, it's a good idea to keep communicating with customers just to stay fresh in people's minds.
Be Prepared To Shut Down Again If The Outbreak Resurges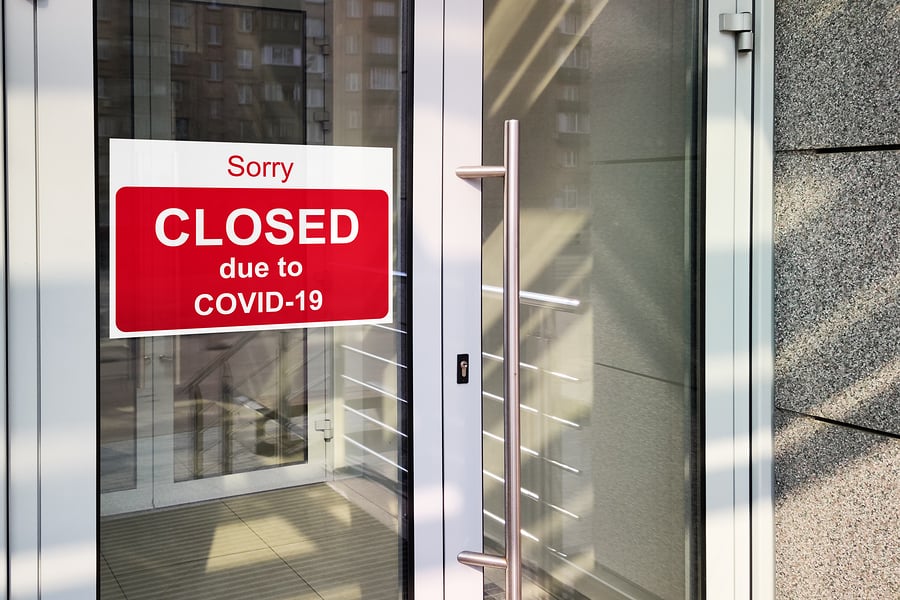 As things stand, none of us can forecast the future with any accuracy. We may experience a lull in new infections over these next months as the weather warms — or the partial reopening of society may just lead to a surge in new cases that requires another lockdown. As daunting as this possibility may be, it could happen, so you'll need to prepare for the possibility of shutting down again in the near future.
We're all going through a frightening and tragic chapter in our collective history. However, we are a resilient people, and just as the small business community hasn't given up the fight, Merchant Maverick will keep providing the clear information and unbiased reviews you deserve. Together, we're going get through this. Better days lie ahead. Until then, keep an eye on our COVID-19 hub for small businesses — we're adding to it continuously, covering all the latest developments.