Expensify VS Ramp: Corporate Card Comparison
Both are spend management platforms that offer a corporate card, but which one has the right price, features, and perks depends on your business.
Expert Analyst & Reviewer

UPDATED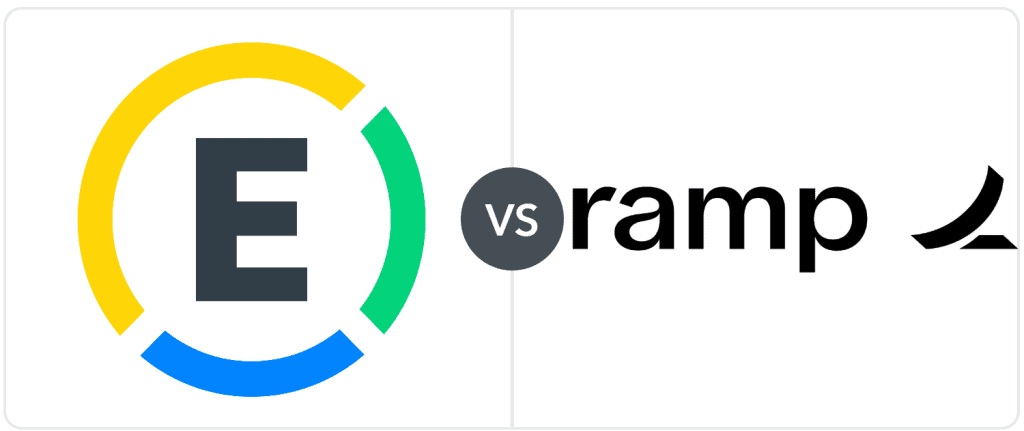 Expensify
Ramp
Rewards

1-2% on all purchases
Concierge Travel benefits
$75K+ in partner perks

1.5% cash back on all
Up to $300K in discounts and deals

Annual Fee

$0 for card use;
Paid plans start at $5/user/month

$0
Setup Fee
$0
$0
Late Fee
$0
$0
Expensify and Ramp both offer spend management tools in addition to a corporate credit card. Which is the right choice for your company? Let's find out in this Expensify vs. Ramp comparison.
Ramp VS Expensify Corporate Card At A Glance
Ramp and Expensify are spend management platforms that include a corporate card. Each offers cashback rewards, employee cards, tools for reimbursing employee expenses, and partner perks. So, in a head-to-head Ramp vs. Expensify matchup, how can you decide which to choose?
Although Expensify and Ramp have a lot in common, some big differences can make one or the other a better choice for your business. We'll list those differences in the section below.
Benefits Of Ramp Corporate Credit Card
Pros
Simple rewards scheme
1.5% cash back on all purchases
Valuable partner discounts
Useful integrations
$0 fees
Cons
Available only to non-individual liability corporations
High cash reserve requirements
Ramp is a corporate card with $0 fees. That means no late fees, no annual fees, no fees for employee cards, and no foreign transaction fees. Ramp also offers users a straight 1.5% cash back rate on all purchases, regardless of category.
Ramp users have access to hundreds of thousands of dollars worth of deals, discounts, and signup offers from Ramp's business software products.
Benefits Of Expensify Corporate Credit Card
Pros
1%-2% cash back
Free plan available
$75K in partner perks available
Concierge Travel benefits
No credit check
Cons
Complicated pricing
Credit limit tied to linked bank balance
No telephone support
Expensify offers a free corporate card, with a catch: You'll need to sign up for an Expensify subscription to use the card. Although there's a limited free plan, you'll probably need a paid Expensify subscription, with costs starting at $5 per user per month.
You won't pay any fees or interest when you use the Expensify card, and you won't have to undergo a credit check as part of your application.
What's The Difference Between Expensify & Ramp Corporate Cards?
Expensify and Ramp offer similar spend management tools and corporate card benefits. We'll talk about where these two corporate cards differ in just a minute. But let's start with a list of the things Ramp and Expensify have in common:
Corporate cards with $0 fees and no interest
Cash back rewards
Partner perks
No personal credit check
Physical and virtual cards
Bill payment
Spend management
Reimbursement tools
Card controls
Expense reporting
Mileage reimbursement
Integrations with business software
$0 foreign transaction fees
Mobile app
Expensify Card Also Includes…
2%-4% promotional cashback rate for the first three months
Paid plans with advanced features
Discount on Expensify for using the card for 50% of business spending
Concierge Travel services
IRS-guaranteed eReceipts for most purchases
$75,000 in partner perks and discounts
Invoicing
Ramp Card Also Includes…
1.5% cash back on all purchases
$75,000 minimum cash reserve required
No subscription required
100+ integrations with accounting, HR, and communication apps
Ramp VS Expensify Eligibility Requirements
| Eligibility Requirements | Expensify | Ramp |
| --- | --- | --- |
| Personal Guarantee | | |
| Credit Score | N/A | N/A |
| Minimum Bank Balance | Tied to your credit limit | $75K+ |
| Business Structure | All | Corporations & LLCs |
Expensify eligibility requirements are simple and straightforward. You'll need a US business bank account to qualify for the Expensify card. If you don't already have one, you can open a business bank account fairly easily. (Check our list of the best business bank accounts to get started.) Expensify works with companies in the US, Great Britain, New Zealand, and Australia so long as your company has a US-based bank account.
Your Expensify credit limit will be tied directly to your available bank balance, and you and your employees together will be able to spend only up to the balance limit.
Eligibility for the Ramp card is a little more complex. For starters, Ramp is available only to certain types of companies: those registered in the US as non-individual liability corporations. You'll also need at least $75,000 in a US bank account. Ramp will consider your eligibility and credit limit based on your company's cash flow, cash balance, and other indicators of your company's financial health.
Neither Ramp nor Expensify performs a personal credit check as part of the approval process, and you won't have to put up a personal guarantee.
Ramp VS Expensify Card Services & Features
| Available Services | Expensify | Ramp |
| --- | --- | --- |
| Corporate Cards | | |
| Cash Management Account | | |
| Expense Management | | |
| Bill Pay | | |
| Accounting Automation | | |
| Spend Controls | | |
| Instant Revenue | | |
A Ramp vs. Expensify features comparison shows a lot of overlap. Both Expensify and Ramp include spend management tools, cash back and partner perks, card controls, and bill payment. However, although both deliver all the basics and more, Expensify has more advanced features for expense management.
Let's start with what Ramp brings to the table. Ramp comes with unlimited employee cards, both physical and virtual, and controls that let you set limits on cards and cardholders. You can also track expenses and reimbursements with Ramp.
Read more about Ramp features in our full Ramp review.
Expensify offers approval workflows and credit card reconciliation tools that allow you to merge and code expenses even if you use a card other than the Expensify card. And you can use Expensify's reconciliation tools to review and confirm statements and manage corporate spending. Keep in mind that many users will need a paid Expensify subscription to access these features and tools.
Read more about Expensify's pricing in our complete Expensify review.
Expensify & Ramp Card Rewards Compared
Ramp VS Expensify Pricing & Fees
Ramp's pricing is pretty straightforward: You'll pay $0, period.
Expensify pricing is more complicated. Although you'll pay $0 to use the Expensify corporate card, you'll need an Expensify subscription, which could cost you.
Many users get by with the free Expensify plan. For your $0 subscription fee, you and your team can use Expensify cards, send invoices, manage cash reimbursements, and pay bills. If you want more, you can choose between two paid plans, starting at $5 per month per user. These subscriptions allow you to access advanced features, such as custom coding and tax tracking, and to add accounting integrations, custom reporting, expense policies, and more. There are also two free plans aimed at self-employed individuals.
Which Is Cheaper, Expensify Or Ramp?
Ramp and Expensify can both be used for no cost, including $0 in fees. However, Expensify offers paid plans that allow users access to more advanced features. Ramp does not limit any of its features and benefits in this way.
Is Expensify Free?
Expensify can be free for many users. Self-employed individuals, in particular, can choose between two limited free Expensify plans, called Track and Submit. There's also a free Expensify plan for businesses that comes with essential functions but few advanced features.
User Reviews, Complaints, & Criticisms
It's safe to say that Ramp is well-liked by its users. Ramp has a 5/5 star rating on G2 and no major complaints in user reviews.
Unfortunately, Expensify has more negative reviews on sites such as Trustpilot, where it receives a dismal 1.5/5-star rating from users. That's balanced by an 8.3/10-star rating on TrustRadius, however. Expensify's mobile app is viewed more favorably by a majority of users. It's fair to say that customers' experiences with Expensify are a mixed bag.
Expensify Complaints & Common Problems
Confusing pricing
Difficulty canceling subscriptions
Inconsistent receipt scanning
Hard to reach support
Buggy app
Ramp Complaints & Common Problems
Low credit limits
Strict eligibility requirements
Which Is Better For My Business, Expensify Or Ramp?
Our Expensify vs. Ramp comparison has revealed some key differences between these corporate cards and their spend management platforms. You can use either one to facilitate company spending and manage employee expenses. Plus, both offer generous rewards and useful integrations. So how can you decide which one will work best for your company? Here are our suggestions.
Choose Ramp If…
Ramp is best for:
US-based companies with high cash reserves (at least $75K in the bank)
Startups looking to save money with discounts and perks with popular software platforms
Any business that wants robust spend management tools with $0 fees
Companies that want to integrate with a variety of business software
Choose Expensify If…
The Expensify corporate credit card is best for:
Businesses that want advanced expense management tools
Companies that can accommodate per-user fees in their budgets
Users who want to benefit from using a corporate card but don't fit the profile of a typical corporate card customer
Individuals and small companies that can get by with one of Expensify's basic free plans
Is Expensify A Good Alternative To Ramp Card?
Expensify and Ramp offer similar products, with enough differences between the two companies to present a fairly clear choice for most companies looking for a combination of expense management tools and corporate cards.
Ramp is aimed at corporations, and Expensify works with businesses of all sizes, from the self-employed freelancer to the largest corporation. Individual customers and small companies can probably take advantage of Expensify's basic free plans, making Expensify a $0 option for them. Larger companies likely will have to delve into the details of Expensify's complicated pricing to determine their monthly subscription cost. Ramp is always free to use, but it does not deliver all the advanced expense management tools that Expensify offers paid subscribers.
Of course, you may have read through this Expensify vs. Ramp comparison without feeling that either is the right corporate card for you. You might be able to find the perfect choice on our list of the best corporate cards for an alternative to Expensify and Ramp. We particularly like Divvy as an Expensify alternative (read our in-depth Divvy card review to learn why).
Still not seeing what you need? You can also compare Divvy vs. Brex to see how a different set of cards match up to your needs. Or look at our list of the best Divvy alternatives for even more options. Our Ramp vs. Airbase post highlights another good head-to-head comparison.
The point is that you have a lot of good choices when it comes to corporate cards. So it's worth taking the time to learn about those options. Be sure you're ready to apply and get the most out of your corporate card once you're approved by reading our suggestions for how to get a corporate card.
FAQs: Expensify VS Ramp Corporate Card