FiveStars VS Belly
UPDATED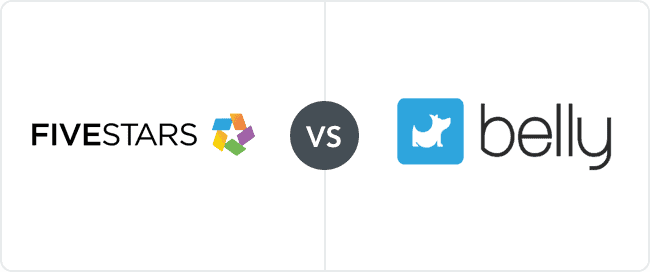 Fivestars was launched by Victor Ho and Matt Doka in the winter of 2011. It services SMBs (small and medium businesses) with a customizable loyalty program. The Fivestars Loyalty program uses a universal card (which works for any business using Fivestars), and a customer's phone number to track and incentivize purchases made at your business. Fivestars also offers the ability to promote your location using special SMS text campaigns, as well as reward customers for social media interactions, and can integrate with many POS systems. If you're looking for easy, you'll find it in Fivestars, but it's not your only option.
Belly's loyalty program is powered through a customer-facing iPad completely separate from your POS system. Founder Logan LaHive carved out a niche for Belly amongst local businesses in Chicago, gaining a Moxie award in 2011 for Best UX (user experience). Not unlike Fivestars, Belly uses a universal card to track customer interactions, and physical cards can be replaced by the mobile app.
Fivestars and Belly share similar features, but how each program works, and, more importantly, whether or not it will suit your business needs, requires a deeper look. You can read the full reviews for Belly (see our review) and Fivestars (see our review) here on the Merchant Maverick site. Continue reading to compare prices, features, support, and overall function for each company.
Web-based or Locally Installed:
Fivestars hardware is locally installed on your computer or POS terminal. You'll need an up-to-date browser to view your dashboard, though. On the other hand, Belly uses a specially designed iPad preloaded with the Belly loyalty software and requires an internet connection.
Hardware and Software Requirements:
Fivestars loyalty software is installed via a USB. All Belly software is installed on the Belly-supplied iPad.
Pricing:
Winner: Belly
Fivestars costs average at around $2500 a year, with additional campaigns and options to choose from. Belly offers tiered pricing options ranging from $99 – $199 per month, with a one-time $150 installation fee tacked on for the lower plans. You may be able to negotiate your monthly subscription with Fivestars, depending on your business needs, but Belly offers a free trial period of 30 days. Both Fivestars and Belly require contracts which range from 6 months to a year. With Fivestars, you're obligated to pay the length of your contract; with Belly, cancellations are subject to a six month cancellation fee.
Ease of Use:
Winner: Belly
Fivestars and Belly both get good marks for ease of use, but maintenance for Belly is a bit lower, and your employees don't need to follow any additional steps, aside from answering the occasional question. The overall user experience for Belly is higher than that of Fivestars, and the program itself is more engaging and interactive than the Fivestars program.
As far as installation goes, POS integration with Fivestars is pretty seamless, and with Belly installation is essentially tethering your iPad to a secure location and setting up the Wi-Fi.
Features:
Winner: Fivestars
Both Fivestars and Belly provide you with a representative to guide you along the way, but they offer additional paid options for expert advice. They both provide customizable loyalty programs and email marketing strategies, as well as detailed reports regarding your program and campaigns. Both have a downloadable mobile app for your customers. Both provide a universal card for use at any business that uses them, but Fivestars doesn't require customers to scan their loyalty card. They can use their phone number instead. Belly requires scanning either the plastic card or the mobile app.
Where Fivestars sets itself apart is through its SMS text messaging features. The Autopilot program allows you to send several predefined campaigns to collect information from your customers or entice them to return to your business. Fivestars also offers the option of discretionary texts, which can be generated for any reason (i.e. special promotions and offers). The reports offered are more detailed as well, given the fact that Fivestars integrates directly with your POS system.
Belly takes a more direct approach when it comes to getting feedback from your customers. Prompts for social media interaction via Yelp, Twitter, and Facebook are available right after checking in. Belly's mobile app is also more robust and gives you the option to interact directly from your business link as well as providing a scanner which can be used in lieu of the Belly card. The one concern I have with Belly's program is the per visit check-in process. Designed to encourage repeat visits, Belly's approach is flawed. A per-dollar point system ties revenue directly to rewards. A per-visit point system awards the same number of points whether a customer spends $5 or $50. The ability to distinguish between the two and incentivize higher spending is what this program is missing.
Integrations and Add-Ons:
Winner: Fivestars
Fivestars has additional campaigns you can add to enhance your program and offers integration with multiple POS systems. Belly is a standalone product, so no integrations are offered.
Customer Service and Technical Support:
Winner: Fivestars
Support for Fivestars can be accessed through phone or email. The company also offer pretty extensive tutorials and training videos via Fivestars University, a lightweight support page, and a blog. Support for Belly is available through its phone line. You can also access the website for FAQs, as well as the company blog, but these options are for very basic support. Belly offers an additional resource hub covering marketing practices, video tutorials and testimonials.
My customer service experiences with Fivestars and Belly weren't all that impressive, but local merchants seem pleased with their support, so I'll defer to them.
Negative Reviews and Complaints:
Winner: Belly
The most common complaint against Fivestars comes from mobile app users. The mobile app has very few features and doesn't have a mobile scanner. Other complaints stem from the company's cancellation policy as well as the way Fivestars does business. Customers who sign up for your business's program essentially become customers of Fivestars. Fivestars can send offers to those customers related to your business, or to another business that uses Fivestars. This opens up the door to conflict and can potentially take away your competitive edge.
Belly has received its fair share of malcontent over its cancellation policy as well, but the most frequent complaint comes from customers using Belly outside of the Chicago area. Belly is great at marketing Belly, especially in Chicago, but for businesses outside of Chicago, the incentive to join Belly just isn't as high. Of course, you can run a successful loyalty program regardless of how many businesses use Belly, but the perk of a universal card -that can be used at exactly one place- is lost.
What I'd like to see from both Belly and Fivestars is a coalition program. Many businesses have benefited from loyalty programs that offer rewards at other locations (think grocery stores and gas rewards), and as both companies broaden their nets, the potential for a great coalition program is there.
Positive Reviews and Testimonials:
Winner: Fivestars
Merchants who use Fivestars have reported significant increases in profits after using the program. Used strategically, Fivestars can really strengthen the relationship between customers and businesses over time. It also gets heavy praise from local merchants for its support.
Where the Fivestars mobile app is lacking, the Belly app is very popular. As far as numbers go, Fivestars has roughly 1500 reviews in the Google Play store; compared to the 7000+ reviews for Belly, I think it's safe to declare a winner in the mobile app category. Belly is generally loved by customers who use it, and the app gets great reviews.
Comparing dollars and cents to overall popularity, I think Fivestars comes out ahead in the long run. If Belly can prove that their popularity translates into increased profits for your business, we'll reevaluate that assessment.
The Loyalty Test:
Winner: Tie
Cool apps and slick features aside, how do these companies help your business? Do they:
Increase repeat business? For both Fivestars and Belly the answer is yes, but in this the winner is Fivestars. Fivestars' emphasis on employee training and relationship building puts it over the edge in this category. Fivestars offers training videos and guidelines to simplify the sign up process and make the loyalty program easy for customers to understand. The program is designed to continue to engage your customers via email and text long after they've visited your location. Belly offers incentives to customers for returning to your business, but those visits aren't tied to revenue. Belly also offers special campaign features via email, but compared to the campaign features offered by Fivestars, they just aren't as good. The nature of the Belly program may increase visits to Belly locations in general, but not necessarily to your business.
Generate new business? Yes for Fivestars, and yes for Belly, but Belly wins. All businesses using Fivestars are viewable to customers via the website and mobile app. The same goes for Belly, but discoverability is much higher with Belly due to the popularity of its mobile app, as well as its social media interactions.
Give you a competitive edge? Yes to both, but, as I mentioned above, this may not always be the case. Belly and Fivestars tie in this category, mainly because it really depends on where you do business. Belly is the more affordable option and a great choice if your competition has either no loyalty program or a very basic one. On the other hand, if you do business in an area saturated with loyalty programs, Fivestars offers a more intense, albeit more expensive, option and can really drive up profitability.
Final Verdict:
Winner: Fivestars
Looking at these loyalty programs side by side, there's a lot to consider. While Fivestars comes out slightly ahead for having a better program overall, Belly holds its own pretty well. Fivestars offers a more robust program; its SMS campaigns have a farther reach than the more traditional email marketing campaigns, and it has better customer support options, as well as a more reliable return on investment. However, Belly's deficiencies could easily be overcome, especially with such a popular program and well designed app, and a simple tie-in to revenue could make a big difference.