FreshBooks VS QuickBooks Comparison
In FreshBooks versus QuickBooks Online both offer basic accounting features, but each brings additional benefits to the table that are suited for different types of businesses.
Expert Analyst & Reviewer

UPDATED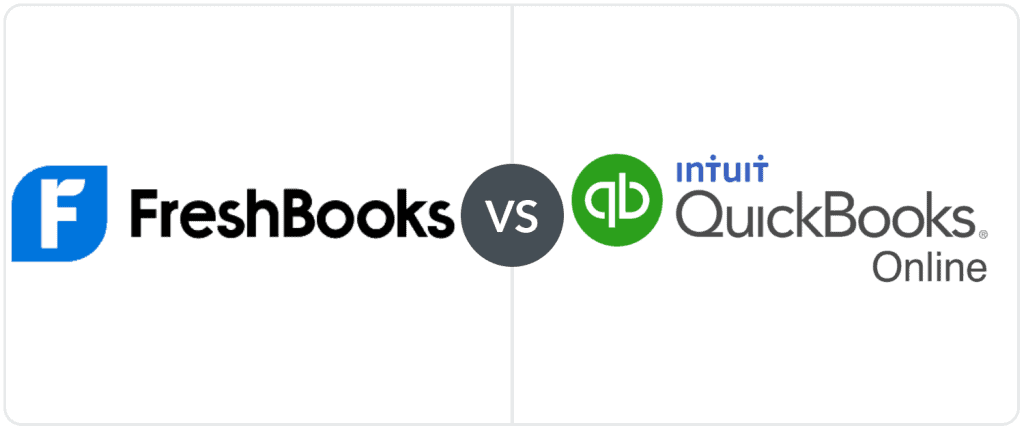 FreshBooks
QuickBooks Online
Ideal For
Small businesses and freelancers needing easy-to-use accounting software
Small to mid-sized businesses that want software with a lot of features and integration options
Pricing
$17-$55/month
$30-$200/month
Standout Features

Easy-to-use, intuitive interface
Excellent customer support
Built-in proposals

650+ integrations
Advanced invoicing
Good mobile apps

What's Missing

A monthly charge for each additional user
Limited reporting
Lack of advanced features

Customer support is lacking
Can be expensive
Some navigational difficulties

Next Steps
Start Trial
Read Review
Visit Site
Read Review
QuickBooks Online and FreshBooks are among the most popular small business accounting software programs, providing millions of customers with cloud-based accounting solutions. We've pitted FreshBooks vs. QuickBooks in this head-head comparison to help you determine which — if any — is best for your business.
QuickBooks Online and FreshBooks both offer basic accounting features, but each brings additional benefits to the table, from advanced features to intuitive UIs.
We've tested the software and done our research to give you a better understanding of what each accounting software offers and which will be most beneficial for your small business. Keep reading to find out more.
Don't have time to read the whole post? Are you looking for a different accounting option? Check out our top-rated accounting solutions to see our favorite recommendations.
FreshBooks VS QuickBooks Comparison Summary
Both FreshBooks and QuickBooks Online are intuitive programs that offer the basic features you'd expect from accounting software. However, FreshBooks doesn't move beyond the basics and is more suitable for independent contractors, freelancers, and service-based industries. QBO is a more scalable option for larger businesses seeking more robust accounting features.
FreshBooks Overview
Pros
Easy to use
Well-designed UI
Numerous integrations
Cons
Expensive monthly cost
Limited features
FreshBooks is easy-to-use cloud-based accounting software that boasts basic accounting features. The dashboard provides information critical to your business, including total profits, revenue streams, and outstanding revenue. From there, you can move on to invoicing clients, preparing and sending estimates, tracking expenses, reconciling bank accounts, tracking time, assigning projects, and performing other essential functions. And if you get stuck, FreshBooks is known for its outstanding customer support.
While FreshBooks lacks advanced features, such as inventory management, it is ideal for freelancers, micro-businesses, and small businesses needing simple accounting and basic features.

QuickBooks Overview
Pros
Advanced features
650+ integrations
Good mobile apps
Cons
Expensive
Poor customer support
QuickBooks Online vs. FreshBooks comes with a wider breadth of features and complex accounting capabilities that small business owners need. In addition to basic accounting features, you'll also find more advanced features, including inventory management. Built-in lending through QuickBooks Capital and QuickBooks Live Bookkeeping service for outsourcing bookkeeping tasks are two unique features you won't find with FreshBooks.
QuickBooks Online is also at the top of its class for invoicing, offering numerous automations and customizations. Progress invoicing and multilingual invoicing is also available. Add in hundreds of integrations and strong reporting, and QuickBooks Online is an excellent choice for businesses of all sizes that need robust accounting software.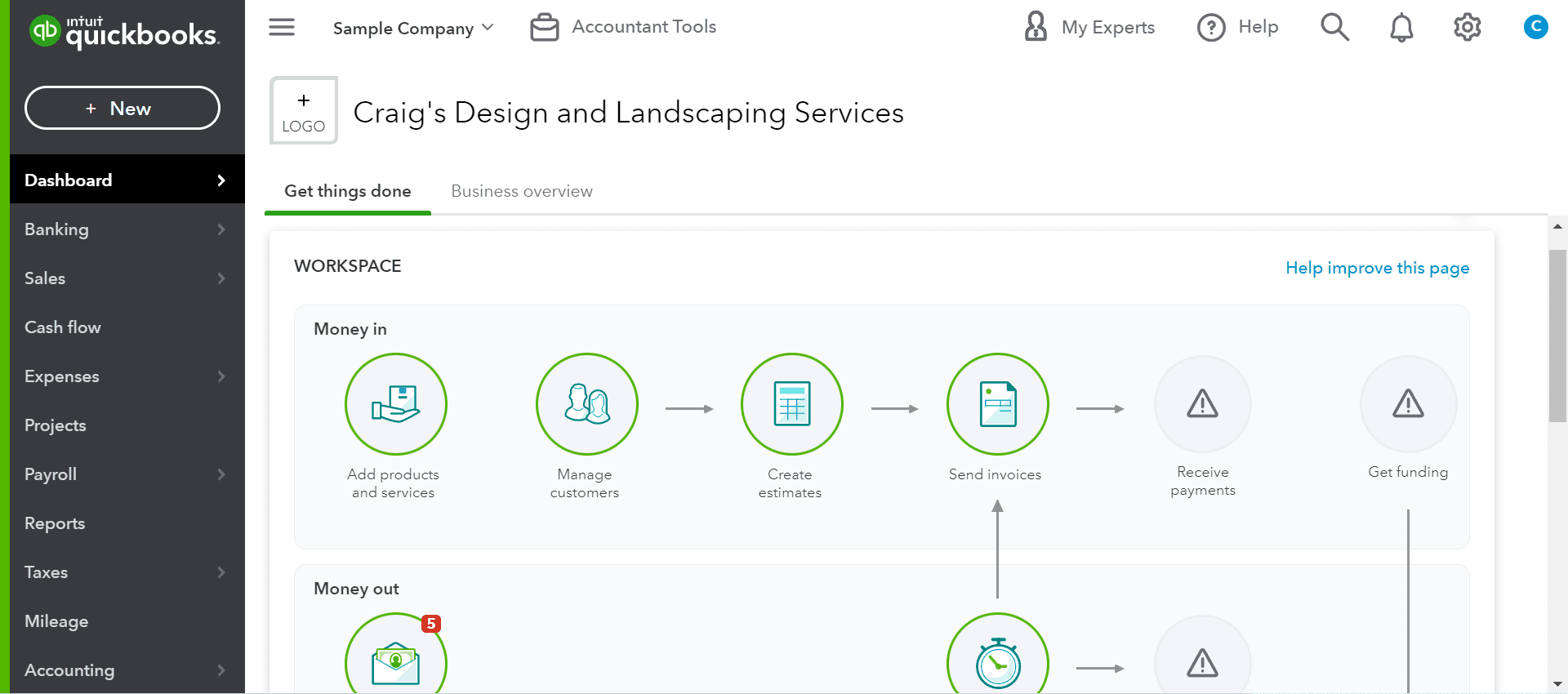 What's The Difference Between FreshBooks & QuickBooks Online?
Both FreshBooks and QuickBooks offer standard accounting features. However, QuickBooks has an advanced feature set that's suitable for businesses with complex accounting needs. FreshBooks is known for its ease of use and good customer service and is a suitable choice for contractors, freelancers, and others that need only basic accounting.
Both FreshBooks & QuickBooks Online Offer…
Double-entry accounting
Unlimited invoices and estimates
Bank reconciliation
Live bank feeds
Mobile apps for Android and iOS
100+ integrations with small business software and apps
Multicurrency support
Online payment acceptance with FreshBooks Payments and QuickBooks Payments
Mileage tracking
Only FreshBooks Offers…
Award-winning customer support
Email support
Proposals
Time tracking on all plans
Project management on all plans
Only QuickBooks Online Offers…
Advanced invoicing
Inventory management
Built-in payroll
Advanced reporting
Tax support
FreshBooks VS QuickBooks Pricing
| | FreshBooks | QuickBooks Online |
| --- | --- | --- |
| Price | $17-$55/month | $30-$200/month |
| Number Of Users | 1-25 | 1-25 |
| Discounts Available | | |
FreshBooks offers three different pricing levels that range from $17-$55/month. The larger plans provide you with more features and billable clients. All plans support one user, and additional users can be added for $10/month per user. A 30-day free trial is available. Custom plans are available for businesses that can't find what they need with FreshBooks' other plans.
QuickBooks Online has four pricing plans ranging from $30-$200/month. The more expensive the plan, the more features you'll have access to. The higher-priced plans also include more users (up to 25) with no add-on costs. QuickBooks Online offers a 30-day free trial to test out the software.
FreshBooks VS QuickBooks Features
| Features | FreshBooks | QuickBooks Online |
| --- | --- | --- |
| Invoicing | | |
| Estimates | | |
| Bank Reconciliation | Plus & Premium plans | |
| Time Tracking | | Essentials plan & up |
| Project Management | | Plus & Advanced plans |
| Inventory Management | | Plus & Advanced plans |
| Contact Management | | |
| Client Portal | | |
| Proposals | Plus & Premium plans | |
| Class Tracking | | Plus & Advanced plans |
| Accounts Payable | Premium plan | Essentials plan & up |
| Budgeting | | Plus & Advanced plans |
| Tax Support | | |
| Lending | | |
QuickBooks Online and FreshBooks share some of the same features, but QBO's features are more developed and robust. For example, both software companies offer invoicing, but QuickBooks Online has some of the best invoice customizations and automations available. QuickBooks Online also boasts a number of advanced features you won't find with FreshBooks, including inventory tracking, built-in lending, and budgeting.
FreshBooks does offer a better client portal as well as a proposal feature and the unique ability for customers to comment directly on estimates and invoices. However, without full inventory, tax support, or class tracking, FreshBooks isn't at QBO's level yet in terms of features.
Make sure to check out our comprehensive QuickBooks Online and FreshBooks reviews to see what features each has to offer.
Do Users Like FreshBooks Or QuickBooks More?
This is one category QuickBooks Online should not want to win, yet here it is. QuickBooks Online has received many user complaints regarding poor customer service, bugs, and even unauthorized charges. However, the software has also received praise for its numerous features, intuitive UI, hundreds of integrations, and mobile apps.
On the other hand, FreshBooks has received much fewer customer complaints. However, some users have voiced issues over higher monthly subscription costs, bugs and crashes in the software, and a lack of reports. Several users state that they like the original FreshBooks Classic better than the version released in recent years. But many users praise FreshBooks for its ease of use and customer support.
Should I Choose FreshBooks Or QuickBooks?
Which one is right for you? Let's break it down again:
Choose FreshBooks If…
You are a freelancer, contractor, sole proprietor, or have a micro-business
You want ready-to-go forms/invoices and don't need a ton of customization
Your business doesn't sell a product but instead sells a service
Quick, in-product support is important to you
Choose QuickBooks If…
You need robust accounting features
You are selling a product
If you are already familiar with the QuickBooks products
You need/want accounting software with numerous integrations
FreshBooks VS QuickBooks Comparison: The Final Verdict
QuickBooks Online is a full accounting package rolled into handy, cloud-based software that offers more developed features, more integrations, and strong security. QuickBooks Online is ideal for small businesses wanting strong accounting and features. For these reasons, it not only beats FreshBooks in this match-up but is also one of our top choices for small businesses here at Merchant Maverick.
But just because QuickBooks Online is the winner here does not mean it's the best choice for your company. FreshBooks is a good choice for small businesses that want easy-to-use software with excellent customer support, strong mobile apps, and quick templates. Unique features such as proposals and being able to chat on estimates could also come in handy for some business types.
Or perhaps neither seems to be the right fit. If you're still on the fence, check out our alternatives to QuickBooks and our alternatives to FreshBooks. After doing your research, be sure to take advantage of the free trials that accounting software companies offer, and feel free to reach out with any questions you have along the way.
QuickBooks VS FreshBooks FAQs