FreshBooks VS Invoicera
Expert Analyst & Reviewer

UPDATED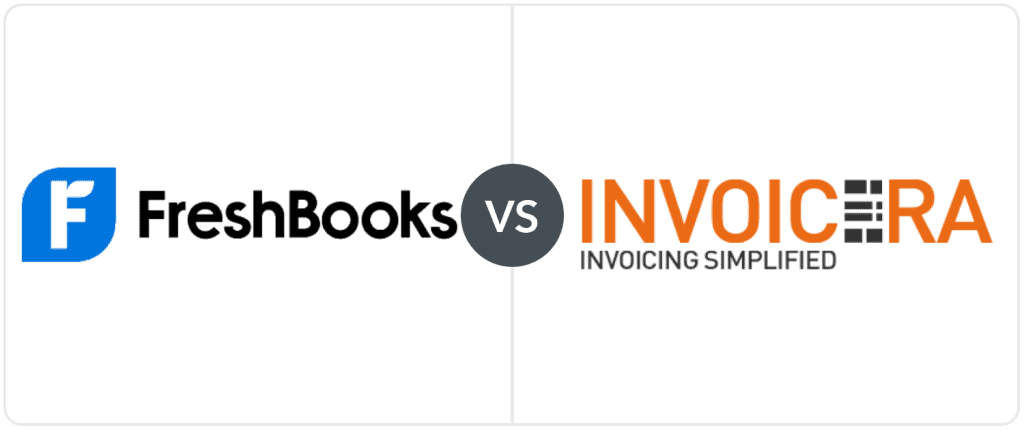 | FreshBooks | VS | Invoicera |
| --- | --- | --- |
| ✘ | Features | ✓ |
| ✘ | Pricing | ✓ |
| Tie | Hardware & Software Requirements | Tie |
| ✘ | Users & Permissions | ✓ |
| ✓ | Ease of Use | ✘ |
| ✓ | Mobile Apps | ✘ |
| ✓ | Customer Service & Support | ✘ |
| Tie | Negative Reviews & Complaints | Tie |
| ✓ | Positive Reviews & Testimonials | ✘ |
| ✓ | Integrations | ✘ |
| Tie | Security | Tie |
| ? | Final Verdict | ? |
| | | |
In this mashup, we have a classic case of the top dog versus the underdog. FreshBooks is one of the biggest names in invoicing and accounting. Invoicera is less well known, but still a formidable opponent. So which invoicing software will win this fight? Stay tuned to find out.
FreshBooks, founded in 2004, now serves over 5,000,000 customers. The software is cloud-based and geared toward small business owners. It offers strong invoicing, incredible customer support, 80+ integrations, full-featured mobile apps, and has recently added double-entry bookkeeping and other key accounting tools. With a new design and added usability, the software is easier to navigate than ever.
Invoicera, founded two years later, is only little ways behind FreshBooks with 3,000,000 customers. It has the same target audience — small business owners — and is cloud-based as well. The software offers ample features, strong invoicing customizations, and beautiful invoice templates.
Is FreshBooks' recent redesign enough to secure its place as the top dog? Or will Invoicera sneak in and take the victory? Well, that's what we're here to tell you.
At Merchant Maverick, our goal is to help you to find the best software for your small business needs. So to make your decision easier, we've carefully researched and tested both products. We'll put FreshBooks and Invoicera head to head by comparing features, pricing, customer experience, reputation, and more, so you don't have to.
Don't have time to read the whole post? Or looking for a different accounting option? Check out our top-rated invoicing solutions to see our favorite recommendations.
Features
Winner: Invoicera
| FreshBooks | Features | Invoicera |
| --- | --- | --- |
| ✓ | Invoicing | ✓ |
| ✓ | Estimates | ✓ |
| ✓ | Client Portal | ✓ |
| ✓ | Contact Management | ✓ |
| ✓ | Expense Tracking | ✓ |
| ✘ | Inventory | ✓ |
| ✓ | Time Tracking | ✓ |
| ✓ | Project Management | ✓ |
| ✓ | Reports | ✓ |
| ✘ | Purchase Orders | ✓ |
| ✓ | Proposals | ✘ |
| ✘ | Default Email Messages | ✓ |
| ✓ | Sales Tax | ✓ |
| ✓ | Multi-Currency | ✓ |
| ✓ | Multiple Invoice Languages | ✓ |
Not only does Invoicera offer more features than FreshBooks, it also offers better features. Invoicera has seven invoice templates (as opposed to FreshBooks' two) and 20 reports (to FreshBooks' ten). Invoicera also comes with stronger invoicing capabilities, including more template customizations and invoice auto-scheduling. And to top it off, Invoicera offers several features that FreshBooks doesn't have at all, including inventory, a to-do list, and purchase orders.
FreshBooks does have a more developed time-tracking feature, plus double-entry accounting and the features that come along with it. However, since we're looking at which has the best offerings for an invoicing software app, Invoicera still comes out on top in this category.
Pricing
Winner: FreshBooks
FreshBooks offers three pricing plans ranging from $15/month – $50/month. The larger the plan, the more features you have access to. Invoicera has four pricing plans ranging from $0 – $149/month. The larger the plan, the more clients and users you are allowed. Invoicera seems quite expensive, but when you compare each company's plans side by side you see that you get more bang for your buck with Invoicera.
Take Invoicera's second to largest plan, which costs $29/month. This plan runs $20 less than FreshBooks but you get 9 more users, 500 clients, and far more features. You just get more bang for your buck with Invoicera.
Hardware & Software Requirements
Winner: Tie
As cloud-based programs, both FreshBooks and Invoicera are compatible with nearly any device so long as you have an internet connection. Each company also offers mobile apps for both iPhones and Androids.
Users & Permissions
Winner: Invoicera
Each FreshBooks plan only allows for a single user. All additional FreshBooks users cost another $10/month each and there are no user permissions available. Invoicera allows for multiple users and permits you to set user roles and permissions, making it the clear winner here.
Ease Of Use
Winner: FreshBooks
While both FreshBooks and Invoicera are easy to use, FreshBooks is more simple and intuitive. Invoicera's UI is sometimes difficult to navigate and could definitely be streamlined, while FreshBooks' user experience is almost seamless. FreshBooks also offers better customer support and resources, which makes using and understanding the software that much simpler.
Mobile Apps
Winner: FreshBooks
FreshBooks has some of the best mobile apps on the market. Many companies create apps that only feature a few of the software's capabilities, but FreshBooks has created full-featured mobile apps that are easy to use and loved by many. The apps receive 4.8/5 stars on iTunes and 4.2/5 stars on Google Play Store.
Invoicera's mobile app, on the other hand, receives lower ratings. Users complain that the app isn't comparable to the web version and several users couldn't log in at all. FreshBooks is not immune from mobile app complaints, but most users find the apps helpful, leaving FreshBooks the winner of this section.
Customer Service & Support
Winner: FreshBooks
FreshBooks has some of the best customer support I have ever seen. I have never been put on hold when calling FreshBooks, and representatives are always informed and kind. The company also offers plenty of other support options, including a comprehensive help center, webinars, and in-software support.
Invoicera has stepped up their customer service in recent years, but it's still not at the same level as FreshBooks. Invoicera has good response times, but their additional customer resources are still lacking. There is also no phone support for Invoicera.
Negative Reviews & Complaints
Winner: Tie
FreshBooks and Invoicera both receive predominantly positive reviews. FreshBooks has more negative reviews simply because it has more reviews in general, but the ratio of positive to negative reviews is similar for both companies.
Positive Reviews & Testimonials
Winner: FreshBooks
FreshBooks has far more positive reviews than Invoicera. To be fair, FreshBooks has 2 million more users than Invoicera, but FreshBooks has thousands of customer reviews as opposed to Invoicera's small number of customer reviews. To me, this shows that FreshBooks users really love their experience and that the software gives them something worth bragging about.
FreshBooks users appreciate the software's ease of use, strong mobile apps, and amazing customer service.
That said, the majority of Invoicera reviews are also positive. Users like the strong features, ease of use, and mobility of Invoicera.
Integrations
Winner: FreshBooks
Invoicera offers 35 integrations (including over 20 payment gateways). FreshBooks offer 80+ integrations. While Invoicera has more payment processing options, FreshBooks has far more integrations.
Security
Winner: Tie
FreshBooks and Invoicera take similar security precautions. Both companies boast SSL encryption, secure data centers, redundant data backups, and physical safeguards as well.
To learn more about cloud security, read our articles Is My Accounting Safe in the Cloud? and What is SSL? A First Look at Online Security.
And The Winner Is…

And the underdog comes out victorious. Invoicera is a full-featured invoicing solution with ample invoicing customizations, beautiful templates, strong automations, and a practical client portal. The software also offers key features like project management, inventory, time tracking, and the ability to send invoices in multiple languages. To top it off, this app receives positive customer feedback, strong security, competitive pricing, and plenty of payment gateways.
| | |
| --- | --- |
| | |
| A full-featured invoicing solution with ample invoicing customizations, beautiful templates and a practical client portal | |
However, this doesn't rule Freshbooks out entirely. FreshBooks soundly beats Invoicera in terms of customer service, integrations, accounting features, and ease of use. The software receives high praise from customers and has stronger mobile apps. FreshBooks could be a good solution for businesses looking for an invoicing program with strong invoicing, a proposals features, and better integrations. The software also has something Invoicera lacks entirely — double-entry accounting. And while double entry accounting may not help FreshBooks win this invoicing software mashup, it does make the software a much more viable long-term solution for small business owners.
FreshBooks


---
Whether you choose Invoicera for its invoicing capabilities, FreshBooks for its customer service, or another software entirely, our comprehensive reviews can help you make an informed decision during your hunt for the perfect invoicing software.
Read our full FreshBooks and Invoicera reviews for more information. Be sure to take advantage of the free trials each company offers, and, as always, reach out to us with any questions you might have.