The Future Of eCommerce: 4 Carts For This Year & Beyond
Contributor

UPDATED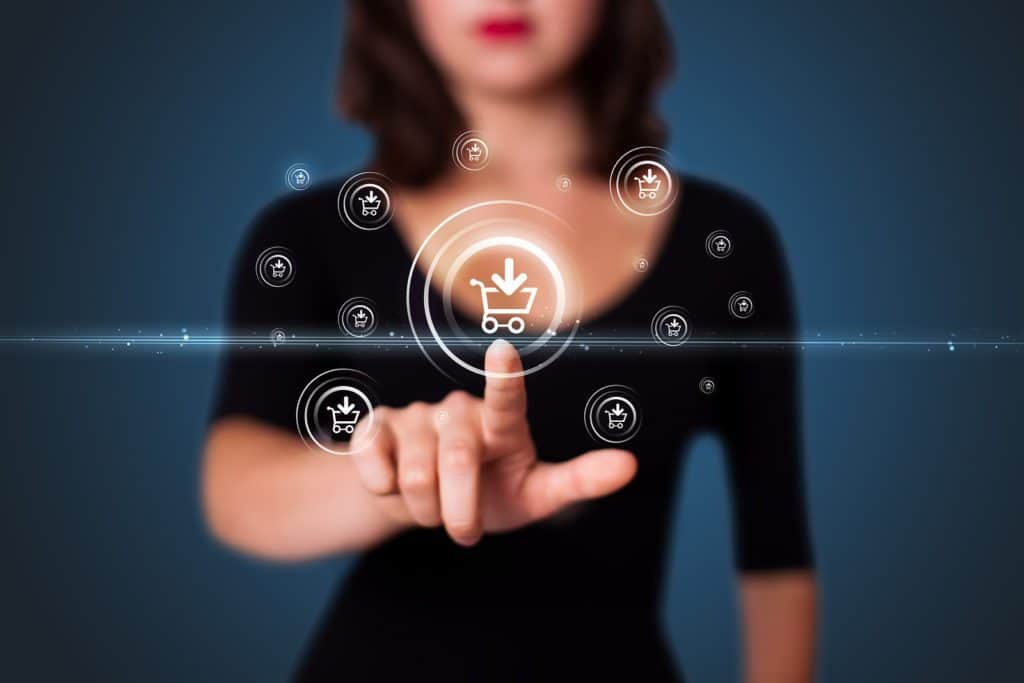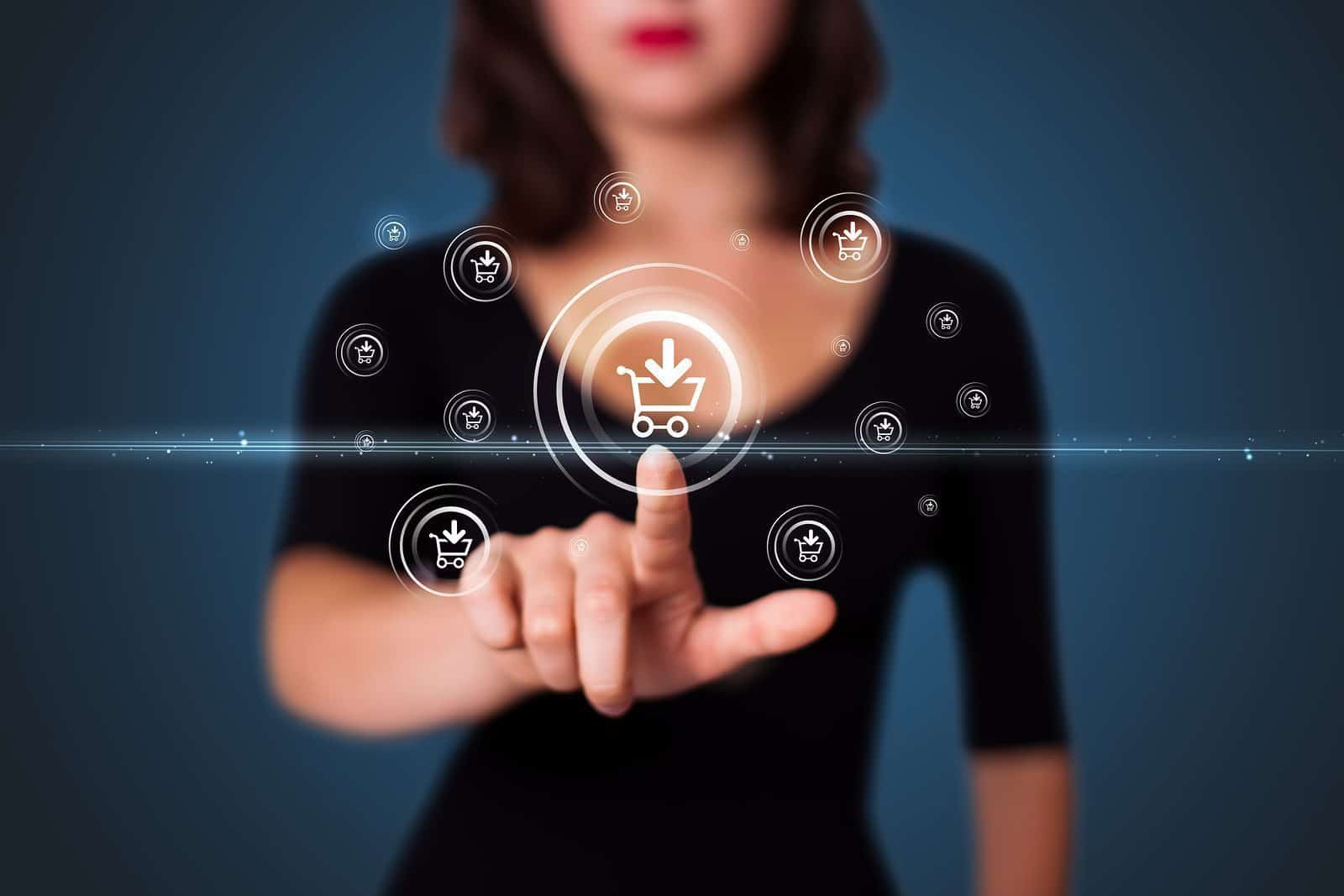 We're well into January, and the New Year's buzz is finally beginning to die down. Already, before we've even had time to take down the Christmas lights, we've seen articles about how to set achievable New Years resolutions, how to stick to them, and what to do when those resolutions fall apart.
In the eCommerce world, we've also been hit with a barrage of articles predicting the future of the industry. Articles on the "Top eCommerce Trends for 2017" abound! All eyes are on Amazon and their long-anticipated drone delivery services. And eCommerce experts everywhere are looking forward to increases in mobile payments, loyalty programs, and AI. It seems as though everyone's talking about what the future holds for eCommerce.
All of this talk of new starts and innovation may have you wondering what you can do to prepare for a new year.
There are thousands of ways you can revamp your business for 2017. However, you won't go very far if you're still struggling with the burden of a clumsy eCommerce platform. In my opinion, the best way you can prepare for changes in eCommerce is by investing in a platform that can, well, handle change. Your platform shouldn't just be customizable and easy to use – it should also be current and adaptable.
With that in mind, I've compiled a list of our favorite eCommerce platforms for 2017. I have taken into account the feature depth and capability of every system, as well as the overall credibility of each company. I have also considered recent developments in the software, with hopes that those updates and upgrades will continue in the future.
Without further ado, here are our top choices for eCommerce platforms in 2017.

With a full five stars, Zoey Commerce (see our review) is the top-rated software in our eCommerce category, and it's not hard to see why. Zoey is a fully cloud-based software, created by the developers of Magento. It's a feature-rich software that is still easy to learn and use.
Zoey certainly isn't a perfect solution, but it's pretty dang close.
Here's what we love about Zoey:
Pros
Usability+Functionality. Normally, I recommend two different types of eCommerce solutions to two different types of merchants. I suggest easy-to-use options to merchants with limited tech experience, and I pitch the more complex, feature-rich options to merchants who can hire a developer or have some background in coding themselves. Zoey is the only option I've found that can fit both categories. This cart includes a lot of features that other platforms skip over; more importantly, it makes those features accessible to inexperienced users. Take, for example…
The Drag and Drop Editor. Zoey comes with a selection of beautiful premade themes to choose from, but you aren't restricted to those layouts. Zoey's drag and drop editing feature is the most advanced I've ever seen. The editor lets you make changes to every aspect of your theme. You can move any part of your site to another web page, and you can make changes to every bit of text and every image. The only other drag and drop system I've seen that can compare to Zoey's is Shopify's new Sections editor, which is still somewhat limited in comparison.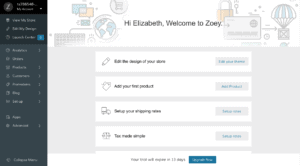 Cons
Higher Monthly Payments. Zoey comes at a higher cost than most SaaS eCommerce solutions. Many other eCommerce platforms offer basic plans at around $20/month. Zoey's basic plan, on the other hand, costs $89/month. This higher price point may cause beginning merchants to look elsewhere for their store builder. However, for most small to midsize businesses, the monthly expense shouldn't be too much to handle. Fortunately, with so many built-in features, you won't have to purchase many add-ons, and with such a high degree of usability, you can save the money you'd use for tech support.
Limited Customizability. Zoey is not an open source software, so you don't have the ability to change any and every aspect of your platform. If you need additional functionality for your store, you'll have to either add it on via an extension or hope Zoey introduces that feature in the near future.
Looking ahead…
Zoey is continuing to make strides to improve the user experience. They've recently partnered with Braintree (as of December 2016) to make global commerce easier for their users. This Braintree partnership allows merchants to accept 130 different currencies, without worrying about foreign exchange or cross-border fees. (Read more about the partnership here.)
Zoey is also looking to make changes in their infrastructure to improve stability and performance of their web-based software. (Read more here.)
I expect great things out of Zoey Commerce in the new year. The have impressed me in the past, and I am very hopeful that they will continue to do so in the future. If you'd like even more information about what Zoey Commerce has to offer, try our full review of the software here.

Now that I've finished singing Zoey's praises, it seems a good time to shift our focus to her older sister, Magento.
Magento (see our review) is the free, open source software that inspired the creation of Zoey. And the powerful code of this cart is available for your use as well. Magento offers incredible functionality and unlimited customizability, all for the low, low price of $0.00.
With over 250,000 active users, Magento is one of the most popular eCommerce platforms around. Here's why so many choose Magento for their online stores:
Pros.
Impressive Functionality. Magento is a robust software program out-of-the-box, and it keeps improving; each new edition includes bug fixes and additional features that make Magento an even more powerful solution.
Open Source Community. One of the best reasons to choose an open source solution is the user community. The Magento community of developers is constantly putting out new extensions for the platform. They also help discover holes in site security, which Magento is quick to patch.
Full Customizability. Open source means that you (or your developers) have full access to every line of source code used to build Magento. You can make changes to every aspect of your operations and storefront.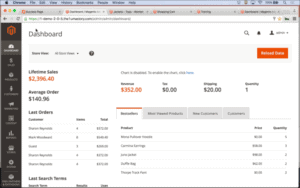 Cons.
Not Easy to Use. This is most merchants' biggest concern with Magento. In order to use Magento to its full extent (and access that customizability), you'll have to understand the code. If you can't do that, you must hire someone who can. This usually limits Magento to either web-savvy merchants or mid-size businesses that can afford a web developer.
Lack of Personalized Support. Magento is a do-it-yourself kind of platform. If you need any assistance, your options are to dig through the available documentation or hire someone to resolve the issue for you.
Looking ahead…
A strong community of 3rd-party developers keeps driving Magento forward. They are constantly introducing new add-ons and themes to the Magento world. Additionally, Magento itself invests in regular product updates; this past year saw the release of Magento 2.1.3, Magento 2.0.11, and Magento Enterprise Edition 2.1.
Expect even further developments from Magento in this new year. On January 4, 2017, the company announced a partnership with Hillhouse Capital, which has invested $250 million in Magento expansion. I'm looking forward to what that investment may bring about.
If you'd like to read more about Magento, including specific information about features and customer service, take a look at our full review here.

For a long time, Shopify (see our review) was the only eCommerce platform we commonly recommended, and we still think Shopify is an excellent eCommerce solution for many merchants.
Currently, Shopify hosts over 350,000 stores worldwide and is responsible for $24 billion in transactions to date. This cart provides the usability beginner merchants are looking for at a low monthly rate. With Shopify, you have access to beautiful themes and simple features that are easy to implement.
Unfortunately, Shopify is more limited for growing merchants.
Here's what Shopify has to offer:
Pros
Ease of Use. This is Shopify's number one selling factor. Shopify's dashboard is designed to be visually appealing and easy to navigate. It doesn't take much to set up a simple online store.
Lower Monthly Payments. Shopify offers plans from $9/month to $299/month (and more for Shopify's enterprise solution, Shopify Plus). Small businesses that only need a few features can likely make do with the $29/month plan just fine.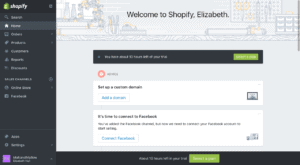 Cons
Limited Functionality. In order to achieve their famous ease of use, Shopify has included only the features they deem necessary. This means that some of the features you need may not be available. In many cases (ahem, most cases), Shopify sellers need to purchase add-ons in order to make their platforms perform the functions they need. These add-ons can eventually become quite costly. For this reason, it is difficult to run a larger business on a basic Shopify platform.
Transaction Fees. Most eCommerce platforms have long ditched the practice of charging transaction fees. Unfortunately, Shopify is clinging tightly to those fees. You'll be charged between 2.0% and 0.5% on every transaction, depending on your plan.
Looking ahead…
Shopify has taken a few important steps in the past year that have me downright excited for the future. In October, they introduced Sections, a redesigned drag and drop editor. More recently, on January 10 of this year, Shopify announced a new integration with Amazon, making it a bit easier to sync all of your online sales.
Although Shopify does not yet have any applications for chatbots (or other AI tools for your storefront), I anticipate they will progress in that direction in the future. Last year, Shopify developed an integration with Kit, a virtual manager for marketing strategies. And although Kit is not the type of AI most stores are looking for, I do have hope that we will see chatbots introduced within the year. (This is pure conjecture, as Shopify keeps all of its future releases very well guarded. However, I remain optimistic.)
To read our full review of Shopify, just click here.

According to BuiltWith, WooCommerce is the world's most commonly used eCommerce platform. As the cart of choice for almost 40% of all online stores, WooCommerce (see our review) must be doing something right.
A portion of this popularity is almost certainly due to the fact that WooCommerce is totally free to download and use. This shopping cart plugs into any WordPress.org site; you just pay for your WordPress hosting.
WooCommerce follows a Core+Extensions model, meaning that your WooCommerce platform comes with all the core features most businesses need to operate. Anything additional must be added on via (purchased) extensions.
WooCommerce claims to follow this extensions-based model in order to provide merchants with light and flexible platforms. If you only have the features you need, your platform will run more smoothly than if it were bogged down with loads of features you never use. (You should know that these extensions are also the way that WooCommerce makes money.)
Note: I recently published a list of the Top 10 Add-Ons for WooCommerce. It's worth a read, if I do say so myself.
Here are a few of the main reasons that so many merchants choose WooCommerce:
Pros
Price. Everyone loves free software. Of course, that doesn't mean there are no expenses associated with WooCommerce. You'll have to pay to maintain your WordPress site, and you'll have to pay for any add-ons you need in addition to an SSL certificate.
Customizable. WooCommerce is open source (Hooray!). If you've got the web skills necessary, there are a lot of tools available to you. In addition, much like Magento, WooCommerce is blessed by an active user community that produces a healthy number of extensions and themes. You can build your site using their work.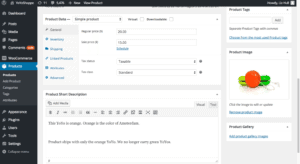 Cons
Limited Support. As with most free, open-source solutions, WooCommerce does not provide much in the way of personalized support. If you're going to need a lot of help, you should consider hiring someone who speaks Woo.
Trouble with Extensions. Because WooCommerce's various extensions are made by different developers, those applications do not always work together seamlessly. And—this is important—WooCommerce is not responsible for helping you figure out those issues. Additionally, the cost of all of those extensions can eventually add up.
Looking ahead…
WooCommerce has announced plans to introduce the newest version of their software (WooCommerce 2.7) within the next few months. I'm excited to see what that new version includes.
WooCommerce also plans to release new developer tools and a new SaaS shipping function, all within Q1. The company has stated that they are making efforts to beef up their customer service team to better handle expected growth.
If you'd like to learn more, check out our full WooCommerce Review.
If the Shoe Fits…
As with everything in business and life, the ideal software will vary from merchant to merchant. You may find that only one or two of these solutions seem like good fits for your specific situation, and that's great!
Pursue those options, dig in, do your research, read our reviews (*wink*), and figure out which eCommerce platform is the solution you're really looking for.
I am confident in every platform included on this list; they've all proven themselves as reliable solutions in the past, and trajectory toward continued growth suggests that they will do well in the future. Any one of these vendors can take your store to new levels in 2017.
But don't simply take my word for it. Sign up for a trial and get started with something new.