Getting Started With eCommerce: A Complete Guide
UPDATED
Good old fashioned brick and mortar stores aren't going away, but they are rapidly becoming eclipsed by the unprecedented convenience and selection afforded by online shopping. The current generation of shoppers has already taken to the Cloud for an increasing majority of their purchases. But if you're reading this article, you probably already know that this is a piece of the retail pie you can't afford to miss.
Moving forward, we'll assume the following:
You've done your research to find out that there is a need for your product or service
Your research has given you a solid, marketable price point
You are very familiar with the intended demographic
Your supply chain, manufacturing, and warehousing are underway, or will be soon
You're either bootstrapping, or your capital is already secured
If this is where you find yourself, then this article will help you get official, get online, and get selling. Read on for the full picture!
Before We Get Started…
I know, it sounds like we're stopping before we even start. But starting from the right place is important if you want to move in the right direction. Consider these key points before you sign up for any software or services:
Networking
Online businesses don't start online. They trace their origins back to business cards. Handshakes. Notes scribbled on napkins. In short, businesses begin in networks. Every successful business is aided in one way or another by a myriad of other people, other businesses, and outside resources.
Whether you're selling a product or offering a service, this much is true; your time is best spent by doing what you're good at. If cutting-edge web design is not on your resume, then find someone who has that skill. Investing in professional services like this is an absolute necessity.
Likewise, don't wing it with product photography, graphic design/branding, or copywriting. These are not corners to be cut; they require the same quality and attention that you pour into your product. Take your business seriously, and your customers will follow suit.
As for budgeting for these services, it may not be as difficult as you think. If your business is "up and coming," then considering partnering with "up and coming" photographers, for example. You'll get product photos that are commensurate with your budget, but they'll be far better than what you can accomplish with a smartphone and your dining room table. Check out websites like fiverr for local and affordable offers.
Venue
Before you start shopping for software, you'll need to decide where your online presence should be. Your knowledge of your demographic and their shopping habits may play a part in this decision, but in most cases, I recommend beginning with your own website. With the advent of SaaS solutions, it is increasingly easy for anyone to get online and have a well-polished and functional website.
However, the standalone websites do come with downsides. For one, your traffic will be sourced entirely by your own marketing efforts. After you get a following on social media, some of that work will become easier but getting started is the hard part. If your potential customers are already visiting sites like Etsy, then by all means, start there. Online marketplaces like Etsy and eBay have highly targeted traffic built in, so they can be great places to start.
Whatever online venue you choose, make sure that your eCommerce software easily enables connectivity with that type of storefront. Consider whether your Web Builders and Shopping Carts will integrate with venues such as:
Standalone websites
Etsy
eBay
Amazon
Online Marketplaces like shoply.com and eCrater.com (to name a few)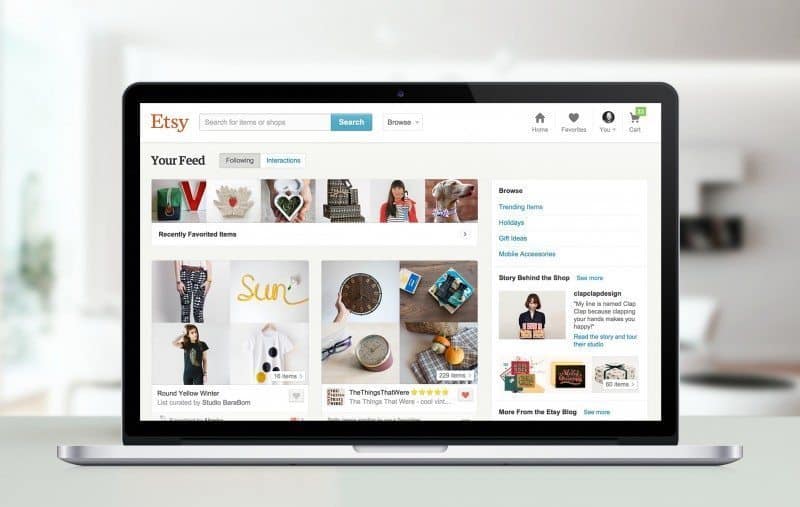 (Sample Etsy storefront)
Business Plan
"A goal without a plan is just a wish."

Antoine de Saint-Exupery
This is another step that is very tempting to neglect. Yet it can be the difference between "we barely made it" and "we crushed it". Sure, more comprehensive business plans can take months to write, and can easily be 20 pages long. The perfectly-written copy and data crunching can be brutal to complete. It's not what most people want to spend any of their precious free time doing.
Still, a well-honed BP can be your secret weapon. It can help you secure funding through loans or venture capital, save you from distractions by keeping your focus on the goals of your business, and keep you accountable when you're bogged down by what feels like mundane tasks.
I recommend that a full-fledged business plan be developed in the long run. But for starters, a more bite-sized plan will still be a huge advantage. Check out this article on the One-Page Business Plan.
Legal
Note: this section is only meant to get you started. It is not a source for legal advice or assistance, nor is it a comprehensive list of legal requirements to operate an online business.
To get a head start on legalizing your business, these are some of the processes and forms you may need to complete:
Trade Name, DBA (Doing Business As) – You can either file this information yourself, which is typically very affordable, or you can get assistance. Major banks often have people on staff to help with these types of business registration.
Tax ID, Employer Identification Number aka EID, or EIN – This is necessary if you plan to have any employees. It may also be necessary depending on how you plan to structure your business (such as in a Corporation or a Partnership.)
Check with your Secretary of State – There may be specific requirements for your business depending on the state where it is registered. Yes, you'll be doing business online, but you'll still have a physical address.
The Small Business Administration, as well as your county SBDC (Small Business Development Center) will have more detailed information. In fact, most SBDCs offer free introductory sessions with a Business Advisor.
The Checklist
At last, we arrive at what you've been waiting for. If you have a good handle on all of the above steps, you're ready to make informed decisions.
These items all have varying costs. Some are one-time expenditures, others are monthly, and others are annual. There are far too many options with each item for me to list here, but your research will easily yield prices. Just keep a running tally to ensure that your budget is on track.
You will need:
Domain Name – Commonly priced per year. This is the web address you select, such as www.johnsmithconsulting.com or AcmeWidgets.net (for example). I advise that it be as simple and as memorable as you can make it.
Web Builder Software or Service- This pertains mostly to those who wish to develop their own website. As we discussed above, sites like Etsy will not require you to make your own site. Likewise, finding a web designer can absolve you of this item. But for most people, it is enough to choose a pre-made website template (via web builders like Weebly or Wix,) customize it with add-ons, personalize it with your branding, and connect your domain. Some web builders will host the site for you on their servers. Alternatively, your chosen Shopping Cart may handle some, or all, of this.
Shopping Cart Software- This is the software that makes online purchases possible. It is not optional. What is optional is which shopping cart you select – and there are many from which to choose. Use our reviews to determine the best fit for your business, then fine-tune with add-ons and integrations. Some shopping carts are just carts, like Ecwid. Others, like Shopify and Volusion, will help you create your entire website, and host it for you.
Inventory Software- This item may be included with your cart, but make no assumptions. Even if you choose a cart that does not include inventory software, it will become essential if you want to maintain sanity once your orders start flowing. Check out our individual reviews here, or see side by side comparisons.
Merchant Account – This is like a checking account for your business. Utilizing your own personal checking account is NOT recommended. Your chosen shopping cart will have a list of payment gateways it supports (and don't forget that there are usually add-ons or apps which can provide additional functionality and give you more options.) See our merchant account reviews here.
Accounting – I know, the "A" word is not typically a pleasant one. But for obvious reasons, you can't do without good accounting software. Whatever you choose should connect with your cart and your inventory software. If not, inputting some monthly numbers is part of the legwork, and is very good practice. See the Reporting and Forecasting section, below.
CRM – Your CRM (Customer Relationship Management) software will likely become your primary marketing method for leads and existing customers. It will help you secure repeat customers through email marketing campaigns and loyalty programs. We review the best CRM apps here.
Social networks – In this day and age, it is virtually mandatory to have a presence in social media (through a Facebook Business Page, for example). However, it is also possible to further leverage these platforms to enable more ways for your customer to buy from you. The easier you make it for your customers to make a purchase, the better. Many shopping carts will enable Facebook Stores, and even Buyable Pins if Pinterest is your thing. Aside from the clear benefit of having multiple online storefronts, engaging your social network is the best way to cultivate your grassroots marketing efforts. Untargeted mass media advertisements (billboards, print ads, radio spots) are more expensive and less effective, and should only be a part of your plan once you have a generous slush fund to accommodate them. But a few well-crafted Facebook posts can advance your reputation in your target audience much more easily.
Final Steps
So you're ready to receive the influx of sales! Congratulations are certainly in order. But before we break out the champagne, there's the other side of the slope to navigate. Acquiring customers is one thing. Keeping them is another.
These steps are about more than simply tying a pretty bow on your eCommerce accomplishment. Learning the rare skill of follow-through will transform your milestone of success into a pattern of success, and pave the way for having a banner year every year.
These steps are all about your long-term growth, as well as your reward for all of your hard work:
Shipping and Fulfillment – Your shipping and fulfillment processes steps should be nearly as refined as your manufacturing processes. In short, the key components to remember here are speedy fulfillment, accurate fulfillment, safe shipping (no one wants to receive their new Widget in bitty pieces), and the reinforcement of your good reputation. These key points are as much a part of the sale as the swipe of a credit card, and will either help or hinder your customer's confidence in your brand. We have a separate guide on this subject.
Reporting and Forecasting – Your shopping cart software should have reporting features. Use them. The more data you collect and analyze, the more efficient your processes will become. And by efficient, I also mean cost-effective and profitable. You'll learn about the best time to offer seasonal sales and promotions, which products lend themselves to up-sell bundles, and which marketing strategies from the past have worked the best.
Re-engagement – As you collect customer data, you open up the potential to use the most cost-effective marketing strategy: loyalty programs. You'll always aim to bring in new customers, but it is much easier to simply invite customers you've already won over to buy from you again. Your CRM and social media presence are the two tools you'll need to encourage repeat business.
Pay your bills – This should go without saying. But you'd be surprised how many great businesses get shut down for the silliest of reasons. You may be able to strike agreeable terms for how and when to pay (such as Net 90,) but keep zero balances as quickly as possible. Whatever you do, ensure good will with your suppliers. Also, expect to pay your taxes quarterly. Even if that's not required in your case, the advance preparation will smooth out a lot of bumps in the road before you ever hit them at full steam.
Pay yourself – After all, this is why you started all the hard work of building your eCommerce empire! You've worked hard, and you deserve your earnings. In your business plan, you should already have decided what your wages will be. Stick to it. No really, stick to it. Give yourself a raise when your company grows next year, in proportion with that growth. Give yourself all that you are due. No more, and definitely no less. If you have a generous surplus in your merchant account, that is NOT THE TIME to buy a Ferrari. That's the time to sleep well at night, knowing you are as secure as you can be.
With these steps, we complete the circle.
Conclusion
Some of the items above are one-timers. Others are ongoing. But before long, they'll all be second nature to you. If you've gotten this far in the article, I can only assume that you have the determination to succeed – not merely because you survived my long-windedness, but because you are a person who is committed to educate yourself and be as prepared as you can be. That's the sort of person who survives their storms.
Lastly, I recommend revisiting your business plan at least once a year. You'll see how your grand expectations actually pan out (or don't), and you may need to reallocate your efforts and resources. Your business plan is your compass, your mission statement.
Good luck, and happy selling!