Heckler WindFall Box Set Unboxing & Review
Editor in Chief

UPDATED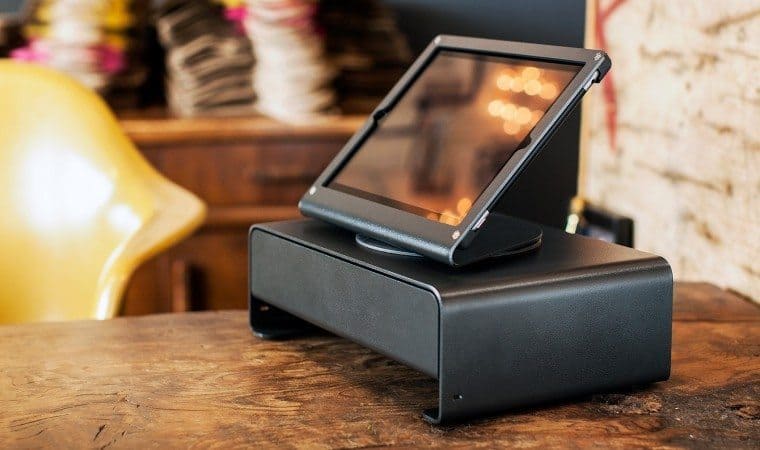 Heckler Design is an American-based product design company, best known for pairing minimal designs with solid commercial-grade construction. Founder Dean Heckler is head of design for the company and an artist in his own right; according to the Heckler Design website, Heckler oversees the design of every product, and always with the end-user in mind. He says that he has "long had a passion for smart simplicity and finding ways to use technology intelligently and beautifully." This passion is readily apparent in the company's wide range of products, from cash drawers to wall frames to iPad stands.
Here at Merchant Maverick, we're always curious about new types of hardware, and as a POS software reviewer, I have a special place in my heart for POS paraphernalia. Naturally, when I heard about the WindFall Box Set, I wanted to get a first-hand look at some of Heckler Design's latest innovations. Like Heckler's entire WindFall collection, the WindFall Box Set consists of strong, useful POS hardware with a simple, smooth appeal. It is beautiful, in its own way, as well as compact, making it a great choice for small businesses with very little space.
Read on to see what else I discovered…
Packaging
The Heckler WindFall Box Set is well organized and comes neatly packaged, at least in my experience. Generally, the box set will ship the same day you order it if the order is placed before 12 pm. I was happy with how promptly it arrived at my door, but I was especially impressed with how well it stood it up to the shipping process.
Safely nestled in the main shipping container itself were two compact cardboard boxes: one for the cash drawer and the other for the iPad Air stand. These were easy to open and did not require me to hack, tear, or otherwise maim the materials with a knife or a pair of scissors. Every component arrived undamaged, and there was tight bubble wrap around any elements that might have been liable to scratching or damage. Overall – much like the product itself – I found the packaging to be both minimalist and functional. The inner boxes were sturdy and reusable, and would come in handy if you needed to move your hardware from one location to another.
In addition to the cash register and iPad Air stand, the two boxes contained screws, mounting equipment, and other paraphernalia, plus some installation directions (complete with diagrams) and a flier which alerted me where to find an instructional set-up video online. Each component was present and accounted for. Best of all, after opening everything up there was no mess! Of course, there were a few inevitabilities – small plastic bags and a bit of tape here and there – but I didn't have to dispose of any annoying Styrofoam peanuts or wads of packing paper. It's always nice to find a company which knows how to use space properly (thanks, Heckler Design!) and I appreciate that there were no wasted materials or unwieldy, oversized boxes for me to deal with after unpacking my Windfall Box Set (I'm looking at you, Amazon.com).
What's In the Box?
The Heckler Windfall Box Set comes with:
WindFall Stand For iPad Air Box Set Edition
WindFall Cash Drawer (Automatic)
WindFall Penny Tray
WindFall Hanger for Star Micronics Receipt Printers
Kensington ClickSafe Cable Lock
Drawer-Kick Cable for Star Micronics Receipt Printers
Drawer-Kick Cable for Epson Receipt Printers
Two Manual Override Keys
Counter-Top Mounting Screws (optional installation)
Under-Counter Mounting Screws (optional installation)
PivotTable for WindFall Cash Drawer
Specs
Colors: Black-Grey, Grey-White, Bright Red, Seafoam, or Emerald
Cash Drawer Dimensions: 11.9 inches wide, 8.5 inches deep, 4 inches tall
Cash Drawer Weight: 18 lbs
Materials: Powdercoated Steel, Urethane, Polypropylene
iPad Stand Viewing Angle: 45 degrees
Price: $339-$399 (cost varies slightly depending on what you order)
Compatible Devices:
Apple iPad 2
Apple iPad 3
Apple iPad 4
Apple iPad Air 1
Apple iPad Air 2
Apple iPad mini
Apple iPad mini 2 with Retina Display
Epson OmniLink TM-T70II-i Receipt Printer
Epson OmniLink TM-T88V-i Receipt Printer
Epson TM-T20II Receipt Printer
Epson TM-T70II Receipt Printer
Epson TM-T88V Receipt Printer
Epson TM-U220B Receipt Printer
Star Micronics DK-AirCash
Star Micronics FVP-10 Series Receipt Printer
Star Micronics TSP143L Receipt Printer
Star Micronics TSP650II Series Receipt Printer (Ethernet)
Star Micronics TSP654II BTi Receipt Printer
Star Micronics TSP654II WebPRNT Receipt Printer
Star Micronics TSP700II Series Receipt Printer
Compatible Card Readers:
Bank of America Mobile Pay on
Groupon Payments
IDTECH iMag Pro
IDTECH iMag Pro II
IDTECH iSmart
IDTECH Shuttle
IDTECH UniMag II
IDTECH UniMag Pro
IDTECH UniPay Card Reader
Intuit GoPayment
iZettle
MagTek iDynamo
MagTek uDynamo
PayAnywhere
PayPal Here
Rambler
ROAMPay
Shopify
Square
SumUp
Verifone SAIL
Set-Up
The WindFall Box Set is simple and doesn't require much set up, which is nice. In fact, the entire assembly process consists of putting in a few screws here and there, sliding your tablet device into the iPad stand, deciding where – or even if – you want to mount the whole unit to your countertop and/or mount a receipt printer somewhere, and winding power cords through the proper channels (though this is more of an aesthetic issue and has no effect on function).
For complete instructions about setting up your hardware, and to see for yourself how easy it can be, check out the instructional video below:
First Impressions
WindFall products are a minimalist's dream, and not without a certain oddly aesthetic charm, especially if you're fond of a look that is at once bold and austere. Be aware, however, that this is no-nonsense equipment. It's heavy, it's stark, and it's utilitarian. Not only is it actually made of hand-welded steel, but it looks like it's made of steel and, more significantly, it feels like it's made of steel (it actually contains up to 300% more steel than many of its competitors). Don't drop it on your foot, in other words. On the plus side, the sheer bulk of the cash drawer means that it is unlikely to fall prey to opportunistic robberies.
One really nice feature of the WindFall cash drawer is that it is designed to be repaired and upgraded, not just replaced, when it malfunctions. This is a huge money saver in the long run. What's more, the engineering is just plain solid. In fact, "to ensure your drawer opens reliably every time, the automatic WindFall Cash Drawer employs the same electronic latch used in hospital crash carts."
The iPad stand itself is unremarkable, though well built and functional, and it is mounted at a perfect 45 degree angle. All of the other components also seem to work perfectly at a basic, utilitarian level. I would go so far as to say that the whole box set is well-built, if not exactly thoughtfully designed.
No product is without flaws, however. I wish the cash drawer inserts were as impressive as the cash drawer itself. Not surprisingly, Heckler Design has a lot to say about the innovation and mass appeal of their cash drawer inserts, which are certainly unique. See the image below:
The crux of the design is that it can accommodate many currencies and is not limited by the size or denomination of the bills/coins (it is compatible with US Dollars, Canadian Dollars, Australian Dollars, Euro, small denomination British Pound notes, Yen, and Rubles). In this way, it has a mass, international appeal, and can function the same wherever it happens to be on the globe. There is one big problem with all of that, of course: innovation doesn't always translate into better functionality. Heckler Design has tried to reinvent the wheel here, which is nice of them, don't get me wrong, but we already have plenty of lovely, circular wheels that roll right where we need them to go. These re-imagined cash drawer inserts are different, there's no doubt, but they're also confusing, a bit cheap-looking, and reminiscent of a child's cash register set – not quite the impression you want to convey to your customers. In Heckler Design's defense, the cash drawer is manufactured from a strong polypropylene and has no moving parts specifically so that it does not creak, slam, and groan in the same way that a traditional cash drawer does. If you're looking for something with minimal noise and minimal fuss, this might be the ideal drawer for you.
Another aspect of the cash drawer that stymies me a bit is that it locks on the bottom. So, if you want to be able to lock up your cash – who wouldn't? – you can't mount the register directly on your countertop. You have to either leave it un-mounted (in which case watch out for thieves and/or your toes!) or mount the drawer on the underside of your counter, and leave the iPad stand on top (see the below image for an idea of how this works).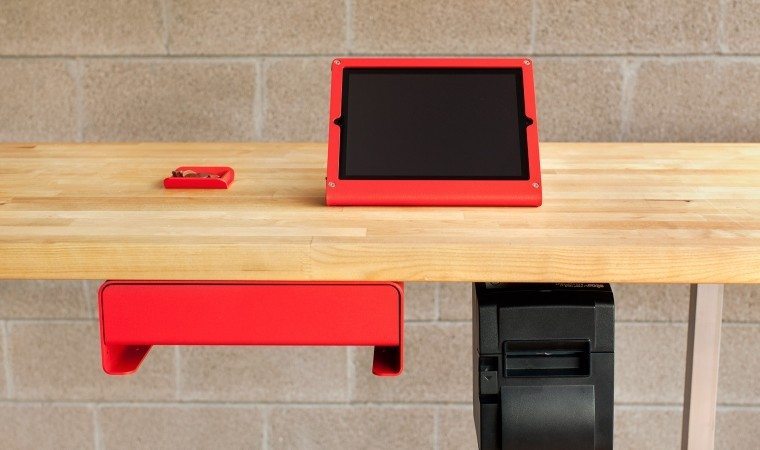 This is a solution, of course, but it isn't particularly appealing, especially if your counter does not have a front (like the one above) and certainly doesn't convey the message: I'm A Professional Retailer, Please Do Business Here. Frankly, I'm not sure why they didn't just put the lock on the front or back of the cash drawer, where it would actually be accessible. As it is, you have to either turn the unit over every time you want to lock it (did I mention that weighs 18 lbs?) or stoop down underneath your counter, like a little retail gnome.
While we're talking about confusing design decisions, I have to say that I find the Kensington ClickSafe Cable Lock utterly baffling. Intended to "quickly and securely connect your countertop to the WindFall Box Set" and prevent against theft, it looks for all the world like a bike lock. A small, doll-sized bike lock. Which, once again, doesn't scream professional establishment!

I assume the cable lock is intended to provide security, not only so your hardware does not get damaged, but so you can leave your cash drawer unmounted without worrying. The thing is, I would imagine that the sheer heft of the thing is going to be more of a deterrent than a little bitty cable lock. Anyone who commits to a smash and grab robbery with this till is going to have a whole lot of steel to deal with anyway.
Final Thoughts
What can I say? The Heckler WindFall Box Set has a pleasing (if austere) aesthetic appeal, and it's extremely well constructed. I think it would be a terrific investment for a low volume business or a start-up. And man! It's hard to beat that price! At $399, it's a real steal for all that steel (see what I did there?) All in all, it functions well and should be enough to get anyone through their first few years in business.
That said, do I recommend this product to medium or high volume businesses? No, and it was not designed to be used in those environments. Do I think it would be a good choice for a thriving bakery or a bustling thrift shop? Again, no. It isn't designed for volume, it isn't designed for speed, and it isn't particularly professional looking. But it's unfair to expect a starter kit like this to be anymore than what it is: a solid, functional beginner's hardware package with basic features – perfect for the merchant who processes few cash transactions and has minimal counterspace.