How To Accept Android Pay
Expert Analyst & Reviewer

UPDATED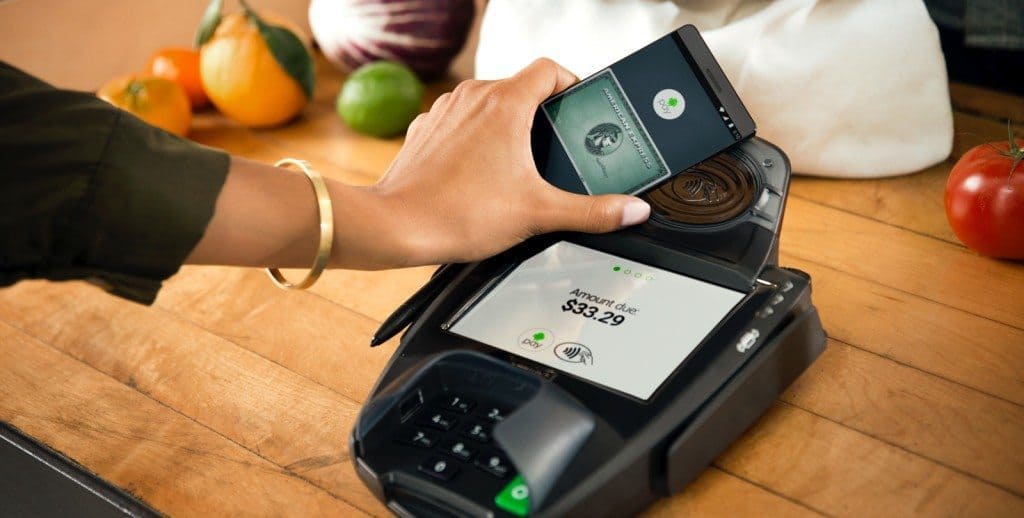 Back in September 2014, Apple finally did what technophiles have been clamoring for it to do for ages: It added an NFC chip to its newest-generation smartphone, the iPhone 6 and 6 Plus. Suddenly, you could just tap your phone to complete a payment, with no need to dig through a wallet, using the Apple Pay feature.
Never to be upstaged, Google (the power behind the Android platform) is introducing its own equivalent: Android Pay. (Original name, huh?)
If you're still not committed to mobile payments yet, or you have no idea what Apple Pay, Android Pay, and NFC do, we've got a primer for you. Read on to learn more about this new service, how it works, and what you need to begin accepting Android Pay.
What is Android Pay?
Simply put, Android Pay is a mobile payments app that uses NFC, or near-field communication (more on that in just a moment). Users can download the app to an Android smartphone running Android KitKat (version 4.4) or higher. Unlike with Apple, a fingerprint reader isn't required, though it's likely more Android phone manufacturers will start incorporating this feature.
With the app installed, users can pay for things the same way they would with cash, card, or even check. All they need to do is unlock their phones and tap them against a special terminal. Everything is automatically deducted from the accounts connected to the app.
What is NFC?
NFC is basically RFID wireless technology. A tiny chip in one device can sense when it comes into close proximity to another and instantly transmit information between them. In the case of Android Pay, the NFC chip inside the smartphone can communicate with NFC-enabled terminals to handle payments, the same as swiping a credit card.
NFC is incredibly short-range: Devices need to be within a couple of inches of each other to work (as opposed to Bluetooth, which has a larger range). That's why mobile payments are typically referred to as "tap and pay" — although you really just need to pass the phone within a close enough range of the terminal.
For a much more detailed explanation on how NFC works, check out our article here.
How Does Android Pay Work?
Every time a consumer taps their phone to a terminal, the phone transmits a unique transaction ID code to the merchant's system. Merchants never actually receive the details of the user's credit card or account number — all of the data is stored in that single unique code. That makes Android Pay a bit more secure than your average credit card. (Remember the Target hack? Or the Home Depot hack?)
But Android Pay isn't just for brick-and-mortar purchases. It also allows merchants to accept payments inside a mobile app. It also has a loyalty card feature built in so that you can reward your customers and provide special offers.
Why Should You Accept Android Pay?
Consumers want to use mobile payments. Can you blame them? Tapping a smartphone is a lot easier than fishing through a wallet to find the right card. It's also more secure, since the merchant never has anything more than a transaction ID. And then, of course, consider that Android Pay is a cross-platform solution. If you sell online as well as in stores, you've got a solution that works for both.
Accepting Android Pay (and other mobile payment options) can actually increase your sales numbers, since you will start drawing in customers who want to use this technology. And shouldn't that be reason enough?
Check out our comprehensive guide to accepting mobile payments for more reasons why going mobile is the smart thing for any business.
How to Accept Android Pay
Fortunately, setting yourself up to accept Android Pay is easy. If you have a brick-and-mortar store, you just need a POS terminal that accepts contactless payments. In doing so you'll also be able to accept other payment services that rely on NFC (including Apple Pay). Buy, don't lease, to get the best deal.
If you accept payments on your smartphone or tablet, don't fret! Square has already announced an NFC-capable card reader. It also supports EMV (the chip cards). Square's reader will retail for $49, but you can reserve it for free here.
PayPal has also announced its upcoming NFC/EMV compatible card reader, but we don't have much information yet. Either way, you should be able to accept Android Pay for in-person transactions.
To add Android Pay to your mobile app, head over to the Google Developers site to get the code you need.
How Much Does Android Pay Cost for Merchants?
Android Pay will cost you nothing to actually process payments. The only fees you pay are those assessed by your payment processor. We recommend these top-rated merchant account providers:
(Don't have a provider yet? Thinking about switching? Compare merchant accounts here to find the best option for you.)
The only other costs you might incur are those for buying a terminal (if you don't already have one) or paying your developer to build Android Pay into your app, assuming your team isn't in-house.
But What About Google Wallet?
But wait, some of you might be saying! Doesn't Google already have a mobile payments service? And you'd be right. It's called Google Wallet, and it's been around since 2011. It just hasn't been very popular.
Google Wallet isn't going away, however. Current Wallet users will be upgraded to Android Pay. After that, Wallet will become a P2P payments service — a way for users to send money to friends using their debit cards. And, it'll be available for Android AND iOS. (Think PayPal.)
Conclusion
Android Pay is coming, and this is a good thing. It's a great way to rebrand the old Google Wallet, especially now that Apple has thrown its hat into the mobile payments ring and drawn some attention to the technology. Given the large number of devices that will be able to support the app, there's a great potential customer base you could be catering too. If you haven't already made arrangements to start accepting mobile payments, now is a great time for Android Pay for merchants!