How To Keep Your Employees On Staff And Busy During The Coronavirus
Expert Analyst & Reviewer

UPDATED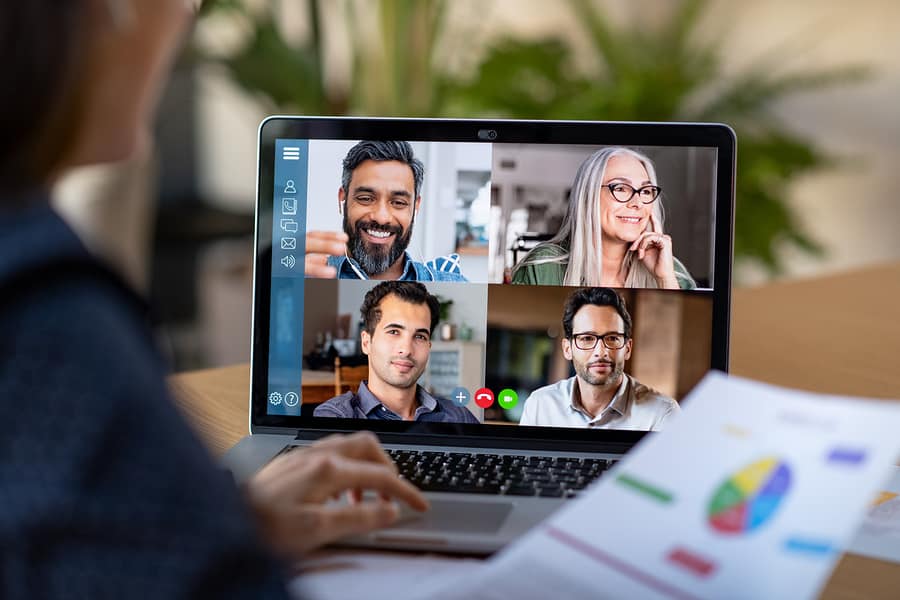 The COVID-19 pandemic has transformed the world we live in. Businesses are closing their doors, events are being canceled, and consumers and businesses are questioning what the future holds. If you're a small business owner, you have your own set of fears. The same goes for your employees.
During this time of uncertainty, employees around the world are worried about keeping their jobs and bringing in a steady paycheck. But how do small business owners navigate the challenges of fewer customers, reduced hours, or even mandated closures? Fortunately, there are ways to keep your employees on staff and busy as the world pulls through and recovers from this disaster.
Many employers have kept their businesses operating by allowing employees to work remotely. If you're new to the remote workplace, we have tips and advice to help you get started.
But not every business is in a position to deploy a remote workplace. If going remote isn't an option for you, don't worry — there are lots of great ways that you can keep your employees occupied. Employees can help boost your social media presence, launch a new delivery service, or even test out new and unique ideas you've had on your radar. It's a win-win: you keep your business staffed, and your employees keep their jobs and earn a paycheck to support their households. Plus, keeping your employees on during the coronavirus could qualify your small business for a partially forgivable loan because of the Paycheck Protection Plan put forth in the new stimulus package.
Your first instinct may be to cut costs by laying off staff, but this could be a mistake you come to regret in the weeks or months ahead. When restrictions on businesses are lifted and customers begin venturing out again, you don't want to be stuck without a team of employees ready to get back to business. Before making any rash decisions, keep reading to learn about how you can keep your business staffed and your team productive in the days ahead.
Have Employees Work Remotely
Businesses that are closing their doors and practicing social distancing don't have to bring operations to a halt. Instead, many businesses — both small and large — are allowing their employees to work remotely. Instead of coming into the office, these employees continue to perform their jobs from their own homes.
Not every business will be able to go remote, but there are a number of industries that can survive — and even thrive — with a remote workforce. This includes writing and editing, graphic design, web development and design, and retail operations.
Effectively switching to a remote workforce can be a challenge, especially when an emergency leaves you little time to prepare. The key to success, though, lies in communication across your organization. This includes clearly assigning tasks, coordinating meetings to best fit the needs of your team, providing support and training as needed, and using tools and resources to your advantage for communication, collaboration, and organizing workflows and projects.
Resources & Tips For Remote Working
Ready to keep your employees productive through remote work? While it may take a little trial and error to get the wheels turning at your organization, here are a few general tips for getting your remote workforce off the ground.
Host Meetings/Presentations Remotely
Take your meetings and presentations from the boardroom to the internet with videoconferencing software. There are a number of paid and free options available that allow you to meet with your colleagues, do remote presentations, and share your screen. Some options to check out include:
During the pandemic, Google and Microsoft have also made their enterprise solutions available to all customers, so this may be something to look at first, particularly if you have a larger workforce. Zoom and other companies are also making their software available with extended free trials and discounts.
Speaking of meetings, be mindful of the changing schedules of your employees when scheduling. While it's a good idea to stick to your normal schedules, adjusting to remote work, new and different responsibilities, and having children at home during working hours may impact your employees' schedules. Try to schedule meetings that work for most of your workers, and if there are employees that are unable to attend, choose software that allows you to record audio and video from the meeting that you can later share with your team.
Collaborate With Your Team
Working remotely means no more face-to-face collaborations between cubicles or in the conference room. Fortunately, there are plenty of virtual solutions for the remote workplace. Programs like Dropbox, Google Docs, and Google Drive allow you to securely share files with your employees, and some programs even let you edit and comment on shared documents.
Use Communication Tools
Email is a necessary tool both in and out of the office. While email is a good choice for certain types of communications, it's not ideal for communicating with your team in real-time. Instead of going back and forth in your inbox, take advantage of communication apps and software like Skype or Slack that allows you to send instant messages to groups and individuals within your organization.
Keep Your Team On Track & On Task
Working from home sounds like a dream to some, but not everyone realizes how difficult it can be to stay on track. Realize that employees need time to acclimate to their new working environment, so make sure to check in often. It's not always easy to balance working from home from other tasks, so keep your team on track using project management software. There are lots of options out there — Asana, Basecamp, and Redbooth to name a few. With this software, you can collaborate on projects, assign tasks, set deadlines, and ensure your team is productive.
Show Compassion For Your Employees
Remember, transitioning to a remote workplace can be a challenge for anyone, so make sure to keep the lines of communication with your employees open. Be understanding of any mistakes that occur in the beginning as everyone adjusts to their new workplace. Make sure that your employees aren't working too many hours and burning out. Encourage breaks during the workday — even five-minute stretch breaks. Having happy, healthy employees is one of the biggest factors when it comes to the success of a remote business.
10 Other Tips To Keep Employees On During COVID-19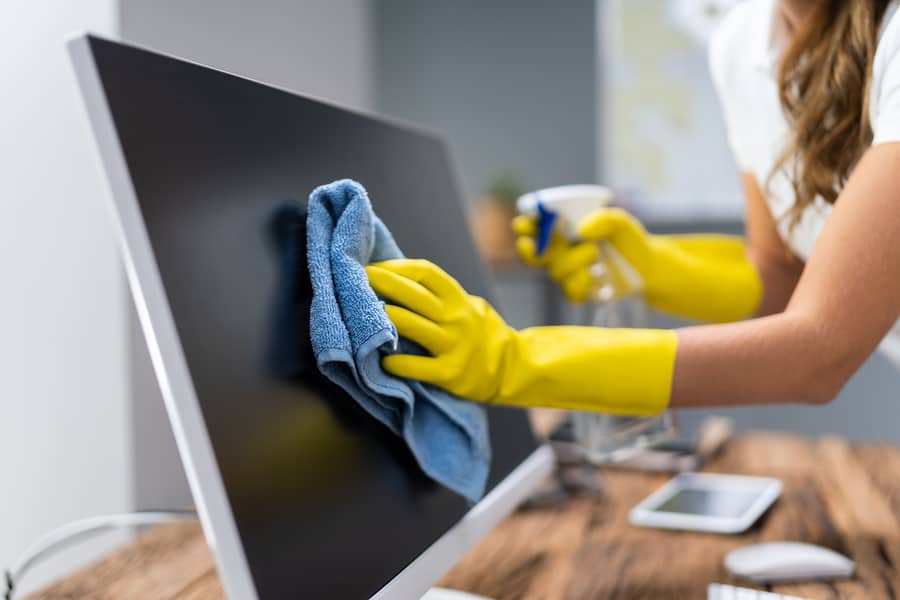 If working remotely just isn't in the cards for your business, don't worry — there are other ways that you can keep your business working during the COVID-19 pandemic, social distancing, and beyond as our world bounces back. If you keep your employees on staff, they can tackle critical tasks that maybe have been overlooked in the past, and they'll be able to draw a paycheck. Use one (or all!) of these ideas to keep your workers productive in the weeks ahead.
Deep Cleaning
When's the last time you gave your office, store, restaurant, or other business a good deep cleaning? It's easy to get caught up in other tasks when things are busy, so there's no better time than right now to tackle your spring cleaning. Tap your employees to clean under and around furniture and equipment, wipe down baseboards, dust blinds and window treatments, sanitize surfaces, and steam clean rugs and carpets.
Now is also a good time to reevaluate your cleaning and sanitation policies. Make it a habit for your employees to properly clean and sanitize their workspaces on a regular basis. Follow the CDC's guidelines for sanitizing and disinfecting during the COVID-19 pandemic.
Get Organized
While your team is getting down and dirty by deep cleaning, take it a step further by getting your workspace organized. Task your employees with sorting through file cabinets, rearranging furniture, and purging old or unnecessary items. Don't forget to shred old documents before throwing them away. Now is also a great time to ensure you're caught up on your accounting and have gathered your necessary tax documentation.
Create Or Update Important Documentation
Do your company policies and procedures need an update? Maybe you don't even have these written down and you have to start from scratch. Since your employees understand how your business operates, now is a great time to get their insight to update or create company manuals and documents. This includes:
Onboarding guides & training materials
Operations manual
Branding & style guides
Detailed job descriptions
Use Employees For Delivery Services
Many businesses, like grocery stores, retail shops, and restaurants, are keeping their employees busy and bringing in a steady stream of revenue with delivery services. Some businesses that previously used third-party services like Postmates have brought their delivery services in-house to keep their employees on staff, while others are implementing new delivery services. Licensed employees can use their vehicles (or a company vehicle, if available) to deliver food, drinks, and other supplies to customers that are staying at home.
Have Employees Run Social Media
Use this time to bolster your social media presence. Train your employees to run your company's social media accounts, including any social media management tools that you currently use, such as Buffer or HootSuite. Your social media accounts can be used to update customers on what you're doing to combat the spread of COVID-19, updated operating hours, and any changes to your operations (i.e., the addition of delivery service). Social media can also be used to share photos and encouraging messages, and it's also a great way to stay top-of-mind with your customers when business returns to normal.
Check out our guide, 5 Clever Marketing Tactics For Small Businesses During The Coronavirus Pandemic, for more ideas.
Create A Company Website & Blog
Continue to boost your web presence with a new (or updated) website and blog. Employees can help in a number of ways, from writing your web copy to uploading photos to choosing the design for your website. A blog gives you a chance to showcase your expertise, so let your most creative employees show off their knowledge. Your team can even write employee bios to give readers a more personal look into your business.
No design experience? No problem. Creating a website is easier than ever with website builders that do the heavy lifting for you. Check out our Best Website Builders For Small Businesses to find the one that's right for you.
Train Employees On Email Marketing
Your employees can keep customers up-to-date on important company news through an email marketing campaign. While you should offer training and provide some general guidance on how to launch an email marketing campaign, let your team explore their own ideas when coming up with a marketing plan. What type of content should be in your emails? Here are a few ideas to get your team started:
Local updates on COVID-19
Deals & discounts
Updates on products & services
Changes to your business (i.e., new store hours)
Don't have email marketing software? We've reviewed several good options. If money is an issue, there are free email marketing platforms as well.
Complete Business Courses Or Certifications
Even experts can always learn something new, so why not give your team the opportunity to challenge themselves and boost their knowledge? Online business courses and certifications make it easier than ever to learn a new skill or brush up on a variety of topics. Have your employees choose something that's relevant to your business and their job. There are many online course options available on topics such as computer sciences, languages, web design, and law.
The best part? Many of these options are available at no cost to you or your employee. While you may have to do a bit of online searching to find the right courses for your team, start with these options:
The Open University: Offers a number of courses across topics including design, engineering, and technology
MOOC.fi: Offers computer science courses from the University of Helsinki
Harvard University: Free online courses from Harvard University (yes, the Harvard University)
Perform Market Research
In addition to bettering themselves through online learning, your employees can also help improve your business by performing market research. Employees can create customer surveys through a website like SurveyMonkey to get important feedback from your customers on what you're doing right (and, of course, what you can improve). Employees can also conduct research into what your competitors are doing.
Brainstorm & Experiment With New Ideas
Have your employees approached you with ideas that you always push to the back burner? There's no better time than right now to begin experimenting with these ideas. Host a brainstorming session with your team to come up with ideas for boosting your business. You can explore new products and services, launch a new marketing campaign, or test out other new ideas. Performing market research beforehand (as discussed above) can even help you identify areas where growth and improvement are needed.
Small Businesses Can't Run Without Employees
Employees are vital to small businesses. While it's normal to change strategies during the COVID-19 pandemic, think about your business over the long term. Sure, cutting staff now may save you some money, but what happens when it's back to business as usual? Finding, hiring, and training new employees can be even more of a burden on your business. If you can, instead of laying off your workers, use this time to test out new ideas, provide products and services in new ways, and tackle tasks that have previously fallen by the wayside.
Remember, you aren't restricted to these ideas, either. Think outside of the box, and encourage your employees to get creative, too. Who knows? You may even find a way to make your business even more successful in the future.
Need additional resources to get through this difficult time? Merchant Maverick has you covered! Check out our COVID-19 hub that offers tips and resources for your business. We'll help you navigate challenging topics such as getting an SBA disaster loan, adapting to social distancing, or keeping your business running with small business loans. We've also launched guides for specific industries, so make sure to take a look at our Coronavirus Survival Guide For Restaurants. What lies ahead for your business may be uncertain, but one thing you can count on is that Merchant Maverick has your back. Good luck and stay safe out there.