Buy Now Buttons: The Key To Selling On Your Blog Or Website
Expert Analyst & Reviewer

UPDATED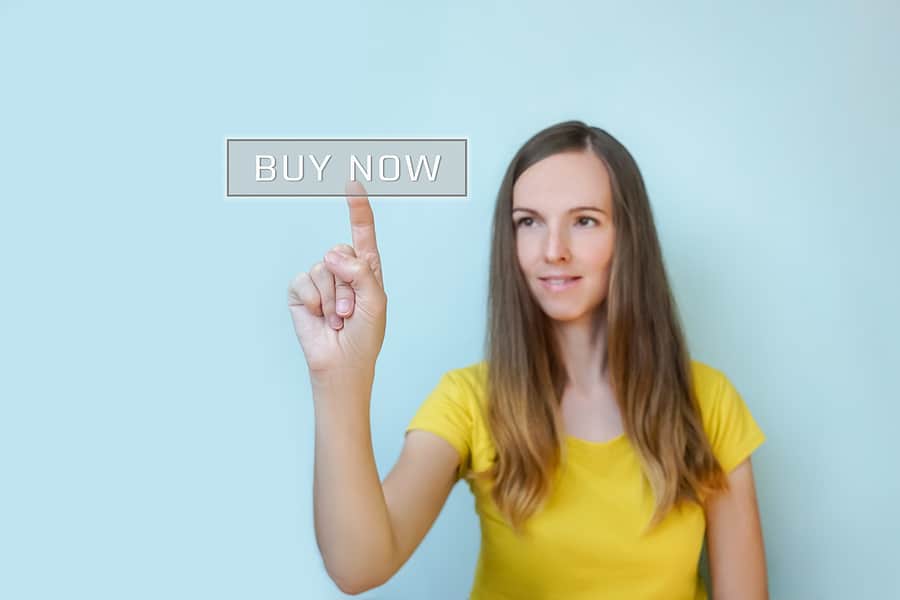 Now, more than ever, both eCommerce and storefront shops need to be adaptive in how they sell their products. Though many stores are back to business as usual, customers aren't so quick to head inside a storefront as they once used to be. More shoppers are looking online to order, so offering customers more ways to shop can help you keep pace with the current momentum.
A buy button gives your customers more convenient ways to purchase — but the most compelling reason you might want to start utilizing buy buttons is that studies show a buy button will likely increase your web sales! Check out the snippet I pulled from a recent Pyments report (image below): Average web sales grew upwards of 26% on sites that provided buy buttons in just one year.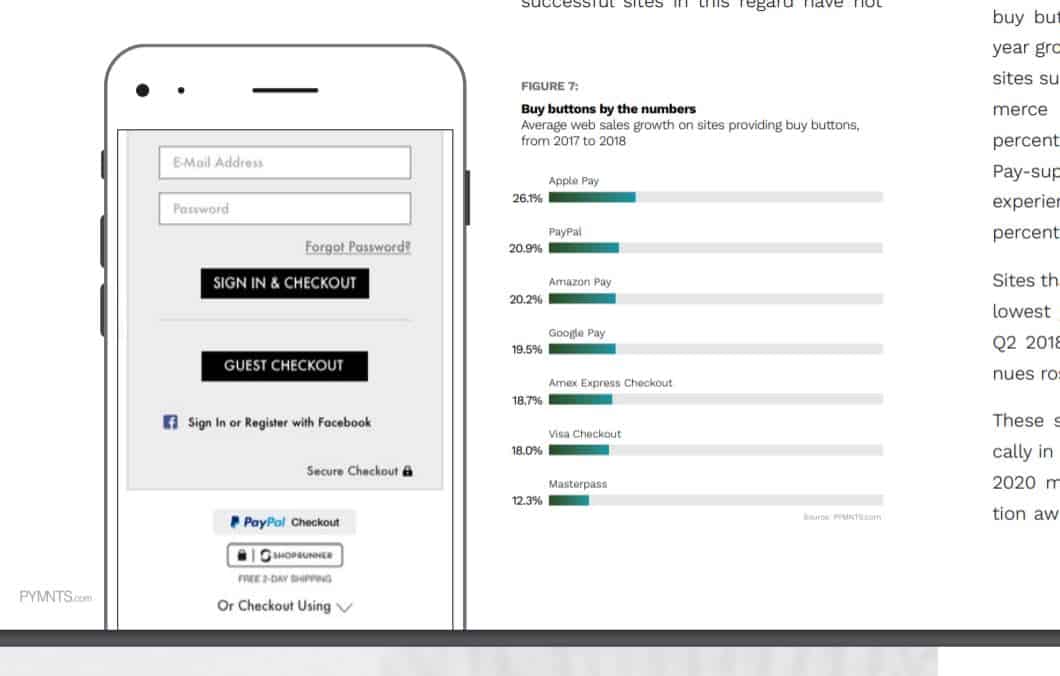 In this post, I'm going to show you how a buy button can help you start selling on an existing site, and we'll look at how some platforms can enable you to seamlessly link your inventory to sell on social media platforms as well.
What Are Buy Now Buttons?
A buy-now button is a flexible way to make products more accessible and shop-friendly to your customers, fans, or readers. It's a small piece of code that you can copy and paste into different areas of your website, blog, or even the body of an email. The code holds information on what the product is, how the button looks, what it says, and even tracking information to sync inventory and keep accurate sales reports.
In the image above, the button says "Buy Now," but you can test different messages such as, "Get This," or anything that matches your brand's tone.
Some platforms – like Shopify – allow you to display more than one buy button so your customer has more choices to pay. Displaying Apple Pay or PayPal buy buttons can boost sales, as the report from Pyments at the beginning of the post illustrates.
But your site isn't the only place to utilize buy buttons into a payment flow. You can also use buy buttons on social media platforms. We will talk through the nuances of this option as well, as it requires specific hoops to jump through, and it's not quite the same as a typical HTML buy button.
So what are the benefits of using a buy button and how do you choose the right platform to get started? Keep reading to find out your options so you can make the best choice for your shop.
When Should You Use A Buy Button?
Since a buy button can give you flexibility as far as when/where you place the call to action, businesses that have large marketing funnels including separate landing pages, email campaigns, and blogs can benefit from a buy button. But that doesn't mean business owners who have smaller budgets or limited webspace are excluded from a buy button's boost.
A buy button can even streamline your inventory: Once a shopper clicks, they can pay for your product, and your inventory is updated and the sale tracked. Your buy button also streamlines things for your customers. When linked to their digital wallet, for instance, checkout speeds can be reduced significantly. According to a 2020 Pyments report, a buy button can reduce checkout times by 39.2%. Reducing checkout speeds can mean giving your customers less time to change their minds about the sale as well as reducing abandoned carts.
How To Create Buy Now Buttons
Setting up a buying journey for your shoppers that utilizes buy buttons — whether on social media, on a site, email, or another payment link — really depends on the platform you choose. Below you'll see some examples of buy buttons and how to get them up and running for your business.
Facebook Buy Buttons
To start selling on Facebook, you need to get your store approved and find a payment processor. I love how easy the Shopify platform is to start selling on Facebook (and Instagram). Without even having an eCommerce site, you can set up a shop, share with your fans, and start taking orders. We walk you through setting up a Facebook store with Shopify in our post, Shopify Facebook Stores: The Cheap And Easy Way To Sell Online. If you want a birds-eye view of some more options in selling on Facebook, we walk you through a few different ways you can start selling on Facebook in our post, The Business Owner's Guide To Selling On Facebook.
Instagram Buy Buttons
Selling on Instagram is a little bit different than selling on Facebook. That's because Instagram's posts themselves aren't clickable — unless you make them "shoppable". A shoppable Instagram post is one that is synced to a merchant's inventory directly through an integrated platform (like Shopify) or one that is linked to a seller's shopping cart or web page. The latter takes your buyer off of the social media platform while the first option keeps your customers within Instagram's platform for payment. I walk you through everything you need to know about selling on Instagram and how to get started in our post, How To Sell On Instagram Using Shoppable Posts.
The image above is an example of what a shoppable post may look like on Instagram. Items are tagged and clickable within the post itself. No more cajoling customers to head to your bio link; they can click and shop on anything they want to purchase. Another thing I really like about in-app Instagram purchases is that once a shopper registers their payment information with Instagram, they can shop anywhere without having to re-enter their credit card number. If you know much about eCommerce and customer behavior, the fewer the clicks the better when it comes to converting to a sale. For now, selling on Instagram is free to the seller, but you'll still pay the processing cost of whatever platform and processor you're going with, of course.
Pinterest Buy Buttons
Pinterest has always been the place to collect ideas for the home, office, fashion, and art. According to Pinterest, Gen Z and just men, in general, make up a huge part of user growth recently, which spells more opportunity to connect with even more types of people on Pinterest.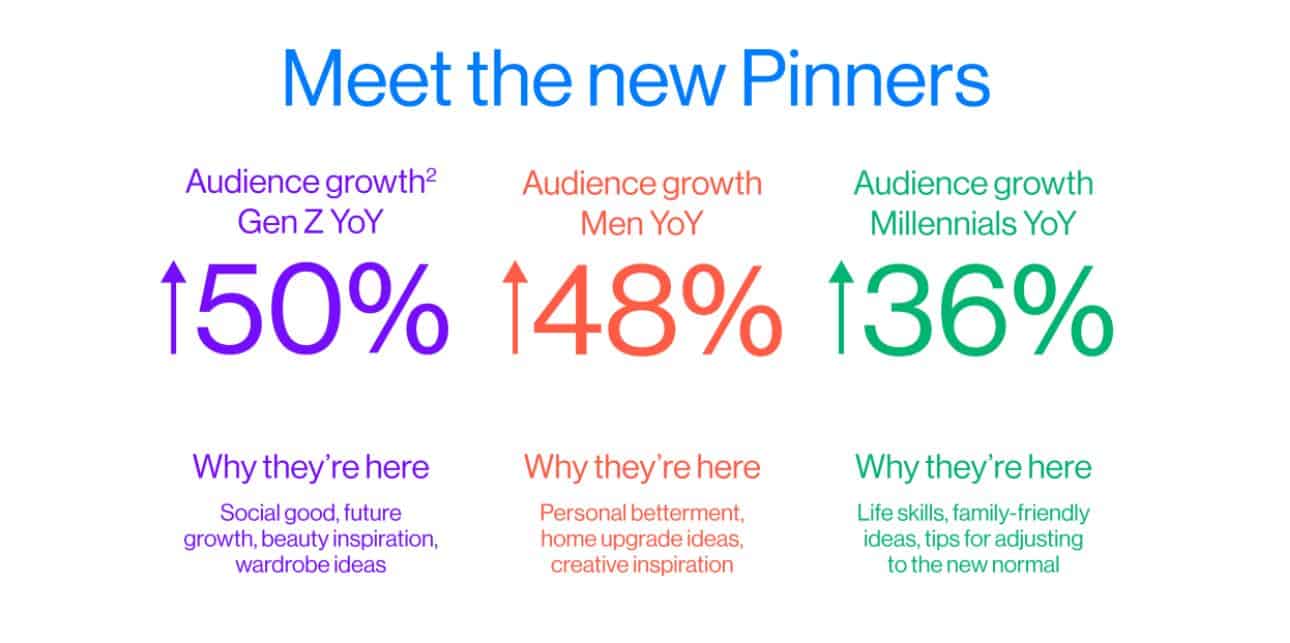 A couple of years ago, Pinterest introduced Product Pins that show accurate stock and pricing information, and they link directly to a checkout page on a retailer's site. The experience for a shopper on Pinterest is a little different than the original Buyable Pin format. New Product pins can be better discovered in home feed and search results, and shoppers can browse more in-stock items as Pinterest makes additional recommendations based on similar in-stock styles.
To get your pins in this format, you'll first need to open a verified merchant account with Pinterest. You'll also need to get started with Shopping on Pinterest which walks you through the steps you'll need to go live.
Just recently, however, Shopify and Pinterest launched a partnership with a plugin that easily syncs your inventory and tracks sales. If you sign up for Shopify, this option will be found back in your Sales Channel section at your dashboard. We recommend reading our full Shopify Review for pricing information, features, and more information to help you make a decision.
Woocommerce is a free, open-source option that has a Pinterest integration that could simplify the selling process for you, too. Check out our full WooCommerce Review to find out if it might be a good fit for your business.
HTML Buy Buttons
For the most part, you'll create your buy button back in the dashboard of the platform you're using — don't worry, it is a simple process. Once you create your buy button with any available customization, you'll simply copy and paste the code into your site, stand-alone web page, or blog. Keep in mind that depending on the platform, your options will vary as well as the specific procedure.
Depending on what platform you go with, you'll have different types of customization options, and the process to create your finished buy button will be a little bit different. Here is an example of the customization options with BigCommerce as well as a preview of what the customer sees to the right of the screenshot below:
In this example, "I want one!" is the call-to-action (CTA) on the button that a customer clicks to purchase. This company also customized the font, colors of the title, button, and price. Note you can easily add in your Google Analytics ID in this platform as well, which can make things simpler when it comes to tracking. We really like BigCommerce for its numerous features and easy learning curve — check out why we like it so much at our full BigCommerce Review.
Similarly, Shopify makes buy buttons available with all of their plans, even Shopify Lite. Shopify Lite is great for those who aren't quite ready to have a full eCommerce site, but you can still create a buy button and place it on any existing web page or blog to sell a product. Shopify allows you to also customize different aspects of your button, including fonts and colors. Additionally, Shopify lets you add a PayPal buy button as well, which can be a huge asset when it comes to customers who don't like sharing their credit card numbers.

You can also set up what's called dynamic checkout options which allows your customers to skip the cart and purchase the product immediately. Back at your dashboard, you can easily select which payment buttons you want to display and how. Below are two possible ways (there are more!) for a dynamic checkout button to look with Shopify: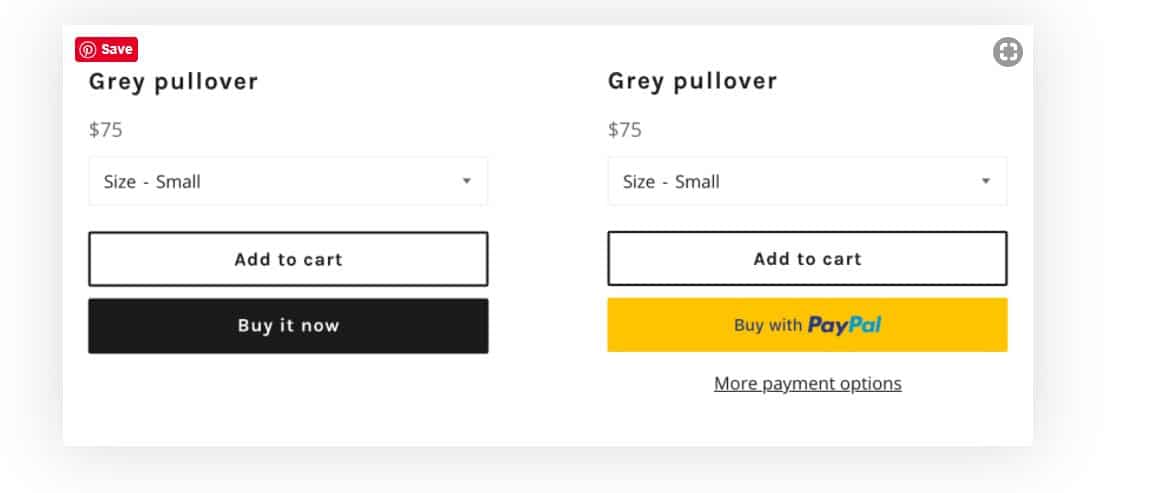 Square recently released a new feature that we're glad to see — Square Online Checkout. With it, you can send a text to checkout, payment link, or use a payment button to collect payment online. Anyone who has an account with Square can use this feature at no extra cost — it's brand new and available for all. Square Online Checkout is also a way to get started for anyone who needs to start thinking about no-contact payment options for their business. Square itself is very easy to sign up for and cancel if it isn't the right fit. You won't have any long-term agreement if you change your mind, however, no option is a one-size for every business. For more information to find out if this option and Square is right for you, read What Is Square Online Checkout?
Getting Started With Buy Buttons
You have many options when it comes to platforms that offer buy buttons, and ultimately, you'll want to consider the company as a whole before making your decision. We certainly didn't dive into all of your choices!
I've linked several options below so that you can read the full review of each to learn more about features, pricing, consumer reviews, and more. While you'll be wading through a lot of solid information focused on payment processing in the following reviews, so just know that each of these does offer a payment button! When you look at this list, Square and Shopify both are great choices if you're looking for social media integrations, though I'd probably opt for Shopify if you wanted to focus on social and grow with other channels (e.g. Amazon, eBay, Facebook, and Instagram) because the integrations are a little smoother and all-encompassing at this stage in the game.
At this point, there is no question that a payment button can help your business. Whether that's popping some buttons into your existing site or taking full advantage of back-end features like reporting and tracking — as well as room for growth in more sales channels. Have questions when it comes to choosing the right buy button for your business? Leave a question below and we'd love to help!