iPhone Virtual Terminals: The Mobile Merchant's Friend
Founder

UPDATED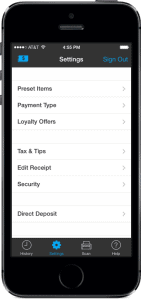 I love my iPhone. It's fun, it's cool, it even helps me be more productive with all of its business/productivity apps. I wish I could mess around with it more (don't have time), but I still love the possibilities it offers me.
The iPhone is a disruptive technology because it's changed the way most of us live. It's one of those things that makes us wonder how the heck we lived without it in the first place. There's always an app for that. 🙂
One app in particular has emerged as the perfect solution for the mobile merchant/freelancer/business owner. The iPhone credit card terminal, which basically turns your iPhone into a virtual terminal where you can process credit cards on the go. How cool is that?
Seriously a godsend to all of us freelancers because now we can get paid right then and there. No need for a wireless or mobile terminal. We just plug the numbers into our phone, and booya! Money! Much better than lugging around one of those bulky overweight netbooks.
Who can benefit? The list is really endless…
Consultants
Street Fair Vendors
Contractors
Food Delivery Companies
Babysitters
Photographers
Etc…
Any and all mobile professionals…period.
We already have quite a few software developers and merchant service providers jumping on this bandwagon, but expect to see everyone else climb aboard in the next few years.
Chances are, these smart phone apps are gonna eliminate the need for those old mobile terminals.
And, what does the future look like?
Business owners are gonna adopt the iPhone or something similar, as a POS system for their products. Using barcode scanners like RedLaser, they can allow customers to scan a product through their phone, and buy it right then and there.
Imagine walking into your favorite grocery store, you load up your cart with groceries, scanning each item with your phone. Once you're all done, you press "Pay", the money is deducted instantly from your checking account, and you walk right through the front door. No line, no cashiers.
Interested in setting up an iPhone credit card terminal for your small business? Read about the 5 Best Mobile POS Systems and find out what the iPhone 7 means for iPhone credit card processing.