What You Need To Know About The IRS's New Reporting Requirements For Merchants
Founder

UPDATED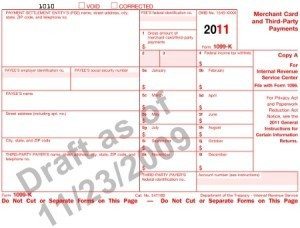 I remember back in October of 2009, a friend of mine who had recently opened a business of his own, asked me; "How does the IRS know how much I process in credit card transactions?" My short answer was; "They don't." The long answer is, that the IRS doesn't keep track of credit card transactions the way they do, say, independent contractor income (1099).
However, things have changed somewhat in recent years. A few years back, the IRS quietly passed a new regulation that may affect you as a merchant.
As part of section 6050W of the Housing Assistance Tax Act of 2008, gross transaction amounts of payment card and third-party network transactions must be filed with the IRS by banks and other merchant service providers.
Under new section 6050W, any payment settlement entity making payment to a participating payee in settlement of reportable payment transactions must make a return for each calendar year to be filed with the Service, and furnish a statement to the participating payee, setting forth the gross amount of such reportable payment transactions, as well as the name, address, and taxpayer identification number (TIN) of the participating payees.
The system works almost exactly like 1099 reporting for independent contractors – as a matter of fact, the form that the IRS drafted up for reporting is called form 1099-K.
What do 1099 K reporting requirements mean to you?
The IRS reporting requirements for merchants, which went into effect in 2011, are as follows: if your credit card sales exceed $20,000, and your transactions exceed 200, then you'll be sent a 1099-K by your merchant account provider that shows the gross amount of transactions that you processed for that year. That's about it! So long as you're honest on your tax returns, you have nothing to worry about.
And remember, anyone with less than $20,000 in credit card sales, and less than 200 transactions will not receive a 1099-K.