Mobile Payment Processing 101
Expert Analyst & Reviewer

UPDATED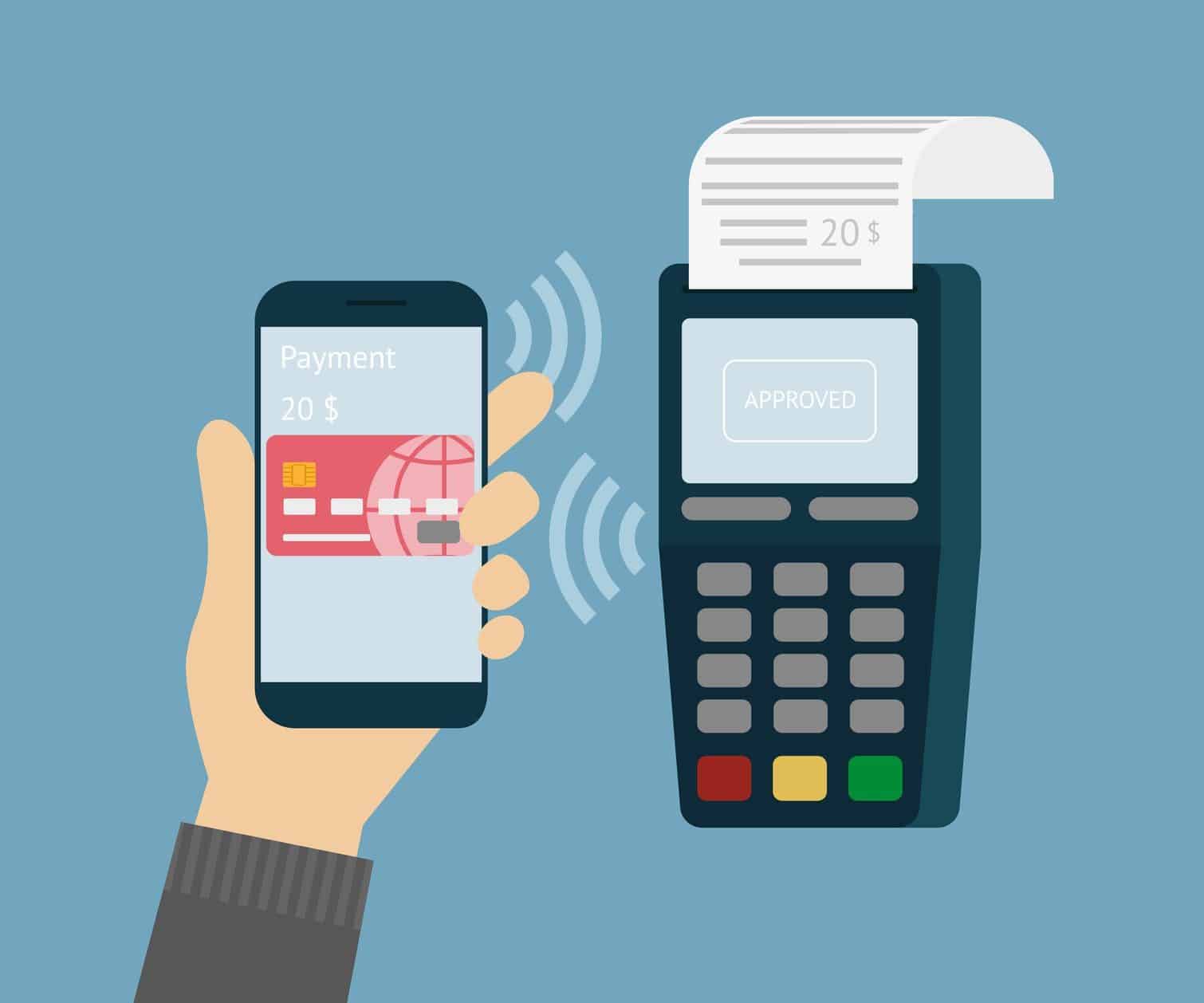 If you pay attention to Internet buzz at all, you've probably heard the word "mobile" thrown out a lot. Just about everything's gone mobile — gaming, marketing, shopping, and yes, even payments.
With the rise of apps like Apple Pay, Android Pay, and Samsung Pay, more shoppers are finding it convenient to ditch the card all together and just rely on their phones for payments. And more phones are supporting the technology required, as well.
So how does it all work? How do you even go about setting up your business to accept mobile payments? And should you?
Today we'll cover the basics of how mobile payments work, what you need to enable them for your business, and whether you actually need to accept mobile payments right now.
What Are Mobile Payments?
Mobile payments aren't in any way new. People have been toying with the idea of paying with cell phones since the 1990s, although it's only recently taken off as a viable option for consumers AND merchants.
But the term "mobile payments" is a broad one. Generally, it refers to one of four things:
In-store mobile payments: Also called contactless payments, or sometimes mPOS payments. This involves using a phone (or smartwatch) to pay instead of swiping a credit card or paying with cash.
Mobile eCommerce: Sometimes called mCommerce. This involves using your phone to make purchases online, such as through the Amazon app, as well as online bill pay through your phone.
Mobile peer-to-peer: Also known as P2P. This includes services such as PayPal, SnapCash, Square Cash, and Google Wallet, all of which let you send money to friends and family free of charge.
Mobile Credit Card Swiping: This is other way the term "mobile payments" is most commonly used, and it refers to merchants who use their phones (or sometimes a tablets) to accept cards, rather than a traditional POS terminal. You might hear this more accurately referred to as mobile processing.
Here we're mostly concerned with in-store payments, but we'll touch on some of the others.
How Popular Is Mobile Payment Processing?
So what are the adoption rates like? The Fed, in its 2015 survey, found that 28 percent of smartphone users and 22 percent of all mobile phone users had made a mobile payment in the past year. That, of course, includes all kinds of payments sent through a phone, not just in-store payments.
Not only that, but the industry seems majorly poised for growth, with payments expected to hit $37 billion in 2015 — and jump to a massive $808 billion by 2019, according to estimates by Business Insider. Those numbers are actually slightly lower than BI's original projections because of how late in the year Samsung Pay and Android Pay launched.
Want some more statistics and compelling reasons to consider going mobile yourself? Check out our Ultimate Guide to Mobile Payments. If you're interested in taking payments on your phone, be sure to check out our comprehensive guide.
How Do Mobile Payments Work?
These days, most mobile payment processing methods rely on NFC — that is, near-field communication. NFC works a lot like RFID technology. When two NFC-enabled devices are in range, they can transfer data (such as payment information) from one to the other. In this case, we're talking about an NFC-enabled credit card terminal (we'll come back to that in a moment) and the consumer's smartphone, tablet, or smartwatch.
You can get a more detailed explanation of NFC in our article here.
The less-common alternative is the use of QR codes. They're akin to traditional barcodes, except they can hold much more information. The mobile device opens an app that generates the QR code and the merchant's POS system scans the barcode. Right now, LevelUp (see our review) is one of the few mobile payment options that uses QR codes. But it also supports NFC, and an even less-common technology called iBeacons.
The nice thing about LevelUp is that the company will work with businesses to develop white-label mobile payment apps. That means they'll create a custom, branded app just for you. Consumers can download the app and use that to make payments in your stores (or restaurants).
The Consumer Merchant Exchange, helmed by Walmart and a few other institutions, have tried to push CurrentC, a QR code-based option for greater acceptance, but it's just not taking off the way NFC-based payments did when Apple Pay broke onto the scene.
How Secure are Mobile Payments?
It's becoming increasingly more difficult to keep consumer data secure. Take, for example the great Target Hack of 2013. And on a more personal level, how many times have you received a new debit card because a merchant's data was compromised?
Swiping a credit card just isn't a very secure form of payment because credit card numbers are being stored and transmitted over a network.
Mobile payments — specifically, NFC-based ones — offer greater peace of mind because most of them rely on tokenization. Whenever a shopper uses their mobile device to make a payment, the device generates a single-use credit card number that it sends to the merchant. As a result, you, the store owner, are never actually dealing with the customer's sensitive information.
Not only that, but the mobile device's CPU rarely, if ever, handles the transaction and the card details aren't actually stored on the device. Instead, a secure element or smart chip, separate from the CPU, generates the number and sends it to the merchant's system. Card data is stored in the cloud and can usually be wiped remotely if a device goes missing.
In addition, most devices that support mPOS payments require the consumer to verify their identity in some way before completing the transaction. For Apple Pay, it's the TouchID fingerprint scanner. For Android Pay, it's the act of unlocking the phone (meaning consumers have to enable the lock screen to begin with).
None of this is completely invulnerable, but the simple fact is, no payment method is. But you don't need to worry about mobile payments being less secure than other methods.
What Do You Need to Accept Mobile Payments?
The good news is that you don't need to radically overhaul your entire system if you want to accept mobile payments. All you really need is an NFC-capable credit card terminal. Since NFC is what drives Apple Pay, Android Pay, and Samsung Pay, you can accept all three payment methods (as well as whatever other apps might emerge later) with the same piece of hardware.
Yes, upgrading terminals sounds like an expensive proposition, especially if you have multiple registers and locations. The good news is that with the EMV liability shift on October 1st, 2015, a lot of merchant account providers and pay-as-you-go services (Square and PayPal, for example) have already been offering new, "future proof" terminals to merchants. Most of these terminals are also already equipped with NFC. So if you just got a new terminal, you might already have what you need to accept mobile payments. If you're still looking at getting a new terminal and you want to accept mobile payments, look for one with NFC. And if you upgrade from the standard magstripe reader that Square and PayPal offer, you can get an NFC-enabled device.
Now, if you're looking at LevelUp, you're going to need to invest in the QR code scanners (if you don't have any), which run $50 each. And if your POS isn't compatible with LevelUp, you need a tablet or two, or three ($100 each through the company).
Should You Make the Switch to Accept NFC?
Right now, mobile payments and NFC are very small players in the larger payments industry. Yes, the adoption rates are rising, but you are very unlikely at this stage of the game to actually lose sales for not accepting mobile payments. (Not accepting credit cards at all is another matter entirely.)
However, being able to process NFC payments will keep you on the cutting edge of the industry. If your target audience is young and tech savvy, it's more worth investing in the technology to accept mobile payments than if, for example, your primary audience is senior citizens.
Still have questions about mobile payments? Leave us a comment! And if you're not set up with credit card processing, we can help you choose a payment processor and get a low-cost machine with chip card and NFC capabilities.