Mozu VS Magento Enterprise Cloud
Contributor

UPDATED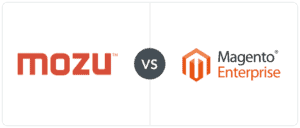 Ever purchased furniture online only to have it arrive at your house in pieces? No, it isn't broken; you just have to assemble it yourself. Fun!
Mozu and Magento Enterprise Cloud Edition are that type of eCommerce platform: some assembly required.
Now, before you turn away in dismay (who wants to do more work than necessary, right?), let me tell you WHY you might want an eCommerce platform that puts you to work.
Four words: Limitless customizability. Comprehensive features.
Mozu and Magento Enterprise Cloud Edition (Magento ECE) give you the flexibility you need to make your online presence match and further your brand. They also give you a wide variety of (very necessary) features right-out-of-the-box. All of this on top of the scalability, reliability, bandwidth, and uptime that enterprise-level merchants need to have a successful online store.
So, how do you decide between the two of them? Keep reading for a comparison of these enterprise eCommerce solutions' features, web design, and customer service.
But first, a little background.
Mozu is the child of Volusion. (Maybe you've heard of it?) Last year, Volusion dealt in $17 Billion in sales. Mozu is the enterprise version of this popular shopping cart, and was launched in September 2013. It has attracted big name merchants ever since, including Bluefly, Jelly Belly, and Sigma.
In contrast, Magento ECE (launched April 2016) is still shiny-new. It's the cloud (web-based) version of the previously established Magento Enterprise Edition. Magento serves over 240,000 stores worldwide and handles $50 Billion in merchandise volume annually, so it's a safe bet that Magento ECE will be a reliable platform for your business. Magento serves more Internet Retailer Top 1000 companies than any other eCommerce platform, and clients include Zumiez, Rosetta Stone, and Nike.
Read on for our continued comparison.
Web-Hosted or Licensed:
Both Mozu and Magento ECE are fully-hosted web-based software. Mozu is SaaS (Software as a Service) and Magento ECE is PaaS (Platform as a Service). That means Magento ECE comes with a slightly lower level of service, though to be honest, I don't see much of a difference. You can read more about SaaS and PaaS in this article.
Hardware and Software Requirements:
All you need is a computer, a secure internet connection, and a current browser.
Pricing:
As with all enterprise shopping carts, pricing is different for every merchant. The only thing you can count on is that it will be expensive. Magento Enterprise Edition (the locally-installed version) begins at $22,000-$32,000 a year. Because Magento ECE is fully hosted, you can expect to pay even more.
Mozu does not have any pricing information available, and sales representatives were reluctant to give me a potential price range. However, I did find out that pricing is based on usage, which they define as the amount of customers that spend significant time on your site.
I suggest contacting sales representatives from each company to find out your price range.
Contact Magento Enterprise Cloud Edition
Ease of Use:
Winner: Tie
Unfortunately, I wasn't able to test either Mozu or Magento ECE for myself. Because Magento ECE is new, there wasn't a demo available for me to test, and though I requested a demo from Mozu, I still have not received one.
So, here's what I did instead. I watched this video from Mozu, which spends some time touring through Mozu's admin and DEV center. And, I participated in a Magento Enterprise webinar that showed off the platform.
This is what I gleaned.
Mozu
Mozu's backend is divided into the admin and the DEV center. The admin is where you, the merchant, add products and attributes, create discounts, and plan marketing campaigns. The DEV center is where your developers find the documentation and open-source SDKs (Software Development Kits) they need to build your website and the REST API they need to form connections.
Although it's clear that you won't be able to do the development stuff all on your own, you should be able to manage most of the operations featured in the admin. You can add products easily and plan discounts up to a year at a time. You can even make minor alterations to your storefront using some built-in widgets.
Request a demo from Mozu to try it out for yourself.
Magento ECE
While I was looking through online comments about Magento, I got a little worried. From everything they say, Magento is really difficult to figure out. I was relieved to see during my tour of Magento 2.0, that while it's definitely not the world's simplest backend, it's not all that bad.
The dashboard is a little more cluttered than that of, say, Shopify, but that's because of all of the features available.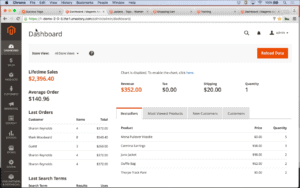 From the admin you can add attributes to refine filtered searches and set specific discounts.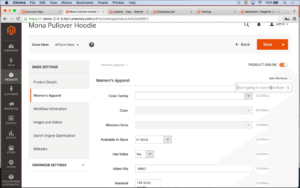 A master catalog lets you sift through everything from all of your sites at once.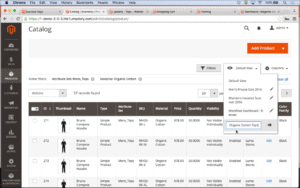 You can also change a bit of the storefront using widgets and a WYSIWYG (what you see is what you get) editor.
Click here to get in touch with a Magento representative and request a demo or a platform tour.
Features:
Winner: Magento ECE
Both Mozu and Magento offer more features than your average shopping cart. These include built-in faceted search options as well as one-page checkout options. (The only thing both platforms are missing is a built-in blog feature, but you can foot a connection yourself or try an app for that.)
Here are some of their most notable features.
Mozu
Speed: Sites using Mozu load faster than those of most other platforms
Customer Management: Use your customer segmentation features to create rewards programs and custom discounts for your most loyal customers.
Unlimited Attributes: List attributes of your products to make searching easier for your customers. It'll also make creating discounts easier for you.
Synchronized Checkout: With Mozu, all of your channels use the same cart. A customer can add a product on Facebook and buy it on your main site.
There are, of course, more features that I wasn't able to list here. Click around on Mozu's "Platform" pages to get more complete idea of what Mozu offers.
Magento ECE
SEO Functions: Create search friendly URLs for your products and main pages.
Flexible Coupon Features: Create custom discounts and export your coupon codes for offline marketing. Customer loyalty features are also available.
Multi-channel Capabilities: Manage multiple sites from one admin.
Estimated Tax and Shipping: Tax and shipping information is presented to your customers before checkout so there are no surprise fees. This reduces abandoned carts.
Apache Caching: With caching management, your sites load faster.
Customer Segmentation and Analytics: Figure out your customers' shopping habits to offer more of what they want.
B2B Wholesale: Increase your merchant-to-merchant selling capabilities.
Drag-and-Drop Merchandiser: This features makes it a little easier for you to list your products exactly how you want them. You admin also offers some drag-and-drop options so you can streamline your actions.
Quite honestly, Magento ECE comes with more features than I've seen with any other shopping cart. I can only think of one thing that you might need that Magento doesn't have (a blog). Take a look at this features list to see more of what's available. Needless to say, I'm giving this category to Magento ECE for its incredible range of features.
Web Design:
Winner: Tie
Though many SaaS provide an array of pre-made themes, neither Mozu nor Magento ECE take that route. In fact, neither comes with more than a mobile responsive blank theme. The idea is for you to build a site that's all your own. Both platforms are open source to make that development process a little easier.
Mozu also comes with a Hypr theming engine, which is supposed to simplify the web designing process. It includes tools for developers and reduces coding redundancies. Mozu further comes with a REST API to facilitate integrations. Unfortunately, there does not appear to be a WYSIWYG (what you see is what you get) editor, which would really makes it a lot easier for the tech-clueless to make small updates.
Although Magento ECE doesn't have anything like the Hypr theming engine, it does include a REST API as well as a WYSIWYG editor to update content on landing pages.
This one's a tie.
Integrations and Add-Ons:
Winner: Tie
Mozu has 85 add-ons available in the Mozu Marketplace. They include:
Magento ECE uses the recently-released Magento 2.0 operating system. Because Magento 2.0 is so new, there aren't a lot of apps that are compatible with Magento ECE. I imagine this will change in a matter of months, but for now, Magento ECE is slightly behind in terms of integrations. There are currently 51 apps available in the Magento Marketplace.
Here are a few apps that do integrate with Magento ECE.
While both 85 and 51 are relatively low numbers in the app world, they are comparable. For this reason, I'm calling it a tie.
Payment Processing:
Winner: Magento ECE
Because both Mozu and Magento ECE are open-source with REST APIs, it shouldn't be too difficult to build a connection with your favorite payment processor. But, it's always nice to have some work already done for you.
Mozu has prefabricated integrations with ten payment gateways. Since there are so few, I'll just list them here.
Magento ECE, on the other hand, integrates with over 100 payment gateways, including a wide variety of international options.
Though I don't normally award a category based on numbers alone, I find Mozu's ten offerings to be a little skimpy. For this reason, the category goes to Magento ECE.
Customer Service and Technical Support:
Winner: Mozu
Mozu comes with 24/7/365 phone support, a DEV Center that provides documentation for your developers, and a Help Center where you can search answers to FAQs and submit a support ticket.There are professional services available for hire as well. Most importantly, each merchant is assigned an Account Manager who provides personalized support.
You also receive 24/7 phone support with Magento ECE. There are two support levels within Enterprise: Gold and Platinum. These levels depend upon your price range. Gold customers can expect a response to their level one concerns within four hours (level one is of supreme importance: e.g. site is down, checkout is not working). Platinum customers get a response within two hours. If a concern is not of level one priority, you can expect to hear back from customer service within 24 hours, provided the support request was placed between Monday and Friday. Documentation and Community Forums are available to all customers. You also have the option to sign up for Security Support and/or an Account Management Team at extra expense.
I think account managers are one of the most important elements of customer service available. Because Mozu provides an account manager without any extra costs, I'm giving this one to Mozu.
Negative Reviews and Complaints:
Winner: Magento ECE
Customer reviews, both positive and negative, are very rare for enterprise solutions, a problem that we're trying to resolve here at Merchant Maverick (please leave your comments!). So, in order to find real customer feedback, I typically resort to researching the parent companies of each enterprise solution. Here's what I found out about Volusion and Magento.
Volusion clients are upset about a recent database failure. On Memorial Day 2016, many Volusion clients experienced three hours of downtime, resulting in many lost sales. Volusion has since apologized and has resolved the issues that led to the downtime. Volusion clients also complain about tricky cancellation fees (you have to remember to cancel ALL of your services individually) and report frustrating interactions with customer service.
Most of the complaints directed at Magento mention a steep learning curve. Some clients complain about a lack of documentation (though there are 1300 pages of it available in Magento's help center), and a lack of customer support at non-enterprise levels. It seems that it takes a while to get the hang of the platform. Once you get there, though, the reviews are rather positive.
Positive Reviews and Testimonials:
Winner: Tie
While customer reviews are practically non-existent, there are loads of positive reviews on both shopping carts' websites.
Mozu's customers love the speedy loading times the platform offers. They also love being able to make updates just as quickly. They like the features that customer segmentation provides, including personalized promotions and dynamic pricing schemes. Positive reviews also mention a consistent mobile experience with the mobile responsive web design.
Magento ECE's clients talk about customization; everything can be customized, including the backend. You can drag-and-drop the functions that you use most often to be more easily accessible. Users also love the fact that Magento ECE is open-source, and appreciate that the conversion features (fast-loading pages, one-page checkout, abandoned cart notifications, estimated tax and shipping information) lead to more and faster purchases.
Final Verdict:
Winner: Magento ECE
With victories in three categories, Magento ECE ultimately comes out on top. Its complete feature list, customizability, and reliable customer service make it an excellent choice for your enterprise-level business. When you've finally climbed that learning curve, you'll find you have everything you need to run your online store.
Of course, that isn't to say that Mozu couldn't fit your needs just as well. If you aren't looking to have EVERY feature possible, Mozu might work just fine.
If you still want more information on these two platforms, check out our full Magento Enterprise Cloud Review and our Mozu Review. You should also contact sales representatives from both platforms for a pricing estimate.
Oh, look. I've added some links below to make it a little easier. Get going!
Get Started With Magento Enterprise Cloud Edition