How To Choose A POS Operating System: Is The Apple iPad Really The King?
Expert Analyst & Reviewer

UPDATED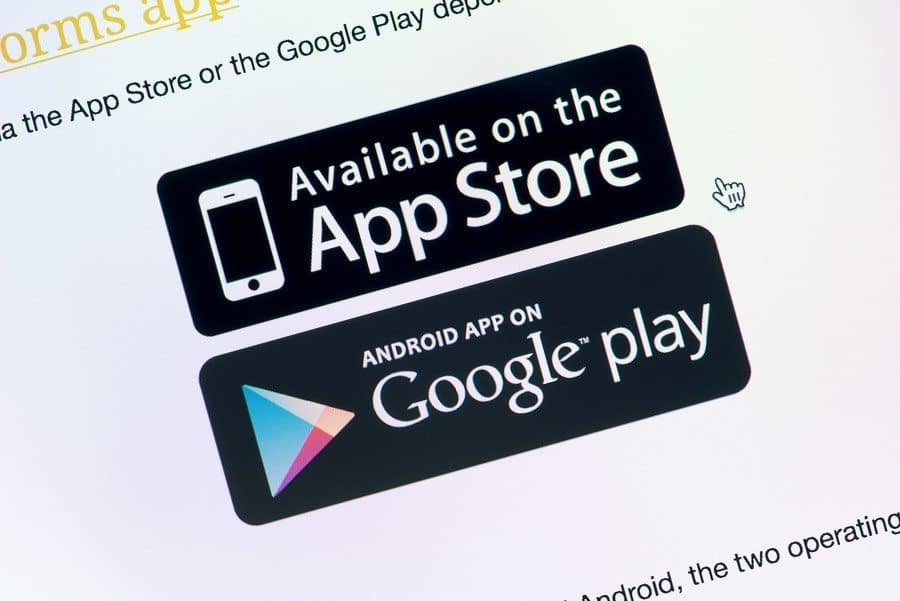 If you're a proud Gen-Xer or older millennial, you'll remember those halcyon days when the debate that tore families apart was PCs vs. Macs for your home computing needs. "Macs are all show! They're not worth the price!" some would scream. "Yeah, but I just want something that won't crash and is kind of pretty!" others would yell while dodging a thrown dish.
We now live in a more civilized time, but a similar debate still rages in the form of iOS vs. Android operating systems. These are the two dominant operating systems in the point of sale industry (although they are not the only options). However, are the differences between them really enough to sway your purchase?
To make the right choice, you need to disregard whether you prefer Apple or Android in your personal life and choose the one that's best at the specific task of selling. For example, I like Apple products, mostly because I like iMessages and because my old Motorola Droid took pictures that looked like they were from the American Civil War Era. But fun stuff such as texting and Instagramming should not come into play in a point of sale situation. (And if they do come into play, you need to think about firing your cashier because they are totally slacking.)
So let's set aside which mobile device might be better for Snapchat or Tumblr and figure out whether Apple or Android is better for your small business. Read on for a comparison of the respective merits of these POS systems, both for hardware and software, to see whether Apple or Google provides the superior point of sale experience.
How Much Does A POS Operating System Matter?
There's a lot to think about when you're trying to winnow the field of qualified point of sale candidates for your business. But when you're weighing your options and prioritizing what's important to you, should you potentially favor a specific operating system? On the surface, it may seem a bit arbitrary, but when you start to factor in the important features on your list, you may find that one system checks more of those boxes than another. So let's briefly go over the ways in which operating systems can vary.
Price: No doubt about it, this is one of the most important factors on most people's lists when shopping for a POS. While these companies like to stay competitive with each other, and the price difference seems to be narrowing, iOS products still tend to be slightly more expensive in general than their Android counterparts. However, you may find that some of the areas where iOS excels may negate or even outweigh the difference.
Security: While cloud-based systems have made strides in security measures across the board, there are differences in how the various operating systems store data and information. If security is a major priority for you, it's something you'll want to consider.
Hardware & Mobility: This may just come down to personal taste, but your hardware options will differ significantly between iOS and Android platforms. While iOS is known for its sleek and modern aesthetic, you'll have far more options at your disposal with an Android system. That is something you'll definitely want to consider if you have an operation that is going to be using hardware that employees carry around or that customers will use directly.
Reliability: Nothing can be more frustrating or hurt your bottom line more than when your hardware or software malfunctions. You'll want to consider how reliable you can expect an operating system to be and how easy it is to diagnose potential problems if you need to talk to someone in tech support.
Tablet POS Systems: The Apple VS Android Showdown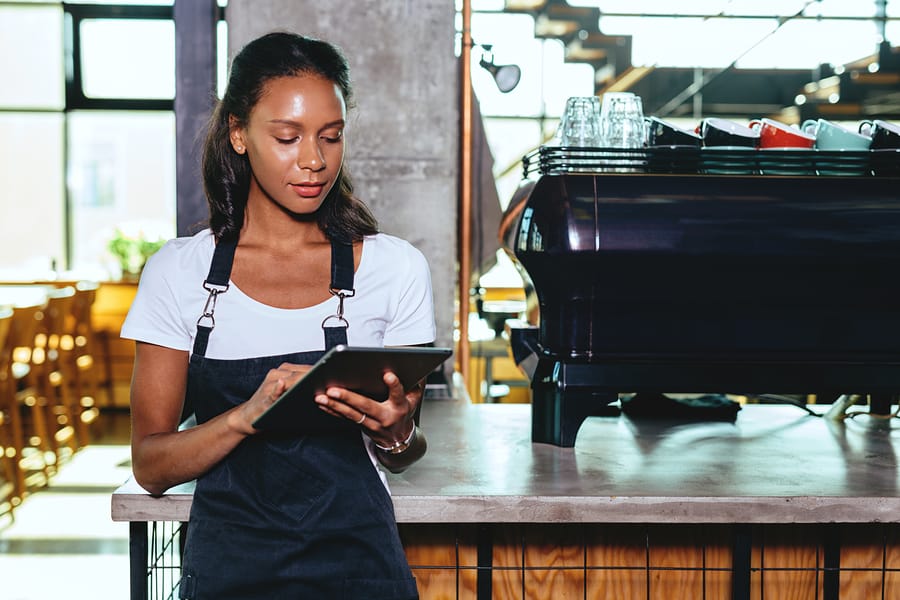 Now we can start getting into the nitty-gritty. The debate of Apple vs. Android has raged for a while now with staunch defenders on either side and still no clear winner. Each system has its pros and cons, and chances are you may already have a personal preference. Even so, you'll still want to make sure you're making the best decision for your company. So here are some of the key differences between the two platforms.
iPad POS Systems
Apple-based point of sale systems, which run on the iOS operating system, offer certain advantages to merchants who use them:
1. Some Of The Best POS Systems Run Exclusively On iOS
Apple is the preferred hardware/software choice for some of the most popular and highest-rated cloud POS systems. For example, ShopKeep, Bindo, Shopify POS, Revel Systems, Lightspeed, and Ambur POS all run exclusively on iOS-enabled Apple devices — primarily iPads. So if you want to use one of these popular cloud POS systems, you'll have to use Apple devices.
2. iOS Devices Are Highly Secure
Security is vital in the POS world, what with the vast amounts of sensitive financial data being exchanged. Cloud-based POS systems are quite secure in general because business-critical data is encrypted and stored in the cloud, rather than on the device itself. However, whether you use an Apple or an Android POS could potentially impact the security of your business.
While Android products have made strides in security, there is still a peace of mind that comes with the iOS platform. The main reason iOS has such a strong reputation is Apple's timely security updates. iOS security updates occur regularly and automatically across all Apple devices. With Android, Google leaves it up to the individual device manufacturers and service carriers to work together to issue security updates. That means important security updates can take months to reach all Android devices. Also, once Android devices are 18 months old, you may need to buy a new device to continue receiving important security patches.
Additionally, Apple's permissions and privacy controls setup is arguably more secure than Android's.
3. Apple Delivers An Easy User Experience
This one may be a little controversial since there are certainly people out there who enjoy using Android more than Apple. But in terms of someone operating a POS, Apple delivers a quantifiably better user experience in several important ways:
No "Bloatware" To Slow Down Your OS: Androids often contain distracting ads and apps from your carrier that you can't get rid of.
Better Support & Warranty Programs: Apple's customer support is the best in the business, and AppleCare warranties are more extensive and more affordable than most policies on Android devices (which differ from one device manufacturer to the next).
A Smoother, More Fluid Interface Than Android: This was true when the first iPhone came out in 2007, and it's still true today.
For more about the benefits of an iPad POS, check out our article, 10 Surprising Benefits Of An iPad POS System (keep in mind, though, that some of these benefits might apply to Android systems too, as we weren't specifically comparing iPads to Android tablets in that article).
Android POS Systems
Okay, even though Apple excels at some things, there are still some good reasons to use an Android POS over an Apple one:
1. There Are Quality Android POS Systems, Too
Though Apple-centric systems are more popular, this doesn't mean you have to miss out on a great POS just because you want to use Android. Several highly-rated mobile POS systems give you the choice of using Android or iOS — some of these include Square, Vend, ERPLY, and Kounta. (Bindo POS for Android is "coming soon.") And some POS systems — namely Toast POS for restaurants — run exclusively on Android.
2. Android Costs Less
An Android tablet is a lot cheaper than an iPad, which means a lower initial cost to get your POS up and running, especially if you have more than one register. Also, if you work in an industry such as food service, where the waitstaff takes tableside orders from tablets, you will inevitably end up with some broken devices that you have to fix or replace. Using an Android POS in this scenario could potentially save you hundreds of dollars per device.
Because Android devices have a lower resale value and are less desirable to consumers in general, there is also a reduced risk of theft when you use Android tablets vs. iPads for your business.
3. Android Gives You More Options
Apple, in general, gives you fewer options when compared to Android-based devices. With Android, you have way more choices as to the device itself, which provides you with more form factor and hardware variations to choose from.
In addition to the varied device choices that an Android POS gives you, the architecture of the Android operating system allows for more user customization. If you have developer expertise and want to create a highly customized POS interface, you will be better able to do this on an Android system than on an iOS-based system.
Alternatives To Android & Apple Tablet POS Systems
Of course, while Apple and Android battle it out for market share supremacy, those aren't your only two options when it comes to choosing an operating system. Here are a few alternatives to consider and that you may find works for you just as well as the two heavyweights.
Web-Based POS Systems
Web-based point of sale systems have been steadily increasing in popularity in recent years, and they have some unique benefits and limitations. These systems excel in numerous areas that could appeal strongly to modern business owners. Here are a few of their benefits.
Minimal Upfront Costs: You can get up and running with a web-based system quickly and without much cash on hand. There's also limited maintenance, making them an appealing option for a business owner who doesn't want to spend much time thinking about his or her POS.
Mobility: This has become a must for many business owners, and a web-based system allows you to easily set up remote access and go to your customers with ease.
eCommerce: With a web-based system, eCommerce options are often included, allowing you to easily set up your shop for remote sales and build a website all for limited cost and on a platform that syncs seamlessly to your point of sale software.
Social Media: Having a strong or influential social media presence can be enormous for businesses, and web-based systems allow you to integrate with multiple platforms easily.
Of course, these types of systems come with their own set of challenges as well when compared to their competitors.
Hardware Functionality: With other systems, you can purchase hardware that is tailor-made or integrates directly with the software. This is harder to come by with a web-based system, and you may run into issues connecting devices that don't play nicely with your platform.
Internet Reliability: It's sort of a no-brainer, but with web-based systems, you are only as good as your online connection. While other systems have backups, allowing them to function in an offline mode and, in many cases, still even accept card payments, with a web-based system, you have no such luck, and if the internet goes down, so do you.
Windows POS Systems
Windows may seem like a quaint or out-dated operating system these days, but there's a reason why it was king for so long, and there are plenty of reasons why people still prefer it and may even gravitate towards a POS that can run on Windows. Here are some of the benefits.
Reliability: Windows is known for its stability, having few issues with glitchy or malfunctioning software. It also has an extremely strong reputation for its security as a platform.
Simplicity: While it may not be flashy, there is something about Windows' interface that is easily recognizable and familiar, and both customers and employees alike often give these systems high marks for ease of use.
Integrations: With Windows' popularity and wide use as an operating system, POS systems that run on it often have many options for integrations for such things as accounting, eCommerce, and inventory management.
But Windows isn't perfect by any stretch. Here are a few things you'll want to watch out for.
Problems With Updates: A common issue among Windows users is the software having difficulty with major updates, either taking a long time to sort out some of the initial bugs or causing problems in overall functionality.
Less Than Modern Look: In an industry where image and branding are important, you may find that a Windows platform doesn't give you the sleek, modern, and functional look that you may be aiming for to appeal to your customers.
How Do I Choose The Right POS Operating System?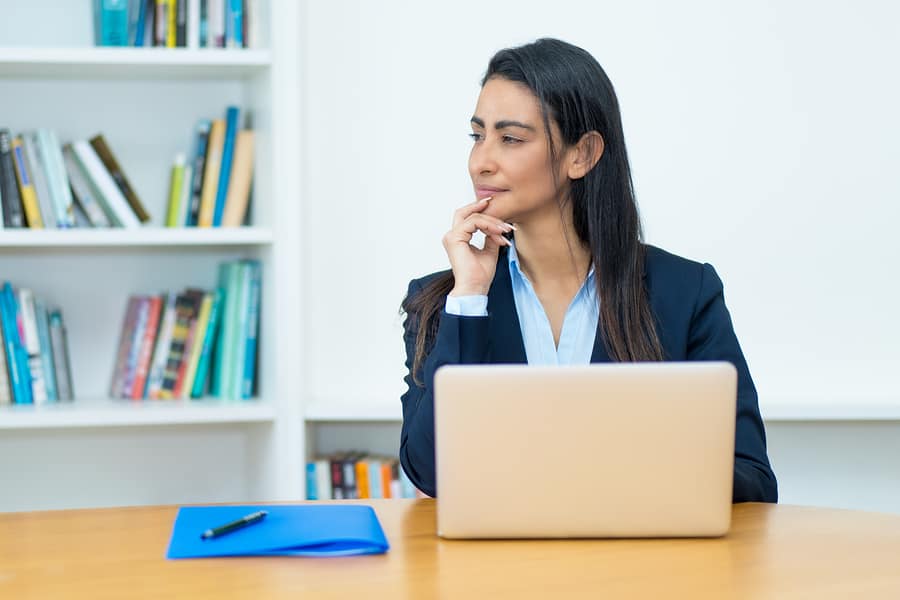 Unfortunately, there's no easy answer to this question, as it all hinges on your business's POS needs. If you need a lot of flexibility and customizability, then you'll likely lean toward Android. Apple's more expensive, but its user experience is top of the line. Apple's OS architecture is also more secure but only in theory, as there have not been any high-profile Android POS security breaches.
To figure out whether you should get an Apple or an Android POS — if your budget hasn't already made that decision for you — you might start by testing out free trials of some different POS systems. For example, you might test out ShopKeep on your iPad and Square on your Samsung Galaxy to see which one you like better (you can also check out my ShopKeep vs. Square post to compare specific features and pricing). Restaurants, in particular, might want to test drive Toast, which is probably the best Android POS out there.
To evaluate POS systems that run on either Apple or Android, consider testing the same POS on different devices — for example, Vend on an iPad vs. Vend on Android.
Or, if this all sounds like too much work, you can always use our handy POS comparison chart or even talk to us, so we can help you find the right mobile POS setup for your biz. We're pretty nice, too! Maybe even as nice as those Apple support people.