Ramp VS Airbase: Corporate Card Comparison
In a challenge between Ramp and Airbase, which corporate card reigns supreme? Read our guide to the two cards to find out!
Expert Analyst & Reviewer

UPDATED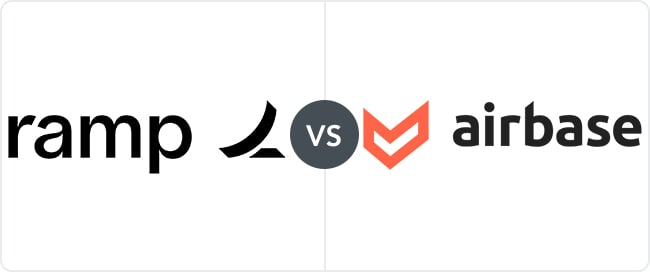 When it comes to Ramp vs. Airbase, both offer physical and virtual corporate cards, cash back rewards, expense management tools, integrations with key software products, and more. But which is right for your business? This Airbase vs. Ramp comparison can help you decide!
Ramp
Airbase
Rewards

1.5% cashback on everything
Up to $300K in discounts and deals

Annual Fee
$0
$0 and up
Set-up Fee
$0
$0
Late Fee
$0
$0
Ramp VS Airbase Corporate Card At A Glance
Ramp and Airbase both offer virtual and physical corporate cards and strong spend management tools. You won't need a credit check or personal guarantee to use either Ramp or Airbase. And you can use integrations to link your systems together and improve workflow efficiency.
Though they have many things in common, Ramp and Airbase aren't the same, however.
Let's take a closer look at each and see where they differ.
Benefits Of Ramp Corporate Credit Card
Pros
Simple rewards scheme with 1.5% cash back
Valuable partner discounts
Cost-cutting automations
$0 fees
No credit check or personal guarantee
Cons
Available only to non-individual liability corporations
High cash reserves required
Ramp offers users a $0 corporate card, with no late fees, annual fees, or foreign transaction fees.
You'll also enjoy a 1.5% cashback rate on all purchases, with no need to track the categories you're spending in. Ramp users also gain access to $350K+ in deals, discounts, and signup offers from business software partners.
Benefits Of Airbase Corporate Credit Card
Pros
Up to 2% cash back
Free plan available
Prepaid card available
Integrations with business software
Cons
Subscription required
Access to advanced functions require paid subscription
Airbase entered the corporate card market as an expense management system, so it's no surprise that it offers robust features for staying on top of employee spending. Airbase includes management tools, such as reimbursement requests and approval workflows, that beat Ramp's offerings.
However, Airbase requires a subscription and although a free subscription is available, you'll need to pay in order to unlock some advanced features. Still, the free option means Airbase could be appropriate for businesses of all sizes, from small startups to the largest corporations.
What's The Difference Between Airbase & Ramp Corporate Cards?
Airbase and Ramp offer similar benefits in the form of a corporate card combined with expense-management tools. One of the key differences between these two corporate cards is their target audience.
Let's start with a look at what Airbase and Ramp have in common:
Corporate cards with cash back
No personal credit check
Physical and virtual cards
Bill payment
Spend management
Reimbursement workflows
Card controls
Expense reporting
Mileage reimbursement
Integrations with business software
Reporting to major credit bureaus
Mobile app for iOS and Android
Airbase Card Also Includes …
Business credit check
Prefunded card
International payment support, including 145+ currencies & 200+ countries
Scalable platform
Purchase order matching
Advanced automations
Ramp Card Also Includes …
$75,000 required in cash reserves
No fees, including setup, late, annual, or foreign transaction fees
100+ integrations, including accounting, HR, & comms
Ramp VS Airbase Eligibility Requirements
| Eligibility Requirements | Ramp | Airbase |
| --- | --- | --- |
| Personal Guarantee | | |
| Credit Score | NA | NA |
| Minimum Bank Balance | $75K+ | NA |
| Business Structure | Corporations and LLCs | All |
Ramp's eligibility requirements are fairly straightforward.
To qualify for a Ramp corporate card, you'll need to work in a business formed as a non-individual liability corporation or LLC that is registered and based in the US. Successful applicants will have at least $75,000 in a US bank account. Ramp will further judge your eligibility and more important your credit limit based on your company's cash flow, cash balance, and other financial health indicators.
Airbase doesn't put any similar restrictions on its customers. Businesses of all sizes and types can sign up for a free Airbase account and start using the Airbase corporate card. Note that access to features may be limited by your Airbase subscription level, especially if you're using the free plan. To unlock these features, you'll need to sign up for a paid plan or bump up to a higher tier.
Ramp VS Airbase Card Services & Features
| Available Services | Ramp | Airbase |
| --- | --- | --- |
| Corporate Cards | | |
| Cash Management Account | | |
| Expense Management | | |
| Bill Pay | | |
| Accounting Automation | | |
| Spend Control | | |
| Instant Revenue | | |
Ramp and Airbase both offer strong expense management and spend controls in addition to their corporate cards. While they have these offerings in common, there are differences between them that are worth exploring.
Ramp's central promise is to save customers money, by sharing auto-generated savings insights. Using algorithms, Ramp will notify you of avoidable expenses like duplicate subscriptions, redundant software purchases, lower pricing tiers, and much more. Ramp also comes with unlimited employee cards, both virtual and physical, and controls that let you set limits on cards and cardholders and track expenses. Check out our full Ramp review for more information.
Airbase starts with a set of core tools in its free subscription level and allows users to add on the features they want. The core features in the free Essentials level cover the basics of bill payment, spend management, and expense management in addition to your corporate card needs. Airbase recommends Essentials for companies with up to 100 employees, although you're not restricted from applying for the Growth and Enterprise levels, which are meant to serve companies with 100-500 and 300-3,000 employees, respectively.
Airbase Essentials allows you to add your choice of one accounting integration, use bill payment, and access expense reimbursements. Pricing for Growth and Essentials is by custom quote only and in exchange for your subscription payment you'll gain access to advanced features including amortization tools, expense delegation and billable reimbursements, subscription management and duplicate spend alerts, receipt compliance tools, and up to 2% cash back. Optional add-ons include purchase order functionality and global business supports. Airbase also offers a prepaid corporate card.
Airbase & Ramp Card Rewards Compared
Ramp VS Airbase Corporate Card Pricing & Fees
Ramp pricing is simple, with $0 charges overall for using Ramp's corporate card, expense management tools, and bill pay. That includes no annual or subscription fees, no late fees, no employee card fees, and no foreign transaction fees.
Airbase pricing is a bit more complicated. Although Airbase has a free plan that allows users access to its corporate card and some expense management tools, many users will want to upgrade to a paid plan and even add on extra services to round out their experience with Airbase. Essentially, you can use Airbase for free, with no annual or subscription fees and no fees for employee cards. You'll also pay $0 to access Airbase's basic expense management tools. If you want to unlock more advanced features, you'll need to sign up for a paid plan, with custom pricing based on your company's needs.
Which Is Cheaper, Airbase Or Ramp?
Both Airbase and Ramp can be used at no cost.
Airbase does offer paid subscription plans for larger users or those that want more advanced features. Airbase says that its free plan is designed to meet the needs of companies with up to 100 employees. However, businesses of any size are welcome to sign up for paid plans if they'd like to access advanced features.
Ramp has no subscription fees or any other kind of fee whatsoever.
User Reviews, Complaints, & Criticisms
You won't find a clear winner in a Ramp vs. Airbase customer service comparison. Both Ramp and Airbase are fairly well-liked by users, and both have a 5/5 star rating on G2. While users of both Airbase and Ramp have some complaints, we did not spot any trends that raise major red flags.
Ramp Complaints & Common Problems
High cash-on-hand requirements
Low credit limits
Airbase Complaints & Common Problems
Mobile app lacks functionality
Slow cash transfers
Cumbersome workflows
New features can be buggy at rollout
Which Card Is Better For My Business, Ramp Or Airbase?
This Ramp vs. Airbase comparison has spotlighted two robust spend management platforms with corporate cards to facilitate business spending and maintain control of employee expenses. Both Ramp and Airbase offer robust features, generous rewards, and useful integrations. So how can you choose between Ramp and Airbase for your company? Here are our suggestions.
Choose Ramp If …
Ramp is best for:
US-based corporations with high cash reserves (at least $75K).
Startups that could use discounts and perks with Ramp's business software partners.
Businesses that want a robust spend-management platform and corporate card with absolute $0 fees.
Companies that want integrations with a huge variety of business software.
Choose Airbase If …
Airbase is the best choice for:
International companies that could use foreign currency support.
Companies with fewer than 100 employees that can get by with the free Airbase plan.
Businesses willing to pay subscription fees to access advanced spend-management features.
Companies that want a corporate card but that don't have a lot of cash on hand or that are not structured as corporations.
Anyone that could benefit from the option of using a prepaid corporate card.
Is Ramp A Good Alternative To Airbase?
Ramp and Airbase have similar offerings, although they seem to be aiming for slightly different audiences. That's not to say you can't find crossover between the two platforms; there are many companies that will do well with either Ramp or Airbase.
Still, let's take a look at those target audiences, in an effort to help you choose the right platform for your business:
Ramp is available only to US-based businesses that are classified as non-individual liability corporations. If yours is a sole proprietorship or partnership, Ramp is not for you. Furthermore, Ramp requires its customers to have a minimum of $75,000 in the bank. If your business is closer to operating on a shoestring than you are to feeling flush with cash, you are not Ramp's target.
Airbase, on the other hand, is open to a wider range of businesses, not just corporations. If yours is a smaller business, structured as something other than a corporation, or if you don't have a lot of cash on hand, you can still make use of Airbase's spend management tools and use the Airbase corporate card. The catch is that with Airbase, unlike with Ramp, you may find yourself having to sign up for a paid subscription in order to access the spend management tools you're looking for.
If you've read this far without seeing a clear choice in the Ramp vs. Airbase comparison, you might do well to take a look at our list of the best corporate cards. One we frequently recommend is Divvy, for reasons you can read all about in our in-depth Divvy card review. You can also compare Ramp vs. Divvy to see how each compares in our head-to-head matchup.
Whichever corporate card you decide to apply for, be sure to check out our suggestions for how to get a corporate card, including our tips on how to choose the right card and how to make sure you get the most from your new corporate card.
FAQs: Ramp VS Airbase Corporate Card