Revel VS Lightspeed
Expert Analyst & Reviewer

UPDATED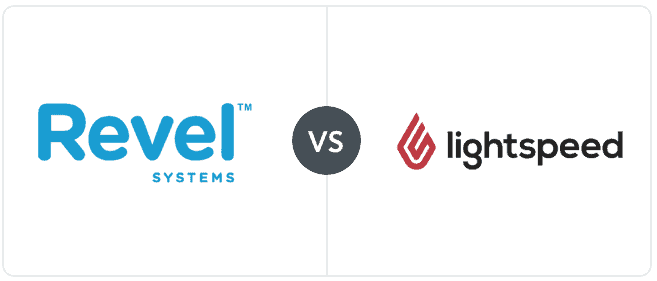 If you're an independent business owner using a traditional point of sale system, you could potentially save a lot of money by switching your POS to the cloud. You'll also take your business to the 21st century if you embrace cloud POS technologies like mobile payments and real-time inventory syncing. There are a lot of cloud-based POS systems out there, but a couple you might consider for your local retail or food business include Revel Systems (see our review) and Lightspeed POS.
Tens of thousands of merchants around the world use Revel or Lightspeed, which are both iPad POS systems. Each of them are well-regarded services, but they differ from each other in some important ways. Read on to learn which POS we think is better, and why.
Note: Lightspeed offers two cloud-based POS systems, Lightspeed Retail and Lightspeed Restaurant, as well as an eCommerce product and a desktop product (Onsite). In this breakdown, we'll focus on the two cloud POS products, Retail and Restaurant, and how they compare to Revel.
Web-Hosted or Licensed:
Hybrid (both).
Both Revel and Lightspeed are web-hosted, but will still function without a Internet connection. This type of POS runs locally from an iPad app and syncs data back to the cloud when you have an internet connection. However, you'll need internet in order to authorize credit card payments.
Like most other web-based POS's, Revel and Lightspeed sell their services on a monthly basis so there is no commitment and no fee for ending your contract if you're not happy with the service. (Lightspeed does offer the option of annual billing at a slightly lower price point.)
Hardware and Software Requirements:
Both Revel and Lightspeed will run on any recent-gen iPad (iPad, iPad Mini, iPad Air, etc.). Lightspeed Restaurant will also run on an iPhone or iPod Touch, whereas you have the option to run Lightspeed Retail on any computer (via a web browser). You can purchase peripheral equipment such as an iPad stand, cash drawer, hand scanner, and receipt printer through Revel or Lightspeed or source this equipment yourself.
Specific Size and Type of Business:
With multi-location support and the ability to house up to 500,000 SKUs, Revel is a very powerful POS suitable for mid-sized to large businesses. Both restaurant and retail businesses use Revel, (notably including big names like Cinnabon and Goodwill). For a small mom-and-pop store, though, Revel would probably be overkill, since you wouldn't end up using a lot of the advanced features.
Lightspeed is better suited for small to medium businesses, operating in the 1-7 register range. It has the capability to support unlimited registers, but this option is not widely advertised.
As for the type of businesses served by each POS, Revel is especially geared toward restaurants and quick service, though it also functions equally well for retail businesses and salons. Lightspeed Restaurant works with just about any food-related business, from bakeries, to food trucks, to fine dining; while Lightspeed Retail serves any type of brick-and-mortal retail store, single- or multi-location.
Pricing:
Winner: Lightspeed
Whether you only have one register or you're a larger business with multiple registers, Lightspeed will likely cost you fewer bucks per month than Revel will. For small restaurant businesses, Lightspeed Restaurant is especially cost-efficient, charging 1-register businesses only $39/month.
Despite costing more overall, Revel's pricing structure is simpler than Lightspeed's—Lightspeed charges extra for things like extra users, printers, and "advanced reporting" (includes widgets showing various store metrics on your desktop—quite frankly, these are not all that useful), whereas Revel's price tag is all-inclusive.
Find more pricing information for these two POS's below.
Revel:
Note: Revel's pricing is subject to change on a per-case basis and can be customized to your specific needs. What follows is a rough estimate.
1st terminal: $119 per month

2nd terminal: $79 per month

Each additional terminal: $50 per month
Lightspeed Restaurant:
Small:
$39/mo

1 register

2 printers
Medium:
$119/mo ($102/mo if billed annually)

3 registers

4 printers

API access
Large:
$239/mo ($205/mo if billed annually)

7 registers

Unlimited printers

API access
(Request a quote for more than 7 registers.)
Lightspeed Retail:
Small
$89/mo ($76/mo if billed annually)

1 register

5 employees
Medium
$149/mo ($128/mo if billed annually)

2 register

10 employees
Large
$259/mo ($222/mo if billed annually)

4 register

20 employees
Ease of Use:
Winner: Lightspeed
Both programs are relatively easy to use after initial setup. You can train employees on basic functions of either system in less than a day, though the more complex back-end functions will take a little longer to master. This goes for both Lightspeed and Revel. However, overall, Revel has a steeper learning curve and takes longer to set up compared to Lightspeed.
Revel and Lightspeed both feature a fluid, intuitive interface. Even though Lightspeed's interface is visually simpler, once you get to know each system, we think Revel's POS is almost as easy to use as Lightspeed's.
Product Features:
Winner: Revel
This is a difficult area in which to pick a clear winner because both POS systems are packed with many features that extend the systems' functionality beyond that of pure point-of-sale, making them both true business management solutions. Both systems offer features like restaurant table management, advanced inventory management, gift card functionality, and in-depth reports. But overall, Revel is a more robust POS, offering more functions compared to Lightspeed (which is not really all that surprising considering its heftier price tag).
Rather than listing the exhaustive number of features for each POS, I'll direct you to the web pages for Revel features, Lightspeed Restaurant features, and Lightspeed Retail features. In general, Lightspeed Retail has more features than Lightspeed Restaurant, but still fewer features than Revel.
Here's a short list of features Revel has that Lightspeed does not (neither LS Restaurant nor LS Retail have these features):
Appointment scheduling (important for service-based businesses)

Digital menu boards

Kitchen display system

Self-service kiosks
Integrations:
Winner: Revel
Revel currently offers more integrations than Lightspeed, though they don't differ tremendously in this area. Both integrate with QuickBooks and Xero, but LS Restaurant lacks integration with email marketing programs, whereas Revel integrates with MailChimp (Note that LS retail does support MailSync for email marketing integration).
Some notable integrations Revel does not share with Lightspeed include PayPal and Bitcoin as payment options.
Customer Service and Technical Support:
Winner: Lightspeed
Both POS's offer various forms of support included in their monthly subscription packages. This includes phone support, live chat, email support, and online knowledge bases. In the past, Lightspeed support has been rated as more responsive and consistent when compared to Revel's. But Revel has recently stepped up its customer service and is now reporting a 93% customer satisfaction rating (though some Revel users still complain about slow support for complex issues).
Neither company has A+ support; while Lightspeed's tech support has gotten good reviews, even those who talk about how great the quality is still report longer than usual wait times. Overall, Lightspeed still has better support ratings (per user reviews), but this might change soon as more customers experience Revel's recent upgrades.
Reviews and Complaints:
Winner: Tie
Reviews for these point of sale systems run the gamut from godawful to glowing—look no further than the comments on our Revel and Lightspeed reviews; some people think these products are the best POS systems of all time, and others compare them to the brainchildren of Satan himself. On the whole, though, both products have pretty comparable reviews, with lots of good ones, lots of bad ones, and lots in between, resulting in an average user rating of about a "B" for both systems (if you're into the whole letter grade thing).
Of course, Lightspeed offers multiple products, which makes it difficult to compare Revel vs. Lightspeed in this area. To further complicate the issue, we rate Revel Systems at 4.5 stars, Lightspeed Retail at 4 stars, and Lightspeed Restaurant at 4.5 stars. It's important to note that users of both Lightspeed Retail and Lightspeed Restaurant praise the level of customer service, which is arguably the most important aspect to any software service. LS Restaurant is a newer product than Retail and thus doesn't have as many user reviews yet, but if you check it out in the iTunes store, you can see that the reviews are generally favorable.
Among Revel users, poor customer service has in the past been a major complaint. However, as mentioned, they have recently stepped up their customer service so that the majority of customers now seem to be having a positive support experience.
Final Verdict:
Winner: Draw
I know it's kind of anticlimactic, but I just can't pick an absolute winner when it comes to these two systems. Revel has more features—including kiosk mode, appointment scheduling, kitchen view, and QuickBooks integration—while Lightspeed has a more affordable price point and somewhat superior customer support.
Really, the choice will mainly depend on your specific situation, budget, and business needs. For a small mom-and-pop restaurant or retail store, Lightspeed is probably the better way to go. For larger, multi-register/location stores and restaurants, as well as service-based businesses, Revel might be a better fit.
Seriously though, don't just take my word for it—register for a free trial of Lightspeed Retail, and/or Lightspeed Restaurant, or schedule a Revel live demo before you commit to either POS.