1&1 Website Builder Review
Expert Analyst & Reviewer

UPDATED
Advertiser Disclosure: Our unbiased reviews and content are supported in part by
affiliate partnerships
, and we adhere to strict
guidelines
to preserve editorial integrity.
Pros
Numerous templates
Good eCommerce for Premium subscribers
Easy to use
Cons
Over-complicated pricing
No free trial without entering your CC info
Customers must call 1&1 to cancel the free trial
1&1 Website Builder Overview
1&1 is a web hosting and website creation company with a surprisingly long history. It was founded in Montabaur, West Germany in 1988 – a epoch of halcyon tech-innocence when SEO-friendliness was evidently a non-factor in choosing a company name. 1&1 now employs 7,000 people worldwide and offers its products in ten countries: Germany, Austria, Great Britain, Spain, France, Poland, the United States, Canada, Italy and Mexico.
Launching its US operations in 2003, 1&1 proclaims itself to be one of America's top five web hosts. Solidifying their US presence, 1&1 launched a data center in Lenexa, Kansas to go along with their European data centers. 1&1's parent company is United Internet and it has been led by CEO Robert Hoffmann since 2014.
When visiting 1&1.com for the first time, I couldn't help but notice a rather stark aesthetic difference compared to the front pages of other leading website builders, which tend to hit you with a clean, austere, vaguely Apple-esque presence in an effort to signify a cultural affinity with the creative class. This is clearly not the sort of branding 1&1 is going for. A visit to their front page conjures half-buried memories of buying iPod accessories online from Best Buy in 2005. With their advanced web hosting solutions, 1&1's stodgily-conceived exterior serves to illuminate an emphasis on business over pleasure. But enough about the cover – let's delve into the book!
Pricing
Many do-it-yourself web builders include a bare-bones free plan for those looking to dip their toes into the world of website creation. Not so with 1&1. They do offer a free 30-day trial, but they require your credit card information to access it. I find a sort of primordial wariness washing over me whenever I'm asked for credit card information to try an ostensibly free trial – and, sure enough, some reviewers describe the process of canceling your 1&1 trial as unnecessarily convoluted.
1&1's full list of website builder plans, features and prices is given here:
Personal
$2.99/month for 12 months, then $6.99/month (billed annually)
$8.99/month (billed monthly)
Drag-and-drop Website Editor
10 GB Storage
SSL Certificate
Unlimited Pages
Mobile Optimization
24/7 Support, Phone/Email
1&1 Site Analytics
Access to the 1&1 Image Library
1 Domain Included, Free for 1 Year
Basic Mail Package for your Domain
200 Templates
Basic
$0.99/month for 12 months, then $9.99/month (billed annually)
$11.99/month (billed monthly)
All of the Above PLUS:
50 GB Storage
10,000 Templates
20 Million Professional Images
Hundreds of Web Apps
Plus
$9.99/month for 12 months, then $19.99/month (billed annually)
$22.99/month (billed monthly)
All of the Above PLUS:
Professional Mail Package
SEO Pro for more advanced SEO
Newsletter Tool
Premium
$9.99/month for 12 months, then 14.99/month (billed annually)
$16.99/month (billed monthly)
All of the Above PLUS:
Online Store – Sell up to 1000 Products
Numerous Payment/Delivery Methods
Access to Online Marketplaces like Amazon and eBay
$100 in Bing Ads Credits
Remember, when you get a domain through 1&1, it will be free for the first year, but then renew at the normal rate. Also note that the price of a subscription jumps up after the first year. I'm not much of a fan of these gimmicky pricing schemes. Just give me a flat rate to pay!
For payment, 1&1 accepts all major credit/debit cards (Visa, Mastercard, Discover, AmEx) as well as Paypal.
Web-hosted or Licensed
As is standard with modern website builders, 1&1 MyWebsite is web-hosted. Once you've set up an account, you can get started right away without having to install anything.
Hardware/Software Requirements
There are no requirements per se on the hardware side. On the software side, 1&1 recommends using Google Chrome or Mozilla Firefox. A 1&1 representative told me I could run into compatibility issues if I tried to build my site using another browser. Sorry, Safari users.
Business Types Supported
1&1's website builder provides you with a whopping 10,000 templates — 200 for Personal subscribers — , with some clearly geared towards certain industries: photography, travel, restaurants, construction, etc. However, they are not grouped together by industry type, so it may take some hunting before you find a template appropriate to your industry or field. These templates, while not breaking any new design ground, are mostly attractive and adaptable for various purposes. Thankfully, they are all much more pleasing to the eye than 1&1's own home page.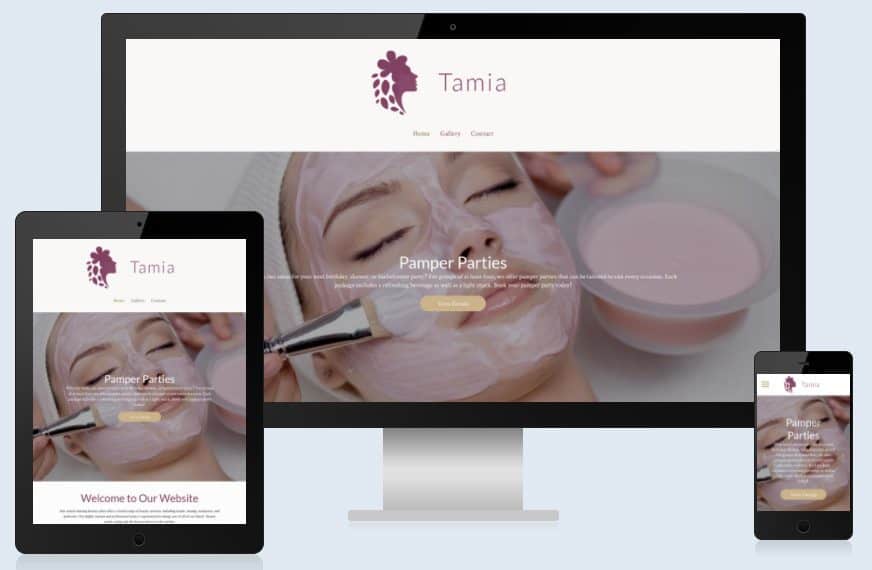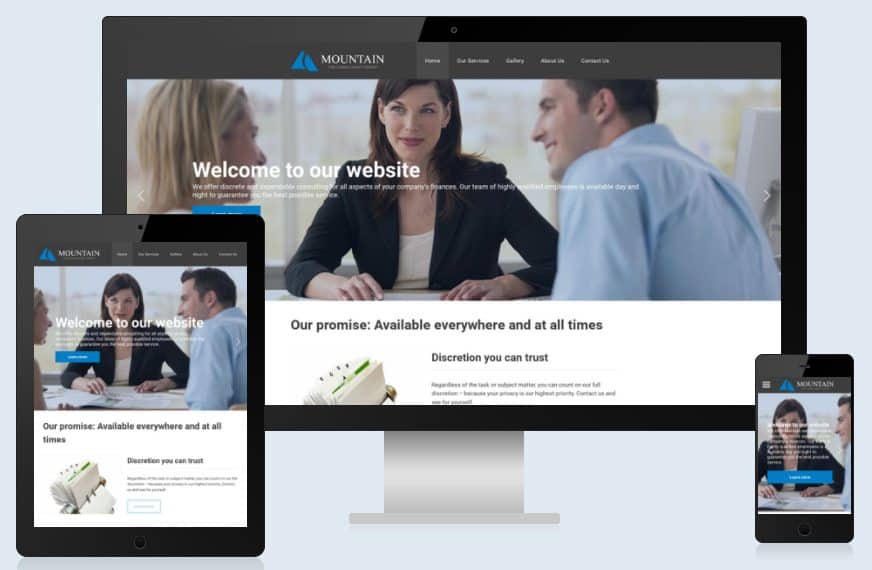 Ease of Use
Upon entering the website builder, clicking the question mark along the top toolbar on the right will bring you, naturally, to the help section, where you will find six tutorial videos, 3-6 minutes in length, that take you through the basics of website creation. These videos prove quite useful in introducing the various features and editing options of the site builder. However, they appear to not be entirely up-to-date with the product as it stands now – for instance, the "Layout" video shows off a layout selector that contains 183 layout choices, not the 71 we actually get.
As for the website editor itself, users of Jimdo (which we reviewed here) will notice a striking similarity between that product and 1&1's website builder. In fact, 1&1 and Jimdo were once partnered with each other, and the core of 1&1's site builder was built by Jimdo during this partnership. This partnership ended in 2010, yet the lineage is obvious when comparing the two.
Style Editor: Clicking the Style button along the edge of the screen brings you to the style editor, where you can adjust the look of your site's colors and fonts, as well as the background image. This way, you can edit the look of your site while preserving a unified feel throughout. Unfortunately, you aren't free to adjust the style of individual pieces of text on the fly. Try to do this, and you'll be dumped back into the main style editor where you can edit the font size and type of the heading text, regular text, or link text – but only all at once.
History Button: One simple feature 1&1 includes – a feature inexplicably left out of many other website builders – is the ability to go through the history of your edits and restore your site to any previous point in its evolution. Too many editors are content simply to give you an Undo button. This permits you to edit your site with peace of mind, knowing you can go off on a tangent and later undo precisely as many of your changes as you desire.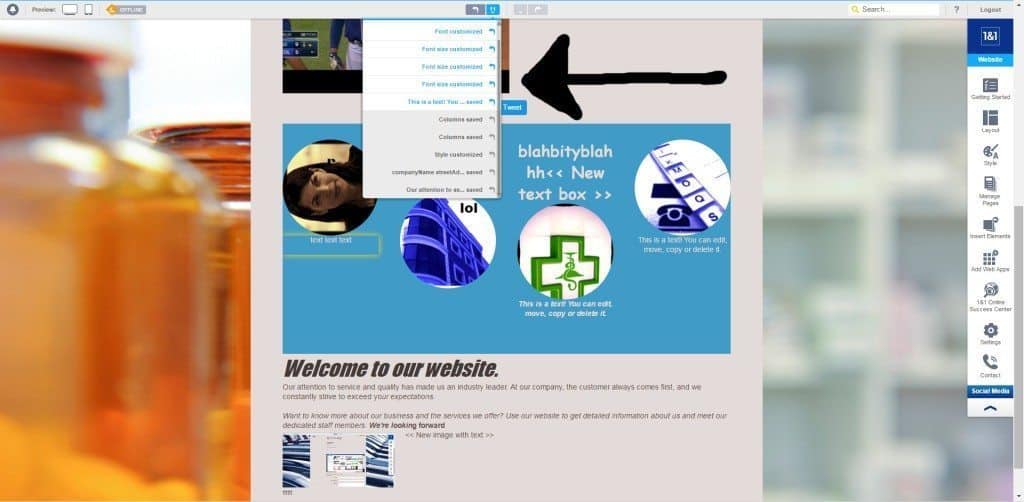 Preview Mode: 1&1 lets you preview how your site will look on a computer and on a mobile device. Just click on either the monitor or the smartphone in the top left of your screen and you will see what any visitor to your site will see. Not a unique feature, but one you will undoubtedly be using.
Features
Blogging: 1&1 provides a blogging tool, insertable as an element, for those of you looking to get your blog on. It's a pretty basic tool – my test blog resembles something out of the early MySpace era – but it is nonetheless appreciated. One cool thing 1&1 offers – something I discovered in Apple's AppStore, not through 1&1's site – is a mobile app called MyWebsite Blog. It allows you to post to your 1&1 blog via a mobile device. In the absence of a full mobile editing option, it's a handy feature to have.
Image editor: One area where 1&1 excels is in its image editor. Click on any image on your site and you are given the option to resize it, crop it, and/or enter the image editor. Once inside the image editor, you can change the photo's orientation, adjust the brightness and sharpness, add text to the image (good for meme generation), or add an "effect," which functions as an Instagram-like filter. It's flexible and fun.
Form Builder: Another element you can drag and drop into your page is the form builder. You get a heading, text fields and checkboxes, but it's pretty rigid when compared to Jimdo's form builder, which is more fleshed-out in terms of the elements you can add. It's an indication that since the companies parted ways, Jimdo has given its site builder a greater degree of developmental TLC than has 1&1.
eCommerce: While 1&1's in-house eCommerce solution is only available with a relatively pricey Premium subscription, 1&1's standard site builder includes the 3rd party "PayPal Mini Shop," which is rather limited in terms of what it allows you to do and whose appearance cannot be customized (other eCommerce apps available include CafePress, the Ecwid store, and Etsy Gallery). With a Premium subscription, you'll have full access to 1&1's MyStore, a more powerful eCommerce solution. You'll get customer management, email marketing, and you can integrate your online shop with Amazon or eBay. It's not terribly easy to set up, however, and doesn't jibe all that well with the rest of the builder.
HTML/CSS Editing: Those of you with code knowledge will be pleased to know that 1&1 supports adding your own HTML/CSS code to create your own layout. Just click on the "HTML/CSS" tab after clicking the Layout button and code the night away. You can insert your own images into the layout you create. You can even upload your own Javascript code if you want.
Web Design and Editing
Templates: Again, 1&1 gives you ten thousand templates to choose from, most of them being functional and well-designed. Some of them even have fun German names like "Jungfernstieg." Unfortunately, there are few sorting options to use when navigating them. Furthermore, some of them are not completely customizable. Some of them don't allow you to scale the title image, and a few of them limit your style options. One upside to switching layouts with 1&1 is that all your content will be transferred to whatever new layout you choose. This takes a lot of the stress out of choosing a layout, as you know your content will not be forever wedded to it. Wunderbar!
Mobile Editor: 1&1 does not currently provide a way to edit your website from a mobile phone, but they do provide the aforementioned MyWebsite Blog app, giving you the freedom to create, publish and edit blog posts on the go. It's nothing fancy, but it's a useful feature. 1&1 also proclaims its web builder to be tablet-friendly, so editing your website on a tablet shouldn't be a problem.
When it comes to creating mobile sites, 1&1 does a good job in creating a mobile version of your site, retaining all your content and style options. However, you can't make specific changes to the mobile look of your site. You get what 1&1 gives you.
Integrations and AddOns
Integration with such services as Youtube, Google Maps, Skype, and Foursquare are available as drag-and-drop elements and are easily inserted into your site. Social media integrations are also available, and you get more than just a button – for instance, drag the Twitter element onto your page and you can choose between placing a Follow button that links to your Twitter account, a Tweet button that enables users to share your content, and a Timeline function that integrates your tweets into your site.
In browsing through the Web Apps, not all of them look to be terribly useful, but with the wide selection, there's an add-on app for everyone here.
Customer Service
1&1 provides a comprehensive online guide with information on just about every aspect of the service, as well as the aforementioned six tutorial videos. Should you need further help, they have 24/7 online live chat and phone support. In my contacts with customer service, they were prompt and helpful.
Negative Reviews and Complaints
Professional reviewers have found fault with the following aspects of 1&1:
Locked Footer – One reviewer noted that the footer 1&1 provides is locked in place and cannot be edited. This is unfortunate, particularly as it includes a useless-to-most "Print" link.
Cluttered Interface
Subpar blogging tool and online store
Incomplete Form Builder
Steep prices that rise after the first year
Lack of functionality as compared to Jimdo
A frequent subject of user complaints is 1&1's customer service, which, contra my experiences, many have found inadequately thorough and even "robotic." Some of these complaints, however, specifically pertain to the hosting side of 1&1's operations and not to the website building service. In addition, I've found many complaints concerning 1&1's billing practices, with some customers continuing to get billed long after they tried to cancel their accounts.
Positive Reviews and Testimonials
1&1 has been given props by reviewers for the following:
Good image editor
Nice templates (Though some are not completely customizable)
Creates good mobile sites
24/7 Direct Customer Support
Taking into account the aforementioned user complaints, 1&1 is nonetheless rated an average of 8.1 out of 10 on Trustpilot by users (as of September 2017). These reviews are not specific to the website building service but do highlight the fact that 1&1, a company older than the World Wide Web itself, is no fly-by-night operation.
Final Verdict
1&1's brand reputation may be that of a distant corporate monolith, but its website creator is a robust, easy-to-use tool that will easily facilitate the layperson's desire to get a basic website up and running on the ol' Information Superhighway. Techies will appreciate the ability to create their own custom layouts with the HTML and CSS editors. Though I did notice some sluggishness, which became apparent when loading layout preview thumbnails, the editor does what I would expect a WYSIWYG website editor to do, and largely does it well.
Unfortunately,1&1 cannot escape comparison with its estranged partner Jimdo, which provides a very similar core product but with better support, a free option, and superior eCommerce. Jimdo is simply a better value and has the benefit of being a company wholly devoted to website creation, as opposed to 1&1, a web hosting giant offering a website builder. In a vacuum, 1&1's site builder is adequate and should meet the needs of most users. But for your sake, I hope you don't live inside of a vacuum. Those things get filthy.
---
We've done in-depth research on each and confidently recommend them.
We've done in-depth research on each and confidently recommend them.
To learn more about how we score our reviews, see our
Website Builders Rating Criteria
.