Expert Analyst & Reviewer

UPDATED
Advertiser Disclosure: Our unbiased reviews and content are supported in part by
affiliate partnerships
, and we adhere to strict
guidelines
to preserve editorial integrity.
Pros
Modern user interface
Good customer support
Varied support materials
Cons
Limited features
Limited integrations
Overview:
Booking software has a tendency to succumb to feature-creep, meaning these programs tend to do a lot of things beyond scheduling your appointments. This isn't necessarily a bad thing, but sometimes it can be challenging to zone in on a product that works for you without piling on costly features you don't need.
10to8 isn't bare bones, but it does focus on the fundamentals of a scheduling app, namely making appointments on a calendar and providing online booking access for your clients.
If you give it a try, I think you'll find 10to8 to be a humble, useful, and usable organizational tool. Larger businesses may find it limiting, but those with simple scheduling needs should definitely take a look.
Pricing:
Like many booking apps, 10to8's pricing is concerned with the number of appointments you make per month, as well as the number of staff who will be sharing the calendar.
Notably, 10to8 offers a pretty generous free plan to those with modest scheduling needs. However the (small) catches are that your in-app communications will bear 10to8's branding, and you won't be able to contact customer support by phone. Pretty reasonable, really.
If that's not generous enough, 10to8 will trade free months of the Grow level plan with users for each person they successfully refer to the app. You can arrange this through the referrals option, which then lets you share invites by email, Facebook, Twitter, Google+, or embedded HTML.
Small Business:

100 appointments/mo
2 staff logins
Community and online support
Free

Grow:

300 appointments/mo
3 staff logins
Phone support
$25/month

Bigger Business

600 appointments/mo
6 staff logins
$50/month

Enterprise

2,500 appointments/mo
25 staff logins
$150/month
User Experience:
You can sign up for 10to8 by creating a profile or logging in with your Facebook account (which, of course, means granting 10to8 access to your Facebook account information). When you've taken care of that, you'll be asked to answer a few more questions, most important of which is what type of business you are. 10to8 offers a number of default appointment types. You can trash these or add new ones.
User Experience: 10to8 presents the user with a modern color scheme and a moderately populated dashboard. The app makes clever use of colors, assigning a unique color to every heading, helping to draw the eye more quickly to the associated heading. The dashboard displays four headings (calendar, online booking, messages, setup) with two subheadings each. There's also a sidebar with links to each of the same headings, as well as several others (referrals, billing, help).
Scheduling/Calendar: You can view the calendar by the day, week, or month. In the first two cases, you'll see a blue horizontal guideline that extends across the entire width of the calendar. It's an interesting design choice and can be helpful if you're trying to visually estimate when to schedule your appointment. If you drag it up and down the calendar, you'll notice that it snaps to five-minute intervals, so you have a good bit of control when it comes to precisely scheduling your appointments. Actually, scheduling is as simple as clicking on the point at which you want the appointment to begin. 10to8 has fewer fields to fill out than many of its competitors, by default limited to little more than the type of appointment, the block of time, the client's name, the appointment location, and a field for entering private notes. Optionally, you can make the appointment repeat over future dates or have 10to8 suggest a few open time slots for the appointment. The month view is mostly just an overview of the number of appointments you have on a given day. You can click on a day or week to reach those views. You can, of course, also block out time slots. Overall, it's a simple, easy-to-use, visually appealing calendar.
Online Booking: Many businesses like to give clients the ability to schedule appointments themselves. 10to8 gives you a few options for doing this: by adding a booking button or form to your website, adding a booking form to your Facebook page, or adding a booking form to your WordPress Site. The default booking page is surprisingly attractive, allowing you to change most of the block elements and text to fit your business. If you're using a free account, you'll have to live with the 10to8 logo in the upper right-hand corner, but it's a reasonable price to pay. Clients will see a selection of services available to book, the amount of time needed for that service, and the physical location of your business on Google Maps. Clicking on the appointment type will bring up a calendar with available slots. On your end, you'll get a notice that a customer has requested an appointment–you'll also see it pending on your calendar. When a booking is confirmed, the client will receive confirmation by text or email or both (your choice). You can also send reminders and surveys to clients. One particularly neat update now allows you to conduct a two-way conversation with the client from within the program.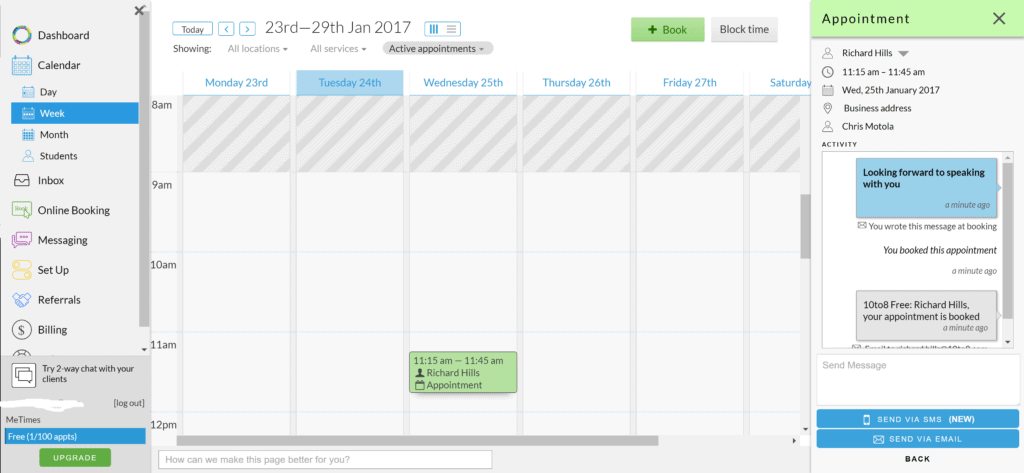 Payments: 10to8 processes credit and debit payments online through Stripe.
Customer Service and Support:
10to8 offers a number of different avenues for connecting with support. Most of these are available to all users, with the exception of the freeloaders at the lowest tier. So they will have to do without phone support.
In-app Help Tool: Reachable in-app through the Help heading, this tool brings up a small search window. It will return links that match your results, as well as the option of leaving a message for support to respond to.
Phone: Phone support is available at all paid tiers.
Online Knowledge Base: A database containing articles, videos, and a community forum.
FAQ: A shorter, more general overview of the product and its capabilities.
Social Media: You can follow 10to8 on Facebook.
Negative Reviews and Complaints:
10to8 has fairly small user-review footprint online, though most of the reviews are positive. Among the gripes users have are:
Limited Functionality: 10to8 is a great appointment scheduling tool, but if you're looking for a platform that can also handle your point of sale (you can take payments for bookings via Stripe) and inventory control needs, you'll either need to resort to integrations or look elsewhere.
Limited Integrations: Though the Zapier integration opens up a lot of integration options, there aren't that many native ones available.
Slow on old hardware: I didn't experience this personally, but a number of individuals reported that the app can ask a bit much of old machines.
Positive Reviews and Testimonials:
It's not the most well-known program, but 10to8 has scored some positive reviews on places like TrustPilot (where it's rated 8.9 out of 10). Users liked:
Elegant Design: Described by users as both complete and simple, 10to8 delivers the goods stylishly and effectively.
Customer-friendly: Users reported that their customers had a positive experience with the online booking features.
Responsive staff: Users found staff to be readily available and to be extremely helpful in resolving issues with the product.
Features:
10to8's main features can be found here. Features include:
Mobile Application: Available on iOS, with an Android version pending.
Emal and Text Reminders
Two-way Chat with Clients
Payment Processing
Room Booking
Multiple Language Support
Security:
You can find information about 10to8's security features on the FAQ:
"All communication between your computer and 10to8 is encrypted. We use bank-grade encryption and certificates (Extended Validation certificates with 4096 bit keys and we conform to Perfect Forward Security (PFS) guidelines). Your data is hosted in a secure hosting facility and regularly backed up."
Integrations and Add-ons:
10to8 uses Zapier to connect web apps to other apps. This accomplished through a trigger and response system so that when a defined action is triggered in one event, the action event will trigger in another app.
Final Verdict:
Every now and then you run into a product that, while it doesn't reinvent the wheel or try anything particularly new or daring, happens to do everything it sets out to do well, and with a respectable degree of polish. In a nutshell, that's what 10to8 is: a booking app that improves your productivity with as few pain points as possible. The free option (or options, if you want to aggressively game the referral system) adds a charming feeling of humility to the company, as well as making it a great product for burgeoning businesses.
The only thing wrong with 10to8—and I hesitate to call it "wrong"—is that it's not a product that can serve as a one-stop shop for your business like some of the bigger, more expensive platforms. That means, depending on the complexity of your operation, you may find 10to8's reliance on Zapier to expand its functionality inadequate.
But if you're a small business with a limited budget to spend on booking software, I'd highly recommend giving 10to8 a try.
---
Featured Free Corporate Card
Ramp


---
Ramp offers a free corporate card for virtually any business. Start earning rewards with your corporate spending today. Get your free card.
Featured Free Corporate Card
Ramp


---
Ramp offers a free corporate card for virtually any business. Start earning rewards with your corporate spending today. Get your free card.
To learn more about how we score our reviews, see our
Booking Software Rating Criteria
.