Editor in Chief

UPDATED
Advertiser Disclosure: Our unbiased reviews and content are supported in part by
affiliate partnerships
, and we adhere to strict
guidelines
to preserve editorial integrity.
5pm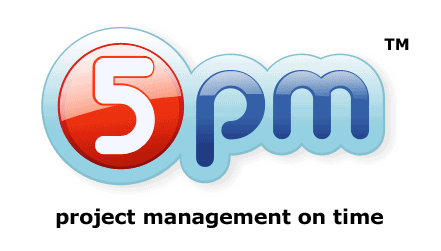 Pros
Great value for money
Easy to use
Good customer support
Cons
Limited integrations
Limited feature set
5pm Overview
5pm is the pride and joy of Disarea, a web application development firm based out of Wake Forest, North Carolina. This software, which derives its name from the motto "Get more done by 5pm!" was created primarily as an alternative to Basecamp, one of the most popular and widely-used project management solutions available. Like Basecamp, 5pm boasts a simple interface and an inexpensive pricing structure, but 5pm is notable for performing a much wider range of functions than its more well-known counterpart.
5pm is great for teams that need a simple interface, but at the same time need more features.
Launched in late 2007, 5pm has currently found favor with small and large organizations alike, including major corporations such as McDonald's, Olympus, Best Western, and US Bank. 5pm is used all over the world, and as of summer 2016, is available in 26 languages (the default language is English, but it can also be viewed in Swedish, French, Russian, European and Mexican Spanish, Portuguese, German, Polish, Italian, Croatian, Dutch, Finnish, Danish, Serbian, Hungarian, Slovak, Turkish, Korean, simplified Chinese, Bulgarian, Japanese, Norwegian, Vietnamese, Czech, and Arabic).
Web-Based (Saas) Or On-Premise
5pm is entirely web-based. It updates itself automatically: no need for constant downloads.
Pricing
There are five different 5pm pricing plans, which may be upgraded or downgraded at any point in time:
$24/month
Five users
10 active projects
4GB storage
Unlimited clients
$36/month
10 users
20 active projects
10GB storage
Unlimited clients
$64/month
20 users
40 active projects
30GB storage
Unlimited clients
$96/month
40 users
80 active projects
80GB storage
Unlimited clients
$199/month
Unlimited users
Unlimited active projects
150GB storage
Unlimited clients
If you'd like to test out 5pm before buying a subscription, you can sign up for a generous free trial (no credit card required).
14-Day Trial
1,000 users
1,000 open projects
10MB storage
5pm has increased their prices since we last reviewed them in 2013, but their pricing is still competitive; at the $96/month level, you get each user for $2.40. 5pm offers a 30% discount for all educational or non-profit organizations. Subscriptions may be paid via PayPal or with a major credit card. There is also a list of manual payment options for prepaid six or 12-month subscriptions. If you need to talk to 5pm about customizing a plan for your business or would like to discuss alternative payment methods, you can email the support team.
Ease Of Use
When it comes to sheer user-friendliness, 5pm is one of the best programs around. There is no learning curve to this software, so if you don't have the time or patience to babysit your employees while implementing a new project management system, 5pm may be the solution for you. Some of the most intuitive features of 5pm include:
Uncomplicated Interface: By default, the 5pm screen is broken up into two simple sections. On the left is a hierarchical list of the groups, projects, and tasks you're working on, and on the right, you can view any relevant information about your work (including task/project descriptions, associated files, and activity streams). It's hard to get lost in this interface; everything is presented as intuitively as possible. Customization of the dashboard is painless and involves basic drag-and-drop procedures, but you can also right-click to add or delete columns from your dashboard. Additionally, all information can be filtered in any way you see fit. Now that 5pm has updated the visual design of their app, there is very little left to complain about.
Mobile Apps: 5pm has pretty decent mobile apps for a project management software. Many companies come out with token apps — pretty to look at but basically useless. 5pm, however, has developed mobile options with down-to-earth, practical features. Whether you're using the native iPhone app or the mobile-optimized website, you can view your work, add, edit, or delete projects, create tasks and messages, and access files and progress notes. They have also recently added a quick-search function that helps you navigate on your phone — not always an easy task without a feature like this. The iPhone app is free and requires an operating system of iOS 7.0 or later; 5pm is also compatible for use with an iPad. The optimized website was created to mimic the regular version of 5pm and works on the majority of mobile devices, including iPhones, Androids, and mobile phones from Windows. Log into it the same way you would to you regular 5pm account, and you will be redirected to the mobile edition.

Easy To Switch Between Languages: This is a great feature for those of you who conduct a lot of international business or employ contractors overseas. Each person on your account can very simply adjust their 5pm interface between English and any of the other 25 available languages (see the Overview section for a complete list of supported languages). Changing language preferences is as simple as accessing the "Settings" link on your 5pm screen. This link not only lets you change your language settings but can lead you to the public translation area, where any user can contribute to the translation of their language.
Time Tracking: 5pm lets you easily keep tabs on your working hours. Built into the application as part of the "progress note" feature (discussed below) is a time-spent function. This allows you to retroactively enter how much time you spent working on the various tasks in your projects. You can also download a time-tracking widget for free. This widget is well-loved among 5pm users and comes with a stopwatch feature and the ability to create and edit time logs.
Customer Service & Support
5pm is known for excellent customer relations, and unlike some other companies, 5pm support services are available all day every day. Though there are no phone help hotlines, 5pm maintains a very good support system via email; all problems, suggestions, and questions can be addressed quickly by emailing the support team. Additionally, there are several excellent support services available online, including:

Community Page: You can ask questions, find information, or report problems on the 5pm Community Page. This forum, hosted by GetSatisfaction, provides an FAQ section, fixes to common problems, and insight into features that are still under construction.
Help Page: For official product FAQs, video tutorials, and detailed operating instructions (complete with screenshots) check out the 5pm Help Page. The video tutorials are well done and easy to understand if occasionally a bit redundant. Believe me, though, redundancy is a small price to pay for videos that truly show as well as tell. The 5pm tutorials verbally explain concepts well while providing clear visual demonstrations. The written instructions on the Help Page are also praise-worthy and couched in language that is concise and accessible, even to the technologically challenged. All of the feature instructions comes with helpful screenshots, some of which even perform small actions to demonstrate concepts visually. My only big criticism for the Help Page is that there is no search function.
5pm Academy: For minor tips and keyboard shortcuts (with screenshots), the 5pm Academy is the place to go.
Blog: The 5pm blog is a great place to look for updates, new releases, and bug fixes.
User Reviews
Negative Reviews & Complaints
I don't think there are any deal-breaking downsides to 5pm, but there are certainly a few features that I and other users have found distasteful.
Poor Timeline Views: The 5pm Timeline view is great if you need to look at your work on a small scale, but it really is only useful for week-to-week views. The monthly Timeline view is frankly ridiculous — cramped, tiny, and completely impractical. Nice try but no cigar, 5pm.
Limited Features: Relative to some other programs, 5pm is well-equipped. It doesn't meet every conceivable business need, however. In particular, people are annoyed by the lack of accounting features.
Positive Reviews & Testimonials
5pm is like the girl next door: quiet, unassuming, polite, and reliable. For the most part, people like this software quite a bit. There are some very good reasons that 5pm has received 5 stars on the G Suite Marketplace. Some of the most endearing features are:
User-Friendliness: I cannot stress enough how beautifully simple the 5pm interface is. Anyone who's computer-savvy enough to turn on their machine and enter a URL will do just fine with this program. 5pm's two-window interface is celebrated by all for its accessibility and simplicity.
No Learning Curve: Not only is 5pm generally easy to use, but you can start using it right away. There is no need for training or expensive coaching; as soon as you sign up, you should be able to start getting work done.
Good Time Tracking: Most people are enthusiastic about the free time-tracking widget provided by 5pm. It's both practical and intuitive.
Quick & Responsive: Need I say more?
Importing: 5pm is widely known for allowing users to import data — intact — from other programs. This is a useful feature for many reasons, not least because it makes it easier to get all your information in one place during your initial implementation of 5pm.
Affordable: 5pm's prices are low enough to be in the range of any-sized business, from the smallest start-up to the largest corporation.
More Features Than Basecamp: 5pm has the same affordable price and intuitive design as Basecamp but with more general functionality.
The following are excerpts from reviews by satisfied 5pm users:
It's easy to use, simple and very effective. The design is beautiful and practical. I like the features, the simplicity and the quick responses I get from the support crew.5pm looks and works great. Thumbs up!
I like 5pm because of its simplicity. It is obvious that you all put alot of thought into this. The hierarchy, layout of content is amazing and extremely simple with the appropriate training. It's highly organized. The design of the site is great, which increases legibility. I like the side-by-side window action. It simply works.

I'm able to see lots of projects related to one overall project at the same time. In the past, I have had to rifle through sheets of paper with project task lists to check progress. So, 5pm works because it creates one place to view multiple projects.
Features
5pm is a pretty basic project management tool, but a lot of thought has gone into making the available features as sleek and intelligent as possible. In addition to old standards like email integration, real-time activity updates, and time tracking, 5pm provides the following features:
Timeline View: This is 5pm's answer to a typical Gantt chart. It is a comprehensive visual depiction of your work, graphed out over a period of time. The Timeline view allows you to see dependencies between projects or tasks in a different context. It also makes it easier to keep track of task duration and make sure that work is being completed in a timely manner (overdue tasks are conveniently highlighted in red). Projects on your Timeline may be opened to reveal the individual tasks within or collapsed to reduce the appearance of clutter. You can filter your Timeline data by groups, projects, and people. You can also switch between daily, weekly, and monthly views. As I mentioned before, though, if you go out much further than the weekly view, the Timeline begins to look squished and awkward. One of the best characteristics of the Timeline view is that you can edit and reschedule projects directly, simply by dragging and dropping. When you drag a task or project to a different date, 5pm will automatically reschedule your workload, taking any dependencies into account. Timeline views can be set to auto-refresh every ten seconds, thirty seconds, one minute, or 10 minutes, depending on your preference. That way, you are always in the loop.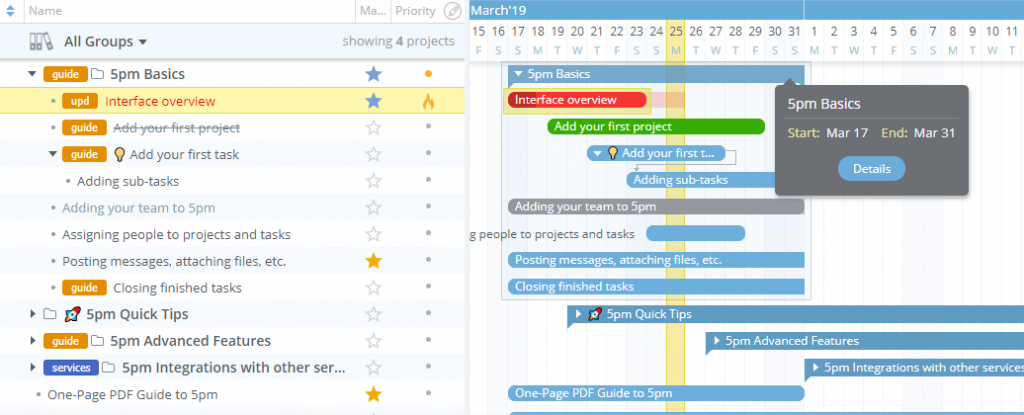 Reports: 5pm allows you to run reports for all groups and projects you are part of, either individually or all at once. There are several kinds of reports available:

Time Reports: 5pm time reports can be used to give an overview of employee working patterns. This report type is useful for invoicing purposes (it is easily exported to external accounting software) and it really lets you keep track of what your people are spending their time on. Using information from progress notes and time-tracking devices, the time reports provide a good overview of everyone's working patterns.
General Reports: These are universal, customizable reports that may be easily printed and exported to CSV or Excel. General reports allow you to filter data in a wide variety of ways. For example, if you wanted to analyze the activity in a particular group of projects, you could design a general report to suit your purpose.
Workload Reports: These reports are intended to help you better plan and manage employee workload and can be filtered in any way you see fit.

Social Toolbar: This toolbar, built into the bottom of your 5pm screen, allows you to know which of your co-workers are currently logged into the 5pm account, see what they are working on and track their activity, and even live chat with them if you wish. You can also use it to let others know what you are working on or thinking about. Note: A feature like this seems like a bit of a Pandora's box, especially in some office environments. The fewer opportunities people have to pester, stalk, or spy on their colleagues the better, in my opinion. However, some users appreciate this feature and say that it contributes to a better sense of community.
Projects: 5pm allows you, like most other project management platforms, to create projects where you and your team members will work. Here are a few of the features you will find within your projects:

Progress Notes: I like the whole idea of progress notes, which are small attachments to tasks used to log time and track progress. Progress notes help you manually track time and update the percentage of task completion and are eventually used to create time reports.
Tags: Much like Twitter tags, 5pm tags are intended to give context to your project and tasks and make them more easily searchable. Tags may be color-coded for better visibility.
Importing: 5pm has made it possible to safely import information from Excel, CSV, MS Project, or Basecamp files (there is a special system just for importing data from Basecamp). Importing may only be done by those with administrator status; it is a complex, delicate process that may require a bit of practice before it becomes intuitive.
Templates: While 5pm doesn't provide pre-made templates, you can use any task you've already created as a template for a new task or even copy an entire project, complete with tasks, to use again.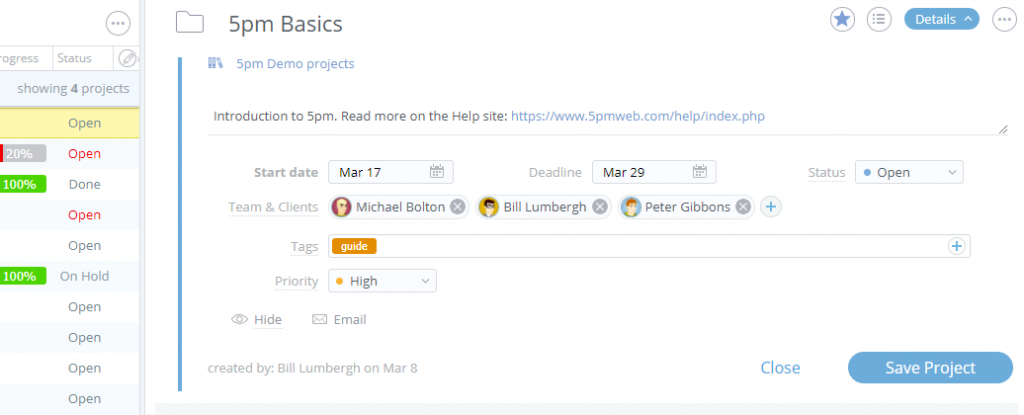 Integrations & Add-Ons
5pm is certainly not remarkable for its investment in third-party integrations, but the software does integrate with a few key programs:
Google Drive
Gmail
Outlook
Box
OneDrive
Google Apps: This integration allows you to use your Gmail login for your 5pm account and create 5pm projects directly from your Gmail Inbox.
Dropbox: Since 5pm itself can be short on file storage space, it's nice that there is a Dropbox integration.
Box
Slack
SpiderScribe
iCal: You may view 5pm tasks from applications such as Apple iCal, Mozilla Sunbird, MS Outlook 2007, and any other calendars that support the iCalendar format.
Though the software is admittedly a bit light on practical integrations, 5pm does have an open API.
Security
5pm keeps user information secure in the following ways:
5pm data centers (hosted by LiquidWeb) are staffed onsite 24/7
5pm employs a third-party server monitoring service
Data is backed up every night to two different offsite locations
Communication is protected by 256-bit high-grade encryption
5pm commissions independent security audits to monitor the safety of the servers
Additionally, there is an extra layer of access control for those of you who don't feel safe enough with just an encoded password. 5pm keeps track of the identity and geographical location of everyone who has logged in (or tried to log in) to your account. If you want, you can even specify from which geographic locations (by country or IPs) users are not allowed to access your 5pm sites, even if the user has provided the correct login information.
Final Verdict
Any company that can provide a useful, affordable service while maintaining profitability is okay by me. I feel sometimes like project management companies go out of their way to gouge their customers, making them pay per user, for example, or charging for support services. I respect 5pm and its parent company, Disarea, for providing a quality product for a fair price.
Of course, 5pm is not a complete paragon of project management software — not by any means. There are other programs with smarter, more complex features, better integrations, and more comprehensive customer service. But 5pm doesn't pretend to be more than it is. It is a good tool — a basic and necessary tool — and it is willing to get in there and do the grunt work for you. Moreover, having used both, I can attest that it is a good alternative to Basecamp. The fact that major corporations with enormous budgets (such as McDonald's) rely on cheap little ol' 5pm is a testament to its soundness and utility.
5pm is refreshingly user-friendly. It's practical. It's reliable. It's a godsend to small businesses and start-ups. And with a few exceptions, it packs enough project management punch to get the job done. In short, I highly recommend 5pm!
---
Featured Free Corporate Card
Ramp


---
Ramp offers a free corporate card for virtually any business. Start earning rewards with your corporate spending today. Get your free card.
Featured Free Corporate Card
Ramp


---
Ramp offers a free corporate card for virtually any business. Start earning rewards with your corporate spending today. Get your free card.
To learn more about how we score our reviews, see our
Project Management Software Rating Criteria
.