AccountEdge Review
AccountEdge's accrual-based accounting software has a bunch of features and is highly customizable, but is it worth the steep learning curve? Check out our review.
Expert Analyst & Reviewer

UPDATED
Advertiser Disclosure: Our unbiased reviews and content are supported in part by
affiliate partnerships
, and we adhere to strict
guidelines
to preserve editorial integrity.
AccountEdge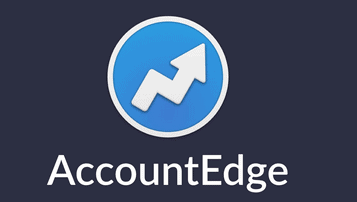 Accounting Method
Accrual Only
Pricing
$699 one-time fee or $15/month
Business Size
Mid-sized to larger businesses with advanced accounting needs
AccountEdge At A Glance
Locally installed, accrual-based accounting software
More than 50 advanced reports
Excellent mobile app
---
Pros
Advanced features
Ample accounting reports
Highly customizable
Windows and Mac-based
Mobile app
Cons
Steep learning curve
Limited integrations
Limited invoicing
What Is AccountEdge?
AccountEdge is accrual-based accounting software for both Windows and Mac with an advanced feature set and options to upgrade if you need even more services. AccountEdge's price can start to climb with add-ons for things like phone support and payroll, and it's not the simplest software to use, but it does have advanced reporting and a strong mobile app.
AccountEdge Pricing
AccountEdge is a locally-installed program that has simplified its pricing recently and no longer offers different tiers for Windows and Mac. There is AccountEdge Pro and Priority ERP for users that need a wide variety of custom-based services.
Unlike QuickBooks, when you purchase an AccountEdge license, there are no forced upgrades. Your license can be a one-time purchase (although you can upgrade for a discounted cost whenever you please). So you can choose to upgrade every year, two years, five years — or not at all.
AccountEdge offers a free 30-day trial, which also sets it apart from QuickBooks. No credit card or banking information is required.
AccountEdge Pro
There are two different ways you can sign up for AccountEdge Pro. You can pay a one-time fee of $699 for a single-user license or you can pay $15 a month for the first license. It is then an additional $10 per month for an added license. This includes a strong set of features which include:
Full customer management
Departmental accounting
Accounts payable
Payroll
Time tracking
Full inventory
Budgeting
Multiple currencies
Retainer, trust, and escrow accounts
For enterprises needing more advanced features, Priority ERP supports finance management and accounting, advanced CRM, warehouse control, MRP for manufacturing, production planning, human resource management, and more. You must contact AccountEdge to get a custom quote for this option.
Extra AccountEdge Costs & Fees
Before purchasing AccountEdge, there are several additional costs to be aware of. The cost for these add-ons can add up quickly, but luckily, AccountEdge doesn't force software updates, so odds are the software will likely still be cheaper than QuickBooks. Here are the potential extra costs to anticipate:
Payroll: AccountEdge Pro comes with payroll for an additional $15 a month or a one-time fee or $249 through integrating with third-party software. There will still be extra costs for updating payroll tax tables and AccountEdge's payroll forms service.
Direct Deposit: The direct deposit for the payroll option can be added for $14.95/per month or $0.99/per transaction. A one-time setup fee of $49.95 is also required to use this service.
Phone Support: Phone support costs $199/year for AccountEdge Pro
Credit Card Processing: AccountEdge offers credit card processing with two pricing structures: a variable-fee plan or a flat-fee plan. The variable plan costs $15/month plus processing, as low as 1.79% + $0.30/card-present transaction or 2.29% + $0.30/card-not-present transaction. The flat-fee plan costs as low as 2.7% + $0.30/card-present transaction or 2.95% + $0.30/card-not-present transaction. Read our post on understanding payment processing to learn more. The latest version of the software has added the ability to process credit card transactions in bulk, but this feature is only available through AccountEdge Connect.
Card Reader: AccountEdge partners with Forte to bring users a card reader solution. A Forte card reader traditionally costs $399, but AccountEdge users get an exclusive $100 discount.
AccountEdge Connect: Although AccountEdge is a locally-installed program, there's a cloud option where your employees, accountants, contractors, and vendors can use the software on the cloud. All of the data will automatically sync to your desktop file. The four pricing plans range from $10-$100/per month, depending on the number of users you need.
Conversion Services: If you are switching over from QuickBooks or Sage, you can pay for AccountEdge's conversion services, which start at $400.
Checks: You can purchase checks, envelopes, tax forms, deposit slips, packing slips, and much more from AccountEdge. Users receive 25% off their first order, plus free shipping. Visit the AccountEdge website for pricing details.
Network Edition: Mac users can purchase the Network Edition of AccountEdge, allowing multiple users to access AccountEdge if they're on the same network. Contact the company for pricing and setup details.
AccountEdge Hosted: If you're just needing remote access, AccountEdge Hosted is $40/month per user.
Is AccountEdge Easy To Use?
With so many features available, AccountEdge has a steep learning curve and can take quite a while to learn. While the software is fairly well-organized, some of the features are clunky, and the software's UI is a bit outdated. Sometimes, when I was inputting data into fields, the software wouldn't respond correctly.
Despite these drawbacks, one thing AccountEdge gets right is that there's a help icon on nearly every screen that will take you to a how-to article in AccountEdge's knowledgebase. Users who have a background in traditional accounting or QuickBooks may have a much easier time adjusting to AccountEdge.
AccountEdge Features
This is where AccountEdge excels. AccountEdge supports a vast number of features, especially for users with the Pro plan. Here's an overview of the most notable features AccountEdge has to offer (the features pictured below are from AccountEdge Pro):
Organization
AccountEdge doesn't have a traditional "dashboard" as you'd expect to find in a cloud-based alternative. Instead, the software is organized into Command Centers, such as Accounts, Banking, Sales, Time Billing, Purchases, Payroll, Inventory, and Card File. Each Command Center has icon buttons for main features and arrows to guide you through the proper accounting workflows.
Invoicing
Invoices can be created for services, items, or times. There are only two very basic template options, and invoice customizations are virtually nonexistent. You can create recurring invoices and add a salesperson, shipment method, journal memo, comments, delivery status, and category to your invoices. You can email or print invoices, or you can set up a client portal with AccountEdge's Web Pay payment processing service.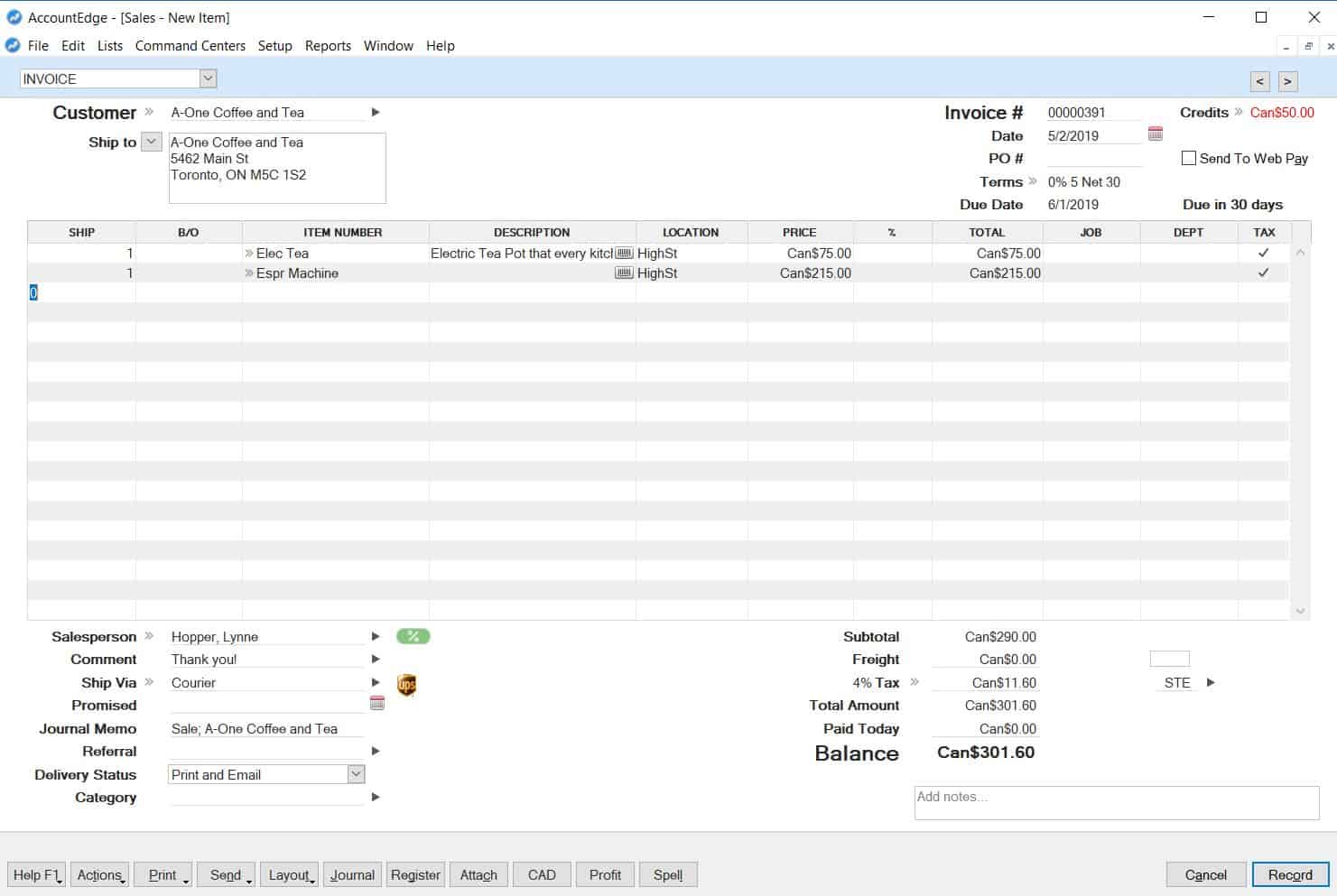 Quotes
You can create quotes in AccountEdge and easily convert quotes to invoices, orders, or purchase orders.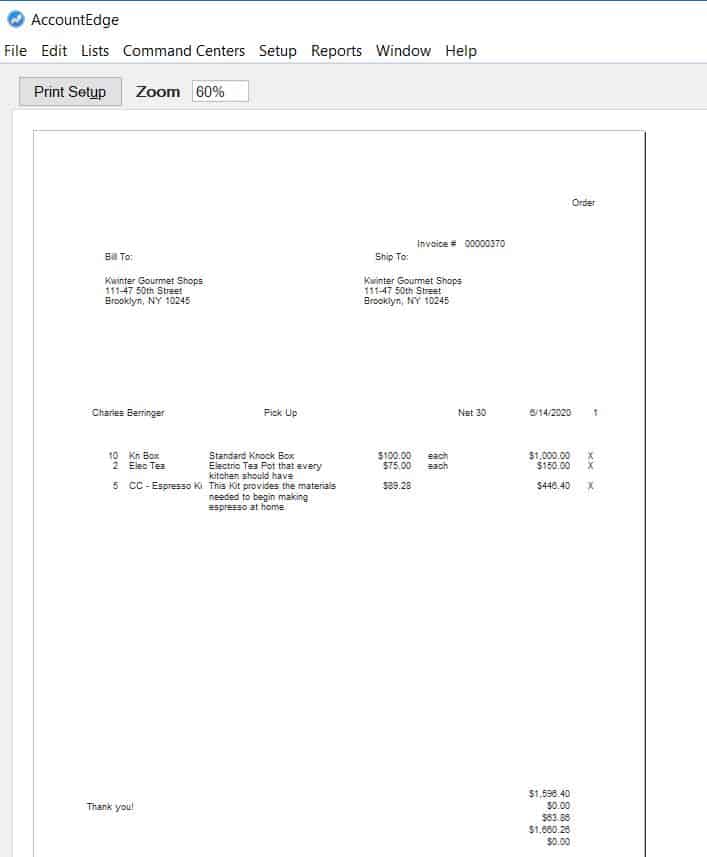 Contact Management
AccountEdge Basic lets you store very basic contact information. AccountEdge Pro's well-developed CRM feature allows you to record and manage your customers and suppliers. Contacts are referred to as "cards." Each card file can include contact details, default sales terms, an image, default discount, default shipping information, notes, and more. You can also track jobs by customers and view their full history. You can attach important documents, such as contracts, to each contact as well.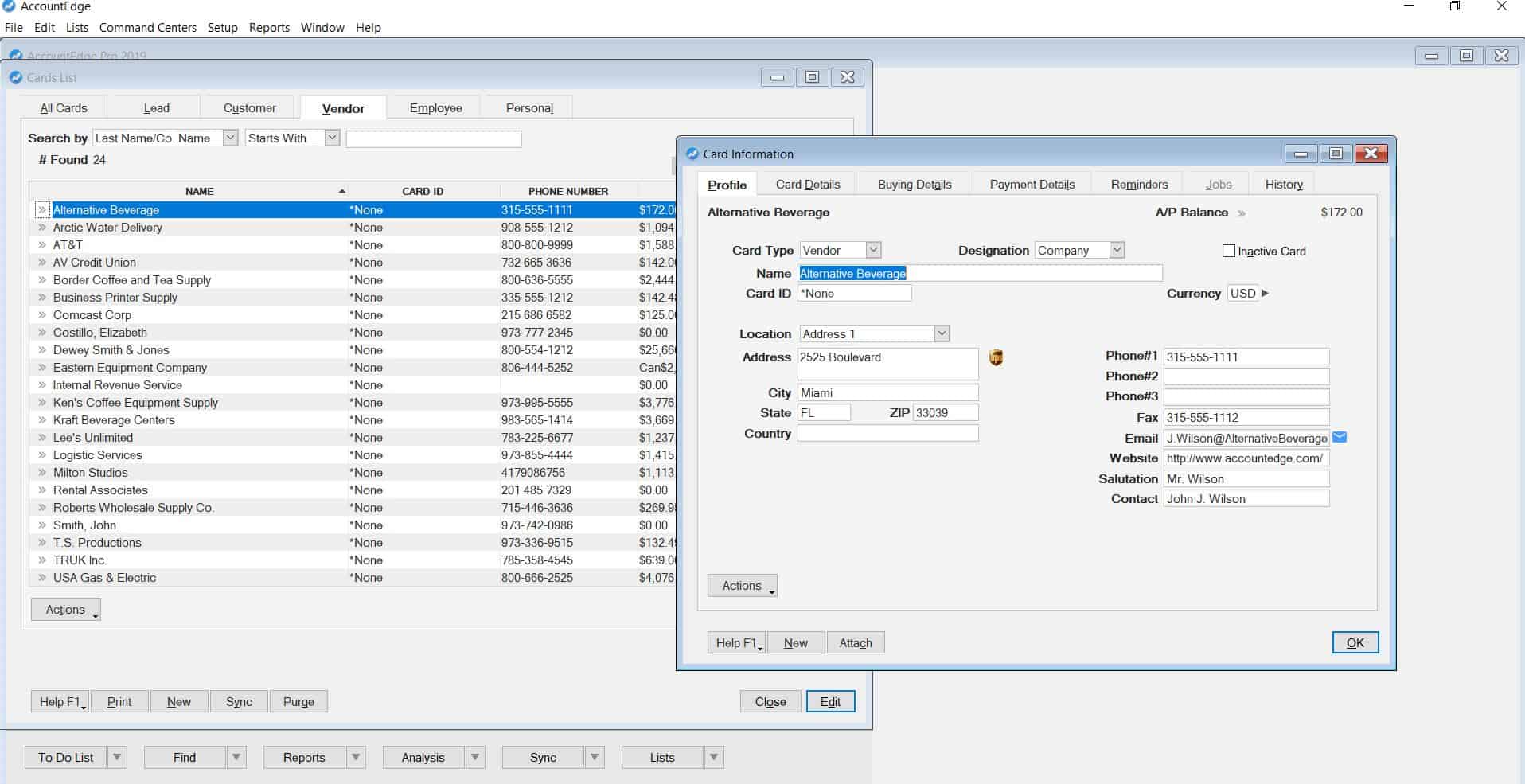 Employee Management
You can also manage your employees and record detailed information, such as their contact information, personal details, photo, identifiers, department, commission rate, custom lists, assigned parking, team affiliation, partner's name, wages, deductions, employer expenses, taxes, pay frequency — you get the picture.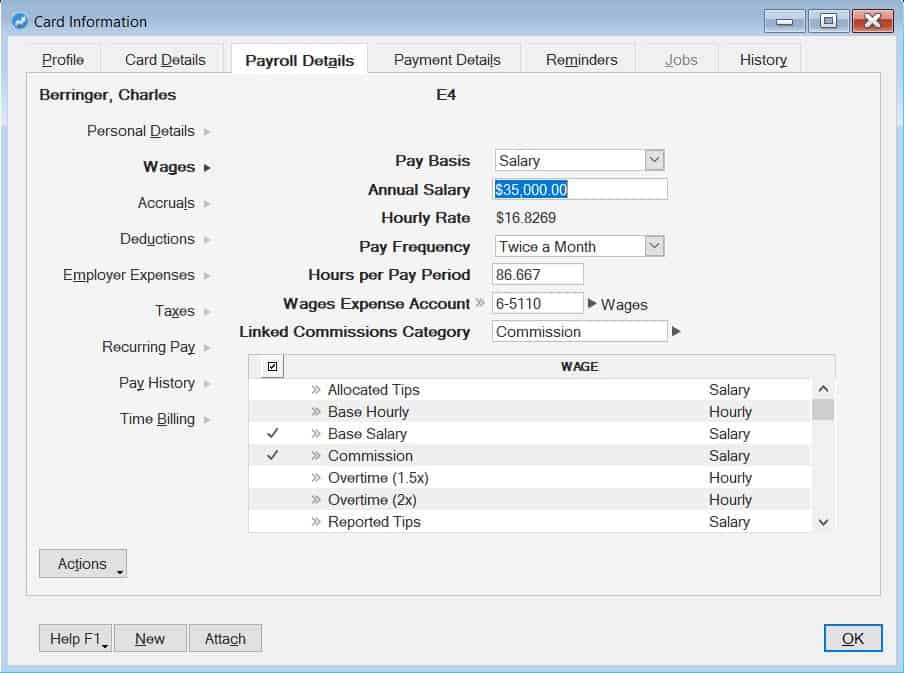 Expense Tracking
You can import bank statements into AccountEdge via .ofx, .qfx, .qif, .ofc, or .qbo files to track your business's income and expenses. AccountEdge automatically matches transactions by date, item, and amount. You can also set specific matching guidelines. Unlike other accounting software, AccountEdge does not offer live bank feeds, which means you will regularly have to spend time manually importing your bank transactions.
Bank Reconciliation
You can reconcile bank accounts and run a bank reconciliation report in AccountEdge.
Chart Of Accounts
AccountEdge has a detailed, traditional chart of accounts. You can edit, combine, and add new accounts to fit your business needs. There is no fixed asset management feature, but you can use the chart of accounts and journal entries to track assets and depreciation.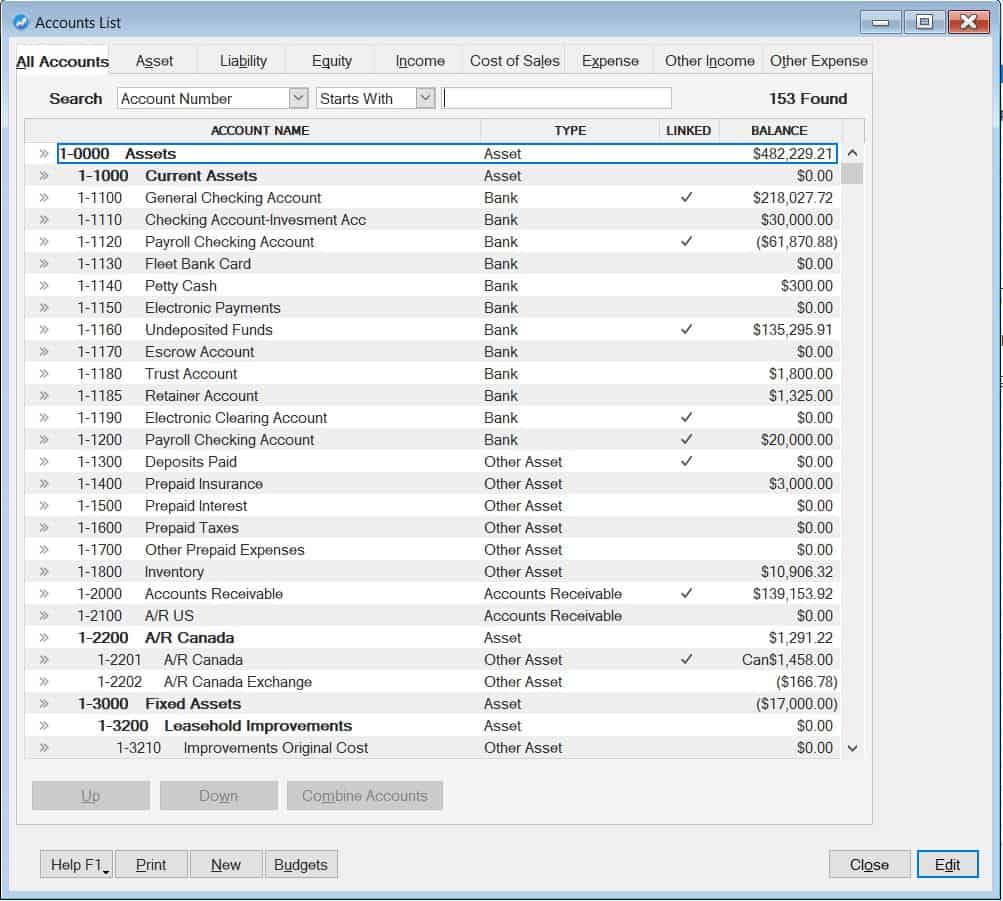 Accounts Payable
On the Pro plan, you can create and manage bills and recurring bills in AccountEdge. You can prepare electronic payments or print checks directly from AccountEdge and apply them toward your accounts payable. You can also set up automatic payment reminders, so you never miss a bill.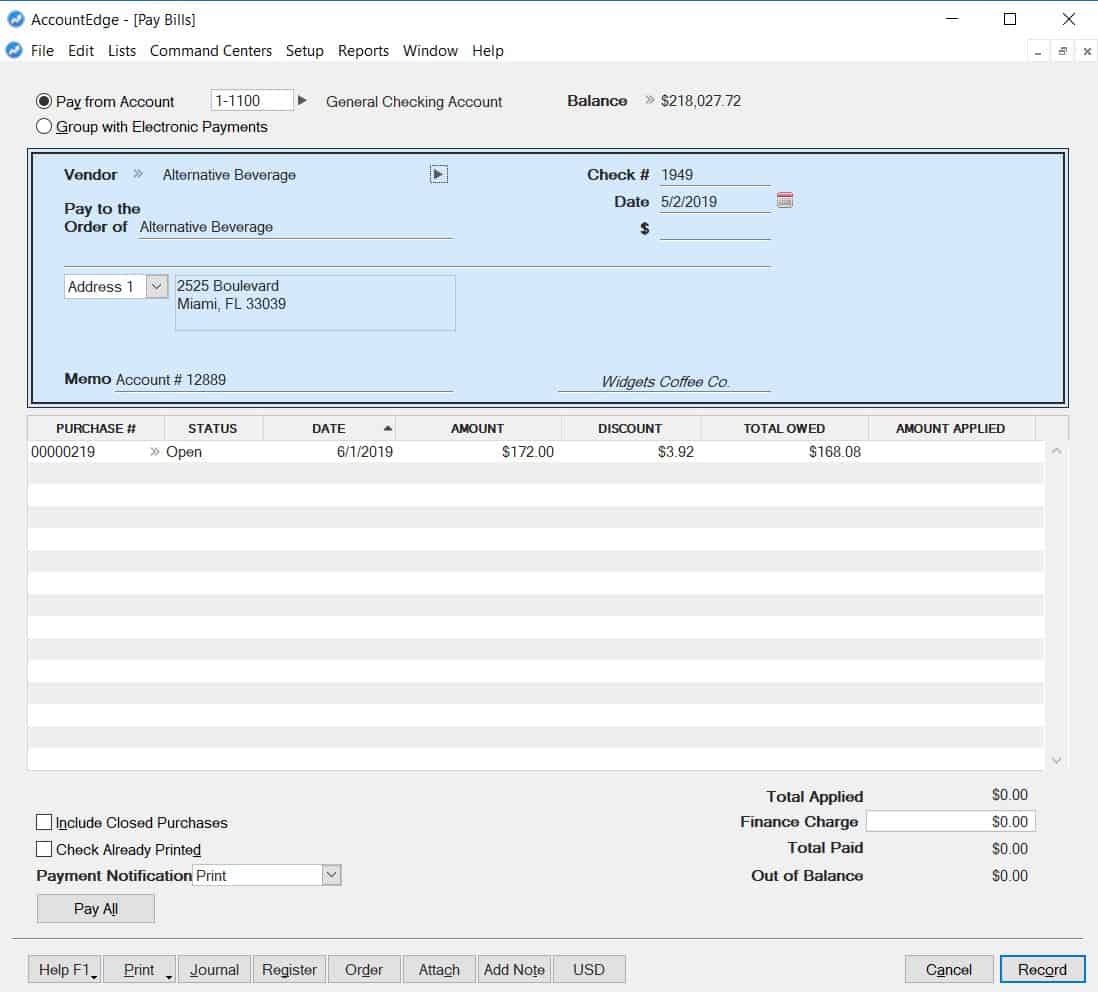 Inventory
AccountEdge Basic offers a simple item list. AccountEdge Pro offers a well-developed, advanced inventory feature. In addition to typical item descriptions and tracking, the inventory function also offers serialization, warranty tracking, item kits, product variations (such as color, size, etc.), and more. You can easily manage your inventory's location and create multiple pricing levels for items. The inventory Command Center makes it easy to adjust inventory, count inventory, build items, and receive items, and there are several inventory reports as well.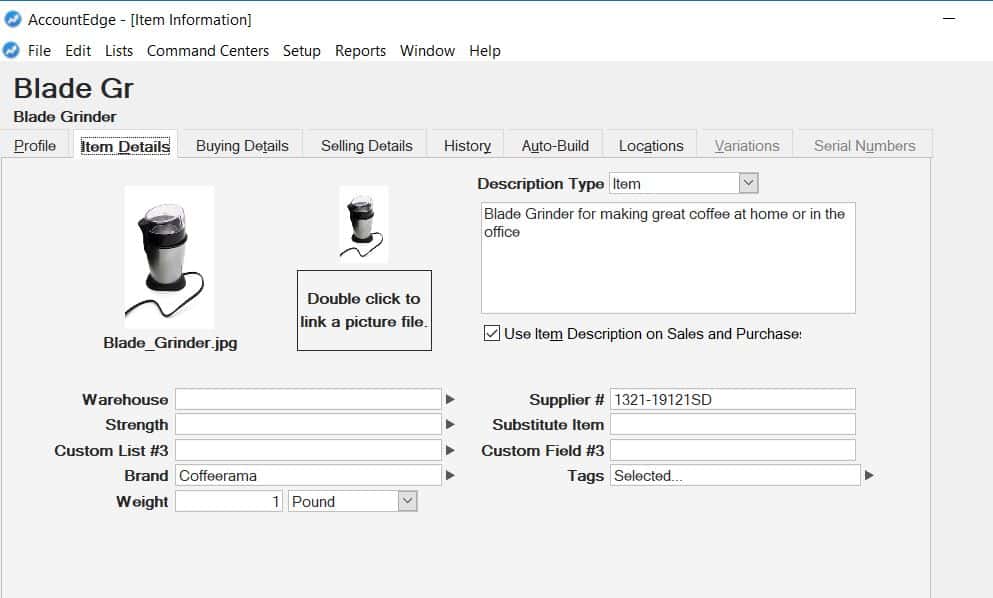 Project Management
AccountEdge offers project management and job costing. You can link projects to another job, a contact, manager, or customer. You can track the job status and any expenses or time associated with the job.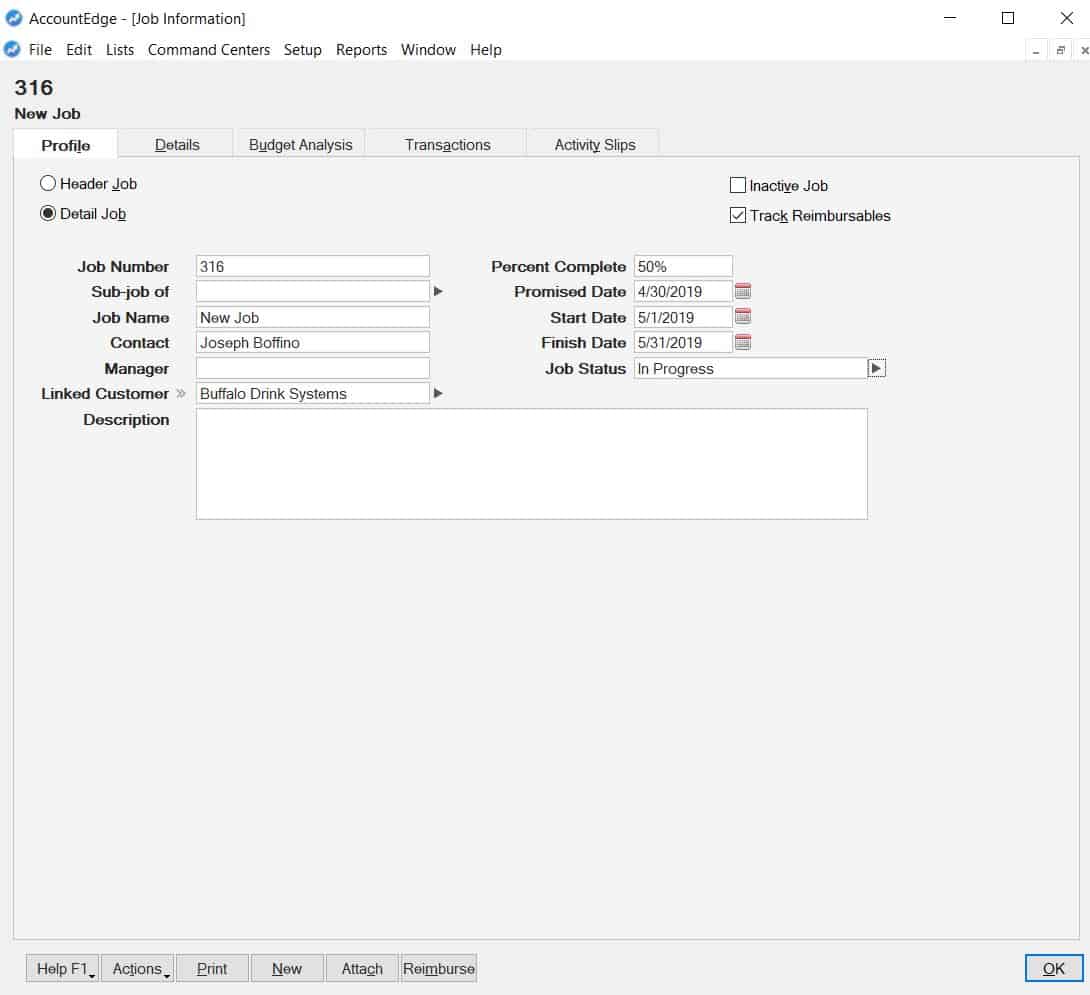 Time Tracking
AccountEdge allows you to track billable and unbillable hours in real-time and attach hours to jobs, invoices, and quotes. The software also supports timesheets, making it easy to run payroll.
Payroll
You can run payroll and send paystubs as invoices or pay customers directly using direct deposit or checks printed from AccountEdge. You can also manage healthcare, 401(k)s, sick leave, vacation time, overtime, and more. You will still have to pay for payroll forms and to update your payroll tax tables.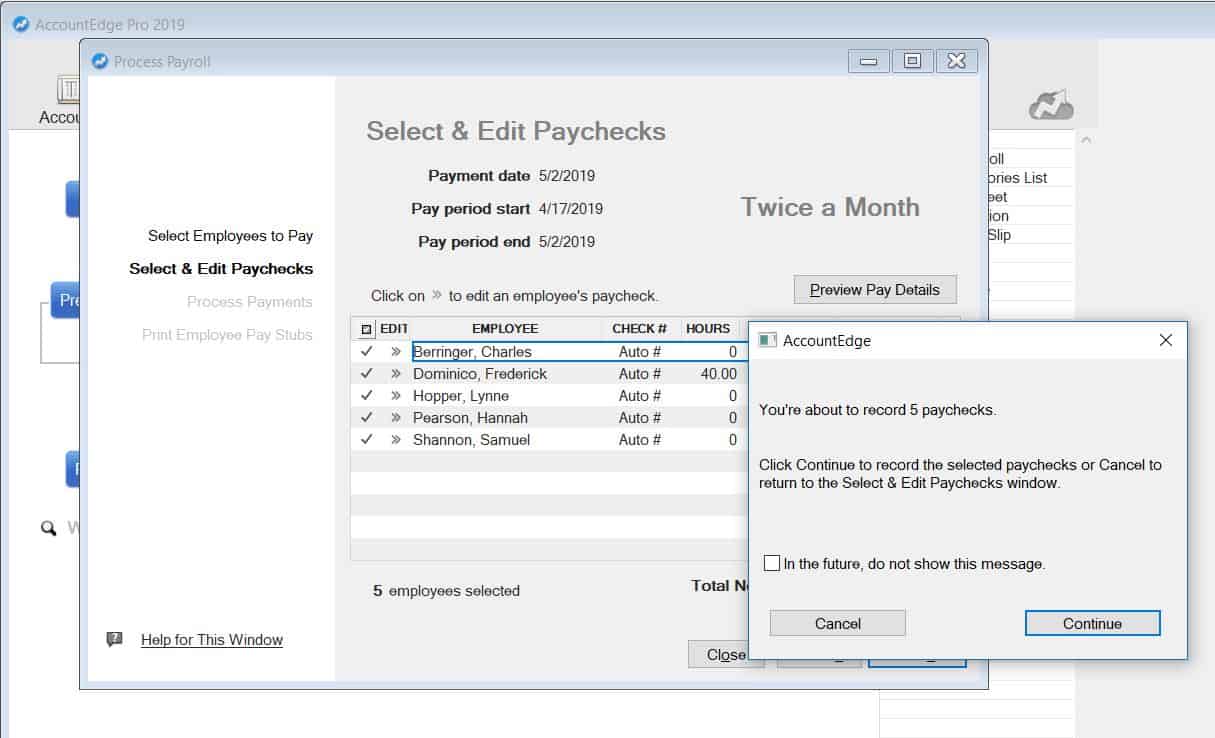 Commission
AccountEdge Pro is one of the only programs I know of that also allows businesses to track commissions. This feature synchronizes with the payroll function.
Reports
AccountEdge offers an incredible number of reports, just over 300, to be specific. One of the most notable reports is the cash flow analysis report that helps businesses manage and understand their cash flow. The latest version of the software has added business insight reports, which allow you to assess the health of your business more efficiently.
Purchase Orders
The software supports purchase orders and recurring purchase orders. You can also add shipping instructions to your POs.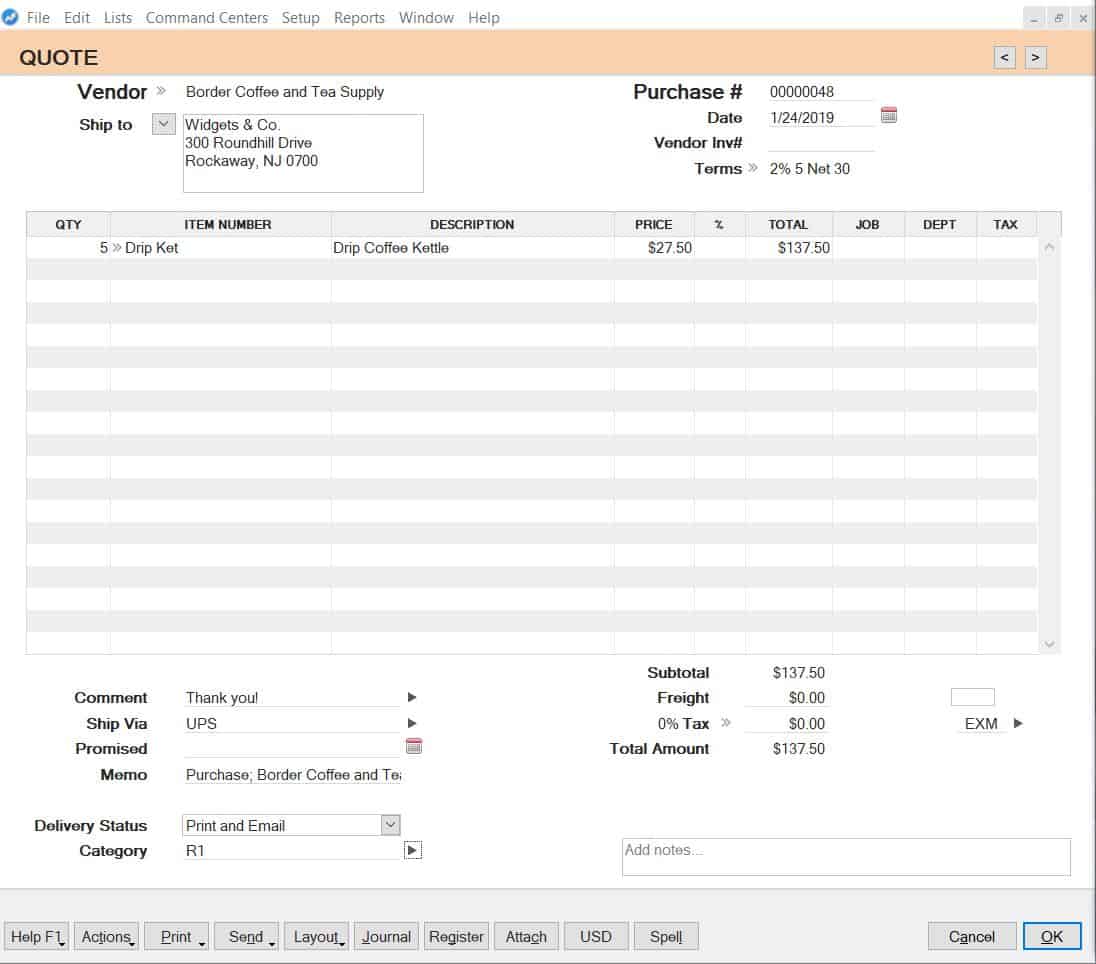 .
Class Tracking
You can track locations, departments, and categories in AccountEdge to better manage your company and gain more detailed reporting.
Retainers, Escrows, & Trusts
With the Pro plan, you can spend directly from a retainer, escrow, or trust account and apply funds to bills. This function also allows you to set up invoices for retainers, trusts, or escrows.
Shipping Manager
If you enable the UPS integration, AccountEdge has a unique shipping manager where you can record and track shipments, print shipping labels, and estimate shipping costs.
Tax Support
Depending on your plan, AccountEdge can offer up to 330 tax forms, which far exceeds any of its competition. These forms can include W-2s, 1099s, 1096s, etc.
Mileage Deductions
You can easily track mileage deductions. When you enter the rate and the starting and ending odometer reading, AccountEdge will automatically calculate the miles driven and total mileage expense.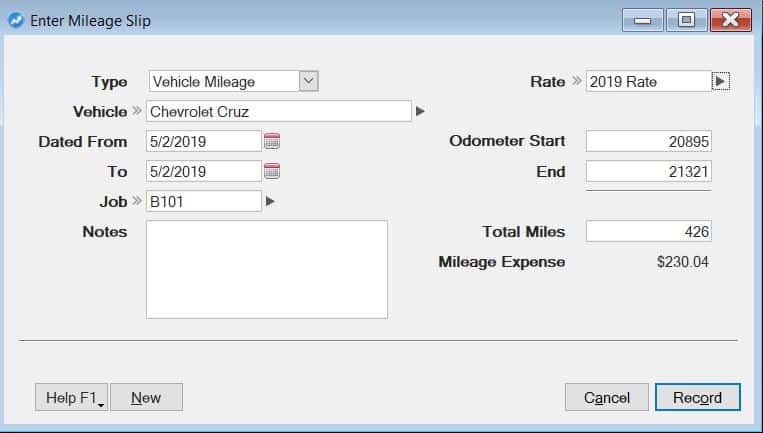 Multiple Currencies
AccountEdge has nine pre-set currencies. If you need additional currencies, you'll have to enter the currency and exchange rate manually.
AccountEdge Customer Service & Support
Customer service is generally limited to email support. Phone support is available but costs an additional $199/year. When it comes down to it, customer support is expensive, and email response times aren't ideal, with responses taking between one to three days. There are many customer complaints about the company's support as well, especially from users who don't like paying extra to talk to a representative on the phone.
However, AccountEdge does have a well-developed knowledgebase and several other support resources available to users. And despite the customer complaints, there's an equal number of users who comment positively on their customer service experiences with AccountEdge.
Here are all of AccountEdge's available support options:
Phone: Phone support is available at an additional cost for the Pro plan. New users can receive free telephone support for 30 days after product registration.
Email: You can email AccountEdge for support.
Support Form: AccountEdge has an online support form as well.
In-Software Help: You can access AccountEdge's knowledgebase directly from within the software. You can also hit the F1 command on nearly any page to learn more about how that particular feature or workflow functions.
Knowledgebase: AccountEdge has a detailed Help Center with dozens of helpful articles. There's also an FAQ section. With slower email response times, this is a good place to look for support.
User Guides: AccountEdge offers various user guides, found both in the software itself and online. Some notable guides include Getting Started, Accounting 101, and Business Insights 101.
Blog: The AccountEdge blog features updates, business advice, and news about the company.
YouTube: For those visual learners, like myself, this is a great option. AccountEdge's YouTube channel features 200+ videos with step-by-step instructions for anything and everything AccountEdge related.
Newsletter: AccountEdge sends customers a monthly newsletter with tips and tricks for using AccountEdge.
Customer Suggestions: AccountEdge also accepts customer suggestions and product requests.
Social Media: AccountEdge maintains Facebook and Twitter profiles.
AccountEdge Reviews
Negative AccountEdge Reviews & Complaints
Previously, finding customer reviews regarding AccountEdge was difficult. The cat's out of the bag about this program now, and users are speaking up — and what they have to say is fairly positive across the board. Although most reviews are positive, there are some recurring complaints in AccountEdge reviews:
Poor Customer Service: The main complaint is that AccountEdge has poor customer support. Users also dislike having to pay extra for phone support.
Limited Record Access: A few customers complain that it's difficult to access their previous year's records.
Steep Learning Curve: As mentioned previously, the learning curve for AccountEdge is steep, and many users find the software unintuitive and time-consuming to learn.
Limited Integrations: A couple of users wish for more integrations.
Positive AccountEdge Reviews & Testimonials
AccountEdge receives predominantly positive reviews from its users. Many of the users leaving reviews have also been using the software for years, even decades, which is a good sign. AccountEdge receives 4.39/5 stars on Software Advice (based on 80 reviews) and 8.3/10 stars on TrustRadius (based on 31 reviews). The company also has a page dedicated to customer testimonials.
Here are some of the most common highlights users share:
Easy To Use: While some users find the software difficult to use, far more praise AccountEdge for its ease of use.
Good Customer Support: Along the same vein, although there are reports of poor customer service, many customers have good things to say about AccountEdge's customer support.
Ideal For Macs: AccountEdge was made for Macs, as the product was originally part of MYOB's US Mac software development. Many customers appreciate this, especially a few years back when Macs weren't as widely used, and the software options were more limited.
Feature Selection: One of the most common, positive reviews of AccountEdge is that it has everything. Customers love the selection of features, especially the payroll, inventory, and tax support functions.
AccountEdge Integrations & Add-Ons
AccountEdge has a very limited number of integration offerings. These include Shopify for eCommerce, Rerun for billing, Checkout for point of sale needs, Virtual TimeClock, and TimeSolv Solutions.
Is AccountEdge Secure?
As AccountEdge is a locally-installed accounting program, security is handled on your personal server. The company has zero access to your account or information, so firewall precautions and data backups are up to you.
There are many resources available about How To Keep Your Locally-Installed Accounting Software Secure, as well.
Contact AccountEdge for security details regarding AccountEdge Connect and Mobile.
Final Thoughts For AccountEdge Software
It's easy to see that AccountEdge offers an incredible number of features. Not only are there a ton of options, but these features are also all highly developed (minus invoicing). The range and uniqueness of these features are almost unrivaled, especially compared to other accounting software programs. This makes AccountEdge particularly ideal for medium to large-sized companies that need advanced capabilities and customizability.
However, the steep learning curve and outdated UI may make some companies reconsider whether the features are worth it. For those with accounting experience or familiar with locally-installed programs, such as QuickBooks, this shouldn't be a problem. Those with little to no accounting experience might be better off choosing simpler accounting software.
But as far as locally-installed software goes, AccountEdge has one other secret weapon that competitors such as QuickBooks don't — the cloud. AccountEdge Connect and AccountEdge Mobile give users the best of both worlds. AccountEdge is also one of the few locally-installed accounting solutions for Macs.
While the features AccountEdge software offers are impressive, it's up to you to decide whether those features outweigh the hidden costs, the learning curve, limited integrations, lack of live bank feeds, and slow customer service. The good news is that AccountEdge offers a free 30-day trial, so you can easily play around with the software to determine whether or not it's a good fit for your business.
AccountEdge FAQs
---
Try A Top Pick For Payroll
ADP Payroll


---
We like ADP Payroll for its advanced employee management, strong payroll features, and great customer support. Get three months free when you sign up through our links! Get Started.
Try A Top Pick For Payroll
ADP Payroll


---
We like ADP Payroll for its advanced employee management, strong payroll features, and great customer support. Get three months free when you sign up through our links! Get Started.
To learn more about how we score our reviews, see our
Accounting Software Rating Criteria
.