Expert Analyst & Reviewer

UPDATED
Advertiser Disclosure: Our unbiased reviews and content are supported in part by
affiliate partnerships
, and we adhere to strict
guidelines
to preserve editorial integrity.
ActiveCampaign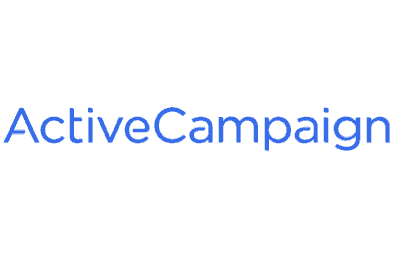 Pros
Numerous features
Excellent automation tools
Integrated CRM tools
Cons
Steep learning curve
Expensive for small businesses
ActiveCampaign Overview
ActiveCampaign is a versatile and feature-rich email marketing software platform with a powerful suite of reporting and automation tools. Founded in 2003 by CEO Jason VandeBoom, ActiveCampaign's mission has always been to bring automation to email marketing, without losing the human touch. And we think ActiveCampaign succeeds in that mission.
Although new users may experience a noticeable learning curve, if you stick with the software, you'll find a team-friendly application that offers tremendous functionality. I have been impressed, in particular, by ActiveCampaign's automation tools. With ActiveCampaign, you can set up automation rules that create a unique experience for each of your customers,
Keep reading to learn more about pricing, features, and ease of use. Find out if ActiveCampaign is right for your business!
Pricing
ActiveCampaign's three tiers of service scale with the size of your audience, meaning you'll be charged based on the size of your contact list. The more advanced tiers give you access to more features and support, while the lower level plans are more affordable. You can choose between annual or monthly billing. The prices we've included below represent the annual billing model (one full year paid upfront). The monthly billing model is more expensive.
Users with large contact lists will need to establish a custom pricing model with ActiveCampaign. The threshold at which you need to request custom pricing depends on the service level that you have signed up for. Surprisingly, on the higher levels (such as Enterprise), you have to negotiate custom pricing at 25,000 contacts, while on lower level plans, you don't have to negotiate custom pricing until you reach 50,000 contacts. Here are ActiveCampaign's four plans:
Lite
Up to three users
Newsletter
Email features
Marketing automation features
Unlimited sending
Support: chat and email
Below is pricing for the Lite plan with annual payments:
500 contacts: $9/month
1,000 contacts: $25/month
2,500 contacts: $45/month
5,000 contacts: $79/month
10,000 contacts: $125/month
25,000 contacts: $205/month
50,000 contacts: $275/month
75,000 contacts: $340/month
100,000 contacts: $405/month
Plus
All of the features above PLUS:
Up to 25 users
Custom domain and branding
SMS marketing
CRM with sales automation
Contact and lead scoring
Custom user permissions
Deep data integrations
Support: chat and email, one-on-one training
Below is pricing for the Plus plan with annual payments:
500 contacts: $49/month
2,500 contacts: $99/month
5,000 contacts: $135/month
10,000 contacts: $199/month
25,000 contacts: $319/month
50,000 contacts: custom pricing
Professional
All of the features above PLUS:
Up to 50 users
Site messaging
Attribution
Predictive sending
Win probability
Support: chat and email
Three sessions of one-on-one training
Below is pricing for the Professional plan with annual payments:
2,500 contacts: $129/month
5,000 contacts: $199/month
10,000 contacts: $279/month
25,000 contacts: $479/month
50,000 contacts: custom pricing
Enterprise
All of the features above PLUS:
Unlimited users
Custom reporting (Beta)
Custom mail server domain
Free social data
Uptime SLA
Support:

Chat and email
One-on-one training
Phone support
In-depth onboarding
Free design services
Dedicated account representative
Below is pricing for the Enterprise plan with annual payments:
2,500 contacts: $229/month
5,000 contacts: $359/month
10,000 contacts: $399/month
25,000 contacts: custom pricing
Keep in mind that these prices are based on year-long subscriptions; the month-to-month plan costs significantly more. My advice is to begin using the software on the month-to-month plan.
Once you feel confident that ActiveCampaign is the right software for your business, commit to the annual subscription to take advantage of the discounted rates. No matter what, you should take advantage of ActiveCampaign's free 14-day trial that does not require a credit card.
Ease Of Use
The initial sign-up process is incredibly simple, requiring little more than basic contact info (business name, email address, name) and some questions designed to funnel you into the appropriate level of service. After that, you're dropped into the UI.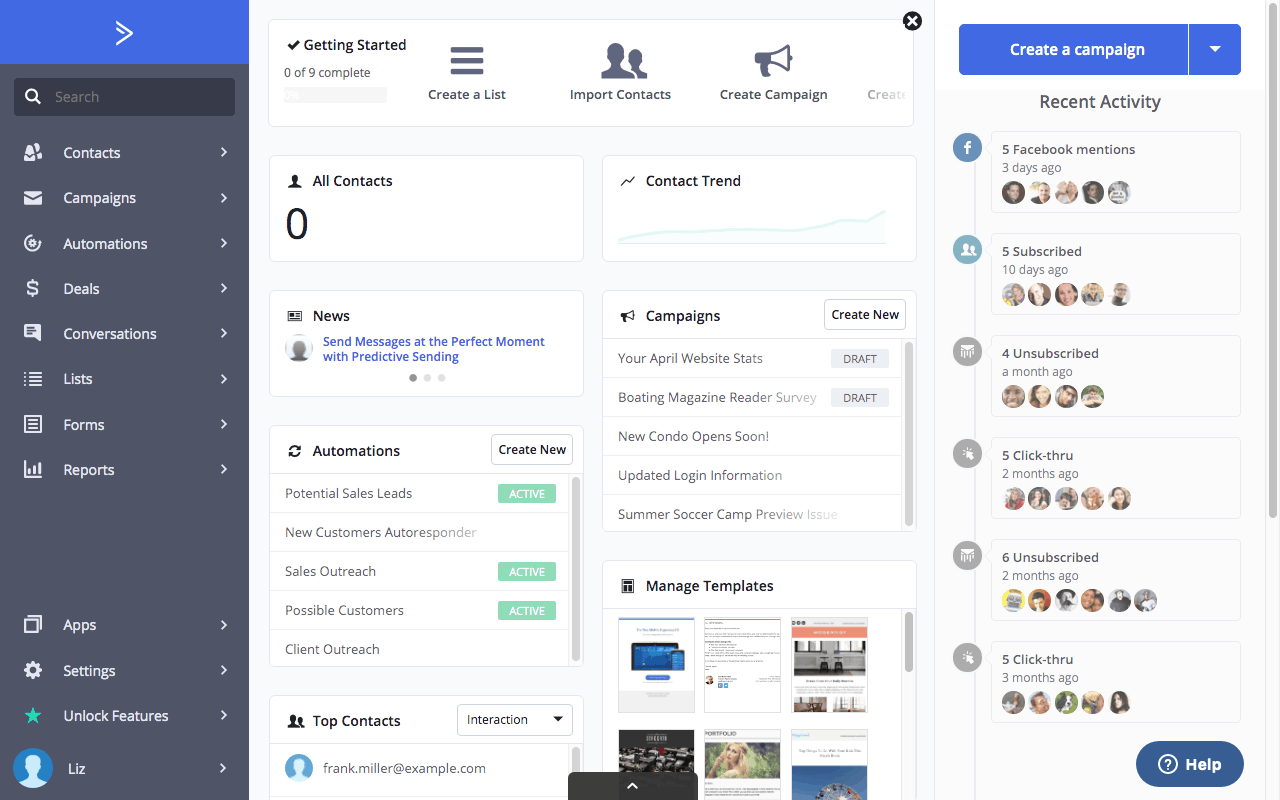 At first glance, the amount of information that ActiveCampaign puts on the screen can be overwhelming. There are eight options on the top menu (including Contacts, Campaigns, and Reports). Within each of these options, you will find subcategories with even more choices. This is an indicator of how thoroughly designed ActiveCampaign is, but it can all feel like a bit much.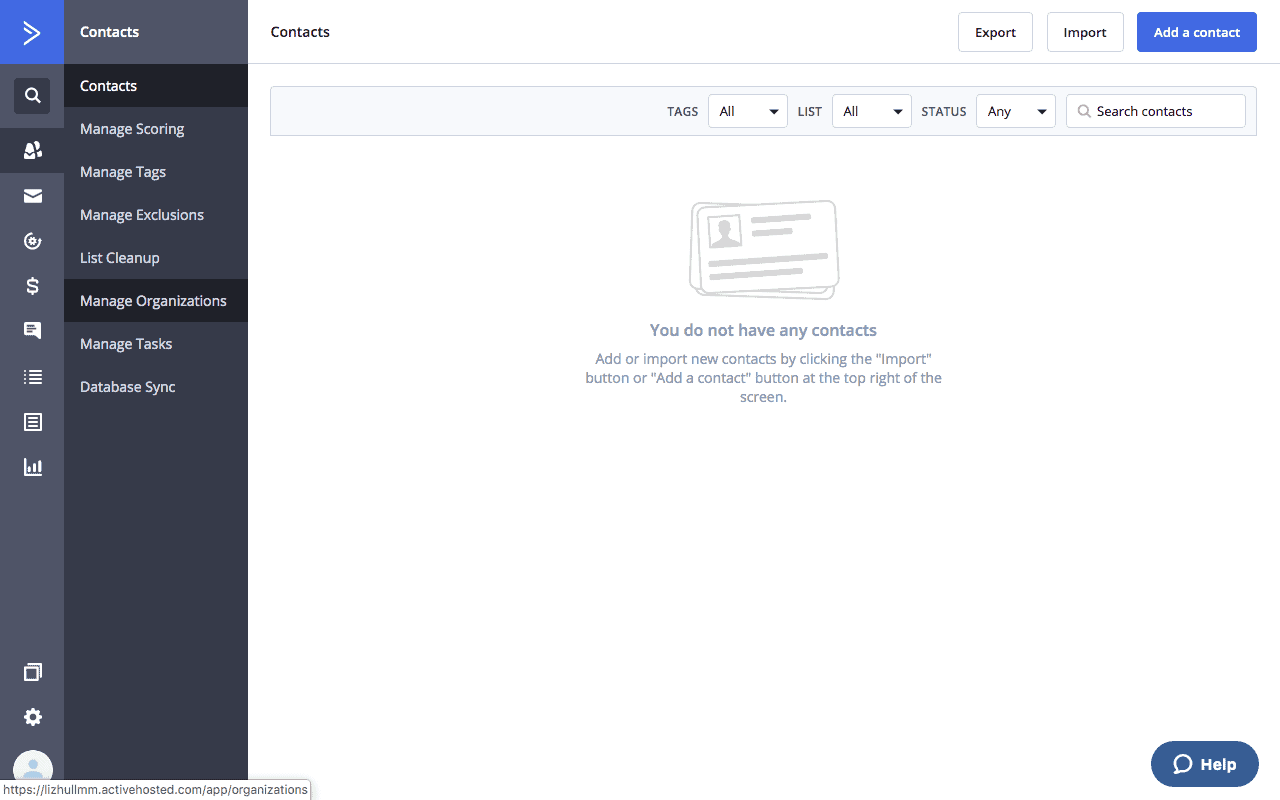 Fortunately, the ActiveCampaign dashboard is customizable. Each of the windows on your main dashboard can be dragged to a different position on the screen or closed altogether. Clicking on these windows, which show a simplified snapshot of the feature, takes you to a page with the full feature. Consider the initial offering more of a smorgasbord of features showing you what your UI could look like rather than what it must look like.
Before you can send a campaign, you'll have to make a list. This involves filling in a pop-up window that asks you to name the list itself, the list URL, and a reminder to your contacts about why they're on the list. The last two parts seem like anti-spam measures, and they're required to move forward.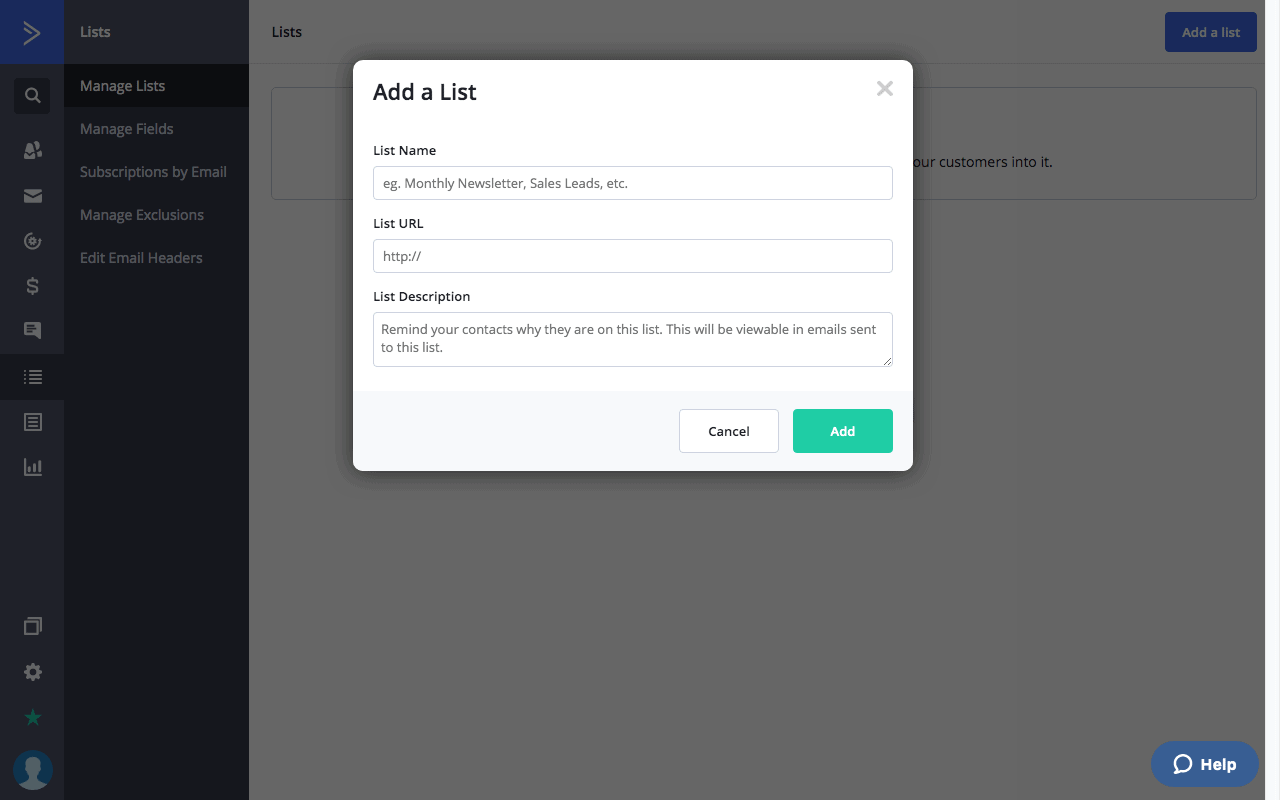 ActiveCampaign offers a wealth of list creation options ranging from simple copy and paste to importing a CSV file or importing a contact list from one of 94 sources (including popular ones, such as Google and Salesforce). Once you have your email addresses, you can add tags. This is useful down the road in case you want to sort your contacts by a method other than the list or their current status. You can export your contact list from ActiveCampaign as a CSV file.
One uncommon feature that ActiveCampaign offers is the ability to set what it calls Lead Scoring. It's a feature designed to help sales teams precisely target contacts by setting "rules" and then assigning a cumulative point value to contacts who meet the criteria. These rules can be things such as geographic areas, rate of response, etc. It should give you an idea of who is being effectively reached and who is being neglected.
Features
If you are looking to go deeper with your email marketing efforts, ActiveCampaign won't disappoint. You'll find a feature-rich environment to reach your customers wherever they are on their buying journey with you. Here are some of the highlights:
Email Segmentation: This feature allows you to create "segments" in your email and send those customized segments to only certain members of your list. Want to send a version of your email to single men in Portland? You can do that. Want to send another version of the same email to married women in Connecticut? You can do that too.
Subscription Forms: Easily encourage new customers to subscribe to your marketing emails with one of four form types. From there, automate what happens to their information, from adding them to a contact list to sending welcome emails to starting the sales process.
Dynamic Content: ActiveCampaign wants to make sure your emails keep their fresh feel and makes it possible to add RSS feeds and websites to your emails. Those sections will update with the latest content, ensuring your emails stay current. Add to this the ability to customize what subscribers see based on their individual preferences, and you have a powerful tool at your disposal.
A/B Testing: With this email marketing feature, you can create variations within your email — a different subject line, picture, or phrase — and see which variant performs better.
Site & Event Tracking: ActiveCampaign provides a "small snippet of code" that you can add to your website, allowing you to track in detail what pages people visit, what links they click, and what videos they watch. All of this data comes back to you to use in growing your business. While event tracking requires you to add a snippet of code to your site, you can set up site tracking with a WordPress plugin.
SMS Marketing: ActiveCampaign makes it possible for you to send text alerts to your subscribers in addition to emails. (These can also include discount codes.)
Sales Automation: This is one of ActiveCampaign's biggest party tricks. The sales automation feature allows you to create a chain-of-events flow chart for your emails, ensuring that customers receive emails at just the right time. Note: The abandoned cart automation is available on the Plus plan and above.
Contact & Lead Scoring: By using this feature, ActiveCampaign will score your subscribers based on their activity and demographics. Once you know what contacts are most likely to convert to a sale, you can focus on them.
Mobile App: Designed to handle customer relations and deals, the ActiveCampaign app allows users to find contacts, access communication, and track deals. Unfortunately, that is the extent of what the app can handle; you can't create or send campaigns out from your phone or another mobile device.
Integrations & Add-Ons
ActiveCampaign is strong when it comes to add-ons, allowing users to choose from a comprehensive list of over 250 integrations and apps. These integrations are crucial for the best email marketing platforms since they easily transfer customer data from your online store to your email marketing system and from your ActiveCampaign account to your accounting system. A few of our favorite integrations include the following:
eCommerce
BigCommerce
Magento
PrestaShop
Shopify
WooCommerce
Payment Processing
Accounting
QuickBooks Online
Xero
Zoho Invoices
ActiveCampaign also works with Zapier, a connection service that opens up a world of hundreds of extra integrations.
ActiveCampaign also has a RESTful API, which you can use to build custom connections to third-party software.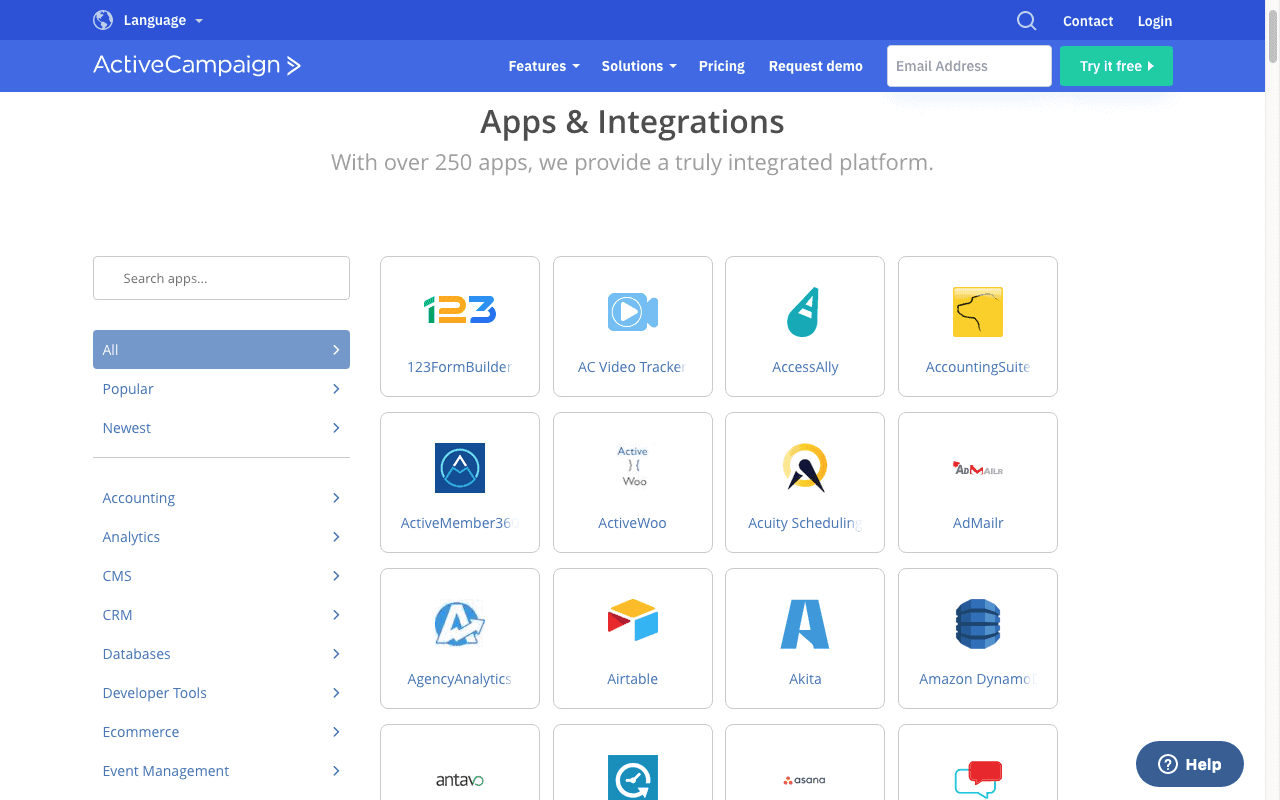 Customer Service & Technical Support
Like many cloud-based software solutions, ActiveCampaign gives access to different levels of support based on your payment plan. All users below the Enterprise level will be able to contact ActiveCampaign through live chat and email. Only Enterprise-level users have access to phone support and a dedicated account rep. The Professional Plan does include three one-on-one training sessions per month, so that is a great benefit.
I wish phone support was available to more users since it can be difficult to communicate questions and concerns over text. Fortunately, ActiveCampaign provides numerous self-help resources, which you can use to find answers to your questions. Here's a quick list of ActiveCampaign's support resources:
Knowledgebase: Find numerous support articles, divided up into ten topics.
Learning Resources: Access videos, podcasts, guides, and webinars to learn more about the platform and email marketing.
Community Forum: Participate in discussions about the software and get help from fellow users.
Directed Training: Receive one-on-one training in the form of 30-minute sessions. Available for users on the Plus plan and above.
Free Data Migration: ActiveCampaign's free migration service will import your subscriber lists, email templates, and automations.
Certified Consultants: Hire a third-party ActiveCampaign consultant to increase your click-through rates.
Developer Portal: Find resources for developers, such as API documentation, SDKs, Sandbox accounts, and more.
Blog: Updated frequently, the blog covers marketing topics and product news.
Contact

Web Ticket: Submit your questions and concerns in the form of a web ticket.
Live Chat: Live chat is available on ActiveCampaign's site.
Social Media: ActiveCampaign is active on Facebook, Twitter, Instagram, and LinkedIn.
User Reviews
The consumer review space for ActiveCampaign is really a bright spot in the world of SaaS email marketing platforms.
G2: 4.5/5 stars (5,312 reviews)
Capterra: 4.6/5 stars (793 reviews)
TrustRadius: 8.9/10 score (292 reviews)
Now let's take a look at what some users felt were a challenge, and move on to the praises.
Negative Reviews & Complaints
While the majority of ActiveCampaign's reviews are positive, even these positive reviewers expressed a few of ActiveCampaign's weaknesses. Here's what users mentioned most frequently:
Learning Curve: Some customers felt that reports were challenging to use. Other customers felt that at times, the UI was a bit too complex for their liking.
Price Point: Reviewers on TrustRadius who rated ActiveCampaign highly did site the price-point as a con, though they still opted to use the software.
Limited Email Design Options: Although users are happy that ActiveCampaign provides templates they can use to create emails, they would prefer a bit more variety in these templates, or at least an easier way to edit them.
Positive Reviews & Testimonials
It's a lot easier to find positive testimonials about ActiveCampaign than negative ones. Here's what people like about the email marketing software.
Generous Features: Users say that ActiveCampaign's automation and segmenting tools are robust and easy to set up.
User-Friendly: Although ActiveCampaign is certainly not the easiest software to learn, once you get past the initial learning curve, it is fairly user-friendly.
Integrated CRM Tools: Merchants appreciate having CRM tools deeply integrated with their email marketing software.
Security
ActiveCampaign takes security seriously. They have established systems and security measures that will keep your data and your customers' information safe.
ActiveCampaign is GDPR compliant, and for merchants on the Enterprise pricing plan, they are also HIPAA compliant. ActiveCampaign incorporates data security into their development process. They say that they constantly use in-house tools to scan code and infrastructure. They also have an in-house "Red Team" who work as white hat hackers to test the software's security.
ActiveCampaign's information storage methods also keep your data secure. ActiveCampaign employs data redundancy, so you always have backups of your information, and they protect data access through multi-factor authentication, password control, and keys. ActiveCampaign also protects your information through single-tenancy classification. This means that every user's information is stored separately and that each user is protected by application firewalling and vulnerability scanning.
Finally, all ActiveCampaign emails are sent using TLS encryption, which keeps emails secure and will indicate to your customers that the email is safe to open.
Final Verdict
ActiveCampaign manages to be a fantastic choice in the broad sense while also aiming for a niche not clearly occupied by its competitors in the email marketing space.
This email marketing platform could certainly work for any sized company, but its ideal fit is probably a business that has a dedicated marketing team (or at least one person) who can take advantage of ActiveCampaign's generous multi-user and scheduling features. ActiveCampaign's pricing is affordable, but there's no free plan, so marketers with very modest email campaign needs would be better off looking at Mailchimp or SendinBlue. Those who want to try before they buy, however, can enjoy that 14-day free trial without handing out their credit card information.
While your first login may be a little overwhelming, ActiveCampaign is ultimately a lot more approachable than it appears at a glance. Step-by-step tutorials will hold your hand as you navigate what might be one of the most robust, non-premium feature sets available in an email marketing platform. ActiveCampaign is as simple or detailed as you need it to be, whether you want to do high-level marketing or just keep some contacts up to date with a newsletter, and that's an impressive accomplishment. For all of these reasons, we can confidently award ActiveCampaign our 5-star score.
For more help making the best of your email marketing strategy, check out 6 Easy Tips To Improve Your Email Marketing and How To Create A Successful Email Marketing Strategy.
---
We've done in-depth research on each and confidently recommend them.
We've done in-depth research on each and confidently recommend them.
To learn more about how we score our reviews, see our
Email Marketing Software Rating Criteria
.