Expert Analyst & Reviewer

Updated on:
Advertiser Disclosure: Our unbiased reviews and content are supported in part by
affiliate partnerships
, and we adhere to strict
guidelines
to preserve editorial integrity.
Aloha POS

Pros
Numerous features
Advanced inventory management
eCommerce integration
Highly customizable
Cons
No pricing disclosed online
Poor customer support
Limited integrations
Aloha POS Overview
In Hawaiian, aloha means hello and goodbye. In the POS industry, it means a company with a feature-rich product that is tailor-made for high-volume restaurants. If I was the director of Aloha POS's HR department, this is exactly how I would start all of my grainy training videos. In reality, Aloha is a massive POS company used in more than 75,000 restaurants worldwide and was recently purchased by another giant company (NCR). Aloha POS has several things going for it. Namely, it has a ton of experience in the restaurant industry, which shows in the number of features it offers in its product.
NCR Aloha has an excellent ordering system and a very functional interface that anyone with experience in the restaurant industry will find to be intuitive. It's a one-stop-shop product with strong inventory management and employee management, along with loyalty and eCommerce options. It's also tried to modernize from just being an on-premise legacy system with an app that allows managers to remotely monitor their restaurant. Aloha POS has also undergone some feature upgrades since its NCR takeover. It now includes some COVID-friendly features, such as online ordering, QR code payments, and self-ordering kiosks. A recent partnership with Poynt also allows for tableside ordering.
Now for the downside. Aloha POS system pricing is very difficult to pin down, even when you've given it some specifics about your business. And when you do end up with even the broadest of quotes, it's an expensive system. Aloha POS seems like it caters to larger chain restaurants that can afford to pay (or overpay) a premium for a good, dependable system that should satisfy a restaurant's needs. But there are plenty of other systems out there that provide comparable services for less money. And when you factor in the company's mediocre customer service, the shine wears off even more.
Pricing
Aloha POS pricing is tricky, to say the least. The company goes out of its way to keep straight answers off of its website and, in fact, off the internet entirely. Go ahead and google it and try to get a sense of what you can expect to pay. It's an exercise in frustration. Needless to say, that level of vagueness is less than ideal. Technically the company operates on a quote-based system in that you'll need to call and speak with a representative, talking them through your specific needs to get a quote. In the roughest of terms, hardware can set you back around $1,000 on top of software fees, customization fees, and standard card processing fees. The long and short of it is that NCR Aloha isn't cheap by any definition.
Cloud-Based Or Locally-Installed
Aloha restaurant POS is a hybrid system in that it has equipment that is locally-installed but also features a cloud-based app that allows you to access data remotely. You can also set up Aloha Restore for a fee, which backs up your data and stores it in a third-party source.
Specific Industry
Though it claims to be a viable solution for anyone in the foodservice industry, including bars and cafes, in practice, the Aloha POS system is better suited for full-service restaurants with a robust feature package to serve those clients. It's probably going to be too pricey for small, quick-service restaurants. NCR Aloha also comes equipped with functionality those smaller restaurants won't need.
Specific Size Of Business
Mid-sized and large-scale restaurants should be well covered by NCR Aloha POS. The POS has advanced inventory management and reporting and comes with solid table mapping, a slew of options for a restaurant with many servers, and plenty of turnover throughout a business day.
Hardware & Operating System Requirements
The Aloha POS desktop system runs on Windows and Android and requires at least Windows 10 or more recent. Its mobile app is available on iOS and Android devices. In terms of available hardware, an Aloha POS system can be customized with your choice of hardware setup, and its acquisition by NCR added even more hardware options. Aloha features three NCR desktop terminals in various sizes. There are 10″, 12″, and 15″ options for screen size. Aloha POS also offers handheld devices, from Orderman designed for tableside ordering to an NCR 7779 tablet with built-in NFC support. Or, using the NCR Mobile Aloha app, servers can use an iPad or iPhone for tableside ordering.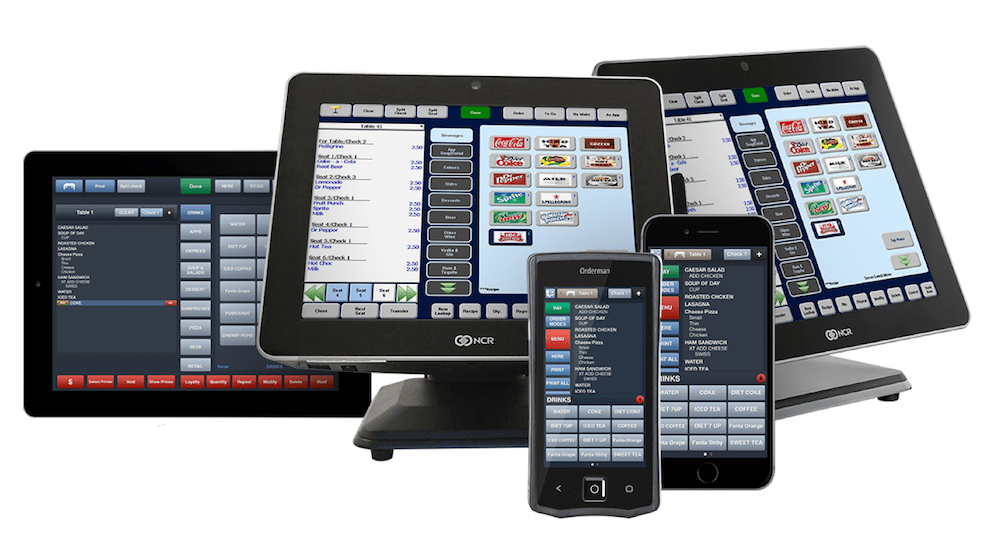 There are also various other optional peripheral POS hardware items to choose from, including several that will appeal to quick-serve restaurants and drive-thrus. Self-order kiosk options include the NCR SelfServ™ 90 kiosk for a tablet-like experience and the NCR XK32 kiosk, which runs on 6th gen Intel® Core processors and features an oversized 32″ display.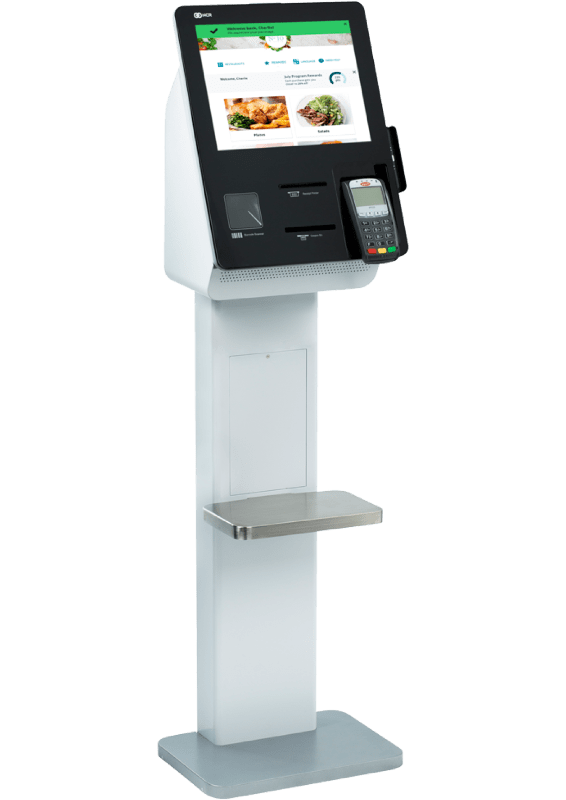 NCR also offers Aloha customers hardware for digital signage, including digital menus and NCR's kitchen display systems.
Ease Of Use
Aloha POS system is certainly not a plug-and-play system that you can have up and ready minutes after pulling it out of the box. It takes some time to set up and configure. There are some basic walk-throughs online, but the installation can be a bit of a hassle compared to other POS systems. That said, once you're ready to go, Aloha's interface is very well designed. If you're at all familiar with Windows, NCR Aloha will be like second nature to you. It's not flashy or particularly modern, but the button layouts are easy to read and customizable to your liking.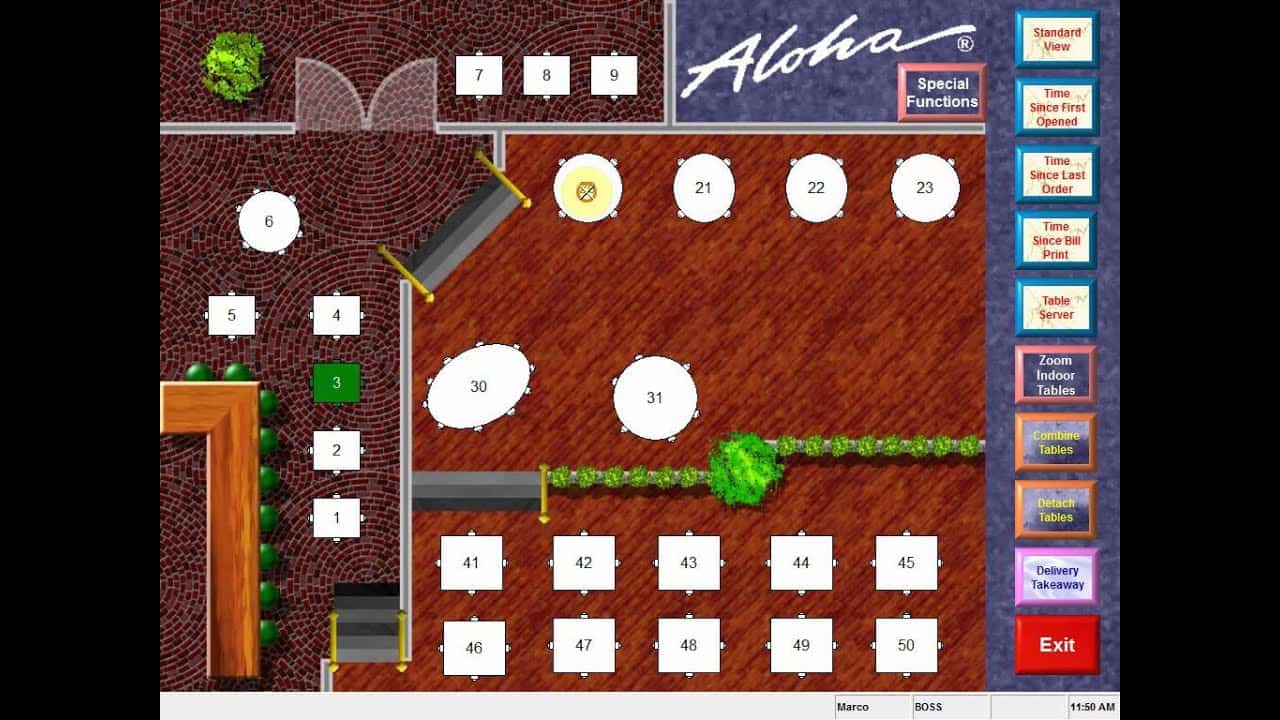 Table mapping is efficient and straightforward, letting you lay out the basic design of your restaurant. There is an easy-to-read color-coding system to help servers assess where their tables are in their meals. You can click on a table to quickly make changes to existing orders and separate checks instantly. The modifier system is simple, allowing you to set up items with forced modifiers to walk servers through various choices. There is also a button for specialty modifiers if a customer has a unique request.
As you would expect, Aloha POS accepts all forms of payments, and closing out tabs is a quick and painless process. Moving to the back end, the Aloha POS system has strong inventory management. If you're at all familiar with a Windows layout, it should be pretty easy to figure out. Not everything is neatly laid out in front of you and can involve clicking through multiple links to get to the report or item count you're looking for. In some ways, that's a benefit in that it doesn't clutter up your screen and makes the information easier to digest. While the back office looks simple, there's a lot to tinker with. Purchase orders are particularly simple, and real-time inventory tracking is always a nice feature.
Features
Aloha restaurant POS is extremely feature-rich, as you might expect from a system that's at the higher end in terms of cost. You're likely to find all of the usual bells and whistles you would expect from a strong POS system. I'll try and highlight a few things that I feel Aloha POS does particularly well.
Ordering: This POS is built specifically with the busy restaurant owner in mind. It handles the order process quite well with nice features that can help you through the following tasks.

Check Splitting: The system quickly walks you through this process, allowing you to assign orders to seats and easily divvy up items. It also allows you to split checks for groups that are all paying with separate cards.
Tipping: Aloha POS system has a unique Table Service setting that makes pooling tips and splitting them a simple process for employees.
Modifiers: The system intuitively walks servers through forced modifiers and displays optional modifiers as well, allowing for easy opportunities to upsell. It's also a simple process for servers to click on orders and make custom changes.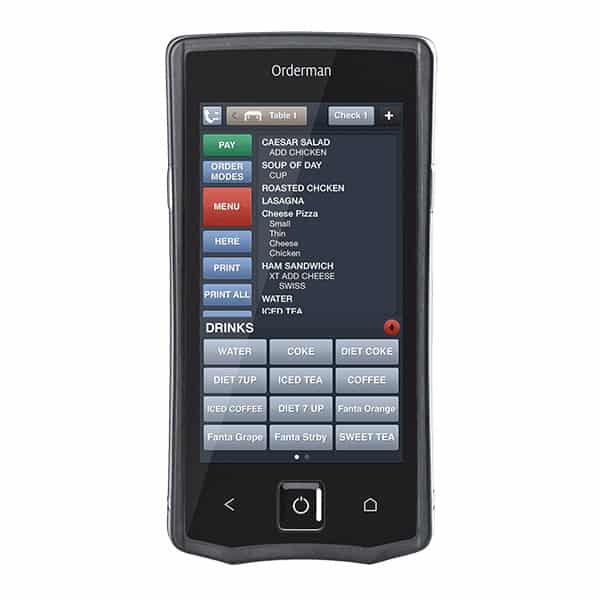 Contactless Dine-In: Whether your Aloha POS can accept NFC payments (such as Apple Pay and Google Pay) depends on your particular hardware setup since some; not all of the system's payment terminals can accept this type of payment. However, Aloha POS offers another contactless way for guests to pay: using a QR code with their phone. With Aloha restaurant POS, customers can scan a QR code from a receipt or screen and then pay on their own device. Self-ordering kiosks are another option for contactless dine-in and one that can work well for quick-service, fast-casual. The system also sends SMS updates to your customers' phones to alert them that their order is ready, or it can display completed orders on your digital signage.
Online Ordering: When integrated with Aloha POS, NCR's eCommerce add-on, Off Premise, provides fully integrated online ordering, mobile ordering, and contactless delivery and curbside pickup. The service also integrates orders from third-party delivery apps (such as DoorDash and GrubHub) and includes a QR code payment option.
Inventory Management: In addition to its register features, Aloha POS also features strong back-office office management features, including inventory management.

Purchase Orders: The POS comes with the ability to create and track your purchase orders, and you can easily keep track of them in the back end. It can also recommend purchase orders based on your trends.
Real-Time Ingredient Tracking: Keep tabs on your ingredient levels during busy times at your restaurant, so servers will know if an item becomes unavailable.
Store-By-Store Comparisons: Easily discern what items are selling well or not at all at a particular location. You can also easily set up transfers of inventory between locations.
Future Sales Tracking: One of the unique inventory features the system offers, it predicts future sales amounts and guest tracking, running those reports at 15-minute intervals.
Reporting: Aloha POS system's sheer number of reports isn't overly impressive, especially compared to how much it offers with some of its other features. However, the reporting package is designed to be easy to find and interpret and, in this facet, Aloha POS succeeds. It's easy to get bogged down in a bevy of complicated reports. Aloha point of sale has a little more than a dozen that come standard, and they include the basics, from void reports to sales and labor. If you're not overly concerned with advanced analytics, this should be fine. If you're looking to drill deep into sales numbers, you may find the offering lacking.
Customer Management:

Loyalty: The POS has an add-on loyalty program that is customizable, allowing you to choose the metrics by which customers can gain rewards. It also tracks spending information, so you can reward your top spenders and easily set up efficient marketing campaigns.
Feedback: Aloha restaurant POS also has a unique analytics device that tracks how customers leave feedback about your business. Owners can track what platforms their customers are using and what information is being sent out into the ether of the internet.
Compatible Credit Card Processors
Aloha POS has a built-in credit card processing system in NCR Merchant Solutions. It accepts all forms of payment and integrates with all major credit cards. It also includes hardware, software support, and services. It also integrates with Tablesafe and Poynt as EMV payment devices. In an interesting gimmick, NCR also says it will pay a customer $500 if it can't save them money with their current processing company. (Here at MM, we have seen time and again that this gimmick is precisely that — a gimmick. You will almost certainly never qualify for the promised sum, and even if you do, the hoops you have to jump through likely won't be worth it.)
Integrations & Add-Ons
Aloha POS system counts on its built-in features to have you covered, so it's a little skimpy in terms of the number of companies it integrates with, but it covers the basics. It integrates with QuickBooks and Xero for accounting. It also integrates with Paychex payroll software, Craftable restaurant management software, OpenTable for reservations, 7Shifts for employee scheduling, and NCR's eCommerce/online ordering platform, which is called NCR Off Premise. The POS does feature an open API for developers.
Customer Service & Support
Aloha POS has a call center for tech support that is available to contact 24/7/365 (at least, according to the website). There are also on-site and on-call services if they can't diagnose a problem over the phone or email. Web support for level 1, 2, and 3 incidents is also available. Aloha POS has a fairly high volume of complaints about its customer service, however. It's apropos to mention that I also struggled tremendously with more than one representative when trying to track down answers to basic questions or even set up a simple demo. The POS also has some scattered demos online, which are moderately helpful.
User Reviews
Overall, user reviews of Aloha POS are mostly positive, but there are a few persistent negative trends that keep showing up.
Aloha POS is not BBB-accredited or rated, and the company's BBB profile has one complaint, made in 2019. NCR Corporation is not BBB-accredited either but has a C- rating, and six complaints closed in the last 12 months.
The following review trends pertain to NCR Aloha POS, specifically.
Negative Reviews & Complaints
Customer Service: Some customers complained of being bounced around during customer service calls and then ultimately didn't get the answers they needed. Others complained that the onboarding process was difficult and time-consuming.
Fees For Features: Multiple users were disappointed that features such as loyalty and gift cards weren't included in the software, bringing up the price.
Functionality: A handful of customers were overwhelmed by Aloha POS system's feature-set. Some needed to watch an instructional video to talk them through how to use some of the features, and others could never figure out how to use certain elements.
System Crashes: More users than I would expect talked about the system crashing at inopportune times, causing customers to lose data.
Positive Reviews & Testimonials
Ease Of Use: Many customers found the POS to be simple to use and particularly easy to train employees on. Customers with previous experience using a POS system seemed to like Aloha's design.
Robust Features: If you need it, Aloha POS offers it. At least in some capacity. Many users appreciated that this POS system offered everything they needed, from robust reports to inventory management. They claimed that the feature offerings were more robust than other POS systems they had tried.
Customization Options: For experienced users, they appreciated that they could make the system their own and add details to make their business run efficiently.
Final Verdict
NCR Aloha POS clearly knows the restaurant business, and its product is catered specifically to a restaurant owner's needs. There's a reason why so many businesses use it after all. The system's feature-set is very impressive. If you're at a point where you want a robust system and cost isn't of consequence, you may want to give it a look. But other systems have rapidly caught up to what Aloha POS has to offer for a significantly lower price. Aloha does have some nice modern adaptations, particularly for our socially-distanced times, with tableside ordering, QR code payments, and the ability to access and control your restaurant remotely. NCR's takeover of Aloha has also enhanced the overall Aloha POS software and hardware offering.
It's a fine system, and stalwart restaurant owners seem to have a good deal of success with it. However, the Aloha POS system falters in a couple of areas that are sticking points for me. The lack of upfront pricing, coupled with user complaints about unexpected costs, is a significant concern, especially for small businesses just getting started without a ton of financial leeway. And the myriad complaints about shoddy customer service are never a good sign. But if you like what you see after doing your research, feel free to set up a demo with the company and see if it might be a good fit.
---
We've done in-depth testing of each and confidently recommend them.
We've done in-depth testing of each and confidently recommend them.
To learn more about how we score our reviews, see our
Point Of Sale (POS) Software Rating Criteria
.
Read Next