UPDATED
Advertiser Disclosure: Our unbiased reviews and content are supported in part by
affiliate partnerships
, and we adhere to strict
guidelines
to preserve editorial integrity.
Ambur POS

Note: Ambur was purchased by Shopkeep that is now operated by Lightspeed. Read our Lightspeed review.
Pros
Numerous payment gateway integrations
Customizable permissions
Minimal learning curve
Cons
Not EMV-enabled
No raw ingredient tracking
No integrations
No loyalty program
Ambur POS Overview
The Ambur restaurant point of sale system was born in Kabab and Curry, a family restaurant in Williamsville, NY. Waiters James O'Leary and Ansar Khan (also a son of the restaurant's owners) realized that scrawling customer orders on a notepad wasted time and often led to unnecessary errors. In 2009, O'Leary began coding the early versions of Ambur POS, building a custom app designed to work on his iPhone.
Soon after, the pair founded the umbrella company, Refulgent Software; they officially released Ambur to the Apple app store in April 2011. Over the next few years, Ambur expanded to more than 1,500 clients. The restaurant iPad POS was purchased in September 2015 by ShopKeep, an industry-leading iPad POS vendor for retail and quickserve, to expand the startup's reach into full-service restaurants. Khan has stayed on as a part of ShopKeep's business development team, and the acquisition led to the development of new features, such as a web-based back office and multi-location capabilities.
Unfortunately, some feature holes still need to be filled in Ambur's system, and even after several years under ShopKeep's supervision, not much has been done to fix them.
Don't have time to read an entire review? Take a look at our top-rated point of sale solutions for a few quick recommendations. Every option we present here offers excellent customer support, detailed user interfaces, and easy-to-use software, all for a reasonable price.
Pricing
You can test Ambur by downloading the app from the Apple store. Access to the system is free for the first 14 days. After that, you'll need to upgrade to one of Ambur's annual subscription plans:
One Device: $59/month ($79/month billed monthly)
Two Or Three Devices: $99/month ($139/month billed monthly)
Unlimited Devices: $149/month ($199/month billed monthly)
These are pretty standard rates for an iPad restaurant POS and are perhaps even on the lower side for a full-service restaurant POS. However, that doesn't necessarily mean Ambur provides a great value compared to the competing restaurant POS systems.
Cloud-Based Or Locally-Installed
Ambur is cloud-based, meaning the software is stored on a remote server and wirelessly transmitted to all of your Ambur-compatible Apple devices. All of your restaurant's data is also stored in the cloud through Dropbox's free storage service.
In the case of an internet outage, Ambur can remain fully functional; you'll have full access to most features, except for credit card processing, email, and Dropbox backups. All devices are connected within Ambur using the wireless local area network.
Specific Industry
Ambur is specifically designed for businesses in the restaurant industry and can be used for restaurants, bars, cafes, and food trucks.
Specific Size Of Business
Right now, Ambur works best for one-location foodservice businesses that require one to ten workstations. ShopKeep has said it plans to bulk up Ambur's feature set to make it suitable for larger multi-location operations, but this goal has not yet been achieved.
Ease Of Use
I found Ambur very easy to use. The interface is clean and well designed, and I would definitely call it intuitive. In December 2016, Ambur released a design update with the release of version 2.90 to make the system look more modern (though no major updates have been released since then). Once you download the app and enter some personal information and your passcode, you are prompted to "Connect to a hub" or "Start a hub." If you select the start a hub option (the only option on the free trial), you are taken to the floor-plan page.
In the top left corner, you have the option to select Home, which will take you to the menu and show you which orders are still open. At the bottom left of the screen, you can choose Open and Closed orders, Menu, Reservations, and Management.
Starting a new order is easy. From the Open orders screen, select from the food and drink buttons on the righthand side of the screen (in the iPad app) or search for the item you want. Designate any discounts or fees applicable to the order and assign a customer to the ticket. The server is also prompted to add customization options, such as cheese, ketchup, pickles, etc., before adding the item to the order and sending it to the kitchen.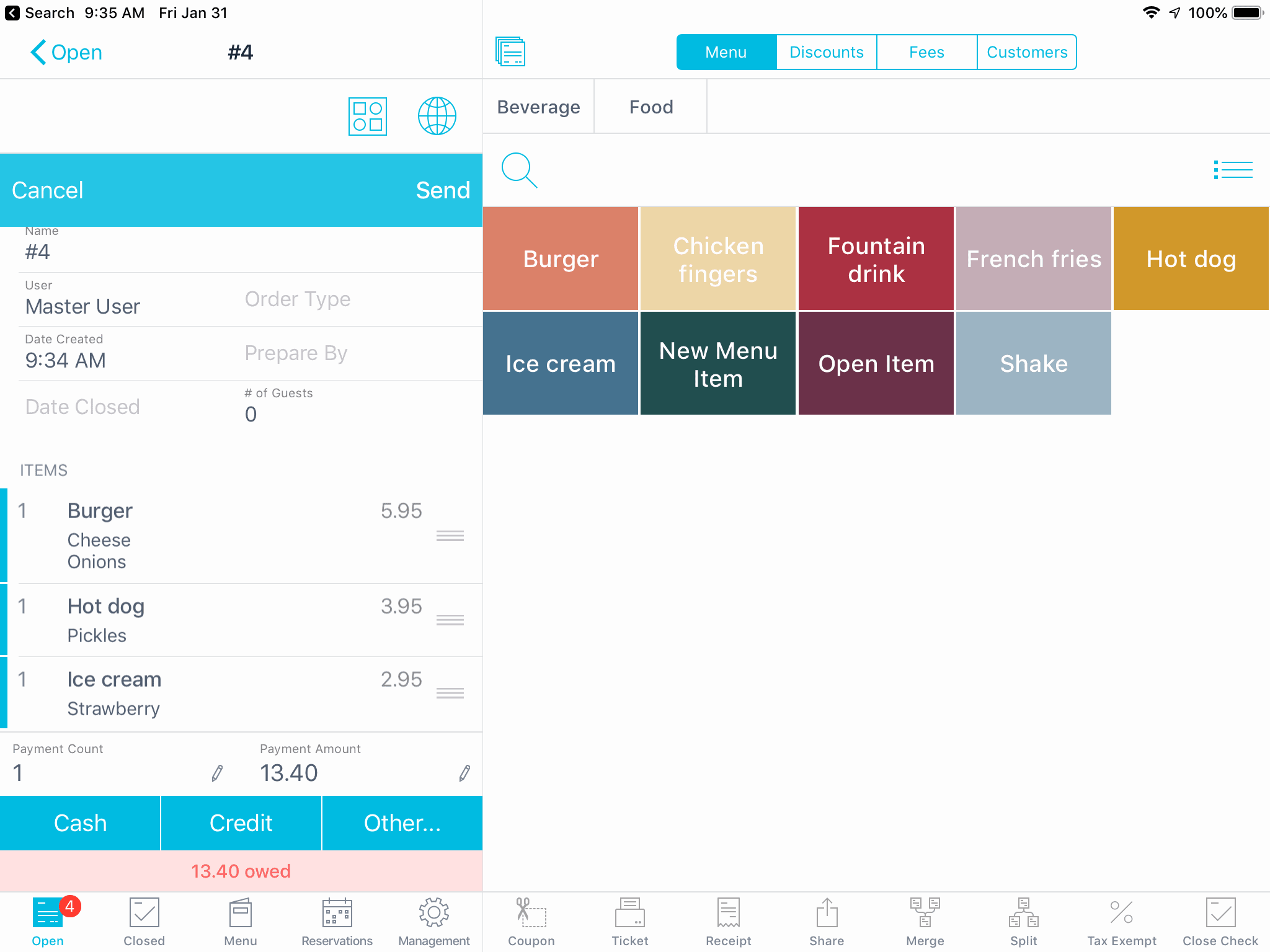 Upon closing the order, if the customer chooses to pay with credit, you swipe their card and send it to the receipt printer, then bring it back for the customer to sign and add their tip. Because the system doesn't allow for any on-screen signatures or tipping, you'll have to manually go into the closed order later and add your tips before settling the batch at the end of the day. This method is a far cry from most modern restaurant ordering systems, but it's easy enough, and it works (I assume).
From the Menu screen, you can easily make changes to existing items as well as add new menu items. Here is where you can add categories, modifiers, and tax rates, choose which color the item will appear on your screen, change the item's price, and access a few other options.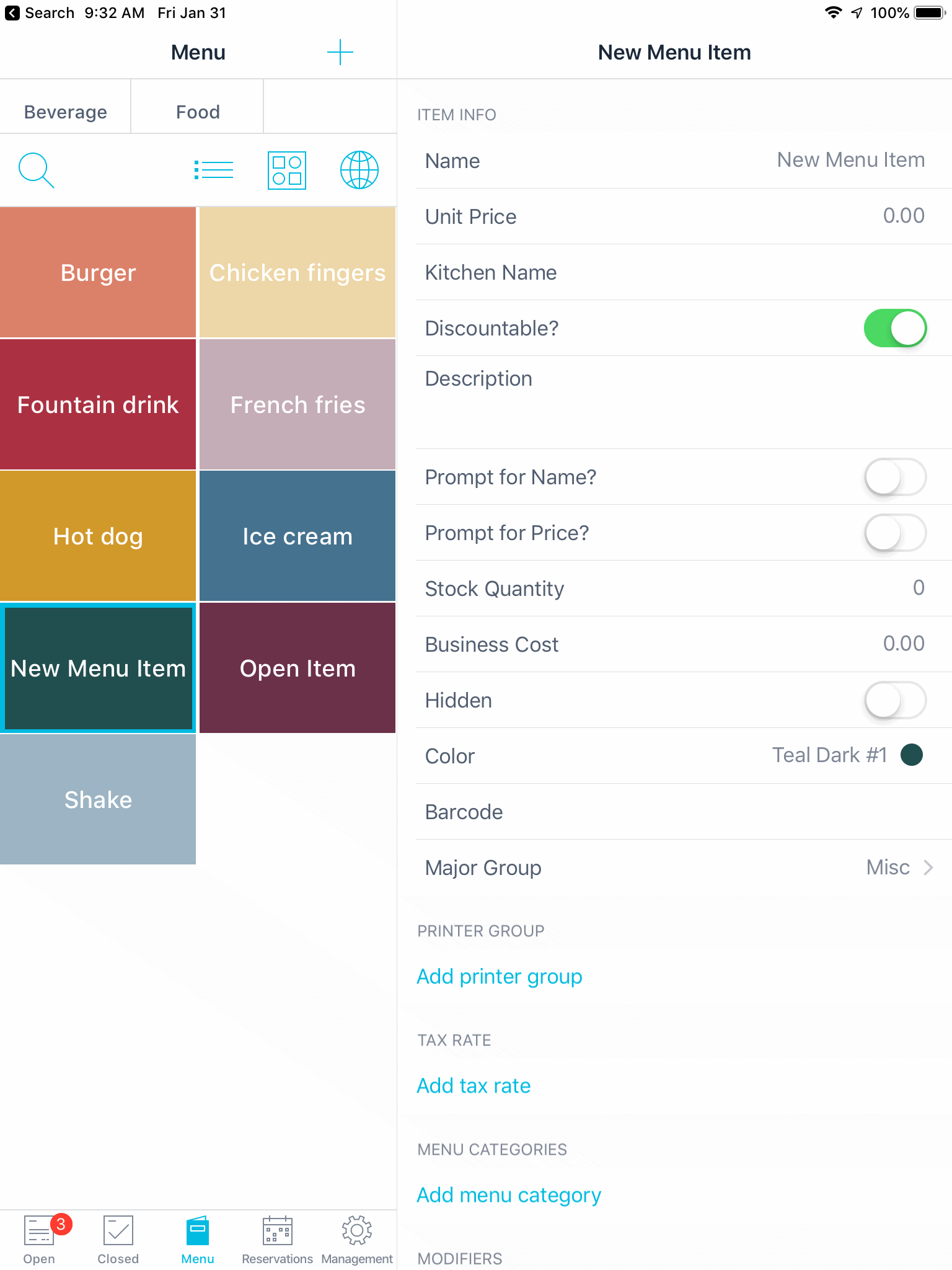 If you select "Management," a list of options pops up. You can view a selection of settings where you can configure your hardware, manage your customers, create modifiers and order types, manage employee permissions, etc.
Though it's intuitive and super easy to use, the app is almost…too easy to use? Because ultimately, there aren't too many features. It reminds me more of a mobile QSR app rather than a full-service restaurant POS.
I tested the app on both my iPhone and iPad mini. While the app has more or less the same function set on either device, I found that any graphical elements render a lot better on an iPad, and overall, the app seems better suited for iPad use. The iPhone app crashed on me a couple of times as well.
Hardware & Operating System Requirements
Ambur works on any iPhone or iPad on iOS 10.
As for credit card terminals, Ambur only works with the iDynamo plug-and-play headphone jack reader, and you need to buy it from ShopKeep directly to ensure proper encryption. Notably, this reader only accepts magstripe credit cards — no chip or mobile wallet payments. Despite the credit card reader not being EMV-enabled, Ambur users do have some EMV protections under the Ambur EMV Liability Promise. Still, the system's inability to use a modern credit card reader seems like a pretty significant oversight, to say the least.
Regarding other peripherals, you can source the hardware yourself or buy it from ShopKeep (another benefit of the acquisition). Not all of the devices offered by ShopKeep will work with Ambur, however (the Bluetooth printers and readers, for example). You need to verify that the equipment you're purchasing is compatible with Ambur's system, and you can do this by contacting Ambur directly or going through POSPortal.
Ambur is compatible with the Star Micronics TSP100 Ethernet printer for receipt printing and Star's SP700 kitchen ticket printer. You can also add a Socket Mobile 7Ci or 7Mi barcode scanner to scan UPCs and barcodes.
Features

Ambur has a rather limited feature set compared to other popular restaurant POS systems. The ordering system is pretty intuitive, and the app also has a customizable table layout, reservations function, some employee management features, and a few basic reports. But that's about it! Notably absent is any type of inventory or raw ingredient management feature. You also won't find any CRM or loyalty programs. However, the features it does have are decent enough.
Ambur's main features are as follows.
Orders: New orders are easy to create, either by selecting a table, tapping the + sign, tapping a menu item, or even just swiping a credit card. Orders are detailed and include the name of the user who created the order, the type of order made, the date/time the order was created, the date/time the order was closed, the total of the order, and the tip amount added. Orders may be merged or split (into even portions or item by item). Servers can send orders to the kitchen from their iPhone or iPad.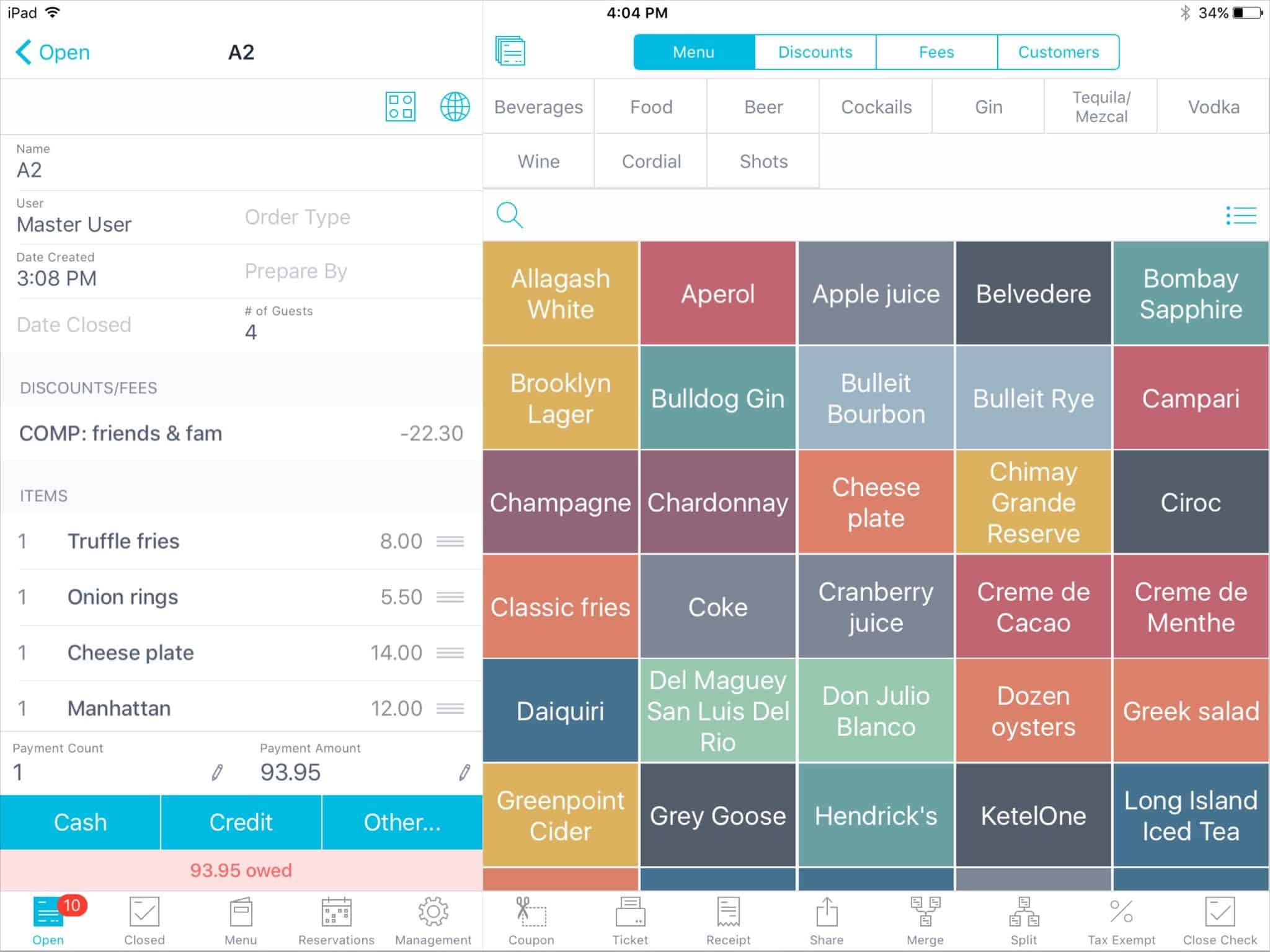 Audit Logs: Audit Logs are quite useful if you're looking to catch small mistakes, increase efficiency, or manage wayward employees. These logs show you virtually every action in your system, including who logged in at any given point as well as when printouts were made, orders were created/deleted/opened/closed, payments were created/deleted, edits were made, or someone authenticated a permissions override. Audit Logs are kept for 30 days and can be emailed to partners/employees or sent to Ambur for support inquiries.
Database Backups: One of Ambur's most popular features is the ability to back up your database (hourly) to Dropbox. You can even email your database (as long as your platform allows for attachments of around 10MB). If you email your database, it is copied as an attachment, so it can be easily downloaded and/or viewed elsewhere.
Table Layouts: In Ambur, you can customize your table layouts and create new ones by dragging and dropping tables (represented by circles and squares). The layouts are not exactly to scale, which is a bummer, but the concept works well nevertheless. Each table can be given its own name/number, and you can also designate the number of guests and display the running check total on the table's icon.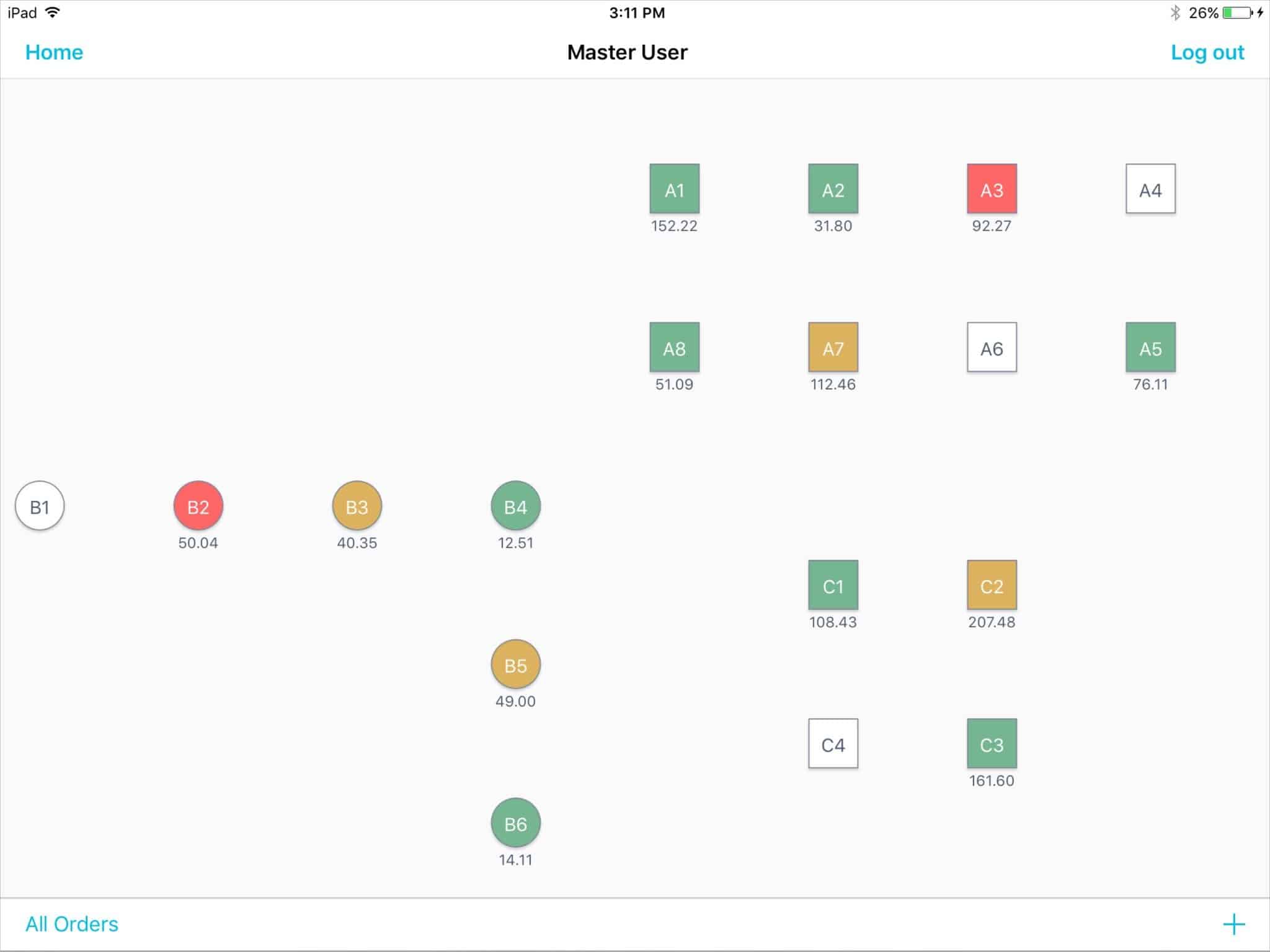 Employee Management: As a manager, you can generate profiles for each employee and create employee groups, such as servers, waitstaff, assistant managers, and managers, with customizable permissions. You can set hourly wages and taxes in user groups and also indicate whether you would like employees to be prompted to clock in when they log into the Ambur app for their shift. You can also set employee schedules for any date or time; employees with the Ambur app will be able to check their schedules remotely. Conveniently, Ambur can examine employee clock-in/clock-out data and calculate payroll for you.
Reservations: You can add as many reservations as you'd like by recording the party name, number of people, date and time, and any notes. The reservation feature allows you to draw from the customer database too, so if you have a regular customer, you can directly create a reservation under that customer's profile. Even better, once the reservation is made, you can email or iMessage it right to the customer as a form of confirmation.
Web-Based Back Office: I was pretty surprised by how basic the web-based back office is. It does allow you to see your reports "at a glance," to update your personal information, and access the support page, but that is about it. It's nice to be able to check in on your reports from any device at any time, but honestly, that's pretty standard in the industry now. Some notable reports include the Live Sales report, which displays a live look at each location's open and closed orders, and a Top Performers report, which ranks the best performing servers over the past week by the number of gross sales generated. You can also view a Trends report, which shows the restaurant's average gross sales for each day of the week by hour. Overall, though, the reporting functions are pretty light.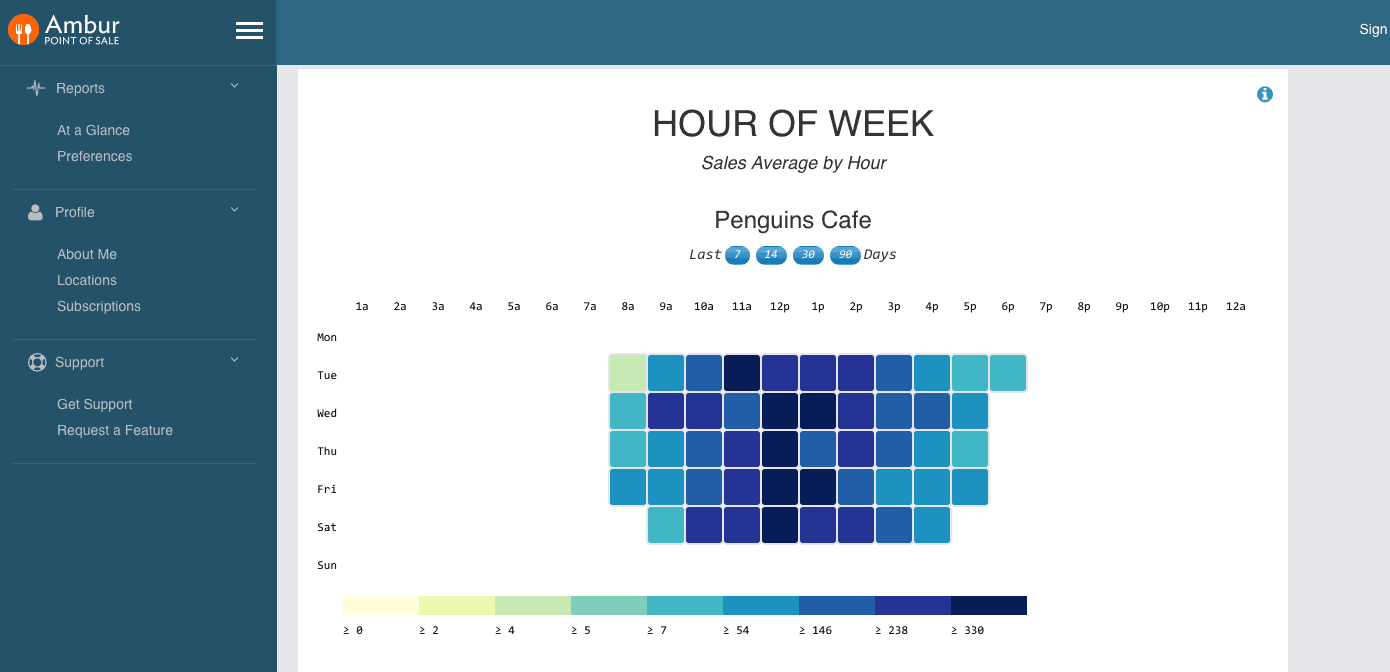 Customer Service & Support
Some Ambur client reviews mention how positive their interactions with Ambur support have been, though others complain about the inability of support to solve problems. However, Ambur does at least offer a useful online self-help support center, 24/7 email support, and a live support line you can call. Below is a list of ways you can get support for your Ambur system:
Email: This is the only form of 24/7 support Ambur currently offers. At one point in time, Ambur seemed to be great at quickly responding to customers, but recently, customers complain that it takes several days for a representative to get back to you (if they get back to you at all). I tested out the email support and received a friendly, helpful response within 11 hours.
Phone: Ambur offers a phone support number, but the website does not list support hours. To get in touch with a representative, users must call the phone number listed on Ambur's support page and select option 1 for Ambur support.
Knowledgebase: Like most POS systems, Ambur features a support page that you can use to troubleshoot on your own. I found the articles and videos very helpful and comprehensive. Plus, the entire knowledgebase is searchable, which makes the whole process easier.
YouTube: Browse Ambur's YouTube channel for videos on everything from setting up your menu to configuring your hardware.
Social Media: I was unable to find much of a social media presence for Ambur. I'm going to go out on a limb and assume this has something to do with the acquisition by ShopKeep.
Compatible Credit Card Processors
Ambur can be used with most of the major credit card processors, including Heartland, First Data, TSYS, Elavon, Worldpay, etc. Any processor that offers the BridgePay payment gateway will work. Ambur also integrates with ShopKeep Payments, which seems to be the preferred "in-house" processing solution. This is a good thing since ShopKeep Payments appears to be a quality processor offering interchange-plus rates.
Ambur does not support integrated credit card payments for merchants outside of the US or in the absence of an internet connection.
As mentioned, Ambur only integrates with the non-EMV-compliant iDynamo plug-and-play credit card reader for iPad.
Integrations & Add-Ons
At this point, Ambur has no add-ons or integrations, apart from the credit card processors it integrates with.
User Reviews
Ambur has a pretty small user base, so there are not a lot of reviews. However, the reviews that do exist are very mixed.
Negative Reviews & Complaints
Most of the online reviews for Ambur can be found in the comments and review section of the company's Apple app store page, where you can download the software for free. The current version of Ambur has a rather dismal 2.1/5 rating, though this is based on just 13 client votes. Quite a few customers feel that the quality of Ambur has gone down since ShopKeep's take over.
Poor Customer Service: Multiple customers cite nonexistent customer service representatives. For those who do reach someone, service is extremely slow to respond, is not always helpful, and can be unfriendly.
Bugs, Glitches, & Crashes: Another common problem seems to be the fact that Ambur is subject to freezing and frequent crashing. Some customers have had issues with bugs in the system; one person claimed that the system deleted an entire day's worth of transactions, while another had to deal with the fallout of Ambur charging every one of his customers twice.
Missing Features: Ambur is missing a few features that a lot of other cloud-based POS systems offer. For example, customers can't sign for their credit card purchases directly on the iPad/iPhone/iPod. Some have requested the addition of subcategories to make sorting through menu items more simple. There is also a request for a register payout. And while flexible overall, Ambur also tends to keep things too basic in certain areas. The table grid, for example, does not allow for different (visually) sized tables — thereby making the scale somewhat inaccurate; what tables are available must snap to a predetermined grid. In this sense, the grid is more of a rough guideline than an accurate representation of an actual floor plan.
Weak Inventory & Reporting: Though there are enough reports to access most of the information you need, the reporting suite isn't robust or customizable enough to appeal to mid-sized or larger businesses. This was fine when Ambur was exclusively aimed at small businesses, but now that it's looking for bigger clients, the reports just aren't going to cut it. In the same vein, without raw ingredient tracking, you'll probably need some sort of outside inventory software to supplement your business. The inventory system cannot create product orders by vendor name. It would also be nice to be able to upload photos of menu items.
No Integrations: Because it lacks integrations with third-party CRM software, online ordering services, and accounting solutions, Ambur is behind many of its competitors in terms of utility. If Ambur (or, I guess, ShopKeep) hopes to appeal to larger businesses, these integrations are going to be essential.
Pricing Switch-Up: Years before the ShopKeep acquisition, Ambur sold its software as an on-premise solution with a $999 one-time fee, rather than with a month-to-month SaaS pricing scheme. At least two reviewers complained that they previously paid for a "lifetime license" and are now being charged a monthly fee. Though this sort of thing is inevitable if an on-premise solution becomes a SaaS, it still seems like it's something Ambur should have taken into consideration for its long-time customers who paid for lifetime service — for example, by continuing to support the on-premise solution as well as the SaaS product, or by offering those long-time customers some sort of discount on the monthly fee.
Positive Reviews & Testimonials
I really had to scour the internet to find any recent positive comments regarding Ambur. It seems that since Shopkeep's takeover, many customers feel that the quality of Ambur has severely suffered. That said, here are some of the positive customer comment trends I was able to find.
Easy Setup: Many Ambur clients mentioned how easy it was to set up their restaurant menu, even for people who wouldn't define themselves as tech-savvy. It's easy to update and revise menu items and assemble the wireless network between mobile devices and printers. Several clients reported a smooth transition as they went live with Ambur. It only requires one shift to teach a new employee how to use the software.
Efficiency: Ambur, like many other POS systems that offer tableside ordering, has saved many business owners time and money. The ability to process orders digitally helps avoid errors and makes checkout quick and easy. You can click three buttons to process a payment rather than manually entering handwritten menu items into a cash register. Kitchen staff doesn't have to worry about translating messy handwriting, and servers can focus more of their energy tableside because they don't have to run back and forth to the kitchen or the cash register.
Offline Accessibility: Many users appreciate that the app can perform most functions in the absence of an internet connection (you do need the internet to run credit card payments, however).
iPhone Ordering System: Some restaurant owners have commented that they like the ease and practicality of having their servers take orders with their iPhones.
Final Verdict
Overall, I give Ambur a 3 out of 5-star rating. Five years ago, it probably could have gotten away with a magstripe-only card reader, no raw ingredient tracking, a basic reporting suite, and a complete lack of third-party integrations, but even small businesses now realize how necessary those features are. Now that ShopKeep (via Ambur) is trying to expand its reach into larger, high-volume businesses with multiple locations, these developments should be at the top of the company's priority list. The fact that ShopKeep is nearly five years into the Ambur acquisition and still hasn't addressed these issues is part of the reason I'm dropping Ambur's rating for now. Perhaps more importantly, since ShopKeep took Ambur over, many customers feel that Ambur's quality has gone downhill.
In its conception, Ambur was one of the better-functioning restaurant POS systems. It still has an intuitive design, general ease of use, and basic functionality, but it just isn't keeping up with the demands of the iPad-based point of sale market. There are many other superior tablet restaurant POS systems available at the same price point as Ambur — and some are even more affordable. ShopKeep shouldn't (the keyword here being shouldn't) be having this much trouble helping this product become a truly great point of sale system. But if it continues as it has been, making only minor, more aesthetically pleasing updates, releasing buggy features, and neglecting to address big gaps in Ambur's feature set, I don't see much hope for Ambur's future.
That said, Ambur is still a practical and respectable solution for some small businesses in the foodservice industry, and I sincerely hope that ShopKeep will invest more energy in this POS at some point. If you want to see if the app could be a good choice for your restaurant setup, get started with Ambur by signing up for its free, 14-day trial when you download the app or opting for a free ten-minute demo.
---
We've done in-depth testing of each and confidently recommend them.
We've done in-depth testing of each and confidently recommend them.
To learn more about how we score our reviews, see our
Point Of Sale (POS) Software Rating Criteria
.