American Express Business Gold Card Review
Expert Analyst & Reviewer

UPDATED
Advertiser Disclosure: Our unbiased reviews and content are supported in part by
affiliate partnerships
, and we adhere to strict
guidelines
to preserve editorial integrity.
American Express Business Gold Card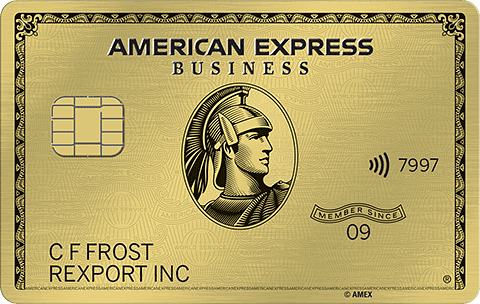 Minimum Recommended Credit
Good
Rewards Rate
4 or 1 points per $1 spent
The American Express Business Gold Card isn't a normal credit card. Instead of offering a flat rate or perhaps a slightly higher rate in one or two specific categories, this card dishes out flexible rewards based on where you spend your business's cash.
With this flexible rewards scheme, you'll be able to nab 4x points in two select categories (out of six available) where you spend the most each month — a high rate if you frequently shop in any of the eligible categories. That means wise users of this card could see a boon when it comes to earning rewards. However, do note that American Express offsets this high return rate with a hefty annual fee and minimal rewards for other purchases.
Also, keep in mind that this card is technically a charge card, and it requires that you pay off your bill in full each payment period. Despite this restriction, Amex still includes an option to "pay over time" when it comes to large purchases, making this card intriguing to some businesses that might need extra time on those big buys.
Want to know if the American Express Business Gold Card is right for your company? Keep reading to find out!
American Express Business Gold Card At A Glance
American Express Business Gold Card


---


Visit Site

Annual Fee:


---

$295

Purchase APR:


---

15.24% - 23.24% (variable)
Eligibility
As is standard with American Express cards, you'll want to aim for your credit score to be good or excellent when applying. That means you'll likely need a score of 640 or higher before you apply.
Don't know what credit score you have? Find out for free with one of these credit-checking sites!
Rewards For Spending
The American Express Business Gold Card has a very high rewards rate for two flexible spending categories out of six — there's also a welcome offer for those who can spend $5,000 within the first three months.
A Welcome Offer Worth 35,000 Points
Newcomers to the Gold Card will be able to snag a welcome offer that dishes out 70,000 points. You'll trigger this welcome offer by spending $10,000 on eligible purchases during your first three months.
Once you meet the $10,000 spending threshold, Amex will credit the points reward to you within eight to 12 weeks.
Quadruple Points On Two Categories
The star feature of the American Express Business Gold Card is that you can earn four points per dollar spent in two select categories where you spend the most each month. Every billing period, American Express chooses your pair out of six available categories. The 4x rate will then be applied retroactively to the purchases you made within those categories.
The available options cover purchases within these categories:
Airfare ordered directly from airlines
Advertising in select media (online, TV, radio)
Select technology providers of computer hardware, software, and cloud solutions
Gas stations
Restaurants
Shipping
Do note that besides the airfare category, your purchases will need to be made within the United States. Your four-points-per-dollar rate will remain active until you spend $150,000 in combined purchases each year within the active categories.
One Point Per Dollar On Everything Else
After you break the $150,000 mark, both quadruple point categories drop down to one point per dollar. All other purchases also will net you one point per dollar spent.
Redeeming Rewards
As with many other points-based credit cards, this offering from American Express provides multiple outlets to redeem points. However, the main highlight here is the bonus you'll receive if you redeem your points for travel.
Multiple Redemption Paths
American Express offers numerous ways to redeem your rewards. Through its Membership Rewards program, you'll be able to transfer points and redeem them for certificates or gift cards. You can also use your points when shopping at participating retailers, including Amazon.com and various travel providers. American Express will let you apply points towards specific and eligible charges on your account as well.
Travel Redemption Gets 25% Back
Business travelers will especially want to take advantage of getting 25% of their points back when they book air travel. To score this bonus, you'll simply need to book your flight with American Express Travel by using Membership Rewards Pay. You'll be able to collect up to 250,000 points back annually.
Card Benefits
Like most American Express cards, you won't have to worry about getting shafted when it comes to the card's benefits beyond rewards. The Gold Card comes packaged with several standard credit card perks — and there are a few nifty extras thrown in, too.
Cash Flow Solutions
American Express includes a few tricks to help businesses smooth out their cash flow. The highlight here is that it will enable you to pay your balance over time even though the Gold Card is a charge card — a type of card that usually requires you to pay off your bill in full each payment period.
Amex advertises this ability as the card's "pay over time" option, which is a feature found lacking in most charge cards. Here's how this works for the Gold Card:
When you make a purchase over $100, it may be eligible to be paid off over time with interest. You have the option to pay these large purchases off over time or all at once — whichever makes the most sense for your business's cash flow. Purchases below $100, however, will need to be paid off in full each month.
No Preset Spending Limit
The Business Gold Card features no preset spending limit. That doesn't mean you have unlimited spending. Instead, your spending cap fluctuates based on your card usage, your payment history, your credit record and financial resources known to Amex, and additional factors.
Get Access To Working Capital
With the Gold Card, American Express offers a "Working Capital Terms program." This program enables users to get additional funding beyond their card's spending limit. You'll be able to opt-in with no extra credit check, pick your term length (30, 60, or 90 days), and receive a fixed fee ranging from 0.6% to 5.25%. The exact fee rate will vary from user to user. Learn more about Amex's Working Capital program in our comprehensive review.
Employee Cards Available
The Business Gold Card may come with a $295 annual fee, but when it comes to employee cards, the fee is a lot less. You'll be on the hook for the first employee card you add — it'll run you $50 per year. After that first card, there are no fees to worry about for additional employee cards. You can add up to 99 employee cards in total.
Access To The Hotel & Travel Collections
While the Gold Card isn't specifically marketed as a "travel card," it still includes plenty of bonuses that are attractive to travelers.
For starters, this card enables you to book with American Express's Hotel Collection. Doing a two-consecutive-plus night booking through Amex will grant you a $100 hotel credit to spend on qualifying dining, spa, and resort purchases, and a room upgrade on arrival (when available).
Besides The Hotel Collection, Gold Card users have access to The Travel Collection. This is a group of travel brands where you can receive access to discounts and amenities through your Amex card.
Travel Coverage When Things Go Awry
The above perks may give you access to a special experience, but American Express can also help you with travel troubles.
American Express can cover you in case your rental car is damaged or stolen, and you pay for the booking in full with the Gold Card. There are exclusions, as not all rental cars are covered (and you must decline any damage waivers at the rental car counter). Also note that Amex's coverage is not available in Australia, Italy, or New Zealand.
You can additionally get your baggage insured against loss, damage, or theft. Coverage is available for up to $1,250 for carry-ons and $500 for checked baggage. Note that you'll need to pay for your entire fare with your Gold Card, and coverage has an aggregate maximum limit of $10,000.
Finally, Amex's Global Assist hotline provides 24/7 access to medical, legal, financial, and other select emergency coordination and assistance services, plus help with cash wires, passport replacement, missing luggage, and more.
Account Management Tools
Most credit cards these days come with a full suite of account management tools, and the Gold Card isn't an oddity in this regard.
Gold Card users receive access to year-end summaries and online statements through Amex's web portal. With this portal, you can also designate a trusted team member to be an account manager. Account managers can make payments, review transactions, add employee cards, and more.
You can also set up account alerts for avoiding late payments, notification of irregular activity, and monitoring employee card usage.
Finally, there are two mobile apps available; the American Express Business App focuses on simplifying employee spending through receipt management, while the American Express App enables you to track spending and rewards, find offers, make payments, and get real-time account alerts.
Plug Into Third-Party Partners
American Express has partnered with a couple of companies that may make your business's credit card management easier.
To start, you'll be to connect your account to QuickBooks. This will allow you to label and transfer your transaction data from your Gold Card statement directly into your QuickBooks account.
Beyond QuickBooks, Amex accounts work with Vendor Pay by Bill.com. With this tie-in, you'll be able to manage your bill payments through Bill.com, potentially easing your cash flow.
Purchase Perks
Should there be a fraudulent or incorrect charge on your statement, American Express will work with you to resolve your dispute. Amex can be contacted 24/7 to deal with any customer service problem that may arise, including dispute resolution.
American Express also likes to market its "Amex Offers" program, which can save you money on shopping, dining, travel, and more through various offers.
Rates & Fees
While there isn't a foreign transaction fee with the Gold Card, its annual fee is awfully hefty. This means that this card will likely only fit high rollers.
A Reasonable APR
With the Amex Business Gold Card, you can expect an APR of 15.24% - 23.24% (variable). This variable APR won't be the lowest around — but it's still very competitive when compared to the competition.
Note that this APR only gets triggered for purchases made with the card's "pay over time" function (so those above $100). Other purchases must be paid in full each month because the Gold Card is a charge card.
$295 Charged For The Annual Fee
For fees, expect a hefty $295 annual fee. With such a beefy annual fee, you'll need to spend a decent amount yearly to earn enough rewards to make this card worth it.
Assuming your redeemed points average out to one point equaling one cent, you would need to spend at least $7,375 yearly if you only made purchases within the two bonus categories (4 points × $7,375 = 29,500 points × $0.04 per point = $295). Of course, your actual annual expenditure with the Business Gold Card will need to be higher because you'll likely spend outside of the bonus categories.
No Foreign Transaction Fee
While you may have to deal with a pricey annual fee, American Express at least doesn't include a foreign transaction fee. This is especially handy for businesses that require travel abroad.
Other Fees
Beyond the annual fee, you can expect a few other standard credit card fees. These include a late payment fee of $39 or 2.99% (whichever is greater) of any past due amount. Returned payments will also get dinged $39.

Is The American Express Business Gold Card Right For You?
The American Express Business Gold is a solid card that can provide a plethora of points for those who can make use of its 4x point categories. However, its rewards potential is limited by an annual fee just south of $300. Of course, the Gold Card still could make an excellent addition to your wallet should your spending offset the annual fee. Plus, it has plenty of features baked in that will aid any frequent traveler.
You might want to apply if…
You regularly spend within two of the six categories that can receive quadruple points (airfare, advertising, technology purchases, gas stations, restaurants, and shipping)
You frequently travel for business but don't want a card solely for travel rewards
You'll spend enough to offset the $295 annual fee
You might want to look for a different card if…
You don't regularly shop within two of the six categories that can receive quadruple points (airfare, advertising, technology purchases, gas stations, restaurants, and shipping)
You need to carry a balance, and most of your purchases will be under $100
You won't spend enough yearly to offset the $295 annual fee
---
Featured Free Corporate Card
Ramp


---
Ramp offers a free corporate card for virtually any business. Start earning rewards with your corporate spending today. Get your free card.
Featured Free Corporate Card
Ramp


---
Ramp offers a free corporate card for virtually any business. Start earning rewards with your corporate spending today. Get your free card.
To learn more about how we score our reviews, see our
Business Credit Card Rating Criteria
.