American Express Merchant Services Review
Writer

UPDATED
Advertiser Disclosure: Our unbiased reviews and content are supported in part by
affiliate partnerships
, and we adhere to strict
guidelines
to preserve editorial integrity.
Pros
High consumer spending on Amex cards
Amex brand trusted by consumers
Settlement along with other card brands
Rate competition/negotiation with OptBlue
Flat-rate with payment facilitators
Cons
Can be more expensive than other card brands
Opaque wholesale costs for OptBlue
American Express Merchant Services Overview
Do you accept American Express cards at your business? I'm actually old enough to remember when Visa ran ads specifically lambasting places that didn't. Check out this gem:
Oh, what a burn! Fast forward to the present day, however, and American Express is a US Open sponsor. Take that, 1993 Visa commercial!
Historically, American Express (Amex) earned a reputation as the most expensive and cumbersome card brand to accept. And yet, Amex is the world's largest card issuer when measured in total money spent by consumers each year. If you're not already accepting Amex, I wouldn't blame you for wanting a slice of that giant spending pie.
In truth, it has become much easier — and often less expensive — for small businesses to accept Amex cards in just the last few years. In this review, we'll be looking at American Express Merchant Services, the division of the company that works with merchants to process transactions. Depending on how your processing agreement is set up with American Express, your degree of direct interaction with this division of the company will vary.
Aside from higher processing costs that were completely controlled by Amex, the core of the Amex "problem" had always been that you needed a special, separate merchant account. This is because Amex acts as a merchant acquirer (as well as a card issuer) within its own closed-loop network. The result was a separate processing setup, separate monthly statement, and separate settlement and deposits of your funds. Amex payouts took longer to receive than payouts for all the other cards, and merchants were left to reconcile their Amex statements with the rest of their accounts. Frustration and headaches ensued.
Technically, a separate agreement with Amex is still required to process Amex cards. The difference nowadays is that access to an Amex account is much more seamless for small businesses. The simplest access point is through a Payment Service Provider (PSP) like Square or Stripe. These companies hold the main merchant account for multiple merchants at once (called an aggregated account), so it's up to the PSP to work out its own own large merchant account with Amex. As a sub-merchant of an account with a PSP, Amex acceptance is automatically pre-bundled into your agreement.
PSP processing doesn't work well for all businesses, and many merchants benefit from a dedicated merchant account with a Merchant Services Provider (MSP). To accept Amex in the past, these merchants were required to open a separate merchant account with American Express Merchant Services as well. This all changed in 2014 when Amex began widely allowing other MSPs to resell Amex accounts to their own merchants via the OptBlue program.
Now, virtually all MSPs can use OptBlue to set up an Amex account for you on your behalf when you open your main merchant account. With OptBlue, your MSP also sets your final pricing for Amex transactions by adding its own markup over special OptBlue wholesale rates (similar to the wholesale interchange rates of Visa and Mastercard). Amex transactions are then integrated into the same authorization, settlement, and reporting process as for all the other card brands within the main merchant account. The only reason you'd need a direct account with Amex these days is if you process over $1 million annually in Amex transactions alone.
With these relatively new ways to accept Amex on the scene, what is the state of American Express Merchant Services today? Should all small business accept Amex cards now? Let's explore the answers to these questions in more detail.
Products & Services
With the advent of OptBlue and PSP options for processing Amex cards, most merchants won't interact directly with American Express Merchant Services as much as they might have in the past. Your main concern, therefore, will be the products and services that either your PSP or your main merchant services provider (MSP) offers. Your Amex processing will operate within those existing systems.
That said, there are a couple areas of American Express Merchant Services that you should still familiarize yourself with, regardless of the type of account you have. The main one is chargeback and dispute management.
Amex has its own reason codes, procedures, and timeframes for managing chargebacks. This process will intersect with your MSP or PSP's policies along the way, so it's important to familiarize yourself with the chargeback procedures of each party involved. Below is a breakdown of OptBlue's dispute process. Note that sometimes a dispute is converted directly to a chargeback with no interaction with the MSP. Other times, an "inquiry" is created, and your MSP is contacted to help you gather your evidence before a chargeback is even initiated.
What is not outlined above is that you have 20 days to respond to an Amex inquiry or chargeback, so your MSP will likely have its own, shorter deadline in place for submitting documents. For more information about Amex disputes and the latest policy updates, check the disputes page at the main Amex site and the OptBlue disputes page.
Additional products and services are outlined in the "Merchant Home" section of the main Amex website. These will either overlap with or be superseded by whatever your MSP or PSP offers in these areas. Here's a big disclaimer: I have serious doubts as to how up-to-date the merchant section of the main Amex website is, so take the accuracy of the following information with a grain of salt:
Financing: American Express offers short-term business loans, with term lengths of six months, 12 months, and 24 months.
Fraud Protection: Amex has multiple card security features and verification tools, including SafeKey, Amex's version of 3D Secure technology for online transactions.
Billing & Ecommerce Solutions: PurchaseExpress Online is a browser-based virtual terminal with some basic billing features. PurchaseExpress Premium is a locally-installed option that includes B2B processing, recurring billing, and other advanced features.
Accertify: This software-as-a-service platform is a wholly-owned subsidiary of Amex that includes a full payment gateway for processing all card brands, as well as fraud protection and chargeback management features.
Cardrefresher: Many MSPs and payment gateways offer automatic card updating services for recurring billing situations. Amex's own brand of this service is called Cardrefresher. It doesn't hurt to check with your MSP's card updating service to see if Amex cards are already included.
Reporting: Amex has its own online transaction management and reporting system.
Marketing Resources: Free signage, a "Shop Small" Map, and a "Card Member Favorites" list are all ways of letting Amex members know where their cards are accepted.
https://youtu.be/dGgr9kelOME
Fees & Rates
Because Amex is structured differently than the other card brands, pricing is often a point of confusion. To make matters worse, much of the terminology for the other card brands doesn't quite fit with Amex ("interchange," for example). However, we use the same terms for the most part anyway, just because it helps put the fees in context.
Before we dive any further into Amex pricing, make sure you have a solid, general understanding of how pricing for card processing works. Check out our processing ebook or infographic on the subject if you're just starting out or need a refresher. Now, I'll offer a few tips specifically about Amex.
Amex Pricing Tips
Figure out which method of Amex acceptance you'll be using — OptBlue, PSP, or Direct Pricing — and then focus only on those pricing details. You can pretty much ignore the rest!
For OptBlue merchants, know your processor's overarching pricing model, because this structure will also apply to Amex. We suggest an interchange-plus pricing plan (and not a tiered plan) with your main processor, so you can see the difference between the processor markup and the wholesale interchange rates for all the card brands.
If you're using OptBlue or Direct Pricing, also familiarize yourself with Amex card brand fees (see below)
Okay, now we're ready to tackle some actual numbers!
Card Brand Fees & Assessments
Like Visa, Mastercard and Discover, Amex charges card association fees to all processors for the privilege of using its processing network. These fees are easily confused with interchange fees, so check out our article on the difference. If you're using OptBlue or Direct pricing, pay attention to these often-overlooked fees, because they can add up. If you're working with a PSP, these card brand fees are generally not passed through to you, so you don't need to worry about them.
Assessment / Network Fee (0.15%): Owed on all Amex transactions, similar to Visa/MC/Discover network fees.
CNP Surcharge (0.30%): Owed on all keyed or manually-entered transactions.
Cross-Border Fee / Inbound Fee (0.40%): Surcharge for any international transactions.
Technical Specification Non-Compliance (0.75%): Owed on transactions that do not meet Amex standards, such as an authorization not obtained at the same time as a sale. More rare than transaction integrity fees for the other card brands.
Now, let's break down the components of pricing for each method of Amex acceptance. We'll focus on processing costs, but note that your service provider may also charge other monthly, annual, or incidental fees. Amex itself does not charge annual fees or impose monthly minimums.
OptBlue Pricing
Amex Card Brand Fees
Amex OptBlue Wholesale Discount Rates

1.50-3.00% + $0.10 depending on your industry, transaction size, etc. (A few MSPs publish a list — Helcim, for example).
The same rates for every processor using OptBlue.
Processor pays these fees to Amex (like interchange fees paid to the banks that issue Visa and Mastercards.)
Not publicized by Amex, must ask your processor for rates.
Interchange-plus (cost-plus) pricing: Itemized by your processor and passed straight through to you.
Tiered Pricing: Blended in with the processor's markup (see below)

Processor Markup

Varies/negotiable between processors offering OptBlue.
Interchange-plus (cost-plus) pricing: A fixed percentage (and possibly a transaction fee) markup charged on every Amex transaction. May be the same markup as for the other card brands, or may be higher.
Tiered pricing: Markups already blended with wholesale rates for all card brands, including Amex. Watch for downgrades of transactions to higher-priced mid-qualified and non-qualified rate tiers.
Direct Pricing
Amex Card Brand Fees
Amex Non-OptBlue Rates

2.25-3.50% + $0-0.15 depending on industry.
View a range of possible rates for your industry at the dropdown menu on the Amex pricing page, but contact Amex directly for specifics.
Lower rate option for choosing a longer payout schedule (i.e., 15 or 30 days)

Other Amex Processing Fees

Additional Amex-specific processing, authorization, gateway, settlement, etc. fees may apply.
See the most current Amex Merchant Guide (pdf available at the website) for individual fees.
There is also an option for a flat monthly pricing plan if you meet certain low-volume requirements. This plan is $7.95 per month, with no fee for individual transactions. Conditions for this plan are not publicly disclosed, but it's possible you could still be charged some of the Amex card brand fees, even though you're not paying "discount fees." Honestly, I think it's rare this pricing will work well for small businesses, especially with the advent of OptBlue and PSP pricing.
Payment Service Provider (PSP) Pricing
Flat-rate

2.7-3.5% + $0-0.30 depending on provider and processing mode (e.g., swiped/dipped vs. keyed vs. eCom).
Amex is usually charged at the same rate as all the other card brands.
Main exception is nonprofit processing discounts. Sometimes the discount is not available for Amex transactions.

Cross-Border Surcharge (All Card Brands)

Even though you don't pay the 0.40% surcharge for Amex international transactions, many PSPs implement their own surcharge for all international transactions (often around 1%).
Which Pricing Is Best?
You may hate me for saying this, but there is no one right answer to this question. You're stuck with a direct agreement if you process over $1 million in Amex volume per year, and Amex will continue to charge whatever the market will bear. For PSPs, the flat processing rate is already quite high, in part to cover the expense of Amex processing. If you're using a PSP, you might as well go nuts and process as much Amex as you want. The downside is that you don't have access to lower rates for lower-priced card types like you would with a good interchange-plus plan from a dedicated merchant account provider.
Meanwhile, the base "discount rates" that Amex sets for processors using OptBlue are actually quite similar to Visa and Mastercard interchange rates by design. I'd encourage you to look through the wholesale rates for all the card brands and compare them for your own industry and situation. Still, the very nature of OptBlue dictates that your main processor is now the key factor in whether you'll get a good deal on Amex processing. You still could get gouged by downgrades to higher-priced tiers in a tiered plan if that's what your processor uses. Even a cost-plus plan could bite you if the markup is too high, or other junk fees are tacked on. The good news is that OptBlue introduced some healthy competition between processors into the mix, and merchants now actually have some negotiating power over their ultimate Amex rates.
For more on Amex pricing, check out these articles: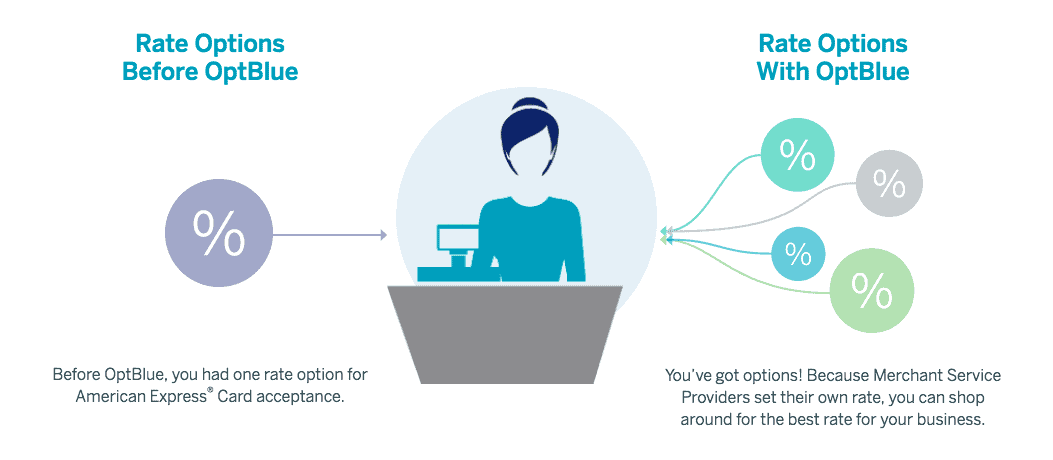 Contract Length & Early Termination Fee
The length and terms of your agreement with Amex depends on the overall structure of your account. Here's how it shakes out:
Direct Processing Agreement: In general, American Express Merchant Services does not lock you into a long-term contract, and does not charge an early termination fee (ETF) for a direct merchant account.
OptBlue: Your main processor may or may not have a long-term contract and ETF already in place. That said, you should be able to cancel only Amex processing at any time and continue processing other cards. Double check with your processor to confirm the terms of your agreement, but I'll also point out that none of our highest-rated providers impose an early termination fee.
PSP: These plans generally do not have long-term contracts or ETFs. Typically, Amex processing is automatically part of your plan and charged at the same rate as other cards, so there wouldn't be a need to cancel it separately. On the flip side, you could lose Amex processing privileges if your Amex chargeback ratio is too high, but — let's face it — your whole PSP account is likely in danger of termination if you've reached that point.
Sales & Advertising Transparency
Before we discuss transparency, let's recall that Visa and Mastercard aren't merchant account providers and card-issuers like Amex. Visa and Mastercard have completely outsourced both of these functions, creating an open network of issuers and acquirers with varying degrees of transparency. Therefore, we can't really say American Express Merchant Services is better or worse than the other card brands for "merchant services." It's just a different setup. Nevertheless, let's do quick comparison to Visa and Mastercard in the area of transparency. (We'll leave Discover out completely, because that's what everyone does. Poor Discover.)
I appreciate that Amex publishes its card brand fees. It is my pathetic little dream that someday Visa and Mastercard will get with the program on this. I think it's totally shady, let alone confusing, that Visa and Mastercard rely on each MSP to accurately disclose and pass through these fees that should be the same for all MSPs on the planet.
Alas, Amex earns demerits on pricing disclosure in other ways. If you're going to American Express Merchant Services directly for a merchant account, all you can see on the website is a range of transaction fees for your business type, which can be pretty wide. The real problem, however, is that Amex does not publish its OptBlue wholesale discount rates, whereas Visa and Mastercard actually do publish detailed tables of their interchange rates. Amex relies on each MSP using OptBlue to disclose (or not disclose) these base costs before adding a markup.
I don't know if this opacity about discount rates completely cancels out Amex's transparency about card brand fees, but it isn't ideal. Also in the "not ideal' category is the whole merchant services section of the main Amex website. It's rife with broken links, not to mention outdated and poorly organized information. I guess they figure most merchants processing over $1 million in Amex cards each year aren't spending their time poking around the Amex site looking for stuff, and everyone else relies on their own processor's systems. Still, it's kind of inexcusable for such a massive, well-known company. The OptBlue site is better, but also pretty basic in what it offers.
Weaknesses aside, in the grand scheme of merchant account providers, American Express Merchant Services is an angel child. I wouldn't be surprised if the closed network helps keep Amex honest in this area, at least when setting up direct accounts. I think about issuing business owners Amex cards to use for their own purchases, but then turning around deceiving those same business owners when setting up a merchant account. It would not be a good look. Visa and Mastercard can at least blame MSPs and ISOs in all cases!
Customer Service & Technical Support
Once again, with most merchants going through OptBlue or PSPs for access to Amex processing these days, you're probably only dealing with the customer support of American Express Merchant Services as a last resort. Your MSP or PSP's customer service is your contact point for all cards.
I'm hoping that anyone going directly to Amex for a merchant account is not relying on the "Merchant Home" section of the website for customer service guidance. The "Get Support" tab takes you to a series of clearly outdated pages with a bunch of broken links. Boo. Ignore that whole rabbit hole — I certainly did.
The "Contact Us" page at the bottom of the main site is likely more accurate. Here are the resources listed for "Merchant Services:"
Customer Service By Phone: M-F, 8 AM-8 PM ET
Tech Support By Phone: M-F, 8 AM-8 PM ET
Live Chat: M-F, 8 AM-7:30 PM ET
Co-Browse: Share your screen with a customer service representative
Other website resources include a Small Business Resource Center with promotional materials, a Knowledge Center, and an FAQ, but there's really not much there at this point. There is also a podcast, but I doubt I'll be adding it to my listening queue anytime soon. The best resource Amex provides is the Merchant Guide PDF, updated twice annually and accessed through the main website.
There are other ways to reach out to Amex, such as through the Twitter support handle or on Facebook, but I would avoid those. You'll want to get in touch with someone specifically in the merchant services division as quickly as possible, and the social media is too generalized for all Amex products and services. I also found a few merchant-specific support videos on and product explanations on the Amex Youtube channel, but only reached them in round-about ways because a lot of them are unlisted.
I'm underwhelmed by the online resources available from American Express Merchant Services, which act mostly as placeholders as far as I can tell. Let's hope phone and live chat work better.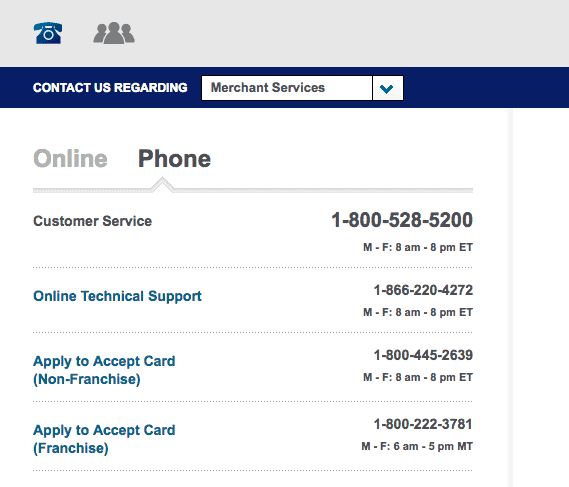 Negative Reviews & Complaints
As you'd imagine, there are thousands of negative reviews and complaints about American Express at the Better Business Bureau and elsewhere around the web, so it's difficult to tease out any feedback about the merchant services department in particular. When merchants do complain specifically about this department, these tend to be the issues that crop up the most:
Difficulty Fighting Chargebacks
Held Funds
Poor Customer Service
Overcharges
Merchants have also complained that processing Amex cards is too expensive and cumbersome, but with more merchants using OptBlue in recent years, Amex has helped remove itself from direct blame for these issues.
Keep in mind, however, that American Express still issues cards directly to its card members, acting as both the card network and the card-issuing bank. Many people forget that Visa and Mastercard do not directly issue their cards. Partly due to this distinction between Amex and the other card brands, Amex has sometimes gained a reputation among merchants for extra difficulty in fighting against chargebacks. Amex is accused of particularly favoring card members in disputes.
And yet, to accept such favoritism as a blanket statement about Amex may be a bit unfair. No matter the card brand, the whole chargeback system was put in place to begin with to protect card holders, not merchants. And, like the other brands, Amex continues to update its chargeback rules and procedures, often in an attempt to give merchants more recourse.
Meanwhile, it's important to recognize that the American Express merchant division can and will directly hold funds in an inquiry or chargeback situation. Still, the quality of your MSP's customer service and chargeback systems can really come into play in your overall experience with Amex disputes.
Positive Reviews & Testimonials
If we return to the Better Business Bureau profile, we see that American Express as a whole has an A+ rating, despite racking up about 1000 complaints per year. The company has a good reputation overall, but once again, it's hard to separate out any positive, independent feedback about the merchant services division.
I found a couple of older Youtube testimonials specifically about American Express Merchant Services. There are no signs that Amex is featuring these anymore, let alone actively promoting "American Express Merchant Services" as a division at all. We've already discussed the outdated merchant portion of its main website, which is mostly a not-so-glorified placeholder.
The OptBlue website has a section for Amex-produced testimonials from MSPs that have incorporated OptBlue into their services, as well as small business owners using OptBlue. Merchants appreciate quicker funding, processing rates that are lower (or at least negotiable), and that all their transactions from all the card brands are on their main merchant account statement. Basically, merchants appreciate that Amex processing is finally aligned more in price and structure with the other card brands, making it easer to accept.
Final Verdict
In the past, only certain industries favored American Express cards — travel, tourism and restaurants come to mind. Businesses in these industries needed to accept Amex to survive, whereas others sectors could get away with leaving it out. OptBlue has now made Amex acceptance fairly commonplace in most industries, although there's no law that says you must "opt" for OptBlue.
If accepting Amex still seems prohibitively expensive from your current merchant account provider via OptBlue, I suspect it might be time to shop around. As more and more businesses accept Amex — whether through OptBlue, a PSP, or even a direct merchant account — you may need to hop on the bandwagon to stay competitive. The US Open eventually learned its lesson, anyway!
The merchant section of the American Express website has languished in the wake of new ways to accept Amex cards. This makes sense when you think about it — few merchants are interacting directly with Amex these days to set up or manage a separate account, nor to research Amex-branded products and services. Honestly, I don't really think "American Express Merchant Services" is much of a thing anymore, except behind the scenes. At least, it's not a term the company itself still uses very much.
I'd still like to see Amex publish its wholesale discount rates (similar to interchange rates, which are freely published by Visa and Mastercard), so that anyone researching OptBlue pricing does not need to rely on their MSP to properly disclose these costs. I'd encourage you to use OptBlue as a test of the transparency of your main MSP. In addition to happily providing you with an accurate list of Amex wholesale costs, look for a provider who offers cost-plus pricing, no early termination fee, no junk fees, and a competitive markup over all the card brands — including American Express.
---
Our Top Pick To Save On Payment Processing 💰
PaymentCloud


---
PaymentCloud has an excellent track record for service quality, support, and fair pricing. Learn more from PaymentCloud.
Our Top Pick To Save On Payment Processing 💰
PaymentCloud


---
PaymentCloud has an excellent track record for service quality, support, and fair pricing. Learn more from PaymentCloud.
To learn more about how we score our reviews, see our
Credit Card Processor Rating Criteria
.