Contributor

UPDATED
Advertiser Disclosure: Our unbiased reviews and content are supported in part by
affiliate partnerships
, and we adhere to strict
guidelines
to preserve editorial integrity.
Pros
Reasonable monthly cost
Easy to use
Advanced features
Intuitive design tools available
Single page checkout
Cons
Limited customer support hours
Some outdated design templates
Limited international selling features
AmeriCommerce Overview
Founded in 2005, AmeriCommerce began as an innovative shopping cart platform, the first to offer multiple store management, product embedding on other sites, and single page checkout. In 2014, Capital One took notice and acquired AmeriCommerce, bringing the platform under the Spark Pay umbrella. However, late last year, the tables turned once again. AmeriCommerce is no longer connected with Capital One and is back to being a business of its own.
Founded by Ed Stuffock, Charlie Cooper, and Stefan Barlow, AmeriCommerce has grown over the past twelve years to host over 5,000 sites. Collectively, AmeriCommerce sellers generate over half a billion dollars in transactions each year. Current clients include West Coast Shaving, Texas Beard Company, and Campbell's.
Although AmeriCommerce has a significantly smaller customer base than most popular eCommerce platforms, it still makes waves in the eCommerce industry. The company has earned two notable recognitions. They won the CODiE Award for Best in Class eCommerce Software in 2010, and they were featured in Inc. Magazine's 5000 list in 2012, 2013, and 2014.
Merchants choose AmeriCommerce for its intuitive admin, multiple store capabilities, and drag-and-drop theme editor. With AmeriCommerce, it's easy to operate several sites from the same user-friendly admin. One word of caution: Because AmeriCommerce has limited international selling features and support hours, it's really best for US merchants who plan on selling in the US. If you are based outside of the US or you plan on reaching international customers, you should consider another platform (you might take a look at Shopify or Magento).
Otherwise, keep reading to find out if AmeriCommerce has the features to fit your store's needs.
Pricing
AmeriCommerce offers five pricing tiers. All plans are billed monthly and have no setup or cancellation fees. You don't need to sign a contract to get started with AmeriCommerce, and you won't have to pay any transaction fees. Every plan includes customer support and a free shared SSL certificate.
If you're just looking to try out AmeriCommerce, there is a free 14-day trial you can use to explore the platform and begin setting up a store. When you register for a trial, you'll have to enter some personal information and a few details about your store, but you do not have to hand over a credit card number.
Here's the pricing structure:
Steel: $24.95/month
100 Products
2 GB Bandwidth
250 MB Storage
Bronze: $39/month
500 Products
3 GB Bandwidth
1 GB Storage
Silver: $99/month
5,000 Products
15 GB Bandwidth
1 GB Storage
Gold: $149/month
10,000 Products
25 GB Bandwidth
2 GB Storage
Platinum: $299/month
Unlimited Products
50 GB Bandwidth
5 GB Storage
Enterprise-level plans are also available.
AmeriCommerce's multi-store functionality is one of its best features. You can build additional stores on any plan for just $39/month.
Keep in mind that while AmeriCommerce does not charge transaction fees, they do charge bandwidth overage fees, which range between $10/GB and $4/GB per month depending on your plan. Try to choose a plan that accurately fits your projected bandwidth usage. In addition, if you expect to go over your bandwidth allotment every month, but you don't want to pay for a higher level plan, you can pre-purchase additional bandwidth. This extra bandwidth costs between $6/GB and $4/GB.
Web-Hosted Or Licensed
Web-hosted. AmeriCommerce outsources their web hosting to Rackspace; they boast a 99.9% uptime.
Hardware & Software Requirements
None. You only need a computer, a strong internet connection, and a current web browser.
Ease Of Use
AmeriCommerce offers a free 14-day trial, so you can test out the platform for yourself, no credit card required. You just need to enter some basic contact information and a bit of information about your business. You'll be automatically directed to the admin panel of your new store.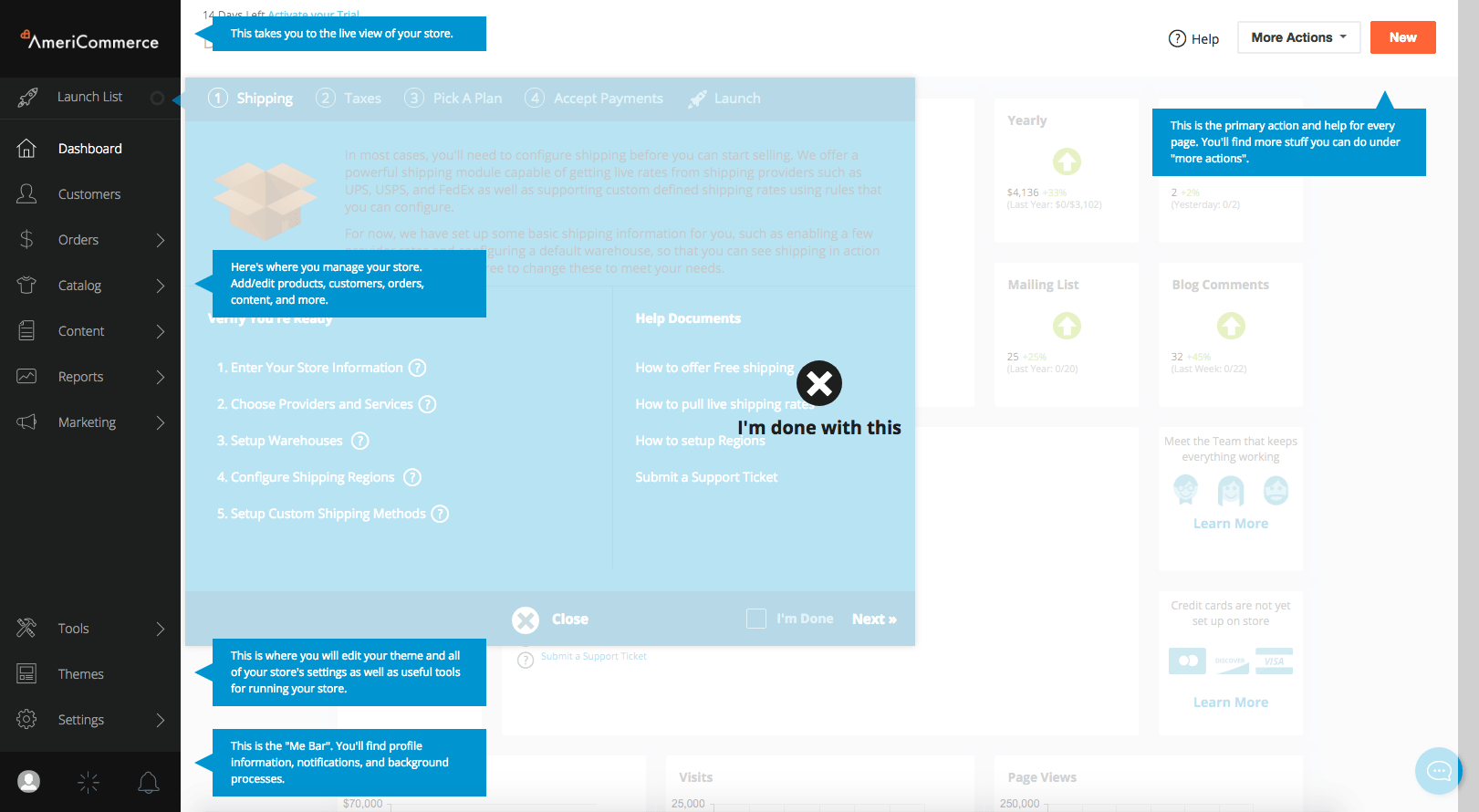 Once there, a setup wizard will guide you through entering a store name, choosing a theme, and adding your first product (not to worry, you can change everything later). A screen overlay with pop-up bubbles shows how to find a few features that might not be obvious at first. I think AmeriCommerce could do a better job with its beginners tutorial, but fortunately, for the most part, the platform isn't too difficult to figure out by yourself.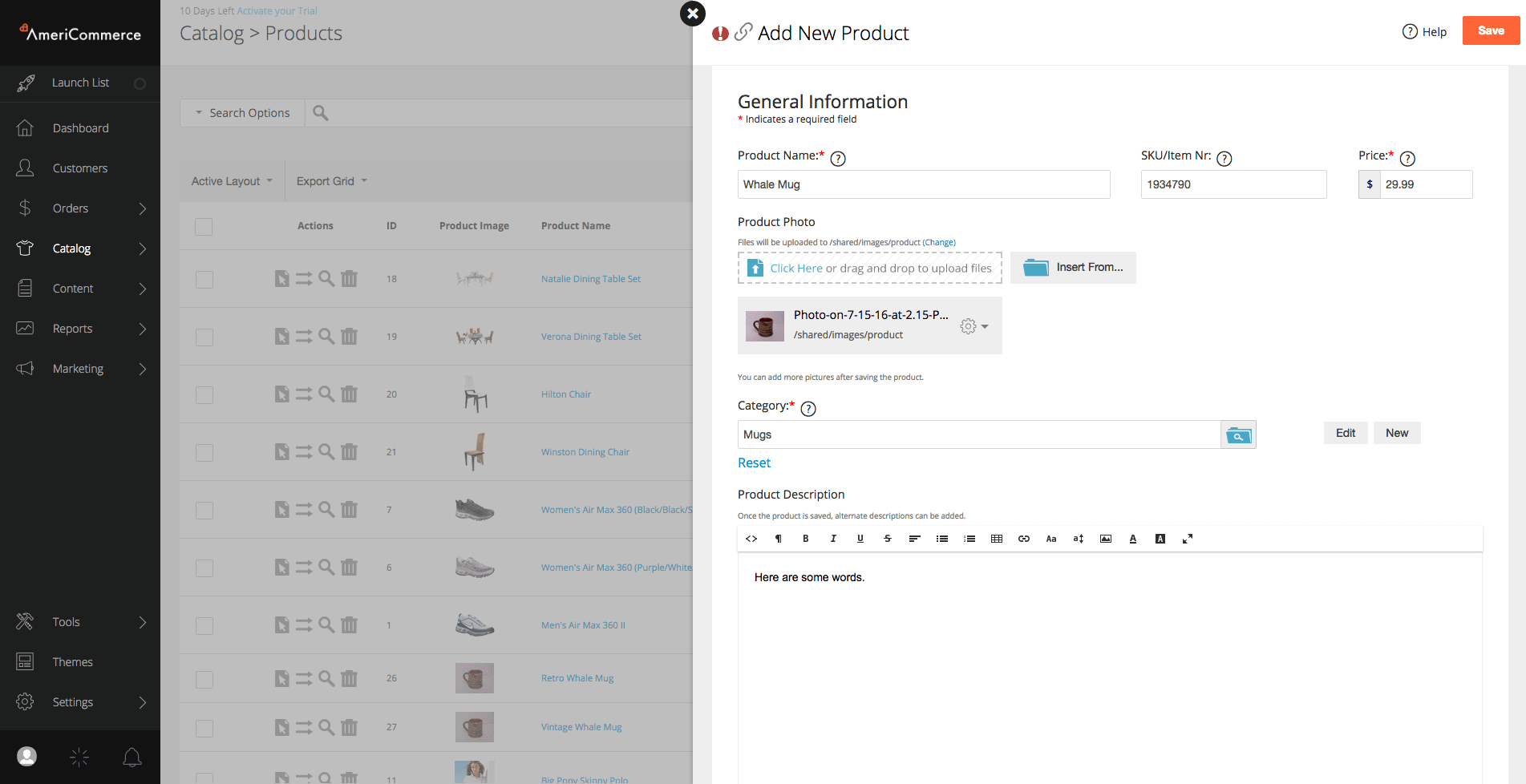 I started the process by adding a few products of my own. Adding products is a two-step process. You first have to add the product to your catalog. Then, you can create the full range of product, shipping, and tax details.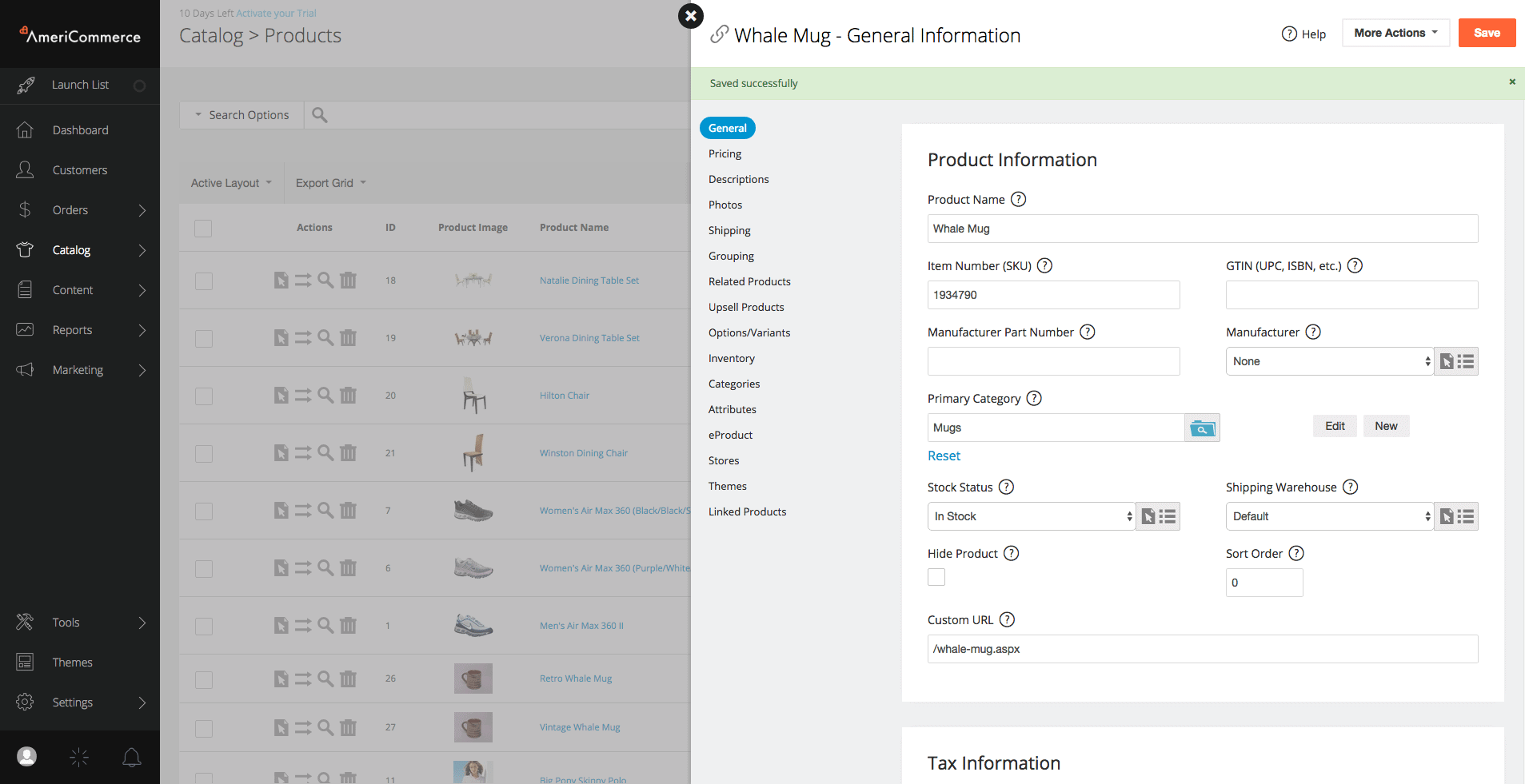 AmeriCommerce has filed away their more advanced features under "Power Features." To access those features, you must click to activate them, though it doesn't cost extra to use them. The Power Features are only listed in a separate category because AmeriCommerce presumably doesn't want to overwhelm new users with too many features.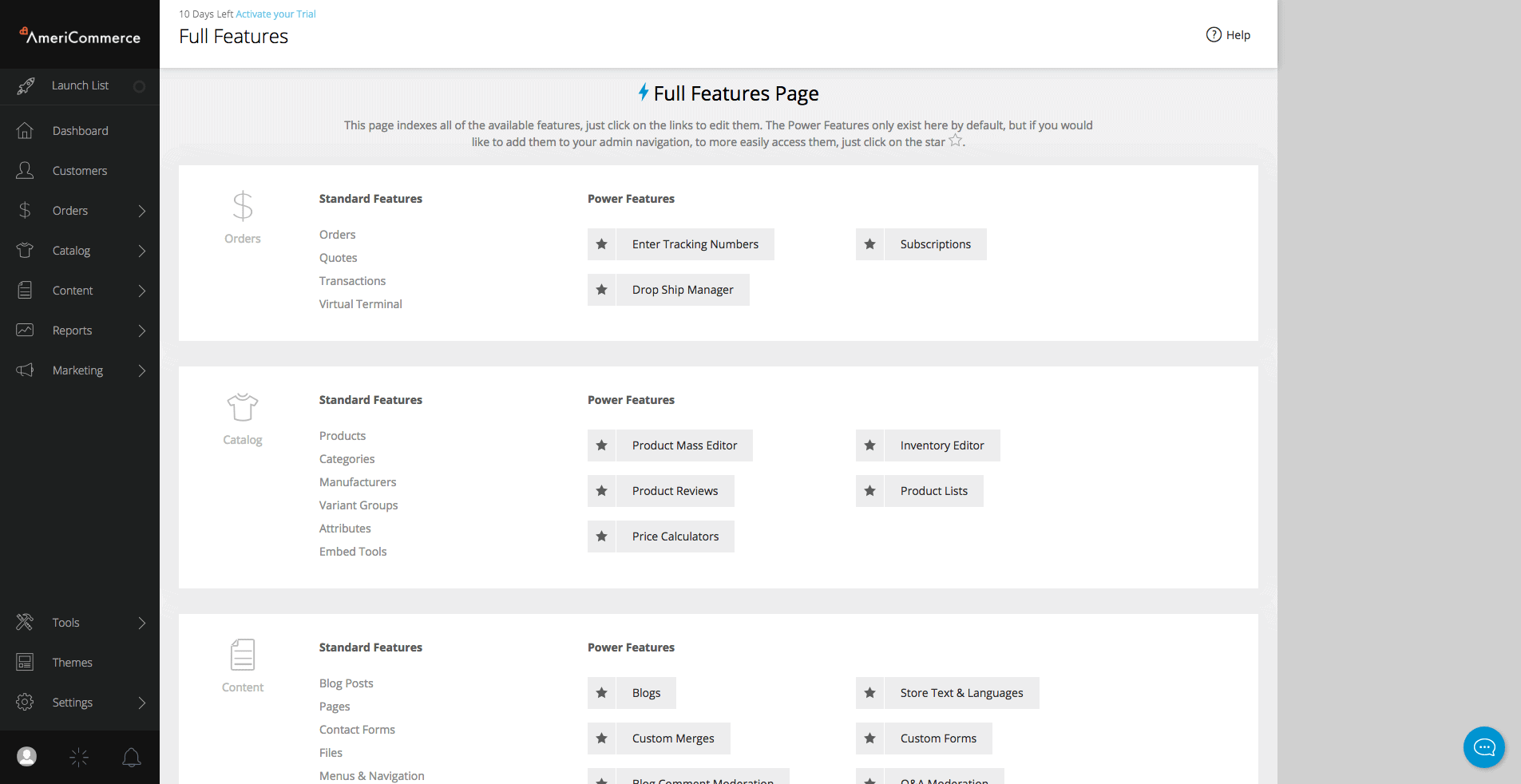 Overall, I found AmeriCommerce's dashboard reasonably easy to learn. If you need a little extra help, there's a Knowledge Base and a few video tutorials available to get you moving.
Features
AmeriCommerce has enough features to meet the needs of most merchants. More advanced functionality is available in the form of Power Features and add-ons. The following are a few of the features I deem most important. Head over to the AmeriCommerce website for the full feature list.
Store Management
Multiple Storefronts: This is, without a doubt, AmeriCommerce's most attractive feature. AmeriCommerce lets you operate multiple stores from the same admin.
Automatic Shipping Rates: Calculate shipping rates from major carriers like UPS, USPS, and FedEx.
Dropshipping: Manage orders with products from multiple dropshippers. Send email notifications to fulfillment warehouses.
Taxes Calculator: Calculate taxes accurately and automatically.
User Roles: Assign your employees different logins and permissions.
Bulk Import: Make migration a little easier.
Products
Buy Buttons: Embed buy buttons in your blogs, Facebook page, and other social media sites.
Unlimited Variables: List an unlimited number of sizes, colors, styles and other features that your products may have.
Digital Products: Sell both physical and digital products on the same site.
Inventory Management: Track your inventory, including different product options and variants.
Product Videos: Let customers see your products from all sides (but keep in mind that product videos use a lot of bandwidth and can slow down your site).
Enable Product Reviews: Find out what your customer like and don't like about your products and inspire confidence in other shoppers.
Wish Lists: Allow customers to return to the items they're considering.
Orders & Shopping
Top Sellers, Suggested Items & Related Items: Take advantage of cross-sells and up-sells.
Phone Orders: Accept orders via the phone. You can create orders easily from the admin.
Built-In Payment Types: Accept partial payment, split payments, gift cards, and customer loyalty points.
Customer Accounts & Guest Checkout: Customers who aren't ready to commit to your brand yet can still purchase from you.
Marketing & SEO
Email Automation: Automate your email marketing campaign and send drip series emails.
SEO Tools: Utilize permalinks, page titles, H1, meta tags, alt tags, and an auto-generated sitemap.xml.
Blogs: Build your brand, increase SEO, and increase organic traffic through consistent blogging.
Social Media Integration: Link your store to Facebook, Twitter, Pinterest, and Instagram.
Reports
Google Analytics: Integrate with Google's free software.
Traffic & Referral Reports: Find out where your customers are coming from.
PPC Keyword Reporting: Discover the keywords you aren't bidding on yet.
Abandoned Cart Reports: Find out more about customers who don't purchase.
B2B Features
Customer Type Pricing: List different prices for different types of customers.
Smart Shipping: Calculate rates based on sending and receiving warehouse locations.
Multiple Stores: Create multiple sites to separate your retail and wholesale sales.
Customer-Specific Payment Methods: Allow approved wholesale customers to pay with checks, POs, etc.
Hide Pricing: Require customers to log in to view pricing, checkout, and their shopping cart.
AmeriCommerce's feature set is not the most expansive, but it is complete. Most merchants will find they have nearly all the features they need out-of-the-box. And, like I mentioned above, features that don't come built-in can always be added on as integrations.
Web Design
AmeriCommerce's collection of free, pre-made themes includes 63 options. Of these themes, only about half are fully mobile responsive.
As far as looks go, AmeriCommerce's themes are hit and miss. There are a few truly stunning designs…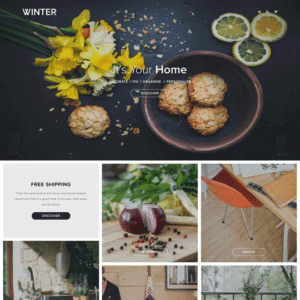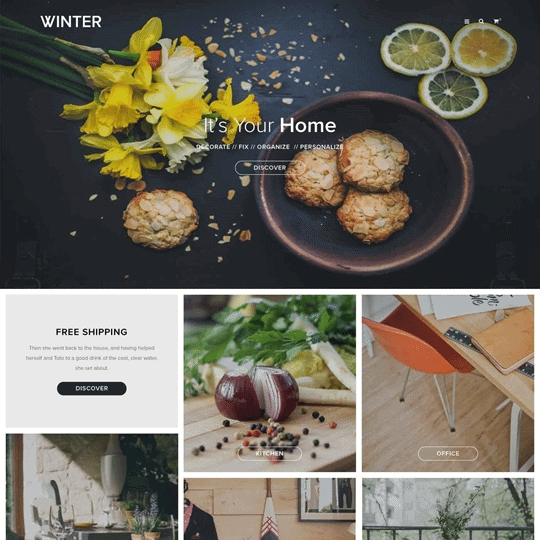 Unfortunately, not all of the themes are this elegant. About half of AmeriCommerce's options already look fairly dated (the theme below, for example)…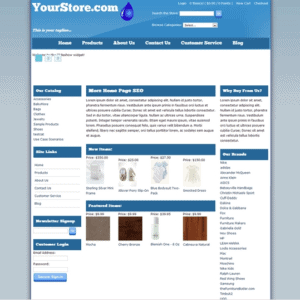 Furthermore, AmeriCommerce's selection is fairly slim in terms of diversity. A few themes are just variations of the same design in different colors.
Fortunately, there are several theme editors you can use to customize your site. There are WYSIWYG editors and a drag-and-drop editor available for your storefront. For those a little more tech savvy, there are HTML and CSS editors in the backend.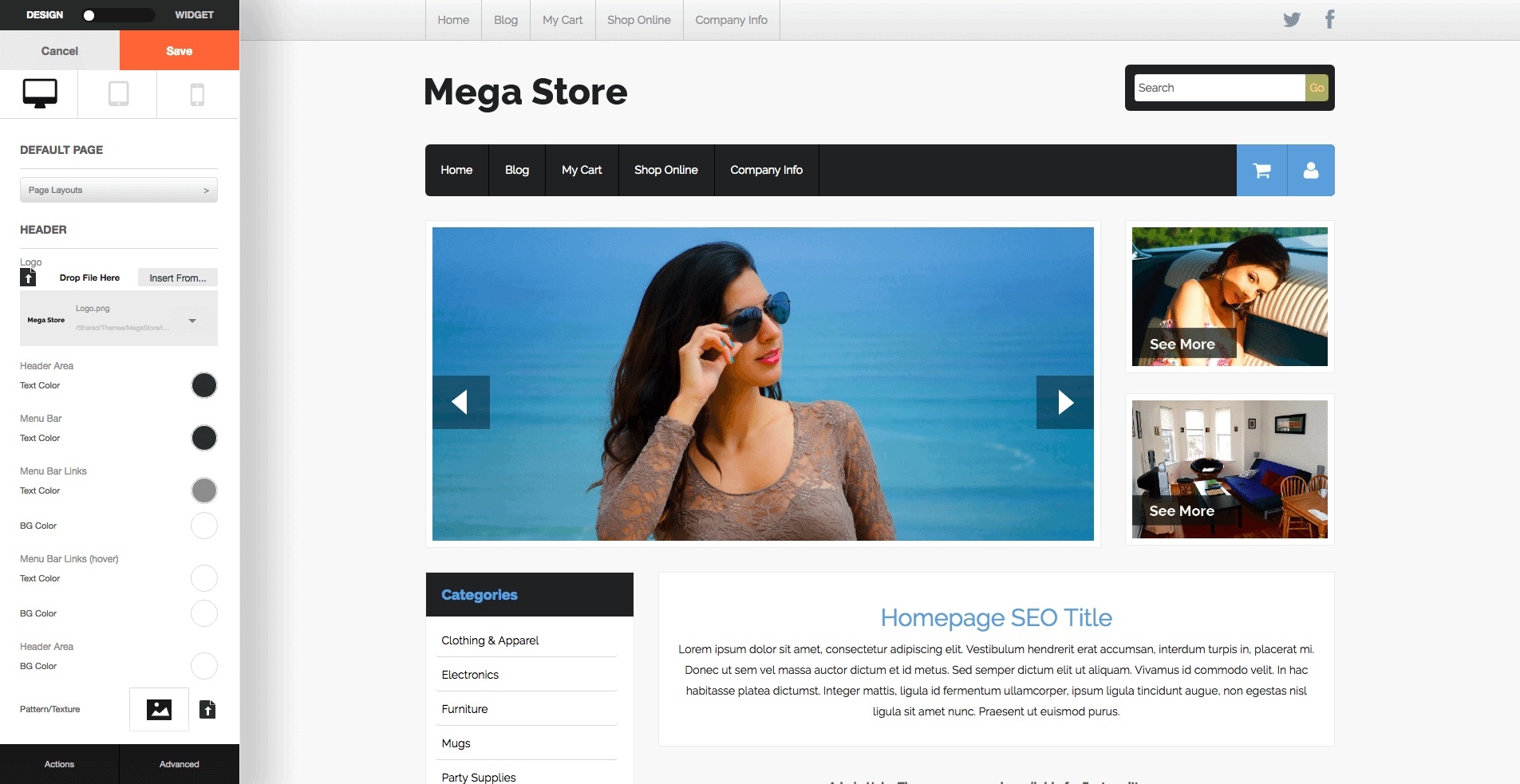 If you do decide to go the custom theme route (or you just want to tweak a pre-made theme), AmeriCommerce has design services available for a price.
(Quick tip: No matter what, choose a responsive theme. These days, 58% of all online browsing is done on a mobile device. You don't want to miss out on that traffic.)
Integrations & Add-Ons
AmeriCommerce's app store is on the smaller side, with 61 available integrations. You can expect to find common integrations there, most of which are available at "third-party pricing." Here are a few of my favorite integrations:
Constant Contact: Email marketing. 3rd Party Pricing.
71 lbs: Automated Shipping Refunds. 3rd Party Pricing.
Avalara AvaTax: Automatic tax calculation. 3rd Party Pricing.
AmeriSync QuickBooks Order Sync: Accounting software. $300.
MailChimp: Email marketing. 3rd Party Pricing.
There's also a REST API available, so you can hire developers to create a connection to any app you choose.
Payment Processing
AmeriCommerce stores integrate with about 50 payment gateways. This list includes the most popular payment gateways, such as:
Additionally, AmeriCommerce offers their own Merchant Services payment option.
Customer Service & Technical Support
AmeriCommerce's customer service is reportedly good when it's available. Phone hours are limited to M-F 8 AM–6 PM CST and Sat 9 AM–5 PM. This makes getting live customer support a challenge, especially for merchants in different time zones.
Here's how you can access AmeriCommerce's support:
Negative Reviews & Complaints
There aren't very many customer reviews online about AmeriCommerce's shopping cart. In general, AmeriCommerce customers are satisfied with their online platform, but they do have a few complaints. Negative comments tend to address:
Poor Customer Support: AmeriCommerce's limited support hours are customers' number one frustration. As one customer on Facebook pointed out, "The internet doesn't stop." AmeriCommerce support, however, does. Customers also mention delayed responses to their inquiries.
Lack Of International Payment Options: AmeriCommerce works best for US merchants who plan on selling in the US. Nevertheless, there are a few international payment gateways available: eWay, BeanStream, PSIGate XML interface, and PayPal.
Extra Fees: If you don't choose a plan that can handle your store's bandwidth usage, you can expect some bandwidth overage fees. Some customers feel they're being nickeled and dimed.
Lack Of Variety In Themes: I agree with this particular gripe. AmeriCommerce could really step it up a notch with their web design. We've seen that they can create elegant web design, now we're just waiting for more of those options.
Positive Reviews & Testimonials
Here's what AmeriCommerce customers like most about their platform.
Multiple Store Management: This is what everyone loves most. You can manage dozens of stores from the same admin.
Dependable: AmeriCommerce is hosted by Rackspace, which boasts a reliable uptime record. In addition, they'll update your software regularly so everything keeps running smoothly.
Customizable: Using AmeriCommerce's "Power Features" you can easily adjust your dashboard to be as simple or as robust as you'd like.
Buy Buttons: Sell your products directly on your business's Facebook page or blog.
Customers also list AmeriCommerce's pricing, quick setup, and expansive features as reasons to choose the platform.
Security
AmeriCommerce is PCI compliant and offers each merchant a free 128-bit shared SSL certificate. In order to benefit from that shared SSL, you'll have to use AmeriCommerce's subdomain for checkout (yourstorename.americommerce.com). If you'd prefer to have your checkout page on your own domain, you'll have to buy your own SSL certificate.
Additionally, AmeriCommerce's servers use enterprise quality Cisco firewalls. AmeriCommerce also offers DDoS mitigation services through Rackspace, and the software is reviewed every day by AlertLogic to monitor for potential vulnerabilities.
Final Verdict
I don't have a particularly strong opinion of AmeriCommerce, either positive or negative. It isn't the most exciting eCommerce platform I've ever seen, nor is it the worst. AmeriCommerce seems to cover all of the bases required for a user-friendly shopping cart and manages to offer a few additional features as well. The software's most attractive feature is certainly the ability to operate multiple sites from the same admin–the low cost of each additional store is equally attractive.
That isn't to say that AmeriCommerce is without fault. This cart is by Americans and for Americans, so if you're looking to sell internationally, AmeriCommerce is not the best route. You should also be wary of the company's limited customer service hours. If you aren't comfortable handling problems on your own, you might consider looking elsewhere.
Whatever the case, I always recommend that you try out the platform before you commit. Sign up for a free trial, test the customer service, and see if AmeriCommerce can fit your business's needs.
---
The Merchant Maverick Seal of Approval 🏆
AmeriCommerce


---
After hours of in-depth research and evaluation, we can confidently recommend this brand to our readers. Get started today and see AmeriCommerce for yourself.
The Merchant Maverick Seal of Approval 🏆
AmeriCommerce


---
After hours of in-depth research and evaluation, we can confidently recommend this brand to our readers. Get started today and see AmeriCommerce for yourself.
To learn more about how we score our reviews, see our
eCommerce Software Rating Criteria
.