The Business Platinum Card From American Express Review
Expert Analyst & Reviewer

UPDATED
Advertiser Disclosure: Our unbiased reviews and content are supported in part by
affiliate partnerships
, and we adhere to strict
guidelines
to preserve editorial integrity.
American Express OPEN Business Platinum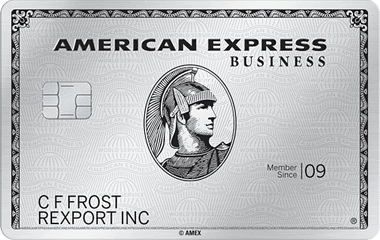 Minimum Recommended Credit
Excellent
Rewards Rate
5, 1.5, or 1 point per $1 spent
The American Express Business Platinum Card® is a high-end travel credit card for business owners who make frequent business trips. The card's $595 annual fee is a stiff barrier to entry, but then again, this card isn't intended for the small business owner on a tight budget.
The Business Platinum Card is a charge card (a segment of the market dominated by Amex). This means that unlike a standard credit card, your entire balance comes due on your statement date. You can't carry any of your balance over to the following month — with some exceptions (as we'll see later in this review). For a deeper dive into the topic, we published an article on the relative merits of charge cards and standard credit cards.
While the Business Platinum card isn't aimed at a mass audience, it offers real value to the frequent business traveler. Does the Amex Business Platinum charge card make sense for you and your business? Read this review to see how well the card stacks up against the competition.
Eligibility
Applicants must have good to excellent credit to qualify for the Business Platinum Card. Charge cards tend to be somewhat easier to qualify for than regular credit cards, all else being equal.
Business Platinum At A Glance
American Express Business Platinum Card


---

Annual Fee:


---

$595

Purchase APR:


---

18.24% (variable)
Rewards For Spending
There's no shortage of rewards with the Business Platinum Card. As long as you frequently spend with this card, you'll make its high annual fee well worth it.
A Welcome Offer Worth 75,000 Points
When you spend $15,000 in the first three months after opening your account, you'll nab 75,000 points. Per Amex's own points calculator, this total can equal as much as $750 when redeemed for travel booked through the Amex travel portal.
5x Points On Travel
By far, the biggest highlight of this card is the 5 points per dollar you'll collect when you book travel. To collect the bonus rate, you'll need to book travel through amextravel.com and use the card for flight bookings or prepaid hotels.
A Bonus For Big Purchases
Beyond travel, you can snag 1.5 points per dollar spent on purchases of $5,000 and above (up to 1 million additional points per year). This unique bonus rate will appeal to businesses that often put big purchases on a credit card.
All other purchases collect the standard 1 point per dollar spent.
Redeeming Rewards
American Express enables a few redemption options here — plus, there's a bonus for travelers.
Multiple Redemption Paths
American Express has a number of ways you can redeem your rewards. Through Amex's Membership Rewards program, you can transfer points to eligible travel partners or redeem them for certificates and gift cards. You can also use points while shopping at participating retailers, including Amazon.com. You can additionally apply points towards specific and eligible account charges.
Travel Redemption Gets 35% Back
While there are a plethora of redemption options, one stands out atop the mountain: airline redemptions. When you book flights through American Express Travel and use Membership Rewards Pay, you'll receive 35% of the points you used back. You can get up to 500,000 points back per year via this method.
Card Benefits
The Business Platinum Card is no slouch when it comes to extra benefits. The simple fact is that this card offers one of the best benefits packages on the market today.
Employee Cards Available
Like with any good business credit card, the Amex Business Platinum Card features the ability to add employee cards to your account. However, there's a twist with this card. Instead of just adding Platinum cards, you can also add non-Platinum Amex charge cards, too. Here are all the options that you have for employee cards, along with their annual fees:
Business Platinum Card ($300 a year per card)
Business Gold Rewards Card ($45 a year per card)
Business Green Rewards Card ($0 a year per card)
Note that the employees you give Gold and Green cards to won't have access to the Business Platinum's full slate of benefits. However, these users will still accrue points at the same 5x and 1.5x rates (for travel booked through amextravel.com and for purchases of $5,000 and above, respectively) as the main Business Platinum Card.
Up To $400 A Year In Credits
There are a couple of ways you can partially offset this card's hefty $595 annual fee. First, American Express has partnered with Dell to give you up to $200 in statement credit every year (split in half between the first six months and the last six months of each calendar year). You can collect this credit whenever you use your Business Platinum Card to make a technology purchase through Dell.
You can also take advantage of a $200 airline fee credit. This credit allows you to select one qualifying airline and get up to $200 in statement credit every calendar year. It covers baggage fees and incidental charges.
Global Entry/TSA PreCheck Fee Credit
Beyond the above two annual credits, Amex includes a credit every four years that can be used for the application fees of either Global Entry or TSA PreCheck. This credit can be worth up to $100, depending on the program you choose to enroll with.
Gain Access To Travel Programs
Cardholders with Amex's Business Platinum in hand will have access to a few travel collections and programs. To start, Amex offers a "Global Lounge Collection," which provides travelers access to over 1,200 airport lounges throughout 130-plus countries. Featured lounges include Amex's own Centurion Lounge and The International American Express lounges as well as partner lounges, such as Delta Sky Club.
There's also a "Fine Hotels & Resorts Program" that provides a slew of perks: room upgrade at arrival (when available), daily breakfast for two people, guaranteed late check-out, noon check-in, complimentary Wi-Fi access, and a "unique" amenity worth $100 (potential options here include spa or food/beverage credit).
You can additionally take advantage of Amex's "Preferred Seating Program." This feature can gain you access to "premium" seating for select cultural and sporting events when offered.
Automatic Hotel Loyalty Program Upgrades
Beyond being part of exclusive travel collections, you'll also be able to take advantage of loyalty program upgrades. Holding a Business Platinum Card will automatically give you Hilton Honors Gold status as well as Marriott Bonvoy Gold Elite status. Both programs come with their own unique perks but generally allow you to earn loyalty points at a faster clip whenever you stay at any location of either brand.
A Plethora Of Other Travel Perks
There's plenty of other travel benefits that come with the Business Platinum Card — it's an elite credit card, of course. Here's a quick rundown of the other travel perks that come with this card:
Travel Service: Amex gives Business Platinum cardholders access to a service that focuses on customizing itineraries and giving specialized recommendations.
Trip Delay Insurance: Round-trips purchased entirely on the card may be eligible to receive coverage if they are delayed for more than six hours.
Trip Cancellation & Interruption Insurance: Round-trips purchased entirely on the card may be eligible to receive coverage if they are canceled or interrupted.
Baggage Insurance: Lost, damaged, or stolen baggage can be covered up to $2,000 for checked bags or a combined maximum of $3,000 for checked/carry-on bags.
Global Assist Hotline: When you travel 100 miles from home, you'll have access to Amex's 24/7 support for medical, legal, financial, and other select emergency coordination/assistance services.
Car Rental Privileges: Business Platinum cardholders can receive complimentary access to premium car rental program membership, which includes such perks as special upgrades and discounts.
Account Management Tools
There are a few standard tools available to help manage card accounts. Amex includes account alerts (for monitoring due dates, irregular activity, and employee spending), year-end summaries, and online statements. You can additionally set up designated "account managers" to access and manage your card's account.
For use on the go, American Express offers two separate mobile apps. One is for general account access, and the other is focused on business support, such as receipt management. Both apps are available on Android and iOS.
Beyond all that, you can connect your Amex account to Bill.com. Here, you'll be able to pay bills via Bill.com's "Vendor Pay" service, which may help streamline your business' bill-paying process and improve cash flow.
Other Benefits
The benefits with the Amex Business Platinum Card just don't seem to stop. Besides all the premium perks listed above, you can also take advantage of other, more standard credit card features, such as:
Concierge: This card has a complimentary service that can help with tasks, such as setting up lunch meetings, finding concert tickets to entertain clients, booking ground transportation, and more. It's available 24/7.
Extended Warranty: The original manufacturer's warranty can be extended up to one additional year for items purchased with a Business Platinum Card.
Purchase Protection: Eligible purchases can receive protection for up to 90 days past the purchase date.
Dispute Resolution: Amex will work with you to resolve fraudulent or incorrect charges on your statement.
Amex Offers: Earn special rewards for various categories, such as offers for shopping, dining, travel, and more.
Rates & Fees
While the Business Platinum Card is all sun and roses above, it comes with a cost — many will find the annual fee for this card just not worth it.
A Competitive APR
Because the Business Platinum Card is a charge card, you normally won't have to factor in an APR. Instead, you must pay off your balance in full each month.
However, American Express offers its "pay over time" feature, which enables users to pay for eligible purchases over time with interest. For Business Platinum cardholders, this program has a solid APR of 18.24% (variable). You'll want to keep in mind that "pay over time" isn't automatically enabled for every purchase. Instead, the option to enroll will be available after you make eligible purchases.
$595 Charged For The Annual Fee
Don't feel alone if you get sticker shock when looking at American Express' Business Platinum Card — $595 is quite a hefty total to shell out annually. This annual fee is mainly justified by the card's deep portfolio of extra benefits, so you'll need to decide if $595 per year is reasonable for your business. Plus, it's worth another note that the annual credits for travel and Dell purchases (mentioned above) can help offset this nearly $600 cost.
No Foreign Transaction Fee
As this is a travel-focused credit card, it's a nice perk that the Business Platinum Card doesn't include a foreign transaction fee — many other cards charge 2%-3% of each transaction whenever you swipe your card abroad.
Other Fees
Beyond the annual and foreign transaction fees, American Express also charges a late fee of $39 or 2.99% of the amount that has to be paid in full — whichever is greater. You should further be aware that returned payments also generate a $39 fee.
Is The Business Platinum Card Right For You?
If your business has you traveling regularly, and you want all the perks that come with a high-end travel card, the American Express Business Platinum Card is a compelling value proposition. The ability to earn 5 points for each dollar spent on flights and prepaid hotels, combined with the ability to get 35% of your points back on flights, means that if you spend often and travel frequently, your benefits will easily make up for the $595 annual fee. However, if your business doesn't fit a travel-focused profile, a card that better facilitates earning points through non-travel spending should make more sense for you. Additionally, those that are relatively low spenders will want to search for sunnier shores that don't require handing over nearly $600 per year just to use their credit card.
You might want to apply if…
You spend enough to offset the $595 annual
Your business requires frequent travel
You want a credit card with exclusive benefits
You might want to look for a different card if…
You can't afford the $595 annual fee
Your business rarely requires travel
You want to carry a balance on your card
---
Featured Free Corporate Card
Ramp


---
Ramp offers a free corporate card for virtually any business. Start earning rewards with your corporate spending today. Get your free card.
Featured Free Corporate Card
Ramp


---
Ramp offers a free corporate card for virtually any business. Start earning rewards with your corporate spending today. Get your free card.
To learn more about how we score our reviews, see our
Business Credit Card Rating Criteria
.