Fiverr Workspace Review (Formerly AND CO)
This freelancer management tool is best suited for those freelancers, independent contractors, and micro-businesses that don't need full accounting software.
Expert Analyst & Reviewer

UPDATED
Advertiser Disclosure: Our unbiased reviews and content are supported in part by
affiliate partnerships
, and we adhere to strict
guidelines
to preserve editorial integrity.
Fiverr Workspace

Pros
Suited for freelancers
Free plan available
Easy to use
Excellent customer service
Excellent mobile apps
Cons
No tax support
Limited integrations
Unsuited for product-based businesses
Not full accounting software
Fiverr Workspace Overview
The life of a freelancer is mostly just drinking coffee and working in your pajamas, right? Well, not always. While freelancing has its perks, freelancers are lone wolves who must survive in the business world all by themselves. That is, until Fiverr Workspace (which, until recently, was known as AND CO).
Fiverr Workspace is a freelancer management software that boasts strong features, such as invoicing, expense tracking, time tracking, contracts, and reports. These features make Fiverr Workspace a solid choice for freelancers, as well as some independent contractors and service-based micro-businesses. Throw in excellent customer support and a free plan, and it seems clear why Fiverr Workspace is a hit with freelancers that need basic bookkeeping and invoicing.
But for businesses that need full accounting software or something beyond basic, Fiverr Workspace won't fit the bill. Furthermore, a lack of important features, such as tax support and mileage deductions, are noticeably absent from the software. And while Fiverr Workspace has a free plan, its limitations make this software useless for freelancers with multiple clients.
However, if you can live without the bells and whistles, Fiverr Workspace is certainly worth a look. Start right here with this review. We tested the software and did our research to help you determine if Fiverr Workspace is a good fit…or if you need to continue your search elsewhere.
Fiverr Workspace Pricing
There are two plans available through Fiverr Workspace: a free plan and the paid PRO plan. If you subscribe to the PRO plan, you can pay monthly or annually. You will save 25% by purchasing the annual subscription. While there is no free trial for the PRO plan, Fiverr Workspace does offer a 30-day money-back guarantee if you're not satisfied with the software. You can also sign up under the free plan to give the software a go. As Fiverr Workspace is designed for freelancers, your subscription only supports a single user.
Here's what you'll receive with each Fiverr Workspace plan:
Free
The Free plan costs $0/month and includes these features:
One client
Invoicing (includes Fiverr Workspace branding)
Expense tracking
Project management
Time tracking
Reports
Proposals and basic contracts
Connect up to two bank accounts
Pro
The Pro plan is priced at $18/month. It includes all of the features of the Free plan, plus:
Unlimited clients
Invoicing (removes Fiverr Workspace branding)
Contact management
Proposals and fully editable contracts
Free training
Connect up to six bank accounts
Priority support
Cloud-Based Or Locally-Installed
Fiverr Workspace is cloud-based software, so no downloads or installation is required.
Hardware & Software Requirements
As cloud-based software, Fiverr Workspace is available on nearly all devices so long as you are using an up-to-date browser with a solid internet connection. Fiverr Workspace also offers full-featured mobile apps for iOS (11.2+) and Androids (5.0+).
Specific Size Of Business
Fiverr Workspace was created specifically with the freelancer in mind. It serves as a resource for freelancers that allows them to spend more time working and securing contracts and less time filing paperwork or creating tedious invoices. Although the app is ideal for freelancers, it could still work for some micro businesses and independent contractors looking for a simple invoicing and expense tracking solution that is quick, easy to use, and can be accessed on the go. The software is best for service-based businesses.
Ease Of Use
Fiverr Workspace is incredibly easy to use across the board, and it has some of the best mobile apps on the market. The software takes very little time to set up and is well-organized. Fiverr Workspace also has plenty of support resources to make learning the software even simpler.
Fiverr Workspace Features
Fiverr Workspace is focused on giving freelancers a way to manage their finances and projects easily. Features include:
Dashboard: Fiverr Workspace has a dashboard called "My Desk," where you can quickly get an overview of your finances and create and manage tasks. To the left of the screen, there's a menu with tabs for Clients, Proposals & Contracts, Projects, Invoices, Subscriptions, Time Tracking, Income & Expenses, Shoebox, and Support Chat.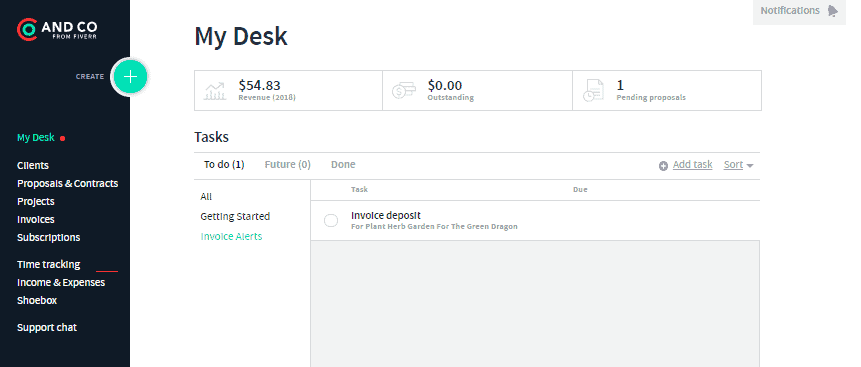 Invoicing: Fiverr Workspace's invoice feature is incredibly easy to use. There is only a single invoice template. You can create invoices directly from projects or proposals. You can also invoice for items, but you have to manually enter the items and their rates every time you want to charge a customer. You can also set payment terms and email messages; however, customizations are almost non-existent. Fiverr Workspace does support recurring invoices, and you can see whether your invoices have been sent, viewed, or paid in real-time. There's no estimate feature, but there is a proposal feature. Fiverr Workspace branding will be included on all invoices unless you have the paid Pro plan.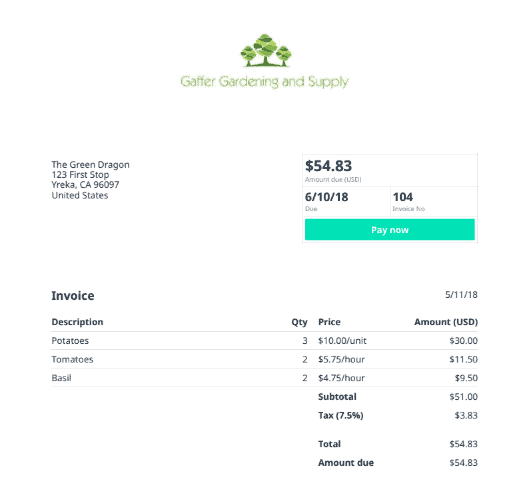 Client Portal: There is a client portal where customers can view and pay their invoices directly online.
Contact Management: You can save client information on Fiverr Workspace to make project creation and invoicing easier. You can record very basic details (such as a name, address, business name, and email). Once you click on a contact that you've created, Fiverr Workspace will show you all of the tasks, contact information, projects, invoices, and expenses associated with that contact.
Expense Tracking: You can either enter your income and expenses into Fiverr Workspace manually, or you can connect live bank feeds to track your income and expenses automatically. You can then categorize your expenses accordingly; expense categories aren't customizable, but they are pulled straight from the IRS's expense categories to make filing easier. You can attach receipt images to your expenses as well, or you can email your receipt files directly to Fiverr Workspace, and the company will take care of them for you. Through the Fiverr Workspace app, you have the option to submit new expenses by either taking a picture of a receipt or uploading an existing photo. Fiverr Workspace uses Plaid (a Yodlee alternative) for its live feeds.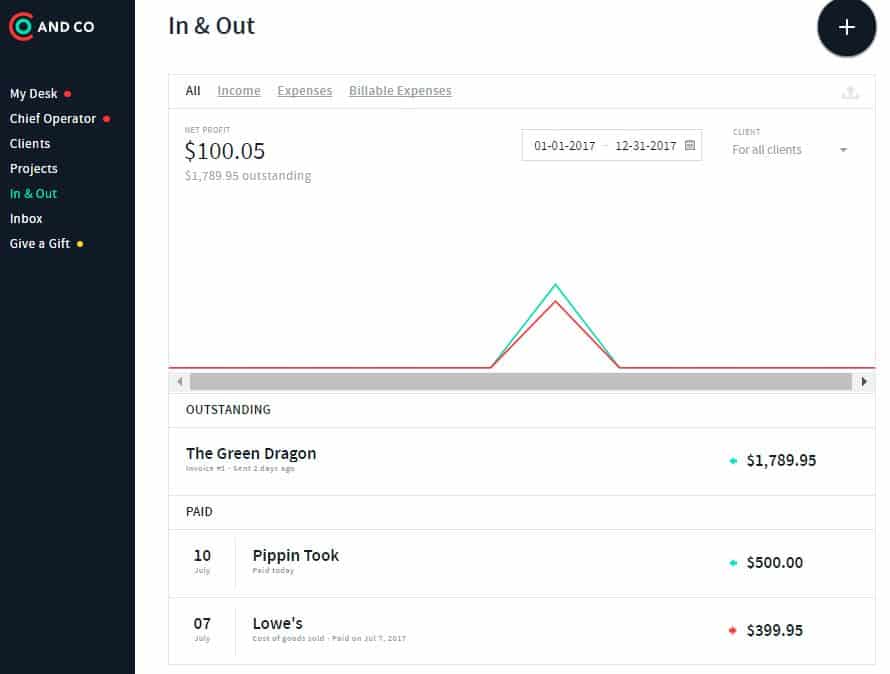 Projects: Fiverr Workspace allows you to create projects. You can bill projects using a flat fee, or you can set a rate (you can charge per hour, week, month, word, or item). Easily attach documents, expenses, and time to projects. You can convert projects to invoices with the click of a button.
Time Tracking: Fiverr Workspace has a convenient built-in timer that tracks both billable and unbillable hours in real-time. You can easily add hours to timesheets, invoices, or running projects/activities. The Fiverr Workspace desktop timer and app time sync automatically, so your records are always up to date.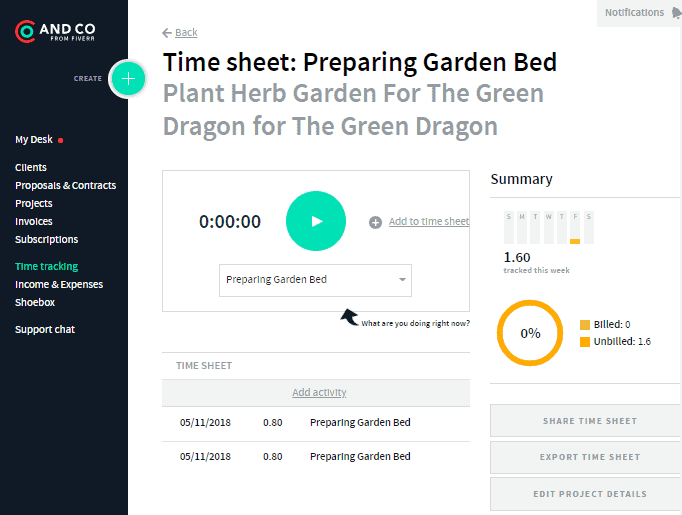 Reports: Fiverr Workspace offers minimal reporting. There are four reports available, but you have to send them to your email and download them manually, rather than being able to view them within the software as with most programs.
Proposals: One of Fiverr Workspace's newest features is the proposal feature. You can create a project proposal and send it directly to the customer for them to sign via email. You can also require a deposit.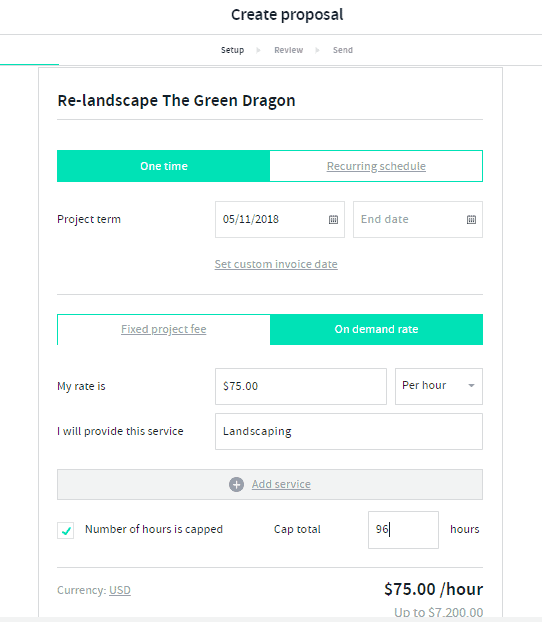 Contracts: One of the unique features of Fiverr Workspace is the ability to create contracts. You can create legal contracts for your projects that are compliant with the Freelancers Union and ensure that you receive the money you are due. Under the contract feature, you can choose who retains rights to your work, specify the payment terms, and send the contract directly to customers for a signature of approval. Note: Contract customizability varies by pricing plan.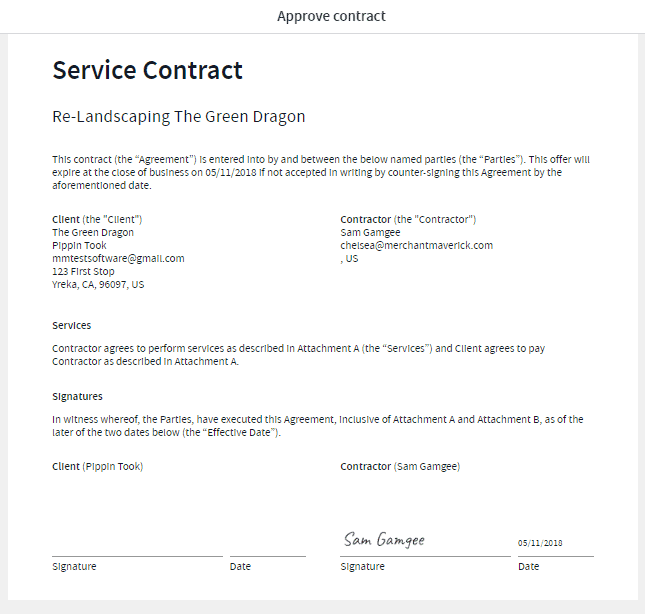 Subscriptions: Another new addition to Fiverr Workspace is the ability to set up subscriptions. You can create a recurring subscription expense and email it to your customer to have them authorize the payment. The client will then input their payment information, so you can recurringly bill that client without the invoice.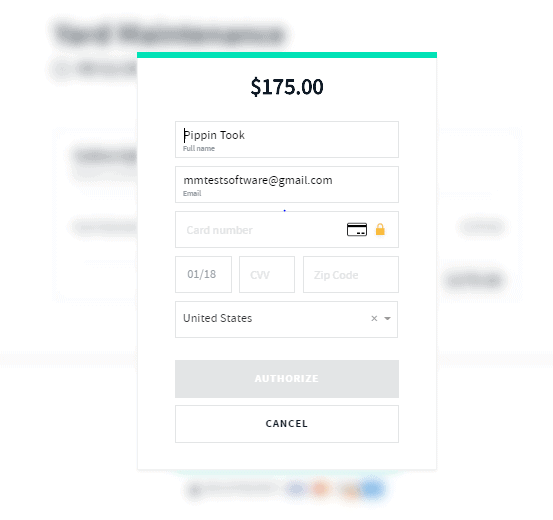 Sales Tax: Fiverr Workspace only allows you to add a single default sales tax rate, though you can manually adjust this rate on invoices.
Multiple Currencies: Fiverr Workspace offers multicurrency support for over 120 different currencies.
Importing & Exporting: You can import and export income and expenses, but that's about it.
Fiverr Workspace Customer Service & Support
Fiverr Workspace has always had incredible customer support. Representatives are kind and quick to respond. I experienced an issue that left my account completely unresponsive, and my chat support rep and the engineering team were able to get everything back up and running in just half an hour.
In addition to a great support team, Fiverr Workspace also offers lots of great resources for freelancers. Support options include:
Email: You can contact Fiverr Workspace by email.
Support Chat: This is the main form of customer service given to Fiverr Workspace users. Chat reps are incredibly well-informed and helpful. They respond to questions quickly and are there to help with whatever you need.
FAQ: The FAQ section is set up like a full-fledged knowledgebase with helpful how-to articles pertaining to common questions.
Blog: Fiverr Workspace offers a blog with articles that provide helpful tips for freelancers. The style of writing is funny and worth a read, even if the topics aren't always pertinent to the actual app. Now that AND CO is owned by Fiverr, freelancers should take a look at the Fiverr blog as well for helpful freelancing tips and tricks.
Business Tools: Fiverr Workspace offers an incredible number of business tools. These tools include such things as a quarterly tax calculator, a free invoice template, a how-to freelance guide, a self-employment calculator, a business name generator, and more. Scroll to the bottom of the Fiverr Workspace website for a full list of business tools.
Report A Bug: If you run into a bug, you can report it to the company.
Social Media: Fiverr Workspace regularly maintains Facebook, Instagram, and Twitter accounts. These accounts feature new blog posts, company updates, and a very small number of customer reviews, as well as incredibly funny gifs and articles. This can be a good source of information or laughter, whichever you are in the mood for.
Fiverr Workspace Reviews
Negative Reviews & Complaints
The vast majority of customer feedback for Fiverr Workspace is positive, but there are a few complaints. Most complaints can be found on the Google Play Store, where the app receives 3.3/5 rating (based on 833 reviews). Common criticisms include:
Bugs & Crashes: The most common complaint is of small bugs and crashes, particularly with the Android app.
Needs More Customizations: A few users wish there were ways to customize the contracts and more invoice customization options.
Lack Of Integrations: A couple of users want to see more integration offerings.
Note: It is worth mentioning that Fiverr Workspace is very good at responding to customer complaints and making things right with disappointed users, which I see as another sign of good customer support.
Positive Reviews & Testimonials
Fiverr Workspace is well-received by nearly all of its users. The company receives 4.8/5 stars on Capterra (based on 319 reviews) and 4.7/5 stars on the App Store (based on over 900 ratings).
Here is what users love most:
Easy To Use: One of the most common praises of Fiverr Workspace is that it is easy to use. Many freelancers report saving tons of time on managing their finances and projects, which frees them up to spend time on what they love.
Strong Mobility: Users (almost unanimously) love the full-featured mobile apps that Fiverr Workspace offers.
Makes Freelancing Easy: It's not an easy task to simplify freelancing, but Fiverr Workspace does it, and users value that. Quite a few users say they not only appreciate the business advice and support they get from Fiverr Workspace but also the emotional support — freelancers usually don't have anywhere to turn to with their questions. They also like the fact that the software makes them appear more professional.
Great Customer Service: Again and again, users comment on the customer support that Fiverr Workspace provides. They like the speedy responses and friendly staff.
Great Design & Features: Several users comment positively on the software's recently redesigned UI. Many also appreciate how well-organized the software is and all of the features they get, especially the contract feature.
Fiverr Workspace Integrations & Add-Ons
Fiverr Workspace has nearly ten integrations, with four of those being payment gateways. This number is pretty small in comparison to other software, but they cover the basics, such as Stripe and PayPal. Fiverr Workspace does integrate with Zapier, which allows you to connect to thousands of apps and programs.
Security
Fiverr Workspace is not transparent about its security practices. The company says it has secure servers and data encryption, but that's as far as the details go. I recommend contacting Fiverr Workspace with any specific security questions.
Final Thoughts For Fiverr Workspace Accounting Software
For freelancers who are looking to simplify their finances and gain more business support, Fiverr Workspace is an incredibly good option. The company continues to update and improve its software to eliminate navigational difficulties. Fiverr Workspace's mobile apps are some of the best on the market, and the software makes it easy to manage expenses, send invoices, create projects, and track time. The pricing is a bit steep for a freelancer budget, but the proposals and contract features are crucial to many freelancers.
The software is still wanting in some areas. With no item management, the software is not fit for product-based freelancers. There are also limited tax support, limited invoice customizations, and a lack of integrations. The major drawback with Fiverr Workspace is that it doesn't offer any tax support for freelancers. Managing self-employment taxes and deductions is one of the biggest needs of freelancers, so in this area, the software falls far behind its competition, QuickBooks Self-Employed.
Fiverr Workspace is also best suited for freelancers, independent contractors, and micro-businesses. Fiverr Workspace is a freelancer management tool, so freelancers or businesses seeking full accounting software will need to look elsewhere.
Despite these drawbacks, Fiverr Workspace can still be a strong resource for service-based freelancers. The company offers wonderful customer support, provides freelancing resources, and has positive reviews across the board. And it is still young. Fiverr Workspace has been making significant updates over the past few years, and we hope this trend continues to bring new features in the future. Create a free account and give the software a try to see if Fiverr Workspace is right for you.
---
Try A Top Pick For Payroll
ADP Payroll


---
We like ADP Payroll for its advanced employee management, strong payroll features, and great customer support. Get three months free when you sign up through our links! Get Started.
Try A Top Pick For Payroll
ADP Payroll


---
We like ADP Payroll for its advanced employee management, strong payroll features, and great customer support. Get three months free when you sign up through our links! Get Started.
To learn more about how we score our reviews, see our
Accounting Software Rating Criteria
.