Expert Analyst & Reviewer

UPDATED
Advertiser Disclosure: Our unbiased reviews and content are supported in part by
affiliate partnerships
, and we adhere to strict
guidelines
to preserve editorial integrity.
Pros
Suitable for large businesses
Customizable feature set
Advanced features
Cons
Inconsistent customer service
Steep learning curve
Appointment Plus Overview
Unlike most of its competition, Appointment Plus targets large businesses and institutions as much as it does SMBs. The company prides itself on being used by "some of the biggest companies in the world" within over 100 industries. These include Fortune 500 companies like Gap, Exxon Mobil, and Penske as well as institutions as large as Columbia University and the American Red Cross. In total, the company serves over 8,000 customers in 17 countries.
Though the software is powerful and the customer-facing UI is user-friendly, the system is not simple enough for the average user to understand or set up easily. And while its customer service team is particularly enormous and persistently reaches out to new customers, Appointment Plus has garnered negative feedback for its occasional unresponsiveness (even to complaints filed with the BBB).
Smaller businesses might have their needs better met by simpler, cheaper software from a similarly sized company, but Appointment Plus has the flexibility (via detailed settings and a huge slate of integrations and add-ons) to cater to medium- and big business demands.
Pricing
Appointment Plus has made some minor changes to their pricing scheme recently, mainly in the form of a pricier Platinum Plan. Each plan serves a single location. New users can sign up for a 15-day free trial of the Gold Plan (no obligations or credit card required) but must talk to a consultant first to get a login link. The consultant will recommend a guided tour, which is worth considering (see below). If you pay for the entire year in advance, you'll get two months free.
The pricing plans are as follows:
Bronze: $49/month
Up to 500 appointments per month
Up to 10 users
Email appointment notifications
Text SMS appointment reminders
Website and Facebook calendar integration
Recurring appointments
Payment processing
Event scheduling
Multiple administrative access levels
Silver: $69/month
Up to 500 appointments per month
Up to 10 users
Interactive appointment notifications
Staff filters
Staff profile sharing between locations
Service schedule exceptions
Gold: $99/month
Up to 500 appointments per month
Up to 110 users
Multiple appointments per time slot
Room sharing between staff members
Multiple resources per appointment
Minimum Package: Gold
Analytics report
Schedule templates
Extra appointment fields
IP address restrictions
Platinum: Starts at $199/month
Starts at 11 users
Up to 125 users
Unlimited customers
Full API access (at $369/month)
Dedicated account manager
Dedicated links
Sub-services
Location attributes
Location look-up
Custom fields
P.O. number on appointment grid
High capacity appointment volume
Expanded number of user profiles
Enterprise: Custom pricing
Unlimited customers
Unlimited users
Unlimited appointments
Custom modifications
Dedicated server and account manager
Ease Of Use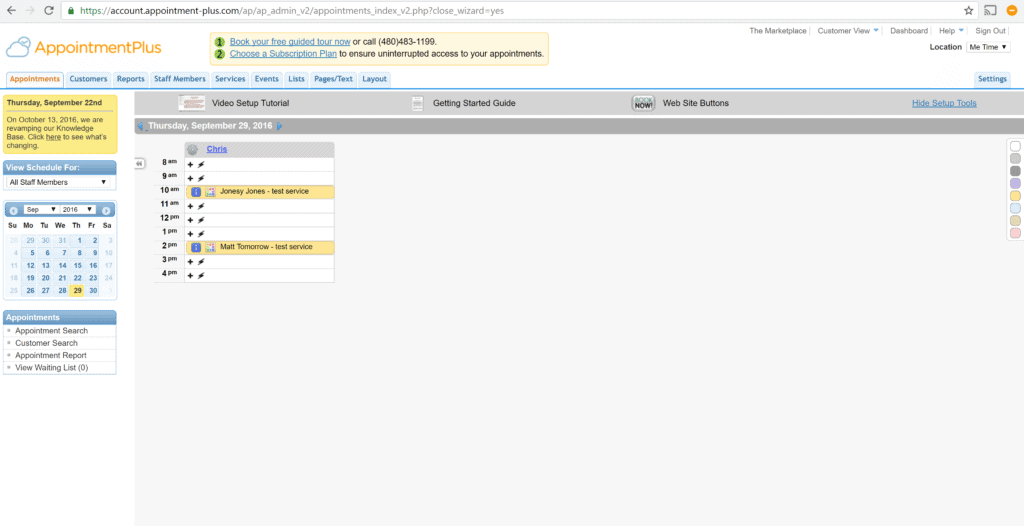 As a general rule, when a software demo is only available via a guided tour, it's going to be pretty complicated to use. Use of Appointment Plus does not come naturally. A powerful system, the software offers many customizable details but little structure to organize the user experience. The graphic user interface looks dated, both in its color palettes and in its layout. The main account schedule displays as a list of time slots and appointments rather than an interactive calendar. While there is a tutorial video, taking advantage of the company's free set-up coaching sessions and other customer service mediums might be a good idea.
Setup: When setting up an account, Appointment Plus asks for your phone number, name, and email address. An individually assigned setup coach emails and calls you within a couple days offering to help you get started. Because Appointment Plus emphasizes flexibility across industries, you must choose from one of hundreds of business types (including "other" and "children play center") and countries from drop-down menus during your business configuration. When I opened the software for the first time, I was greeted with a setup toolbar including a Book Now button for a setup coach, a video setup tutorial, a getting started guide, and Book Now website buttons. Clicking the video setup tutorial in the opening screen brings you to a series of 10 very clear tutorials between two and five minutes long.
User Interface: Navigating through Appointment Plus' interface does not feel totally distinct from flipping through the New York Times. The software is incredibly wordy, relying on minimal visual cues and a very traditional, linear layout for each page. Hence, at the bottom of each page requiring input fields is always an "add," "edit," or "update" button, which when clicked, prompts red "successful update" text at the top of the page. The software doesn't use enough hierarchy to organize its data. In the Settings tab, each subheading is made of a list of up to 50 individual settings, including an option to prompt customers for payment regardless of whether or not their credit card number is already in their profile. Normally, the system will not prompt customers for their payment information if it is already in the database. This preference applies only if you select "prompt but don't process" as your payment method.
Settings: Parallel to its linearly organized and overly dense site layout, Appointment Plus offers a wealth of settings. There are basic options for company open/closed times and automated email text as well as complex, thickly described settings for staff and customers. Some detailed settings seem incredibly useful and full of foresight. Others seem arbitrary or burdensome, such as the extensive drop-down menu for event duration (with options from 1 minute to 1 hour 5 minutes, up to 24 hours) combined with far more limited options for event start time.
Calendar: Instead of assigning a specific schedule to each staff member, in Appointment Plus, you create schedule templates, which you can then assign to staff members. The calendar is displayed as a list of time slots with clickable icons for creating an appointment or event in each slot. Staff schedules are displayed side by side, with a clickable monthly calendar in a sidebar for navigation between days. There are no other calendar view options.
Customer Booking: The customer site automatically opens on the appointment booking page, which refreshes as customers make the choices first for staff member, service, then date before confirming their appointment. The well-formatted site also offers customers the options of joining a waiting list and/or viewing a list of staff members or services. While you can't change the overall layout or the order of customer selection (staff must be selected before service type or time), you can add a logo and a customizable header. Depending on your settings, customers either may or must log in to the site using a login name and password. Overall, the software's front-end is friendly and clean.
Customer Service & Support
Appointment Plus invests heavily in connecting with new users; the company has created multiple video tutorials and a knowledge base to answer more detailed questions. Every new account receives an assigned customer service representative, who, after an initial conversation, can only guarantee users responses within four traditional business days. (The company operates in Pacific Time.) If you want more timely attention, you'll need to purchase a monthly customer support package separately. Appointment Plus has received mixed reviews from long-term users about its customer service over time. Some praise the company's friendliness, while others claim that support becomes inconsistent after the initial attention.
Regardless of the quality of their live help, Appointment Plus does a great job giving their users multiple avenues for seeking answers:
YouTube: The company maintains a channel with 13 videos, including both demos and testimonials. Some of these videos, though, are well over a year old and may no longer accurately represent Appointment Plus
Setup Tutorial: Opening the software for the first time prompts a tutorial video and a list of quick steps for setting up.
Knowledge Base: The Knowledge Base contains FAQs and descriptions of updated features. The posts are thankfully very visual, which helps with navigating the complex interface.
Support Tickets: Where users can submit one or multiple support tickets.
Facebook: Appointment Plus updates an account with diverse posts about business management, creativity, branding, and general advice. The page is fast approaching 5,000 likes.
Twitter: Appointment Plus has a storehouse of over 2,700 inspirational and educational tweets with almost 1,000 followers.
Setup Coach: As mentioned, each new Appointment Plus user is assigned a customer service representative who acts as a setup coach and personal link to the company. These representatives are very proactive, calling you and sending half a dozen emails within a few days of setting up your account. Appointment Plus boasts of the "FREE, personal 45-minute setup session" (elsewhere described as 15 minutes) offered to any newcomer, which does seem a unique offer among web-based scheduling software companies.
Users looking for support beyond this list can buy monthly customer support plans:
Premium Support: $20/month
Email and phone support
24 hours a day
Response to voicemails and tickets within 1 business day
Extended Support: $10/month
Email and phone support
9am-4pm M-F US Pacific Standard Time
Response to voicemails and tickets within 2 business days.
Negative Reviews & Complaints
Several online reviewers fault Appointment Plus' inconsistent customer service and difficult-to-use interface, but it's worth mentioning that the company has improved its BBB rating over the past year or two and now garners an A+ rating from that organization.
Unhappy reviewers consistently address:
Unintuitive Interface: One reviewer described the user interface as "disappointing," acknowledging the customer support available but concluding, "I would much prefer a system that is so easy to use that I don't need the help every few minutes." In my opinion, the interface's biggest fault is simply the use of far too much text. Users would have to spend hours reading through the site just to understand the settings and options that they have.
Limited App: Reviewers describe the Android app as slow to load and incapable of showing appointment history or syncing with other calendars. (It received an average of 2.9/5 stars on Google Play.) Some iOS users experienced bugs in the iOS app.
Poor Customer Service: A ten-year-long customer gave Appointment Plus 2/5 stars for inconsistent customer service, the same feedback another angry Facebook user posted about the site. Another long-time user cautions that the staff is not always sufficiently trained in the technology behind the system.
In addition to these criticisms, I would also like to point out that this is one of the least attractive pieces of graphic design I have seen while reviewing business service software. A complicated program can be made less opaque through graphic design, but, unfortunately, that is not the direction Appointment Plus has chosen to go.
Positive Reviews & Testimonials
Appointment Plus has over 4,800 likes on Facebook and almost 1,000 followers on Twitter, suggesting that many of its users are very satisfied. The company has built up quite a base of long-term customers in its 12+ years, many of which stick with the company in spite of a smattering of other options popping up in the last years. They praise Appointment Plus for:
Very Detailed Settings/Options: Appointment Plus is nothing if not flexible and customizable. While it may take some live help from the company to figure out just how to make the system work for your particular business, the software has an edge over many others built with small business types in mind.
Powerful Back-End System: One tech-savvy Appointment Plus user praised Appointment Plus' capabilities and described a long-term history with the company.
Business Analysis: Some users appreciate the reporting functions and other business analysis Appointment Plus is capable of.
Resource Scheduling: One of 1,500 clients who employ this feature, the UCLA Anderson School of Management uses Appointment Plus' resource scheduling to schedule 46 different rooms for multiple uses.
Features
Because Appointment Plus emphasizes flexibility and appeals to large organizations and big businesses, the software offers a wide range of features often overlooked by other companies, such as resource scheduling, service add-ons, and a customer waiting list. Detailed customer information and subtle staff access and service cost distinctions enable easier online management of big employee and customer numbers.
Resource Scheduling: Appointment Plus' resource scheduling is quite advanced, allowing for the manipulation of multiple resources at once, including staff, facilities, and equipment. Rooms can be scheduled for meetings, conferences, classes, and events. Along with each room, you can choose items and equipment necessary for the time-slot.
Add-on Service: Easily create add-on services with a particular cost but no necessary duration alongside regular service appointments.
Customer Waiting List: Customers can choose to put themselves on a waiting list when booking an appointment, giving management the opportunity to control busy time slots (and save at least some of the headache of canceled appointments).
Time Slot Options: You can schedule multiple services per staff time slot (plus!), but individual staff open times cannot override company open times (minus!). In the schedule settings, you can choose to allow appointments to span from one day to the next for multiple-day appointments or packages.
Detailed Customer Data: Customer profiles include such fields as "alerts" (which, when filled, prompts a "!" display in time slots scheduled with that customer), "special needs," "account number," "company," and "occupation." The fields are so detailed some seem almost like overkill; three slots for phone numbers (daytime, evening, cell) and four options for contact permissions (contact okay, call okay, email okay, mail okay) lengthen the customer profile, making impossible to view at-a-glance. Thankfully, the customer database search options make it easy to find customers using any of a dozen search fields.
Staff-Specific Costs: The Appointment Plus system lets you set staff-specific costs for services in addition to default costs. When a customer books with a particular staff member, that staff's cost for the selected service will display instead of the default cost.
Staff Access: Staff members are categorized by type: Headquarters Administrator, Call Center User, Location Administrator, Location Use, and View Appointments Only User. When adding staff, you can also choose to make them inactive (able to log in to the system but unavailable for appointments), invisible to customers, set them as staff or manager, give them a screen name (for display) and login name, and set a password (or changeable temporary password). Finally, staff information includes both a public profile and internal notes.
Email Delivery Reporting: The Reports feature has been updated to offer insight into the delivery status of email notifications.
Payments
Appointment Plus makes it very easy to take payments or credit card information before or after appointments through outside payment gateways. Though the company integrates with the following payment processors, they have an exclusive partnership with Merchant Warehouse:
Merchant Warehouse (USA): allows you to use credit card capture for later use (requires Merchant Warehouse merchant account)
Authorize.net (USA)
Caledon (Canada & USA): allows you to use credit card capture for later use
eSelect (Canada)
eWay (Australia, New Zealand)
Payscape (USA, Canada, EU, Australia)
PayPal (International)
You have the option to require payment for either events or appointments exclusively. You may also create distinct payment settings depending on whether the customer is purchasing gift certificates, appointments, products, or packages.
Security
Appointment Plus takes care to describe its security protocols in depth on the company's website. The software is both GeoTrust and TRUSTe certified for advanced Secure Sockets Layer (SSL) encryption and data privacy. Your unique username and password are required to access any private areas of your account. The servers on which Appointment Plus runs are very well maintained, with regulated climate control, high security, and backup power systems protection their physical location. Finally, data centers are monitored without pause, ensuring that even an unforeseeable glitch occurring in the middle of the night can be set right immediately.
You have some control over your security level as well. In addition to simply changing your password, IP restrictions, forced interval password changes, and other options are available in your account settings.
Integrations & Add-Ons
In the spirit of flexibility and tailored functionality, Appointment Plus offers a great host of add-ons and plug-ins to expand its basic capabilities. These enable users to take payments and manage customer emails. Unfortunately, some features considered standard within other apps come at a pretty hefty cost in Appointment Plus. So, for example, a Bronze Plan user (standard $39/month) who wanted to sell products, sync with Google Calendar, and receive customer support responses within two (rather than four) days would ultimately pay $79/month.
But the option of having extra functions at a cost beats having no extra functions at all. Appointment Plus offers the following add-ons for the specified features. The costs listed apply per business location within an account.
Point of Sale: $10/month
Additional Appointments: $20/month
Document Upload: $20/month. Allow clients to upload Word, Excel, and PDF documents from the customer site.
Advanced Customer Support: $10-20/month.
Email Marketing: Import and manage customer email lists through iContact, Constant Contact, MailChimp, or Vertical Response.
Accounting: Your QuickBooks account will automatically update when a customer books his or her appointment online.
Social Media: Post straight from your account page on Facebook and Twitter.
CMS/Blog: You can schedule appointments through your WordPress page using the scheduling widget.
Web Services Tools: Enterprise customers with software familiarity can use Schedule Connect, the company's API, to integrate Appointment Plus with any system.
Spreadsheets: Export data into Excel for reporting and record-keeping.
Repeat Customer Reminders: Automatic notifications for inactive customers.
Gift Certificates: Automatically email gift certificates when customers buy them.
Time Clock: Track and tabulate employee time on-the-job.
Compensation Tracker: Calculate employee compensation based on either a flat rate or percentages.
Final Verdict
The large size of the company and its big-business clientele make Appointment Plus a unique mix of excellence and inconsistency. Its standard customer service approach – offering extensive communication with a personal company representative at first, tapering to email responses within four business days – exemplifies the ethic of the company.
Despite the fact that Appointment Plus boasts a neat customer booking page and staff access, as well as a waiting list, double-booking, and customer data options, a low-level user might want to forgo these benefits in favor of software built for simplicity and ease-of-use.
On the other hand, a large organization or business with up to $200 per month allotted to online scheduling services probably wouldn't mind spending more money than the baseline cost for unusual services like equipment management, document uploading, and inventory/POS. A user with more demanding needs is likely to spend more time than average to become fully educated (through online materials and live customer support) on how to make the software work for them. It's worth mentioning that the software is updated regularly, with bug fixes and feature tweaks made a couple times a month.
Appointment Plus is not necessarily a joy to use, but it is a good option for those with the time and money to spend on a powerful, advanced, and secure system.

---
Featured Free Corporate Card
Ramp


---
Ramp offers a free corporate card for virtually any business. Start earning rewards with your corporate spending today. Get your free card.
Featured Free Corporate Card
Ramp


---
Ramp offers a free corporate card for virtually any business. Start earning rewards with your corporate spending today. Get your free card.
To learn more about how we score our reviews, see our
Booking Software Rating Criteria
.