Expert Analyst & Reviewer

UPDATED
Advertiser Disclosure: Our unbiased reviews and content are supported in part by
affiliate partnerships
, and we adhere to strict
guidelines
to preserve editorial integrity.
Appstar Financial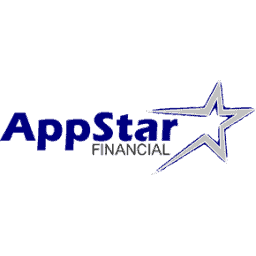 Appstar Financial Overview
AppStar Financial has built a somewhat notorious reputation for itself by relying almost entirely on independent sales agents. Established in 2002 by CEO Mark Leibowitz and based in San Diego, AppStar is anything but a new company. Unfortunately, it represents the "old school" business model of relying heavily on sales and somewhat veiled pricing and contract terms.
Case in point: The internet is heavily populated with complaints from former AppStar customers and sales agents alike, both grumbling about shady business practices that drove them away from the company. The turnover for AppStar agents seems too high for comfort. Customer review sites are chock full of complaints about hidden fees.
As a rule, I have a hard time recommending any company that has a heavy reliance on independent sales agents. Nothing against contractors or anyone working on commission, but in so many cases — especially in the processing industry — it leads to a poorly-trained, highly expendable workforce of salespeople. AppStar is a textbook example of this.
Being a reviewer, my first interaction with a processor is almost always its website. So as I begin to form an opinion about the business and identify its tone and personality, the company's web copy and design provide my foundation. But you can't always judge a book by its cover. Sometimes the flashiest sales copy and slickest websites belong to the most crooked businesses. There's something to be said for a minimalist advertising style. AppStar's site fits into this category.
At first, this feels like a welcome retreat from the endless exclamation marks, bold "too good to be true" promises, and overbearing messaging that I often face when reviewing web content for credit processing companies. The site design is a bit outdated, but not ridiculous. AppStar does seem to like creating one page PDFs that don't display correctly and have no useful information — but hey, it could be worse. The home page at least looks nice and modern. Maybe the company is hoping you won't look any further and just call right away?
The more I looked at the site, however, the more disenchanted I became. The website seems equally focused on recruiting sales agents as it is luring in consumers. However, there's a lot more disclosure for the recruiting side. No processing rates or truly useful information about AppStar's services appear anywhere. Clearly, the website is not where the company generates the most sales.
There's a silver lining here, though. If you can get someone at the corporate office on the phone rather than an independent sales agent, you might be in for a better experience. You can bypass the worst of the sales talk this way. When you empower yourself with the tools we offer (such as our Beginner's Guide to Payment Processing ebook), all the sales gimmicks go out the window. While AppStar might not throw its best deals at you, knowing what to ask for and how to make sure you get it can go a long way. At the end of the day, you could get a good set up from AppStar Financial. (But you can also get a good deal with a LOT less work from a more reputable processor, too.)
My full review below explains the finer details. Overall, I find the sales practices at AppStar second-rate at best, but its rates remain competitive. If you'd rather evade the possibility of getting stuck with an independent sales agent, maybe you should check out our top-rated providers instead!
Either way, AppStar currently scores 2.5 out of 5 stars. The rates may be good, but the company's sales practices need improvement. Based on the most recent trends in Google Reviews, unfortunately, we are seeing signs that the company may be getting worse rather than improving.
Products & Services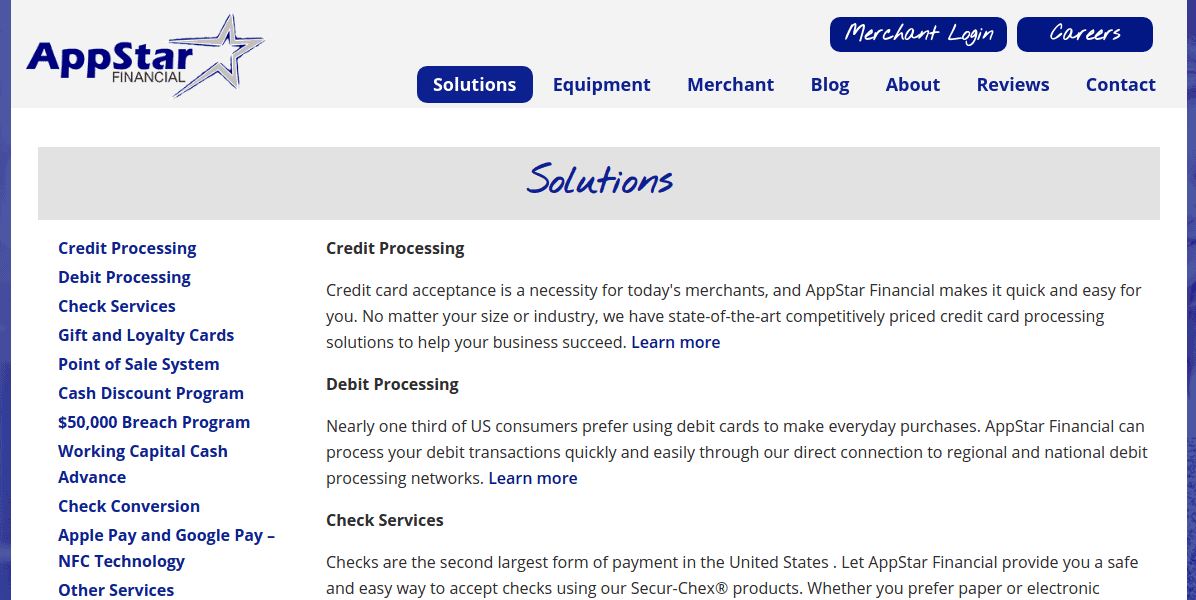 On its site, AppStar lists the kind of services that just about every processor in the industry lists. Nothing flashy or exciting, and the information given doesn't answer any questions about fees or added costs.
Merchant Accounts: AppStar doesn't give a lot of information, but you do get your own merchant account.
Check Services: Includes the ability to input check data into terminals to run it against a database of bad check writers. Standard fare, but nice to see.
EBT Processing: If you have a grocery or convenience store or sell food items, accepting EBT can be an important way to make food accessible to those who rely on food stamps, WIC (Women, Infants, and Children), as well as TANF (Temporary Assistance for Needy Families).
ACH Processing: You can set up clients to automatically transfer payment directly into your bank account to avoid checks, invoices, and the bank trip. Many merchant account providers provide ACH, but not all do. This can be especially useful for those that offer subscriptions, as you can set up a one-time or recurring payment option with ACH through AppStar.
Gift Cards & Loyalty Program: AppStar offers no clues about the cost on its site, but we do know that you won't have a minimum order for what it deems "standard designs," and you will have some sort of startup and monthly cost. You will get a starter kit, online access to the card balances, and free online reporting for the monthly statement and transaction history.
Working Capital Cash Advances: Available for up to $150K per location. Check out our guide to merchant cash advances, and tread carefully. You can often get better rates with other funding options.
POS Software: AppStar offers merchants the 1stPay POS Pro system, an Android-based system that seems to provide your standard options as far as POS software goes.
Payment Gateway: AppStar doesn't go into a whole lot of detail here. My impression is that the company probably doesn't deal extensively with eCommerce merchants, but you can get a payment gateway, shopping cart, and virtual terminal. If you primarily sell online, you might want to look at a company that has invested a bit more time into explaining its eCommerce offerings.
Reporting: Merchants who sign up with AppStar get access to the FirstView portal for sales reporting and insights.
Equipment: AppStar Financial can get you everything from terminals to digital check readers, for a price. It appears that some of the terminals are proprietary. Below is a hodgepodge snapshot of hardware you'll have at your disposal through AppStar.
Note: We strongly discourage any merchant from entering an equipment lease without thoroughly reading the fine print and understanding the total cost. You can end up paying it twice over (or more) and get yourself into a binding lease situation with additional fees. If you have the opportunity to buy outright or use a business loan, you're usually much better off than an equipment lease.
Fees & Rates
While AppStar Financial doesn't advertise any of its rates or fees, in a previous review update, we got in touch with a sales rep at the corporate office who gave me some useful information. I called the company's headquarters on a Saturday and got the automated system, which had no option for sales. I opted to fill out the web-based contact form instead.
By Monday afternoon, I was contacted by a Regional Sales Manager at the corporate offices. That's a pretty quick turn around for a holiday weekend, so one point for AppStar. Like most processors, the first information the rep gave me consisted of flat-rate percentages for processing, which somehow always seems to get described as a "direct wholesale" rate or an "interchange-plus" rate, even though interchange pass-through never works in this fashion. The rates were as follows:
Swiped Credit Fee: 1.59%
Keyed Entry Fee: 2.19%
No mention of per-transaction fees
It's also amazing how quickly sales reps contradict themselves and go with the flow of the conversation. For instance, this rep told me in one breath that they will charge me the exact rate that Visa and Mastercard charge them and not a penny more, explaining that he makes no money on my transactions. Then he gives me flat rates for swiped and keyed entries, which cannot possibly hold true because of the extreme variation among different interchange fees. Then I ask him if he's talking about an interchange pass-through program, which he confirmed. I ask what his markup is, which he gives me at:
Over-Interchange Markup: 0.10%
I had to ask him for the additional transaction fee, which he gave me at:
Per-Transaction Fee Above Interchange: $0.10
These are absolutely good rates, but do you see how absurd the flow of information here is? It demonstrates at least a little dishonesty, even if by omission or unintentional error. I understand that in sales, you don't want to bore the merchant to death with a complex description of interchange, and you try to put it in the simplest terms, in the beginning, hopefully filling in the finer details as the discussion moves forward. But that's not exactly the chain of events I see when I contact most processors, AppStar included. If I didn't make it clear that I wanted a markup rate, what kind of plan would I have ended up with? Tiered processing? I certainly hope not.
Still, the rates seem fair. If you can get these numbers in a contract, do it. Some other fees the rep disclosed include:
Monthly PCI Compliance Fee: $3.42
Monthly Statement Fee: $5.95
Annual Fee: $95.00
Early Termination Fee: $495.00
Monthly Minimum: $15.00
Remember, all fees remain negotiable until signing. I'm hoping that by giving you the information about my sales experience, you can use this knowledge to go into negotiations with an upper hand.
In the end, AppStar's rates and fees aren't bad — if you know what to ask for and how to ask for it. As always, be sure to read your contract carefully. If you do, you could end up with a good set up at AppStar. You should also know that you can get an equally good deal with another processor that will clearly disclose its rates on the website and have sales reps who know what they're talking about and won't lie to you.
Contract Length & Early Termination Fee
One of the major sticking points with former AppStar customers is the $495 early termination fee we reported in an earlier review. We still see complaints of this exact fee reported on BBB, so we can surmise that this is still standard practice. However, we have seen even higher fees reported. To put that fee into perspective, it is above the industry average, which is $295, but many companies have also done away with this practice all together. We think the best credit card processing companies have no early termination fees at all. It is possible to find flexible contracts and to negotiate this charge out of the contract before you sign it, but you need to ask.
Contracts with AppStar last for three years and will auto-renew for one year each following year. To prevent renewal, you must give the contractually stated notice of cancellation, usually three months in advance. I don't particularly care for this kind of thing, but it's the industry standard. You'll find this language in the boilerplate contracts for most processors — especially large ones and middle-of-the-road small companies. Again, if you don't want this, make sure to bring it up in negotiations. In many cases, you can get this language removed without any penalty to you. When I asked about it, the sales rep was okay with taking that clause out.
If you can't negotiate your way out of the early termination fee, try asking for a one-year contract instead. Ideally, you will get a one-year contract AND no termination fee. But please don't sign a three-year contract unless you absolutely have to. Again, other processors offer competitive pricing and month-to-month agreements.
Sales & Advertising Transparency
AppStar is a typical case of poor transparency with veiled fees (e.g., early termination fees) and no real information about costs provided on its site. The idea is that you'll get on the phone with a salesperson. We don't think this is the best way to do business. Further, independent sales contractors have one loyalty — and that isn't necessarily to you.
In a marketing video made to attract new independent sales agents, David Krakower (Senior Vice President, Sales) says that: "A full two-thirds of our company's resources are focused solely on supporting our consultants out in the field." While he meant this as a reassurance to new sales agents, it also serves to demonstrate AppStar's reliance on independent sales agents.
If you check out the Careers page, you'll find what AppStar offers its outside sales agents:
Professional sales training and ongoing support
Multiple income streams
Monthly bonuses and top commissions
No nights and no weekends (appointments are 9 AM to 4 PM Monday-Friday)
A short sales cycle
A+ rated company and accredited by the Better Business Bureau
State-of-the-art programs and innovative products
A recession-proof industry
One of the prevailing complaints listed on AppStar's BBB profile is rude or inappropriate sales calls, including repeated denials for removal from their call list. This information comes from people who are not even customers of AppStar and don't have an opinion about its actual services. They're just annoyed by the repeated calls to the point of warning others away for that reason exclusively, which says a lot about how annoyed they are and how prevalent the practice is.
Other complaints about sales practices include telemarketers making promises that the eventual sales agents cannot make good on. There are also complaints that the sales agents make verbal promises that the fine print of the written contract contradicts. Again, if AppStar's sales agents are trying to close a deal in a single phone call, it's not surprising that sales agents fail to disclose important terms or are willing to promise anything a merchant wants with no intention of delivering.
So it seems to me that AppStar Financial fails to advertise specifics about its service because it lacks any semblance of consistency. If customers don't know what to expect, then anything is possible, right? Or at least any promise becomes plausible.
For this reason, I would encourage you not to believe anything you hear from an AppStar sales rep until you see it written in the contract, especially if you are contacted out of the blue by a sales agent instead of initiating contact yourself. And don't let anyone rush you to sign up. Just because your agent is anxious to close the deal doesn't mean you have to be. Beware of "today only" deals or any special offers, etc. They're just high-pressured sales tactics because the agents want your signature.
Once you've signed that contract, the agreement is binding even if it goes against what your sales agent said. So for Pete's sake, tell the agent to hit the road for the day and then read the proposed contract when you have the time to look it over in detail. How could you possibly process all that legalese with a hovering vulture of a sales agent breathing down your neck? You'd almost certainly miss something, which is what the agent is counting on.
Just don't do it.
Apart from the issue of sales agents and disclosures, you'll find that AppStar's website doesn't provide in-depth information about any of its products and services. Sure, you can download one-sheets about the core services, but they're just as bland and generalized as the web pages. I suppose I can give a single point for mentioning specific products by name — but none of this is going to be helpful for you to gauge the quality of the software or hardware. (It doesn't help that First American isn't great about content for the platform, either.)
Customer Service & Support
AppStar Financial has a support service advertised on its site, promising a friendly, multilingual support staff on call 24/7. However, several former customers complain of difficulty getting a specific person on the phone, often having to leave voice mails that may or may not be returned. If any customers want to verify the usefulness and availability of AppStar's customer support in practice, please leave a comment. I'd love to hear about it. For now, take claims of round-the-clock customer service with a large pinch of salt.
Apart from advertising 24/7 phone support, AppStar does not appear to offer any sort of publicly accessible support center or knowledgebase. For many of AppStar's products, you'll probably be referred to First American's sites, since the company is the one that created and maintains the software.
User Reviews
When it comes to user reviews, we look at patterns of complaints and praises so that we can understand what strengths and weaknesses are present. In AppStar's case, there are enough negative reviews in comparison to company size to warrant some concerns.
Google Reviews: 2.1 out of 5 stars (158 customer reviews)
Better Business Bureau: 1.5 out of 5 stars (40 customer reviews)
Trustpilot: 4.1 out of 5 stars (nine reviews)
Let's look at some of the more common complaints among consumer reviews.
Negative Reviews & Complaints
Most complaints still center around contractual stipulations that merchants claim were not fully disclosed. The AppStar responses to complaints seem to border on gaslighting of merchants, which is a bad sign in my book.
Since Google Reviews are the most accessible way to leave a review and represent the highest number of reviews, I headed over there. By far, the biggest complaint against AppStar Financial is multiple hidden fees. For this reason, we recommend proceeding with extreme caution.
Another common complaint we've seen from merchants involves maximum transaction dollar limits set too low and accounts becoming frozen as a result. If you sift through the BBB complaints, you'll see more than a few cases where this happened, and the merchant swears up and down that they were told the transaction limit would be higher.
Rather than rehash the many, many, many complaints against AppStar's independent sales agents, let me just sum up what I've taken away from my research. To get the best result possible from this company, simply do not deal with the independent sales agents. Get in touch with a rep at the corporate office and negotiate a quality contract or simply go with another company. That's your best bet.
Positive Reviews & Testimonials
Perhaps the best endorsement you'll find for AppStar is its BBB review. The company's been accredited since 2002, and it currently holds an A+ rating, the best there is. This doesn't mean that it's got a squeaky clean record, though. The fact that AppStar has an A+ BBB rating makes me seriously question the bureau's rating system. Apparently, it's okay for complaints to pour in as long as AppStar can cry plausible deniability about agent practices and provide legally mandated refunds, plus make a few exceptions to contracts, just because they're such nice guys. Is that all it takes for an A+ rating? These customers almost invariably try to resolve the issue for months before taking it to the BBB.
If you're stuck in a tight spot with AppStar Financial, and no one is returning your calls, threaten to complain to the BBB. That usually gets someone's attention. Then, if that doesn't get results, go ahead and take it to the BBB. That's your best bet for arbitration, based on all the complaints and resolutions I've read. I wouldn't say it's a guaranteed solution, though, and AppStar may not be totally polite in its responses.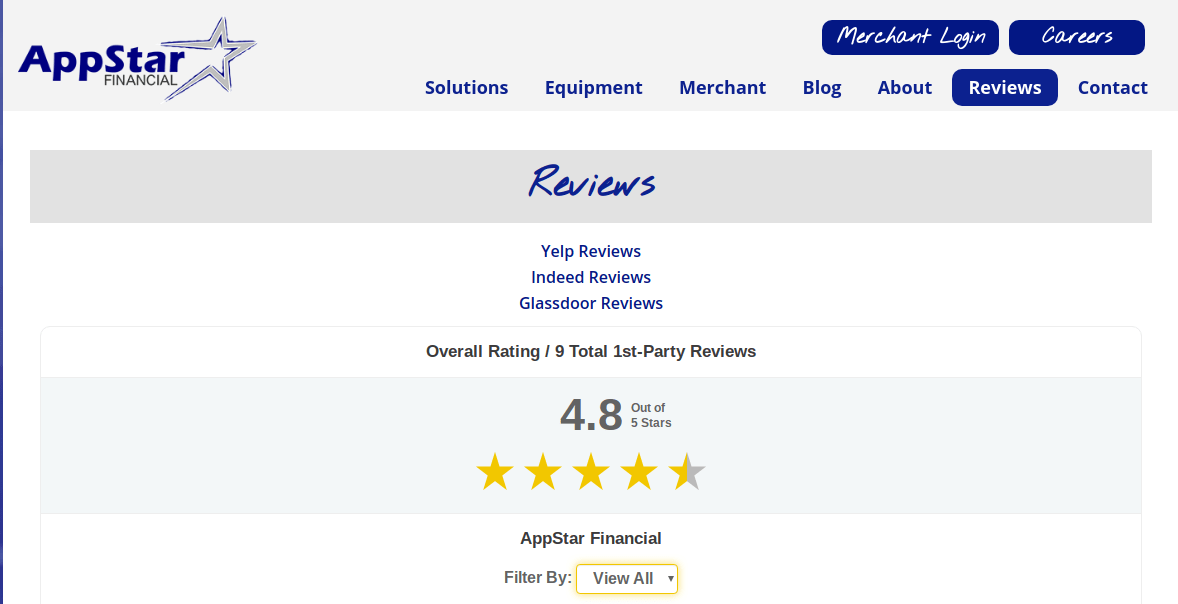 If you check out the Reviews page on AppStar's website, you'll find more positive reviews curated from across the web and amalgamated into an overall rating score. This is incredibly misleading, as it cherrypicks the positive reviews and ignores the negative ones to formulate the score. AppStar claims to have a 4.8-star rating out of 5 with various reviews plucked from Google, but the story is way different if you look at the Google ratings for yourself.
AppStar is also all too happy to plug its ratings on both Indeed and Glassdoor, once again showing that its sales reps are just as important (if not more so) as merchants.
There are some anonymous crusaders out there defending the company, mostly in the form of SEO-driven fluff pieces. They read like poorly-translated, thinly-veiled attempts by struggling sales agents to instill a sense of security in AppStar following endless bad reviews.
Another site offers a more eloquent and well-considered defense, but it's really just a string of excuses about how "it's just the way the industry works." Toward the end, they say:
It's true that some sales representatives are overly aggressive, and it's true that they exaggerate some terms in order to help close a deal. Ultimately, however, after a business owner signs a new contract he has no one to blame but himself.
I agree and disagree here. Legally, there is no recourse after you sign your name to something. It becomes your problem. But that doesn't mean a misleading sales agent is absolved of any blame. This is the state of the industry, however, and it's part of what we at Merchant Maverick are working hard to change. But in the meantime, read, read, READ your contracts before signing!
Final Verdict
If you take away anything from this review, I hope it is to proceed with caution. That's because AppStar sits somewhere between the best and worst in this industry. While it is entirely possible to negotiate a good deal, the sales reps might not go out of their way to get you there. You'll have to advocate for yourself and be prepared to make demands and let the sales rep know you mean business.
Toward the end of my chat on the phone with the AppStar representative, he said something interesting to me. He said, "I understand that you're calling around to see what's out there, but there are hundreds, even thousands of processors out there, all doing essentially the same thing. You could call around forever. I want to find out what you're looking for and help you get that." He's right. When you strip away all of the sales talk and value-added services and everything else, all processors deliver almost identical services, and all the good ones can get you essentially the same rates. So what do I want?
I want a company I can rely on and trust. One that won't screw me over in the contract or lose touch after I sign it. I want my first contact to be with a rep who gives me honest information from the start and helps me to figure out my effective rate. I'm not sure you'll find this at AppStar. But, all things said, the company can provide an acceptable service. This earns AppStar Financial 2.5 stars out of 5. For today, anyway.
What does it take to get a 5-star review here at Merchant Maverick? A lot more than AppStar Financial delivers. Check out our comparison chart of the best-reviewed merchant account providers. These companies offer transparent pricing, month-to-month agreements, and genuine value-added services…and better customer support, too.
---
Our Top Pick To Save On Payment Processing 💰
PaymentCloud


---
PaymentCloud has an excellent track record for service quality, support, and fair pricing. Learn more from PaymentCloud.
Our Top Pick To Save On Payment Processing 💰
PaymentCloud


---
PaymentCloud has an excellent track record for service quality, support, and fair pricing. Learn more from PaymentCloud.
To learn more about how we score our reviews, see our
Credit Card Processor Rating Criteria
.