Argus Merchant Services Review
Writer

UPDATED
Advertiser Disclosure: Our unbiased reviews and content are supported in part by
affiliate partnerships
, and we adhere to strict
guidelines
to preserve editorial integrity.
Pros
Chinese & Spanish language support
Caters to a wide variety of industries
Cons
Poor customer support

Deceptive sales tactics

Deceptive advertising

Early termination fee

Expensive for low-volume merchants
Argus Merchant Services Overview
How do you review a merchant account provider with two contradicting websites, and when no one from the company will talk with you to explain anything? Argus Merchant Services has given us the honor of finding out.
Argus Merchant Services was founded in 2010 and is headquartered in New York, NY, with an additional office in the Los Angeles area. I'd say the most notable characteristic of Argus is that it appears to cater to Chinese and Spanish-speaking merchants. The current president of Argus, Jacob Shimon, is a native Russian speaker himself, contributing to a nice multicultural vibe for the company.
Other than this linguistic versatility, Argus feels like most other middle-of-the-road merchant account ISOs. Argus partners with other sub-ISOs and independent agents, meaning the merchant experience may vary widely. A moderate number of complaints about Argus exist around the interwebs, but that number has increased the last year or so. There are a couple of other troubling signs that the company may be headed in the wrong direction, but I'll have more on that later.
In the meantime, you can find Argus at both argusinvision.com and argusinvision.net. I'm torn about how to handle the older .net site in this review. The information is not likely up-to-date, yet provides much more detail and insight into the company than the .com page.
Since Argus didn't reply to my requests to chat, I had no way of finding out why the .net site is still up in its current form. To add to the confusion, they even updated the .net as recently as 2014, the same copyright year as the .com. Unless otherwise noted, assume I'm talking about the .com version in this review.
With those caveats in mind, let's proceed with what we know about Argus Merchant Services.
Products & Services
Merchant Accounts: The .net website only references First Data, but there could easily be additional backend processors used by Argus. The .com is silent on the matter, except to say they're a registered ISO of Wells Fargo Bank.
Payment Gateways: USAePay and Authorize.Net are specifically referenced at the .com site. These are probably just Argus' preferred partners. Chances are you can use an alternate compatible gateway if you so choose.
Countertop and Wireless Terminals: PAX, Verifone, Ingenico terminals are featured in the products section. You'll also find linked youtube tutorials for four of these devices. The Chinese version of the website directs you to the same tutorials with Chinese subtitles. Spanish speakers are out of luck on the tutorial front.
Point-of-Sale Systems: Argus divides POS systems into two groups: "Quick Serve POS" and "POS Systems." From what follows in these sections, I can't tell the distinction they're making. The images and descriptions here are super generic, so all they're really saying is "we've got POS stuff." The exception is the Poynt system, which displays an accurate photo and linked tutorial.
Mobile Payments: A nameless and faceless "swiper" is depicted under the wireless terminal heading. In the "Mobile Processing" industry section, we see another anonymous audio-jack device, and text that reads: "We have built a best-in-class product in mobile credit card processing." What that product is, exactly, is left a mystery. If you're a mobile, low-volume business, you might check out these options for mobile processing.
Target Industries: According to Argus, their target industries include beauty salons, hospitality, gas stations, traditional and quick service restaurants, retail, eCommerce, and mobile payments. So, pretty much everything then.
Miscellaneous Mentions: Virtual terminals, check processing, gift card/loyalty programs, cash advances, website/app development, and data reporting are all quickly referenced with no further details.
Fees & Rates
In stark contrast to the .net site, no pricing information is provided at argusinvision.com. The .net site includes pricing tables for internet, MOTO, retail, wireless, and even ACH/check processing. Under each table on this website from 2010, you'll find a statement that rates are "effective for accounts set up on or after June 1st, 2014." This means they at least took the time to update that info during the same copyright year as the new .com site. Nevertheless, I suspect they haven't updated the contents of this "new" website much since 2014 anyway.
Basically, it's anyone's guess what the current rates and fees are, so you'll need to come prepared with what you're willing to pay. What I can tell you from the tables is that as late as 2014, Argus was offering tiered pricing, with no hints that interchange-plus was even a possibility. If you do have a look at the .net pricing, take note of the following disclaimer:
"Above is a summary only and may not be all inclusive, all fees are listed in the in the merchant application and agreement. Minimums may apply to some accounts. Unlike other providers we do not charge a cancellation fee if you go out of business or you have a service issue we cannot solve."
So, you'll likely have a monthly minimum fee (typically around $25). You'll also have early termination fee in place, apparently waived if you go out of business. Argus' recent responses to complaints have confirmed these two fees. Another small clue regarding monthly pricing was in a complaint at the BBB from a merchant who had stopped processing with Argus, but was still charged between $47-$56 per month for several months. This could include items like a monthly minimum, PCI fee, statement fee, junk fees and/or other common monthly charges for traditional merchant accounts.
Before we move on from this non-information about Argus' pricing, I will point out the following text from the .net site under "Equipment Leasing:"
"To help our merchants keep down costs, while still generating as much business as possible, Argus Merchant Services offers the ability to lease equipment as opposed to incurring the immediate expense of purchasing such equipment. At Argus Merchant Services we provide our merchants with a variety of leasing options, most of which are accompanied by an option to buy."
Who knows if Argus still offers equipment leases, but we strongly suggest you avoid leasing your equipment if at all possible. It's all fun and games until you suddenly need to buy yourself out of a multi-year, non-cancellable leasing contract. That's how leases usually come, and that's not where you want to be.
Contract Length & Early Termination Fee
With no evidence to the contrary, we should assume that you'll be on a standard three-year contract with a two-year automatic renewal. I've read complaints that merchants were approached by Argus reps with "no contract" pitches. Since those were complaints, you can guess the ultimate outcome. The .net site advertises a 30 day "risk-free" trial:
The 30 day risk free trial allows you to try our merchant account products and services, totally risk free. If you don't experience the highest level of customer service, along with the fastest, most efficient processing at the overall lowest cost, then cancel the service. We will refund you the purchase price of any equipment or software you purchases. This offer does not apply to leased equipment. You will not incur a termination fee. However, merchant account credit card processing fees that you may have are not refundable.
This promise is totally absent from the .com site. I wouldn't count on its existence, nor that you'd recoup every fee you incurred during that first month if the offer does still exist.
The above text does indirectly confirm the existence of an early termination fee (ETF) with Argus under normal circumstances, past any 30-day trial. One complaint put the ETF at $790, but Argus countered that the ETF was $495 of that total amount. Either way, it's not good. Our preferred providers offer month-to-month plans with no ETFs, and we recommend you don't settle for less.
Sales & Advertising Transparency
As I've mentioned, the Argus .com site is extremely sparse, modern, and streamlined compared with the .net site. While this makes the .com site easier to navigate, it also leaves a vast chasm between the amount of information at the two sites. I can do without the sales gimmicks and free offers from the .net site, but I'm really missing the openness about pricing, leasing, and contract terms from the .net when I look at the .com.
The differences between the two sites only serve to highlight aspects of Argus' merchant accounts that the company may be trying to hide now (but doing a terrible job of it!) This all brings us back to the main question for Argus that I never got the chance to ask: why on earth is that .net site still live?! Whatever the mystery reason, the .com site is a definite move away from transparency.
Meanwhile, the Better Business Bureau has also taken issue with the .com site. Here's a warning from the top of Argus' profile:
On April 29, 2015, the Better Business Bureau raised concerns about this firm's advertisement on http://argusinvision.com/ and requested that this firm substantiate their claims regarding the following: HOW ABOUT SOME FUN FACTS ABOUT OUR COMPANY? 102300+ Satisfied Customers; 98% Positive Feedback; 100% PCI Compliant; 28% Average Savings. As of June 02, 2015, the business has responded and the case has been closed as modified.
The BBB was apparently satisfied with the adjustments made by Argus. The number of satisfied customers was left at 102300+ and the "PCI Compliant" figure is still 100%. The "98% Positive Feedback" number was replaced with "100% EMV Compliant." Perhaps the most startling figure–"28% Average Savings"–now has an asterisk that reads, "Data based on overall savings to all clients in 2014."
Although I don't know what happened behind the scenes here, I'm not as satisfied as the BBB might be with these changes. Even if Argus did have a miraculously good year in 2014 and saved clients an average of 28%, that's still not an overall average from 2010 until the present. Either way, we're left wondering precisely how that 28% was calculated.
We'll delve into more reasons why I think the transparency rating for Argus is declining in the next couple sections of this review. Just based on the current state of the websites for this company, I'd judge Argus' advertising as confusing at best, and deceptive at worst.
Customer Service & Technical Support
When calling Argus, you'll first have the option of English or Chinese. Next, you may choose terminal activation, technical support, or customer care. During the daytime, I reached a live employee on my first try for customer care. She was quite timid but helpful, letting me know someone from sales would call me back later. That was the last I heard from Argus. It's the curse of the reviewer.
I also tried the email, [email protected], approaching them as a reviewer who would like to ask some clarifying questions about their products, services, and website(s) so that my review could be as accurate as possible. The auto-generated response was:
Thank you for contacting Argus Customer Care Support!
This email is confirmation that we have received your request and a Customer Support Specialist will be working to get back to you with an answer as soon as possible.
Because the majority of requests require research to resolve, it can sometimes take us up to 72 hours to respond, though we make every effort to get back to you as quickly as possible and most queries are answered within 24 hours.
Thank you for contacting us. We'll be getting back to you as soon as possible!
According to my watch, it's been 384 hours and I still haven't heard back. I'll stop holding my breath.
I also used Argus' web contact form to approach them as a potential client, received the same auto-generated email, and then never heard back. They can probably smell the reviewer on me, but it's still very poor form to leave any potential client hanging.
Completely stymied on the customer service front so far, I returned to the websites to look for resources. The .net site includes a "Learning Center" with tons of FAQ articles for merchant accounts. This feature is totally missing front the .com version. The best (and only) piece of customer service and technical support from the .com site are the four youtube playlists of equipment tutorials in Chinese and English.
Social media engagement is not a priority for Argus either. A LinkedIn profile exists, but "exist" is about all it does. The Twitter profile has two followers, zero tweets, and sports the anonymous "egg" look. They did manage to collect over 1000 followers on Facebook, but with just a handful of posts back in March 2016, the page was pretty much dead on arrival.
The lack of follow up I experienced, along with the sub-par online support and engagement for customers, has unfortunately lowered my opinion of Argus. If I factor in the old merchant resources at the mysterious .net site, the picture looks a bit better. My Argus customer service highlight was getting right through to the sweetly shy representative on my first try. I just really wish the company had followed through from there.
Negative Reviews & Complaints
Argus Merchant Services is not accredited with the Better Business Bureau, but a profile has been around since 2012. From reading other review sites, I know this profile had an A rating as late as the summer of 2016. When I first checked it in early 2017, that rating had dropped to a B+. As I worked on the review, the rating slipped further to a B, and as of this publication, the profile is NR (not rated),
Not surprisingly, an uptick in complaints accompanied the drop in rating. The 18 total complaints aren't great, but not particularly alarming. What does give me pause is that 13 of these 18 were filed in the last year. Two new complaints have even surfaced during the month I've been writing this review. About half the total complaints were resolved to the merchant's satisfaction, but more of the resolved complaints are on the older side of the spectrum.
The complaint details reveal a disturbing pattern. Not only is non-disclosure of fees and contract terms a problem, but it looks like reps openly make promises they can't keep. I lost count of the number of times the merchants used the word "promised" when they referred to what sales reps told them. These allegedly broken promises included no contracts, no early termination fees, no monthly fees, and lower costs than the merchant's previous processor.
Another common complaint was poor customer service in the form of unreachable sales reps and managers, or no response at the main office line. There was even one dig at the company president for not replying at the personal extension he'd provided. Difficulty closing accounts and lingering monthly charges were other frequent gripes.
Considering the multilingual nature of Argus' client base and the labored English in some of the complaints, you have to wonder if some of the problems are in fact instances of unintentional miscommunication on both sides. Still, I'm not encouraged by the recent downward trend in Argus' online reputation.
Positive Reviews & Testimonials
By now you're probably as sick of it as I am, but we're back to the great .net vs .com debate for this part of the review. Four customer testimonials scroll through various pages at argusinvision.net. Here's a representative example: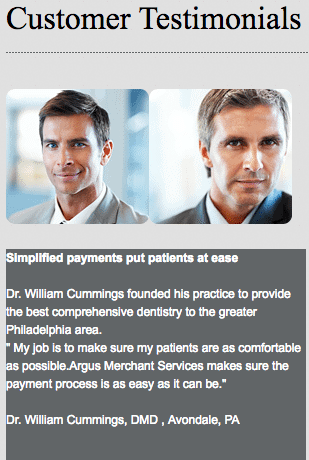 As you can see, the reviews are about as generic as the two stock photos that accompany them. And I know you'll be shocked when I tell you that the .com site has no testimonials. I'm not sure which is worse, generic testimonials or none at all. One could argue that going from four testimonials to zero testimonials is actually the least encouraging outcome. With a claim of over 100,000 "satisfied customers," Argus ought to be able to rustle up a couple of nice testimonials for their .com site.
Have you had positive experiences with Argus as a merchant? Let us know in the comments.
Final Verdict
After just reviewing a different merchant account provider that was willing to speak with me in great depth and detail, I have little patience for those who brush me off as completely as Argus Merchant Services. Not only that, but I can now personally relate to the merchants who were promised something by Argus but never saw that promise fulfilled. It has now been 480 hours since I was promised a response within 24 to 72. Admittedly, I lost hope around hour 93.
With under 20 BBB complaints in the past three years, I would normally be unimpressed but not particularly alarmed by a company like Argus. What concerns me is Argus' obviously declining reputation. This is discouraging, especially since Argus has probably helped fill an important niche for Chinese-speaking (and perhaps Spanish-speaking to a lesser degree) merchants doing business in the US.
I hope the company eventually finds this review and has a change of heart, that the online complaints slow down, and that they sort out their two frustratingly conflicting websites. Argus undoubtedly has many satisfied customers–a whopping 102,300+ by their own account–but I wouldn't rush to sign up with them at this point. If you're unhappy with your current merchant account provider and want to make a switch, we can recommend several carefully vetted options.
At the outset, I asked how you go about reviewing a company with two vastly different websites, and that won't clarify anything for you when you try to make contact. The answer is that you treat every piece of information you gather with a grain of salt, analyze complaints, make a few educated guesses, and tell your readers to proceed with caution. Meanwhile, I'll be sure to give you an update if Argus comes through for me in the 481st hour.
---
Our Top Pick To Save On Payment Processing 💰
PaymentCloud


---
PaymentCloud has an excellent track record for service quality, support, and fair pricing. Learn more from PaymentCloud.
Our Top Pick To Save On Payment Processing 💰
PaymentCloud


---
PaymentCloud has an excellent track record for service quality, support, and fair pricing. Learn more from PaymentCloud.
To learn more about how we score our reviews, see our
Credit Card Processor Rating Criteria
.