Contributor

UPDATED
Advertiser Disclosure: Our unbiased reviews and content are supported in part by
affiliate partnerships
, and we adhere to strict
guidelines
to preserve editorial integrity.
Asana

Pros
Easy to use
Free plan available
Good mobile apps
170+ integrations
Cons
Limited features
Limited customer support
Asana Overview
Asana, created by former Facebook executives Dustin Moskovitz and Justin Rosenstein in 2008, is a simple management system intended to "help humanity thrive by enabling all teams to work together effortlessly." The word Asana is derived from Sanskrit and refers to a yoga pose. Like many modern project management tools, this software was created to solve an internal productivity problem. Moskovitz and Rosenstein shared a common frustration when working together at Facebook:
…despite working alongside smart and organized people, we spend too much time doing "work about work". This wasted energy – writing and reading emails, attending status meetings, and tracking down updates – slows us down, reduces our collective output and keeps us from setting larger goals.
The two men concluded that tools such as email, documents, files, and wiki could not keep up with the "scope of their ambitions." So they set out to build a new kind of web application to manage Facebook's internal coordination. Soon after its implementation, Asana quickly began to replace daily meetings, reduce the volume of emails, and help people work at peak efficiency.
Asana was officially released out of beta and made available to the public in 2011. Currently, 50,000 organizations from a diverse range of industries and businesses use this software, including Airbnb, General Electric, and The New York Times.
If you're looking for high-quality task management software, Asana is an excellent choice. Asana provides a simple way to track tasks across teams and projects. It's easy to use, and it encourages productivity, collaboration, and organization within your business.
That isn't to say, however, that Asana is a perfect solution for everyone. While Asana is excellent at task management, the software does not have many of the budgeting features that we often see built into project management software. So, businesses who are hoping for features that go beyond task management (such as job costing and resource management) should look elsewhere.
If Asana sounds like it could be a good fit for your business, read on! In our unbiased review, we'll cover pricing, features, and integrations. Find out if Asana is the project management software you've been searching for.
Pricing
Asana is completely free for groups of up to 15 people and includes unlimited tasks, projects, and conversations. However, if you want more features or users, you have to upgrade to a paid plan.
Asana also offers a discount for users who pay annually for their plans. Additionally, there is a small team discount for teams of under 15 users (who are on the Premium plan), and a non-profit discount for eligible organizations.
Here are the available plans and their features:
Basic
Asana's free Basic plan costs $0/month and includes:
Unlimited tasks
Unlimited projects
Collaboration with up to 15 team members
List view projects
Board view projects
Assignee and due dates
Calendar view
Unlimited file storage
100+ integrations
Premium
Asana's Premium Plan costs $13.49/month and includes everything in the Basic plan, plus:
Collaboration with unlimited team members
Timeline
Dashboards
Custom templates
Milestones
Rules
Forms
Custom fields
Advanced search & reporting
Progress view
Private teams
Private projects
Business
Asana's Business Plan costs $30.49/month and includes everything in the Premium Plan, plus:
Portfolios
Goals
Custom rules
Approvals
Proofing
Advanced integrations
Enterprise
Contact Asana directly for Enterprise pricing. The Enterprise Plan includes everything in the Business Plan, plus:
Contact Asana for pricing
Data exporting
Data deletion
Custom branding
Priority support
SAML
SCIM
Cloud-Based Or Locally-Installed
Asana is cloud-based, so you don't have to download anything to use it.
Hardware & Software Requirements
Since Asana is cloud-based, there are very few requirements you need to meet to use the software. Asana is compatible with the most recent versions of the following browsers: Chrome, Safari (for Mac), Firefox, Internet Explorer 11, Microsoft Edge. You also are required to use WebSockets in order to use Asana.
Asana also offers a mobile app for iOS (12.0+) and Android (version 7.0+). The app works as a pared-down version of your dashboard where you can create and manage tasks, receive push notifications, attach files, and browse through your inbox. Some features even work when you're offline! Asana's help guide features sections for both iOS and Android users, so head there for more information.
Specific Size Of Business
Asana works for small and large businesses. You can use Asana if you have fewer than 15 employees or if you have hundreds of employees.
Asana is best suited to businesses that need task management, but don't need any budgeting or payroll features built-in. Many other (more expensive) project management software offer built-in job costing, resource management, and payroll. Asana is strictly a task management software. Asana is, therefore, best suited for small to mid-size businesses or businesses that already use another resource for the financial aspect of project management. Enterprise-level businesses might consider more comprehensive software such as Wrike or LiquidPlanner instead.
Asana is designed to work for many industries and departments, including engineering, design, marketing, HR, and sales.
Ease Of Use
Because it comes with just a few, concentrated features, Asana is extremely easy to use. The user interface is clean and uncomplicated. A toolbar on the left makes it easy to navigate between teams, projects, and reports, and Asana provides plenty of training materials for getting started. To maintain this ease of use, however, you have to make sure you stay organized with tasks and projects. If you don't break up larger tasks into subtasks, it can be easy to feel overwhelmed by the number of individual tasks cluttering up your dashboard.
Other user-friendly aspects of Asana include color-coded projects, which you can customize for your own personal view of Asana. Colors help you make quick, visual distinctions between your projects, and they are also useful for categorizing different kinds of work.
Features
Asana is extremely basic in its approach to project management. It is at heart a task management program that also happens to replace email and streamline communication — no frills, no fuss, nothing fancy. The core features of Asana are as follows:
Dashboard: Asana's dashboard is straightforward and easy to navigate. Upon logging in, you can see a list of tasks assigned to you. You can also find a navigation bar that lets you navigate the software. In the navigation bar, you'll find the projects that you are involved in as well as a list of your company's teams.
Project Management: Asana lets you create new projects from scratch, or you can use Asana's templates to get a jump start. You can also copy over an existing project, which you can use as a template. Asana's pre-made templates are great for building tools, such as a team onboarding plan, a digital fundraising campaign, and a cross-functional project plan. Two organizational units make up the basic structure of an Asana project: Sections and Tasks. Sections are used to categorize and group individual tasks within a project. Different companies use the sections feature for various purposes, including bug tracking, recruiting/applicant tracking, and status reports for manufacturing (with section titles such as "paid," "shipped," and so forth). Applying sections to your projects is a good way to customize Asana for your business's specific needs or requirements. Asana has recently launched a new Rules feature to help you manage and organize your projects more easily.
Tasks: Asana is essentially a high-level task management software, so it's not surprising that tasks receive a lot of attention. Tasks, in this software, are defined as things you own, want to get done, or need to remember. Asana is somewhat unique in that it allows for tasks to be assigned to anybody by anybody. According to the product's website, "We recommend encouraging everyone on your team to create tasks and assign tasks to everyone else (even to direct reports to managers). Asana is most useful when anyone can contribute their ideas and move action items forward." Tasks can be created from scratch within your account, or you can create a task by forwarding an email to a special Asana email address. Asana's simple UI allows users to organize tasks into three groups: Today (stuff you're working on right now), Upcoming (work that will be coming in the next couple of days or weeks), and Later (tasks that are currently on the shelf). You may prioritize your task categories as you see fit. To further aid transparency in the workplace, Asana recommends that users make their tasks public. That way, employees and managers alike can check in on their coworkers without having to interrupt the working process.
Gantt Charts: Asana refers to its Gantt Chart as the "timeline view." Asana's timeline view is beautiful. I especially like how intuitive it is to create dependencies between tasks. Arrows represent these dependencies. If your tasks are not appropriately lined up to consider these dependencies, Asana alerts you by turning that arrow red.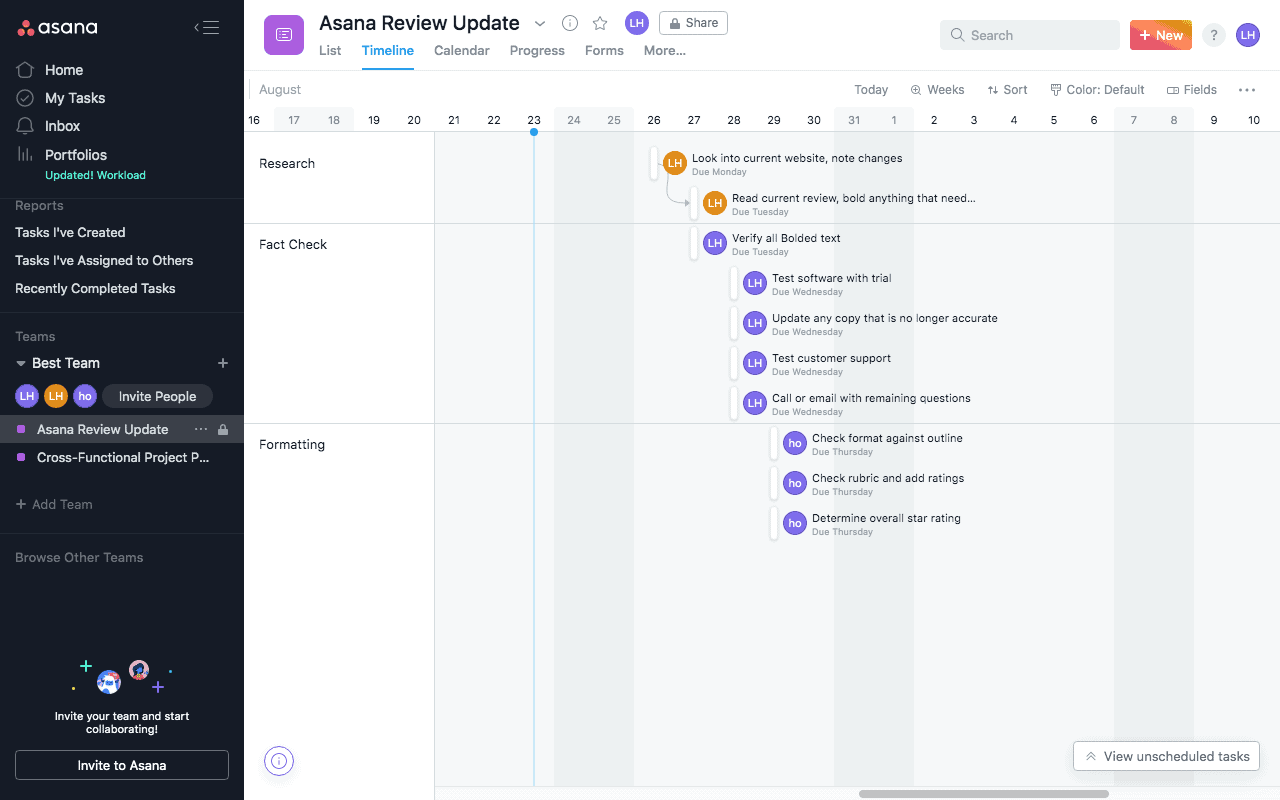 Team Management: You can add multiple teams to Asana. Organizing people into teams simplifies assigning projects, and it makes setting user permissions just a little easier. You can choose to make projects public to only one team or private and accessible to only a few individuals.
Calendar: The calendar feature, color-coded for increased visibility and practicality, is quite a useful scheduling tool. I find it particularly helpful for getting a birds-eye-view of my tasks for the upcoming week. You can also mark meetings in this calendar, not just tasks related to specific projects.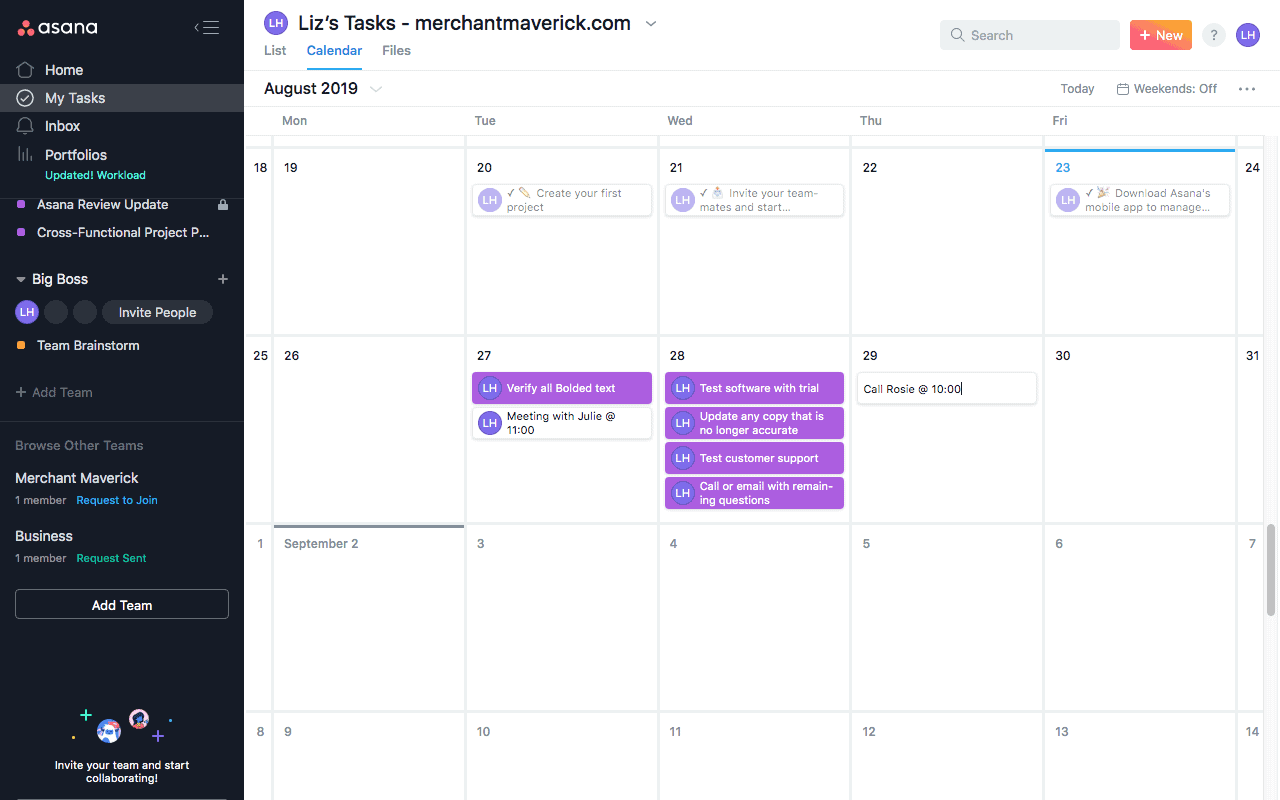 Messaging: "Conversations" are the primary method for communication in Asana. There is a "conversation" unique to every project and every team within your organization. Once in the "conversation" section of your team or project, you can post new topics that other team members can respond to. It is a little like a forum where you can post relevant information to get your team talking. There is also space for comments within tasks, so team members can leave notes next to the related task.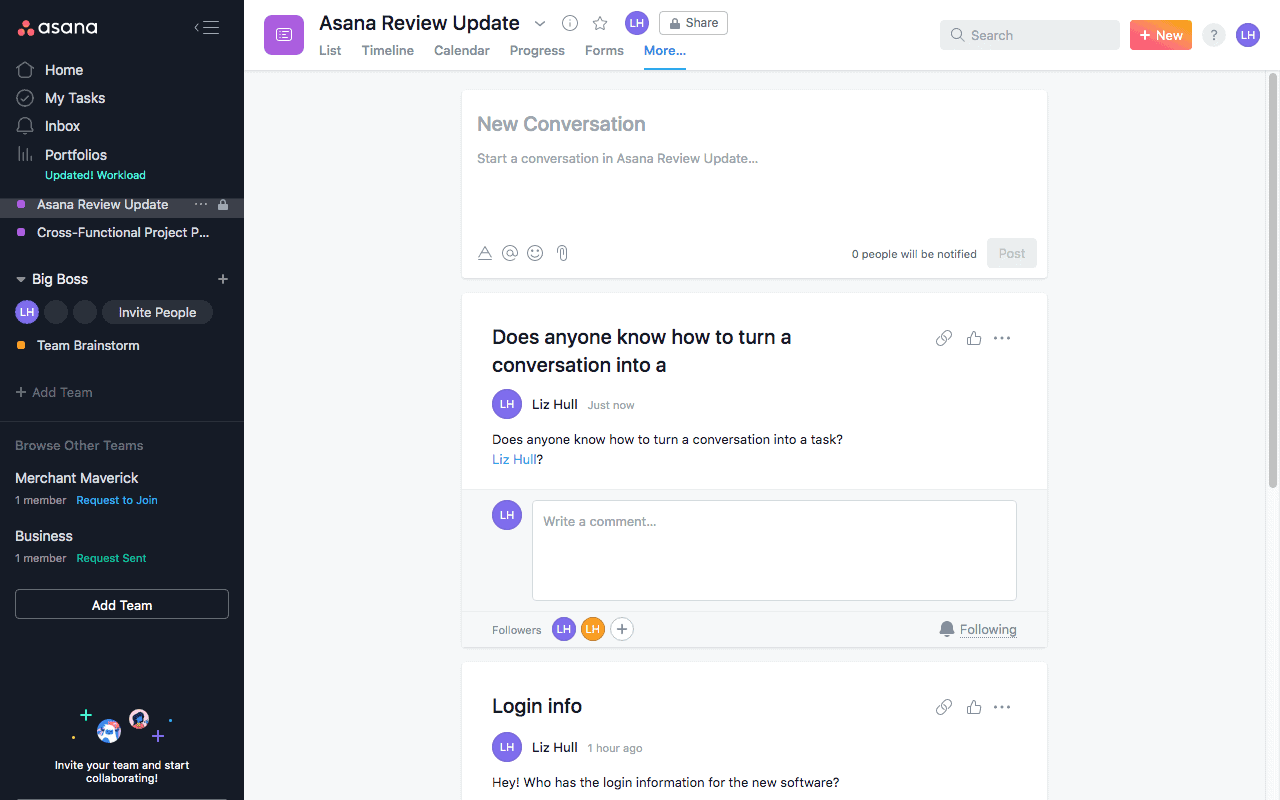 Email Settings: Asana sends you email notifications whenever a change occurs in one of your assigned tasks. Fortunately, you can adjust your notification settings so that Asana only notifies you of changes that you deem important. Additionally, Asana has an inbox built into the software. You will also receive notifications in that inbox.
Forms: Asana has recently launched a brand new features called Asana Forms that allow syou to create custom forms to help streamline your company's work requests and team communication You can add questions, copy, request types, and attachments when creating forms.
Reports & Analytics: The "Insights" section within the admin console gives you access to a few reports about your team's use of Asana. You can view the number of teams, tasks, and projects you have on the software as well as track your team's engagement with the software. Compared to many other project management software I've reviewed, Asana's Insights section is a bit lackluster. It's missing many of the more complex reports that come when there are financial features built into the software.
Progress Tracker: One of the big complaints about Asana since our very first review was that it was difficult to track progress at a single glance. Asana's progress tracker addresses that complaint. Using custom fields, you can track the status of each task within a project, whether it is not yet started, in progress, waiting, deferred, or done.
Board View: Board view has been taking the project management world by storm, and Asana is one of the many software providers to add it into its product. Pioneered by the likes of Trello, board view mimics the classic project management technique of using sticky notes and whiteboards to track progress. This is one of my favorite methods of project management, so I am happy to see it included here.
Hypertext: This feature allows you to provide useful links to teammates, projects, tasks, and tags from any notes or comments field in Asana. Simply place an @ symbol before typing the information you want to connect (much like you would on Twitter). Hyperlinks can increase work efficiency by relating pertinent files and pieces of information, labeling dependencies for a clearer understanding of the workflow, and making it easier to add followers to a task.
Keyboard Shortcuts: Asana provides a great list of keyboard shortcuts for common or oft-used functions (adding followers, moving or deleting tasks, setting due dates, posting comments, etc.).
Customer Service & Support
Asana provides a decent customer support network, which includes email support and a variety of self-help resources. Asana does not currently offer phone support, and I would love to see this added soon. Fortunately, I haven't seen any complaints about customer support, and I have only had positive experiences with the Asana team. Priority support is available with the Enterprise Plan only. Here are all of Asana's other support offerings:
Email: Personal support is currently only available through email.
Contact Form: Asana offers a contact form on its site, which is really just another way of emailing support.
Live Chat: Asana offers live chat on its website, but it is only intended for sales. The sales representatives can help you resolve a few points of confusion, but any real technical issues have to go to the support team.
In-Software Help: Clicking the "?" in the upper right corner of your Asana dashboard expands a whole list of support options that you can access directly. These include a few guides and tutorials for getting started as well as links to the help center, apps and integrations, keyboard shortcuts, the privacy policy, and a "contact support" option. Clicking "contact support" directs you to the Asana help center. At the bottom of the help center, you can find a link to Asana's contact form.
Knowledgebase: There's a link to the knowledgebase on Asana's "Guides" page. In the knowledgebase, you can search for help using keywords. You can also browse through the available categories and subcategories until you find the answers you need.
Community Forum: Asana offers a community forum where users can share their experiences and help one another solve problems. Forums are available in multiple languages.
Guides: Asana's guides include information on getting started, onboarding your team, and using the top integrations for the software. On this page, you can also find a link to Asana's click-through lessons on how to use the software. These lessons take less than 15 minutes to go through, and they're helpful when you're just getting started with the software.
Videos: Available videos include an eight-minute demo, over a dozen step-by-step guides to using Asana features, and videos featuring current Asana users. There are also 10 videos of webinars available for you to watch at any time. You can also register for live webinars, which Asana calls "live trainings."
Customer Success Manager: Users with 40 or more seats have access to a customer success manager (CSM). CSMs help train users and solve problems as they arise.
Onboarding Plans: Work with an Asana expert to get going on the software. Users with 40 seats or more get one onboarding session free of charge.
Asana Academy: Take Asana's online video courses to learn how to use the software effectively. All of these courses are free.
Training: Professional services, such as personal training and custom integrations, are available at an extra cost.
Blog: The Asana blog includes company news as well as information about new features.
Social Media: Asana posts frequently on Facebook, Twitter, LinkedIn, and Instagram. You can contact Asana by sending a direct message through any of these avenues, but I would start first with Asana's regular support offerings.
User Reviews
Negative Reviews & Complaints
It was difficult to find negative reviews of Asana. And when I did find negative reviews, they tended to address different small inconveniences in the software as opposed to widespread issues. That said, I did come across a few trends in the negative reviews. The most common user complaints about this software are as follows:
Limited Features: While Asana technically can be used for a wide range of project management styles, it is essentially a task management program. It does not function well outside the scope of basic task management.
Interface Can Be Confusing: Like with any project management software, you have to be strategic in how you create and organize projects and tasks. I have seen a lot of reports from users whose dashboards are overwhelming because of the number of tasks and projects they have listed. In these cases, some people report that it can be difficult to find projects or tasks.
Too Many Notifications: Users dislike getting emails every time a task is created, updated, or commented on. You can adjust your email notifications in settings, but I saw this complaint enough that it deserved mentioning.
Outages: I have seen a lot of reports on Twitter about recent outages. Downtime is a real hassle when you use the software daily.
Positive Reviews & Testimonials
Asana has its detractors, but most users are fiercely loyal. Overall, ratings for the software are positive. Asana earns a score of 4.3/5 on G2Crowd (based on over 6,000 reviews) and 4.4/5 on Capterra (based on over 8,000 reviews). Some of the best, most celebrated aspects of this software include:
Easy To Use Interface: Users find the software intuitive and easy to navigate.
Boosts Organization & Productivity: Simplifying organization is the whole purpose of the software, and I'm happy to see that it meets its goals. Commenters noted that they could be more productive with Asana.
Collaboration: Asana allows users to collaborate with messaging systems, and it lets you add people as "followers" to a task.
Appropriate For Personal & Business Use: Asana users often say that they use the software to keep track of their personal commitments and household chores.
The following are excerpts from positive customer reviews:
We use and love Asana. Too many people try to manage tasks and communications for projects within email and it just doesn't work. Asana for business processes, Jira for development. That's how we roll.

Simple and intuitive. I've worked with several competing products and Asana is my favorite because it's simple and easy to use, but also has enough complexity & product features to cover all of the unique use cases that I encounter in my work. I'm also a big fan of their many integrations with other services/products.
Integrations & Add-Ons
Asana boasts an impressive list of over 170 integrations. These integrations include communication solutions such as Slack and Microsoft teams, connectors such as Zapier, file sharing solutions such as Dropbox and Google Drive, and more. Additionally, Asana offers an open API. Developers can use this API to customize Asana or build new integrations for the software.
Security
Asana protects users through multiple security measures. Asana has completed SOC Type I and Type II audits, and it uses third-party services to test its code for weak points constantly. Additionally, Asana hosts data securely in SSAE 16 audited data centers. Asana uses Amazon Web Services' RDS to manage user data. Asana performs regular back-ups to prevent potential data loss and aid in recovery.
Finally, Asana is transparent with its uptime. You can view Asana's uptime status for both the API and the app on the Asana Trust webpage.
Final Verdict
Asana, in my opinion, is an exemplary task management tool. Sleek, simple, and elegant, this software functions with ease and efficiency. I appreciate the fact that it is offered free for groups of up to 15 people and made financially accessible for students, non-profits, and startups. Every company has to start somewhere, and Asana is the ideal choice for small businesses that are just getting going.
The problem with Asana, of course, is that it is a task management tool. For many businesses, this software does not come with enough bells and whistles to make it worth the monthly fee. When it comes to providing a comprehensive solution for project management — planning, budgeting, tracking risks and issues, managing resources, etc., — Asana just doesn't keep up with the competition. Granted, I don't think the creators of this software are trying to revolutionize the project management market. I think they have spent a lot of time and energy on developing an extremely good tool for managing small units of work and have purposefully ignored all the other stuff. Asana is what it is — one of the best tools of its kind — and it doesn't pretend to be anything else.
Enterprise-level businesses should probably steer clear of this software, at least for now (try looking at Wrike instead), but I do heartily encourage small and medium-sized operations to give Asana a try. What it lacks in features, it makes up in sheer usability and a wealth of relevant integrations.
---
Featured Free Corporate Card
Ramp


---
Ramp offers a free corporate card for virtually any business. Start earning rewards with your corporate spending today. Get your free card.
Featured Free Corporate Card
Ramp


---
Ramp offers a free corporate card for virtually any business. Start earning rewards with your corporate spending today. Get your free card.
To learn more about how we score our reviews, see our
Project Management Software Rating Criteria
.